When the airline gods are feeling mildly generous it can be cheaper to travel from Australia (Melbourne or Sydney) across the ditch to New Zealand rather then fly domestically up north or over to the west. Crazy I know but kind of nice at the same time. We were recently lucky enough to take a self declared long weekend and pop over to New Zealand for a family wedding in Dunedin. Thanks to Jetstar for the super cheap airfares.
With less than 72 hours in the country we wanted to have some beach time, tackle a mountain, see some wildlife (past the sheep that I adore patting) and explore the beautiful town of Dunedin plus attend the wedding. Not to mention drinking some wonderful New Zealand wines and hoping to find some decent coffee. Factor in approx 10 hours of return driving from Christchurch to Dunedin. After arriving at 05:00am Saturday morning.
Blessed are we with our Australian passports. From getting off the plane to walking out of customs took a total of 6 minutes. Yup, 6 whole minutes. Which left us with considerable time to wait for our car hire desk to open at 6am. The general drive from Christchurch to Timaru was (thankfully) uneventful. Usual drive, drive, drive pull over for a sleep. Timaru we stopped by a supermarket for road trip snacks. I whole heartedly believe that no road trip is complete without snacks.
Driving from Timaru to Omaru is again rather pleasant and uneventful. It's hard work keeping your eyes on the road in front of you and not being overwhelmed by the postcard beauty that you pass through. Mountains, oceans, cows. For the overly tired traveler it can be a bit too much. By lunch time we had reached the steam punk town of Oamaru. If you are going to have a pit stop anywhere along the way then this is the town to do it in. The main thoroughfare is fairly typical Kiwi town. Fast food chains, petrol (gas) stations some big stores. Nothing to suggest a stop. Until you see the sign for the Steam Punk HQ!
Steampunk HQ is New Zealand's premiere Steampunk experience. Featuring  retro-futuristic sci fi art, movies, sculpture, immersive light and sound experiences. Make sure you have a small supply of $2 coins on hand. I won't spoil the surprise but it's worth while paying to see things happen.
Once you've walked past SteamPunk HQ there is the cutest ye olde style town set up. The old shipping warehouse style buildings have been refurbished and reinvented. You'll find it full of pun-tastically named stores. If you have more time stop by the penguin colony or have a play in the park. *hint if desperate there is free wifi in the park.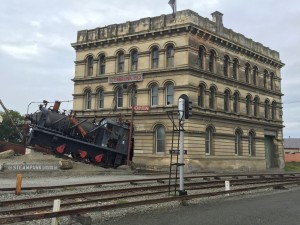 Next time- Dancing around Dunedin!