I love food. Legit I do. I'm not one of those girls who goes on a date and just asks for a glass of water and a salad. Well in the sweltering heat of an Australian summer I'm probably going to order a salad, cause salads are delicious. Especially when avocado, mango, chicken and some fresh as spinach. I'm what some people would call a foodie. A purveyor of fine food and finer things in life. The one thing that always upset me when I worked in hospitality was the amount of food waste we create in Australia. So in 2019 we are joining the Food Saving revolution.
Being somewhat sustainable travellers, we tend to carry our own reusable coffee cups, have our own cutlery and when at home have reusable straws. It's these little steps that can really add up to making an environmental difference in the world. But what about at home? What things could we be doing to reduce our food waste, save money and do more travels with the extra funds that we are no longer wasting on food?
We have a compost bin. YAY us. We also drink a lot of coffee so the used beans go onto the garden or into the compost bin. But one thing that really stuck with me was the amount of food we were wasting. We try to buy in bulk, again saving the travel funds, and we prepare a lot of our own meals. Again money saving but also a side effect of living in a small regional town. At the end of the week a lot of what was once fresh food was ending up in the bin. Such a waste. So when Sunbeam asked if we would like to test run the VS7850 FoodSaver I was all in.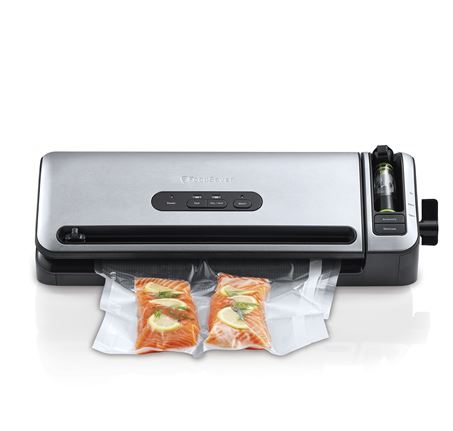 The Not So Good Bits.
Let's start off with the ah not so good bits. One of my issues was the single use plastic bags. Yes we are saving food, keeping it fresher in the freezer and marinating like a domestic goddess but we were still popping plastic into the trash.
Solution – the FoodSaver comes with reusable ziplock bags and also has a range of BPA free Tritan plastic containers. Which are freezer and dishwasher safe. These are currently on my to buy list, as we do a lot of bulk cooking and I like that I can use these to send James to work with decent food
The FoodSaver isn't the easiest device to learn how to use. Now this could actually be a failure on my domestic goddess skills, as James had no issues lining up the bags and doing a quick vacuum seal.
Solution – have James use the seal bags until we run out and purchase the FoodSaver containers.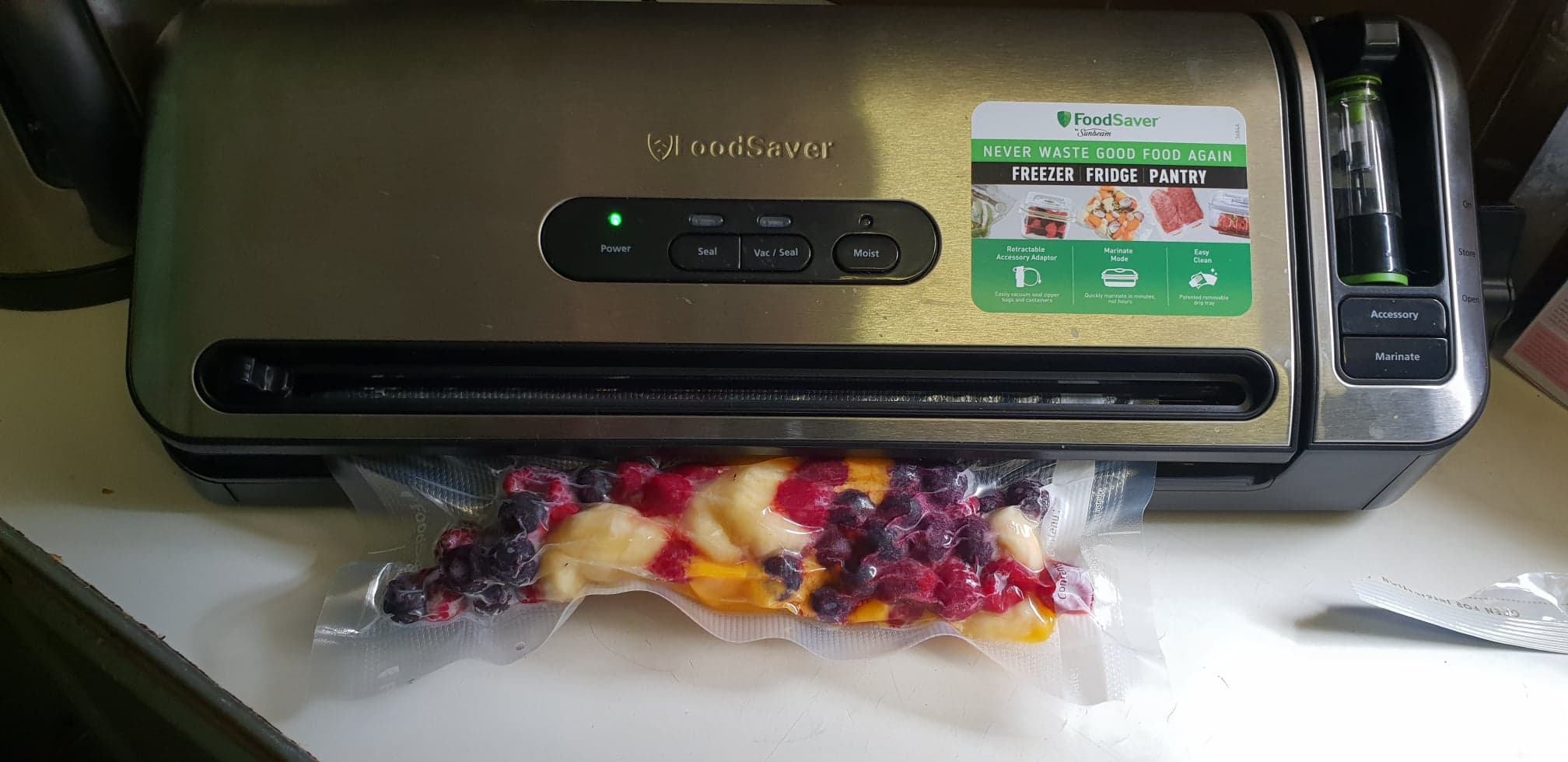 The really good bits
The FoodSaver was really easy to set up. Out of the box and into the kitchen. It isn't a huge piece of kitchen ware but due to the need to keep the bags fairly flat when sealing you do need a wee bit more bench space than what our 1950s house has. Not a huge issue as I was able to prep the bags and then move across to the unused kitchen table.
It's oh so quiet
Surprisingly this FoodSaver is super quiet. I did a whole heap of smoothie preparation first thing in the morning and didn't wake a single person or puppy. It didn't make too much noise difference if I used the vacuum and seal option or the accessory adaptor.
The DIY roll of bags
If you put aside the horror of single use plastic, the DIY roll of bags was a life saver. We recently had half a pig turn up that needed to be further butchered, processed and store. As there is only two of us in the house we couldn't possibly eat so much pork. And we also use quite a few pieces to turn into delicious bacon.
*Note – due to the ahh delicate nature of some readers, we are respecting your political/religious/food beliefs and not showing photos of the pork processing. It was a long weekend of cutting, salting and packaging.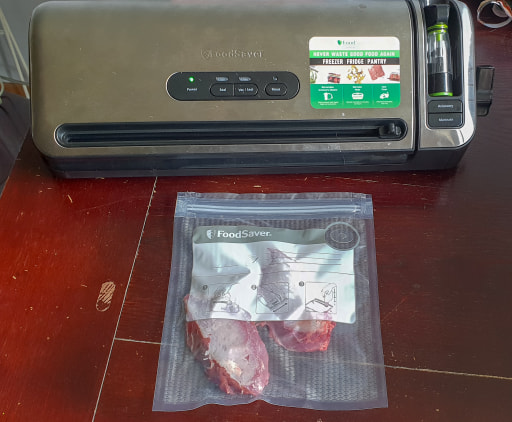 The extra bits
The retractable accessory hose is built-in for ease, and can be used to vacuum seal FoodSaver containers and reusable vacuum zipper bags. As previously mentioned I don't yet have the FoodSaver containers but loved the ease of using the zipper bags. They are a lifesaver when I find fresh berries on sale and can make up smoothie packs. Which is great for those long days when I'm stuck at the desk and need a pick me up that isn't coffee or chocolate.
Inside the box is the super nifty machine which includes the retractable, in-built adaptor hose. As well as a 28cm roll of DIY bags, 5 pre-cut bags and 5 reusable vacuum zipper bags.
Will you be joining us in the Food Saver revolution?
It's a lot easier than what you think. As well as working on reducing our food waste, we were recently inspired by Gemma from Two Scots Abroad to try going plastic free. We've gone as far as buying and carrying Boo and Straw reusable cutlery. It's easy to keep in the handbag or backpack when it comes with the nifty little bag. I'll be taking a set on my upcoming flights, so I don't need to use wasteful plastic cutlery on the plane.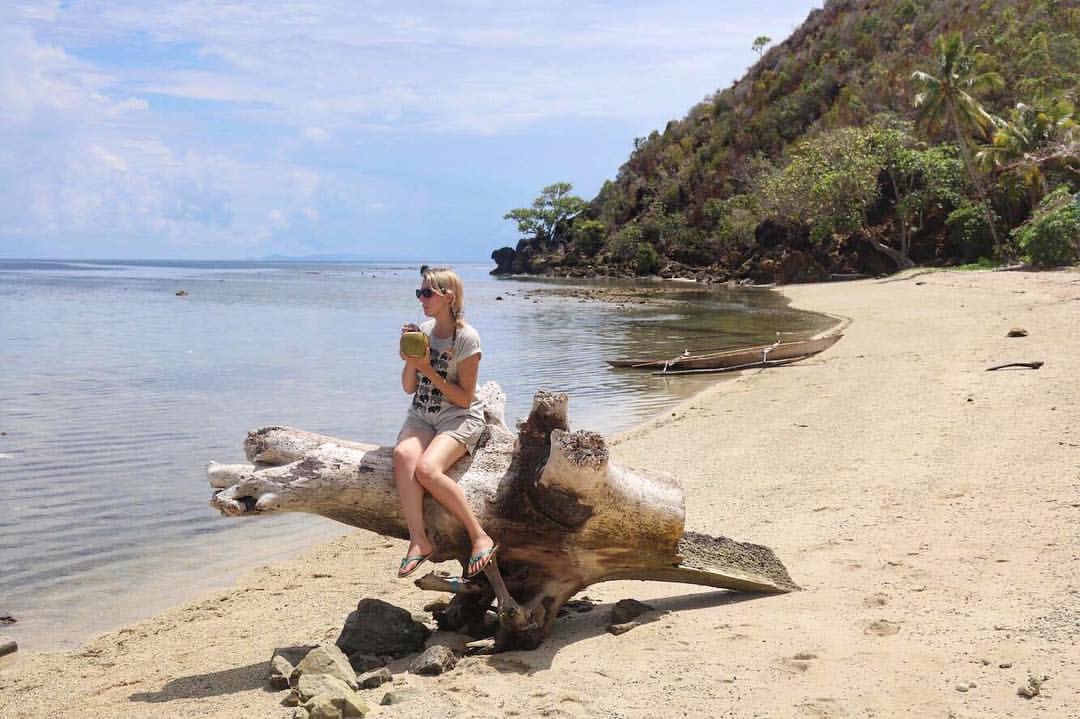 If You Liked This Post You May Also Like: