There's such a simple and delightful pleasure in playing tourist in one's own backyard. Not all adventures require the use of your passport and spending hours stuck in a bus in the sky. So when the opportunity to experience the glamour and glitter of all things glamping James and I couldn't resist a weekend away in the North East of Victoria at Grapevine Glamping.
Imagine waking up to the sounds of nature, sun rays peaking through the vines and freshly delivered coffee all in a secluded rural landscape. This is our story of glamping, disconnecting from the world and eating far too much good food.
Arriving on a sultry summer's eve.
As we step out of the car we're immediately hit with a heat wave that can only truly be produced in this part of Victoria. It's hot, heavy and full of anticipation. After a three hour journey in the car, desperate to escape the heat and pee, we quickly hot foot it out of the blistering Australian sun and around the corner to find ourselves a little slice of heaven amongst the grapevines of Cofield winery.
Really I could never have imagined the ultimate luxury that was awaiting us inside the small bell tent. Beyond the bunting and through the fairy lights.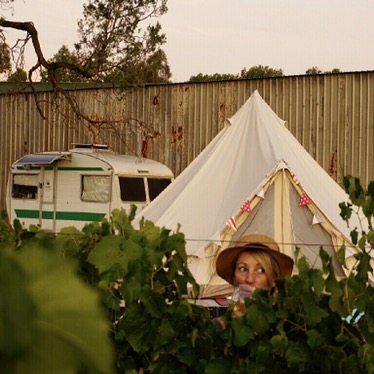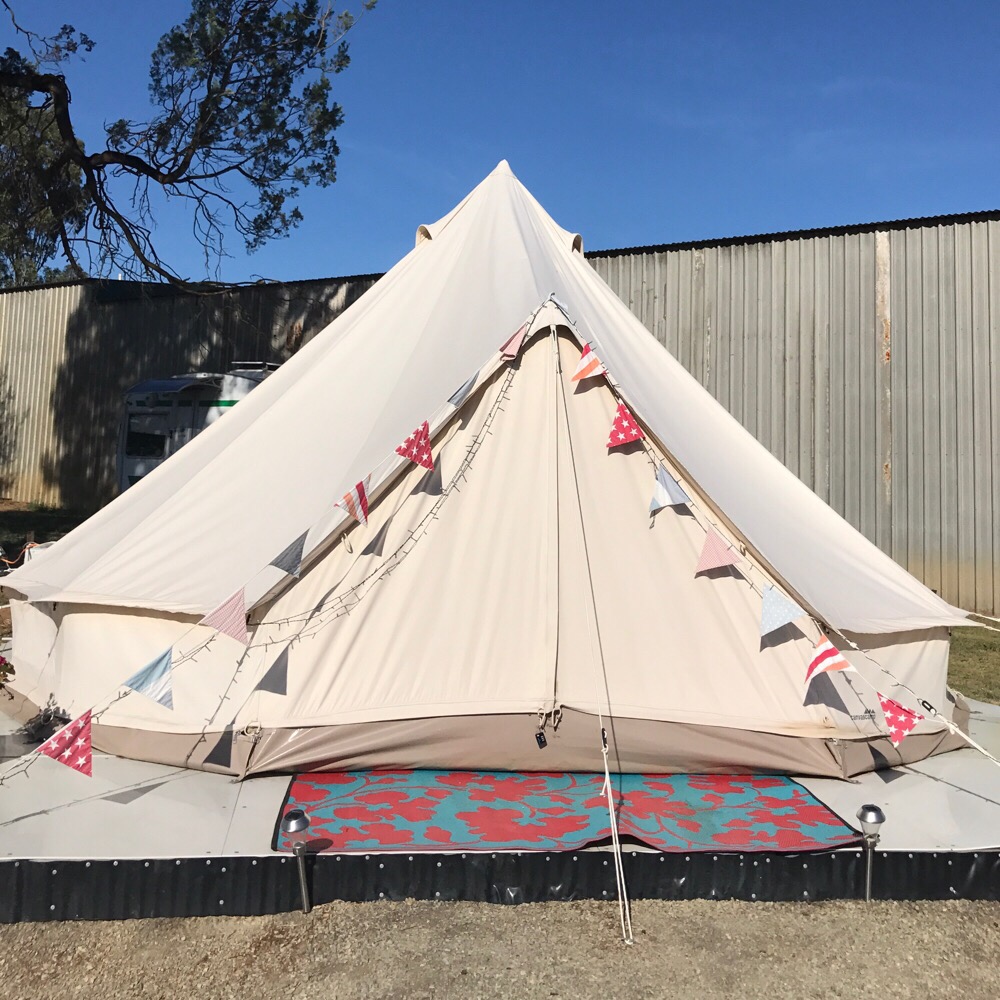 After getting over my initial girlish delight at how adorable the tents are I slyly unzipped the tent and am inundated by a wave of cool, fresh air. The relief rolled off me as I quickly scanned the small, immaculately stylised space we were to call home for the next two nights. Thankfully the staff had preempted our arrival by turning on the air conditioner and leaving us a bottle of freshly chilled sparkling wine from the Cofields winery.
The Glamour of Glamping Amongst the Grapevines
The 5mtr bell tent is uber adorable. It's every little girls delight and I really did want to bring it home with me. The tent is spacious, light and comes equip with literally everything I could ever need. The bed was a queen size spacious bed that James and I thoroughly enjoyed. The pillows were a plus! So often we get to places and end up regretting not taking our own pillows.
On one side of the bed is an air con unit, wafting out much needed cool waves. On the other side of the bed is a wine fridge. If you have long arms like me then you needn't get out of bed to get more wine (or beer)
There was also subtly hidden in plain site books on the area, an entertainment kit and some go-away-bugs items. All those fun things that I either forget or end up squishing in the back of our Jeep and never bring out to use.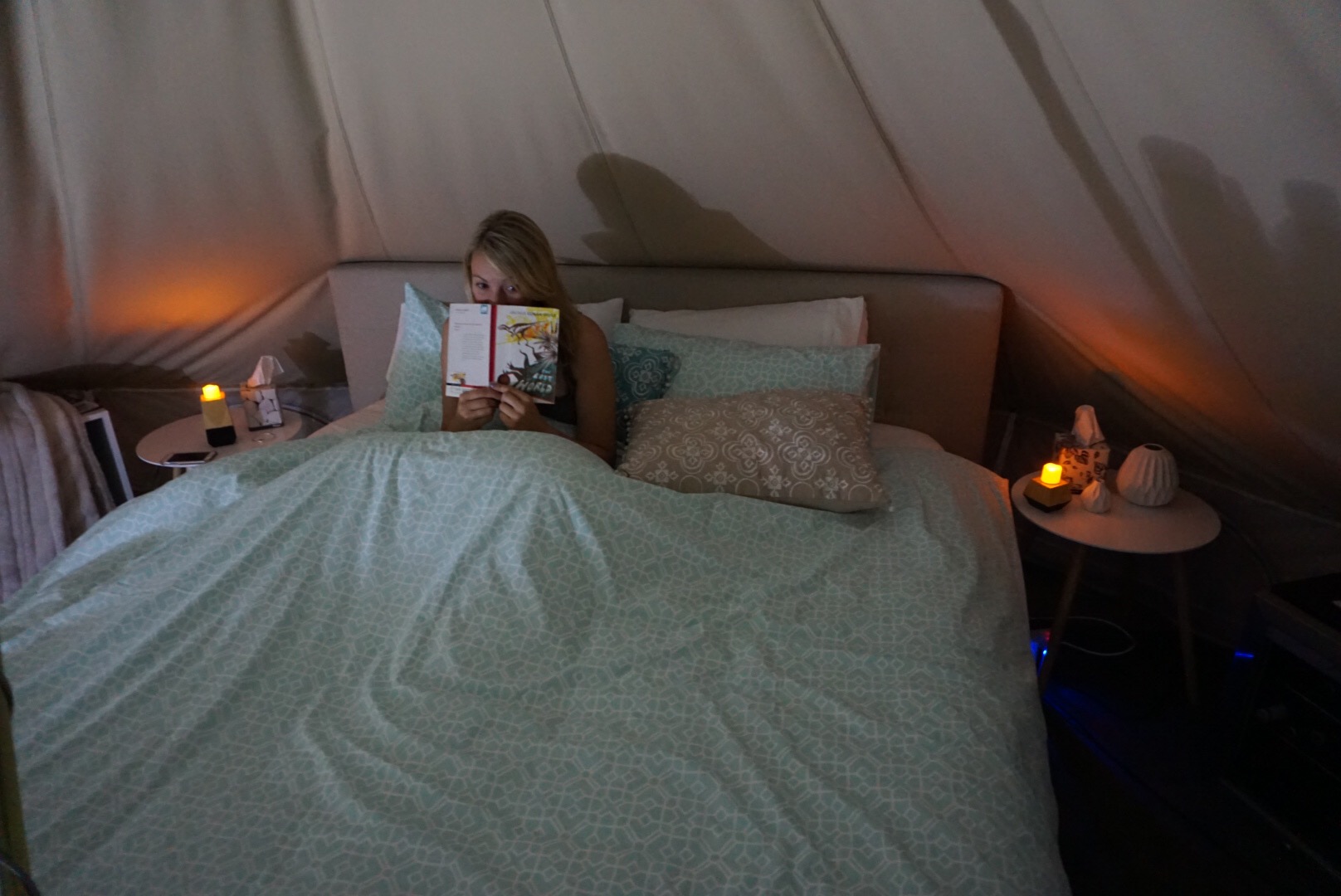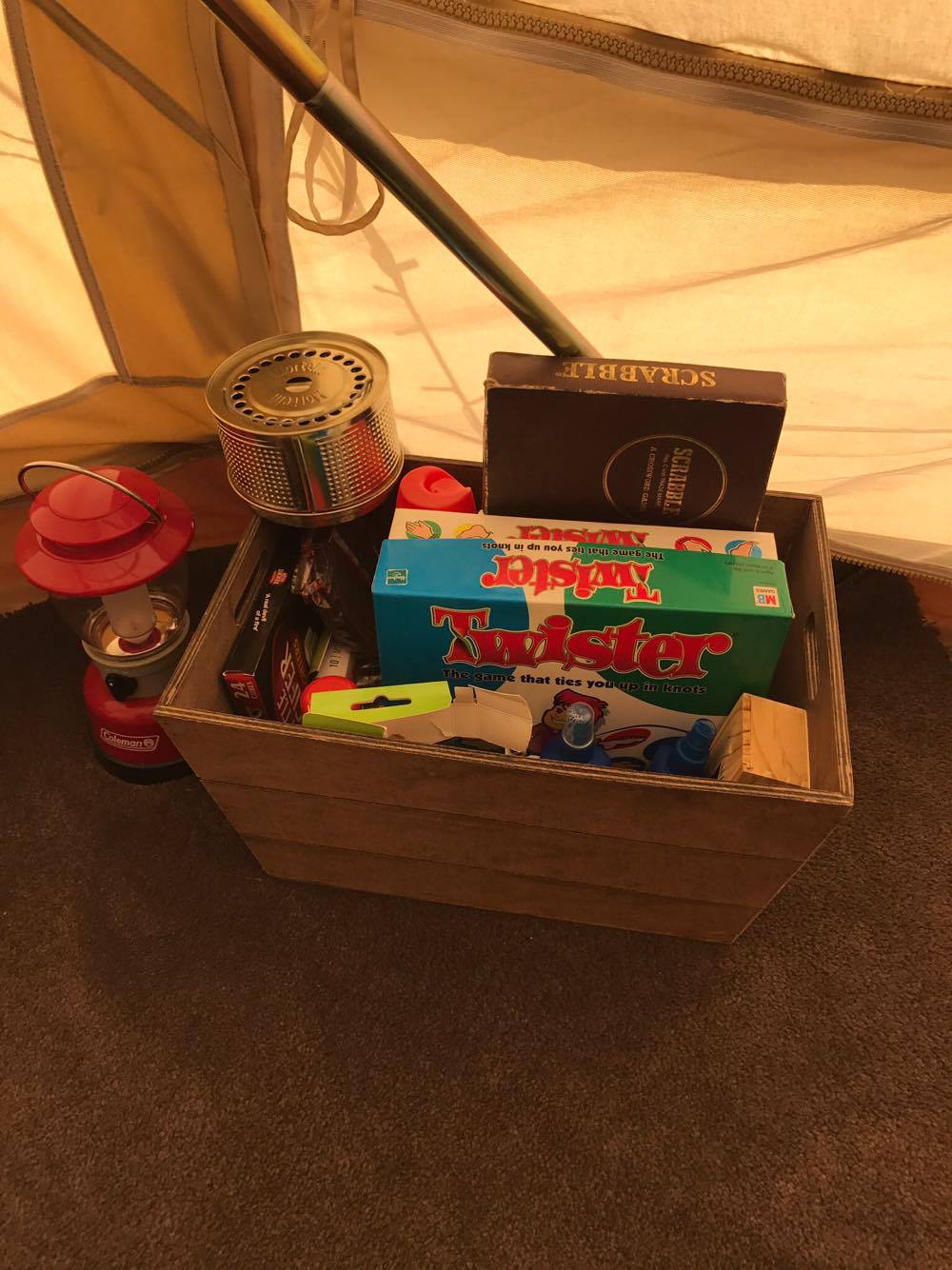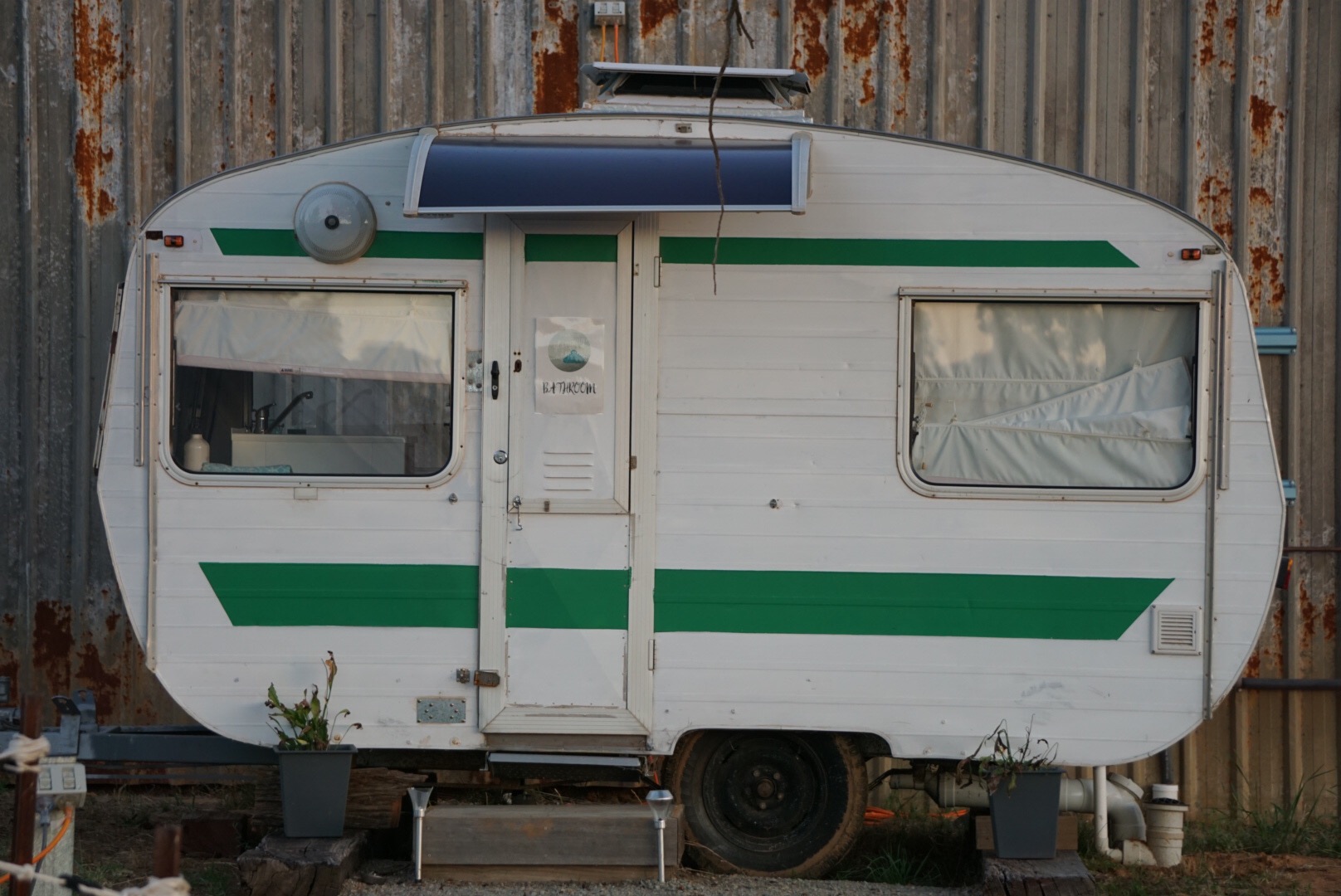 Was there even a bathroom?
Luxurious white fluffy towels and robes were waiting for us in our tent. But nothing prepared me for the ingenuity of the bathroom. Inside a small 12ft Franklin vintage caravan is a complete ensuite bathroom. All plumbed in is shower, toilet and a wash basin. Along with ASPR amenities. You know the ones that Qantas gives to their fancy pants front end of the plane customers. As well as a little basket full of amenities just in case you have forgotten anything.
Then there was that time fresh coffee was delivered to our tent…
Yes. You did just read that. You all know that I don't lie when it comes to coffee, unicorns and my hatred of lettuce. A few days before we were due to arrive I received this lovely email asking what we would like to order for breakfast and what time we would like coffee delivered. In true traveller style there was no way we would let this opportunity pass. Someone was honestly going to bring coffee to my tent? Ah yes please.
So each day at 9am there was a lovely little 'Hello, coffee delivery" voice and then magically there was coffee and a basket of delicious food waiting at our door step.
Food for thought.
Let's talk about the food on offer. The glorious, regionally sourced and delicious food from The Pickled Sisters Cafe.  For breakfast we tried both delivered options – Baked goods basket and the Cook It Yourself. With the hot weather the baked goods basket was a winner and I really wished we had ordered this for day two. Complete with the freshest berries we've had this season, delightful danishes, cranky croissants and both natural and coconut yogurt. Oh sorry I also forgot to mention the fresh juice, bircher muesli and home made jams.
Now we're not just ladies who brunch. We also eat dinner on the odd occasion that we remember. If you wanted to BYO food there is a fully equipped camp kitchen on offer, complete with BBQ, fridge, tea & coffee facilities. We opted not to BYO and I'm glad that we didn't. We ordered a very generous cheese platter ($25) for the Saturday night and a Vineyard platter ($40) for Sunday night. Both nights we hobbled off with a food baby as these are extremely good value!
I'll let these photos show you the wonder of our life choices.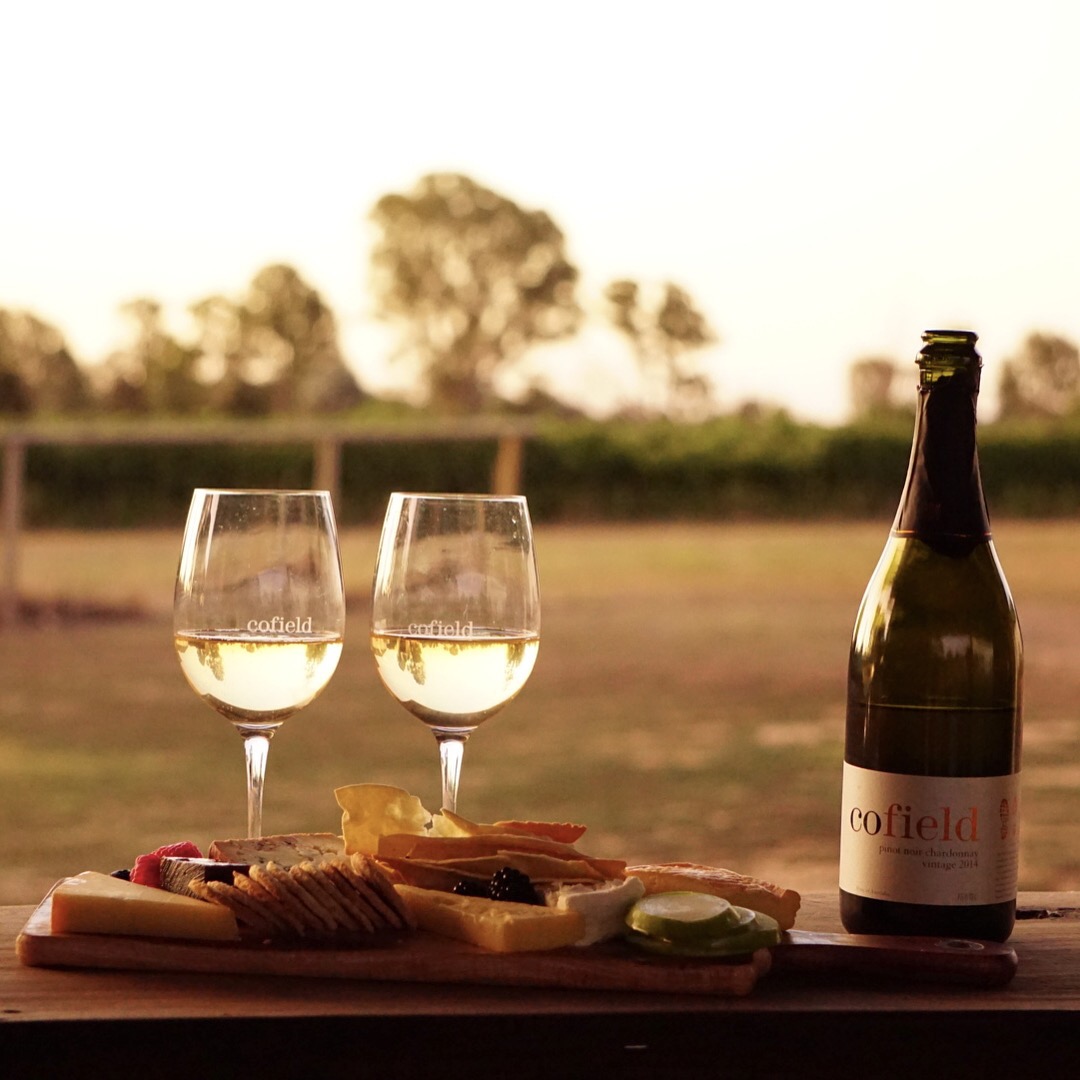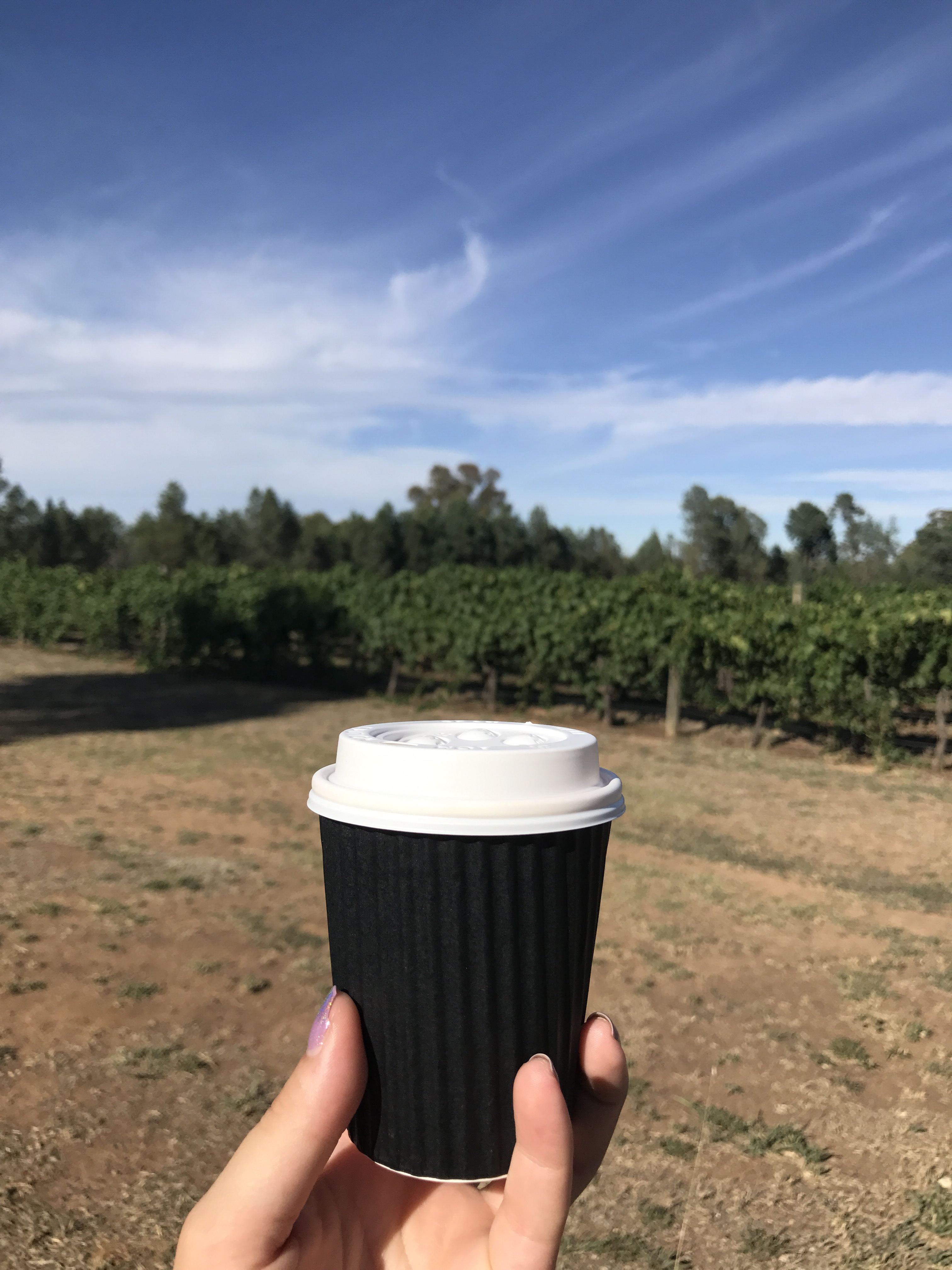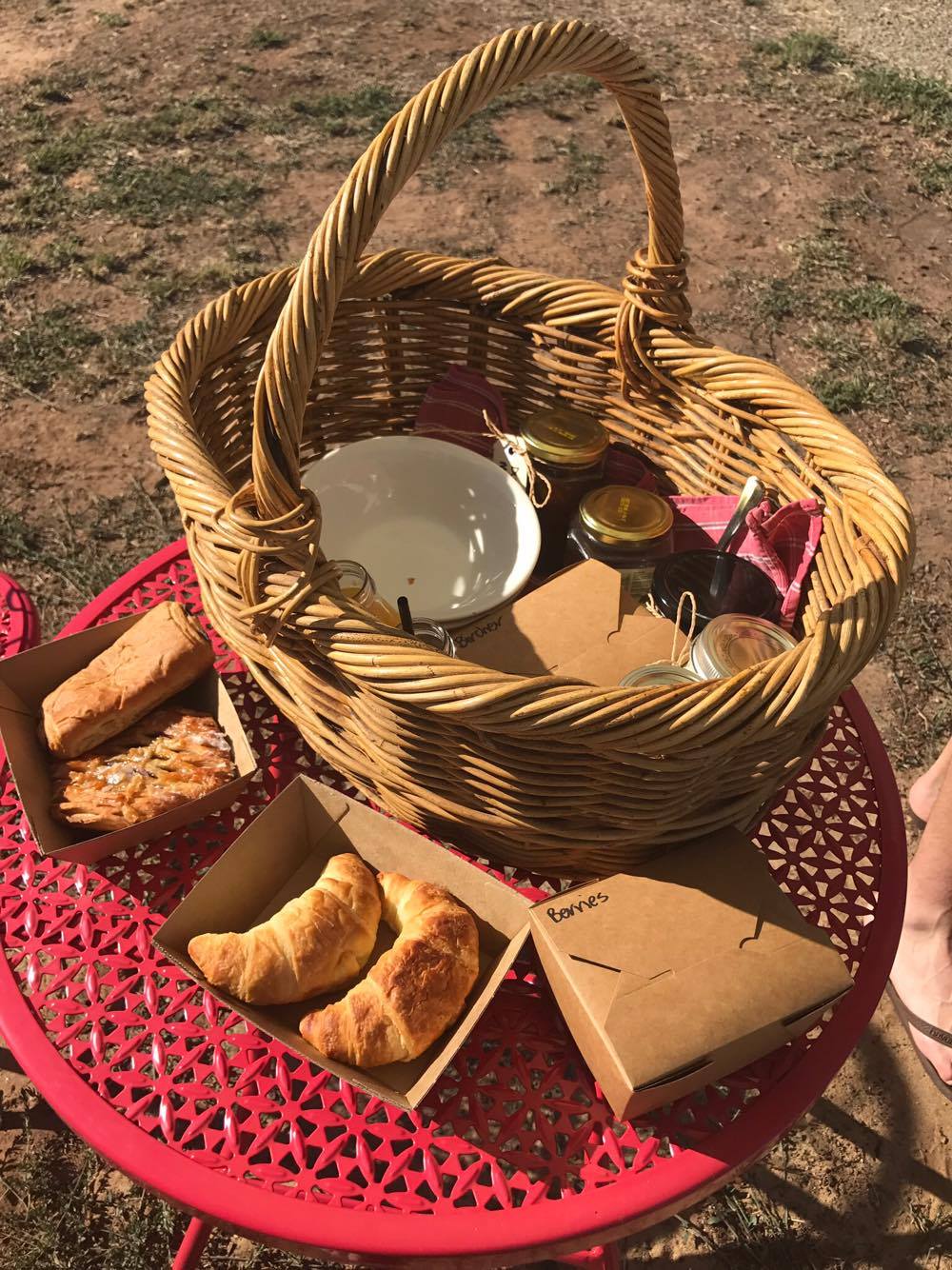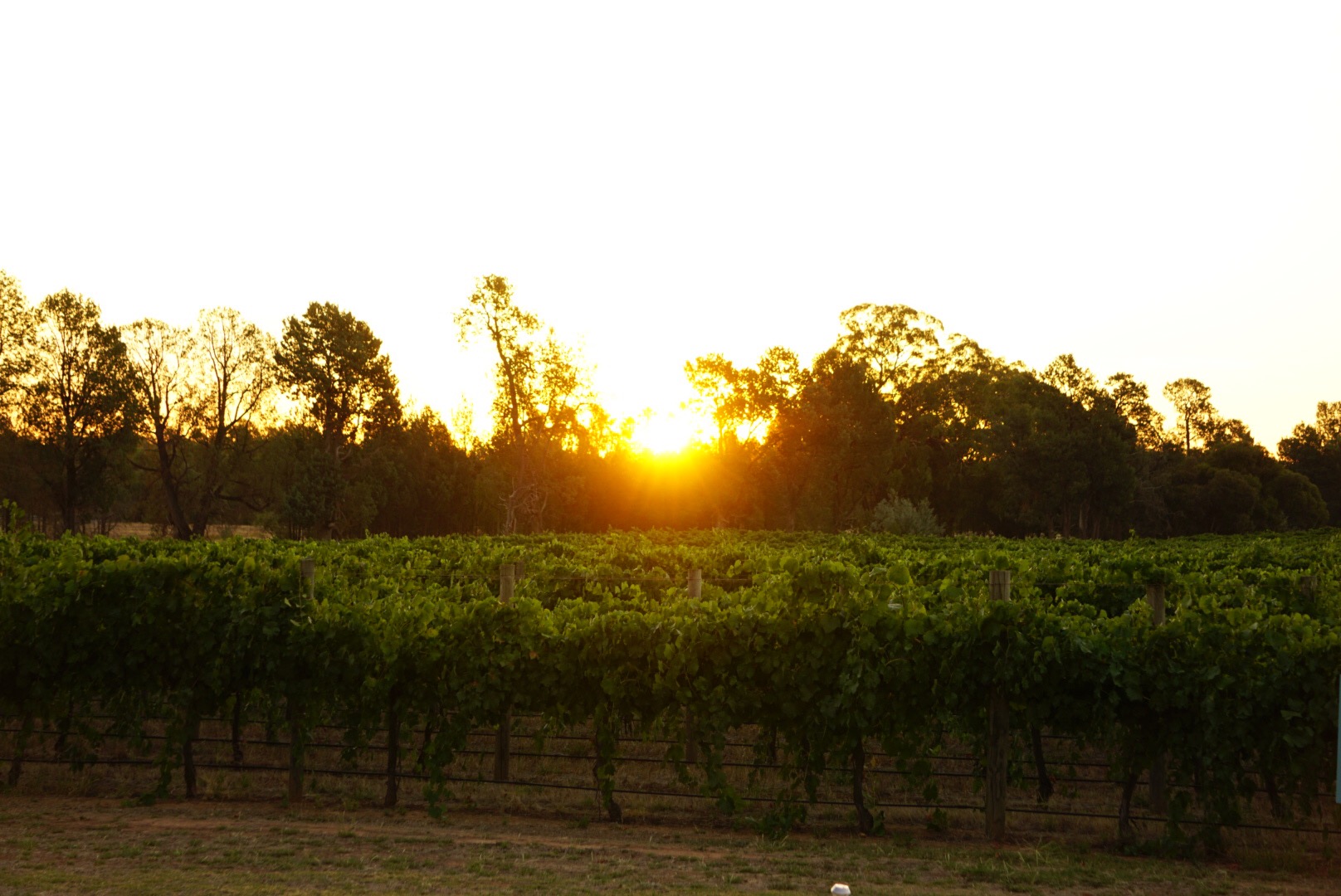 Wine me, dine me.
So no good food is ever spoilt by the addition of wonderful wine. We may or may not have sampled the entire Cofield's range and spent a rather long time chatting to the wickedly funny and knowledgeable cellar door staff. I love chatting to just about anyone and our talk with the staff gave us plenty of ideas of where to go, who to see and what to drink once we left the winery.
Cofield Wines has a long and proud history in the Rutherglen region. It's a relatively young winery compared to others in the region. However at the ripe age of 31 this winery doesn't look like it's going anywhere anytime soon. They have a small but good quality range on offer. Something to suit everyone.
Wine suggestions to try and take home – Sparkling Sarah, 2015 Chardonnay, Shiraz Durif.
Oh and did I mention that you receive also receive a $50 winery voucher when you are a glamping guest.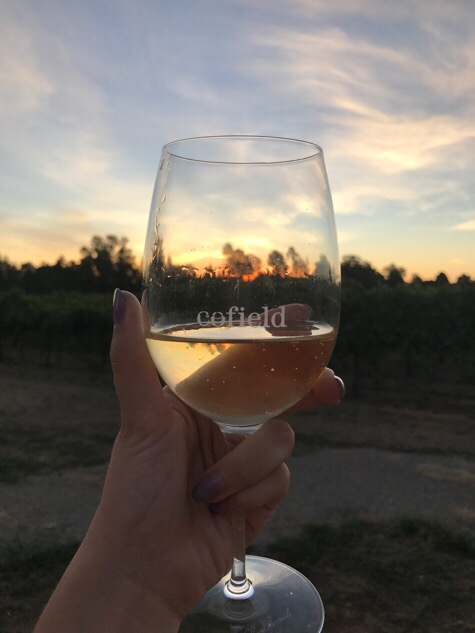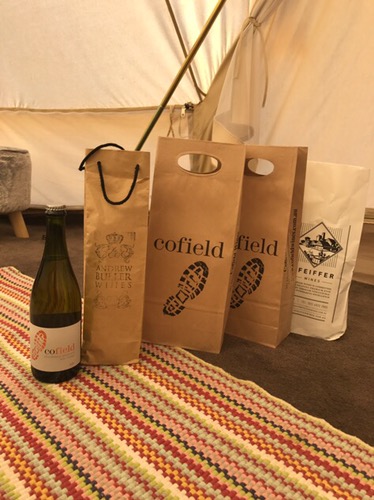 What exactly is this thing called Glamping?
So I need to confess how much I loved glamping. I'm usually a hard core, dig your own hole kind camping girl. I love being in the outdoors, doing outdoors stuff but every now and again I love rocking up somewhere that is hidden away and fully set up. No pitching a tent, no blowing up my sleep mat and struggling to get into bed much before midnight. In recent years glamping has extended out from luxury bell tents, like the ones above, to more boutique cottages. I'm still on the fence about whether this is actually glamping or just a holiday spot. I'll let you read more about luxury glamping in Australia and make up your own mind.
Glamping is a luxurious way of camping. It really isn't a great introduction to camping and if you have a partner who's anti-camping then this isn't the way to convince them otherwise. Let me tell you that a person who goes glamping before camping will never truly enjoy the wonders of basic camping.
You might need to BYO wifi – If you want to stay connected I can highly recommend buying and using a Skyroam Solis. Buy a SkyRoam today, use the code HONEYBIRDTRAVEL and get 10% off!
Where in Victoria are we?
Technically we are in Wahgunyah, which is about a 5 minute drive from Rutherglen. Rutherglen is a well known winery region in the North East of Victoria. It's around a three hour highway drive from Melbourne.
What else is there to do in Rutherglen?
Ah not a lot. This is a food and wine region. Really you're here to eat, drink and be merry! We'll have a full write up soon of the things we got up to past the eating, drinking and sleeping in a ridiculously lovely tent.
Is glamping really worth it?
Glamping offers an alternative and unique type of accommodation. Which in my books makes it totally worth it. The rates charged at Grapevine Glamping covers more then just a tent in the vineyard. The weekend rate included breakfast, coffee, wine on arrival and a $50 winery gift voucher.  We didn't have to worry about a single thing. No carrying a car fridge, water and all our worldly supplies for a weekend away. Whilst James and I both loved our time glamping we're not going to give up our usual camp-life anytime soon. Glamping at Grapevine Glamping was a welcome escape and  a much needed stress free get away for us.
If you want more information of glamping or to see if there's a luxurious glamping site near you check out the many options at Glamping Hub. If you're feeling super generous why not buy a loved one a Glamping Hub gift voucher?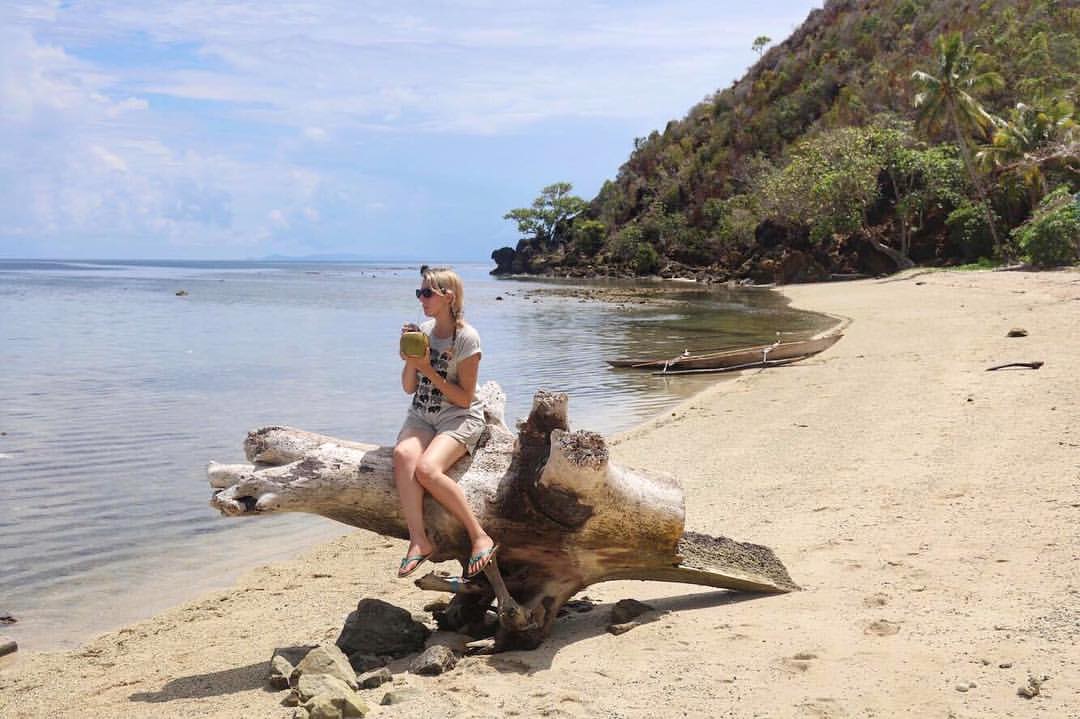 Just a teeny tiny note on affiliate links – We are a participant in the Amazon Services LLC Associates Program, an affiliate program designed to provide a means for us to earn fees by linking to Amazon.com and affiliated sites. We're also a member of a few others and may make a bit of coin on the side, this is at no extra cost to you.