So not only is Nepal an incredibly friendly country to travel around, it's also one of the easiest to get a visa on arrival. Seemingly so, I thought. But after watching two plane loads of people struggle with the very basic system, the lack of signage and generally the entry into Nepal I've decided to give y'all this very simple guide;
How to get a tourist visa on arrival in Nepal.
Now the Tribhuvan International Airport is the only international airport of Nepal. It is located in Kathmandu and is the only way to fly into Nepal. This guide will cover air travel, and not overland travel. It is possible to get a bus from India across the border to Nepal. That's a whole other kettle of fish and something that I haven't yet experienced. 
So you fly into Kathmandu. It's a teeny tiny airport, with not a whole lot of runway available so don't be surprised if you end up circling above the city for an hour or two. We avoided this by sheer luck, but it's a well known issue with the airport. Once you have departed the plane, walk along the way into the building. Again, noting that this is a tiny airport. You can't get lost unless you try to hide from authorities. Once inside you'll be herded with everyone to the immigration area. I loosely say area as it's all one big area.
In the Immigration Area, as I'll refer to it, you will see some computer kiosks, a payment desk and the lines through immigration. This is the super fun part you get to enjoy. If you are travelling with a friend you're better splitting up at this point. One to wait in line for the kiosk, the other to go towards the payment desk and pay for the visa. You don't need the kiosk receipt to pay for the visa.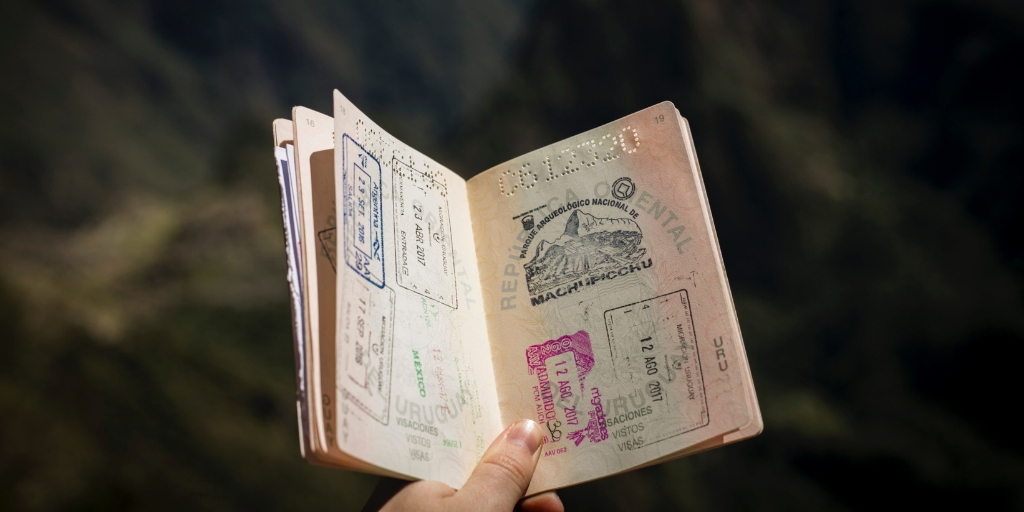 Here's a step by step guide on getting a tourist visa on arrival;
1- Kiosk. Enter all your details as required. The system wants an email address, a scan of your passport, your phone number and the location of your hotel in Nepal. As well as how long you are planning on staying. Seriously easy information. The kiosk will also take your photo, so you don't need to take a passport photo with you. 
 Once it has been filled in a printed receipt will pop out. Grab this.
2- Pay for your visa – You will need to pay in CASH. There is a sign saying that EFTPOS is available, but when we asked the guy laughed. Seemingly no one we have met along the way has been able to pay on card. Just take US $ to be safe. Once paid you will be handed an official receipt and another piece of paper.
You need both of these when you go through immigration.
3- Take yourself, your passport and the receipts/paperwork to the desk. Hand over to security person. Wait. Wait. Wait some more and then YAY you're in, complete with a visa in your passport.
How long does it take to get a Visa on Arrival in Nepal?
How long is a piece of string, attached to a kitten, playing in my lounge room? There's no definitive time line on how long this takes. It depends on if the kiosks are working properly, how many flights have arrived, how many people are being jerks and trying to bargain with the guards. Note – the Visa fees are a set, fixed price. 
Is there an easier way?
Yes there is. You can go into a Nepalese office in your country of residence and apply in person. OR you can complete the form online, which means you avoid the crappy kiosk line. I do strongly recommend that you do this prior to entering Nepal. The trick here is that the online application can only be done 15 days before your arrival. The form is super simple, and you will need to upload a photo of yourself. There's no online payment required. So you will need to print off the form and completed steps 2 & 3 above. This can easily save you up to 90mins of waiting time. 
The cost of a visa on arrival for Nepal;
The cost varies depending on how long you are staying. The only way to enter Nepal is on a tourist visa. If you require a different visa, an extension etc you will need to visit an Immigration Office. 
15 Days – 25 USD
30 Days – 40 USD
90 Days – 100 USD
Again, let me state, BRING CASH. And US $ to pay for the visa. In our entire plane load of people we saw people only pay in US $ and it seemed to be the currency of choice for immigration officers.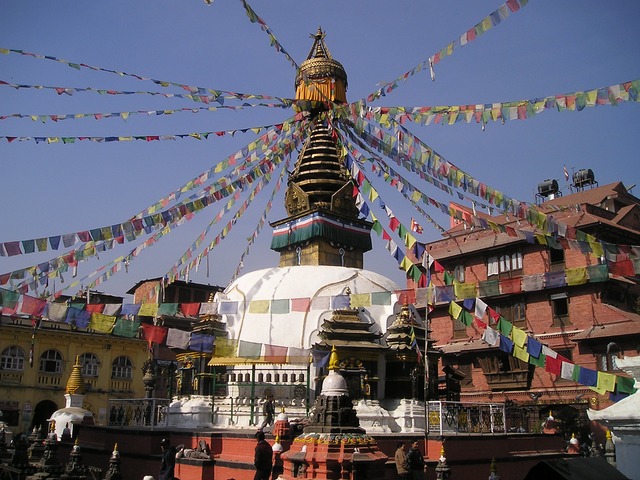 Getting Nepal Rupees in the airport.
You can easily exchange money in the airport. Prior to leaving the immigration area there is an official exchange desk and an ATM if needed. We found his rates to be significantly lower, then the exchange desk in the baggage hall.
No longer do you need US $ to travel around Nepal. It's not necessarily a bad idea to have some hidden away incase of an emergency, but in all honesty it's just a pain in the ass to get it exchanged. There's plenty of places in Kathmandu and Pokhara to get it exchanged, but unless it's your home currency just use an ATM. You might have to try one or two before the money is given but it's easier then the hassle fo buying US $ and then exchanging. Most of the major currencies are accepted at the exchange counters anyway.
Getting into Kathmandu from the airport
Congratulations on getting out of the airport, with your luggage hopefully and into the great wonder that is Nepal. If you haven't prebooked a transfer – we reccomend you use Klook – then you will need to engage the services of a taxi driver. The cost of a taxi to Thamel in the city centre is set at a fixed price of 700 RS. If anyone quotes you more, walk past the hordes of drivers and see the official price board. If you don't have cash on you, then the drivers will help you find a working ATM. You may find that you driver speaks zero english but has a little friend in the front seat who will speak English and be able to help you.
Pro tip – Book yourself a private car. We arrived after midnight and didn't want the hassle of haggling with taxi drivers. For $15 AU we had a driver waiting who took us directly to our hotel and even rang the front desk to make sure someone was there for us before we got out of the taxi.
Click here to book your private transfer from the Kathmandu airport
Now you have your Nepal visa, are out of the airport, where should you stay?
Kathmandu is a fun city, but it is loud and dirty. I'd suggest after a day or two you hit the road and explore more of Nepal. The touristy area of Thamel is perfectly fine and fun to stay in. During the day it's hustle and bustle but at night it's rather quiet and peaceful.
If you can bounce through Kathmandu and go explore Chitwan National Park and the wonders of Pokhara.
Book a luxury stay in Barahi Jungle Lodge. You won't regret a thing.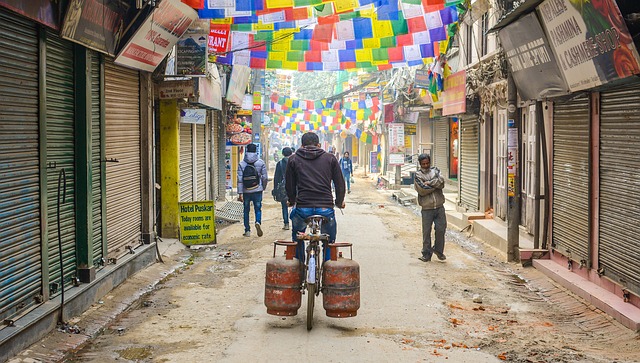 Quick tips for travelling in Nepal
Here's some random but helpful tips for when you're travelling around the wonderful Nepal.
Cash is vital. Very few places take credit card.
Take tissue/toilet paper with you. Very few public places have toilet paper available.
Hand over money with your right hand. The left hand is for wiping your bottom.
Coffee is amazing. In Kathmandu search out Hub in Thamel for the best coffee in town. Remember to BYO reusable cup.
The air quality in Kathmandu and even Pokhara can be terrible. To avoid a chest/throat infection grab yourself a dust face mask. 
Have any questions on travel in Nepal? Drop them below and I'll do the usual respond with helpful advice
Side note – there are no photos of inside the Kathmandu airport immigration area. Like all airports you're not supposed to use your phone prior to passport control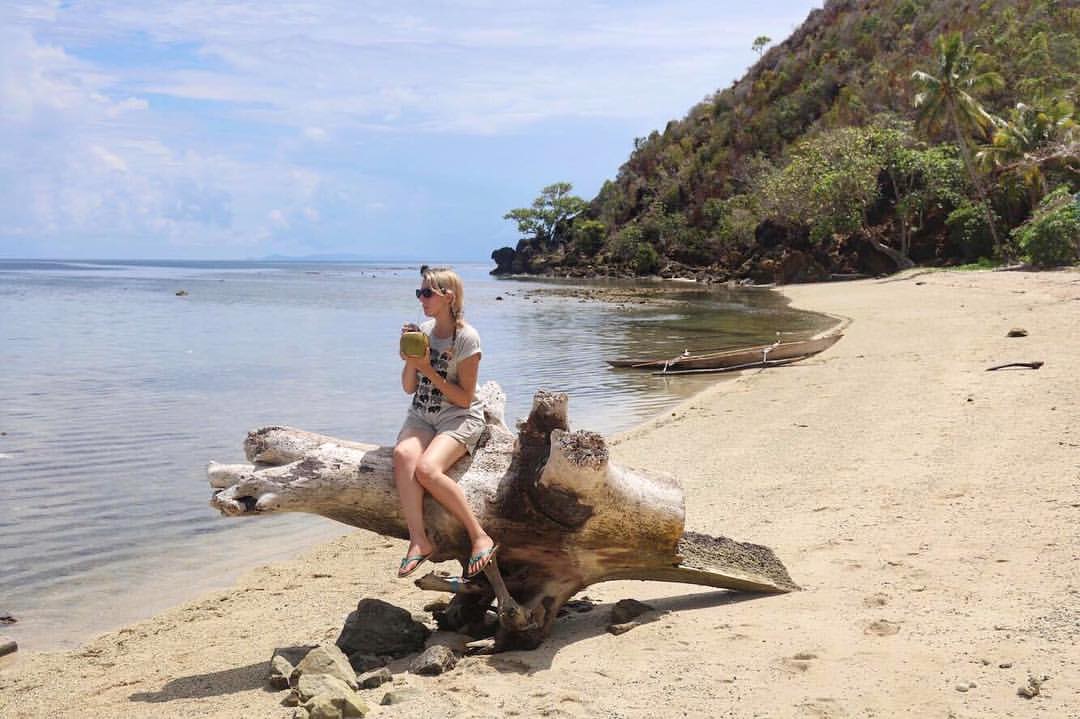 If You Liked This Post You May Also Like: