Japan is a country that many foreigners develop a deep love for. Almost all immediately falling in love with the myticism, the history, the culture and the hidden secrets of the Geisha culture. Now I'm here to tell you that there is so much more to Japan then this. It is a country that each time I have visited has offered me a very different perspective. A country that has captured my heart and will always have a place in my travel life. Let me take you on a culinary adventure to discover the sweetest of secrets from Shizuoka.
The sweetest secrets from Shizuoka, Japan
The Shizuoka prefecture is an area of Japan that is seemingly forgotten by international tourists. Just a beep on the Shinkansen radar, with many visitors popping by or travelling through to visit Fuji-san. Staying for merely a day or two at most. Yet such a short visit to this area is doing a disservice to the experiential traveller, wishing to discover a more authentic and delicious side of Japan. Many guidebooks will tell you how this region of Japan is famous for seafood. I'm not here to disagree, the seafood in Shizuoka is a culinary experience on it's own and it's easy to see why this area of Japan is considered a foodie haven. We did enjoy a lot of ocean fresh, immaculately presented seafood. However, the true hidden culinary beauty of Shizuoka lies within her sweet treats.
Hidden in the Amagai mountain range is some of the finest and certainly the most fun culinary delights of the Shizuoka prefecture. This is where the first sweet treats are hidden away just waiting to be discovered, Instagramed and enjoyed by all.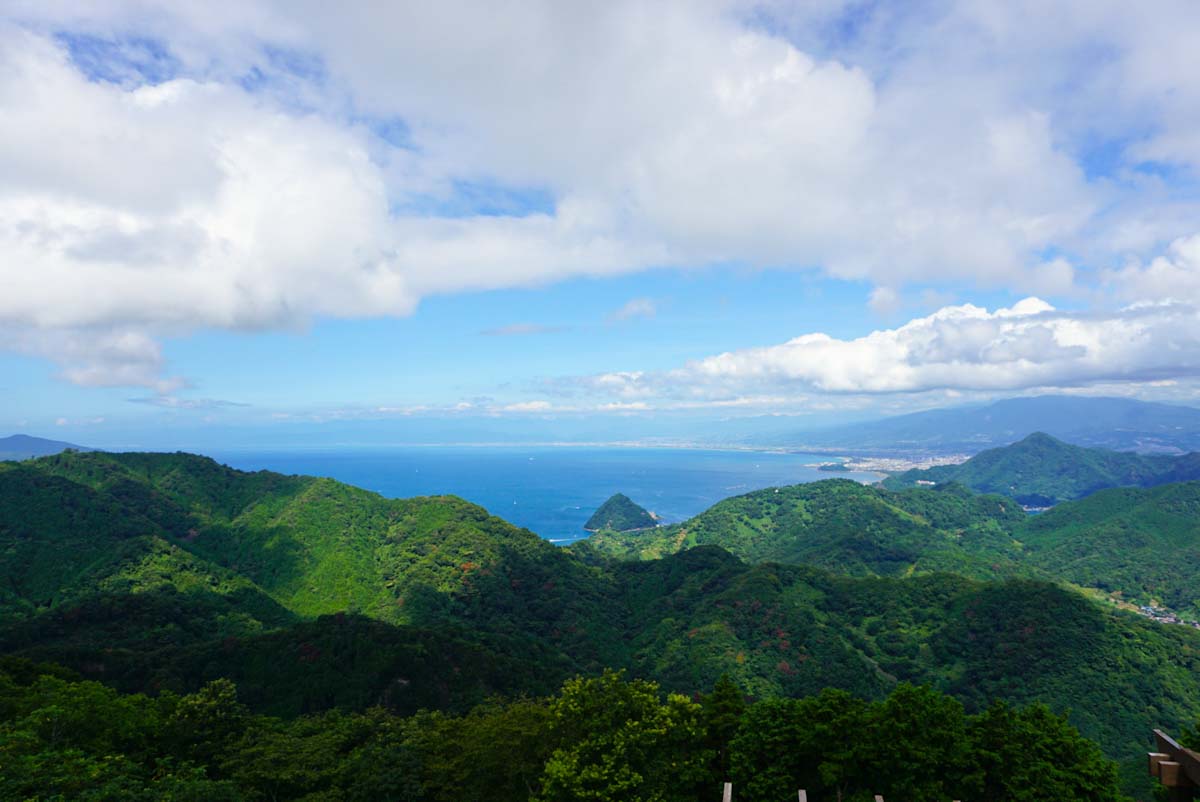 410-3208 Shizuoka-ken, Izu-shi, Yoshina 5-1
Nestled on the Yoshina River is the wonderful, hidden world of Chaki Chaki. An architecturally designed mindful cafe that boasts the most delicate wagashi that I've ever set my eyes on. Each wagashi is lovingly made by hand and reflects the season that it was made in. So you'll never know what wagashi will be on offer for you to enjoy with a cup of green tea, matcha or even the Chaki Chaki house special blend of coffee. Now you may think that you need to follow the traditional Japanese way of only enjoying wagashi to celebrate a special occasion, but in my experience enjoying the wagashi on the terrace at Chaki Chaki listing to the Yoshina River flow by is special occasion enough. 
If you don't know what a wagashi is, don't stress I didn't either, though I had eaten them previously. A wagashi is a traditional Japanese squishy treat, that originated in the Nara period in the 700s. The Japanese character pronounced '"wa (和)" literally means "of Japan", while the characters for" gashi (菓子)" means confectionery. Generally made from different beans.
Travellers tip – If you have the time to plan your trip to Chaki Chaki well in advance than I would highly recommend that you book yourself in for a wagashi making lesson. These are extremely rare and book out months in advance but without a doubt hand making your own wagashi will become one of your most talked about experiences in Japan. There's something ever so satisfying about the rolling, pinching and eentually the eating of hand made wagashi.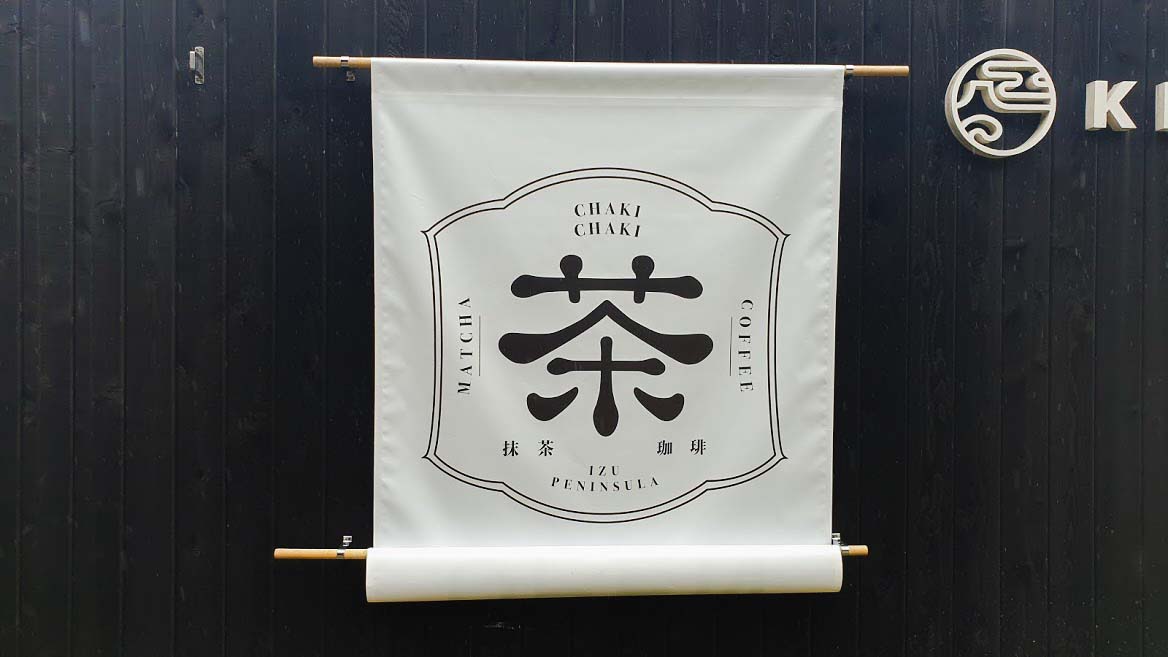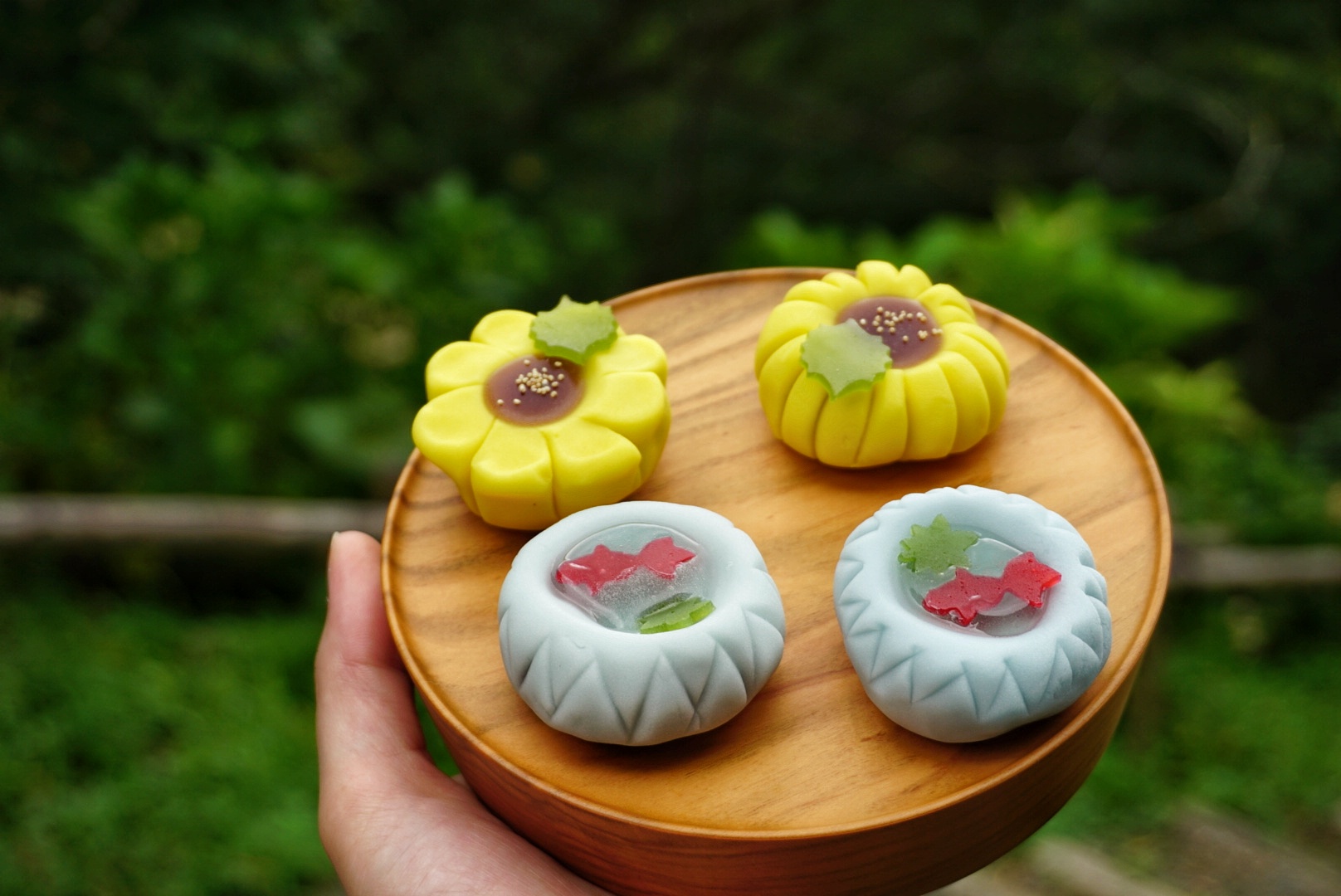 Pikiniki, Izu
2860-2 Yugashima, Izu, Shizuoka 410-3206, Japan
Check out the super kawaii Insta over at Pikiniki 
Have you ever wanted to enjoy a romantic picnic, with gourmet food, Melbourne style coffee all whilst being hidden amongst the mountain trees? I know that this is always high on my list when I'm travelling. And I don't want to have to BYO anything. Welcome to Pikiniki. Not only a great name to say but offering a truly delightful afternoon of fun and frivolity. If the weather is playing nice then you can grab yourself a picnic blanket, order your lunch and sit out below the trees and enjoy the fresh mountain air. Sadly for me during my visit the weather was not so kind, and instead we opted to sit inside the funky cafe space and enjoy the fine food.
Travellers tip – Pikiniki serves Allpress coffee and has some of the friendliest cafe staff you'll ever meet. There isn't a lot of accomodation options on this side of the Amagi mountains but just a short walk from Pikiniki is a delightful hostel as well as a bus stop. To visit Pikinikki and the Wasabi Fields at Joren Falls you may want to consider hiring a car or taking a private tour with the Shizuoka cooking school.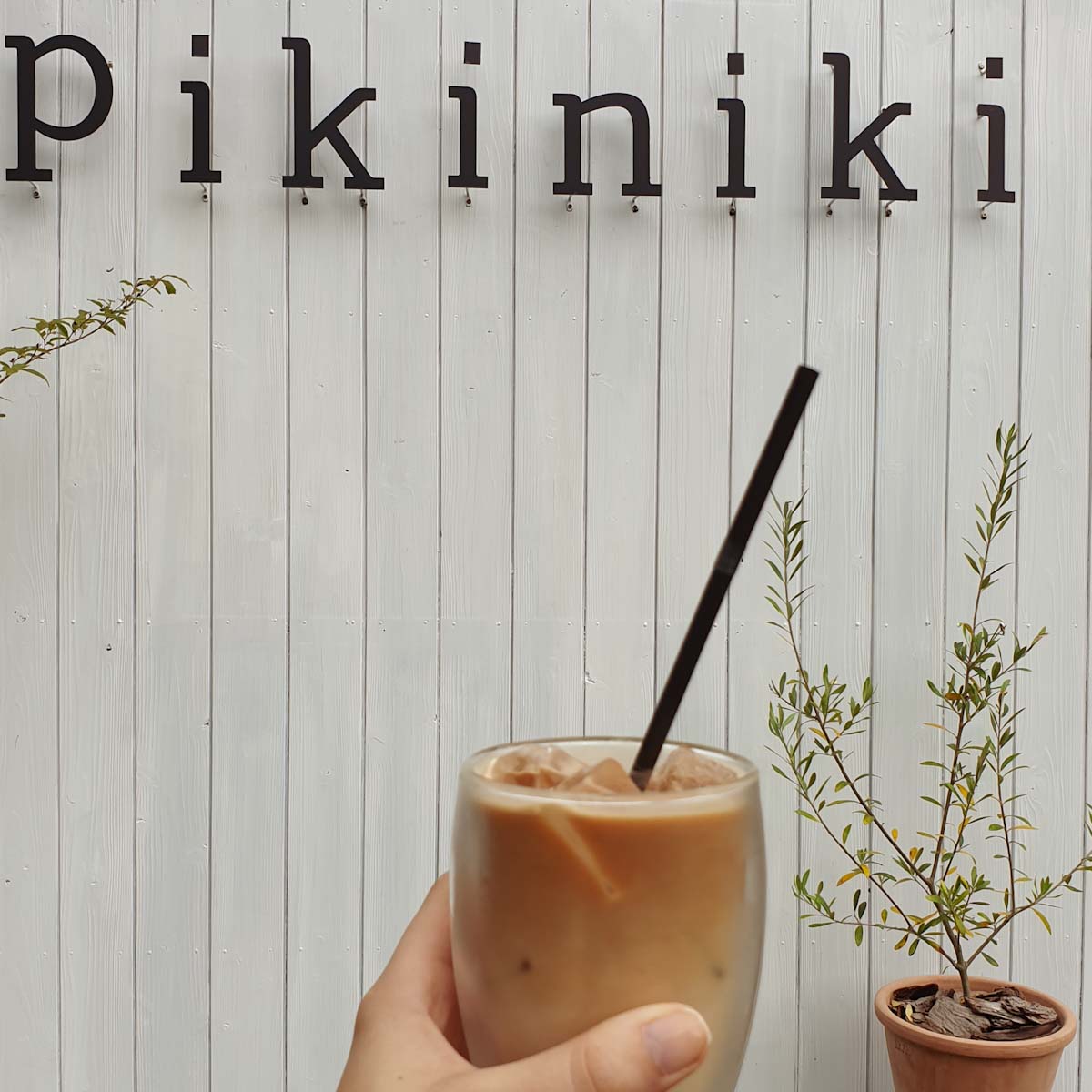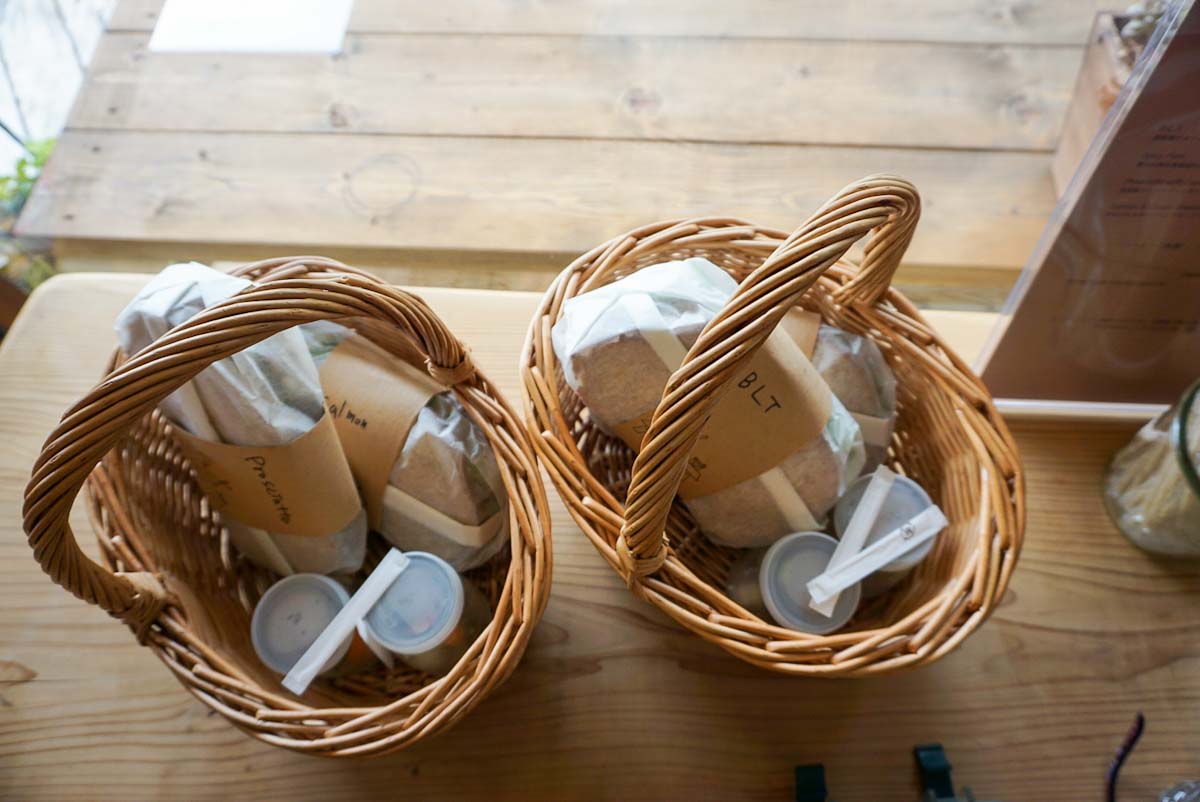 Visit the Wasabi Fields at Joren Falls
It would be amiss of me to not mention the green glorious waterfalls, flowing fresh delicate water down to the wasabi fields. Joren Falls is a must see stop in the Izu Penisula. After a stealthy walk down the slippy steps, past the coal BBQ cooking freshly caught fish you'll enter an area of serenity and wasabi. So. Much. Wasabi. With so much greenery you'll be dreaming of wasabi for days to come. Now you might be wondering why I'm suggesting that you go to a wasabi field as we're talking about the secret sweet treats of Shizuoka but this area combines the wonders of freshly harvested wasabi with ice cream.
Wasabi is an incredibly delicate little plant and requires pristine water to thrive in. You'll find the cleanest, clearest water in all of Japan flowing through the wasabi fields.
Travellers tip – You may have to trust my judgment on this one but trust me when I say wasabi ice cream is a must try when visiting this region of Japan. I had only ever tried, what I now know is stale wasabi. Freshly ground wasabi, stirred into rich creamy ice cream is a mouth watering experience. The fun thing about grinding the wasabi yourself is that you can go as hot or not as you want. I'm rather delicate when it comes to the wasabi so I only ever had a delicate touch of the fresh wasabi.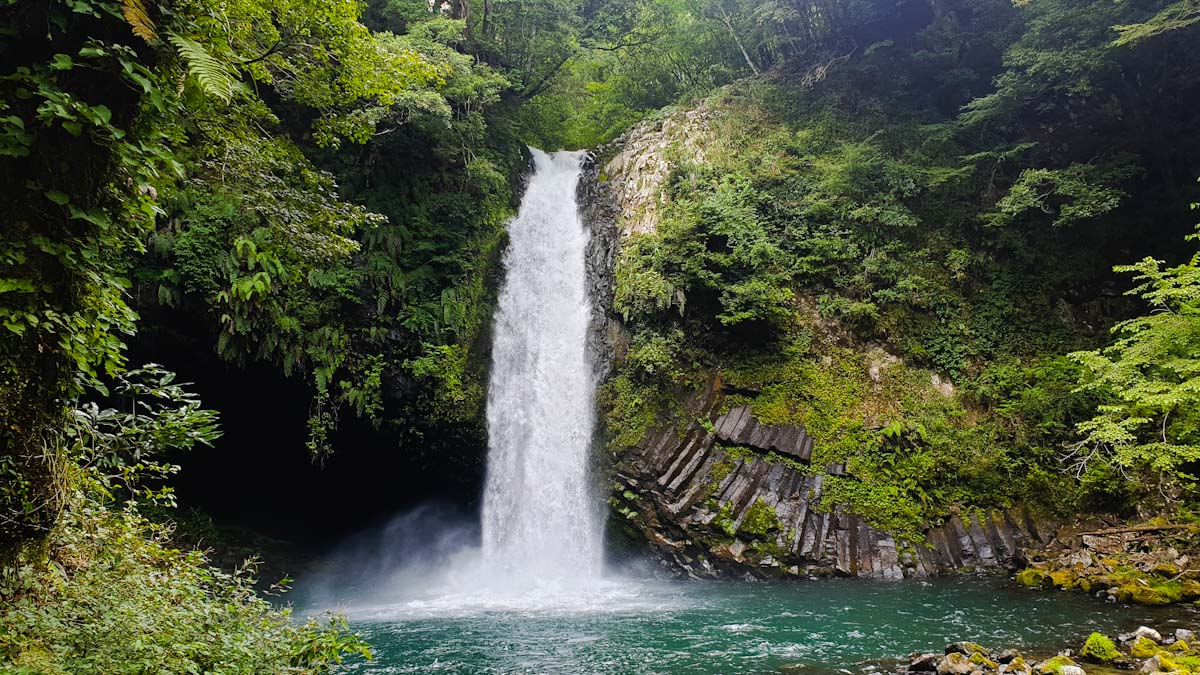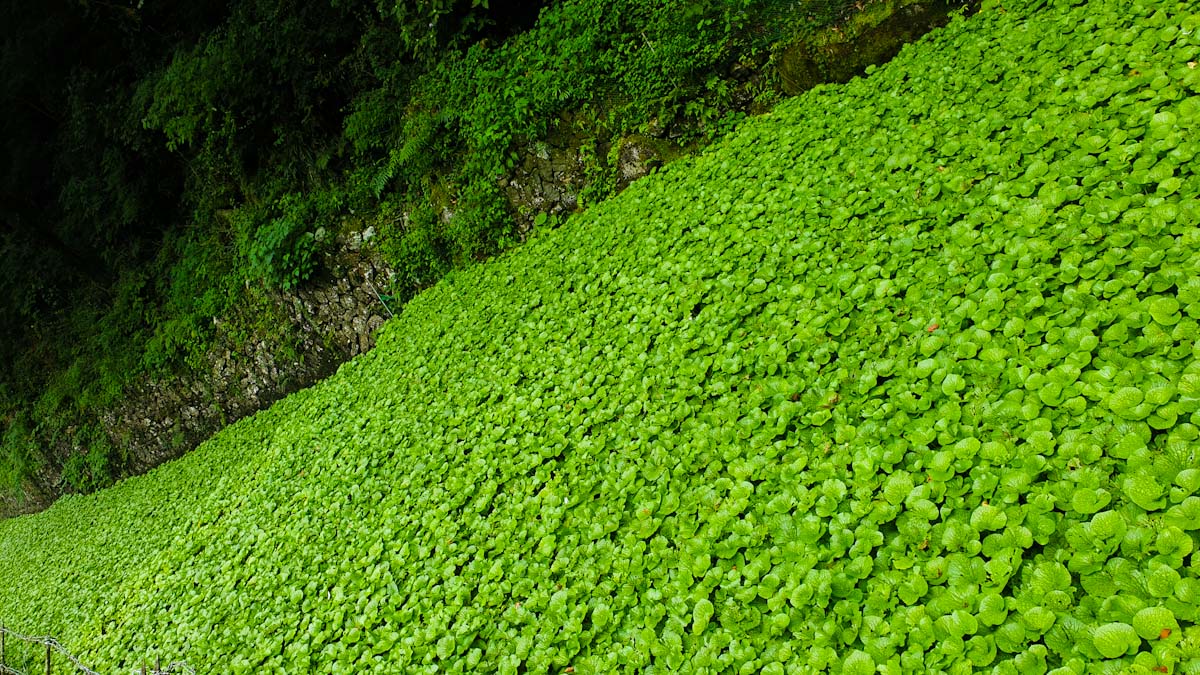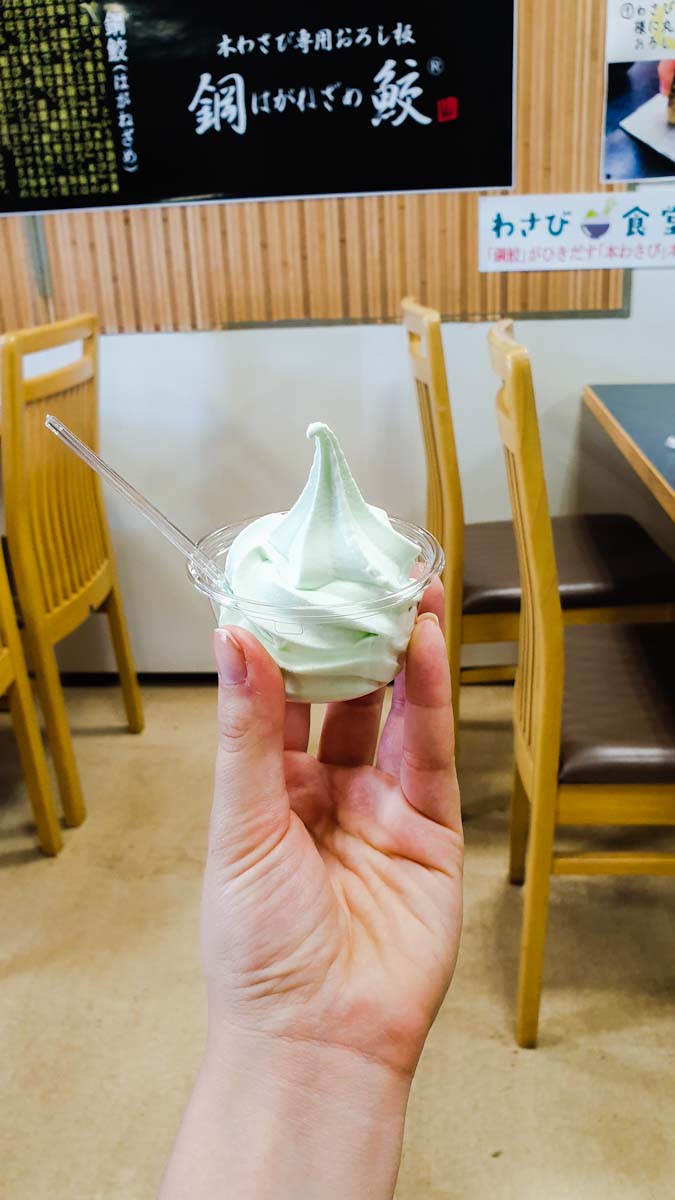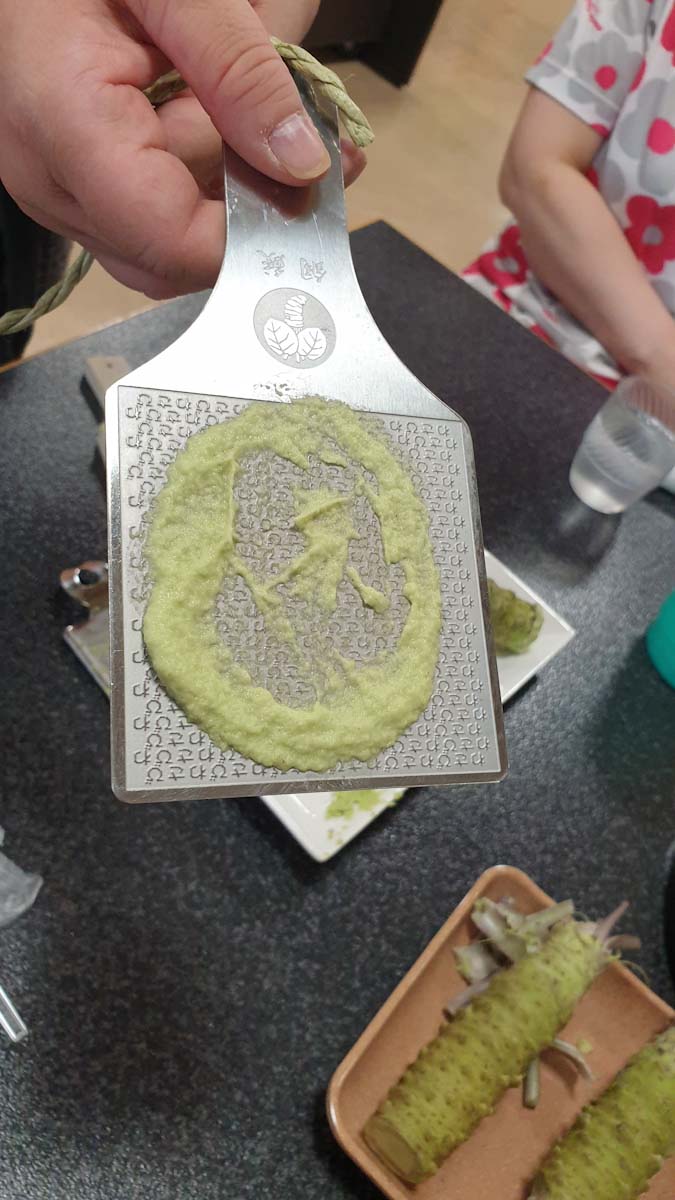 2 Chome-10-7 Takajo, Aoi Ward, Shizuoka, 420-0839, Japan
Did you even go to Japan if you didn't drink an inordinate amount of green tea or blow your budget on amazingly rare matcha? Now I'm here to confess that I don't have a huge love of matcha or green tea, however this last spot on my sweet secrets of Sihizuoka that I'm going to share with you. I can confidentially say that this the one place that changed the way I drink my tea and has even diverted some of my coffee habits.
Chagama is hidden in plain site down a fairly bland residential street in Shizuoka city. This isn't exactly the easiest place to find and you really will be going off the tourist trail and exploring a world of tea-licious wonder. The sweet treat here that should be on your to eat list is the shaved ice treat. A double delight that showcases rare Shizuoka tea in two styles – green tea and hojicha.
Travellers tip – Hojicha is a lightly roasted, slightly caramel tasting delicious take on the traditional Japanese green tea. Commonly served to children due to it's lower caffeine it is an absolute wonder in any of the three styles – served as part of the shaved ice treat, a traditional tea leave drink (served both hot and cold) or my new favorite style- as a creamy latte. Sadly I didn't capture any photos of my hojicha latte.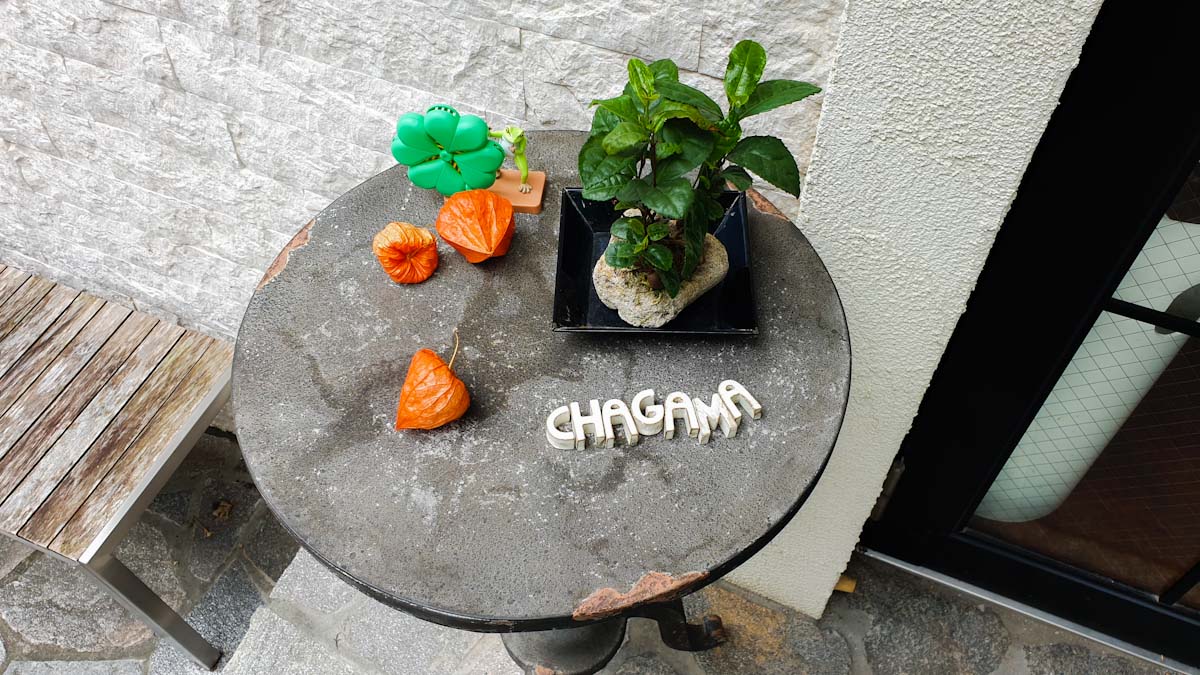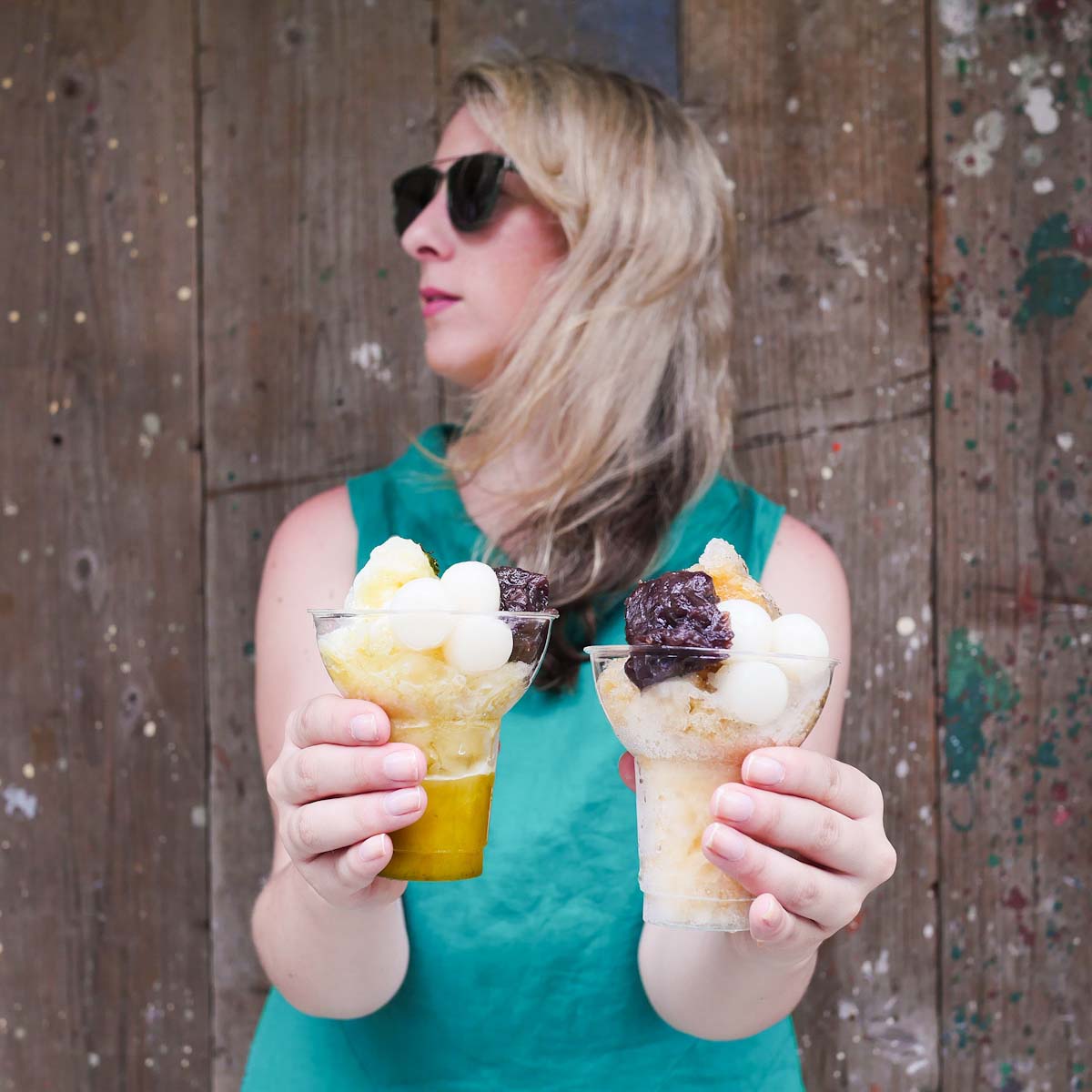 There's so much good food in Shizuoka
I can't even begin to tell you, otherwise we'll all be here for a good week with me harping on about the adventures in Shizuoka. Instead you'll have to trust me and my amazing photography skills. Just about everywhere we stopped off at we had amazing food. Like ice cream at the Mishima Skywalk and delicious & Insta-worth strawberry delights!
Why visit Shizuoka?
There's so many adventures in Shizuoka that it was rather difficult for me to decide which to actually share with you. Whether you are you a Japanese foodie adventurer, a wannabe Japanese mountain biker and like me some one who loves to mix all the adventures. Shizuoka has a little something to offer all travellers. If you are planning on visiting the Shizuoka prefecture I would suggest that you allow at least 3 days to visit, preferably more if you want to explore the Amagi mountains. There is a lot to see and do in Shizuoka and the cities along the coast offer a lot for the gourmet food traveller to the active outdoor adventurer. Sadly during my trip there wasn't enough time to pop on a bike and explore the green tea fields.
Where is Shizukoa prefecture?
The Shizuoka prefecture is a perfectly easy and affordable adventure from either Tokyo or Kyoto & Osaka. The entire region is rather easy to explore. This area is an affordable and easy Shinkasnen ride from Tokyo or Osaka/Kyoto on the Tokadio line. There are many trains each day so you won't have too much trouble but I would suggest that you visit a JR Rail office to reserve a seat and to ensure that you are booked onto the right train. With Tokyo being only a 90min train ride away you'll find that there are quite a few travellers who commute to the city for work each day, and some of the trains run express between the larger cities only. .
For most tourists you'll pass through Shizuoka on the shinkasen on your way to or from Kyoto to Tokyo. Or you might even be brave and decide to do a day trip to see the delights of Mt Fuji and return to Tokyo. Now I'm not going to say that you're doing your travel thing wrong but I will say that you are doing your Japan adventure a disservice by not spending time exploring Shizuoka and the Izu Penisula. There is many chances to see the wonders of Mt Fuji should she decide to peek out form the clouds.
Note if you are planning on catching the bullet train to Shizuoka you'll need to triple check that you are on a fast train but not an express. There are quite a few express trains that don't stop in Shizuoka!
Tarvellers tip – Take the time to research and buy your JR Pass. Sites like Klook offer reliable services, reasonable pricing and easy delivery.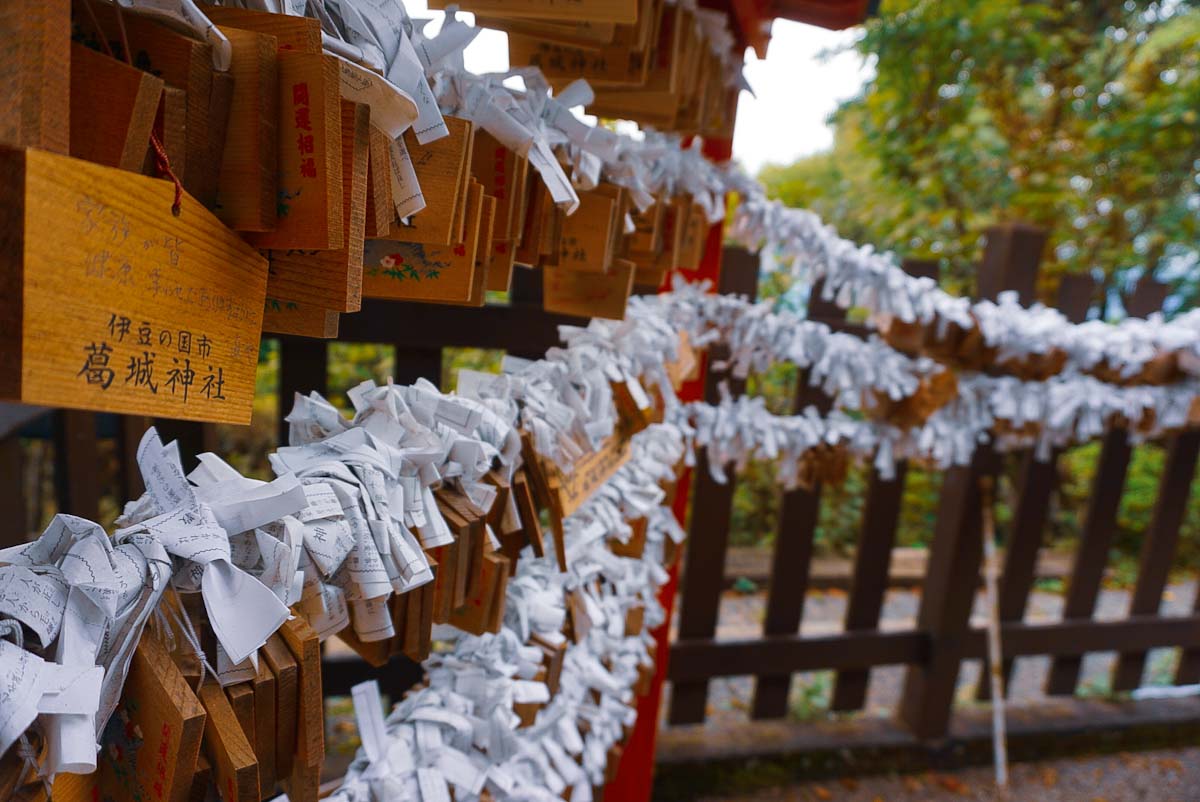 Where to stay in Shizuoka?
There's a lot of accommodation options. Just a note though that this was one area of Japan that I've found to be very shy when it comes to speaking English. Don't worry though, a lot of hospitality staff will understand what you are staying – so play nice! We stayed in Misihma on the beach front, as well as a night in Shizuoka City. Both cities had a lot of charm and really good access on the train. If you are traveling to Japan for the 2020 Olympics I'd suggest that you consider booking as soon as possible.
Where to stay in Shizuoka City
Where to stay in Izu Pennisula
Travellers tip – Is AirBnb legal in Japan? Yes it is. Japan has been very proactive in AirBnb management. You maybe (read most likely will be) asked to provide your host with your official government ID – passport. This is a requirement, just the same as if you were staying in a hotel or hostel. On arrival in Japan you may also be asked to list your AirBnb address, so make sure you have that written down. You will need to do this before you hit the front of the border security line or your risk being sent to the very, very end of the line. The wifi in Japan airports isn't always that reliable.
AirBnb prices start as low as $40 a night. Check out amazing places today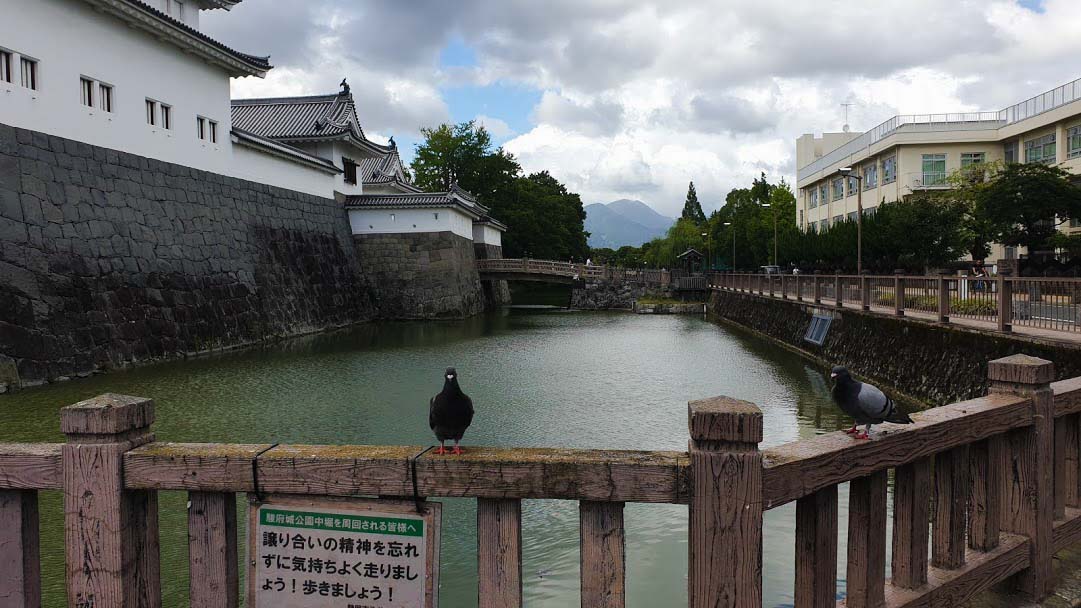 Shizuoka is one of Japan's best kept hidden secrets.
And it really should be on your Japan travel list. Without a doubt you'll have an amazing adventure in the Shizuoka prefecture. This is just another sneak peak into the wonders of this region and I'm hoping that it has inspired you to travel and explore Shizuoka and eat yourself to happiness.
If you have any questions on Shizuoka drop them in the comments below!