Hidden in the blazing sun in the suburbs of Tokyo sits a wonderland. A hidden oasis of kawaii extreme joy. Where am I talking about? Why it's the world of Sanrio Puroland. A dream world full of magic, wonder, glitter and a whole lot of pink. Without a doubt a visit to Sanrio Puroland in Tokyo should be on everyone's to do when in Japan list.
You may think that I'm absolutely crazy for saying this, but I stand by my statement. Sanrio Puroland offers you a glimpse into modern day Japanese culture. From the young girls exploring with their parents, to the groups of teenagers doing makeup behind the Wisdom Tree and the single ladies who seemingly use the space for a moment of escape from the reality of being single and 30+ in Japan
Sanrio Puroland is a world of kawaii wonder and bemusement
This is truly a unique, must have Japanese experience. The park opened in 1990 and receives around 1.5 million visitors a year. 
The theme park itself is inside and is a maze of 4 floors of Sanrio wonder. Featuring your favorite characters such as Hello Kitty, Cinnamaroll, Gudetama and more. There are some characters that I had never heard of before and I'm not entirely sure where they fit in the world of Sanrio. That's a whole other story I'm sure. 
On arrival you walk into pastel colours. Everywhere you look, it's a fantasy world. The designers have painstakingly ensured that you won't remember the outside world. There is wood effect stairs, hand rails, leaves and the illusion that you have stepped into another world. There are lights and happiness everywhere you look.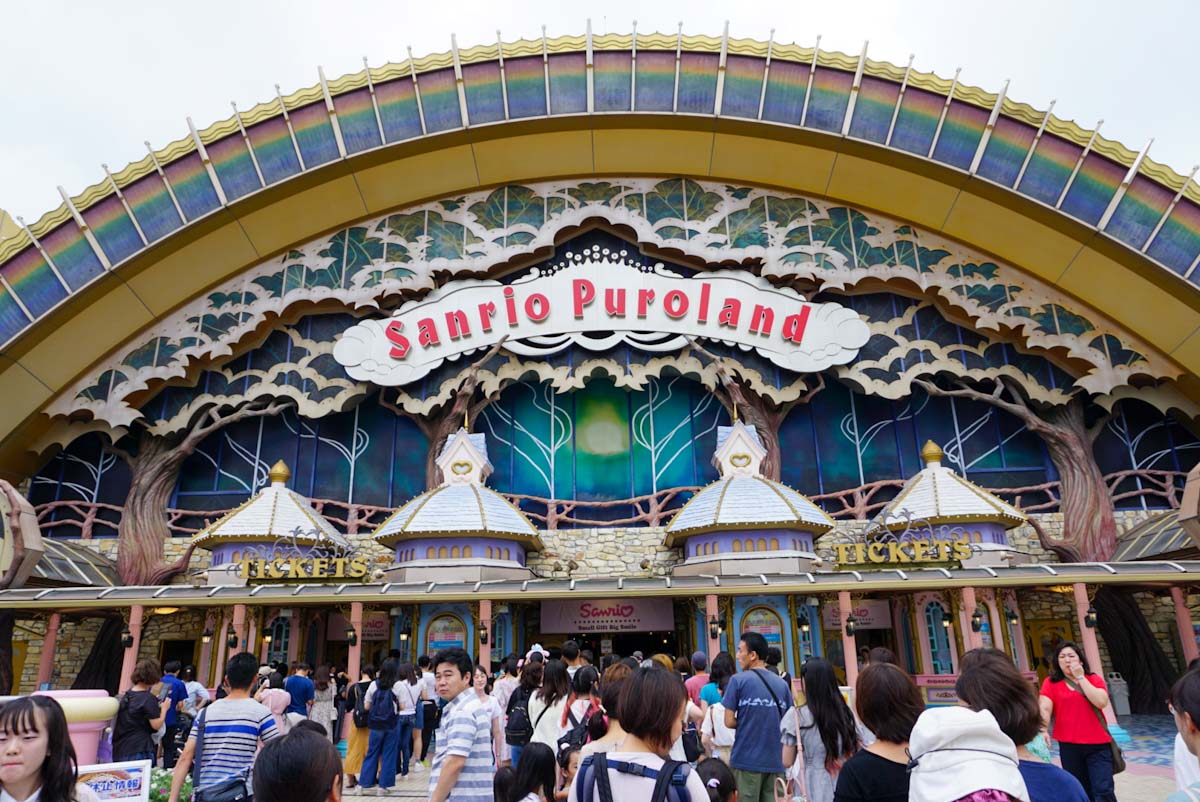 Tip – Make sure you try all the bathrooms. These are again next level kawaii! Each toilet had a different theme and was a unique experience in it's own right. For those who are nervous about using squat toilets, there's no need to worry here. There are plenty of Western Toilets and the cubicle will have a sign saying what sort of toilet you're about to walk into. If you've never used a bathroom that has birds singing to you as you sit down then are you even living your best life? 
Rather then bore you with my mediocre description, here's a few photos to inspire you to visit Sanrio Puroland.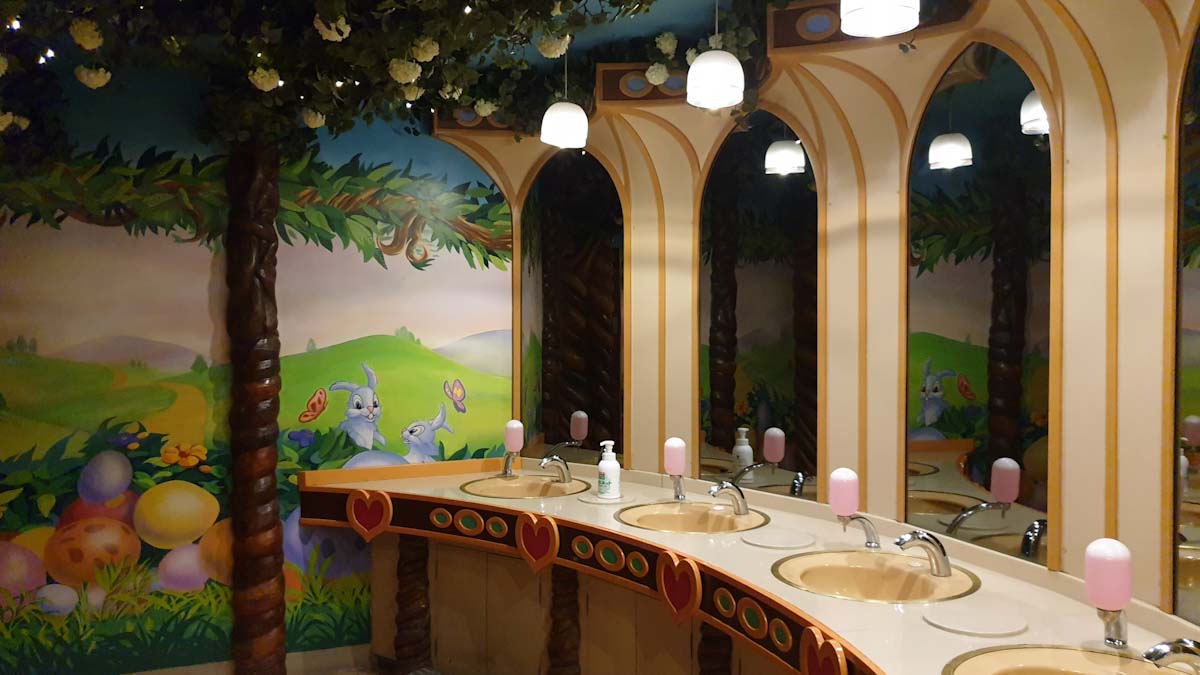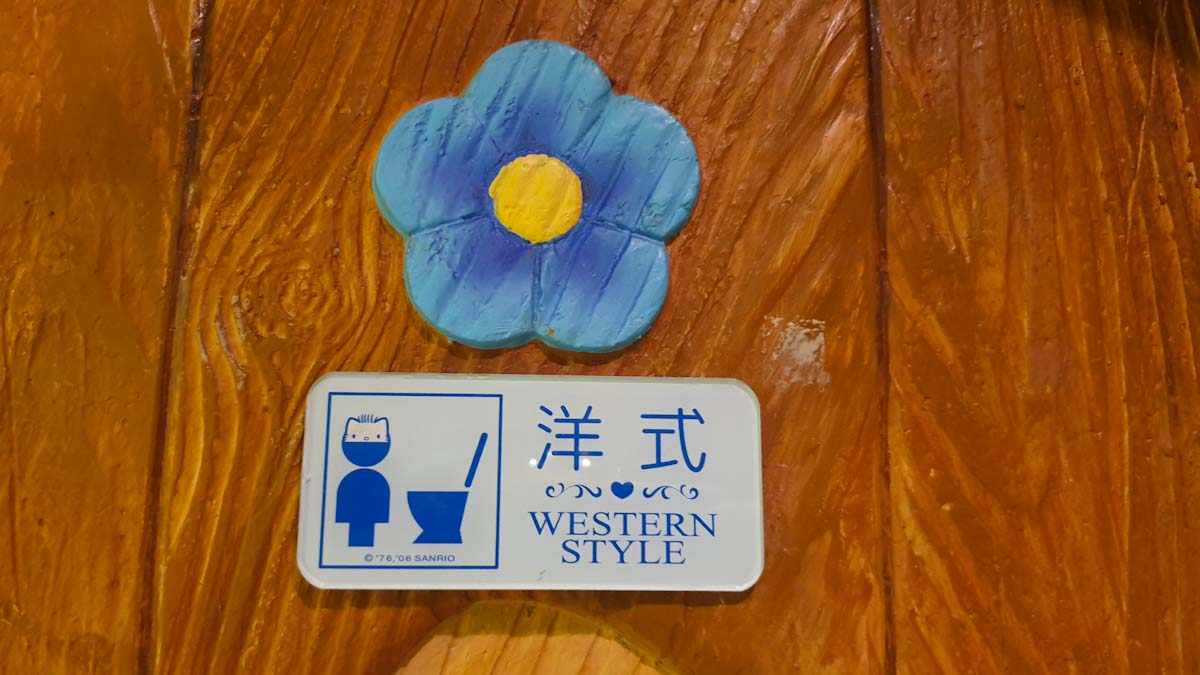 Book your ticket today and get 48% off with Voyagin
How to get the most out of your Sanrio Puroland experience.
Don't hate me but you really do need to be at Sanrio Puroland pretty much at opening time. The crowds get crazy big and you want to avoid that at all costs, as this is a relatively small theme park. The below is a guide that gives you a really good feel for the park but doesn't overwhelm you or have you there for the entire day. It is possible and easy to spend the entire day here if you want to.  One of the main perks being that it is inside a climate controlled building and out of the weather.
First ride – the boat ride
We arrived at 09:20 and there was already a 45min wait for the boat ride. When we left at around 2pm the line was well over an hour and the main stair case entrance had been closed off due to the long lines.
Second – Magical Gift Parade
This parade/musical show starts on the hour. You'll notice that people start reserving spaces on the ground a good 30mins before the show is due to start. Don't be stressed out about this, as the staff will promptly set up barriers as to where people can and can't sit. If you have purchased the top level Pur-pass then you might even get yourself a special VIP front row seat, complete with cushion.
Tip – go up to one of the balconies to watch the parade. Again the theme park isn't huge so you'll get a great view from above. You can also see the aerobatics much better from the balconies rather then on the ground.
Then run down to the Memory Boys Show – This was a hilariously well put together musical. The differences between this show and the rest of the events on offer at Puroland is certainly the target audience. The age in the room was rather on the higher side. We did see some teenagers but I'd say at a rough guess that the average age was more 20 then 12. 
Finally sneak off to the Kawaii Habuki Show
An adorable show full of wonder, delight and some pretty awesome dance moves on a rotating stage. This is a family fun show.
Grab a snack to eat in the cafe area then it's time to leave.
The café here is separated into different food stations. Which makes it super easy to get food. You'll want to eat when the Magical Gift Parade is on, so that you can actually get to the food. Price was it isn't too bad, but really you're paying for the experience of eating inside what feels like a rainbow. This is mass produced food, designed to thrill young folk. Which it does exactly that. 
Tip – if the cafe or other food places within Sanrio Puroland are crazy busy you can leave for lunch and come back. That's included in your ticket. You can need to get a stamp at the door when you exit. There's a street about a 3-5min walk away that has takeaway food places. You can't BYO snacks in and bags are checked at the entrance.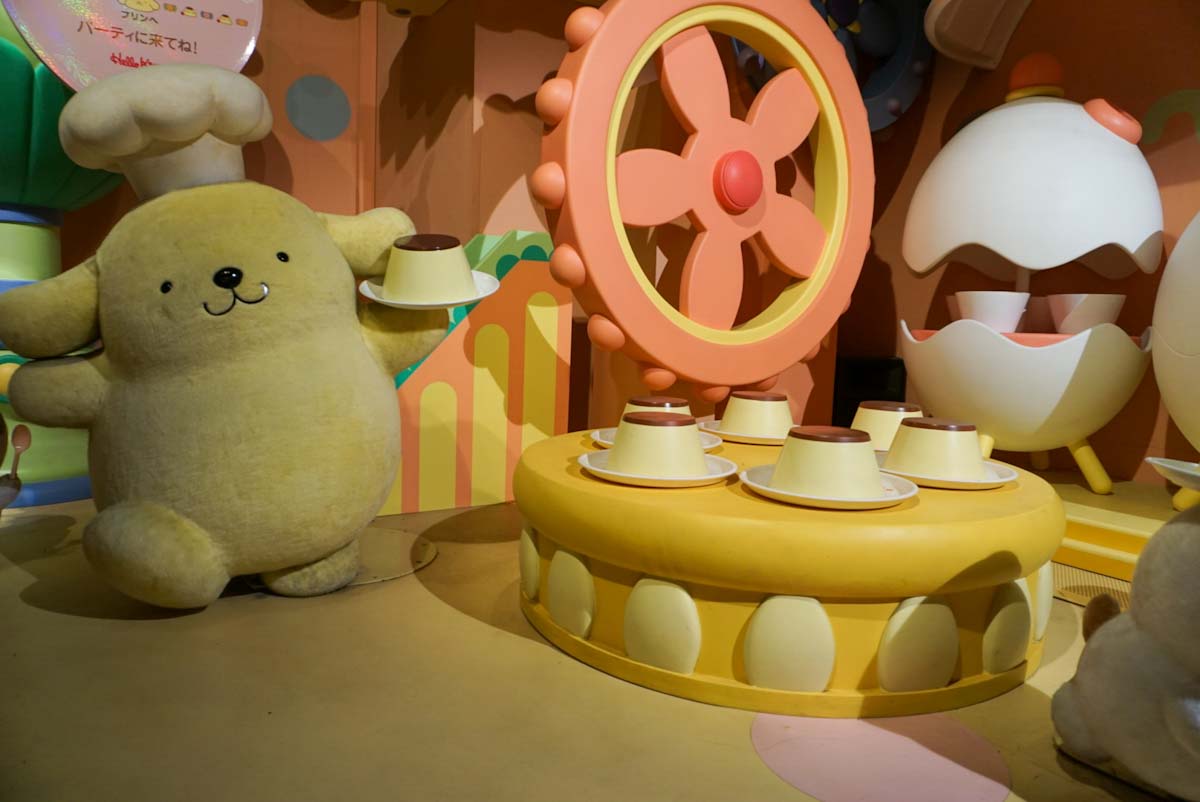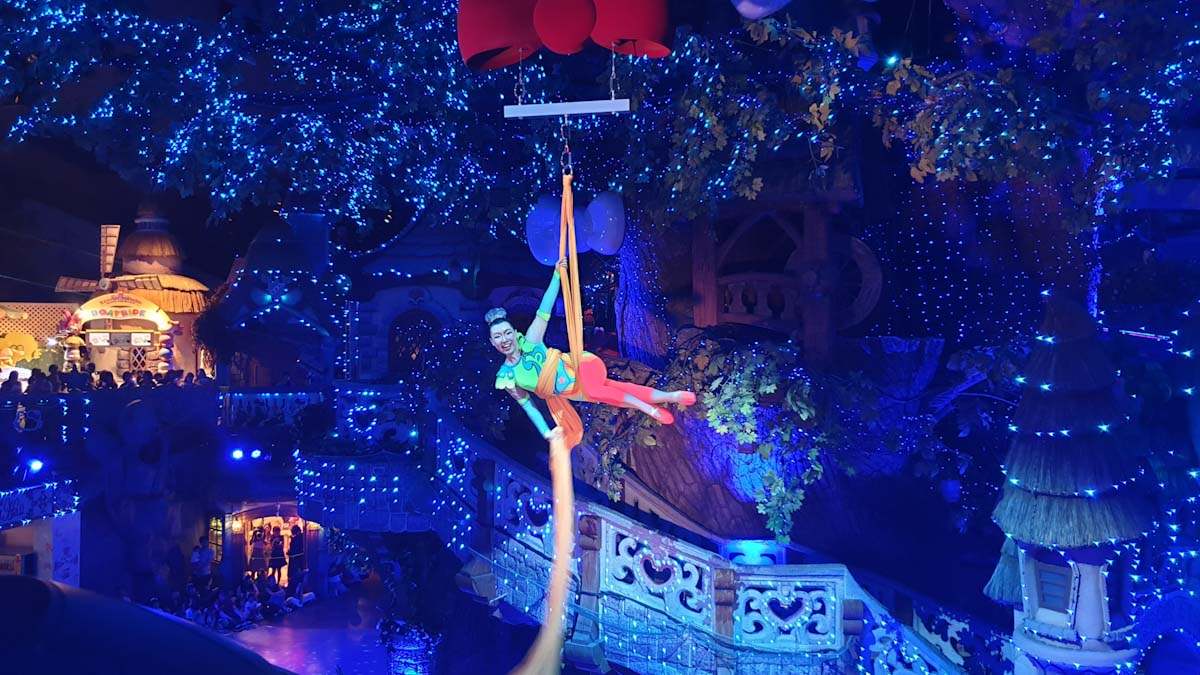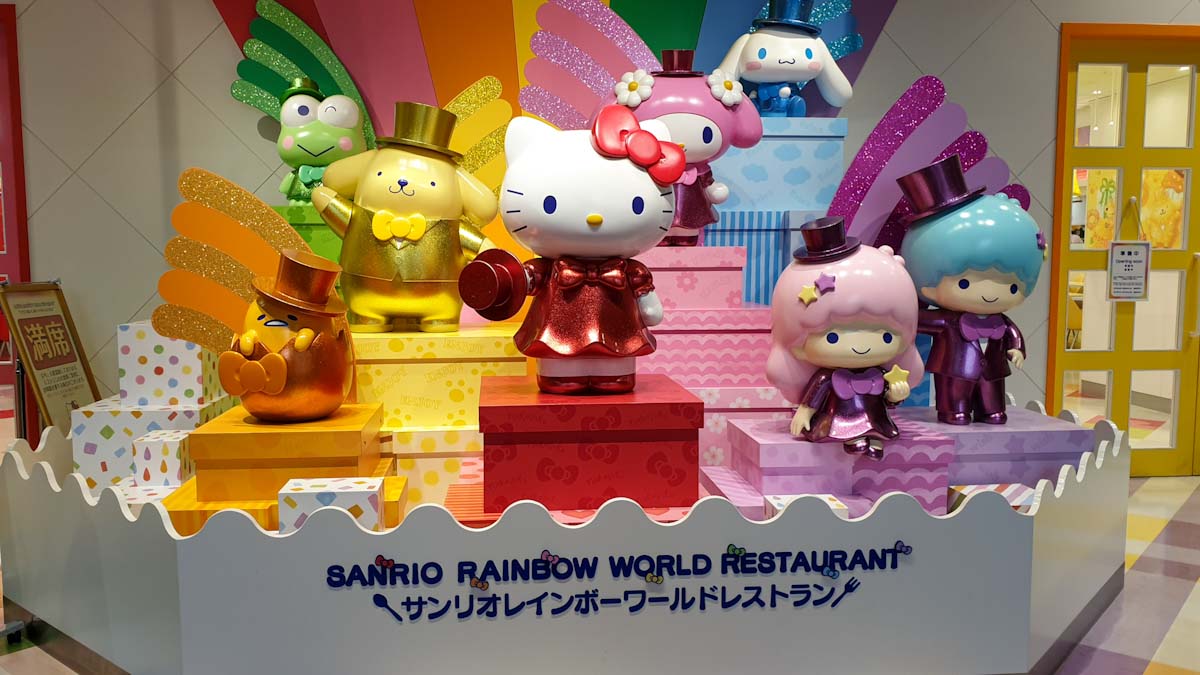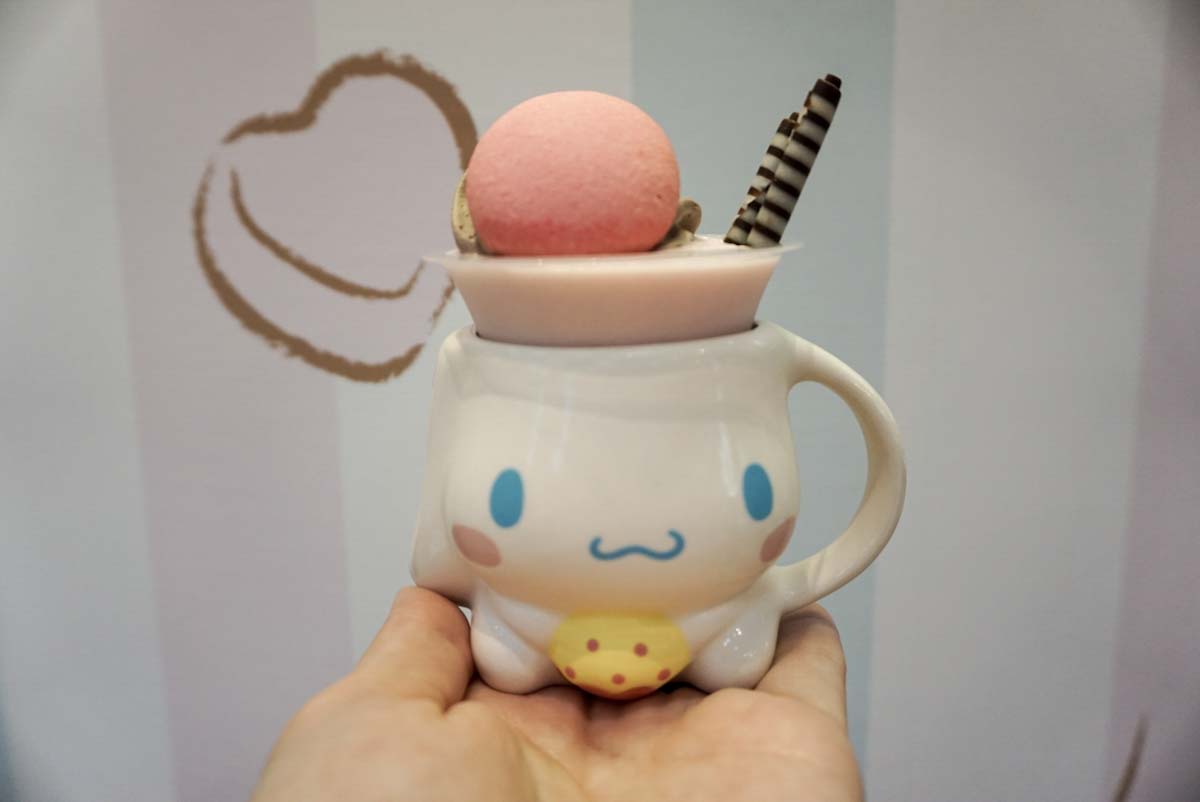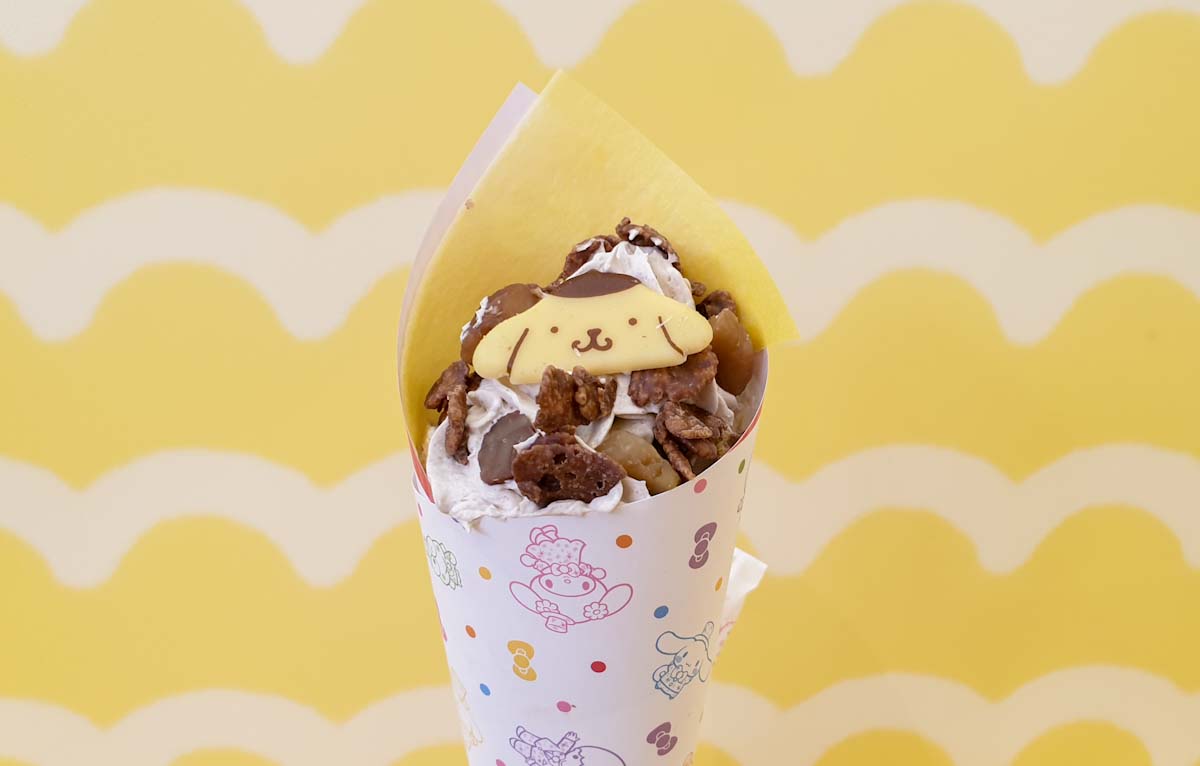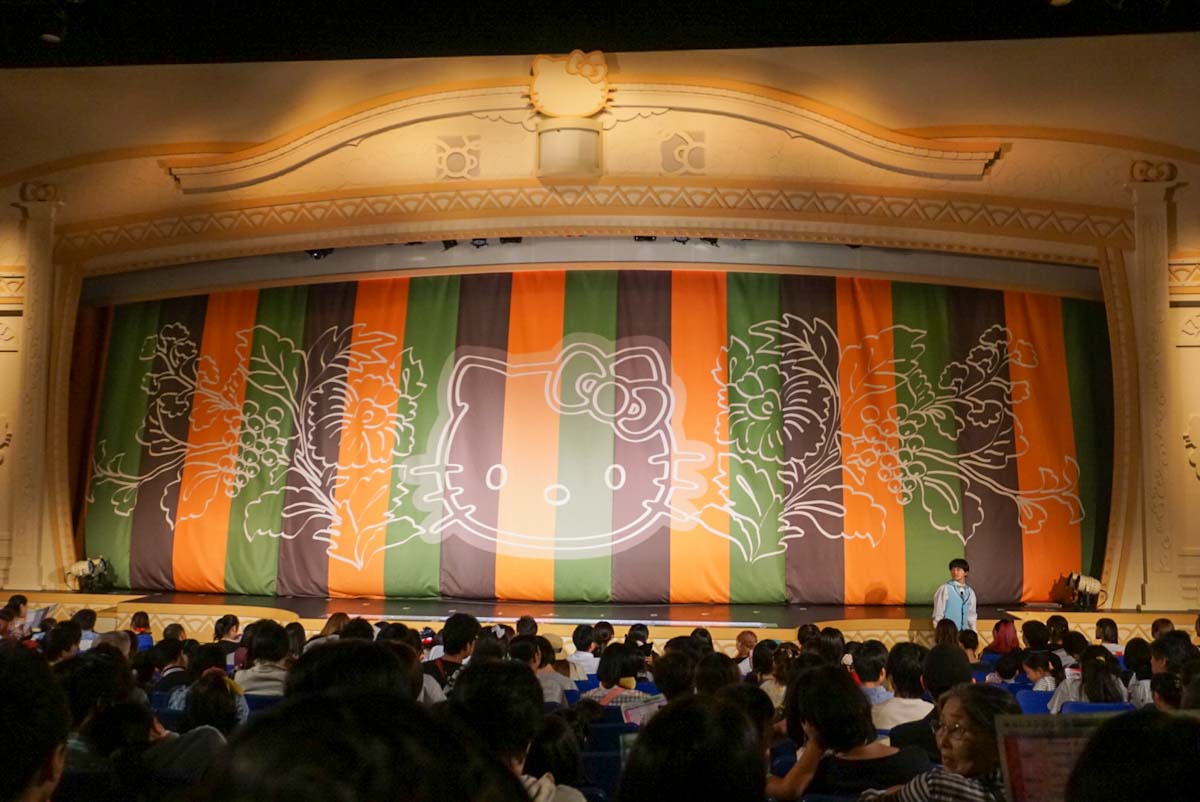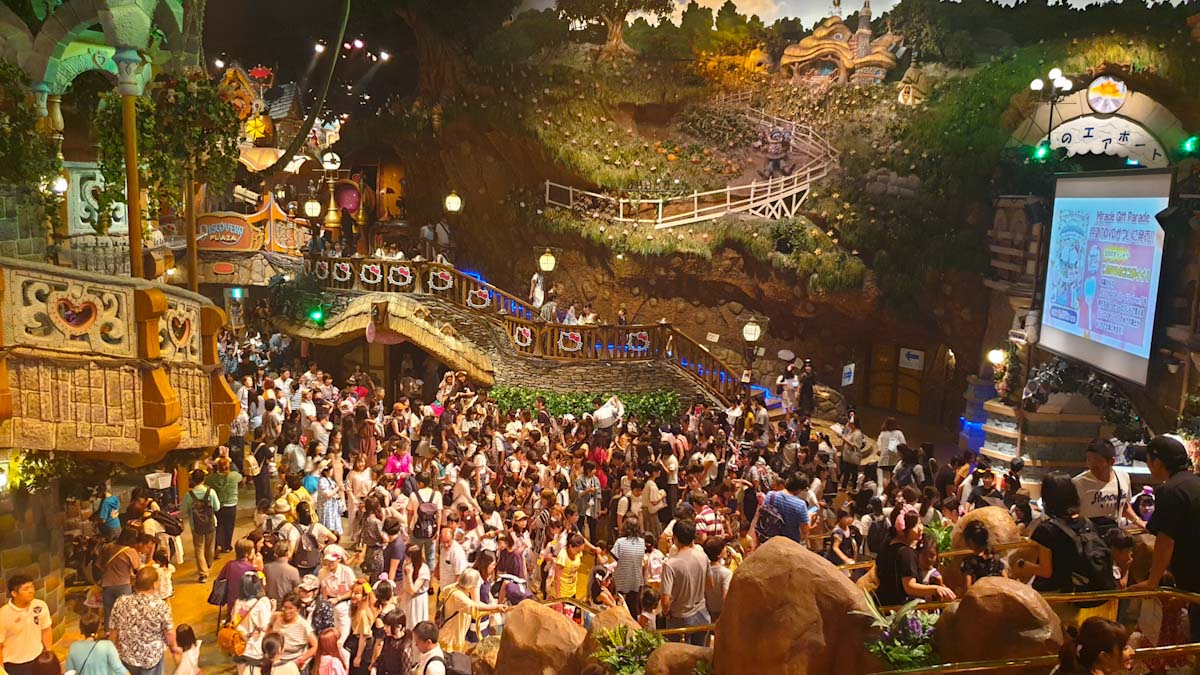 What is an appropriate age to visit Sanrio Puroland?
All ages is a good age to visit this kawaii haven. There isn't anything here to exclude people of any age, which was good as two 30+yo women running around having a great time. This was certainly a family destination and we saw a lot of Dads and Grand Pa's with very tiny girls having a great time. If you take a moment to look around Sanrio Puroland you do see a lot of older women in amongst the crowds. Childless older women just enjoying a moments escape.
One thing I would say is that the shows can be loud and there are a lot of flashing lights. Lots of laser beams, kawaii ninjas and demons and even more song and dance.  If you have light or sound sensitivities then this might not be the place for you. If you're kids aren't great with loud noises or bright lights then you might want to not go here OR you could see if they survive. The choice is up to you.
The easiest and cheapest way to buy tickets to Sanrio Puroland
The easiest and cheapest way to buy your tickets to
Sanrio Puroland is online with Voyagin
. This link will give you a 48% discount on entrance tickets. The great thing about this is not only are you saving nearly 50% on the cost of tickets but you also receive your tickets instantly via email. Inside the email is a QR code that gets scanned on entry. So no having to worry about collecting tickets, printing tickets. We booked our tickets the night before and had no issues.
If you do decide to buy tickets at the gate adults were Y3800 $52 AU or $35 USD (at the time of writing). We paid $28 AU per ticket! 
When you are at Sanrio Puroland you can buy a PuroPass, that gives you fast access to the rides and access to the characters for photo moments. We didn't do this as we couldn't actually figure out how to buy the pass or the cost. 
Tip – like a lot of places in Japan these things randomly close. BEFORE purchasing your ticket I strongly suggest that you check out the
Sanrio Puroland calendar 
for opening days and hours. 
How to get to Sanrio Puroland Tokyo
Here's the thing. It's really easy to get to Sanrio Puroland but it does take time and a return trip will cost you around Y1000 or $10USD. The train ride from Shinjuku station takes about an hour give or take. You can get an express train, but when we tried this the train wasn't actually express. In theory the train from Shinjuku station is express and will take 30mins. 
Find your way to Shinjuku Station.
Transfer to the Keio Line – you need to leave the JR area for this
Leave the station and follow the signs up over the walk way to Hello Kitty Street. Don't go down the stairs, even if Google Maps tells you to do so.
Here's a Hello Kitty video explaining how to do the above –
watch now
Location
Sanrio Puroland is at 〒206-8588 Tokyo, Tama, Ochiai, 1−31
Nearest Station is Tama Center, on the Keio & Odakyu lines.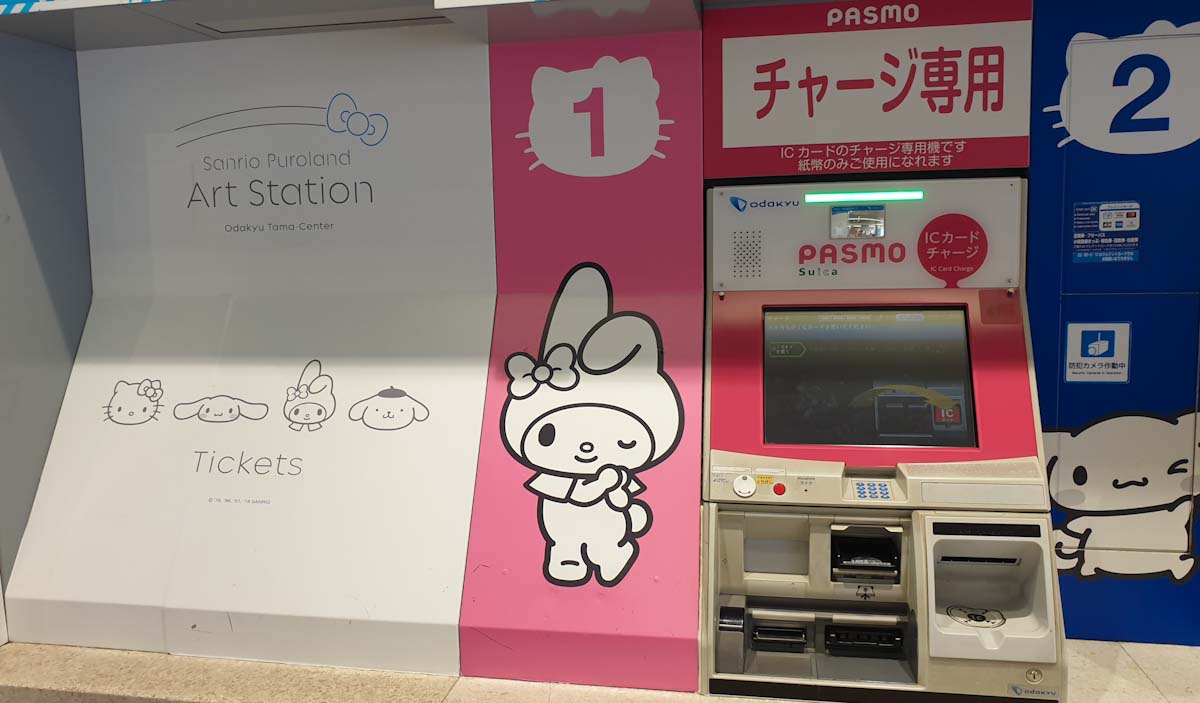 Final thoughts on visiting Sanrio Puroland
This was a hilariously fun experience. As we visited in August, the weather outside was terrible. Hot, humid and generally soul destroying day after day. It was so nice to be in a cool area for a few areas just chilling. Now if you only have a few days in Tokyo I wouldn't exactly put this on your must go and see list. It is a fair distance out of Tokyo and takes a certain kind of person to go and enjoy it. However if you're like me and have an entire week to relax and explore Tokyo then this should be on your list of hilariously odd things to do. 
Note that all the rides, shows and experiences are in Japanese. This was the one spot in Tokyo that I found a lot of the staff did speak English. Supposedly there is an app that you can use that will give you subtitles for the live shows but neither Brittany or I couldn't get it to work, even with our
amazing Wi-Fi devices.
If you have the time then it's worthwhile getting your kawaii on and experiencing Sanrio Puroland.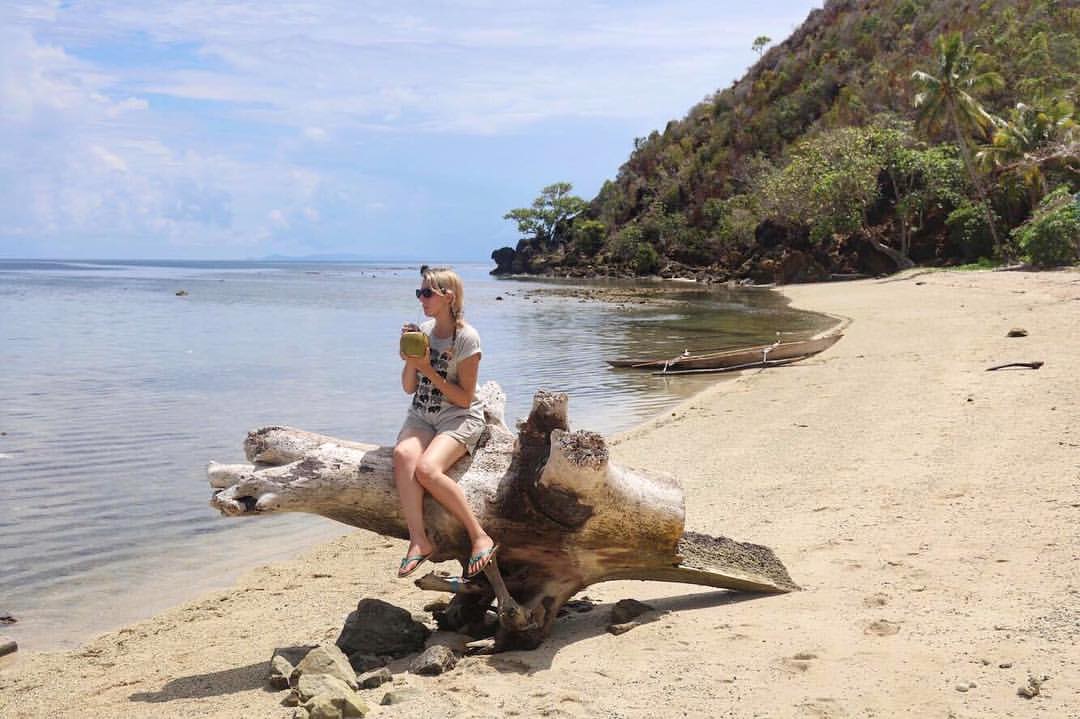 If You Liked This Post You May Also Like: