Hidden high up in the Tasmanian hills sits a little piece of luxury amongst the wilderness. Behind the wombats, protected by paddymelons and peered at by possums – Cradle Mountain Lodge. We recently found ourselves in the lap of luxury amongst the wilderness at Cradle Mountain Lodge. The plush bath towels, the fire place and oh some of the most delicious food that we've ever indulged in.
Before I fall into a deep, longing moment of remembrance for the crisp honeycomb from the Highlander Restaurant let's take a step back and talk more about how we fell into a world of relaxation in the mountains. Just a note that's a lot of travel envy photos coming up.
To truly understand the superb level of care that all staff on the mountain take of visitors we need to take a quick history lesson from Jean. Cradle Mountain has long been a destination for nature lovers and adventure seekers alike. For nearly 200 years people have been travelling the road less travelled to experience Cradle Mountain and the surrounding St Clair National Park.
Cradle Mountain was named in 1827 by the explorer Joseph Fossey who decided it bore a remarkable similarity to a cradle. It was first climbed by a European in 1831 when the explorer Henry Hellyer successfully reached the summit. Surveyor General George Franklin passed through the area in 1835 and he was duly followed by prospectors, trappers and settlers. As early as the 1890s there was some tourism in the area. Governor Hamilton had a house and boat shed built for visitors on Lake St Clair.
The man remembered as the founding father of tourism in the area was the Austrian born naturalist Gustaf Weindorfer who, in 1911, bought land in Cradle Valley where he built 'Waldheim' which he opened to guests who wanted to explore the region. When his wife died Weindorfer moved to Cradle Valley permanently. He died in 1932 and is buried near 'Waldheim'. Weindorfer is credited with naming Lake Dove, Crater Lake and Hansons Lake. He named Mount Kate after his wife.
Reservation of land began in 1922 when an area from Cradle Mountain to Lake St Clair was set aside as a 'scenic reserve and wildlife sanctuary'.-Information from Cradle Mountain website. Read more about the history of Cradle Mountain 
The people who live and work here are passionate about the national park, the mountains and life in general. We found most of the staff who worked within any area of the lodge to be friendly, happy and generally fun people. There's a mix of nationalities here so don't be surprised when your beer is served by a German, your soup is delivered by a little Japanese woman and your table cleared by a dish-taking ninja. The lodge provides employment opportunities to the local communities as well as backpackers and hospitality students.
How to get to Peppers Cradle Mountain Lodge
The drive to Peppers Cradle Mountain Lodge is one of the most wonderful mountain drives I've ever taken. As James drove along from the town of Sheffield to Cradle Mountain I was mesmerised by the ever changing scenery. One windy piece of road reminded me of the mountains in New Zealand. Another stretch of open, raw road threw me back to that time we road tripped around Scotland. Before I knew it the two hour drive was over and we were rolling into the visitors centre and I instantly felt at home in the mountain.
Now the honest facts about getting to Peppers Cradle Mountain Lodge – you really do need a car. There are some shuttle buses that go from Launceston and Devonport to the mountain but you are looking at 3-6 hours worth of bus trip. For those adventure folks who are going to hike the Overland Trek the bus is a good option. But for those looking for luxury rent a car. It's so much easier. 
Ain't no body got time for that. Not when there's wombats waiting for you to take photos of them. 
Book yourself a luxury stay Peppers Cradle Mountain Lodge today before the rooms sell out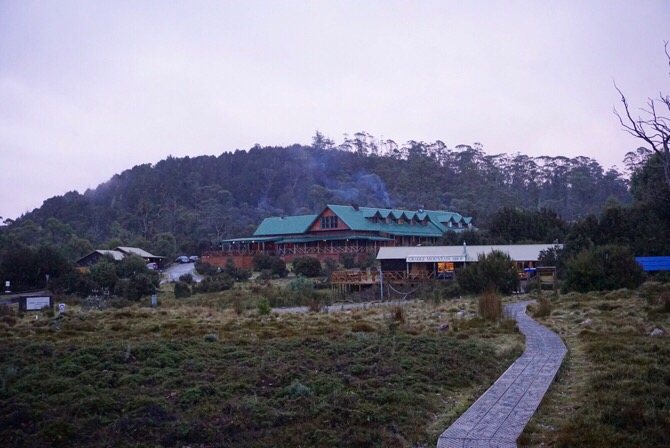 Cute & Cosy Cabins
Cradle Mountain Lodge has a variety of options to suit all budgets. We were fortunate enough to land a secluded spa suite cabin, complete with wine, complimentary port, turn down service and fire place. Which was greatly appreciate when it snowed and I could roast myself in the spa with wine and a good podcast.
Turn down service is one of the highlights of upgrading yourself to a Spa Suite Cabin. You do get the incredibly large comfortable bed, the soothing Cradle Mountain Lodge CD (of which I forgot to buy a copy on our way out) a relaxing fire place to entertain but you also get COOKIES and a late evening treat. One night we arrived back to find a delightful cheese platter and the next night a fresh fruit platter. Oh and every day they refilled our cookie jar. You might be thinking I'm a bit daft but seriously it's the little things like refilled cookies that makes you feel like your loved and cared for. Not just another person checking in and checking out. No matter how hard I resisted those cookies sang their siren song and I ate them all. Except one or two that James snuck, most likely when I was in the spa.
The bathroom and spa was bright, spacious and secluded. Which was great as I 100% took advantage of spa- fire place naked runs to find a bathrobe. Even though I was soaking watching snow flakes that fireplace warmed up our spacious cabin and I didn't ever feel the 3c outside weather.
Next time we go back here I'm splurging and getting us the King Billy Suite. Luxury for the win.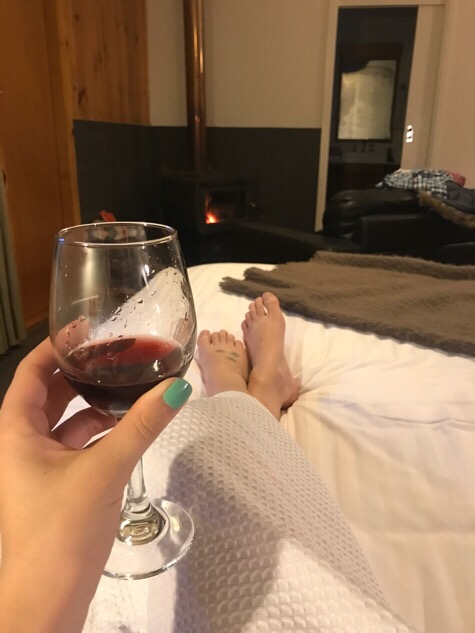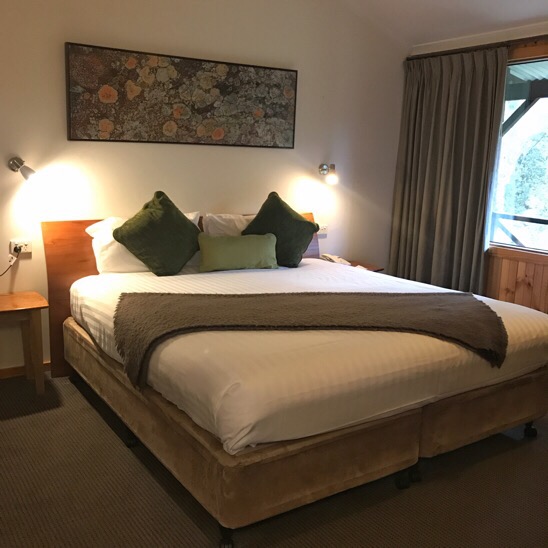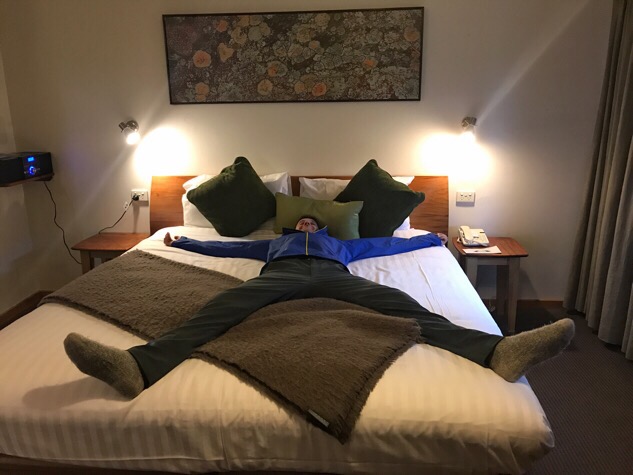 Spoil Yourself With A Secluded Spa Treatment
Everyone need a little relaxation and me time. No matter how chilled out you are a pamper session is always a welcome reprieve from the daily grind. The Waldheim Alpine Spa is the secluded and special spot that you want to find yourself snoozing in. We can highly recommend the signature treatment which includes a hot stone massage, a facial and a foot treatment. It's 90mins of pure bliss. Earlier in the morning after indulging in a late brunch, a brief stroll around Dove Lake whilst the sun was still shining I thought I was pretty relaxed. The staff at Waldheim Alpine Spa taught me to take relaxation to the next level. Experience a world of relaxation at Walhdiem Spa was something that I'll never forget and neither will James as it was his first ever spa experience.
Take A Hike
There are over 20 different self guided hikes from Dove Lake, Cradle Mountain and St Clair Lake. These self guided hikes range from a short 20min to the full fledged 9 hour all day adventurer. If you're after a short but sweet stroll there is a guided tour along the Enchanted Path that leaves at mid-day from the lodge. If you want to look past the majestic mountain beauty then you can take a guided walking tour from Cradle Mountain Lodge.  A guide can help you to understand what you are seeing, to appreciate the wonderful scenery at a more than aesthetic level. The Tasmanian World Heritage Wilderness Area meets more criteria for listing than any other on earth.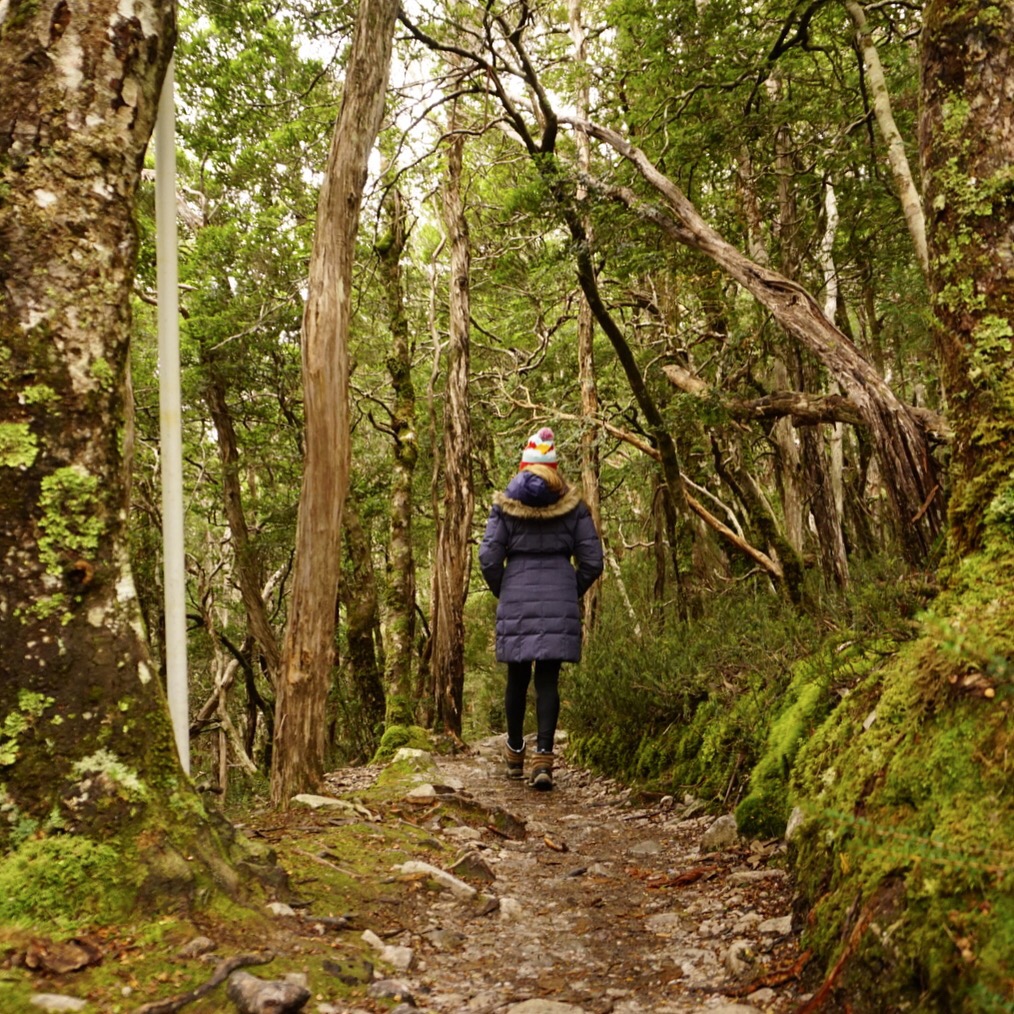 Eat All The Tasmanian Things
I'm going to be really honest here. You are in the wilderness on the edge of a national park. This isn't a teeny tiny town though it can feel like that at times with the variety of friendly people wondering around looking at wombats. There are very limited options for food on Cradle Mountain. If you need a coffee fix then head over to the Cradle Mountain Lodge Boutique. This small store sells a variety of bits and pieces as well as locally sourced wine, cheese and coffee. This became my little secret place to sneak out to grab a latte and wander back to our cabin whilst James was off pretending to be a serious hiker.
For a casual bite to eat you can't go past the Tavern Bar & Bistro at Cradle Mountain Lodge. A large double story space whipping out express meals. This is your typical mountain lodge style eatery. A small but well thought out menu that is easily executed by the staff. We had lunch and dinner here, plus stopped in for drinks a few times. The staff are friendly and efficient. There's such a simple pleasure of sitting around drinking a Tasmanian cider in front of the fire.
The Tavern Bar &  Bistro is open to all members of the public. You might find yourself squished in between a mother's book club on a naughty weekend away on one side and then a stinky end of Overland Trek hikers on the other.
If you are being fabulous and staying at the Lodge then there is a special guests only lounge – Devil's Lounge. Complete with open fire place, big comfy leather couches and a private bar. Sadly there was no library here which is probably my biggest criticism of the entire property. It is the perfect place for a sneaky glass of wine before heading to the Highlander Restaurant for dinner.
Or to take hilarious photos once everyone else has left for the night.
Highlander Restaurant
As you walk in to the Highlander Restaurant you're immediately greeted by a friendly staff member who happily walks you to your table. Now I'm going to go out on a limb here and say that management are doing an amazing job with their staff satisfaction. Over the course of our night we were taken care of by Grace who was on her third shift. Other staff who attended us were happy, helpful and always genuinely smiling during our entire stay. As someone who works casually in hospitality you can always pick up who's using a fake-I-Hate-You Smile (which is my personal speciality). We didn't get that feeling from any of the staff. Even the young lass who spilled a ¼ of a bottle of champagne over herself when she opened a rather vicious bottle.  Then again how can you be angry or sulky when you're living in one of the most beautiful parts of Australia? Sorry back to the food opinions.
The menu at the Highlander has been designed around locally available Tasmanian produce. You get that a lot when you visit Tasmania. Tasmanian's are so very proud of the food, wine, beer and cider that they are producing. And rightfully so. It's delicious. To try and stop menu envy James and I had earlier agreed to order opposite dishes. Wine wise we just let the staff choose for us (sorry Grace for that huge responsibility).
The dish sizes here are generous and the food quality is 5 star. You can really see the passion in each dish and the wonder of local Tasmanian produce. After devouring my entrée and main I didn't think I could possibly fit in any more food. I'd almost gotten myself to that painful food baby stage. Until dessert came out and so did my dessert stomach. The winning dish of the day! This was by far the most perfect honeycomb that I have ever had in my life. Yes I know big call. HUGE call from a retired foodie.
Entrée-
Main- Spiced Pan Roasted Tasmanian Beef Sirloin & Free Range Chicken
Desserts-  Leatherwood honey panacotta & honeybomb. A
Winning dish – Leatherwood honey panacotta.
Apologies to anyone who is searching out stunning food photos. We forgot. As the the food came out we couldn't wait. The smells were far too tantalising to even try and stop ourselves to take photos. So do like us – put the phone away and the food in your mouth and not on Instagram. Bookings are not only recommended they are a necessity!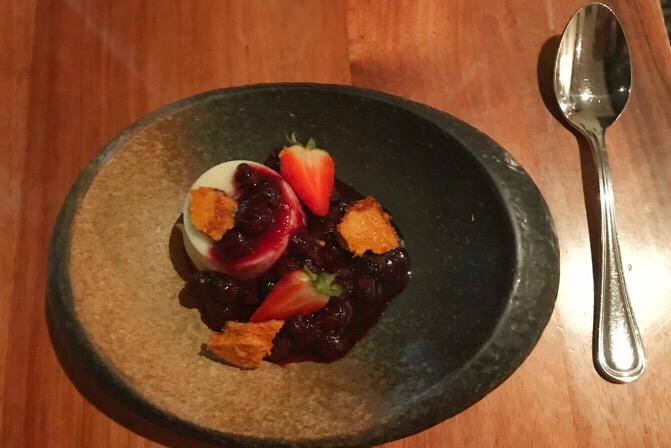 Native Animal Night Viewing Tour
A visit to Cradle Mountain isn't complete until you've gone wombat hunting. Visual hunting not shot them eat them hunting. We opted to take ourselves on a night safari. The national park closes to the public at night so the only way to get in is via the Cradle Mountain Lodge Night Safari. So at 8pm we rugged ourselves up in super warm clothing and met our driver John at reception. There are two timings for the night safaris and space is very limited, so make sure you book in when you're checking in. Thankfully for us the cold weather had scared off most other people and it was just James, myself and an American couple in the safari truck
Cost $40/pp Animal experience – Priceless
Devils @ Cradle
A short drive or a brisk walk from Cradle Mountain Lodge is Devils @ Cradle. A Tasmania devil sanctuary and well the visit. When we visited it was pouring with rain however this didn't stop the funny little devils coming out to say hello. And to see if we had foodies for them. There are umbrellas available, so don't let the rain stop you from visiting.
The sanctuary has a captive breeding program happening so if you're lucky you might see baby Tasmanian devils. We didn't.
If you're still bored and don't think that there is enough to entertain you here then pop by reception and ask about their selection of board games.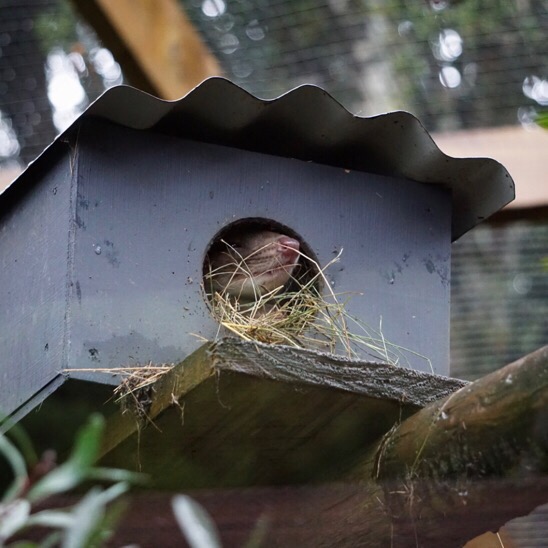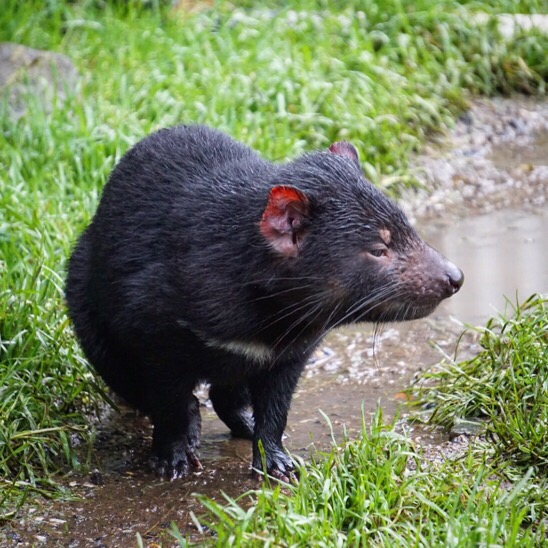 Final thoughts on enjoying the luxury of Cradle Mountain Lodge
I could go on for hours and another 2,000 words on the wonderful time we had at Cradle Mountain Lodge. We haven't even discussed the bountiful breakfast buffet or the wonderful wombats. Despite the weather being moody as a teenage girl throwing a snowball fight we had a truly wonderful, luxurious experience at Cradle Mountain. The lack of wifi, internet and phone connection in general and the micro escape from adult life was really what we needed. The travel blogger lifestyle isn't without it's downside and the 24/7 connectivity does wear you do and affect a normally healthy relationship. Without a doubt we love the adventure life style but sometimes it's nice at the end of the day coming back to warm room, soothing music and a flushing toilet.
Update 2019 – so I loved staying at Cradle Mountain so much that I went back but this time with the amazing Brittany from The Sweet Wanderlust. We discovered that Peppers Cradle Mountain is the perfect spot for a girls weekend away.
Have you visited Cradle Mountain? Or have any questions on what we got up to? Let us know in the comments below and we'll have a grand ol' chat.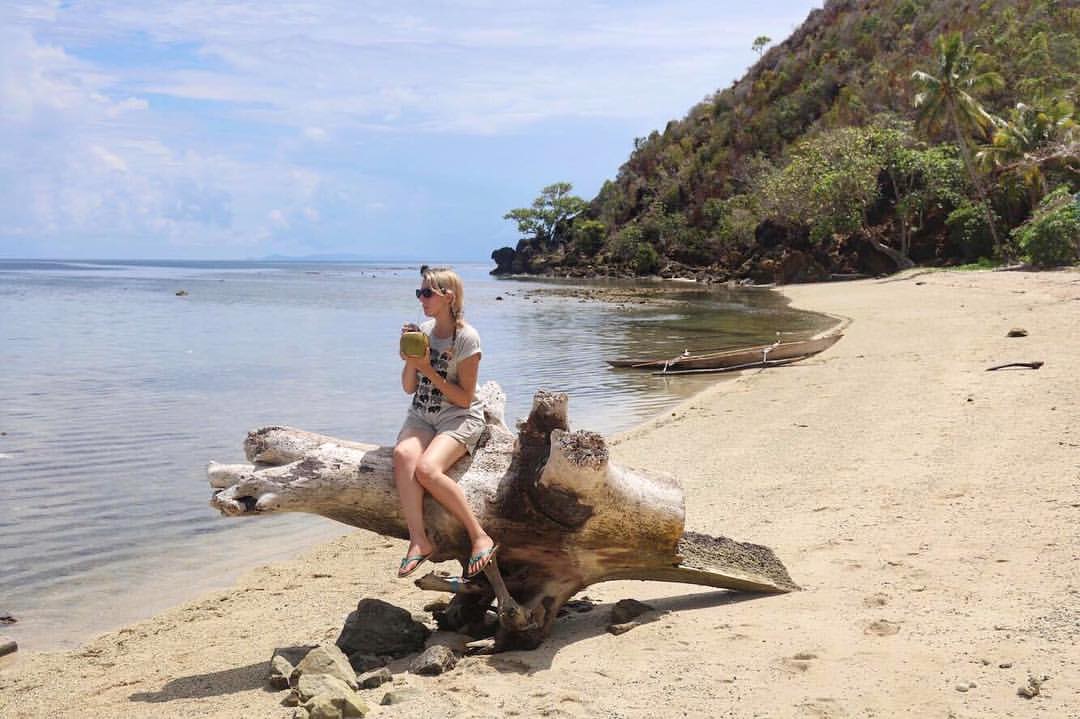 Just a teeny tiny note on affiliate links – We are a participant in the Amazon Services LLC Associates Program, an affiliate program designed to provide a means for us to earn fees by linking to Amazon.com and affiliated sites. We're also a member of a few others and may make a bit of coin on the side, this is at no extra cost to you. 
If You Liked This Post You May Also Like: