Some days we need to find ourselves revaluating our lives, taking a mindful moment to consider previous viewpoints and finally be ready to accept that perhaps, there was a strong chance that we were wrong about a destination. It isn't until we experience something truly magical that we allow ourselves to come to this conclusion. Thanks to the newly opened Eden Oak I have a small confession to publicly make.
Hello my name is Jean, I'm a travel content creator and I have a travel confession to make – I was wrong about Geelong.
It's been no secret that as a born and raised Melbournite the city of Geelong was always considered to be the ugly cousin of tourist destinations in my mind. With less history (in my youthful minds opinion) left than say Bendigo or Ballarat, and more industry due to the oil/gas plants it wasn't exactly the family destination on the 90s and early 2000s that a young Jean dreamt of travelling to. Add in the terrible access from Melbourne and decades of road works it really was a town to bypass at all costs on the way to better places. Even though I did attempt for a few years to attend Deakin University the traffic and lack of good coffee and food soon saw me move to a different university. I won't bore you with the details but my prejudice against Geelong was fairly solid. Like a frozen cheesecake refusing to defrost solid you can't make me.
And then one day an invitation popped into my inbox like a breath of fresh air. Would I like to come to stay and experience the newly opened Eden Oak? After months of being glued to my desk in my loungeroom I was in desperate need of a change of scenery and a breath of fresh air so I thought why not? Fast forward a few days later and I found myself driving the 200+ km round trip to the center of Geelong.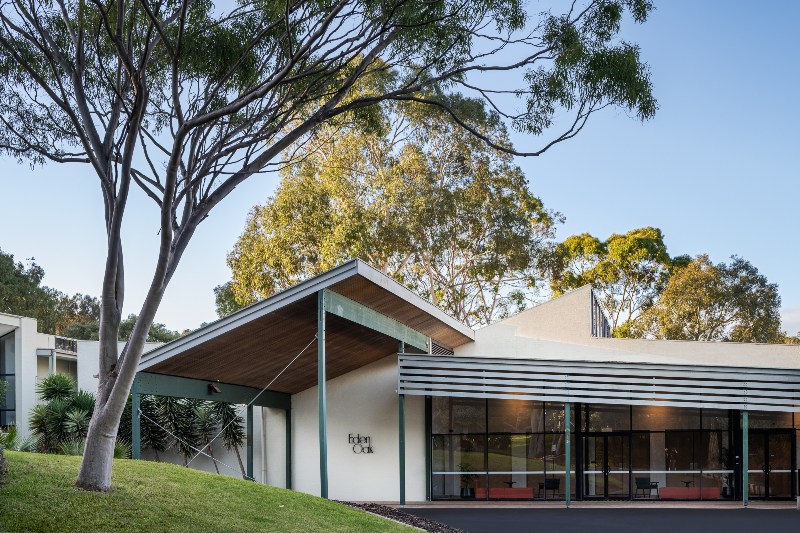 Eden Oak – the urban oasis you didn't know you needed in your life.
Would you believe me if I told you that there is a hidden urban oasis in the middle of Geelong? Well you're going to have to believe me as I was there. Eden Oak is nestled within the lush green acres of Geelong's Botanic Garden. A hot spot with dog walkers and wanna be marathon runners alike. It's easy to miss this beige building, hidden behind decades old gardens that surround and encompass the space.
The building itself is visually stunning and physically impressive once you enter. Walking around each corner you'll find little nods to the building's designer and past. A past rich in history. Designed in 1981 by McGlashan Everist this space first opened in 1985 as the Victorian Department of Education's residential headquarters and later was acquired by the Salvation Army.
In case you were wondering the team behind this transformation from beige building to urban oasis is Bekl, who acquired the space in 2020. Crafting the beloved building from a church centric space to a diverse mid-century modern luxury retreat for guests.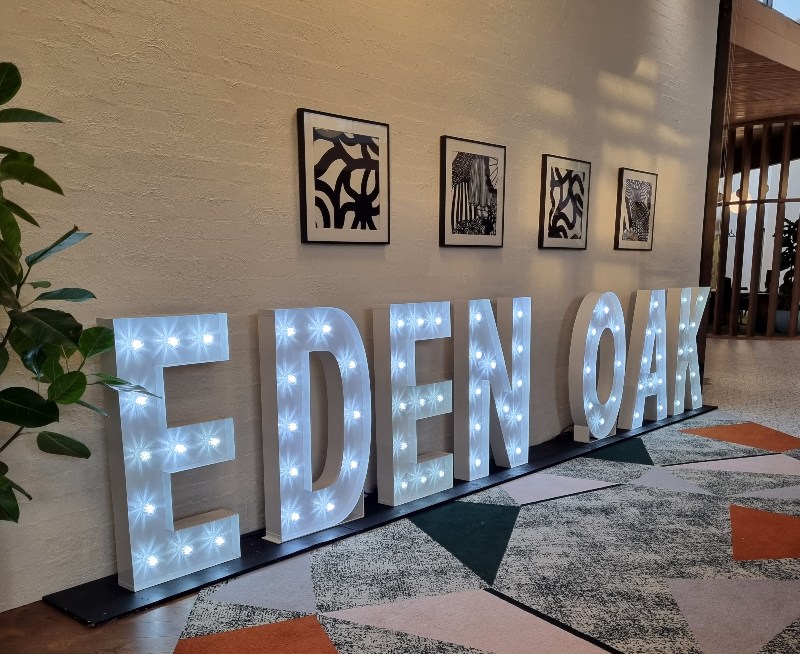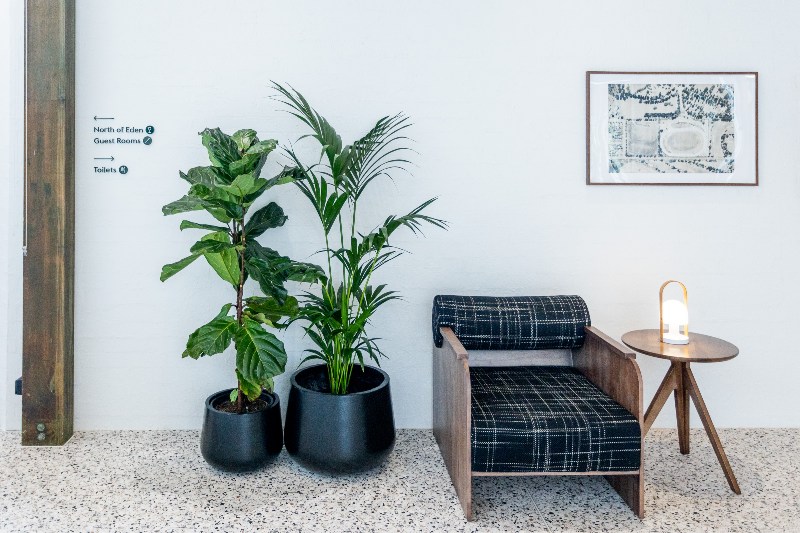 Where the past meets the present in the bedroom.
All 46 of the rooms. Each room reflects the seamless merge of the past meeting the present with new (and super comfy) mattresses, keyless entry and exceptional modern design. Yet embracing the quirky original design and spaces.  You'll never forget the vibrant green carpet. These rooms are surprisingly quiet given the hustle and bustle that happens outside and around the gardens.
I was lucky enough to have stayed in the two bedroom Acacia suite, which could have easily fitted myself and ten friends in for an afternoon soiree on the private deck before hitting up the bar for a cocktail or two by the pool. However, as a solo traveller it was just me and myself enjoying the luxury of a rather large bed all to myself.  The ease of access to my room, the additional security measures and the giant bed was a welcome relief as I had enjoyed perhaps a few too many glasses of wine with a most wonderful friend in Geelong. 
The rooms here are designed for function and fun.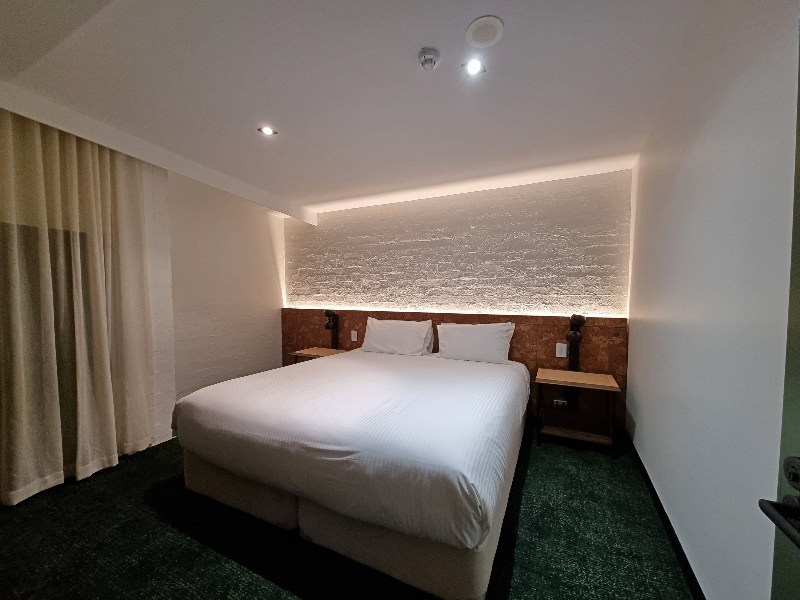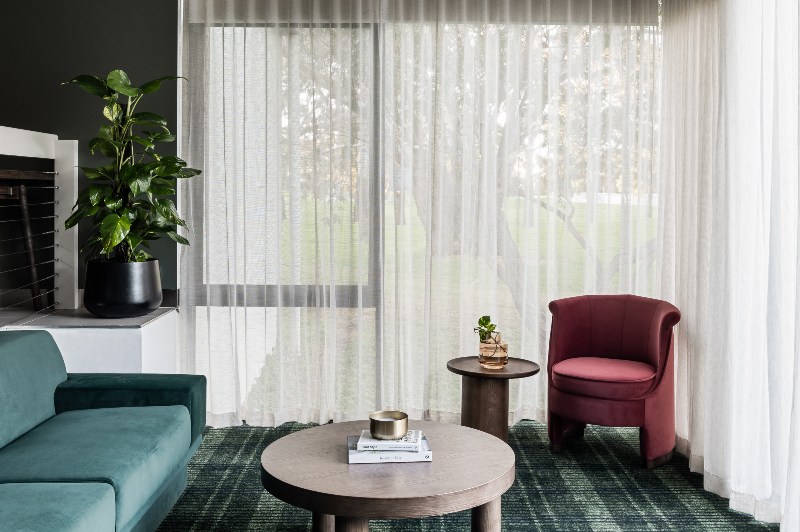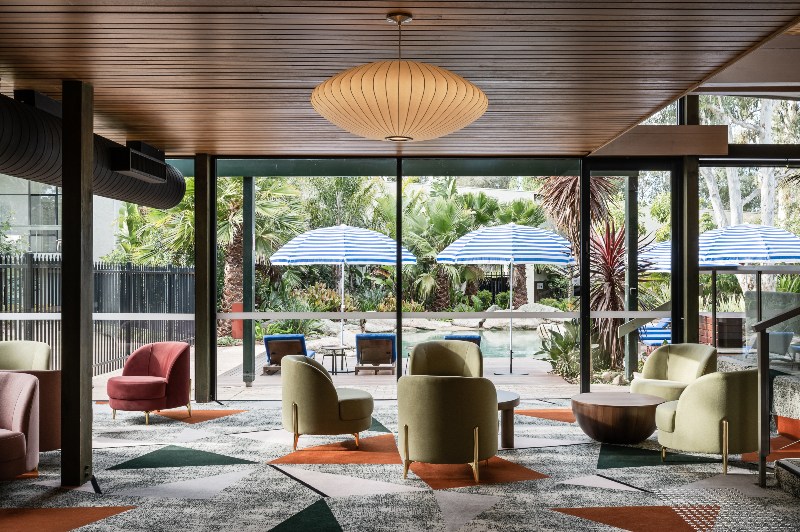 In all honesty the entire property is designed for fun to be had. Whether that's a corporate retreat, a mini citycation with friends or a much needed writers retreat. The staff are friendly, the spaces are wide open yet comfortingly snug at the same time. 
There's so much more that I could deep dive into about Eden Oak. Such as North Eden the delightful bar, with even more delightful cocktails on offer *hint keep an eye out on their socials for happy hour specials* but in all honesty this hidden urban oasis is a place that you need to experience for yourself. Words and photos can not adequately express the warm hospitality and the vibrant history that this property will willingly give to you. Which in my case was much needed. I wasn't fully aware of the stresses a toxic workplace had left me carrying around like unwanted baggage. The kindness of the staff, the calming nature of the building and the welcoming gardens allowed me a moment to breathe, reflect and rebalance. Bringing back to a place where my creativity was ready to thrive once more.
My only question is who's going to be joining me here to explore more of the hidden wonders of Geelong?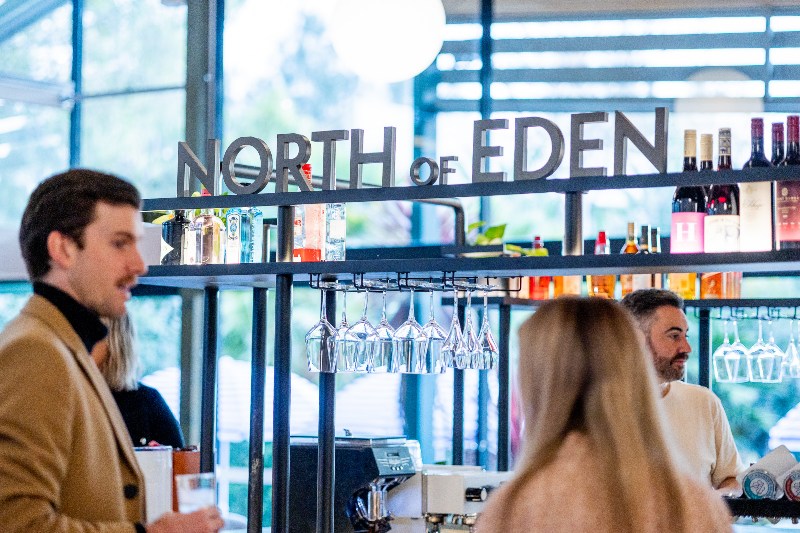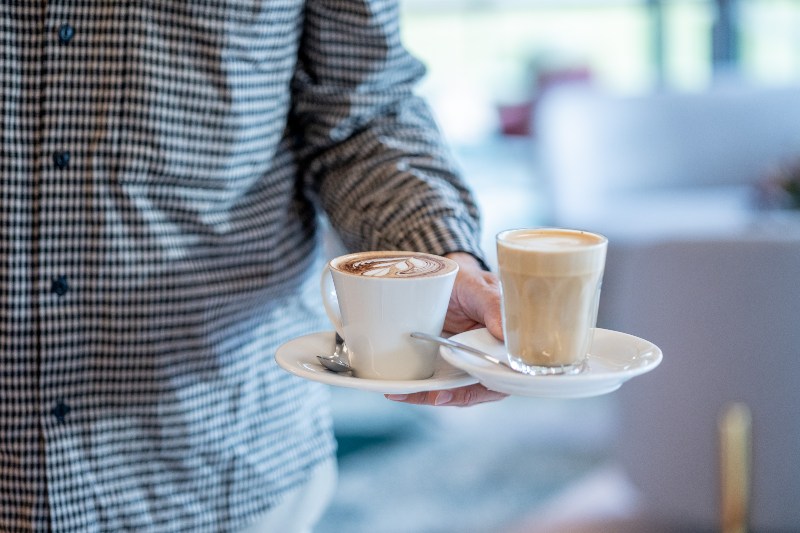 How to book your own citycation at Eden Oak?
Eden Oak is officially rated 4.5 stars and holds just over 46 guest rooms, with prices starting from $149 for a standard room for two adults. The six function spaces range from two large function spaces, both holding up to 200 people each, down to more intimate 50 people workshop studios
and rooms. Rooms are available for booking online through the Eden Oak website, as well as other online sites such as booking.com, Expedia and QANTAS hotels.
Location, location, location.
The travel time from Melbourne is roughly an hour. I say roughly as Geelong traffic can be a bit hectic at times and this hidden oasis really is in the middle of the city! 
In my humble opinion Eden Oak has it all. Hidden amongst the gum trees and gardens it's hard to believe that you're only a short stroll from the Geelong waterfront and some of the finest restaraunts the town has to offer. At the time of my stay the kitchen at Eden Oak wasn't quite ready to open but the bar was. If I was to give you any advice on what to do with your life without a doubt it would be to pop by the bar, North Eden for a cocktail or two on a Friday after work if you're a local. Or if you're lucky enough to be a guest then enjoy a late afternoon cocktail in the lounge.
Please note that I was hosted as a guest of Eden Oak. Thank you to the team at Neue Media, Bekl and all those involved in hosting a wonderful event.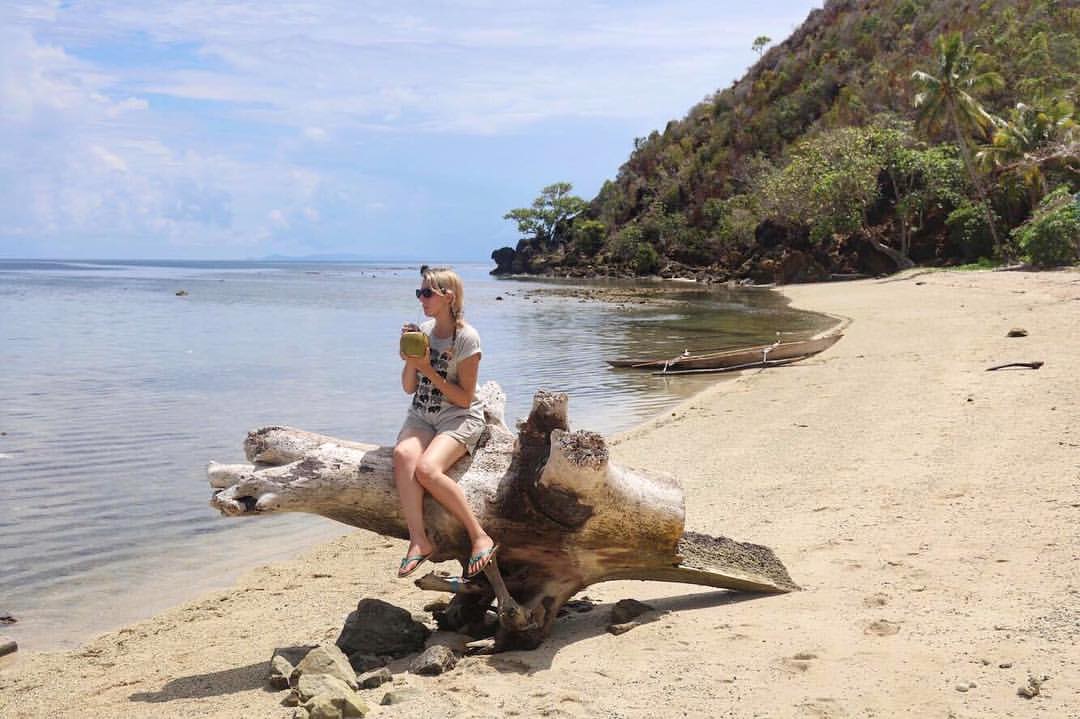 If You Liked This Post You May Also Like: