Prague is flaunting a disgusting secret. One that may shock you to your very core. It's this thing. A once beautiful and glorious thing. Now a common, lying and thieving street food. A delicious delicacy that has turned to the dark side of mass tourism and despair. No, I'm not over reacting at all. The truth is out there if only you look past the cinnamon & sugar sprinkles. Trdelník has ruined Prague.
Has Trdelník Ruined The Charm of Prague?
Yes. No arguments. True story. Let's move onto another city. But that wouldn't make me a very good food writer now would it? After my recent trip to Ostrava to attend TBEX, explore Czech and relive my European dreams I discovered this dark and dirty street food secret. Which continues to push out what little remains of the romantic charm of Prague.
I still remember my first trdelník. It was a warm spring afternoon as we walked around the streets of Prague. Armed only with a sense of adventure, the fear of being pick pocketed and our dreams. Prague was the first European city on James and my first European adventure. As we wandered the streets like cheap backpacking tourists that we were I could smell the cinnamon. That sweet scent dragged me down an alley way, across a large open space and lead me to a small angry looking lady watching over a hot coal stove and rotating deliciousness. In a haze of baked good happiness, a total lack of Czech language skills I ordered what was an unknown mystery to me. The treat was still hot, still crisp and soaking in the cinnamon goodness. With that first mouth full I was in love. Pure love and happiness for a mere 40kr. And I ate many trdelník. At a conservative guess I would say I ate 5 over a three day period. Yes I am one of the many to blame for the popularity of this sweet treat. And I am ashamed of myself.
The popularity of cheap trdelník has spread across Prague and indeed across Czech like a horrible cause of undiagnosed herpes.
Fast forward to 2018 and there is barely a street corner, town square or shopping mall that doesn't have a trdelník touting store. Really you can't miss them.
Lost and confused trying to pick a hotels in Prague? Let us help you find the perfect place.

So What's Wrong With This?
Well firstly, the trdelník has become a bit of a tourist trap. If you do get to talk to the trdelník operator than no doubt they will spin you a tale as wonky as the rotisserie holding the raw trdelník. Some say that the trdelník was a treat from the queen's personal breakfast table. Others will say it has roots in peasant culture and was popular during pagan festivals and that the funnel shape represents fertility. More commonly you'll just be told that it's a very old treat and to buy one for you and one for your friend.
There isn't any wrong with eating a trdelník. Just realise that it's a tourist money making trap and enjoy your baked treat if you do decide to partake.
And then the stores do look like a pock mark on the beautiful old areas of Prague (also seen in Cesky Krumlov, Brno and other towns across Czech). There are just so many of them. Oh so many.
Maybe you'd like to see Prague from a different perspective on a 2.5 to 3-hour walking tour of its alternative neighbourhoods and go beyond the usual tourist haunts. Book your tour here.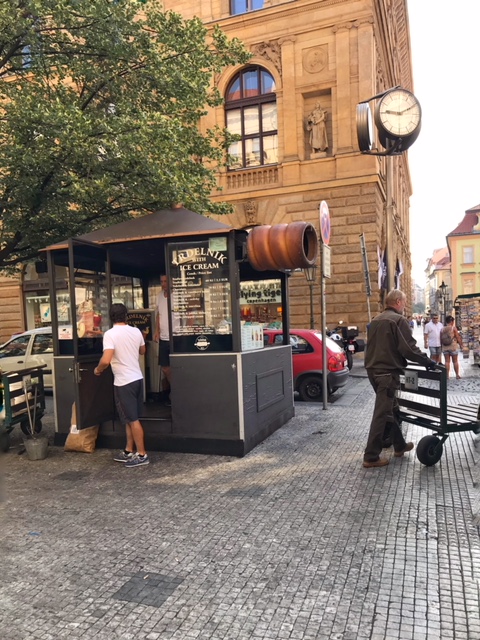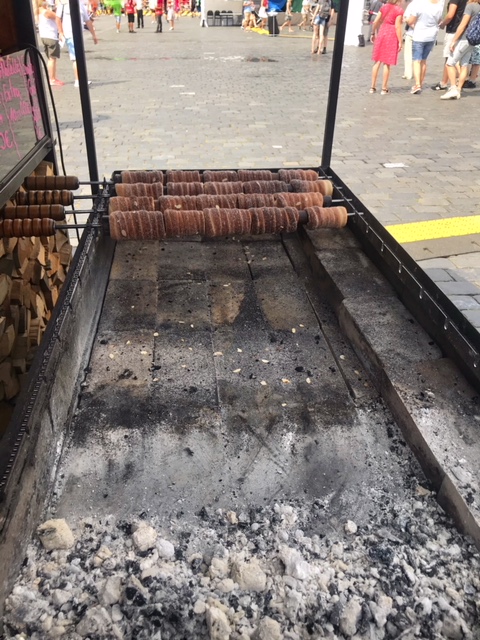 The Truth of the Trdelník
The real story of the trdelník is of a common method of cooking used across all of Europe and beyond. The Hungarians, Slovaks, and even Turkic peoples of Asia have spun dough on an open flame. The current historical theory on trdelník is that the treat came from Hungary into the Moravia region in the 18th century.
The truth is that no matter how much I hated seeing the dodgy tourist stores around I still have fond memories of eating trdelník in 2011 and on my recent trip to Prague.
You can DIY trdelník at home.
The recipe for trdelník is quite simple. You don't need an coal fire place either. Though in my experience open flame cooking is one of the most enjoyable and satisfying ways to cook.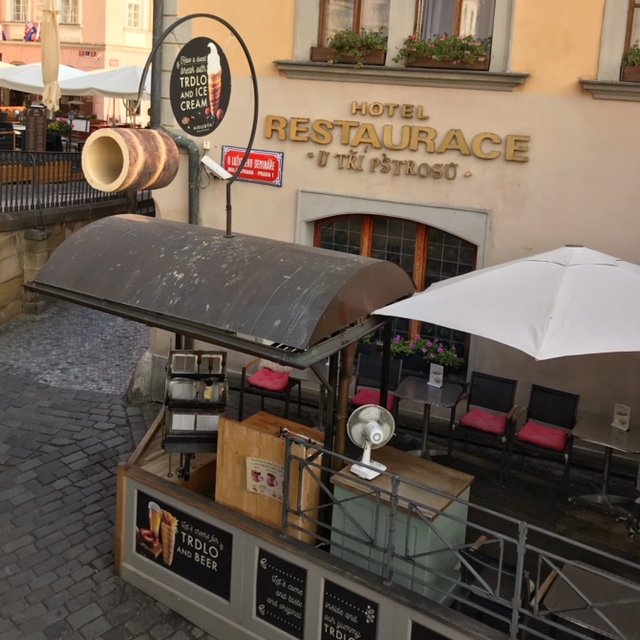 Should You Trdelnik?
Well assuming that you're an adult then you can make up your own mind. In the hot summer a trdelnik with ice cream is rather tempting. At the time of writing a plain trdelnik was 60kr – $3.65 AU, $2.65 USD. Adding ice cream, sauces and sweet fruits ranged around 120kr.
Instead of trdelnik why not try out a traditional and unique Czech dessert? Such as;
Prague Apple Strudl.
Makový koláček – Poppy Seed Cake.
Medovnik Honey Cake.
Marlenka Honey Cake.
If you are after a more traditional experience of Czech style food than I highly suggest that you go on a food tour. You don't need to spend hundreds of dollars, you can get a beer & food tour for less than $50! Book your Czech Food Tour now.
Have you trdelnik'd? Let us know in the comments below. Did you enjoy it? Or was it a colossal disappointment like your high school lover?
Also don't forget to book your airport transfer into the city of Prague. It's cheap as chips and makes travelling to and from the city a breeze. Book now.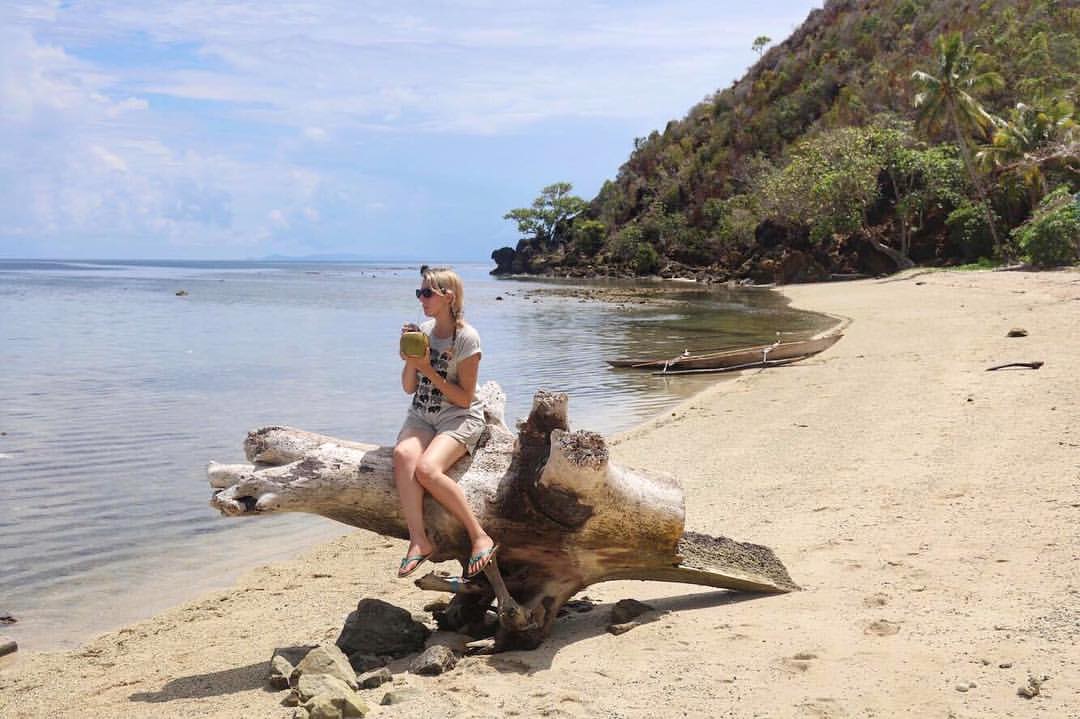 If You Liked This Post You May Also Like: