It can be truly daunting trying to figure out the best way to get from Lima to Cusco. Peru may look like a small country in comparison to her South American neighbors but this doesn't mean that the popular cities and towns are just a jump away. The small distances on a map can easily turn into hours on the bus. With literally hundreds of tour operators, public buses and not even considering your own budget, the market is flooded with options. Which option is the best for you? Here's our simple and budget-friendly guide on how to get to Cusco quick.
We needed to get to Cusco quickly and safely. After over 24 hours of travel from Australia to Lima I didn't necessarily feel the need to thrill myself with the joy of local buses. I knew that James and I would be exhausted and really needed someone to hold our hands and push us in the right direction. So we chose to travel with PeruHop on their Get to Cusco Quick trip. By far the most simple and affordable way to travel in style around Peru. Yes I can already hear you judging me that it would have been cheaper to book a local bus. I agree. It is cheaper. But there's a reason that it's cheaper. Our PeruHop bus came complete with a guide, toilet, free tours and generally reliable. It was safe, fun and easy. Which when you're first starting a long  adventure is what you want.
How to get to from Lima to Cusco Quick
Lima
Arriving in Lima late at night it was a blessing to have the Lima Airport Express bus waiting and ready for us. The big blue bus took us to our first nights accommodation at Chaski Lodge. Who by the way have the best hostel breakfast in Lima. Located in the popular Miraflores tourist area it was close by to the Kennedy Cat Park, the beach and if you felt so inclined an open-air shopping mall. Lima really is just a big bustling city. It's a good place to start your adventure but really after a day we were a little bit bored. The street art is amazing. And the Kennedy Cat Park is hilarious. Also the best place for a sandwich is La Luch.
The other joyful part of PeruHop is the pick up from your hostel! So no lugging your bags around trying to find a bus terminal at a crazy early morning or battling with a taxi driver.  At 6.55am there was the PeruHop guide waiting for us. After stowing our bags safely it's time t get on the bus and on our way to Paracas!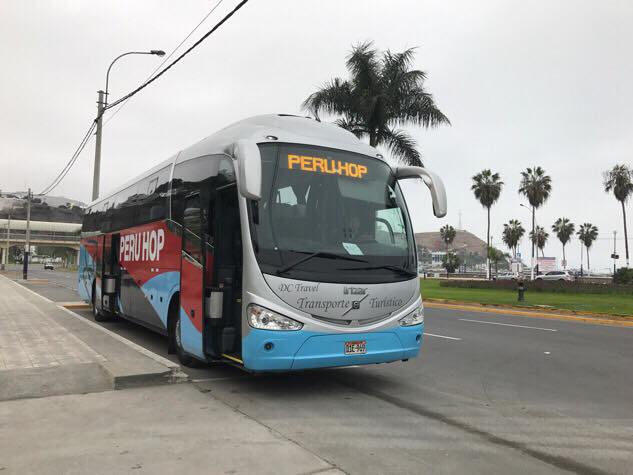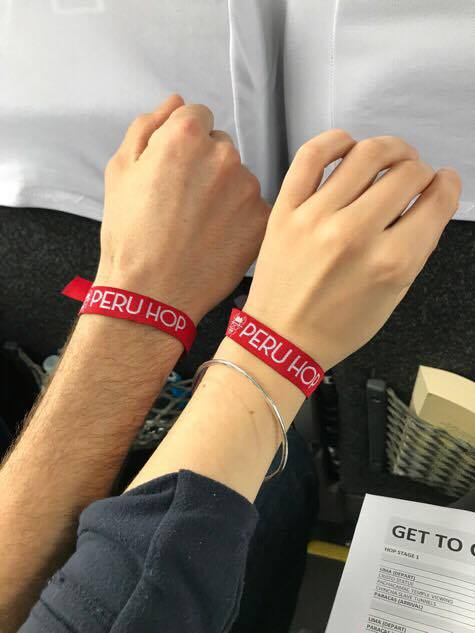 Lima-Paracas
Free Tour Stop – Chincha Slave Tunnels
Did you know that the Spanish brought along slaves to Peru? I had no idea that this was actually a thing. Our second free tour stop was at the Chincha slave tunnels. Hidden underneath a beautiful hacienda, once a playground for the wealthy, is approximately 17kms of slave tunnels. These tunnels were used to house, punish and relocate illegal slaves. Yes, the Spanish had illegal slaves. Because slavery in itself isn't horrendous enough right? The Peruvian government was huge on doing things "right". All slaves brought into the country were branded and certified by the government lawyers at the port. Each slave was recorded and a tax was charged per slave. So to avoid paying an arrival tax and the yearly tax the plantation owners would smuggle slaves between their haciendas and when the tax collectors arrive they hid them within the tunnels.  As part of this tour you get to spend time walking around the beautiful hacienda before grabbing a flashlight and walking down into the depth of the slave tunnels. Which is terrifying. The tunnels are small, even by Peruvian standards. There's barely enough room to pass by another person and many of the connecting tunnels you need to crawl through. It's truly heartbreaking walking through the tunnels. Knowing the poor souls that walked these tunnels before you. It's certainly not an experience that you are ever going to forget. 
This hacienda is now a luxury hotel and hosts a popular festival every year to pay respect to the slaves.
Paracas
Paracas is a quaint seaside town that seems to have a hostel popping up at every opportunity. There's not a whole lot to do here and really the one night stop is about right. We arrived late afternoon and after lunch walked around the town. Much like any Australian or American seaside town the tourist dollar is propping up the community. There's quite a few stores where you can buy touristy knick knacks, beer, water and a few pharmacies that understand English.
For dinner you can't beat Miski's for traditional Mexican food. The meals here are huge, and generally speaking across Peru the serving sizes are very generous. Most main meals can be easily shared between two.
There is the option to do a speed boat tour of the Ballestas Islands S/.50 or $15 USD. As we were still jetlagged we opted not to do the speed boat tour as that required a 7am get up and get moving! 
The highlight of Paracas is the Paracas National Reserve. A giant national park, which covers the ocean as well as the desert. It's a quick drive, or if you're staying longer and feeling adventurous, you can hire a mountain bike and safely ride out here. Driving into the national park we see a flock of flamingos enjoying the sunshine and fresh seafood. The drive takes you through the stark desert. Small mountains of sand and crushed seashells. After a few stops you get the opportunity to be windswept and enjoy the views of some of the most stunning coastline I've ever seen. All while be judged poorly by circling turkey vultures. If you're lucky you'll spot a cheeky seal swimming by or even a pod of dolphins.

Accommodation – Hotels Frayles, Sl.90 for a private room with bathroom. There's two swimming pools here and a very basic breakfast is included.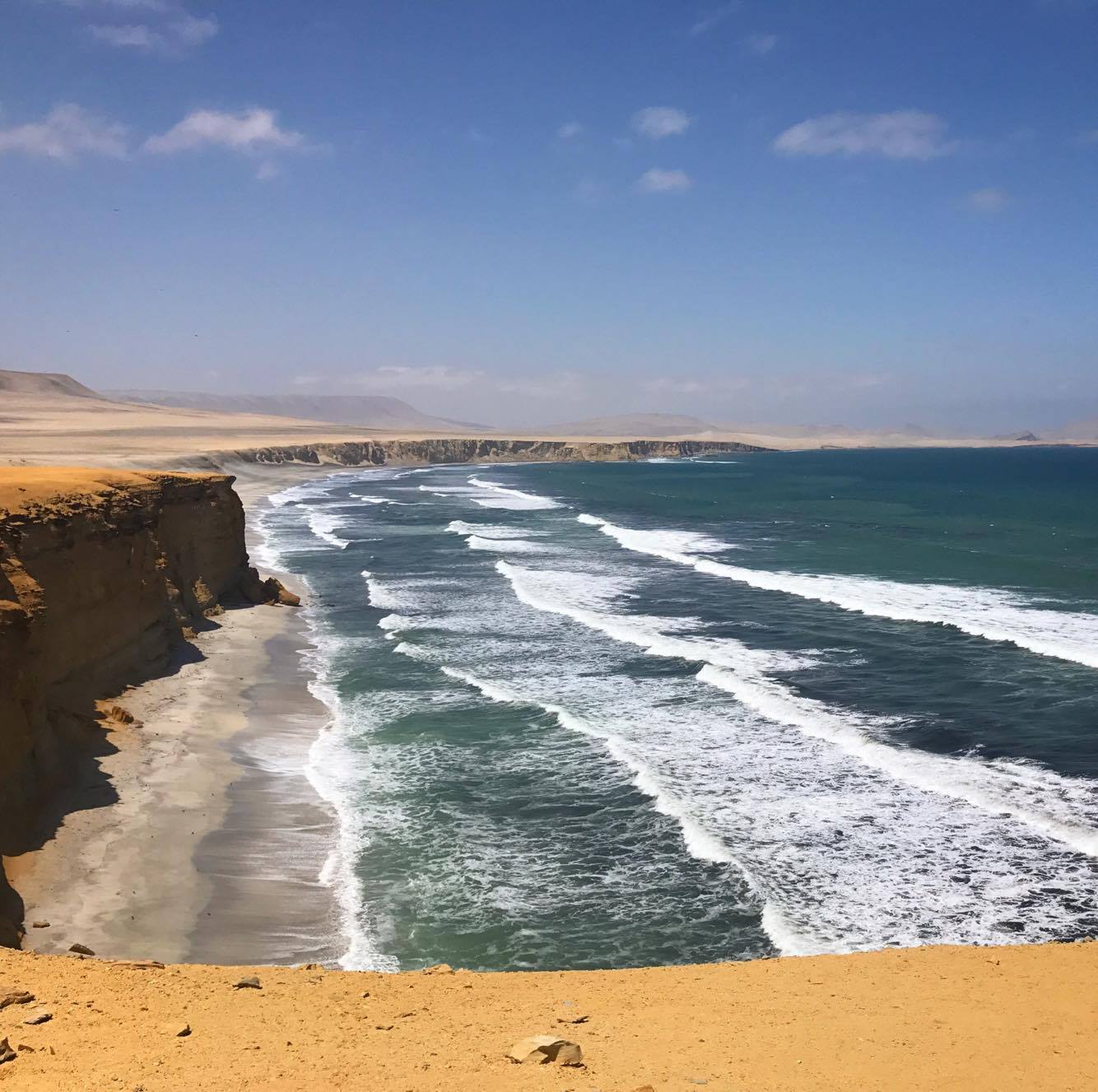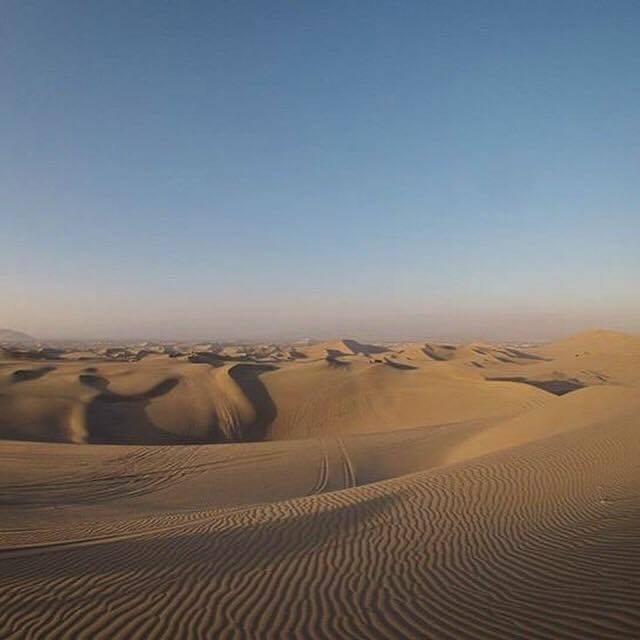 Paracas to Huacachina
Huacachina in literally an oasis in the desert. The legend goes that a beautiful goddess used to visit the oasis and watch her reflection in a mirror. Along came a man and fell in love with her. He chased her, her white flowing dress fell off, she runs into the oasis and turns into a mermaid and voila we have desert mountains surrounding the oasis. Each month she returns to sing her song and trap men in the waters of the oasis. So boys beware!
Huacachina is a party town. Don't be surprised when rasta style folks ask if you want weed or a lady for the night. Be polite, decline and keep on walking. The architecture around the town is unique and well worth a short waltz around town.  There really isn't a whole lot to do. PeruHop arranged a cheap BBQ and a disco style party afterwards. Half the fun was sitting outside the disco area late at night, wagging chins with fellow Hopsters and watching the working ladies do the rounds looking for you cashed up gringos to spend a night with.
Seemingly no trip to Huacachina is complete with a session on the sand buggies. These guys really are dessert cowboys. If you don't like rollercoasters or 4WDing then I'd suggest avoiding this additional activity. Our driver went hard and fast and within the first 10mins we had blown a tyre and had to wait for another buggy to arrive. Despite the slick hiccup it was a lot of fun zooming around the desert and spending some time sand boarding down the dunes and enjoying the sunset.
There's plenty of accommodation on offer here. We stayed at the Bamboo Hostel for Sl/80 for a private double with private bathroom. Just a note – the official PeruHop joining hostel – Casa De Arenas is really for the extreme party crowd. It's got a great bar and an amazing pool. Sounds great right? Well the music is still blasting and people are still partying at 5am. You're an adult you can make up your own decision on where to stay.
Also there is NO ATM in Hucachina. If you need to use an ATM you will need to catch a taxi to Ica to the massive shopping centre to find an ATM.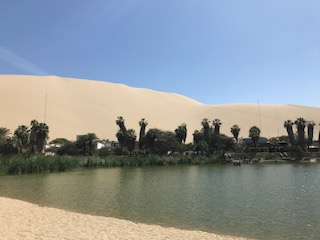 And then things got weird…
And confusing. And mildly annoying. Up until this point, our guide had been amazing. The information was really well delivered and easy to understand. With three buses of Hopsters to deal with shit just got weird. As we were waiting around to board the large, luxurious bus – we were kicked off. Into a small minivan along with everyone's luggage. At this point in time, the only thing we were told is that there wasn't enough room on the big bus and this was better for us as we would get to Cusco earlier than planned the next day. The company had supposedly emailed us and advised the change in plan and that at Nazca town we would be put on a public bus.
So off we set to endure a long day of driving squished in a minivan to visit the Pisco vineyard. Which really was bittersweet as we had lost all confidence in PeruHop to deliver us safely to Cusco. Half of our minivan was in the same situation. No information, just get in the bus so we can see pisco and Nazca lines.
Nazca Viewing Tower
The Nazca lines are beyond amazing. It's a wonder how these were originally created and how they are kept so well maintained. Squished in our van we drove for what seemed an eternity, pulled up in the middle of nowhere to find a rickety viewing tower, bathed in the sunset. Up we raced, snapped some photos and back down to the minivan.
*Note- there is an option to do a flight over the Nazca lines. At the time of writing this was approx $80US plus taxi fares. If you suffer any kind of motion illness perhaps consider not doing this. The pilots dip the plane from side to side to ensure that all passengers get a chance to take photos.
Nazca to Cusco
After freezing our backsides off looking at the Nazca lines we were back in the squished minivan and off to be unceremoniously dumped at the Nazca Travel One hostel. No time for farewells to our new friends or the group dinner as scheduled. We had around 3 hours before our overnight bus was due to leave. With no guide, no bus tickets in hand, just the word of the lovely hostel owner that he would safely deliver us to the bus terminal in time to get our bus. We stumbled through the dark into town to grab dinner and snacks for our now overnight bus. At the agreed time the lovely hostel owner takes us down to the bus terminal and ensures that we have tickets in hand and are ready to board our VIP bus.
At the right time, we shuffle onto the bus and endure a 13hour, over the mountains bus ride. Complete with people behind us throwing up. Other than the crazy windy roads the bus trip was lovely. Big reclining chairs. Which at one point were heated. A movie on the tv for part of the trip and a dinner & breakfast snack. A positive part of taking this bus was that we went over the mountains and at one point got to 4,800 mtrs altitude. Meaning that when we did arrive in Cusco other than being a bit motion sick we quickly adapted to the altitude and had an extra day to explore! Which worked out well as there's a lot to see in Cusco.
So what actually happened to our PeruHop bus?
Well, nothing particularly interesting. The crew travelled to Arequipa and had an amazing time. So why were we kicked off? That was a slight miscommunication and administration decision made by the guide. We should have been on the comfy bus, have dinner with everyone else and then dropped off at Nazca for our overnight bus. A few weeks before we travelled there was an earthquake which has significantly reduced the traffic on the road to Cusco from Arequipa. Recent travellers on the Get to Cusco Quick tour who did drop by Arequipa ended up have a 35+ hour bus trip. To ensure that we didn't miss any ongoing travel plans PeruHop made the decision to put us on a public VIP bus. Reducing an estimated 35+hour trip to a mere 13 hours. One of the owners personally emailed us with a full explanation, including photos of the affected road and a complimentary tour. Which sadly we couldn't take.
Final thoughts on being a Hopster?
We loved it! Even despite the slight, crazy and frustrating changes it was a lot of fun. We made some great friends, saw some really amazing areas and in many ways wish that we had continued along to Arequipa with the rest of the crew. It was so easy to book our stops along the way via the online booking portal. Having the option to book reliable accommodation and a decent discount really helped our budget. We also dropped by the BoliviaHop office in La Paz to get some recommendations on what to do and where to eat. Even though we weren't their clients they happily chatted to us for a half hour on a variety of activities that we could do.
The one thing that we were saddened by was our choice to do the Get to Cusco Quick package. If we had our way again we would definitely take one of the longer trips via Arequipa. We didn't really feel the need to extend our time in Paracas or Huacachina. One night was certainly enough! With limited time it was a great way to see a different side of Peru and make some amazing friends along the way.
The total trip time for the Get to Cusco Quick tour is four days and three nights.
Cost per person – $159USD You'll need to budget for two nights accommodation as there is one overnight bus.
Sorry for the lack of photos! We have so many more amazing photos to show y'all but sadly the wifi here isn't the best. As soon as we get decent wifi we'll be uploading some amazing photos.
Just a little FYI- this article was written in partnership with the PeruHop.  Any and all views and opinions expressed are entirely my own based on personal experiences when travelling and are honest and factual without any bias.