There are times when I travel where I will study where exactly I am going with things to do, famous sites or places where I can go to get the best photos or film but I wanted to experiment and see just how much I could do and see by going into a new destination almost empty handed. This was my first time in India and I knew of certain things like who is the Prime Minister, The Capital City, Virat Kohli and a list of other cricket stars to name a few but I had a thought that it would be cool to arrive into Karnataka and not know a single thing about the state, the sites and the people.
So you can say that I started off with a 'blank canvas' and I was here on a new adventure to fill it with as much colour as possible. Here's what turned my travel to Karnataka, India into a masterpiece.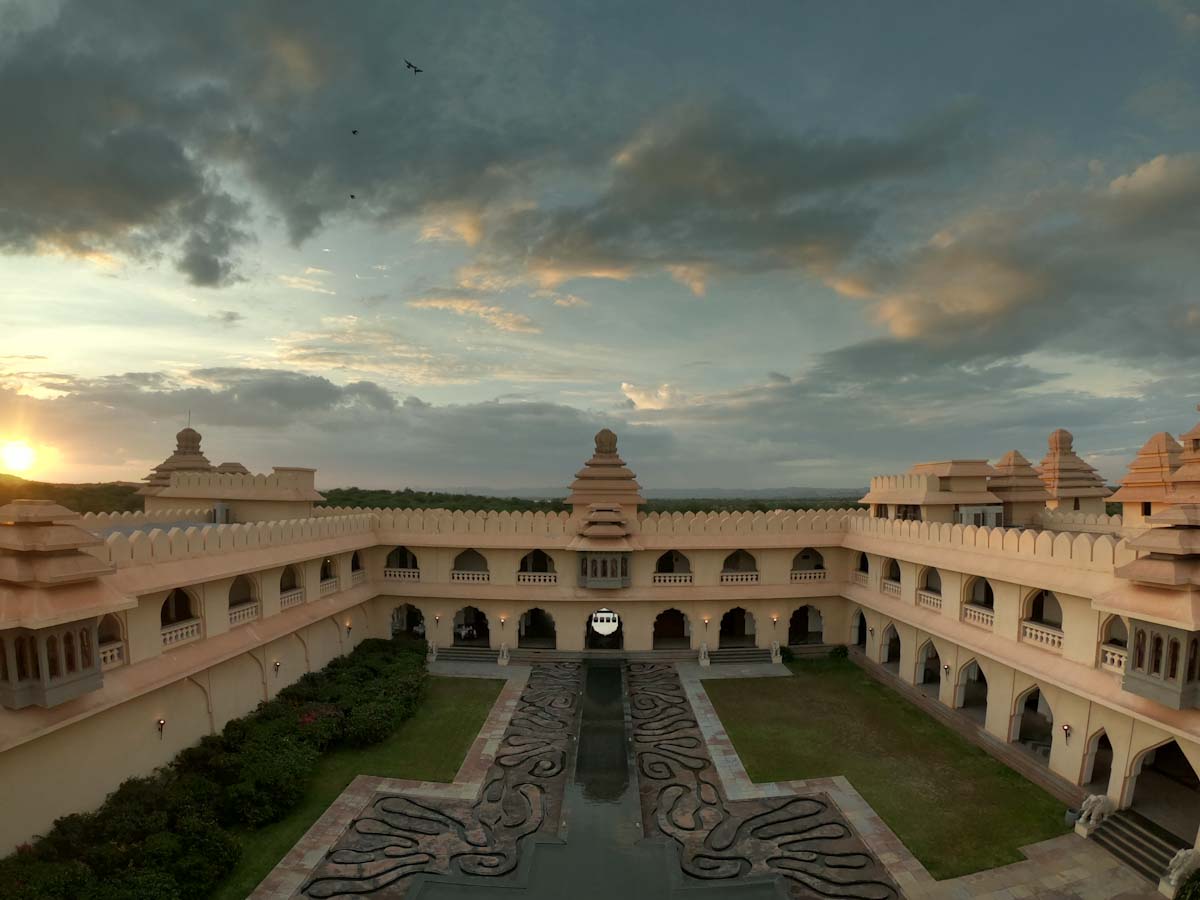 Exploring Karnataka India
Here's how my adventure in Karnataka unfolded!
Trips don't always go to plan and straightaway I was in trouble…I hadn't finished my Visa application. As everyone was boarding the plane, the guy at the desk was like "you know this isn't the right form" and with moments before the plane was set to take off, the flight host and I ran around Sydney International Airport looking for somewhere to print off the correct form for Indian Immigration. It's always good to get the shit stuff out of the way at the start.
Fast forward 16 hours and there I am, skimming through immigration and into a country I'd never imagine I would be in! Straightaway I was asked if I wanted a Mysuru coffee, a sweet tasting brew of goodness that certainly gave me a kick (take that jetlag) and enough energy for me to get bouncing and go for a walk around the city of Bengaluru to get my bearings. The first thing I noticed about the capital city of Karnataka is that it is so green and the trees that line the streets are hundreds of year's old, way to go Bengaluru!
Bengaluru is an exceptionally clean city and no matter what other guides say, traffic here is good nothing trumps Kathmandu peak hour. The city and surrounds has an estimated population of 8.5 million souls but you wouldn't think it all as there were streets that I would wander and not a person would be on it.
I was pretty lucky to be staying at the Shangri-La in Bengaluru, a towering skyscraper looking over the city and far into the distance but one thing I am is staying in my hotel room when there is exploring to do and when you've only got 8 days its hustle hustle hustle. One of the highlights of Bengaluru is the Flower Markets, a metropolis of flowers sold under the roof of an old warehouse. You name a flower and it's probably up for sale, why buy 10 flowers when you can by 10,000? The Flower Markets might sound peaceful and relaxing but you would be so, so wrong. Thousands of locals crammed into tight corridors, heckling for a deal or like me, I just wanted to stop and smell the roses.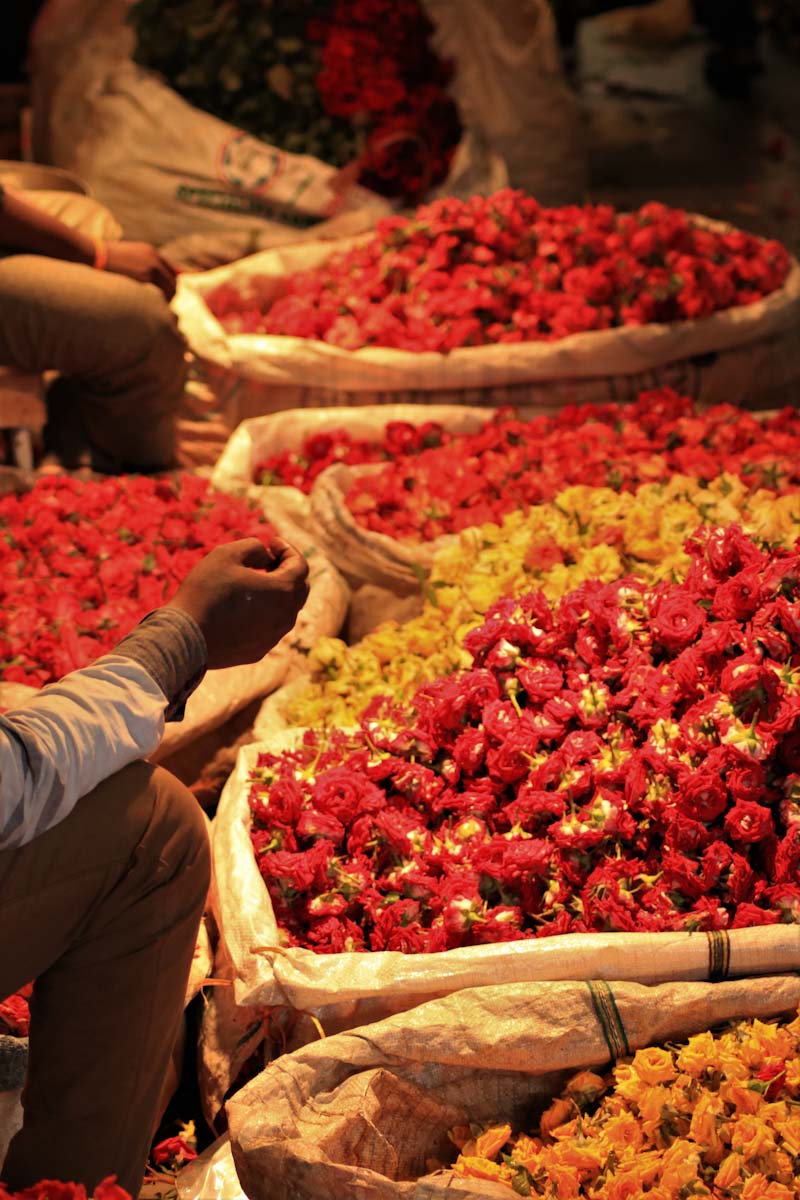 Hampi the crown jewel of Karnataka.
Hampi in Northern Karnataka was next on the itinerary and once again I had no real knowledge of what to expect which is kind of exciting and all I knew is that it would be a 7 to 8 hour bus journey from Bengaluru. Before the crew of bloggers and I got to explore Hampi, we checked into the most stunning resort I had ever set foot upon, Evolve Back Luxury Resort on the outskirts of town and oh boy it was a treat to my eyes! I had my own spa, bathtub, king bed and all the goodies that come with a 5 star resort!
Without a doubt, Karnataka's crowning jewel is Hampi, an ancient series of caves built in the 6th century and once home to thousands of people before it was destroyed in a bloody war and to ensure that no one would come back and live in the once flourishing city of Hampi, buildings were destroyed with very little still standing as they were all those years ago.
To get a perspective on how big Hampi is, there are literally thousands of ruins spread over 19,500 hectares and while not all are accessible, there are some that are super easy to get to like The Hazara Rama Temple built to dedicated Lord Rama, the 7th incarnation of Vishnu. Another must-see is Virupaksha Temple with its spire-like structure and home to a lot of cheeky monkeys. This extraordinary temple was built in the 14th century in order to dedicate Shiva, The Destroyer.
Before leaving Hampi, The Elephant Stables are a serious must see! Built during the 15th century, these stables were built to hold Royal Elephants so you can imagine, the walls would need to be mighty strong. If you are an avid historian or love a good temple, I would highly recommend spending at least a week playing Indian Jones in these magnificent ruins.
Vijayapur 
With Hampi now behind me, the bus pressed on to Vijayapur or Bijapur, an Islamic city far north in the state of Karnataka. It was at this point I really had no idea of where I was going and this got me super excited! A further 2.5 hours north of Karnataka is the Islamic City of Bijapura with a population of 325,000 while the city boasts incredibly old Islamic buildings including Golgumbaz built in 1659 which has a hint of St Paul's Cathedral about its architecture but if you do your research or ask a local, it's actually a mausoleum!  
Golgumbaz is seven stories high and if you aren't a fan of heights, I don't blame you, my hands got a bit clammy in certain spots. Inside the dome of Golgumbaz, it will either amaze you or deafen you as the structures acoustics are so fine that even if you click your thumbs together it will amplify and echo all around…B.Y.O earplugs on this one. 
Not far from Golgumbaz is Ibrahim Rouza Masjid (mosque) which has the characteristics of a castle minus dragons and knights. Ibrahim Rouza Masjid is beautifully handcrafted with fine detailing in almost every corner of the mosque to the high tips of the mosques minarets reaching some 24 metres in height.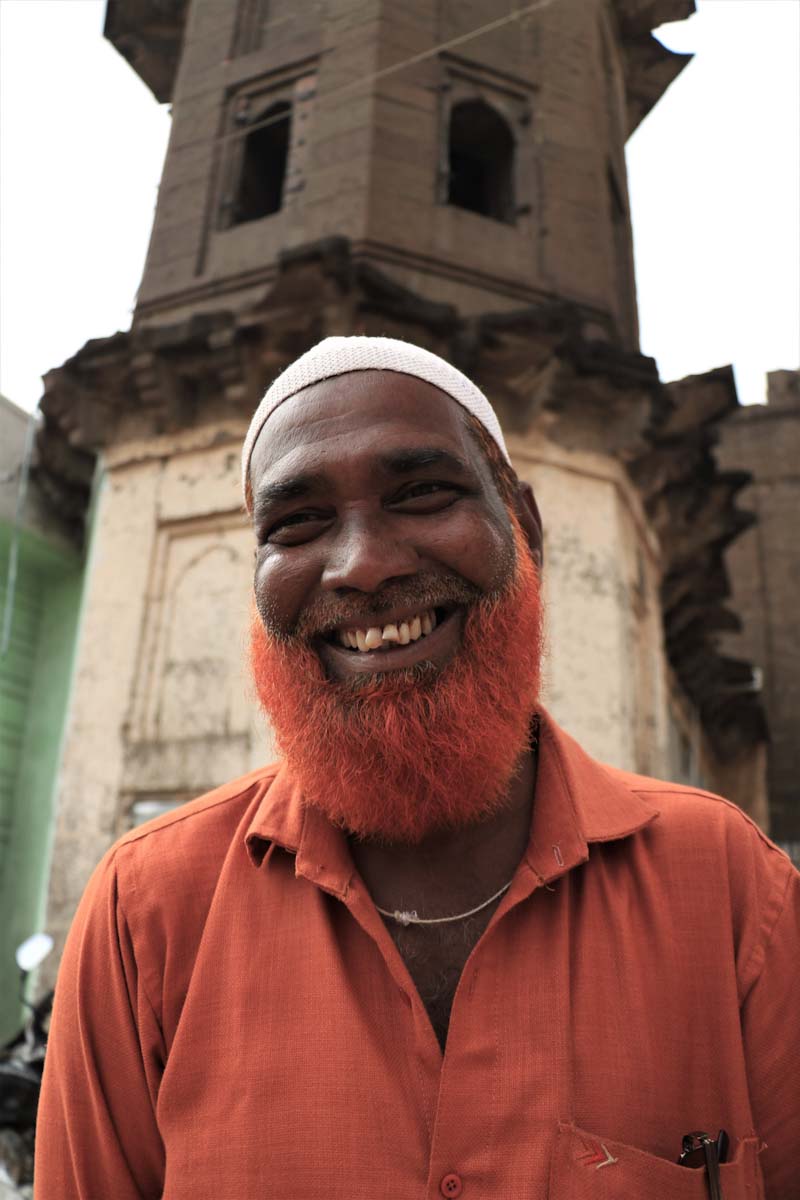 Badami Caves 
After spending time exploring mausoleums and mosques of this wonderful, vibrant city it was time to hit the highway and cruise south down to Badami which takes about two hours from the centre of Vijayapur; a place unlike where we had previously been in Karnataka and a place that almost resembles a movie set out of Star Wars. Badami is a definite highlight in Karnataka!
As you might have already gathered from this article, Karnataka is one of the best places in the world to visit ancient ruins of temples but one thing that makes Badami so awesome is that it has temples perched on the edges of huge sandstone cliffs as well as temples carved into the side of cliffs! The Badami Caves are extraordinary and there are a series of four caves a few minutes out of the main business district of town where all can be explored with ease.
The Badami Caves is home to an intricate amount of carvings and fine rock art that resemble Gods such as Shiva and Vishnu while one cave in particular is of Jainism origin. Each of the four caves are accessible and are staggered into the side of gnarly but beautiful sandstone cliffs overlooking Agasthya Lake and the Upper Shivalaya Temple. These temples are best visited early in the morning or late in the afternoon when crowds are low and the monkeys are less (apparently they like to steal from tourists). 
I could talk more about temples in Badami but I just want to put it out there at just how amazing this little town in rural India is. Driving from Vijayapur to Badami consists of a lot of farm land and wind turbines but it's not that all exciting and you literally drive around a bend or two and bam, these magnificent sandstone rock structures jut out of the earth a bit like what you would see in Utah or a Cowboys and Indian movie. Once you are in Badami, the first thing you'll notice is the town's backdrop and much unlike Vijayapur or Bengaluru, Badami is just a gift from the gods.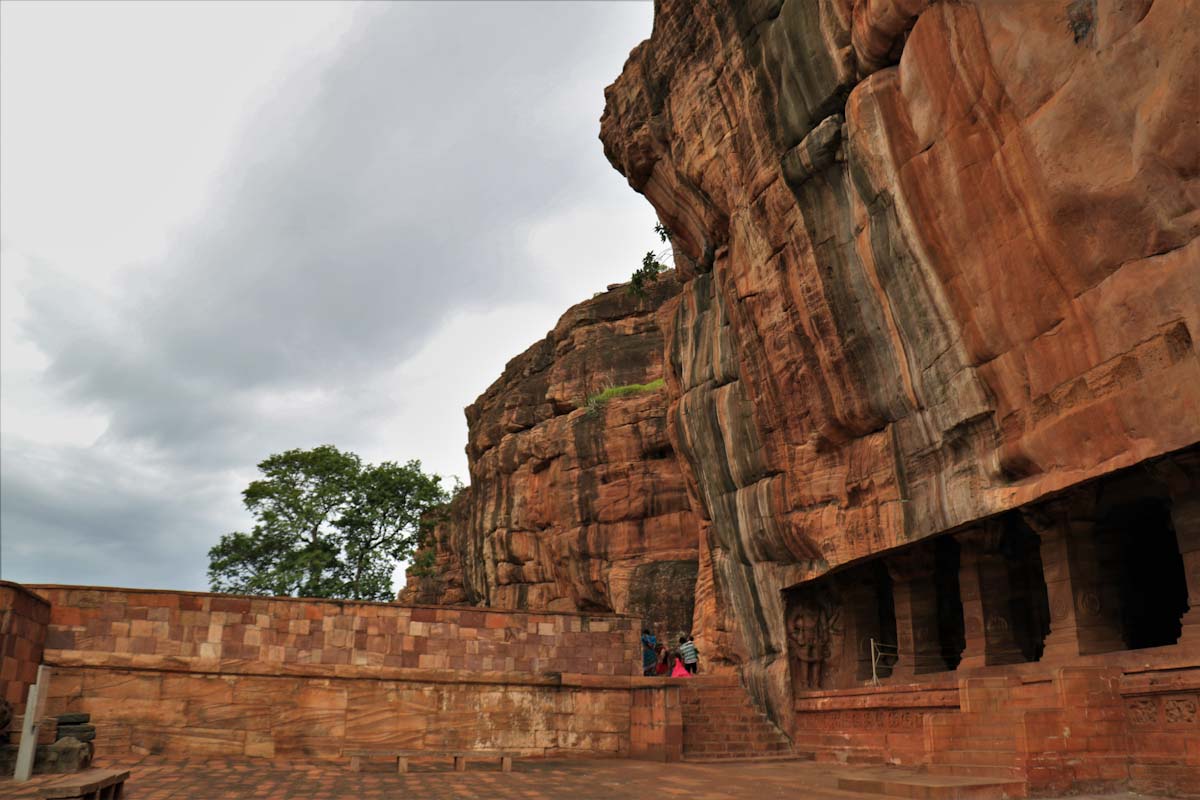 Aihole and Pattadakal 
While I could have spent a lot more time exploring the sandstone cliffs and temples of Badami, 30 minutes out of town is a series of temples and ancient ruins that are listed as UNESCO World Heritage Sites. 
Once again, I had no idea what the day would bring or what the itinerary would hold but I just went with it and it was so damn amazing! Our first stop was Aihole pronounced eye-hole; where a series of 7th century temples all in very good condition as fine rock carvings can be seen throughout the main temple of Durga designed with influence from Hinduism Jainism and Buddhism cultures. 
Aihole undoubtedly is amazing to explore but Pattadakal a further 15 minutes' drive away is unbelievable. Pattadakal isn't a type of dinosaur if you're wondering however they are a group of temples from the 7th century consisting of amazing architecture of Jain and Hindu origin with various carvings of Shiva. The highlight of Pattadakal is the statue of Basava; a bull or Nandi where Puja ceremonies are commonly held and if you're lucky enough you can get a blessing!
What is so amazing about both Pattadakal and Aihole is their locations within Karnataka; one moment you're driving through farmlands full of corn and sugarcane and the next moment in the middle of the tiniest town, temples from 500 odd years ago spring from existence. Most temples are accessible and will cost around 100 rupees to enter however India has a strange rule when it comes to camera gear. There will be additional costs if you have a camera, phone even video recorder so be prepared to pay 50 rupees per item if you want to take photos of Karnataka's temples.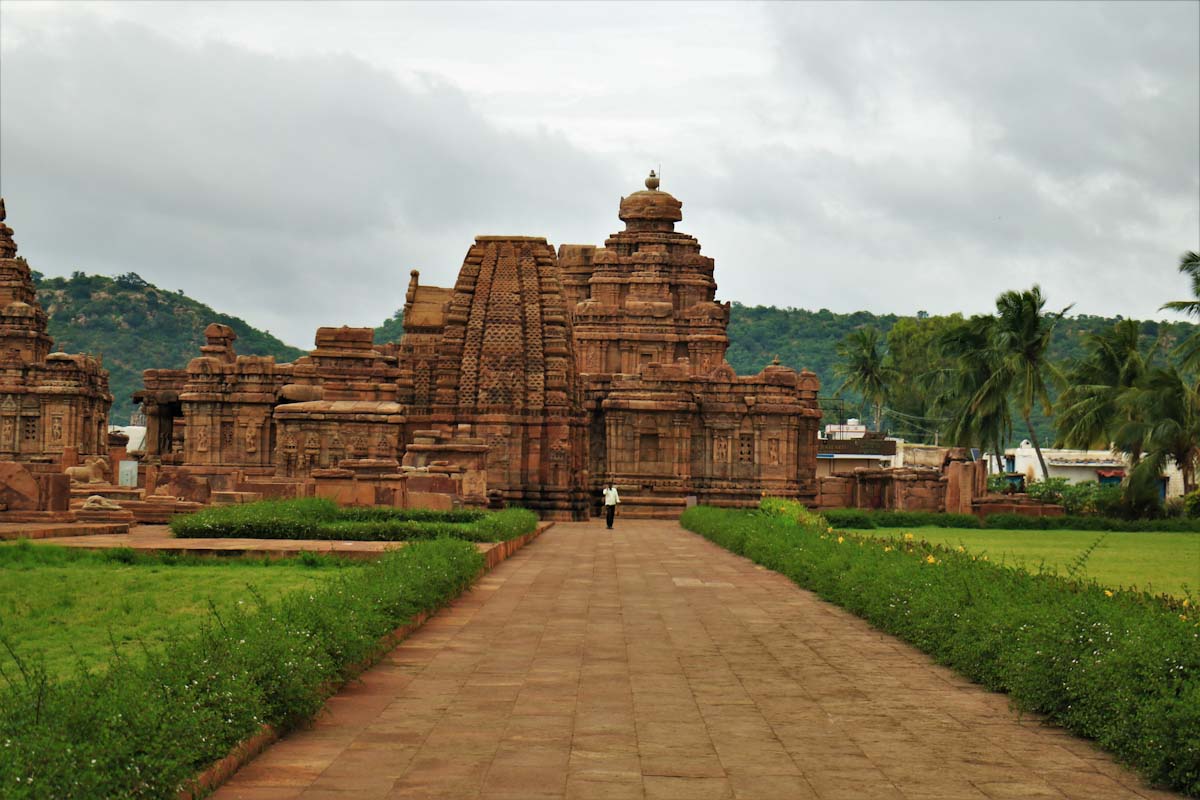 Karnataka's Street Food & Markets 
You might be thinking what a strange mix temples and street food are but if you ever get the chance to travel to India, street food is a must and to some buying food from a street vendor can be scary but it's not all that bad, you just need to know what to look for. If you are travelling on a budget, street food is going to save you big dollars and although most restaurants are cheap in India, street food is even cheaper and damn tasty. Here's some of the food that you can buy cheaply off the street.
Markets are the best place to go when you want raw products like fresh fruit and vegetables. In Bengaluru, head to the Flower Markets & City Markets to get your teeth around hundreds of different types of fruits including dragon fruit, kiwis and bananas. If you're looking to spice things up and cook your own meal, the City Markets (right next to Flower Markets) sells chillies, bags of spices to sacks of rice and it's seriously cheap! 
If cooking isn't your forte, there's bound to be a food vendor on every corner of Bengaluru's streets. A personal favourite is Pani Puri; a deep fried round crisp filled with diced onions, masala and a green soup which is recommended to be eaten in one bite. Chicken 65 is a new discovery for me and oh boy it's the goods with cubes of chicken rolled in red chilli powder and deep fried on a skewer!  Street food can be brilliant and tasty but at the same time it can be pretty terrible especially if you eat something and get sick so always keep an eye out for unhygienic cooking areas or if food is covered by flies or sitting in direct sun and if you're buying fruit like apples or tomatoes make sure to wash them with warm/ hot water to rid any potential chemicals that could be on the skin. My last trip to Nepal resulted in me eating a bad bit of street food causing 2 week of diarrhea but don't worry too much, just choose wisely.
If you are worried about eating out in India Jean recommends Travelan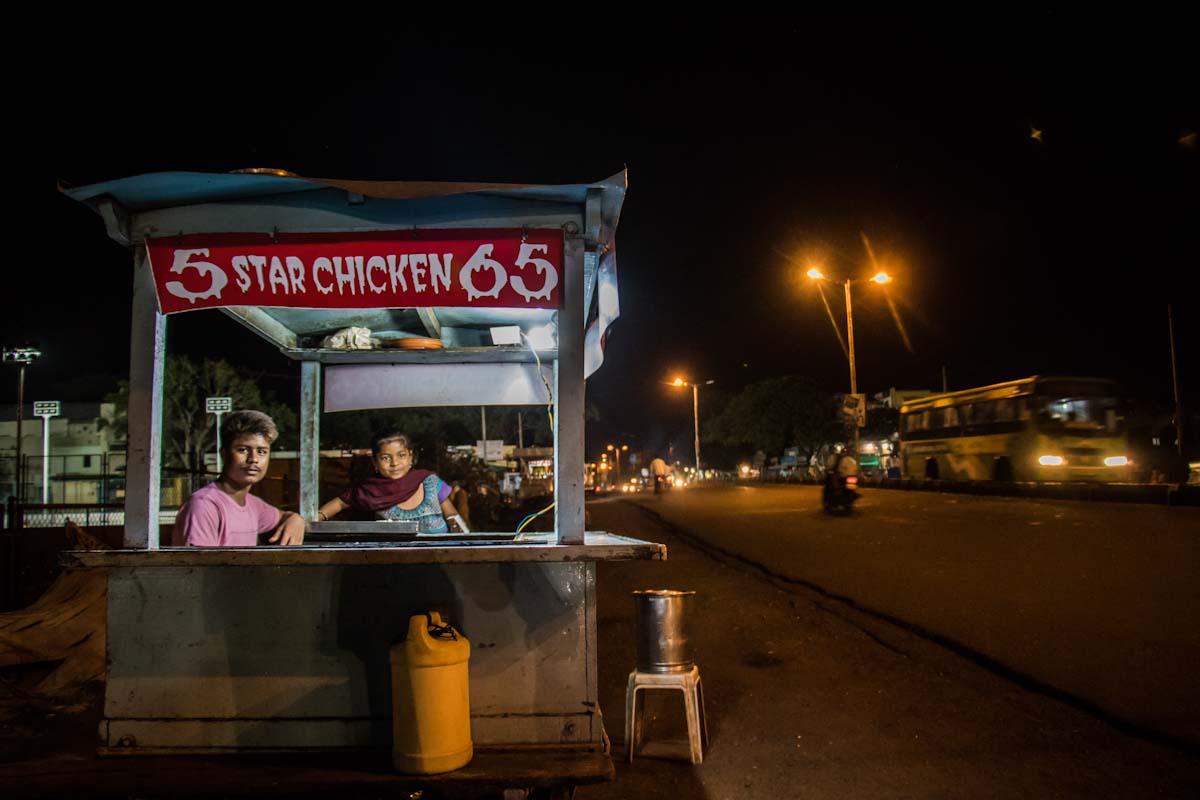 Catching a Train in India 
You haven't been to India unless you have been on a train, period.
Trains in India pretty much go everywhere covering over 67,000kms of routes and destinations so there's a good chance that a train will go to most places in India including that of Karnataka. If you plan to catch a train at any point on your visit to India makes sure you know of a few things before boarding.
Before boarding an overnight train or long distance train, there are requirements to book your tickets online at Indian Railways.
There are a stack of classes to choose from depending on your budget and preference;
1A – is first class with air-conditioning and a flatbed with linen to sleep on. 1A is considered the most luxurious. 
2A – is also air-conditioned and quite similar to 1A but more people can fit in the carriage.
3A – bedding is included as is air-conditioning however there are even more people in the carriage than 2A and there are no curtains or lights.
3E – is the economy tier with no bedding or air-conditioning
My experience on an overnight, 9.5 hour journey from Hospet to Bengaluru was great though crowded despite having booked a 1A ticket and then again it comes down to the type of train, distance and amount of stops the train does on its journey. 
Final thoughts on my India Adventure
With only 8 days to explore Karnataka, my time was short but it's surprising how much one can pack into an adventure like this even if you haven't researched beforehand. Karnataka is one of the most colourful places I have been anywhere in the world from fields of sunflowers spreading as far as the eye can see to mountains of boulders home to ancient ruins and temples that have stood since the birth of India while streets might seem chaotic but within the chaos there's always a shining light and that's the people of this beautiful state.
Calumn was hosted on behalf of Traveling Honeybird by the Karnataka International Travel Mart & tourism board. So thank you Karnataka for your hospitality and generosity!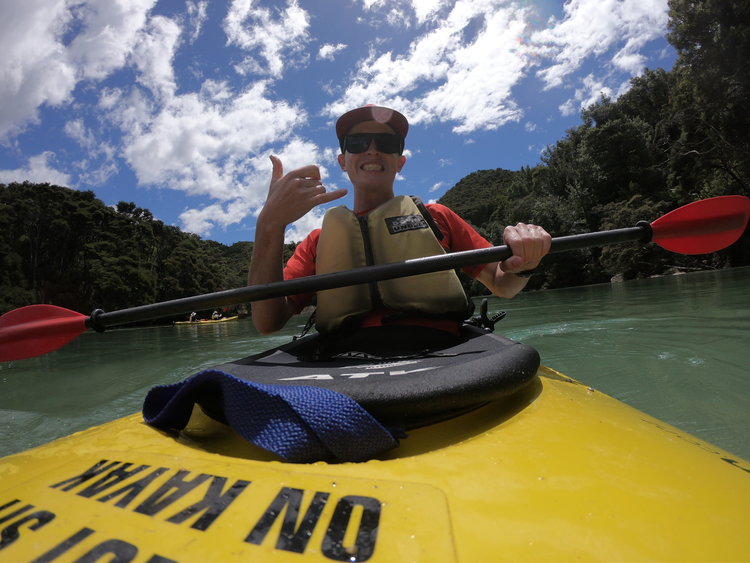 Calum Hockey
Guest Writer
I am an avid adventurer / photographer / travel writer who over the past few years has embarked on incredible journeys around the globe to the high Himalaya's in Nepal to the southern mountains of Aotearoa in search of earth's most stunning landscapes.
If I am not in the mountains there's a good chance you'll find me in the Central Deserts of Australia or finding hidden waterfalls and rainforests on my home lands of Gumbaynggirr country.
For more on my adventurers follow me on Instagram at @calumnhockey or www.calumnh.com. 
If You Liked This Post You May Also Like: