For a city so old, so full of soul, it's no surprises that the morning time is one of the most beautiful times to explore the ancient city of Varanasi. As the city is awakening you see a different side, a raw, perhaps even a more authentic experience of this ancient city. The dogs are slumbering in the morning sun, the chai is hot and fresh and there's no one around to hassle you. Perfection. It's hard not to fall in love with the ancient world that is Varanasi.
Exploring the city of Varanasi for one very beautiful morning 
Varanasia (Beneres) is one of the oldest city's in the world, if not the eldest. It's a stunning and contradictory city in the state of Uttar Pradesh. You may have heard some fairly nasty things about this city in the past few years, especially since travel bloggers started to visit and started to smell odd things. Things are changing. The government is investing in the city's hygiene standards and waste removal. Now this doesn't mean that you won't see bodies floating down the river Ganga but it is less likely, and it certainly wasn't something that I saw. There is less trash in the river and the infamous washing ghats are slowly being shut down. Meaning that you're luxury hotel sheets may now be washed in a commercial area and not on the rivers edge. It is a dynamic change and the city's residents are still slowly adapting to the changes. 
The city, like many cities across Asia has a certain smell to it. The smell of life, of humans and animals coexisting. It isn't exactly an unpleasant smell but it can be a bit of a scare to foreigners for the first time you are visiting. 
Time to rise and shine and truly see the ancient city of Varanasi 
Well it's the city of Varanasi that is shinning as the sun rises above and gently touches the river. Giving the city an eternal golden glow, that exudes happiness, peacefulness and a calm that I've never felt before. I'm neither a night owl or an early riser. More so a fall out of bed, brush my hair and get the heck going now, where did I leave my under wear kinda lady. I wasn't particularly thrilled at the thought of a 4am-ish wake up and stumble out of the hotel. My bed was warm. I was tired after the most ridiculously long flights from
Australia
via
Abu Dhabi
and there was a breakfast buffet calling me. To this day I'm still so glad that my roomie Roxanne from The Tiny Taster, insisted that I get my tired backside out of bed, brush my teeth and get down to the Ganges river for an early morning spiritual experience.
The day starts off with a brisk walk down to the river to experience our first morning aarti. It's an odd experience to be involved in. The crowd starts of simply sitting and watching the movements. Listening to the prayers. Watching the lamps lit. And then people start to creep. Closer. Closer and before you know it the young boys performing this religious act are near surrounded by smart phones, cameras and noisy no bodies. It's a slippery slop down into the descent of disrespect and I take a step back away from the crowds
Then we are huddled off onto the river, into small wooden boats for a river cruise. It's mesmerizing to see the different styles of ghats (gate ways to the river) to watch the people start their morning ritual bathing and generally to watch the sun rise and the city awaken.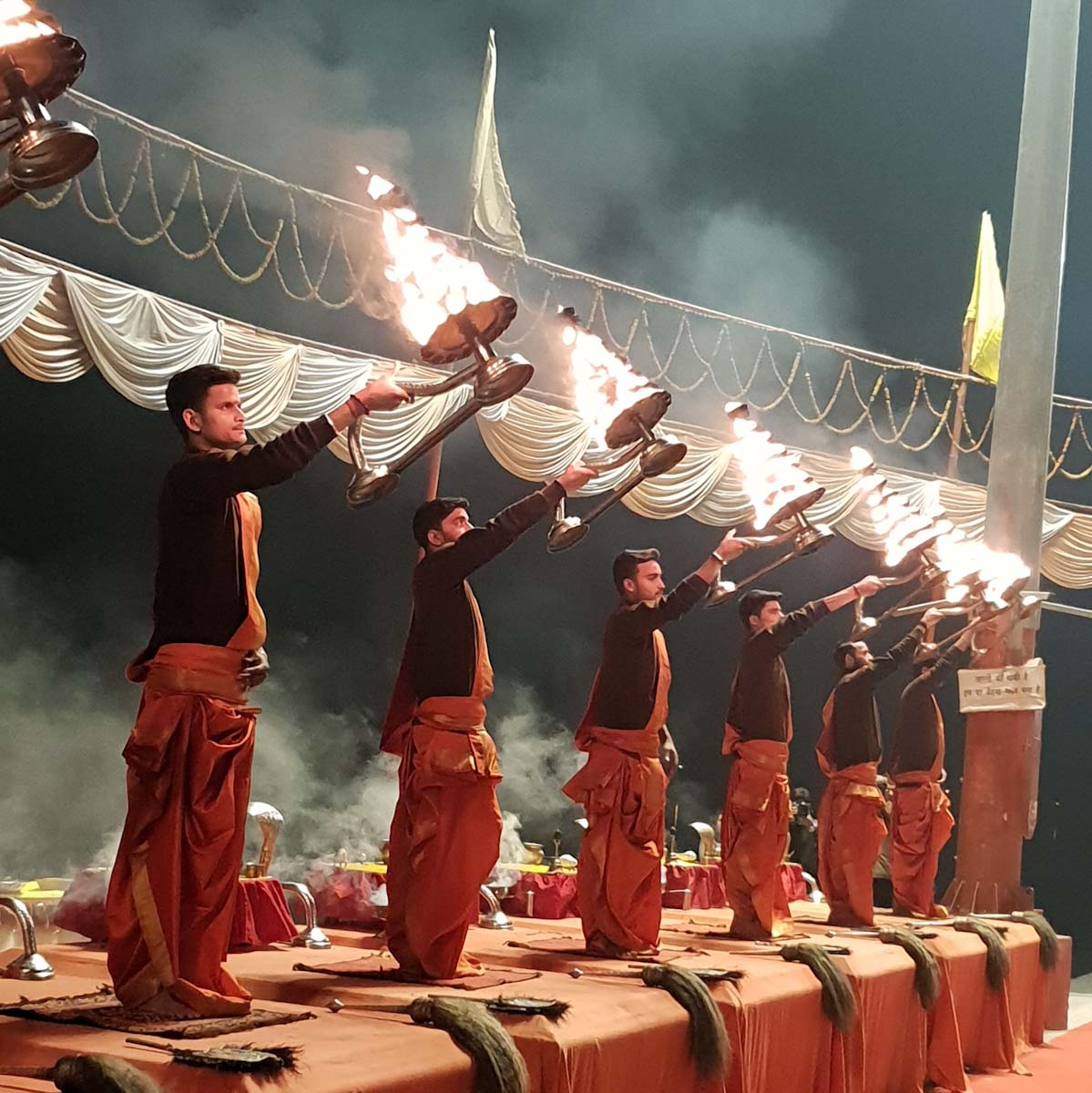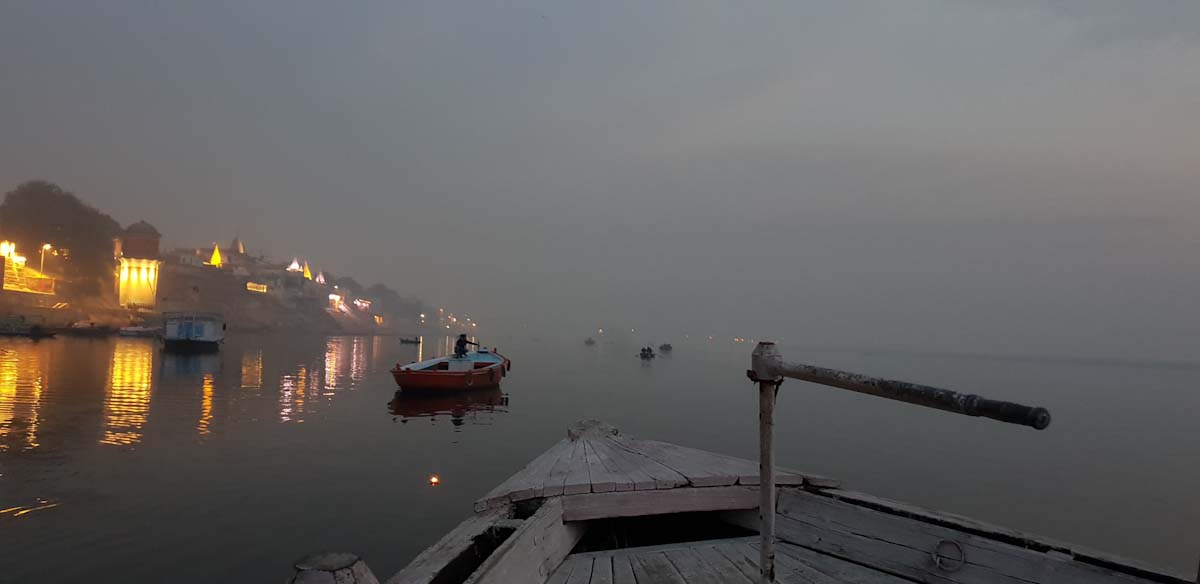 Feeding the Siberian Seagulls on the River Ganges 
So I might be a bit of a weirdo but I
seriously love seeing birds in odd places
. Like that one time I found
flamingos in Bolivia
The more the merrier when it comes to my feathered friends. Now I hate being unsustainable and encouraging city damaging birds but some days I can't help myself and I indulge in a little bit of bird feeding. The birds that you'll find chilling on the Ganga river are migratory birds. Like myself, the Siberian seagulls have flown a hellava long way to enjoy the warmer weather in India and the company of the bathing Hindus. Out of the many, many tourists I came across during my short stint in Varanasi, these birds were the friendliest and most polite of all. 
As you are on your morning boat cruise you'll be approached by boatmen selling odd noodle things to feed the birds. I'm not sure how much the bags of bird feed were but you do get to yell out OWWW OWWW OWW and flocks of birds fly towards you. These boat men aren't out during the morning aarti, and they arrive just as the city begins to awaken and the sun is peeking over the horizon.
A preview into the Varanasi crematorium ghats
I rarely say this, but in all honesty, no trip to Varanasi is complete without seeing the Hindu crematorium ghats on the River Gangas edges. Even though we were up before the crack of dawn, and watched the sun rise up over the river, there is a lot of movement happening here at the Harish Chandra Ghat.  Families are choosing the wood for the pyre. The workers are tending to fires lit over night. People are doing things. There's no wailing, no screaming. It's an oddly calming and pleasant thing to experience. I choose to not take a lot of photos during this part of the tour. Firstly to show a modicum of respect to the families going about their mourning and partly because I was too busy watching other peoples reactions to what they are seeing.
There is an eerie silence as the people on the many boats that surround you realize that you are watching human remains being burnt. Despite the hustle and bustle on the river front, people are silenced by what they are seeing. This is such a small introduction into what foreigners consider a very private family matter. 
Just a word of warning, you will find that your clothing will have a light cover of ash from the crematorium ghats. It might be a soft covering or it can be bigger chunks depending on the weather conditions and what's happening on the rivers edge. You won't be smothered in inches of ash. This is nothing to freak out about and is all apart of the circle of life for the Hindu people. I hate to get all preachy, but if you notice ash on your clothes or when you blow your nose and you are still on the river, please show some respect and don't squeal, yell or freak out. What you are getting a glimpse into is the very rawness of a family's mourning and all the emotions that come with the change when a person passes away. The family members don't need to have to deal with some foreigner freaking out.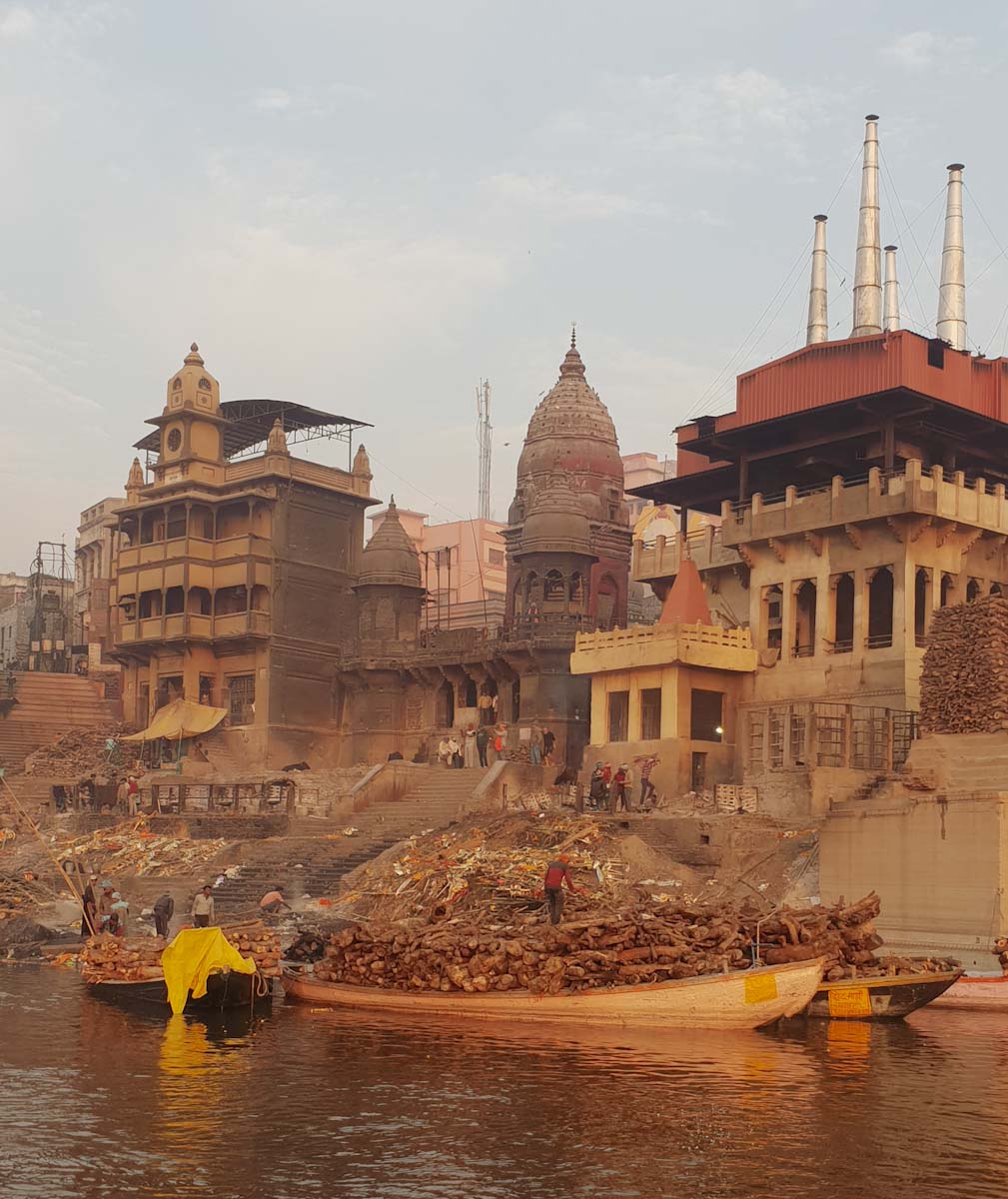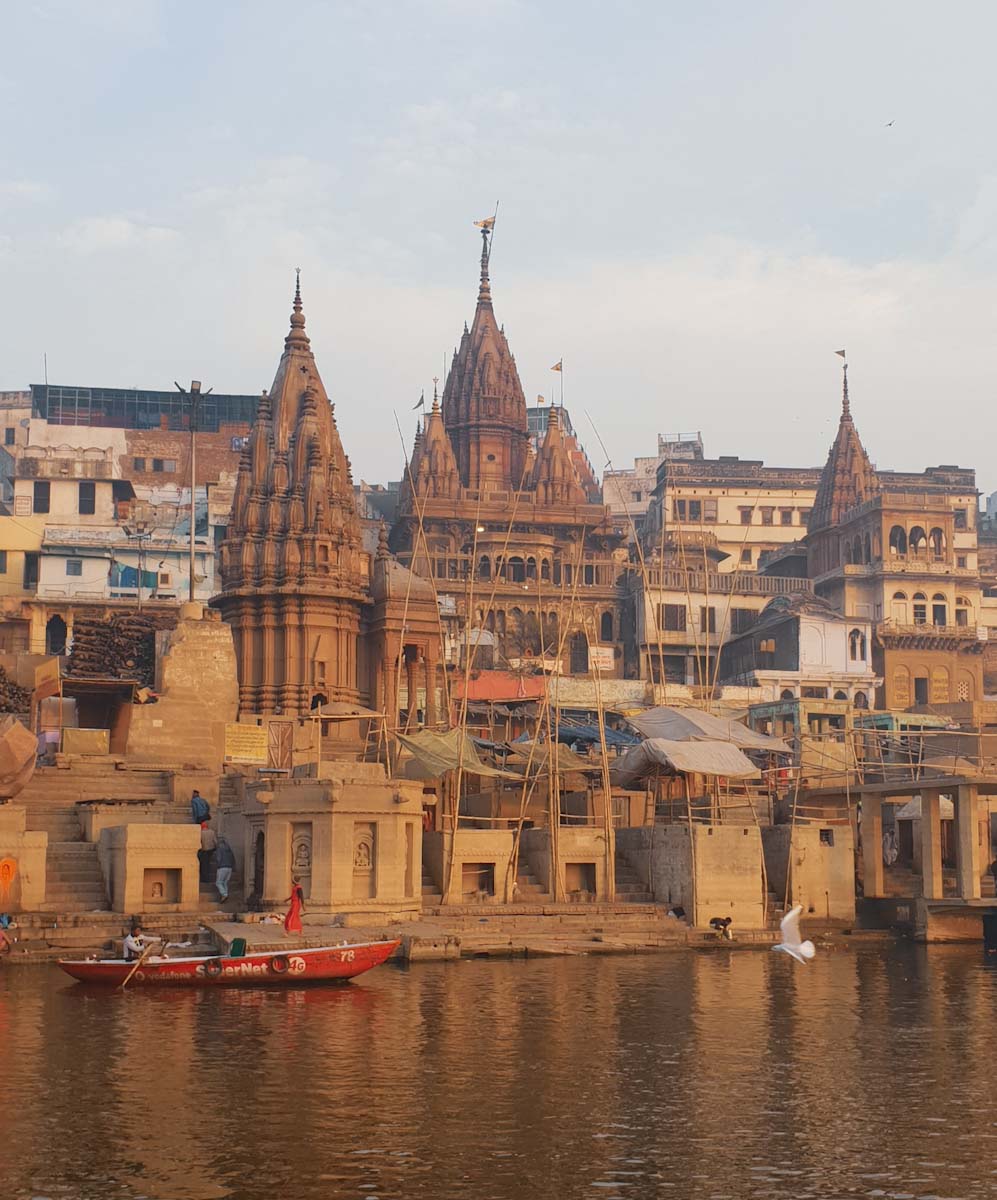 A riverside chai and a look into the ancient sport of wrestling
Did you know that there is an ancient culture of wrestling in India? That there are entire training schools of wrestlers, including female wrestlers. I'm hoping that I wasn't superbly naïve as I had no idea that this was a thing in Varanasi. After spending time on the river, watching the bodies burn, feeding the birds it did seem appropriate that we went and watched semi-nude people wrestle. These wrestling schools are so ingrained in the culture and the essence of Varanasi that no one blinked an eye, no one turned away and the athletes that we spoke to were happy to chat to our crew.
Chai time in Varanasi
Chai seemingly holds together the Indian people and everywhere that we travelled chai was high on the priority list. Which suited me perfectly well. A smell cup of chai, infused with ginger, was the perfect end to our mornings adventure in the cold. For me one of the most fun parts of drinking chai in Varanasi and other areas in Uttar Pradesh, was noticing the slight differences.
If you are concerned about getting a dose of Delhi Belly whilst on your Indian Adventure I can highly recommend taking Travelan to help prevent the travellers belly. Read my Travelan review and guide today! 
It was in all honesty a rather odd experience to be standing on a ghat, on the edges of the Ganges, watching people bathe in the river.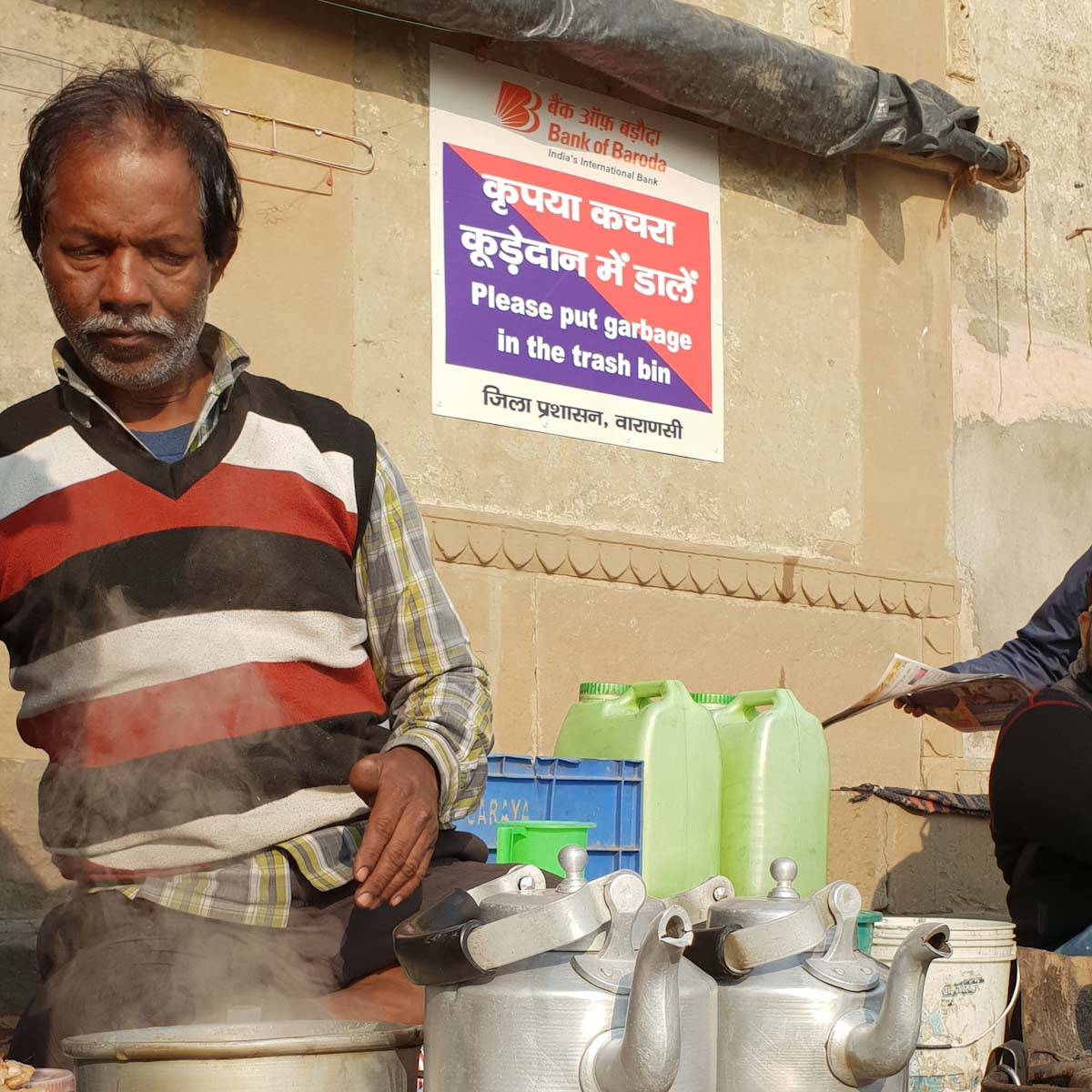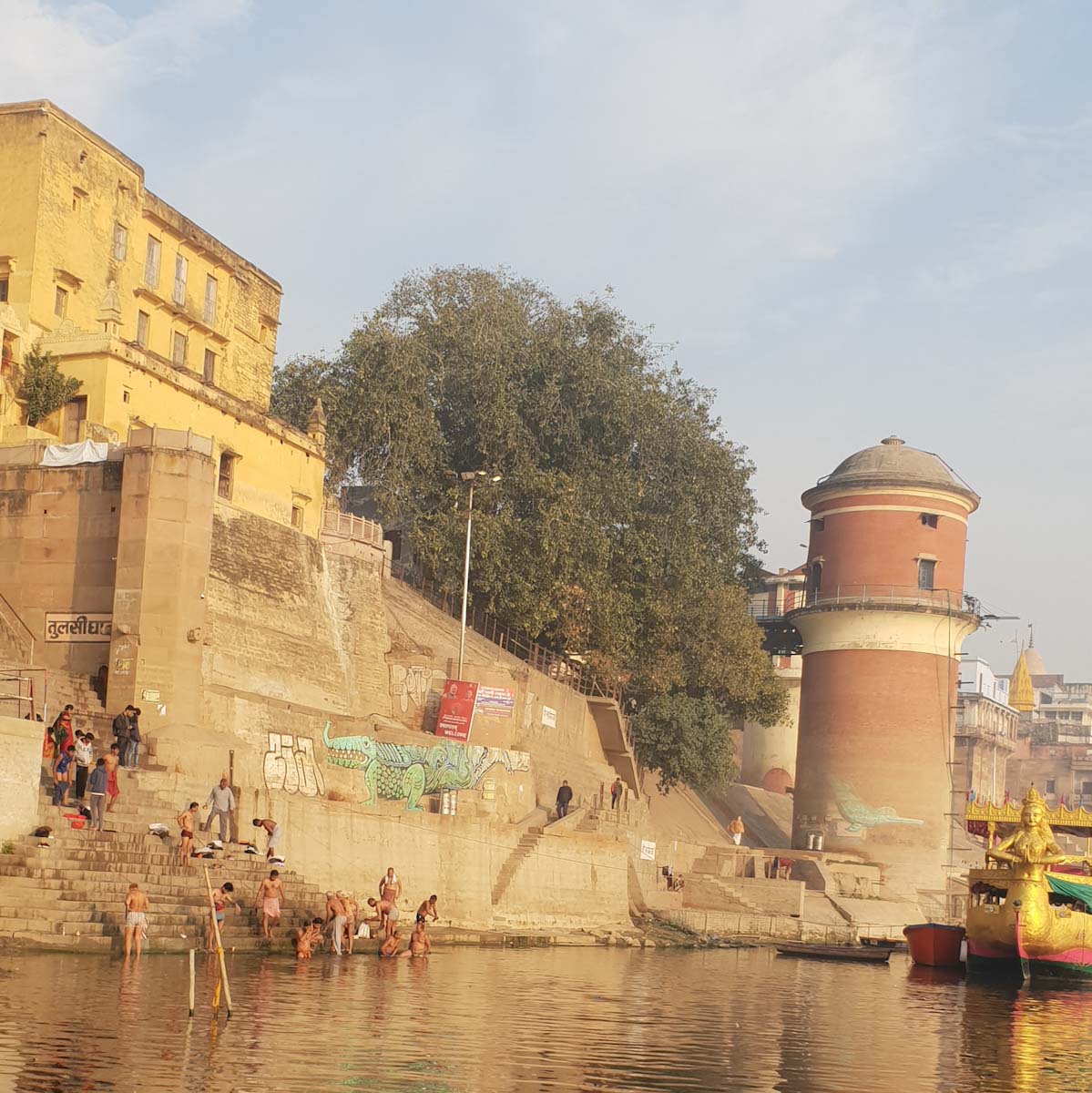 Should you see an aarti on the river Ganges?
This is quite a contentious activity to partake in. One rumor I heard was that the Taj Hotels introduced a locals experience for their guests, and would take them down to the river to see an aarti.  An aarti is a prayer ceremony. In many ways it is a truly beautiful thing to sit back and watch. I'm not a particularly religious person, and even I enjoyed the experience. The entire performance leaves you mesmerised as the lamps are light, raised and returned to the earth.
 The one thing that did upset me was how people treated those who were performing the aarti. With very little respect and more as if they were merely a religious zoo to be watched, poked at and spoken over. Really what I'm saying is that tourists watching the aarti is a fairly new experience. Please do remember that for many of the people partaking in the aarti this is a religious display and to show some respect.
Again, as some one who is not overly religious I did enjoy watching the aarti and learning more about the Hindu relationship with the River Ganges.
You'll find that most people will travel to the world famous Assi Ghat to watch a morning aarti.
How to get around Varanasi in the morning
The easiest way to experience a morning aarti is on a guided tour. Actually there's not many other ways to take part. Your hotel may have an offering. I would highly suggest that you book a tour that includes not only a morning aarti but also one that includes the river sunrise and witnessing one of the three crematorium ghats.
What to wear on a tour of Varanasi?
If you do choose to brave the early morning wake up call and hustle down to the ghat, make sure you pack warm clothes. I visited in March and I can tell you that the weather is toe numbing cold. People seemingly assume that India equates to hot weather, but I can assure you that it does not. You'll see in the photos above that I am wrapped up. Long pants, tee shirt, a jumper, scarf and a down jacket.  Remember that India is still a conservative culture when it comes to dressing. You don't need to be wrapped up like a zombie but you do need to be appropriately covered. Long leggings, loose tee shirts etc. Y'all know what I mean.
Final thoughts on the bemusing city of Varanasi
Varanasi was my first experience of
India
. Show casing the beauty, the history, the culture and the contradiction. Walking down an alley way and you walk into a Muslim quarter of silk weavers. Around the corner, down a laneway and past a cow you'll find some of the best lassi that you'll ever taste. And all amongst this is faux sadhus, giving blessings and photo tours to unsuspecting tourists in between Netflix sessions and on the river you'll find the  sadhus sitting in silent prayer. For me Varanasi was a unique yet perfect introduction to India. I can't say that this one city represents all of India, as that would be a narrow minded lie. But this city did show me the potential for change, adaptability and respecting history that India is capable of.
Will I return to Varanasi? Probably not on it's own, perhaps if I was transiting through the stae of Uttar pradesh. For me, travelling with other Indian content creators I was introduced to an entirely different perspective of the wonders that India has to offer. To areas of safari, the mountains, the people. I feel that there is so much more of India left for me to explore.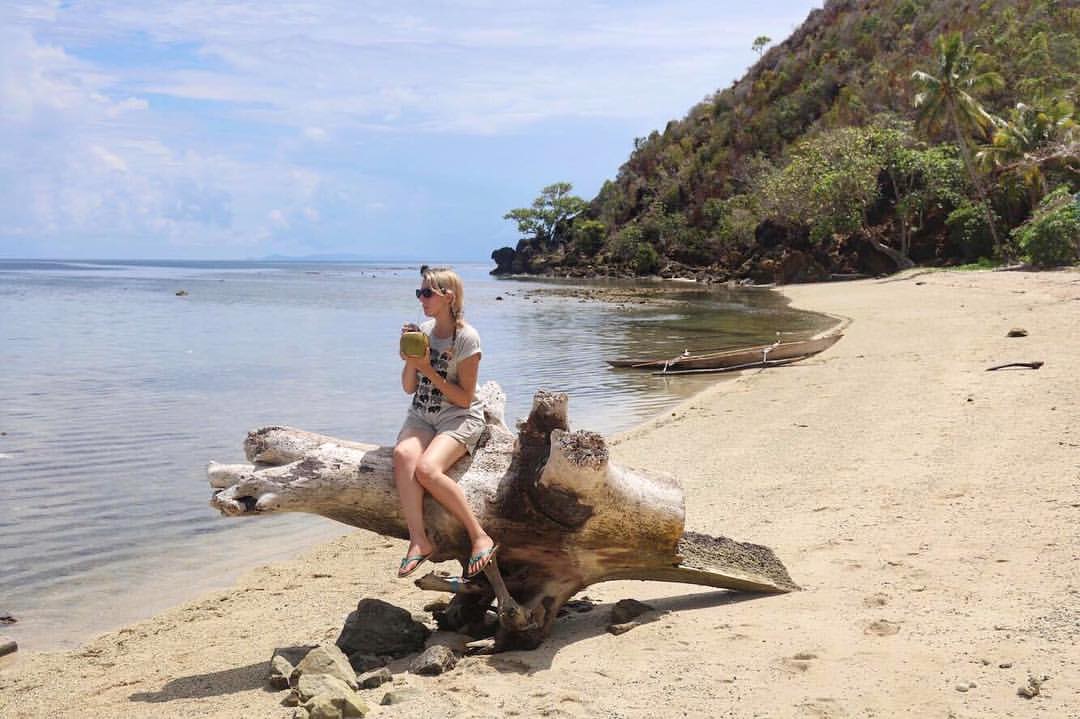 If You Liked This Post You May Also Like these Indian blog posts: