It's hard to express in basic words what I experienced, in the very brief time, that I was fortunate enough to attend this year's Kumbh Mela at Prayagraj. I'm not an overly religious or spiritual person, so for me this trip was a wonderful opportunity to explore a people whose daily routines are dictated by spirituality. A mere chance to try to understand what makes people travel great distances to go for a dip in a river.
Now don't I sound like a privileged white tourist who should be slapped in the face. At what point do any of the 30-40 million pilgrims owe me an explanation into their religion, their faith and why they do what they do. Attending the Kumbh Mela not only showed me a very brief glimpse into a people guided by their unquestioning faith but also slapped me up with a bit of the reality fish.
An Outsider's Insight into the Kumbh Mela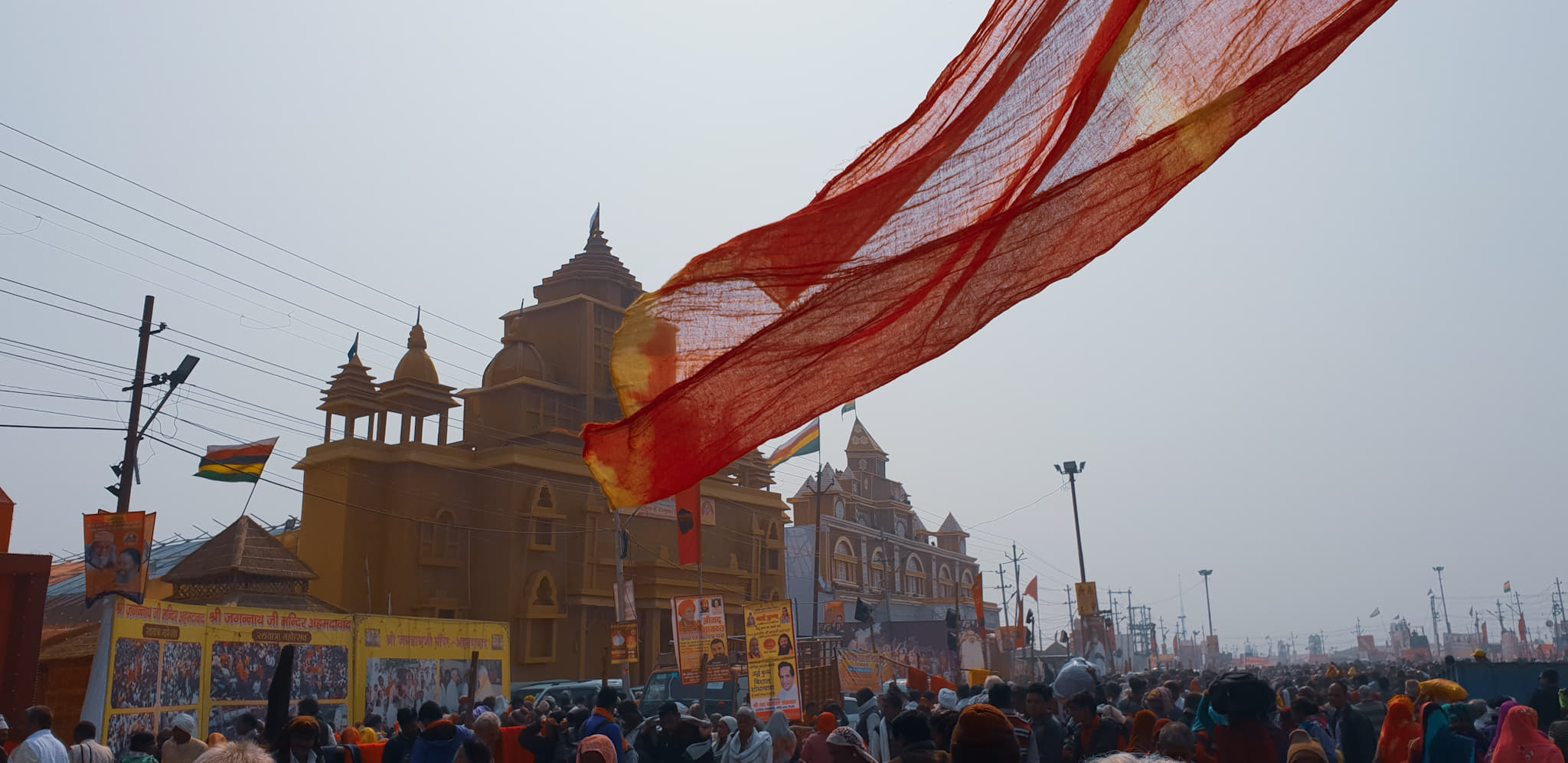 Firstly, I might take a moment to actually explain what the Kumbh Mela is. My basic understanding was that this festival, held in varied places around India, which this year goes from 15 January to 04 March 2019, was a chance for Hindu people to come together at a special space, take a bath in the river and have their sins washed away. Apologises to any Hindu people who I may have inadvertently insulted with my basic bitch ideas about this spiritual festival.
The Kumbh Mela is more than just a gathering of people to have a holy dip. Millions of people.
So what is the Kumbh Mela about?
[click_to_tweet tweet="The Kumbh Mela is the largest gathering public gathering and collective act of faith, anywhere in the world. One persons experience of walking amongst the pilgrims at the Kumbh" quote="The Kumbh Mela is the largest gathering public gathering and collective act of faith, anywhere in the world. "]
Other than taking photos of Naga Sadhus and crazy white tourists who attend? The Kumbh Mela fundamentally offers Hindus a chance to come together, and on auspicious days, to take a Kumbh snan (holy dip). 
Not only is the offering of a holy dip on offer there are philosophical discussions, yoga sessions, a visit to the Akshayvat and one can even experience a Ganga Aarti.
The Kumbh Mela, in my experience, is an opportunity for people to reinvest in their faith among other like minded people.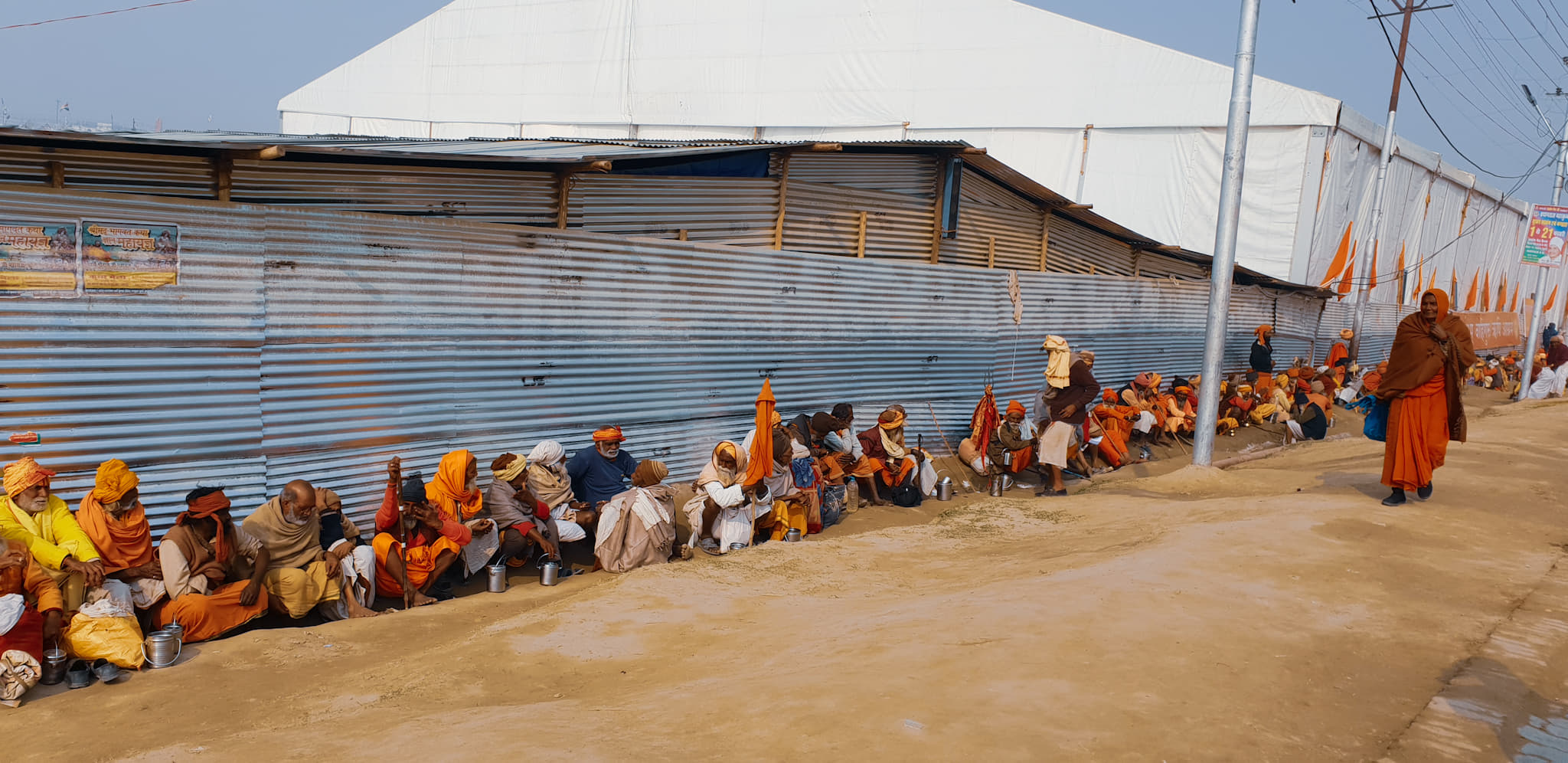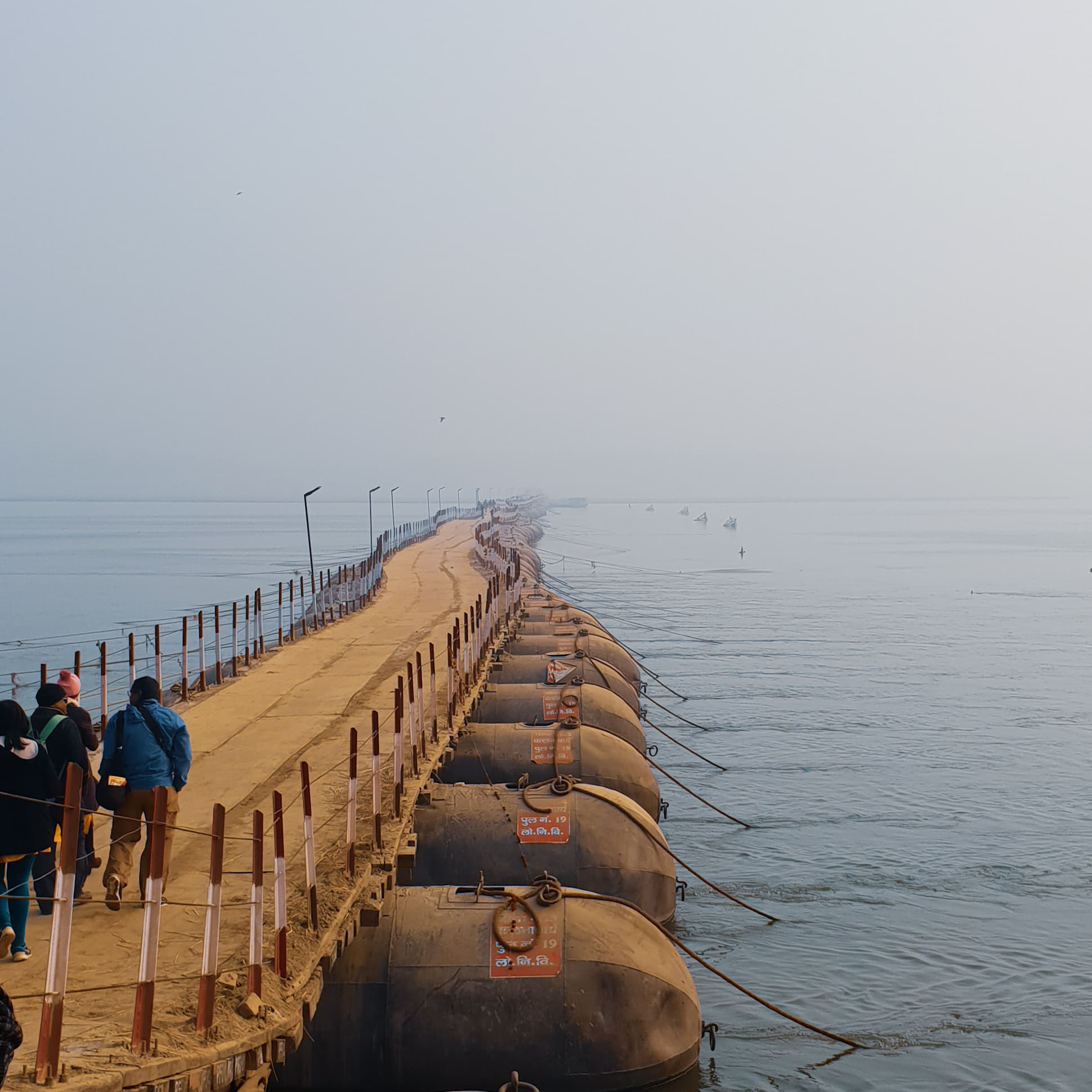 The Naga Babas
AKA the dusty naked men who do yoga with their penises. Just a quick note the below photos are NSFW. You have been warned.
One of the main attractions of the Kumbh Mela, according the to internet, is to gawk at the Naga Babas or Naga Sadhus. These are religious men who have shaken off their worldly way, mainly clothing, live in the Himalayas and only come down from the mountains for the Kumbh Mela.
These men have taken control of their basic instincts, by shedding all clothing and have the ability to stay alive and healthy in ridiculously cold weather. This is just one of the reasons why the Naga Babas are considered to be such a highly respected group of sadhus. It's hard not to gaze and what they can do with their bodies and the things they do with their penises.
The tale seemingly goes that the origin of the Naga way of life dates back to Treta Yug, but they were structured together into an order by Adi Shankaracharya. They are sometimes known as 'Warrior ascetics' and are believed to be the ultimate saviors of the Hindu Sanatan Dharma. Even today, the Naga Babas are seen carrying tridents. And they won't hesitate to use them at any point, as I found out.
Apart of the Kumbh Mela is the Baba Sadhu's right to have the first dip at on the auspicious dip days. There is security fencing off the general public, allowing the Naga Babas to rush down in a flurry of human flesh to bathe in the river. No one else is allowed to be within the waters during this time. Sadly due to illness I didn't get to experience this myself, but the below photos were kindly gifted to me for your viewing pleasure.
To find out more about the best day to take a dip – take a look at the official bathing dates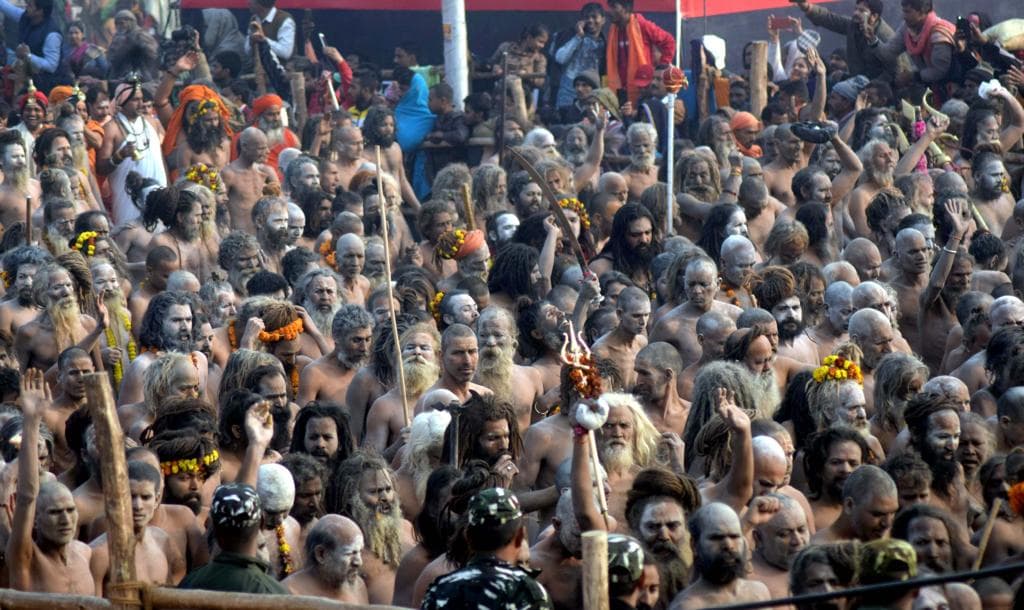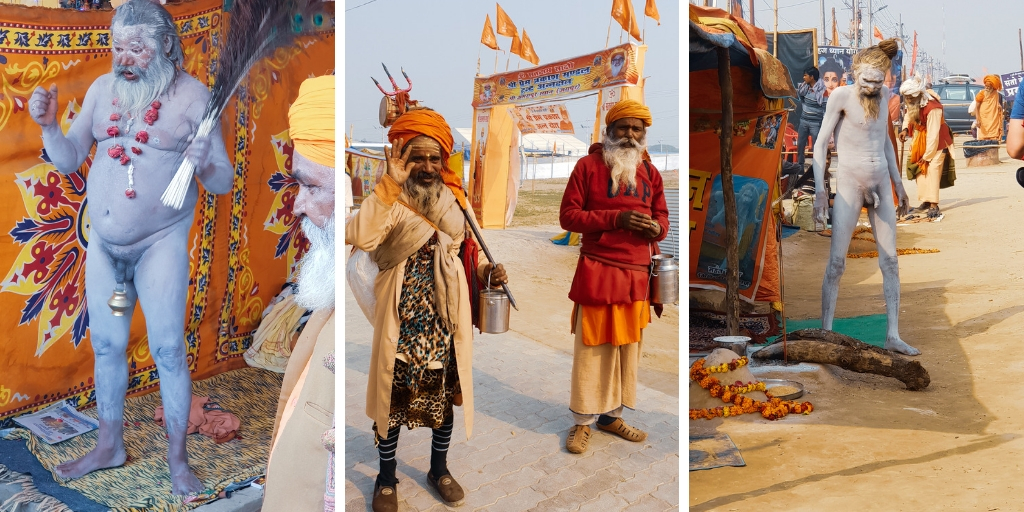 Should we, as outsiders, take photos of the Naga Babas?
And do we need to pay to take photos of Naga Sadhus?
This was by far one of the most contentious topics of my trip. There is so much, hefty philosophical debate around this right now. Fundamentally the Naga Babas are human beings, not zoo animals on display. For many of these men, this lifestyle choice is a commitment to the god Shiva. So shoving a camera in his face and taking all your Insta-snaps is a big No.
On our trip, at each Naga Baba we met along the way, our guide would ask if we could take photos. And if a donation was required. Some, as shown below, were happy to have their photos taken. Others reluctantly did when a senior sadhu told him to. The Naga Baba in the deer skin looking outfit was one such sadhu. This guy gave zero fucks about talking to us. He did the bare minimum as directed. Which i respected him for.
At times we did pay and it was around 100 INR or $1.40 USD equivalent.
For me personally I have no issue paying these people. For me the photo – cash was an exchange of services. Not everyone felt this way and believes that these sadhus should not take any money and should live in the traditional, non-financial way. In all honesty I don't have an issue paying for someone to pose for me to use their images on my blog. It's how I make my money as a travel blogger so why shouldn't these people make a little bit of money too? Also note, that we did see many locals and pilgrims give a donation to the Naga Babas for a blessing and a conversation.
Just beware in Varanasi that many of the sadhus you see are in fact homeless men who are happily ripping off gullible tourists for paid photo opportunities.
You need to show a sliver of respect and ask before taking any photos of any Naga baba, sadhu or pilgrim.
We did at one point walk down an alleyway and many of the tents, complete with the iconic sadhus and Naga babas had signs saying no photography. And when I had my phone out, about to ask if I could take a photo of the no photo sign I was chased out by a naked man wielding a trident. Both a highlight and one of the scariest moments of my India experience.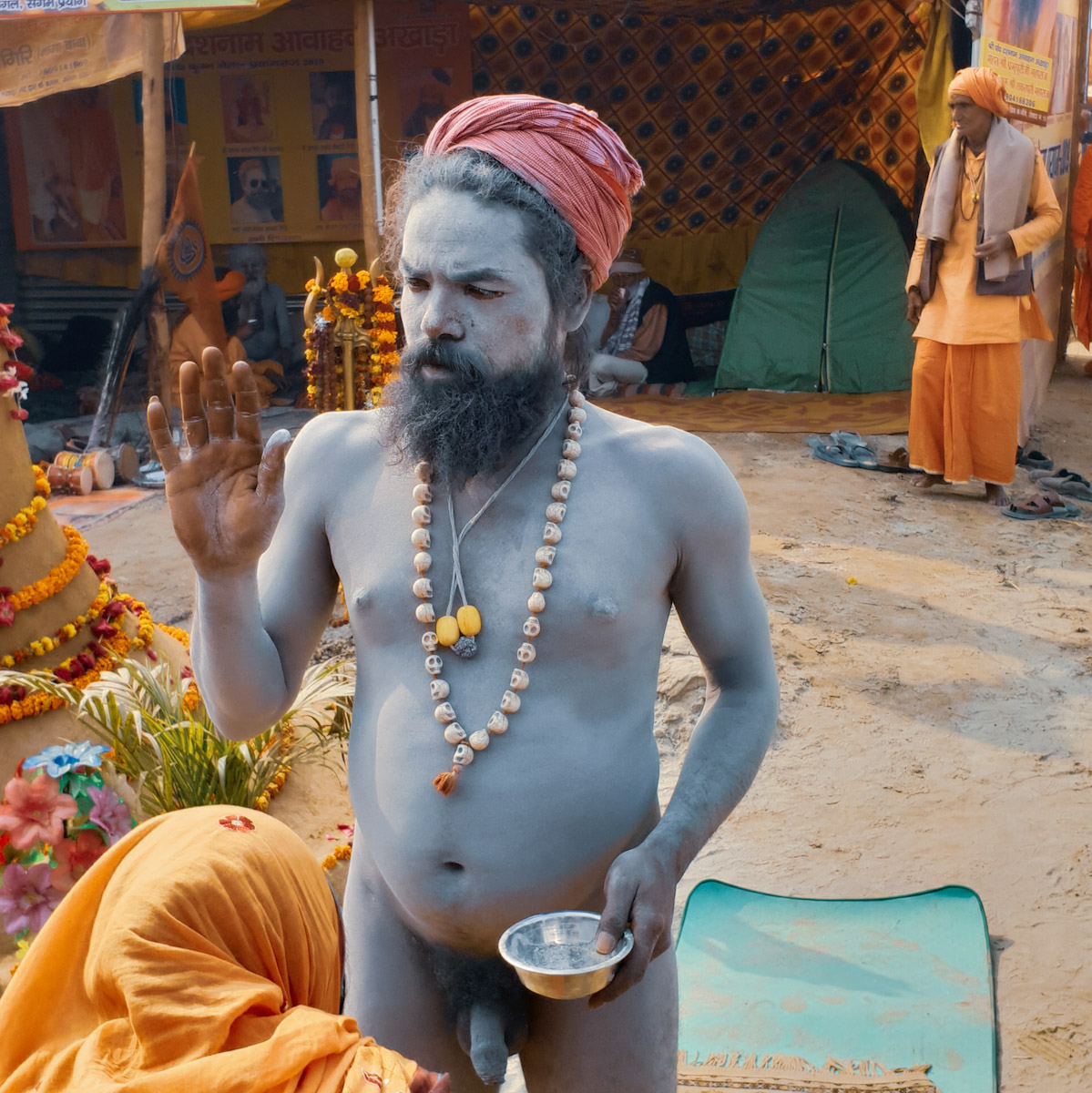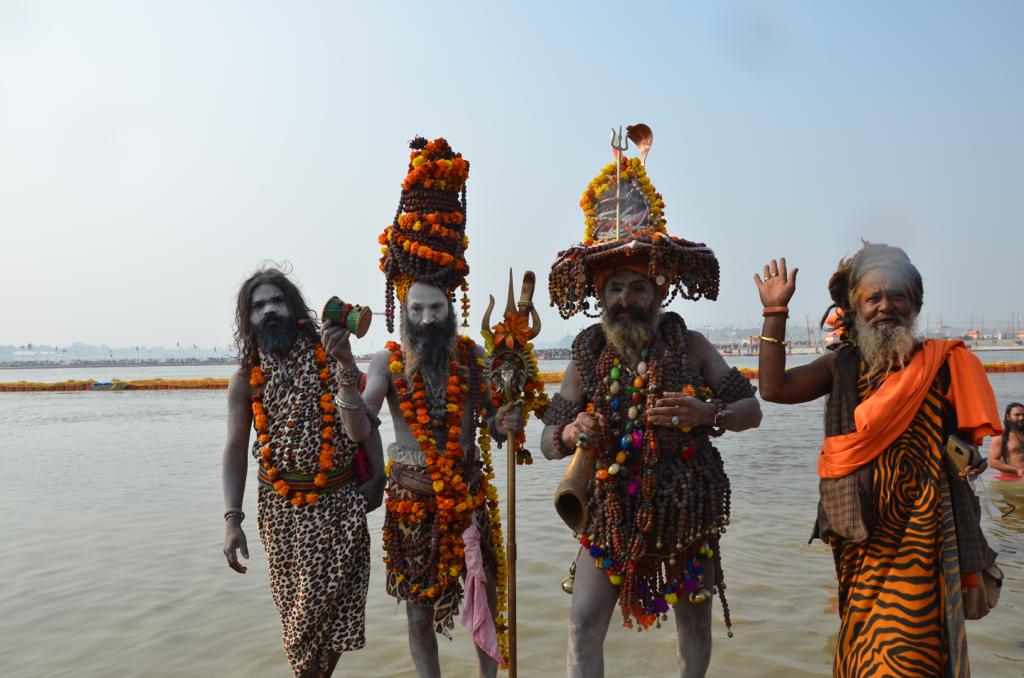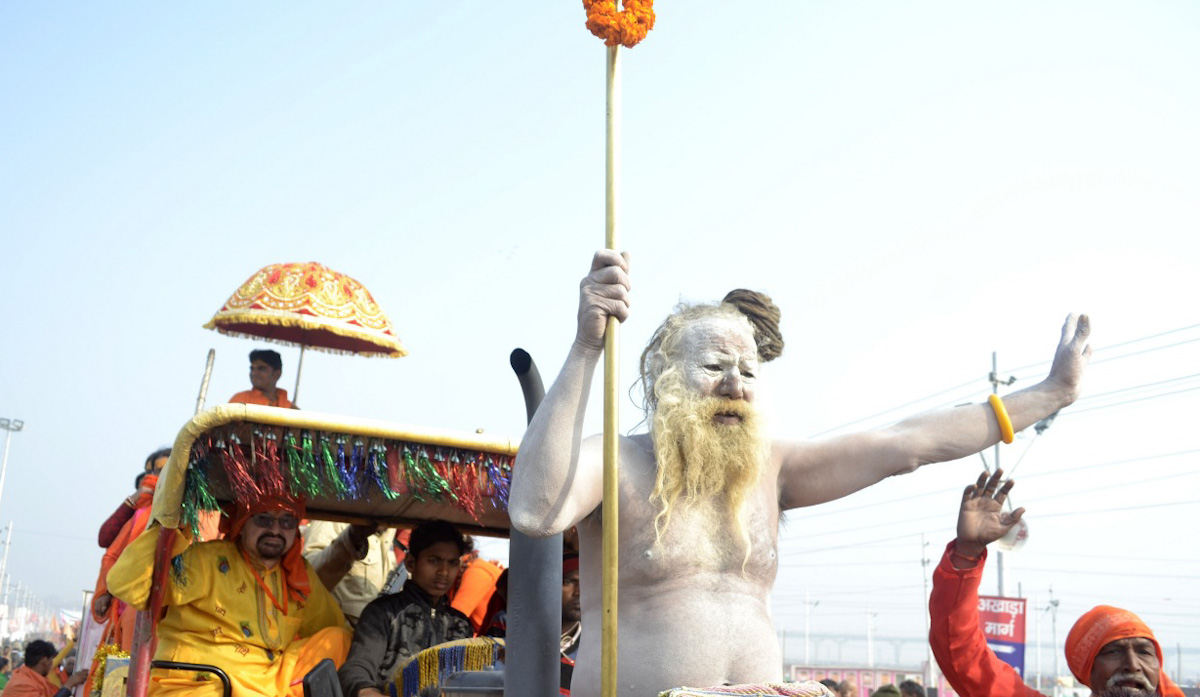 Being on the other side of the camera
The one thing that i didn't expect being at the Kumbh Mela, was being the unusual one. The minority. The one that people wanted to take photos of. I soon became the selfie queen, happily taking photos with anyone who asked. Now I do mention that it was anyone who asked. More often than not as I was trying to take photos of the general event or the sadhus, someone would slide up next to me, not make eye contact and start smiling. While I was happy to laugh it off and offer my services as a selfie queen it did give me some time to reflect on how I act as a traveller when I'm in a truly foreign situation with a camera in hand. I don't take photos of children, for many reasons, and try as often as I can to ask for permission before taking a photo. From now on I'll be extra vigilant in asking for permission and having a conversation before taking that photo and running away. Taking more time to make connections and less worry about an Instagram worthy capture.
The People Are So Friendly
Once you get past the usual Indian way of movement, which varies from super fast push through the crowds, or the super slow I'm walking in a herd scenario of a mass of people and it's one foot after the other. I found everyone that we came across to be superbly friendly, helpful and generally curious about what was happening at the Kumbh Mela. Sadly we didn't have enough time to sit down and talk to people. I would have loved to have had conversations about where people came from, how far and the why.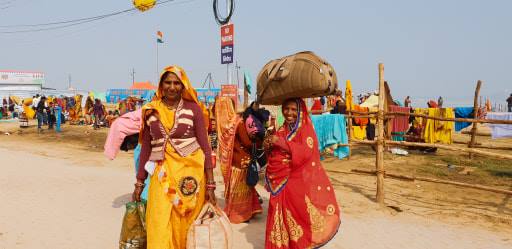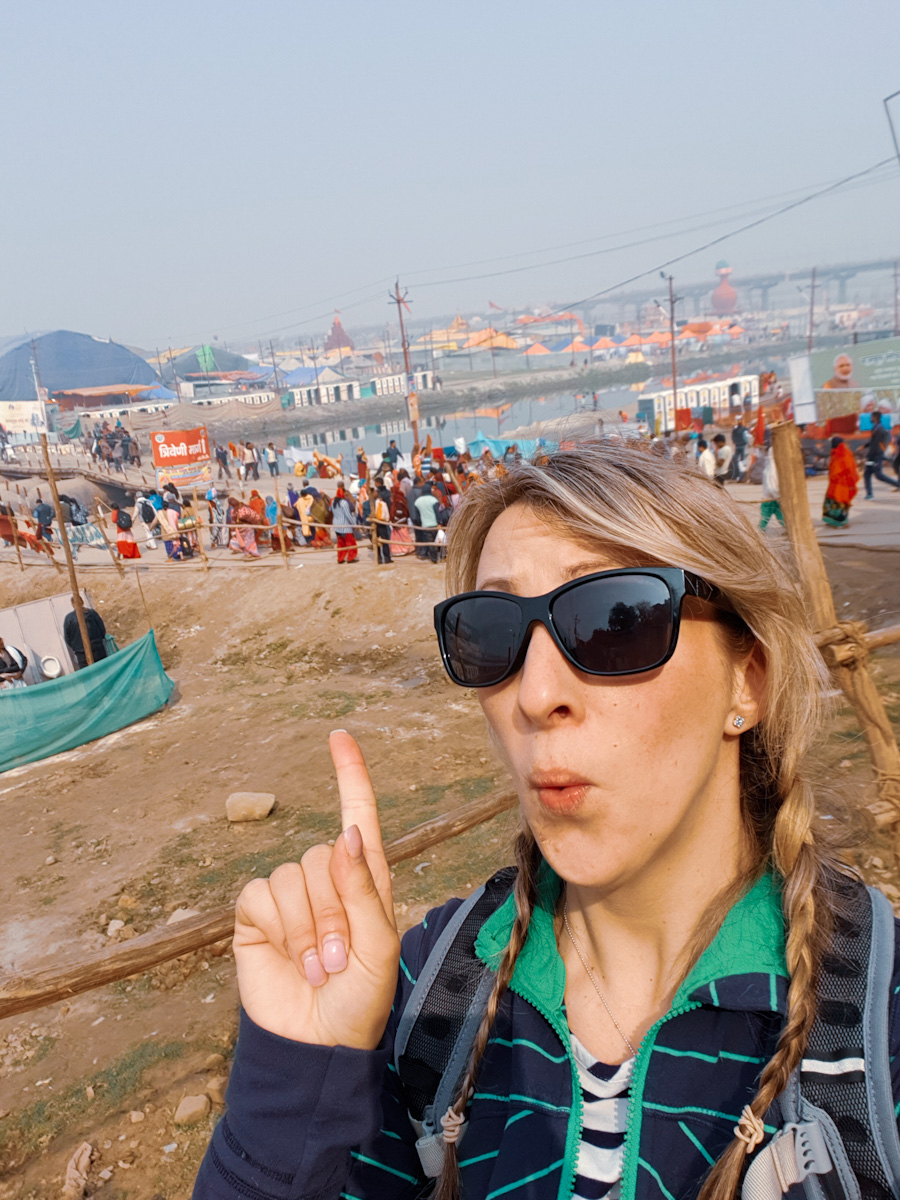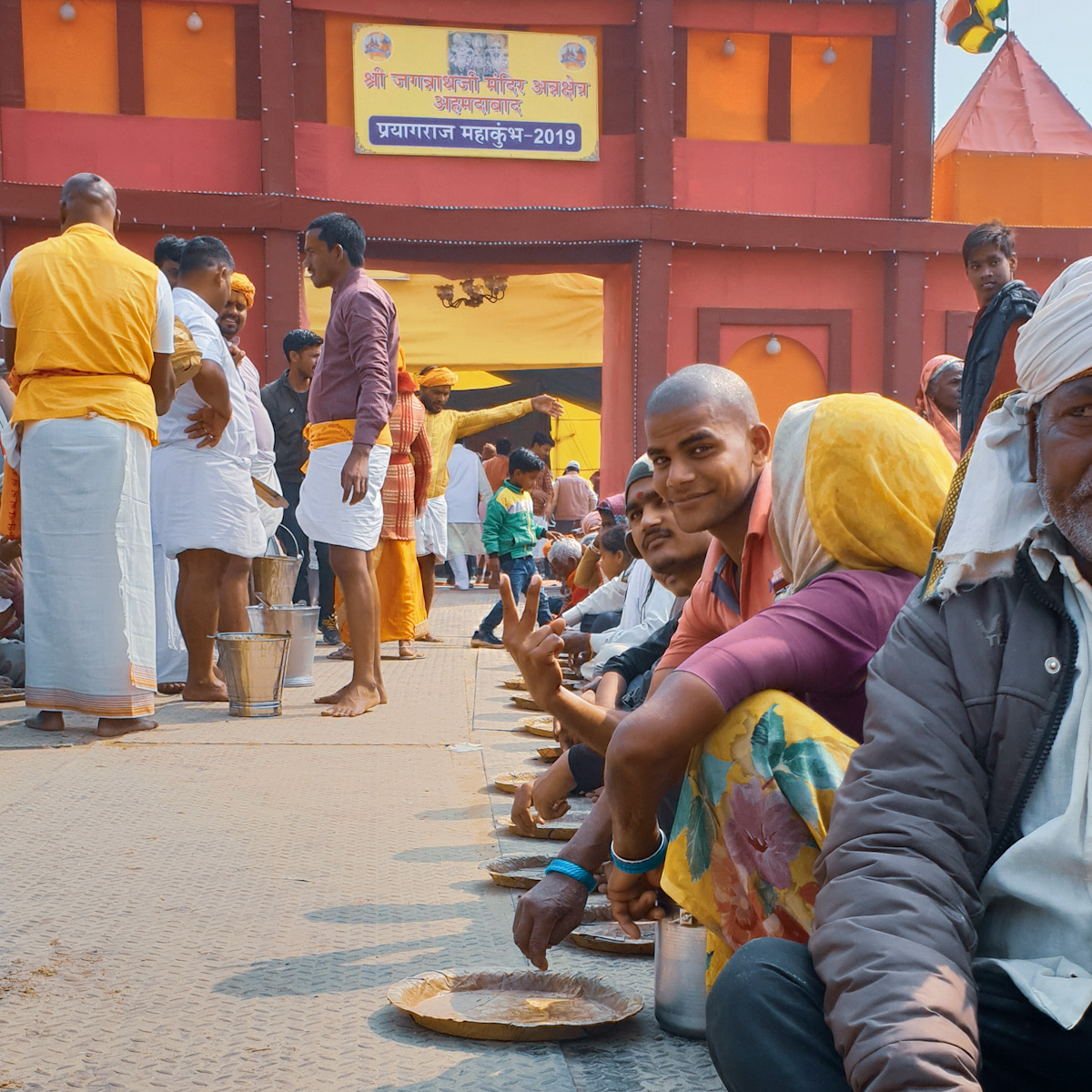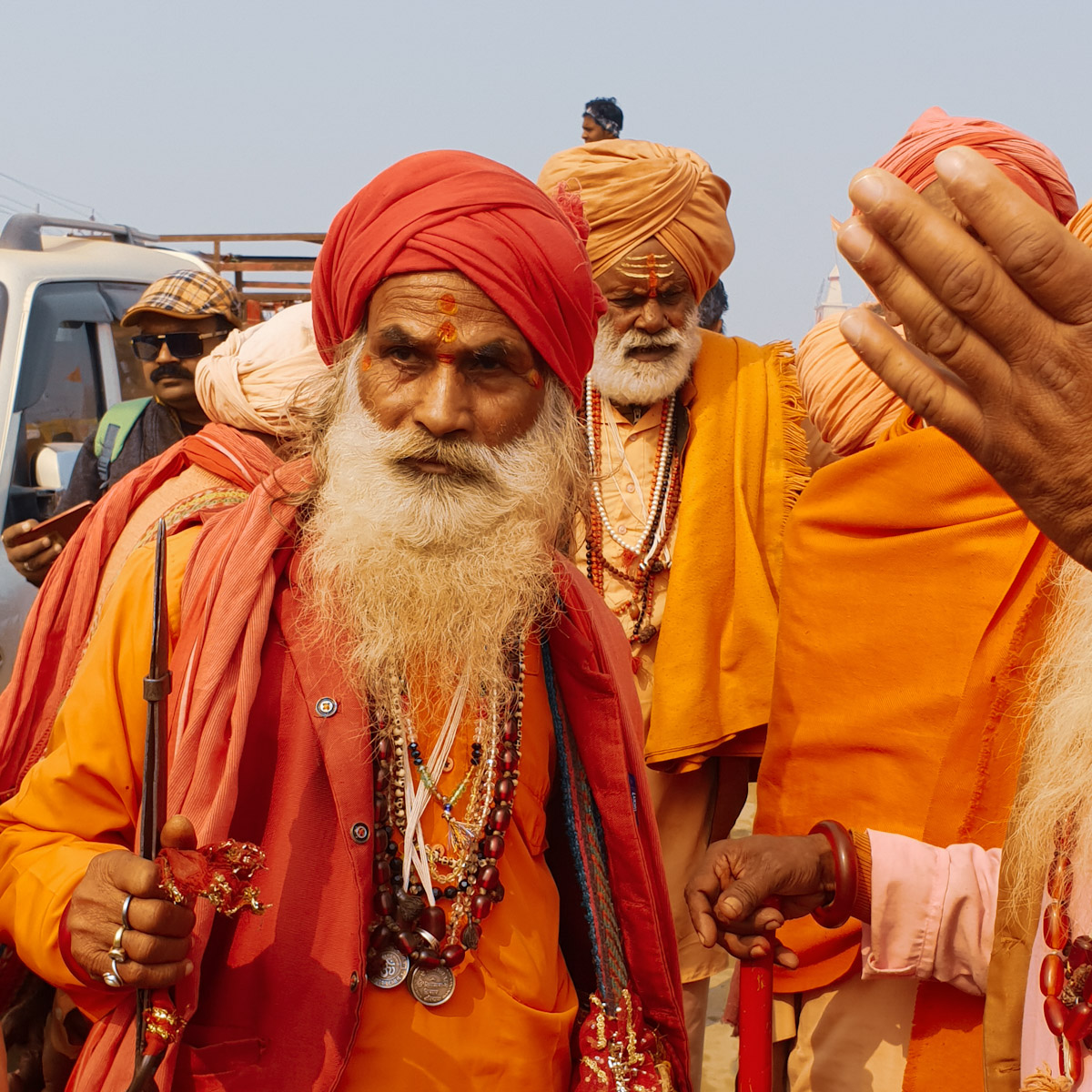 There's a lot of people and even more toilets.
The Uttar Pradesh government has done a lot of work on making this the most sustainable Kumbh Mela. Well as sustainable as you can be, when you have an estimated 150 million people coming into a small city. Every turn there was toilets. Lots and lots of toilets. On the plus side there was also a plastic bag ban with the local government and a local agency handing out hessian bags, and rather stylish ones at that, to all attendees.
It's cleaner than my own home town
Ok so the current population of Melbourne is 4.8 million. So about the average number of people attending the Kumbh Mela everyday, is the entire population of my city. And it's clean. With a push for cleanliness and hygiene there are a LOT of people employed to keep the Kumbh Mela clean. Street sweepers, rubbish collectors and over 10,000 police to help keep things moving.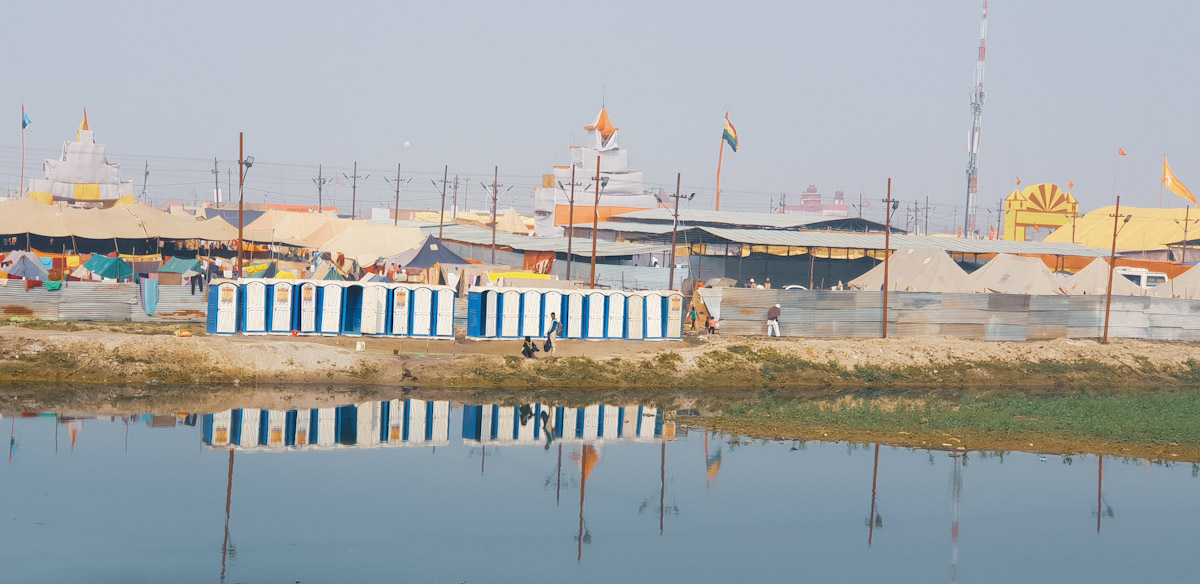 When is the Kumbh Mela on?
Legend has it that during the war between the gods and demons over the precious amrit kalash (the nectar of immortality), a few drops of nectar fell upon four places—Haridwar, Prayagraj, Ujjain and Nashik—imbuing these places with special powers.
Kumbh Mela is celebrated four times over a course of 12 years. The location of the Kumbh spans over four locations in India and the Mela site keeps rotating between one of the four pilgrimage places on four sacred rivers as listed below:
1 Haridwar on the Ganges in Uttarakhand.
2 Ujjain on the Shipra in Madhya Pradesh.
3 Nashik on the Godavari in Maharashtra.
4 Prayagraj at the confluence of the Ganges, the Yamuna, and the mythical Sarasvati in Uttar Pradesh.
Should anyone, of any faith, attend a Kumbh Mela?
I think so. It's fascinating to see thousands upons thousands of people walk amongst one another. The see the different ashrams feeding pilgrims. And I'll gladly admit, it's hilarious seeing the naked sadhus, their reactions to the outside world and the way that different people treat the sadhus.
I really do ask that you don't attend the Kumbh aspart of a photography tour. Yes it is a fucken amazing place to visit, there's so much to see, do and take photos of BUT remember these are human beings. These are real people, with lives and stories to tell. They are not there for your personal photography pleasure.
Don't be a dick and think that your American dollars and tour guide gives you any rights above these people.
If you have any questions on attending the Kumbh Mela, travelling in India or about getting good coffee when travelling let me know in the comments below.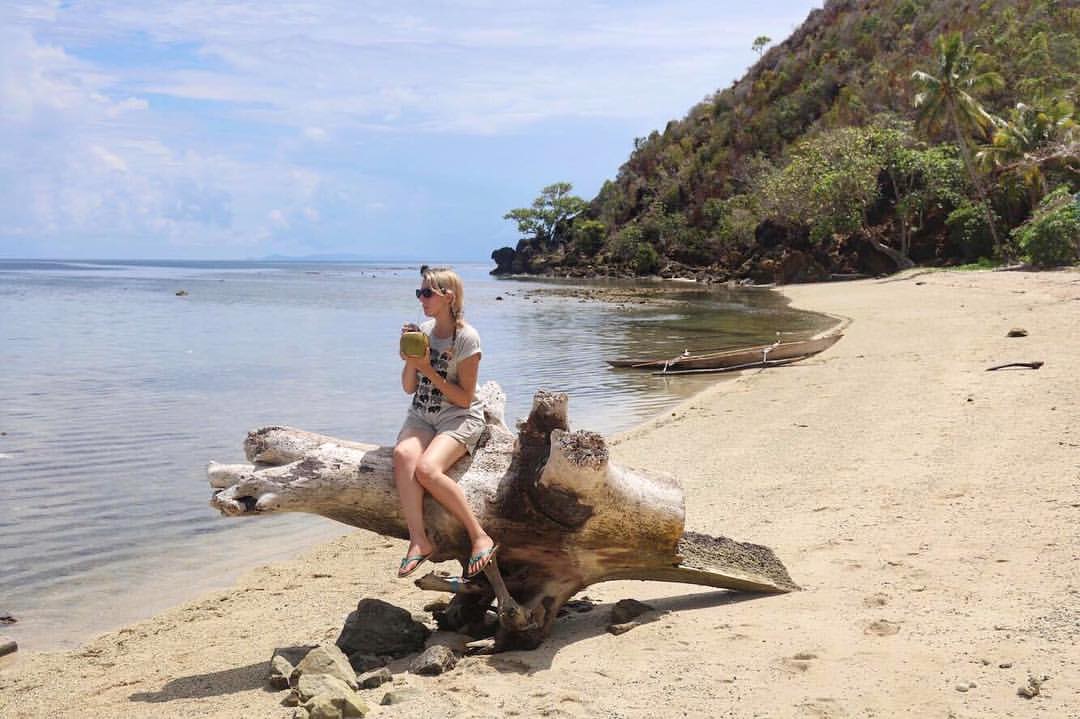 If You Liked This Post You May Also Like These Blogs About the Kumbh Mela From My Travel Companions: