Camping. In the snow – hell no! That was my first reaction. And has been for the past 9 years. Each snow season James tries to coax me away from the fireplace, Netflix and a bottle of Pinot. He tries ever so hard to get me to join him on the ultimately romantic snow adventure. Involving hiking in the snow, sleeping in a tent in the snow, and cooking over a teeny tiny camp stove. In the snow. Ah, snow way buddy I aint doing that.
I'm sure most of you are with me on this. Camping in the snow? Snow way! But what if I was to tell you that there is a magical place in the Victorian Alpine region that you can camp in the snow. Still nope?
Mulled wine on arrival.
Stunning Instagram worthy sunset.
More mulled wine.
French fondue (ah is there any other way?).
More wine.
Your personal snow dome, complete with queen sized bed and a fireplace. That is lit (legit lit) and ready to warm your booty before you fall into bed.
Have I got your attention now? I certainly hope so because I'm about to spill one of Australia's best kept snow secrets. And I don't want to. I really don't want you going here and having a good time. It's super selfish of me but I want to keep this place and the amazing team here all to me. Which won't happen. I'm sure that after the success of the 2018 season the 2019 season will be near impossible to book into, with folks like us returning. So where am I talking about? The Alpine Nature Experience, Mt Hotham.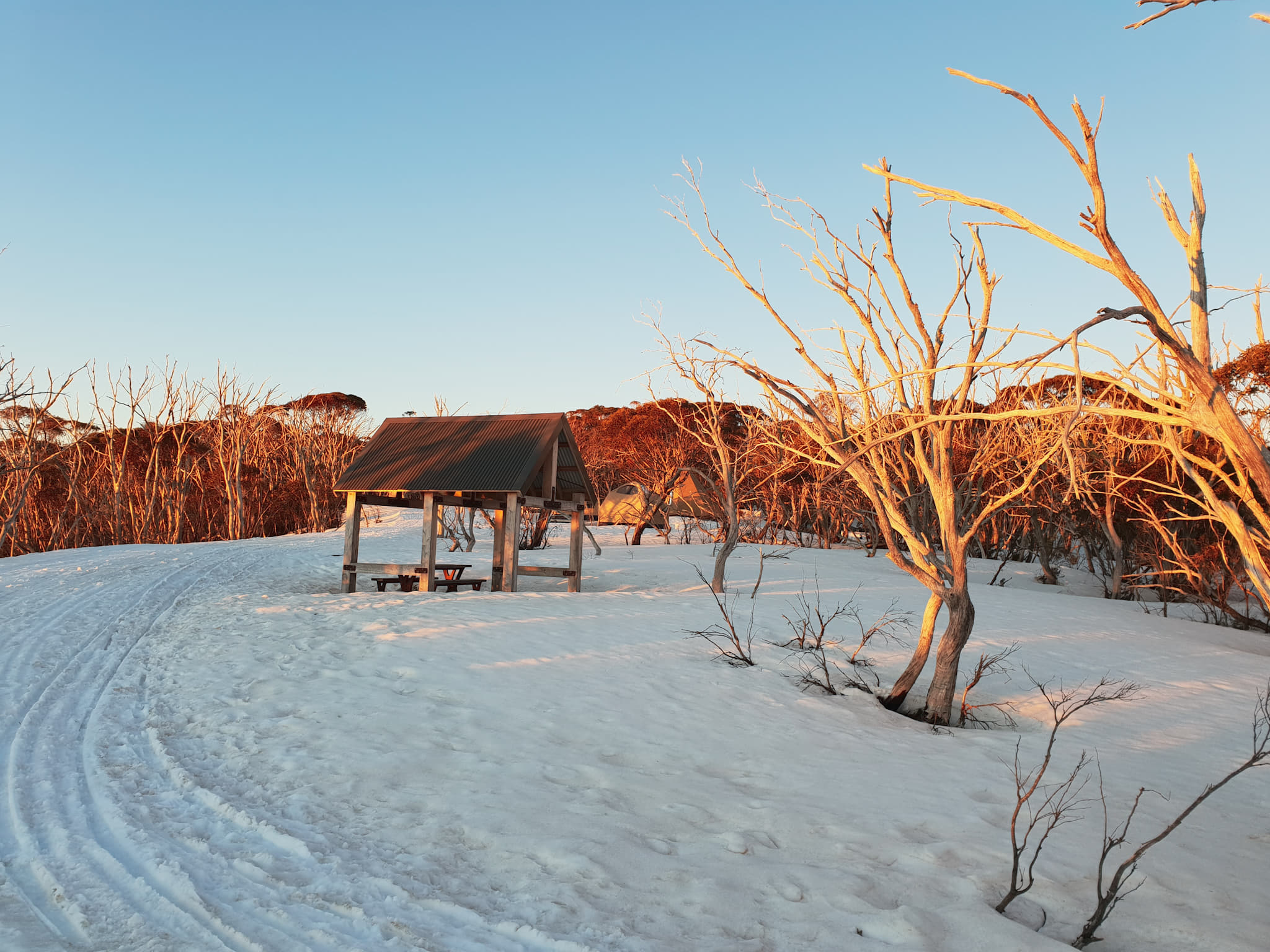 Ah be still my beating heart. I'm still utterly in love with our romantic and adventuresome night away. And with charming hosts JF and Chris. The Alpine Nature Experience is, in my opinion, one of the best ways to experience the beauty of the Victorian Alpine region. So many people seem utterly taken away when I tell them that we do get snow and that you can easily ski in Australia. So what happens when an exclusive area of the alpine national park is taken over by a fancy Frenchman?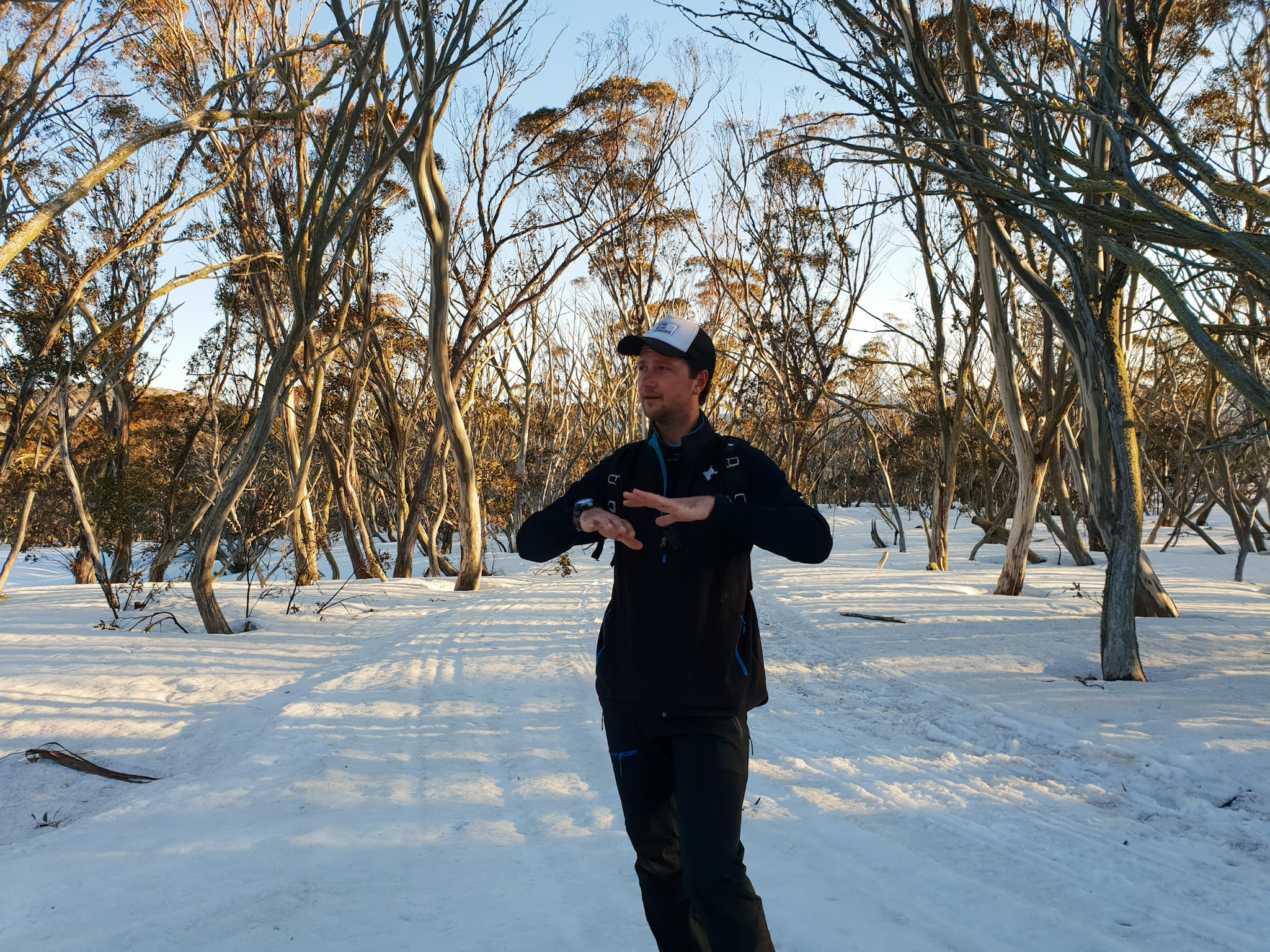 Our Alpine Experience starts off with a spot of snowshoeing. As we wander through the crystal clear forest JF takes us on an adventure through the history of the Australian Alpine region and how our Australian history is intertwined with the European Alps. It's mesmerising to listen to this tales, and the idle chit-chat of our fellow snowshoers, as we waddle to the campsite. Upon arrival, my breath is nearly taken away. I say nearly because as I'm oggling the wonderful campsite that is peeking out of the trees I'm handed my very own cup of delicious smelling mulled wine. Previously I haven't been the biggest fan of mulled wine as Australian's tend to add too much crap to it. This mulled wine is a secret family recipe and one that JF is not willing to divulge at any cost. Ah well, we all have family secrets.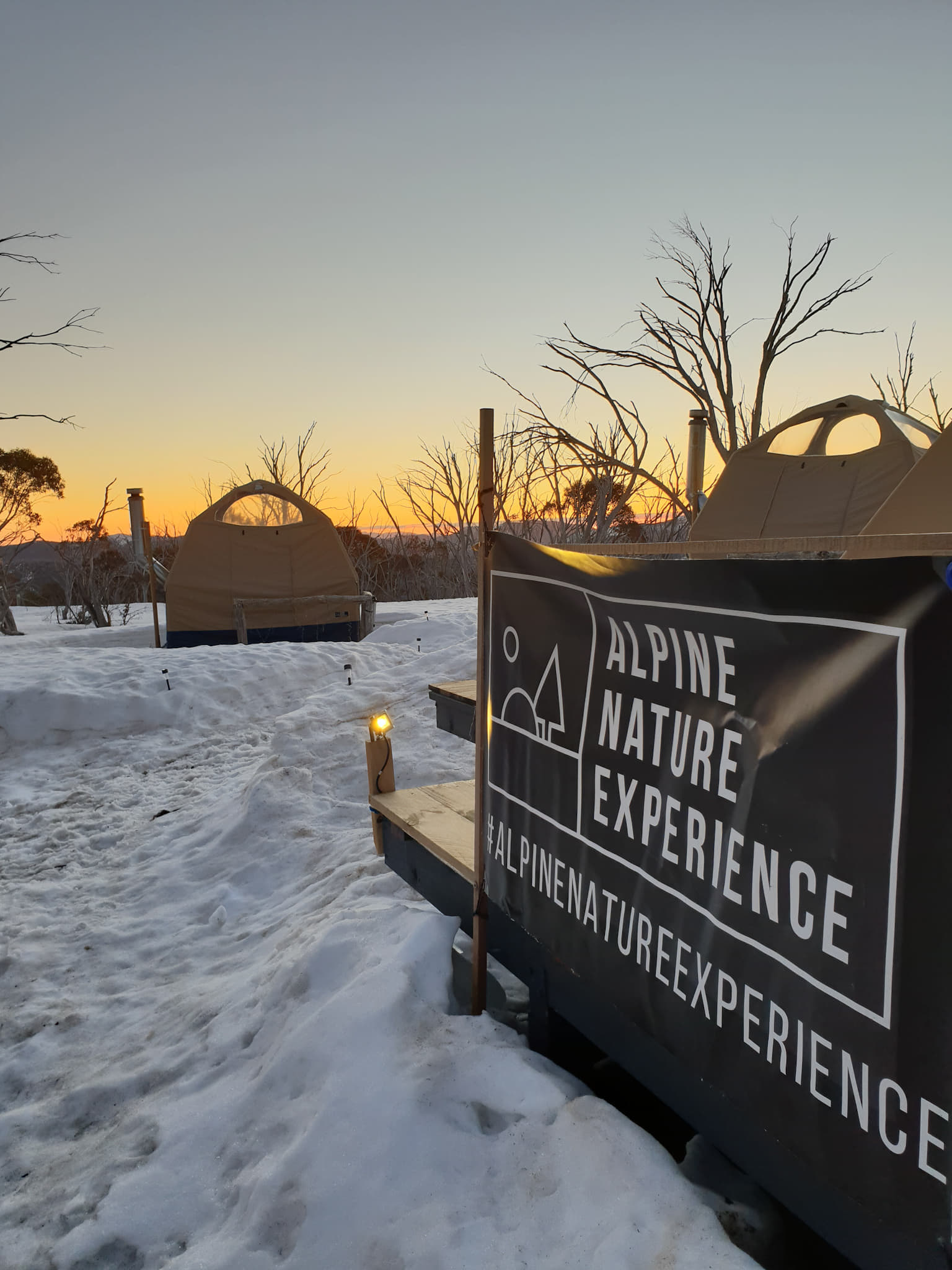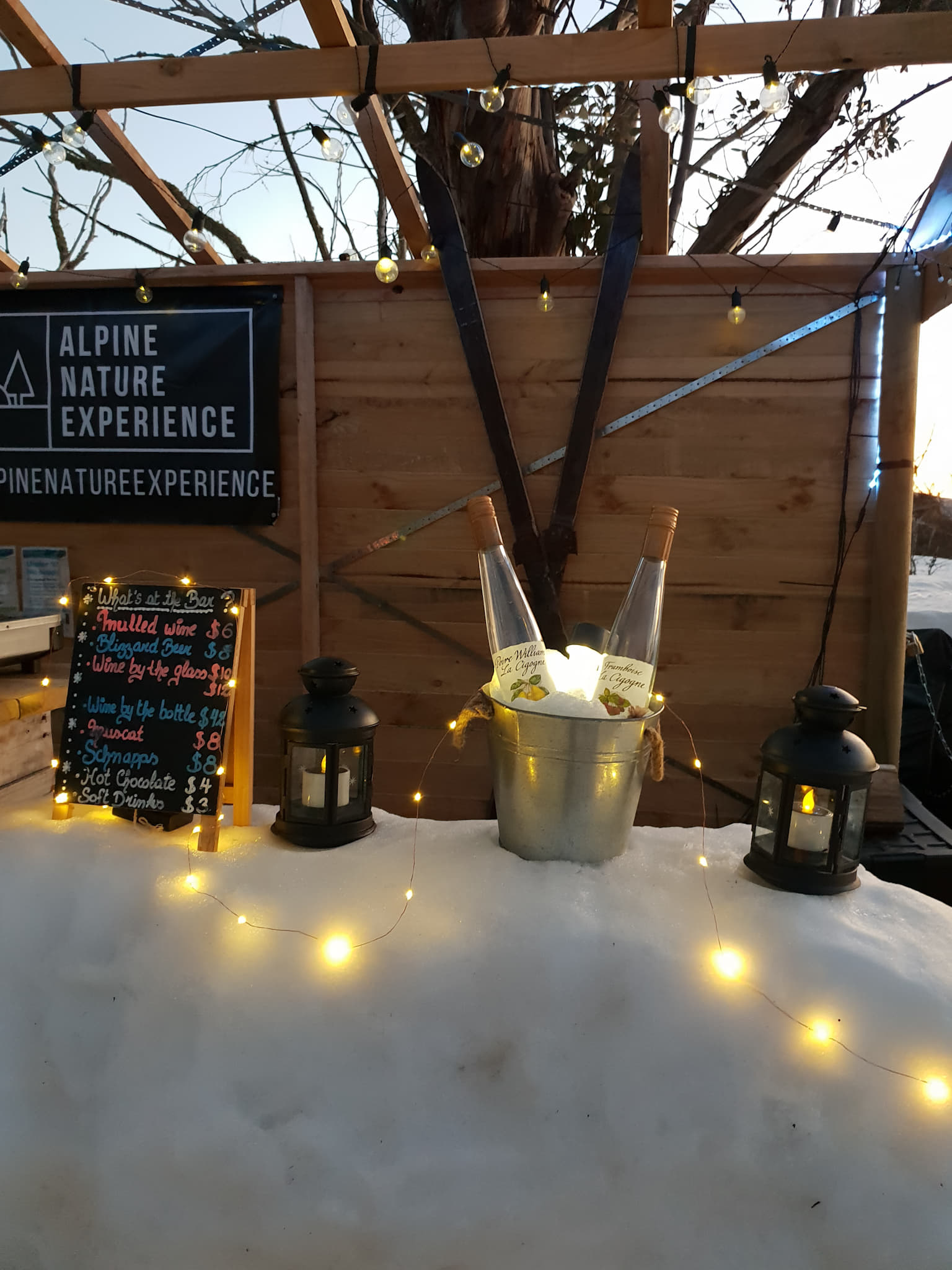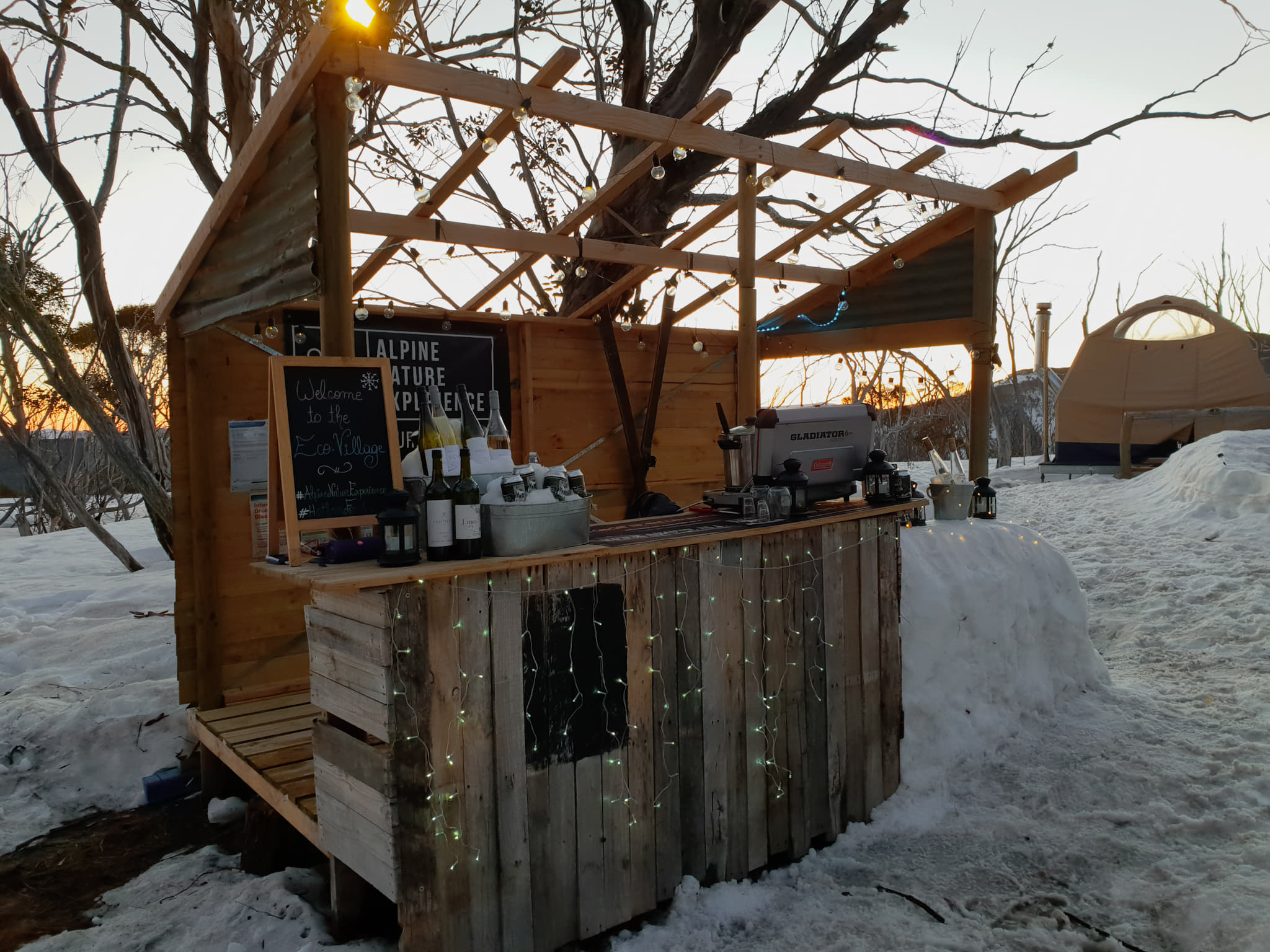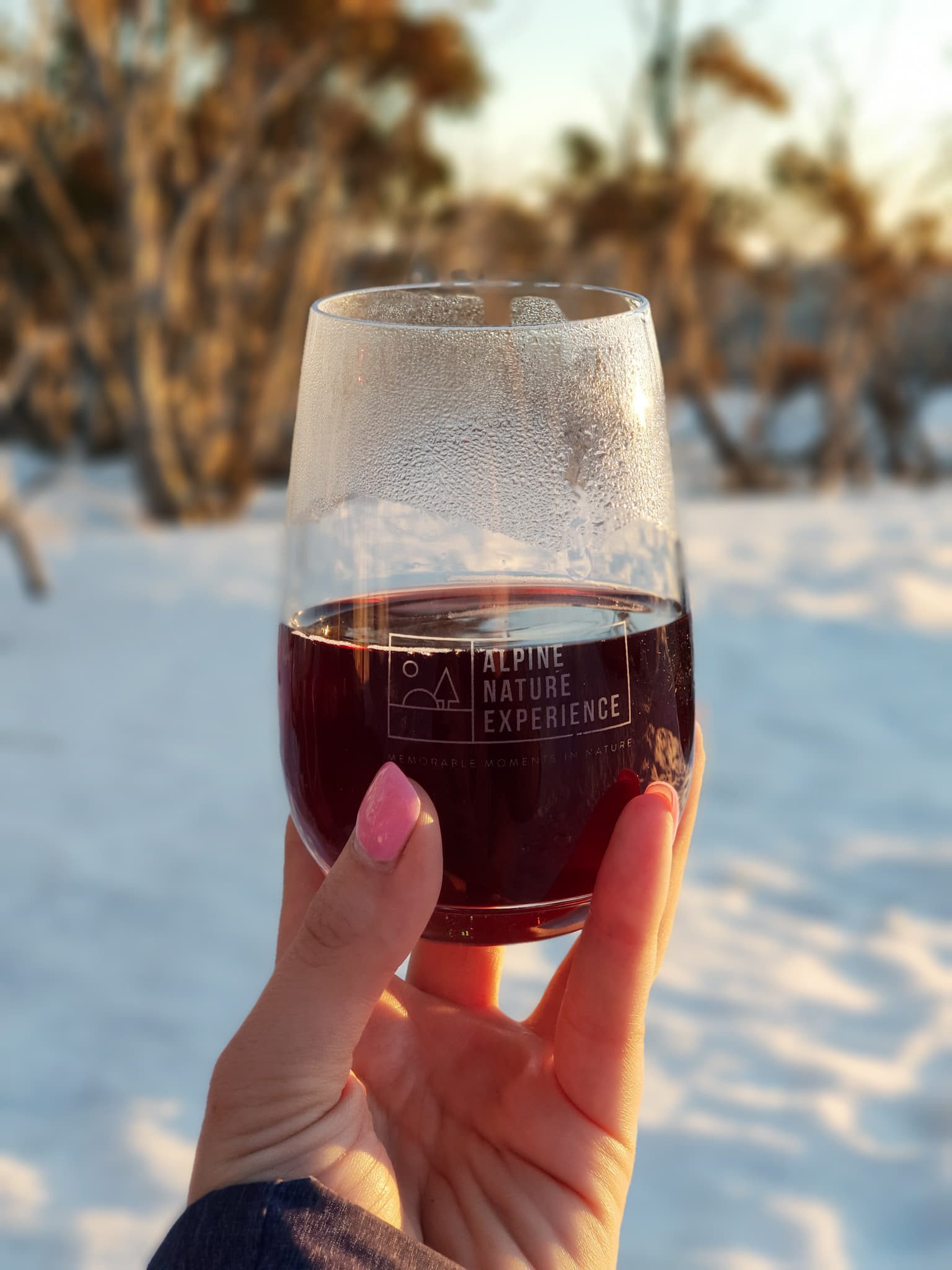 Home Sweet Home in a Snow Dome
James and I are shown to our very own snow dome, where I unceremoniously dump my backpack. There are only three snow domes available for guests, so you are assured of a very intimate experience. These snowdomes are uniquely designed by Jeff and continue to follow the 100% eco-friendly leave no trace policy. 
Inside the snowdome is a woodfire that is ready to be lit, a ready-made bed complete with sleeping bags, fuzzy blankets, extra blankets, a hand washing station, and a few unexpected extras. Like the solar-powered lights, and USB charger ports. Even though we've arrived early in the evening it's still light out and it's not until we're in bed that we get to play with all the extras.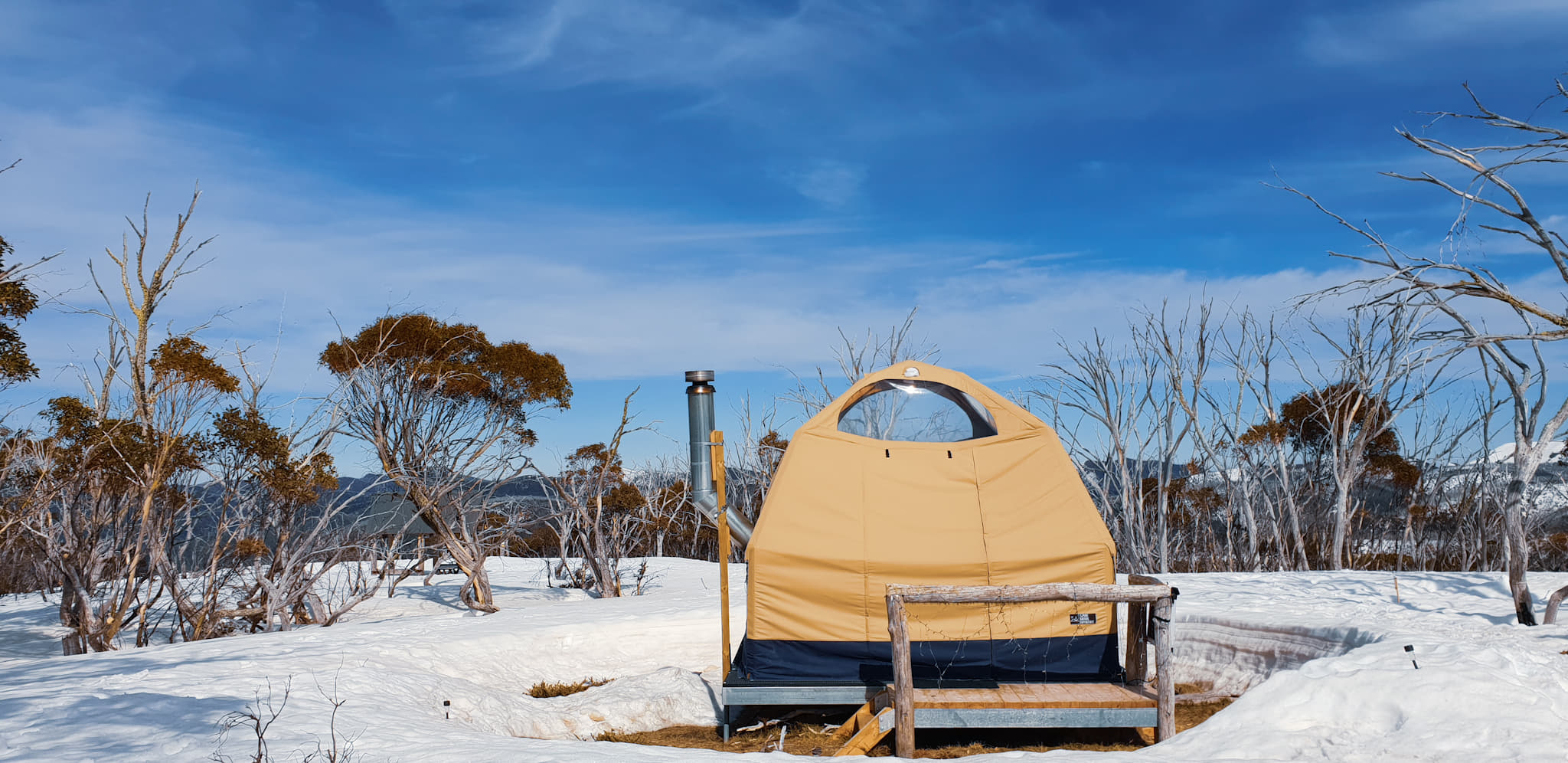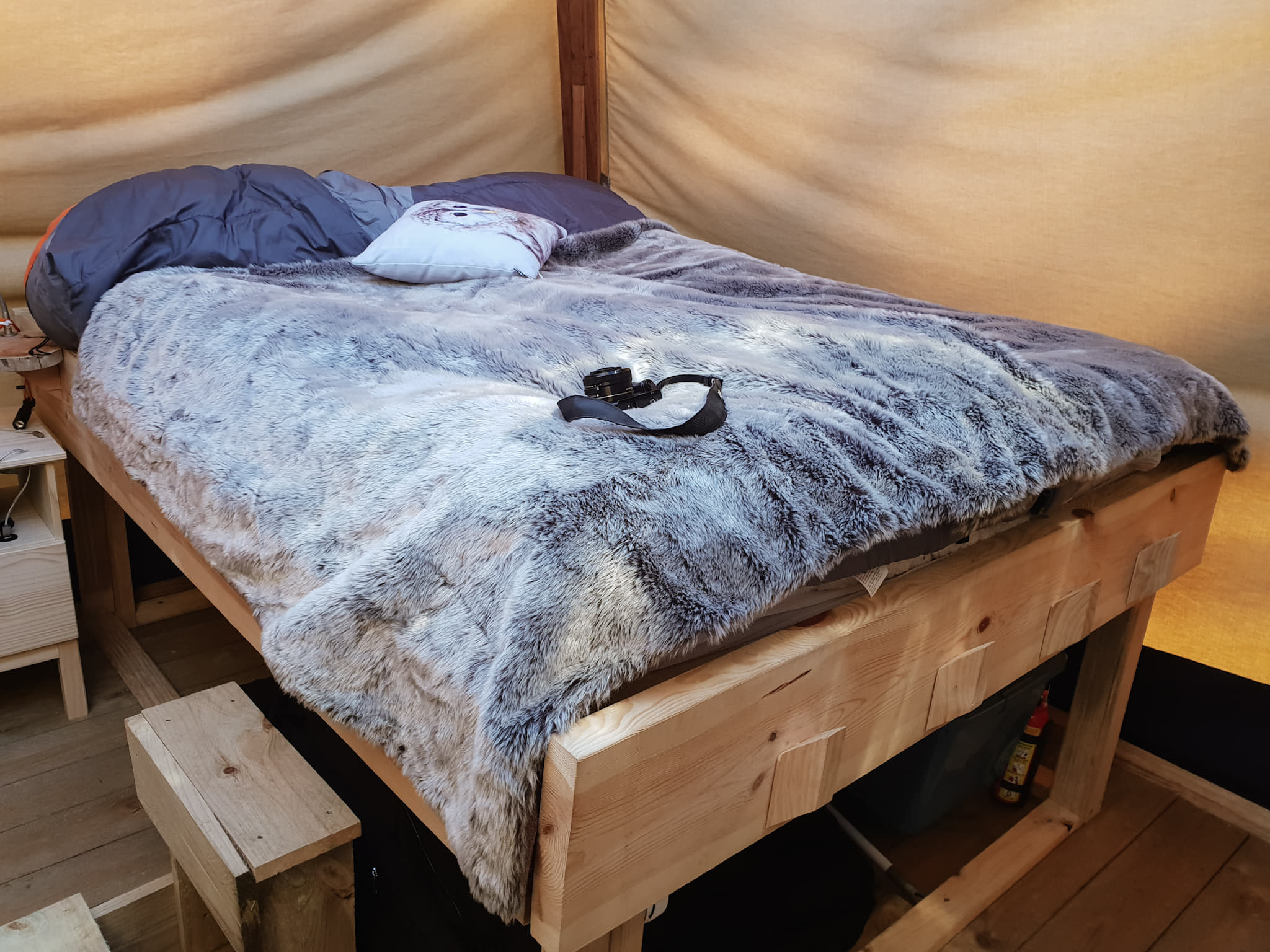 Do You Even Fondue?
Fondue is delicious. It's all cheesy fun times and 100% not vegan-friendly. I'm not actually sure how much better you can fondue then being in a tipi, in the middle of the alpines and with a French man guiding you down the path of fondue fun. This is a hands-on experience. So there's no hiding behind your fondue fork. At each table, there is a small gas stove, a fondue pot, cheese, wine (not for drinking) and a crusty loaf of bread. As well as a few other fondue must-haves, which I'm not going to spoil the surprise with here. Each table is responsible for making their own fondue, which is a wonderful way to break the ice and get to know total strangers.
You're probably wondering why I've mentioned that the wine on the table isn't for drinking. Because it isn't. That doesn't mean that you are in for a sober night. Oh no my friends, the party moves indoors. Inside there's a full bar set up and it's just as adorable as the bar outside and with a much larger wine list. The wine list does change semi-regularly dependant on what has been hauled in. There is also plenty of drinking water, as well as local beer and soft drinks available for purchase. No one is leaving dehydrated. 
Whether you choose the Fondue to Snowshoe or the Igloo to Skidoo each package includes a glass of mulled wine on arrival and a 3 course meal. If you do skidoo then you also get a hearty breakfast. Unlike anything, you've ever had before.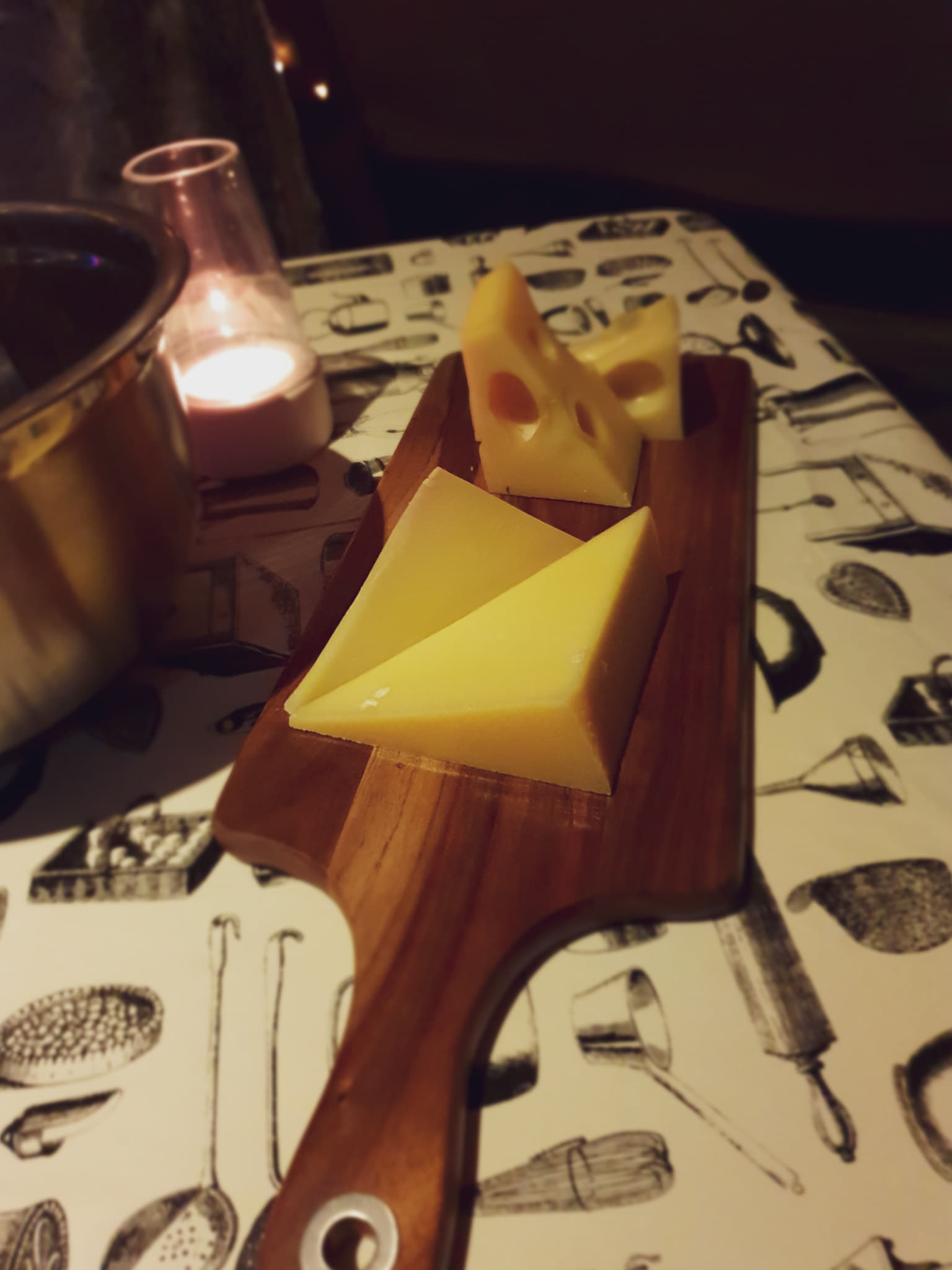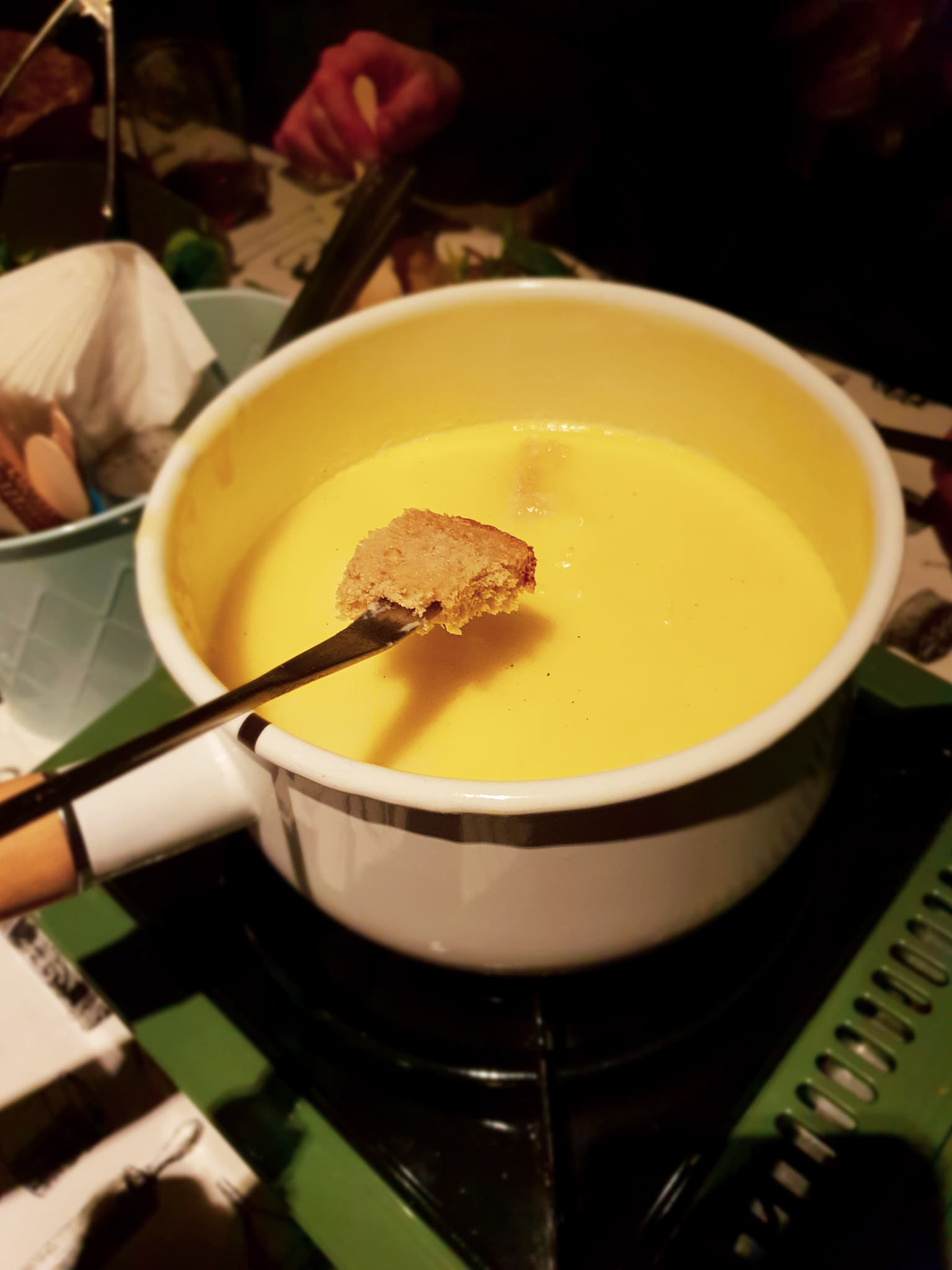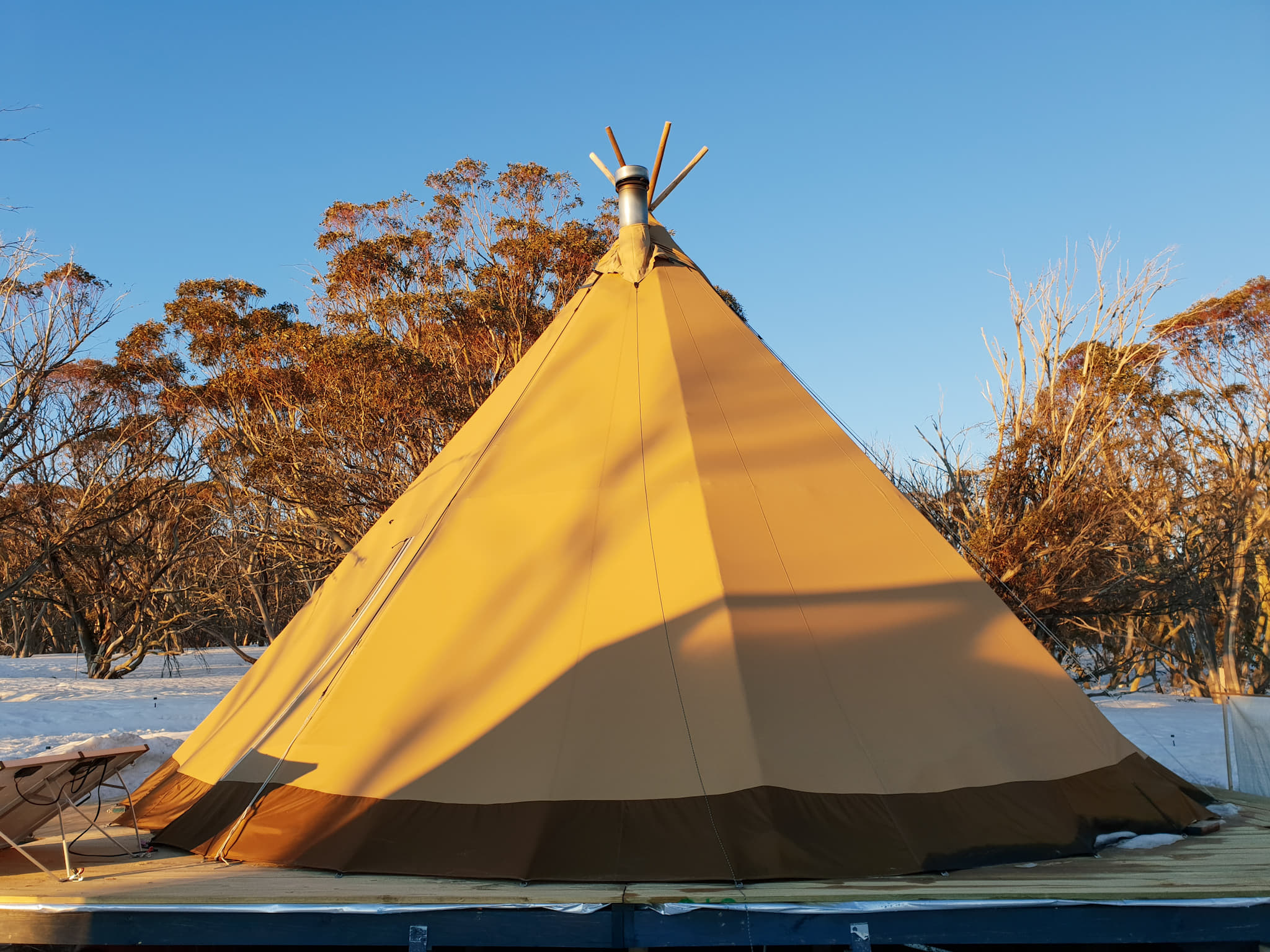 Enjoying the eco-village lifestyle
The eco-village is set-up in the wilderness of Hotham. It's the perfect location overlooking the mountains and is in a very delicate area. Everything is carried in and out by manpower to reduce the impact on the fragile alpine environment. Which is amazing when you are sitting around enjoying your fondue and wine. Each bottle of wine, each chunk of cheese, every loaf of bread. And everything that comes in must come out the same way. Including the toilet.
Don't Want to Stay the Night in Snow Glamping Heaven?
Well, that's ok too, though you are missing out on a once in a lifetime adventure by snow glamping. There's plenty of accommodation available on/off the mountain. Though if you are staying on the mountain you'd be daft not to stay here.
Click here to search for less fun accommodation in the high country region
How to get yourself to the Alpine Nature Experience?
It's an approx 4-hour drive from Melbourne to Mt Hotham, give or take toilet stops and weather issues. Remember you are heading into a snowy mountain area and snow chains are a must. It is a legal requirement to carry snow chains. You can easily hire these along the way.
The eco-village is located within the Alpine National Park. So you'll need to go into the Hotham Resort and head down to the Wire Plain Car Park at bus stop number 12.
Resort Entry  to the Mt Hotham Ski Resort is complimentary for arrivals in the resort after 3pm and until midnight on the day of your arrival. So as long as you are coming for the evening and leaving before midnight you do not need a resort entry. If you do choose to do the snoeshow and fondue only option then you should be good with not paying resort entry.
If you are staying overnight you will need to pay for an overnight resort entry – $50 Find more info here. Now you won't see anyone checking your resort entry on arrival but the car parking inspectors go around with a new wizz dizz scanner, that checks number plates. The fines are a LOT more than the resort entry. We did hear a rumour that the fines were going to be increased to over $200AU for the 2019 season.
What to pack for your snow glamping adventure?
Keep it simple and lightweight. If you're staying overnight then you'll need to carry all your stuff in on your own. Really all you need is pajamas, clean underwear, fresh socks, and basic toiletries. Pretty much whatever will fit in a small backpack. There's no shower on site so don't worry about bringing the GHD or your hairdryer folks. Also no one cares what you look like. Just sayin'.
For the snowshoe adventure, you'll want nice warm and windproof clothing, including shoes. At all costs avoid cotton clothing. The best option is to layer yourself up like a sexy, spicy onion. The weather can change swiftly and can become unseasonably warm or downright bone-chilling. JF will give you a head torch and the actual snowshoes.
Let me help you by showing you my winter adventure wardrobe.
This really was an amazing experience. From the moment we arrived until we left the next morning. At no point were we hungry, or left without wine in hand. It was a much needed break from the world and gave us the chance to experience snow glamping, something I would never have done on my own.
So when will you be booking yourself in for a memorable alpine nature experience? Bookings are now open for the 2019 season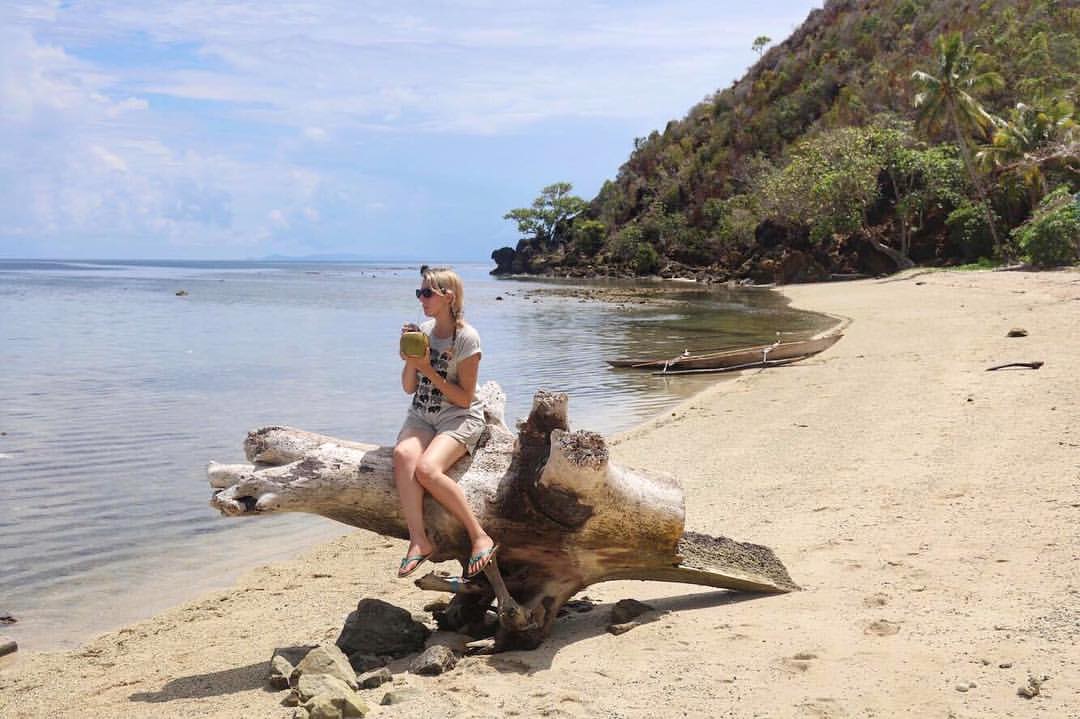 If You Liked This Post You May Also Like: