Nepal is commonly referred to as a developing nation. It's easy to see why people are so fast to misjudge Nepal, with only one international airport, political conflicts with India being more common than not, and the usual bad mouthing of poorly behaved Western travellers. In many ways Nepal is still developing as a nation, with limited industry past tourism. For the traveller this well developed tourist industry is actually a perk and makes dealing with people and money in Nepal a rather easy affair. 
On my recent girls trip to Nepal, all three of us had very different money experiences. Somewhere along the way I had been given some very wrong information on the need to have US dollars on hand. I will preface this article by saying it is always a good idea when travelling in Asia, or any developed nation, to have a small stash of US dollars hidden away for an emergency situation. Balancing the very fine line of being prepared to being paranoid. You never know when you may need to bribe a government official, seek help in a remote area or replace stolen cash. Seemingly the all might green back is a universal language and easy to use. 
The basics of Nepal & Money
The currency in Nepal is called the rupee. And will be denoted as RS on price tags, if there's anything noted on the price tag at all. Now you might just want to check how many extra 0s need to be added on the price tag. We got caught out a few times thinking things were going to be super cheap, and they were not. 
The notes come in 5, 10, 20, 50, 100, 500 and 1000. The 1000 note is the one that you will receive out of the ATM. It can be a pain in the backside to break into smaller notes, and most places will want smaller notes.
Do you need to bring US dollars in Nepal?
No, you do not need US dollars when travelling in Nepal. This used to be an issue, when the tourism industry was just beginning to grow and develop. Much like Myanmar of today. When booking hotels and tours online the prices are generally quoted in US dollars. However payment most of the time has been in local rupees.
We didn't find any cafes or stores that accepted foreign currency. The only time that you will need US dollars is to pay for your visa on arrival.
Where to buy your Nepalese Rupees?
Kathmandu and Pohkara are the best places to exchange any foreign currency that you have. There are literally exchange officers on every main street, so you won't have an issue finding any. These official exchange offices are government approved. A few of these exchange offices do accept Visa & Mastercard.
You'll notice that they have a board out the front that lists the days exchange rate. Many of them seemingly copy each other so there's no need to bargain or haggle to try and get a better price. They won't budge at all.
There are two exchange counters at the Kathmandu airport, as well as an ATM prior to leaving the immigration area.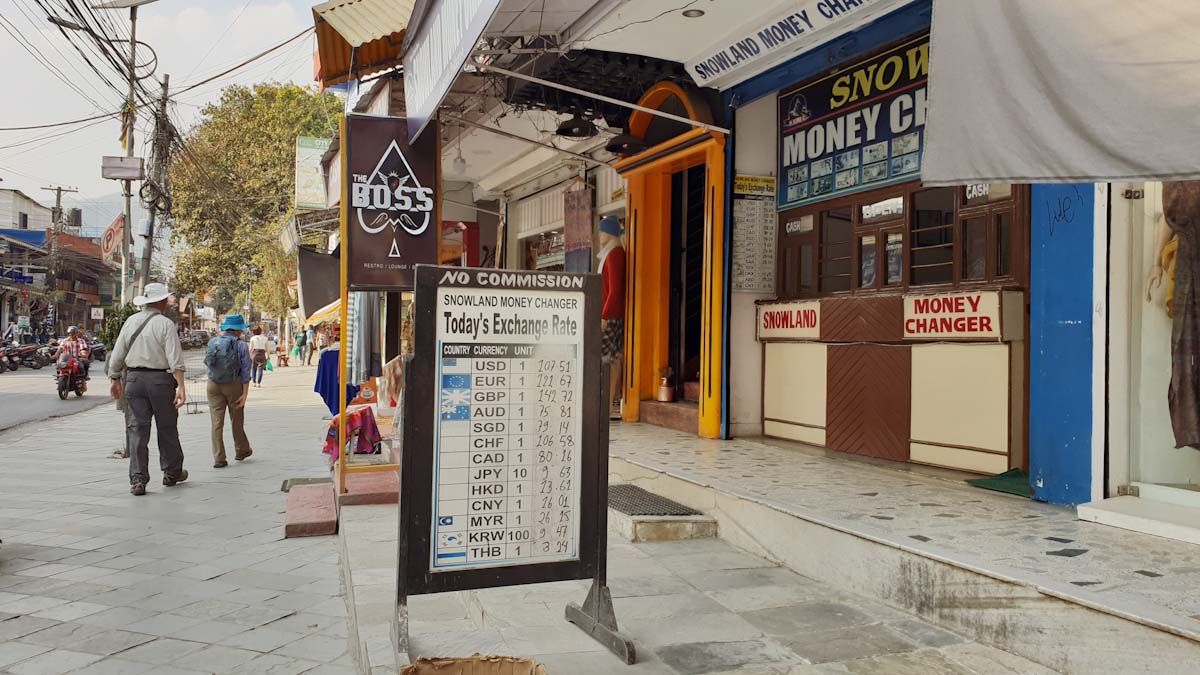 Are there ATMs available in Nepal?
Yes, there are quite a few. Once again the tourist boom has ensured that the banks have provided a lot of ATMS. Just like the money exchangers there are heaps of ATMS around. Like many other Asian countries, the ATMs tend to be inside a small cubicle, so you will need to look for the ATM signs and walk inside the tiny box. Most of these cubicles only fit one person so they are relatively safe to use. 
There are also ATM lounges, with are larger spaces hosting several different banks ATMs.  Which is rather handy as using an ATM to get money in Nepal is a bit of a hit and miss game. Some work, some don't and there's no rhyme or reason to it whatsoever. As a precaution I would suggest that you take a VISA and a Mastercard card with you just in case. Be prepared to try at least two ATMs before you get money out. 
ATM Fees – many of the ATMS we went to charged a 500 RPS fee for using the ATM. Which is around $5 USD. The good perk was that you can generally withdraw around 35,000 rupees or around $330 US at one time. From others that we spoke to there's nothing stopping you from doing another withdrawal straight away if need be.
Outside of the main tourist cities, and certainly when you are trekking, there are no ATMS or exchange places. You will need to plan ahead and ensure that you have enough money to cover your accommodation, food and snacks.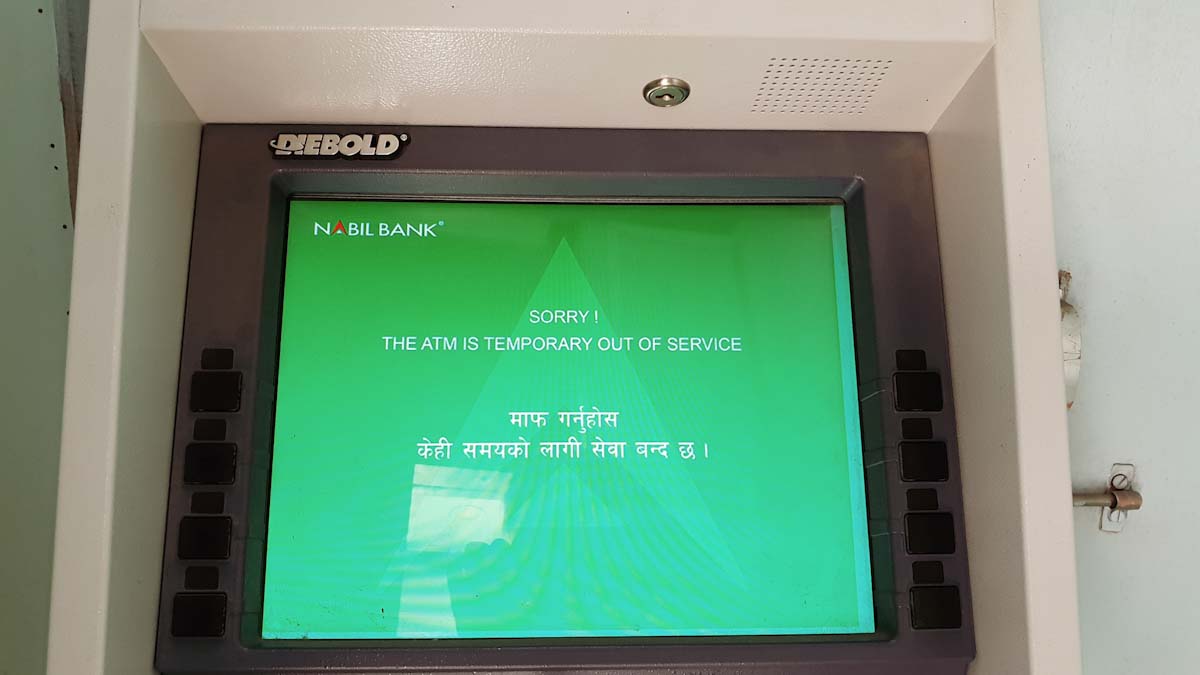 Is EFPOST a thing in Nepal?
Very slowly, EFTPOS is becoming available in Nepal. The more fancy hotels will accept credits cards, as will the fancier restaraunts. It's still few and far between at the average person level. We did a lot of eating and coffee drinking in Kathmandu and Pokhara and I didn't see a single EFTPOS machine around. So I would say that in Nepal cash is king. Just a note that if you do find a place that accepts credit card payments you will be hit with an additional fee. Usually this is around 4% of the total bill, but we did hear stories of this being up to 10%. 
Do I tip in Nepal?
Whilst we are here talking all things money in Nepal, it would be remise of me to not talk about tipping and service charge. Again the tourism boom and the wide spread of American tourists in Nepal has lead to a slight expectation that you will tip. However, this is very dependant on the situation that you are in.
When you are out eating you do need to read the menu carefully. Many places add an additional 13% VAT (government tax) and a 10% service charge to your bill. We found a few that included these additional costs in the price of the food, which was a welcome relief. If it is not explicity mentioned you should assume and budget for an extra 23% to be added onto your bill. Again, many of the cafes we went to also had a tip jar for the staff, if you so felt inclined to.
Tipping of guides, porters and service staff.
Tipping is not mandatory, but it is expected.
So this is where it gets super tricky and confusing. If you have booked a tour/trek double check with the organizer if the price includes the VAT and service charge. If you are on a guided trek you will be expected to tip and leave a TripAdvisor review.
Now the amount to tip is uber confusing. Some guides we read said $4 US/day, and this was mentioned on a lot of trekking company websites. Other places suggested that you tip one days wage – which sounds super easy IF you know what that cost is. Many of the trekking companies we contacted gave us a price that included food, accommodation and a guide. Which meant that there was no way to tell what ones days wage was. At the time of writing expect to pay between $20-35 US a day per guide and around $50 US day for a porter – Note that porters are required to have insurance which seems to be around $30 US per day.
Again these prices will vary so much from the time of writing, to which company you choose or if you find someone randomly on the street.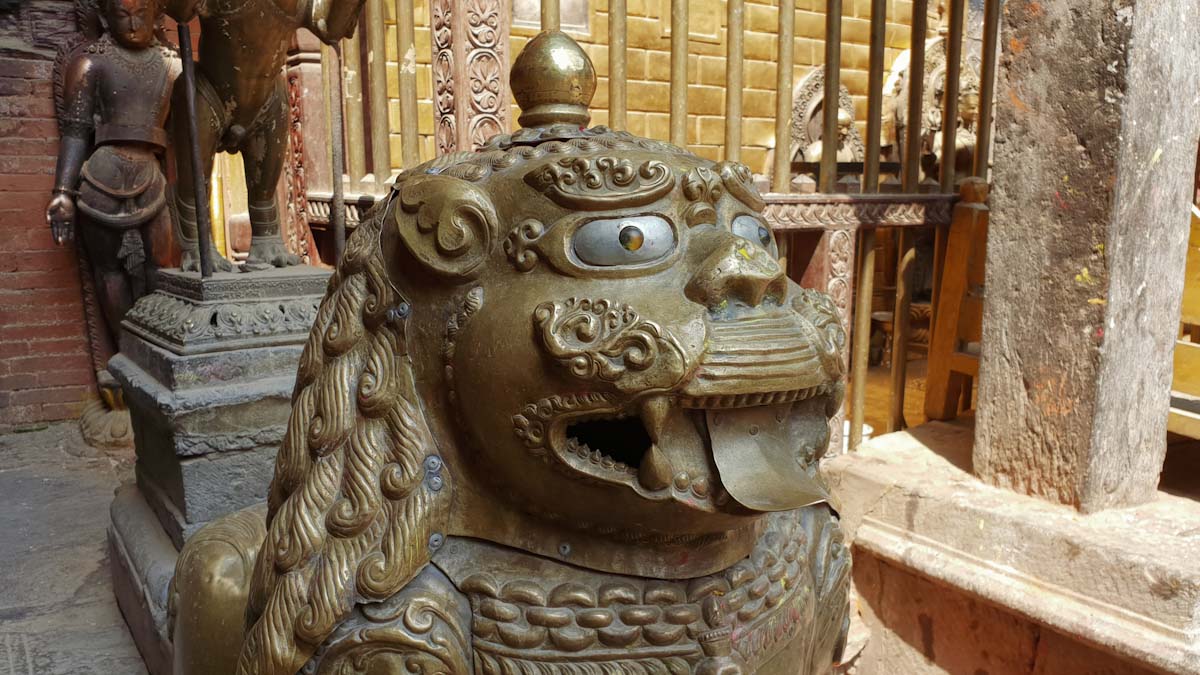 Is the cost of accomodation & food on treks negotiable in Nepal?
Ah, no. These might have been a few year ago but in recent years the small communities that host guests houses, tea shops and restaraunts on the mountains have formed tourism committees. These committees settle the price of accommodation and food within the guest house. So you won't find anywhere cheaper in the small tourist towns on the treks. Also note that if you do decide to BYO food or decide to eat elsewhere the guest houses will charge you at least DOUBLE for your nights accommodation.
A note on trekking food – in Pokhara we found that several supermarkets sold trekking food. Even the dehydrated meals. Which is grand, as you don't need to bring them from home. The only thing is that they are expensive. Like really expensive. Way more expensive than buying from home and even more expensive than buying food on the mountain. You can easily buy snacks, and museli bars for trekking in town. But for main meals just cough up the cash and buy locally on the mountain where you can.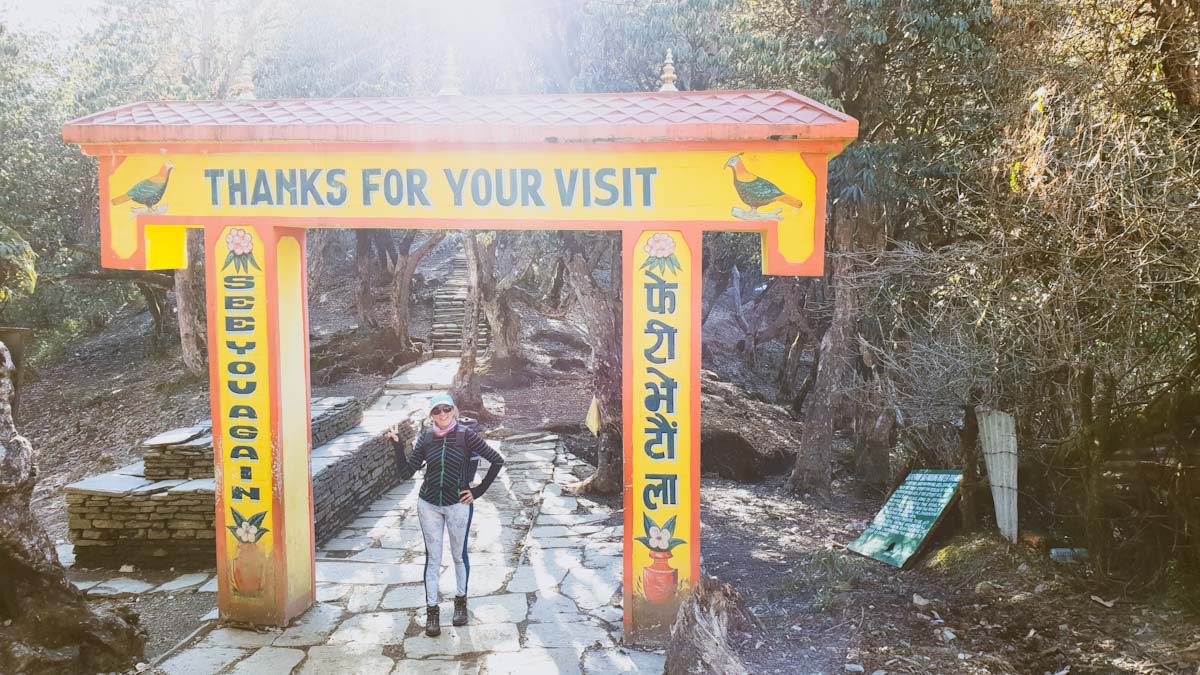 How much do things cost in Nepal? And how can I budget for a trip in Nepal.
Well how long is a piece of string, attached to a kitten playing the sunshine? Like most developing countries there is a huge variance in pricing. Especially based on location. We found that the closer to touristy areas the higher the price of some things. You will be charged a foreigners fee for things like entry to temples, tourist sites etc. But food, coffee and accommodation could all be done rather easily and cheaply. Again this really does depend on your own personal requirements.
For example;
Coffee – cappuccino/latte $180-250  
Lunch/dinner – 400-600 
Taxis – anyone's guess. Taxi's don't operate on a metered system here. 
Bus tickets – 600-1000 for a basic tourist bus.
Deluxe VIP tourist bus $25 USD
Hotels – very basic $10 US/night to luxury at $500+ per night 
Bottled water – cities 25 rupees, on treks 120-200 per bottle/litre
You could easily get away with spending $10US or 1000 RPS a day on food, and that's if you eat well and enjoy a coffee along the way. There are a lot of cheaper, street food options, but due to our limited time and hectic schedule I didn't tempt fate too much and indulge in these.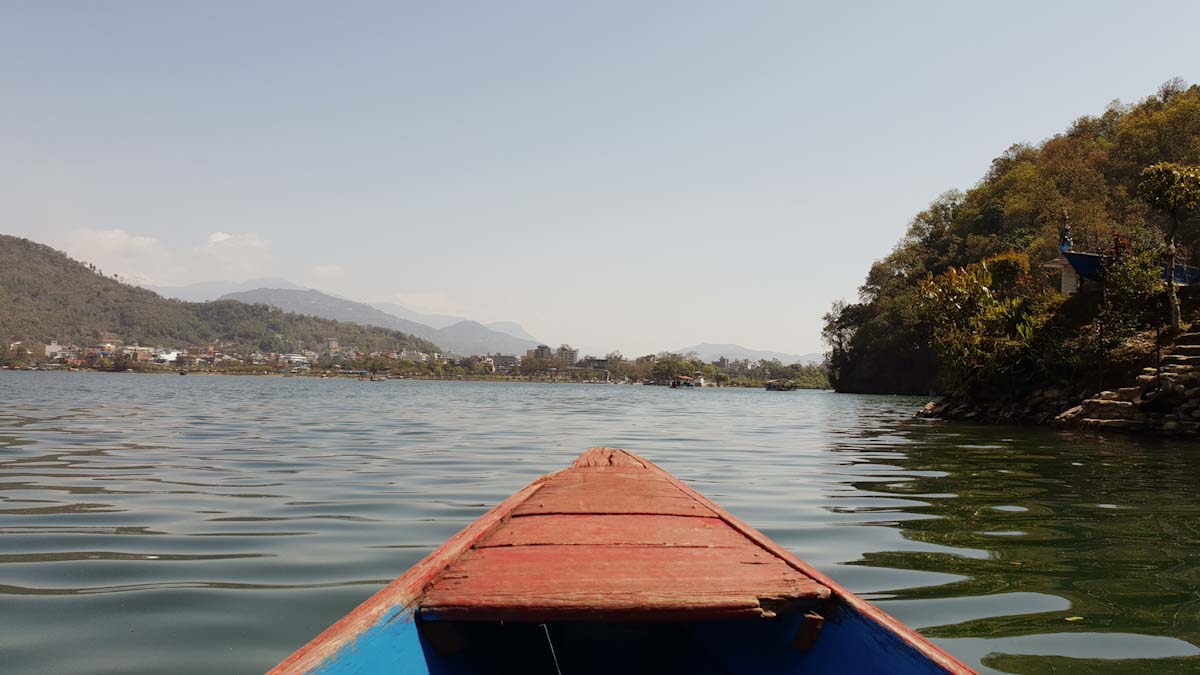 Nepal is an affordable country.
Even as someone who was on a super tight budget for this trip, I found Nepal to be a relatively affordable country. There was nothing here that really surprised me about pricing and as long as I remembered to include the VTA and service charge on meals and coffee. It did confuse me for the first few days. It certainly isn't the cheapest of SE Asian countries to travel within but really it is super cheap. So when you're trying to haggle a hundred rupees of the cost of a tee shirt just remember that you are haggling over a dollar. Which might not be much to you, but might make a big difference to the person behind the counter. There's nothing wrong with a good bartering session but just take a moment to think about the person who you are trying to haggle with. Now I'm not saying that you shouldn't haggle, as you'll know when it's the right person and the right time to do so.
So there you are. An over all guide to dealing with money in Nepal. Got questions? Let me know in the comments below and as per usual I'll answer them all.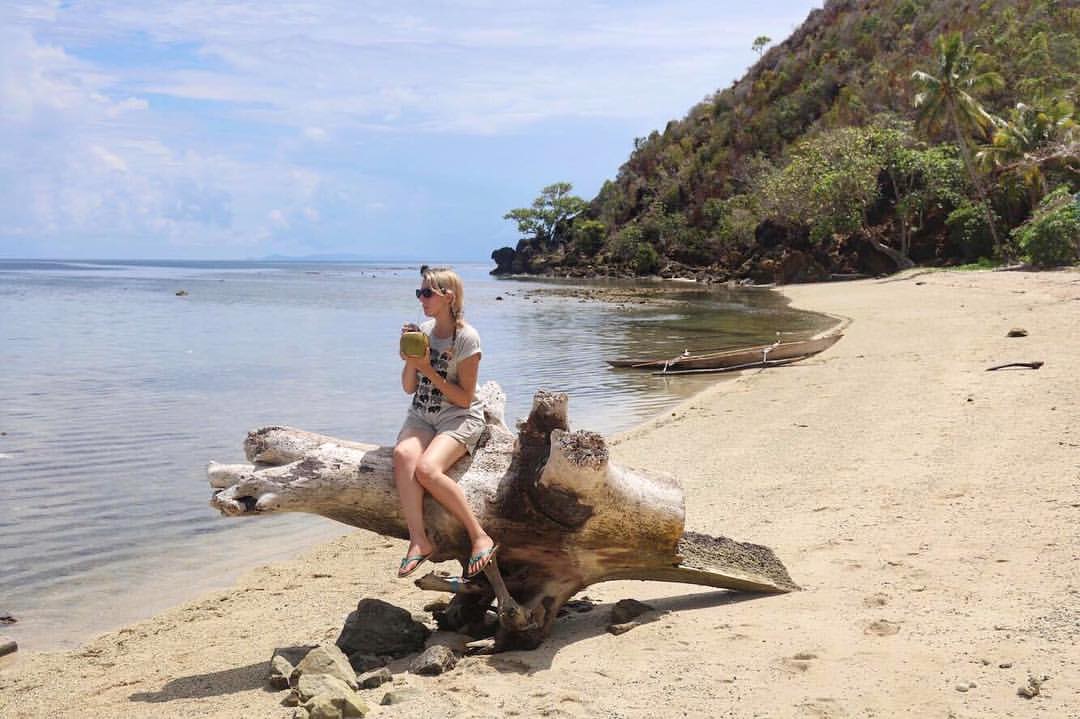 If You Liked This Post You May Also Like: