A fine Sunday can be immensely improved with good food, even better wine and the company of a beloved one. Throw in a 7 course degustation, accompanied with wine, all located on the splendid 89th floor of the Eureka Tower in South Melbourne and surely you are in for an afternoon delight!
We recently dropped by Eureka 89 to experience a very relaxed Sunday afternoon session. Though does one really drop by a fine dining venue on the 89th floor? No, one does not. One must have a confirmed booking, be appropriately attired and ready to be wined and dined to your hearts content.
Disclaimer: We were guests of Eureka89. Though not a single soul in the venue from the numerous waiting staff over topping our sparkling water to the manager knew this and we do feel that we received the exact same treatment that any full paying guest would receive.
Upon Arrival Please Follow the Red Carpet
Bookings here are essential. I can't stress this enough. Once you have your confirmed booking be sure to arrive a few minutes before hand. Upon arrival please follow the red carpet to where a lovely staff member is here to welcome you, hand you a guest pass and escort you to the lift. Here another staff member happily helps you to the 88th floor – Eureka Sky Deck. And yet again another staff member will sneak you off to a secretive elevator to go up to level 89.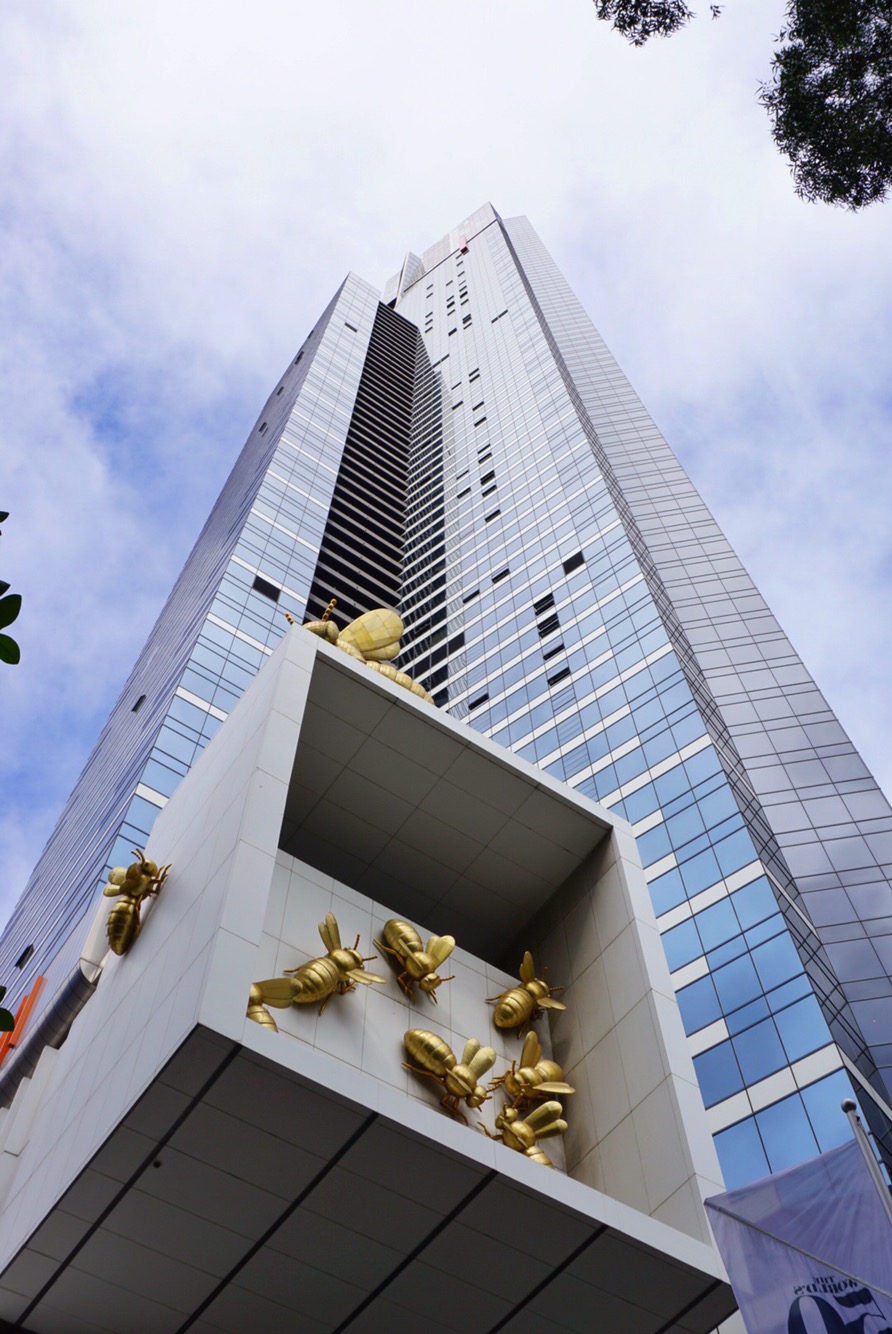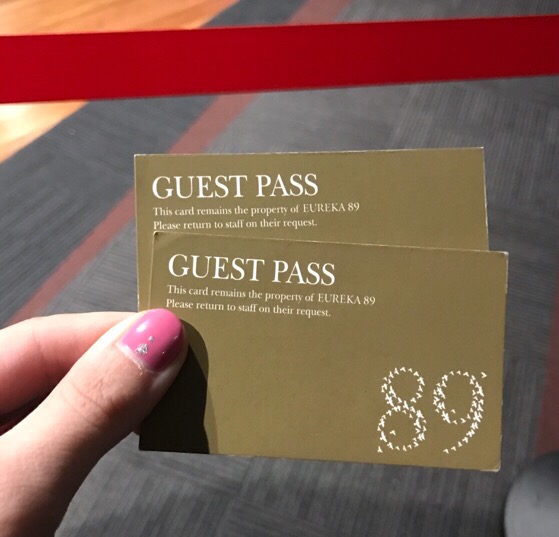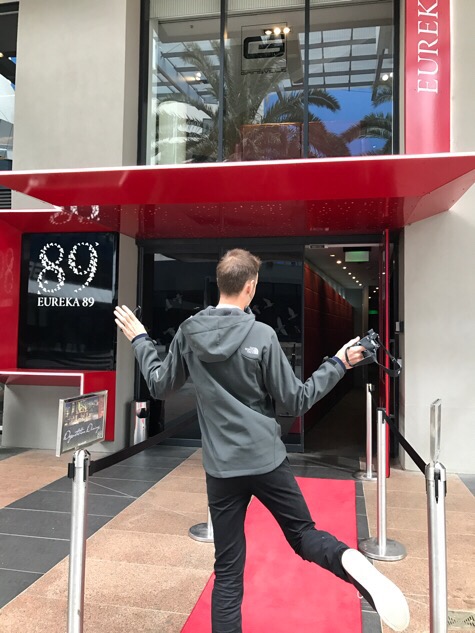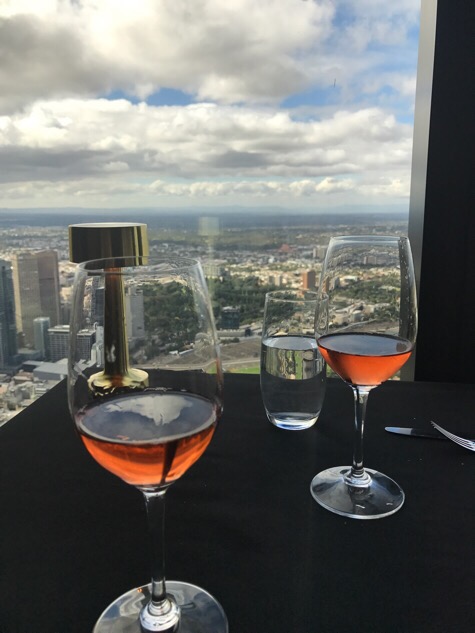 A Table With a View & First Impressions
Despite how hard I may have tried there's simply no way to not be impressed by the view presented. The restaurant is bathed in soft lightening and well presented staff are swiftly walking around delivering dishes, topping up wines and generally looking fabulous.  The restaurant boasts ceiling to floor windows. Even in the bathrooms. Which can be a bit disconcerting when you first walk in.
After making our way up and around we are promptly shown to our table, with views out towards the MCG, for two by a lovely staff member. Who then disappears and is never sighted again. Never fear as a grown woman I have no issue placing my handbag and coat on a decorative stool next to me and James was easily able to place his jacket behind him on the chair. Though we are adults who can do this it was rather odd to over hear the staff taking and returning other guests personal items throughout the afternoon.
Rookie mistake number 1 -As we were really just looking forward to excellent food, even better wine and the joy of our own company I failed to talk up why we were there. As experienced reviewers we never drop the Don't You Know Who I Am Card. Our pleasant server ( who will remain anonymous as they can't be here to defend themselves and really they were lovely) made small talk with us and asked what the special occasion was – which I just mentioned we were out for a nice meal on a Sunday afternoon. In hindsight I should have declared and profusely lied that it was a birthday celebration. Or maybe a very romantic anniversary.My off handed remarked seemingly set the mood for our table for the rest of the afternoon.
And then there was the Water Gate incident. I like sparkling water. James likes still water. It's really no issue at all. Until our server asked and we both replied with our respective choices at the exact same time. Our server quickly jumped in with a comment on she's the boss, sparkling it is.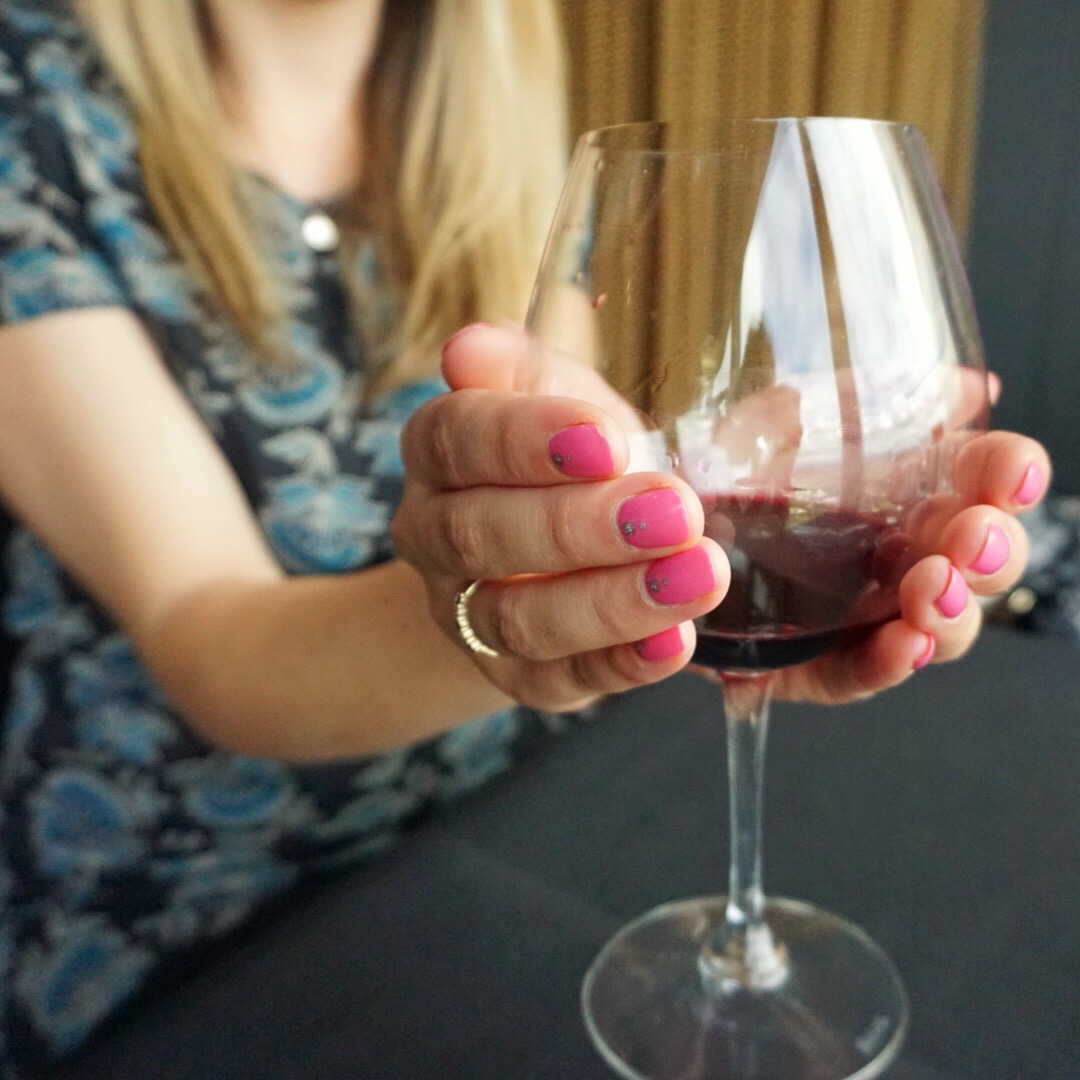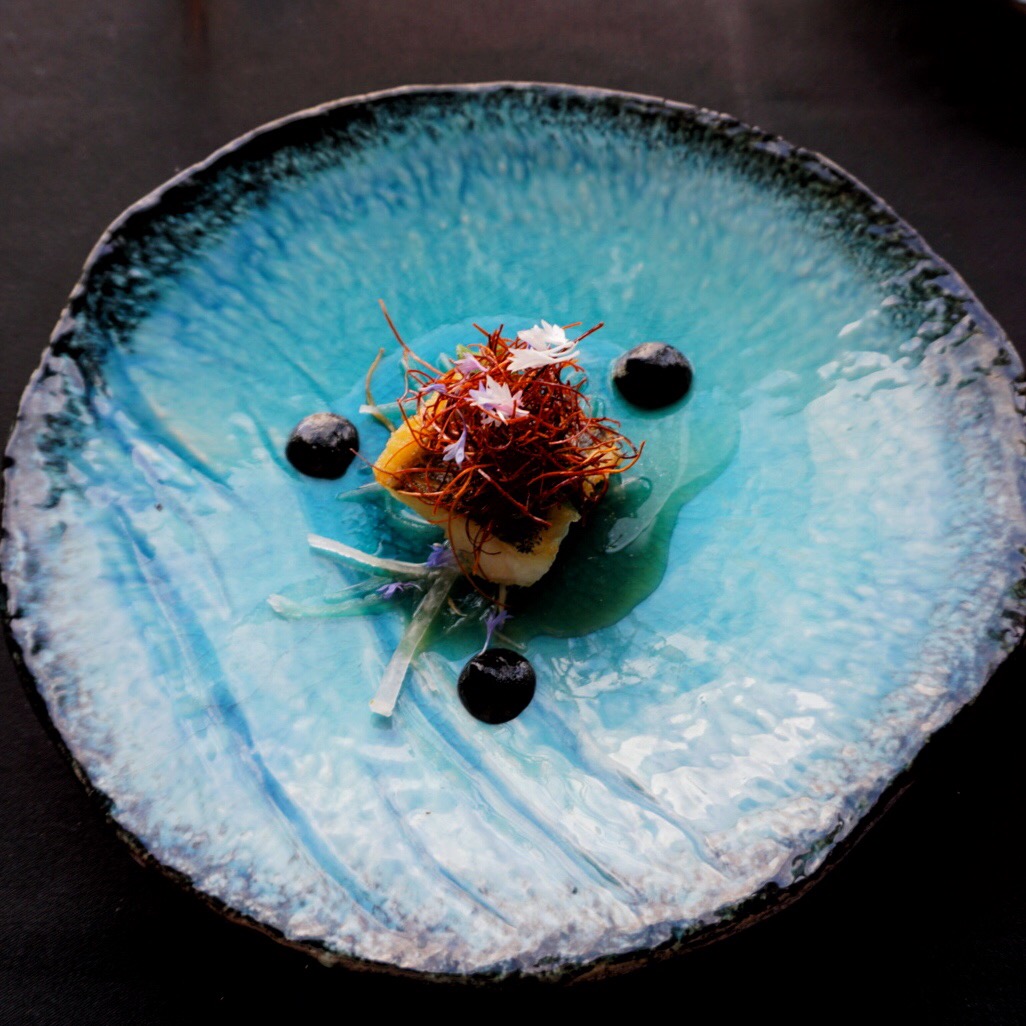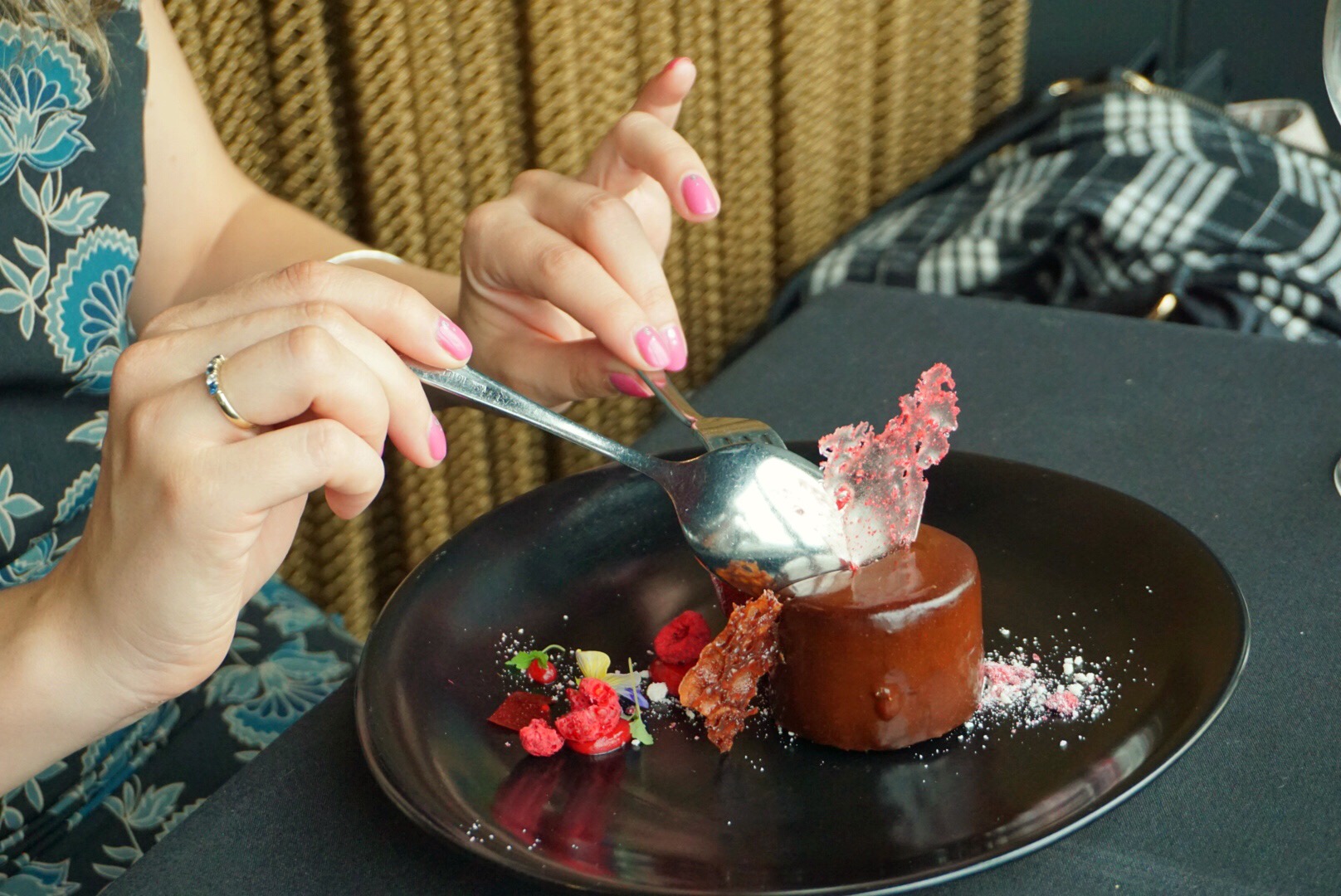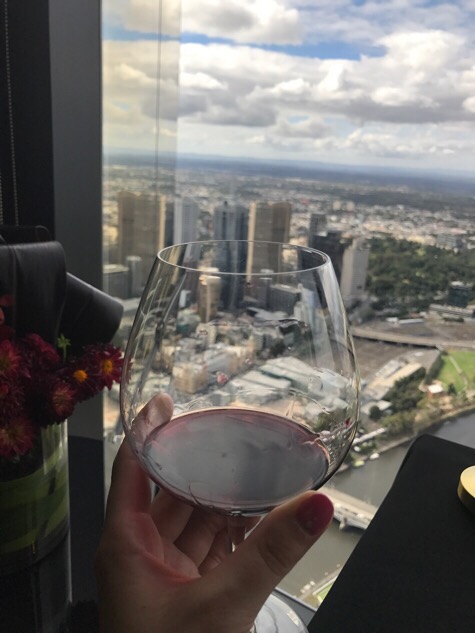 Thankfully we were able to brush this silly comment off and dive into drinking wine that promptly arrived and eating the now delivered warm bread and butter. Warm, fluffy and tasty bread. A saviour out of a socially awkward moment.
7 Fine and Fun Courses
Over the next three or so hours we chatted, marvelled and found ourselves lost in our own minds looking down at the little ant people. as 7 fine and fun courses came across our table. Sadly I can't recite or be exactly sure what we ate as the varied staff flew in, dropped a plate mumbled out what we were to enjoy and off they flew! there was a variety of plates, some in find condition and others clearly needing to be replaced.
In no particular order or exact description here's what we ate;
Warm bread and butter followed by;
Salmon
Scampi with champagne bubbly bits
Cauliflower Custard
Duck
Flinders Island Lamb
Pre dessert – cheese or apple crumble
Chocolate Parfait
Favourite dish – Flinders Island Lamb (pictured on right).
Least favourite dish – Apple & rhubarb crumble. This dish had a certain Heston-esque flair about it. There was no crumble and the apple pieces were seemingly freeze dried.
We couldn't find a single fault with the food that was served and devoured. It was near impossible to choose a least favourite dish. I feel like a bad mother trying to tell you that I don't have a favourite child and that I love you all equally. The chef has done a wonderful job of pairing together some truly unique ingredients and presenting them in a most delightful way. All in all giving you a wonderful experience of the delight of Australian fresh produce. Compliments must also be paid to the sommelier who has painstakingly or taken great pleasure in pairing wines with each ever changing dish.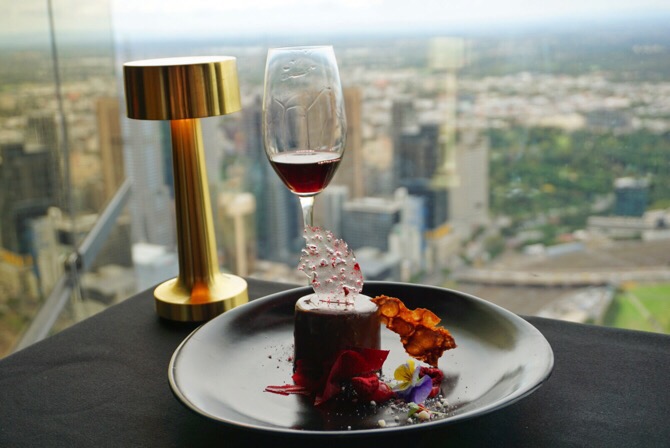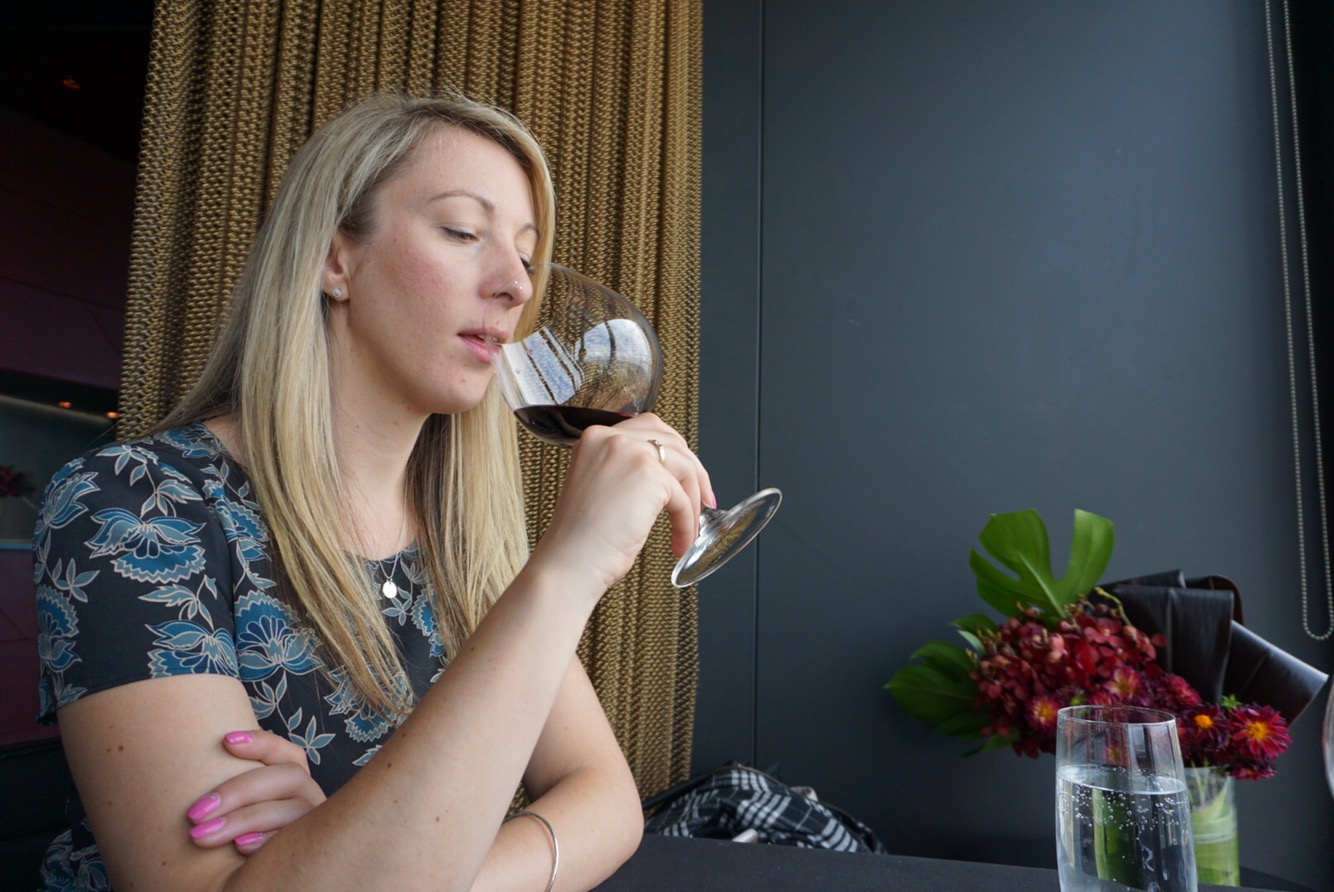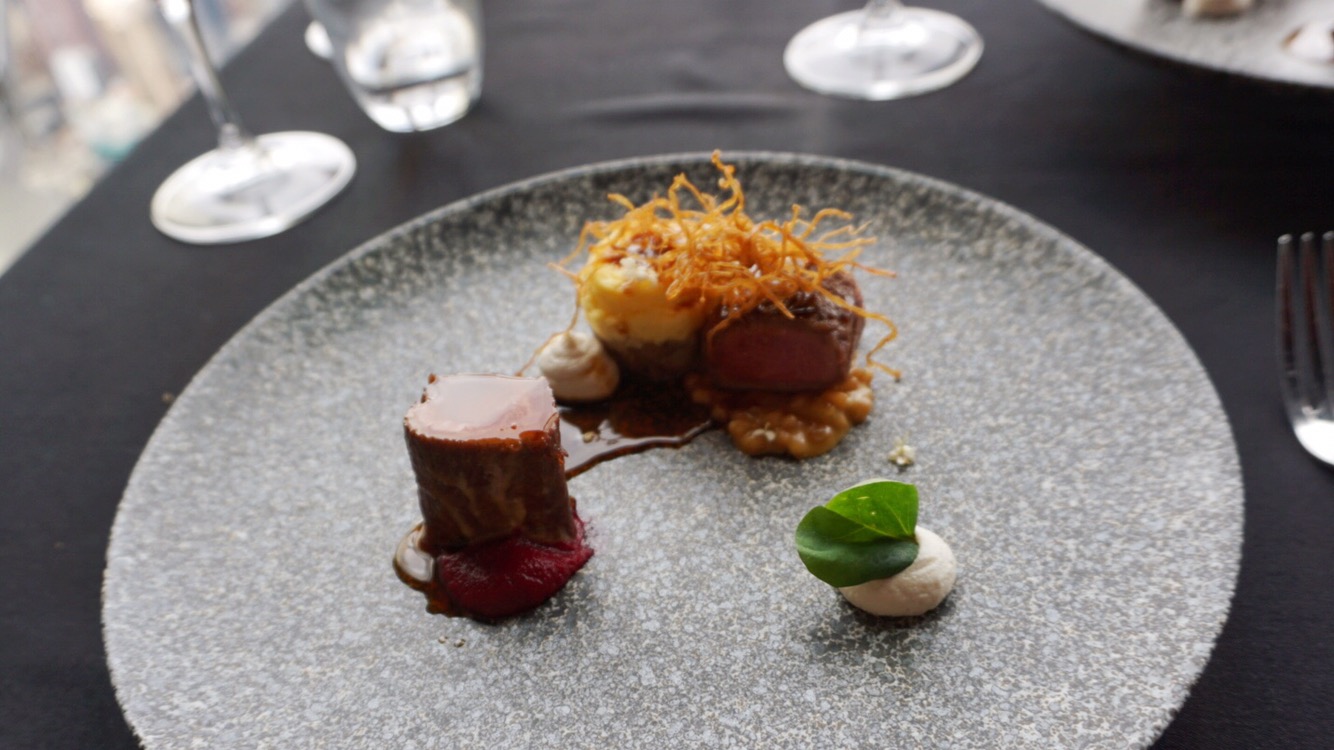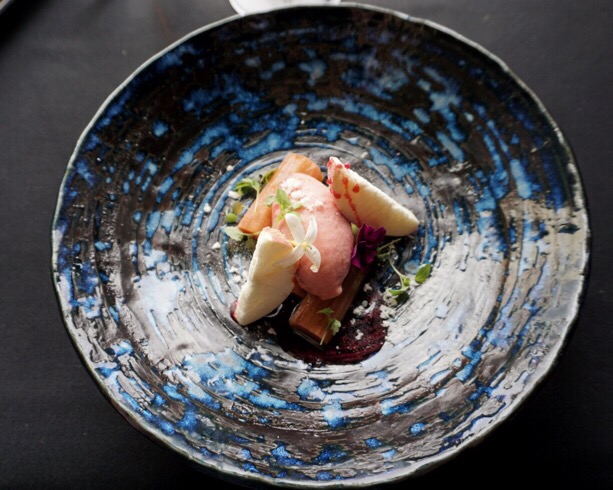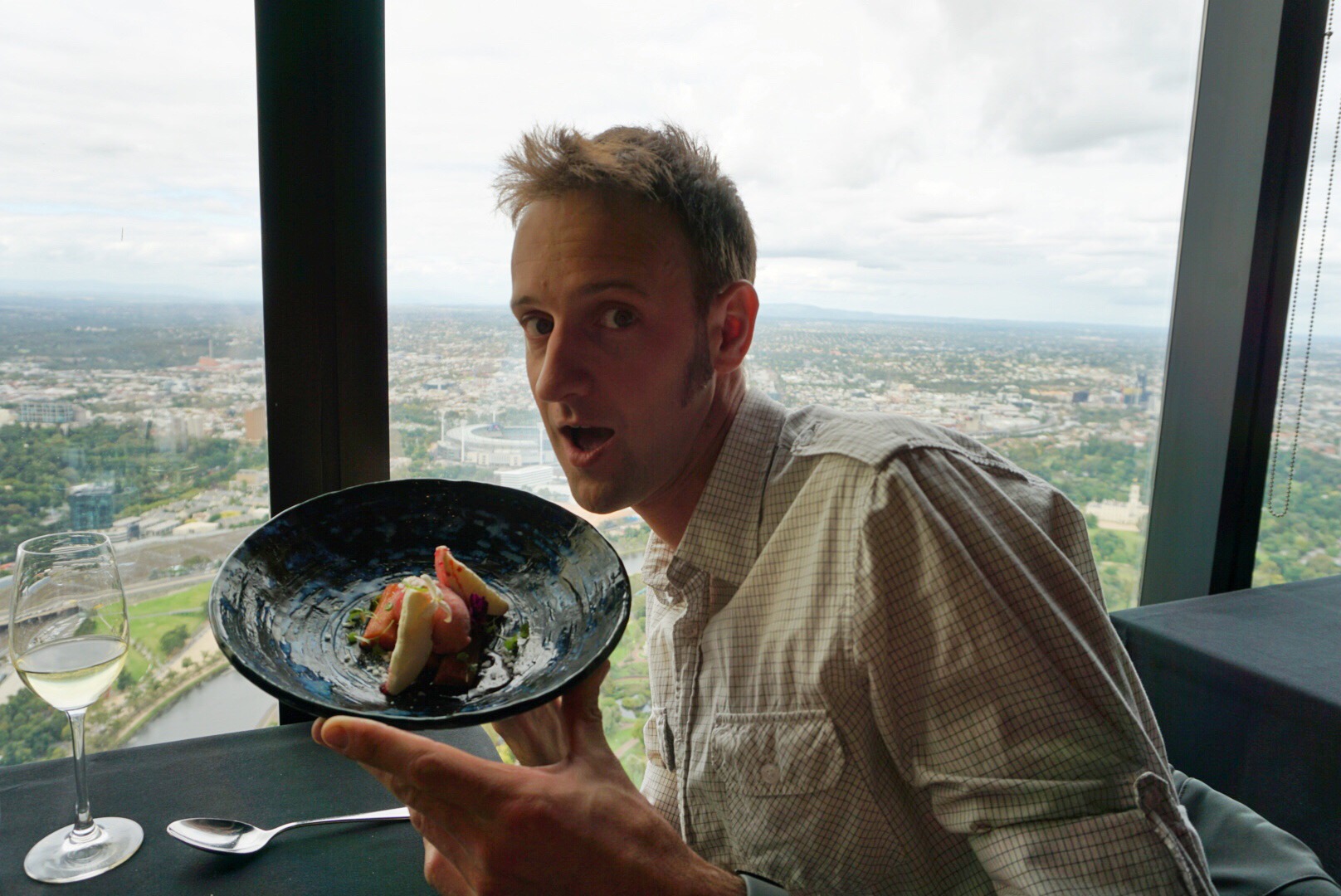 Cancel the Coffee
I always say that it is a most wonderful achievement if you can find bad coffee in Melbourne. As Melbourne is literally world famous for fabulous coffee. Sadly we discovered that this is indeed a thing that happens in my most beloved home town. It seemed only fitting that we should finish off our wonderful afternoon delight with a coffee each. That was until the steaming hot, burnt and undrinkable coffee arrived. I can only assume that as the afternoon was getting on the more experienced staff had left for the day and the newer trainee staff members where left to their own devices. Brownie points for trying! If you do feel like a hot beverage after your meal then I'd suggest a tea.
Putting On Your Fancy Pants
Eureka89 did at one point have a dress code. Since our Sunday afternoon this clause has been removed from their website. Again I was left wondering if we would have had a difference experience had we gone on an evening. There was an abundance of tee shirts, ripped jeans and generally a casual wear feeling to the guests in attendance. Not wanting to risk being refused entry I was in a dress and James wore a shirt. So just incase you should dress a wee bit fancy.
Can Children Attend Eureka89?
Sadly – yes if accompanied by an adult. There is no special children's menu and there is an expectation that your child will act like a sober adult in an adult venue. Why sadly? Well I do believe that there are certain things in life that should be child free. This is one of those things.
Where is Eureka89?
Eureka89 is located within the Eureka Tower, Southbank. The Eureka Tower is a 297.3-metre (975 ft) skyscraper! So just a little building hidden away you know. Construction began in August 2002 and the exterior completed on 1 June 2006. The plaza was finished in June 2006 and the building was officially opened on 11 October 2006.
Final Thoughts
Eureka89 offers a unique and pleasant dining experience. There are no complaints about the quality or inventive design of each dish that was delivered. Alongside with delightfully well matched wines. It certainly is a lovely venue for that special occasion with that special someone.
Have you been to Eureka89 or would you like to go? Let us know in the comments below?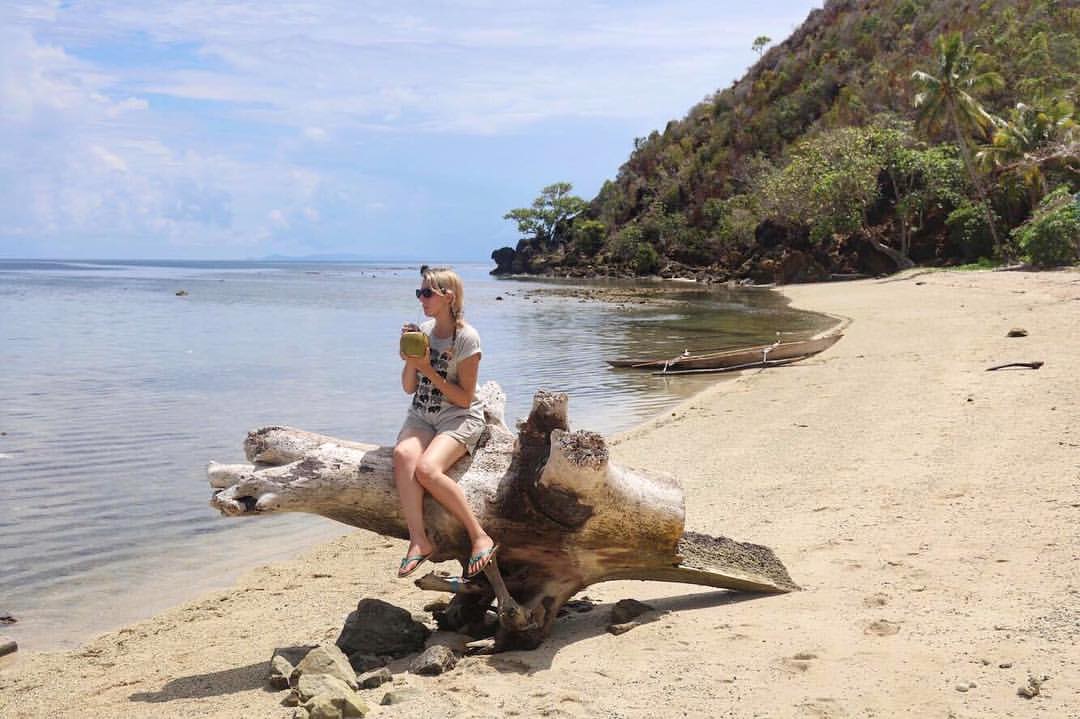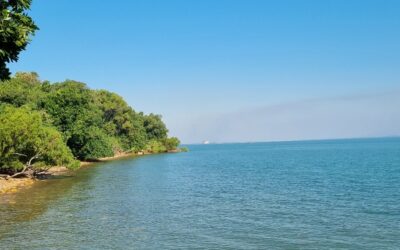 Darwin is the gateway to the top end of Australia. A place where you can go back in time or explore a growing city. The city has something for everyone, from sun-drenched beaches to bustling markets and vibrant nightlife.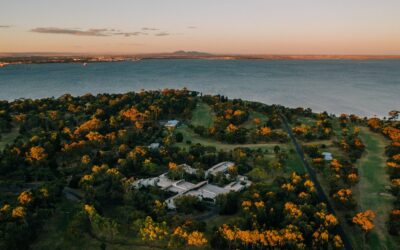 Eden Oak offers travellers the chance to experience an urban oasis hidden amongst the gum trees in Geelong's Botanic Garden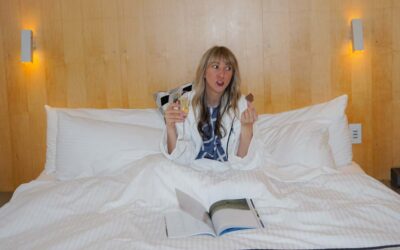 Some days as a content creator you get to make really easy decisions and other days you get to make some truly shitty, awful and difficult decisions. Over the weekend I made a tough decision to stop producing my world famous Best Female Travel Bloggers list