Hidden away in the hills of Pucon, Chile, lies a horse riding haven. A safe place where all riders, from beginners to experts, can find themselves in a world of horse happiness. When most people start considering Pucon, as an adventure town, they generally think about climbing an active volcano, canoeing on the lake or getting in some sneaky ski time. Let me tell you that if you go to Pucon and don't consider a horse riding adventure than you really are missing out on a unique and wonderful way to experience the Andes.
So where is this wonderful horse riding haven in Pucon, Chile?
Allow me to introduce you to – Campo Antilco.
A warm welcome at the Antilco Ranch
The ranch itself is a beautifully serene and relaxed environment. Located at the foothills of "Cerros de Quelhue" National Forest Reserve and on the banks of Liucura river. As soon as we arrived we could hear the roar of the Liucura River but were soon distracted by the friendly dogs who came to say hello. 
On arrival, we were met by Mathias, the owner, and quickly taken on a walk through the blossoming orchard to our cottage. A long and freezing cold bus ride from Santiago to Pucon had really taken its toll on us. We were in desperate need of a shower, a hot cup of tea and a snooze before taking a tour of the ranch.
After we had a freshen up the ranch manager Carmen dropped by our cottage took us on a tour of the property. The ranch itself is split over several pieces of land down the road. Allowing the team at Antilco to give both the horses and paddocks optimum time to rest. It's a unique form of sustainability that takes into consideration the land and the horses, not just thinking about making a lot of money. Our introduction to the ranch took us to the winter paddock where we were met by a small herd of hungry and optimistic horses, despite the barn full of hay that Carmen had distributed before coming to collect us. Always, optimists, the horses were hopeful for a sweet treat or two.
The ranch has a large family home, three small self-contained cottages and the usual farm sheds and tack room. As a working ranch, there are chickens and ducks, a large vegetable patch and horses everywhere! Really it' my dream home. If only I could have exported the entire ranch back to Australia.
As a guest you're welcome to walk around, interact with the animals or just enjoy the natural beauty. A lot of the ranch's food is grown on site so you can walk through an orchard or lend a hand in the rather impressive vegetable patch if you're so inclined.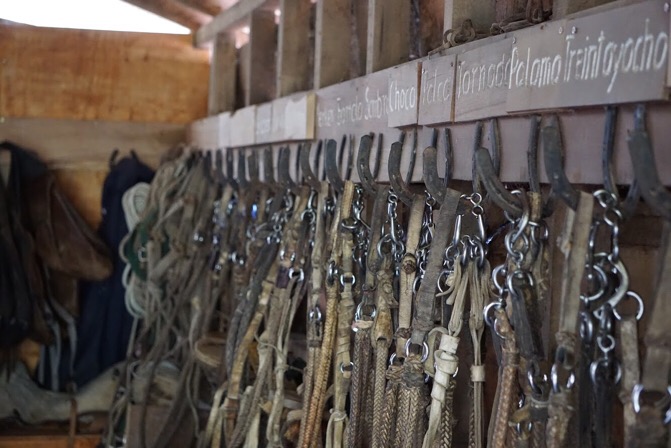 A magical experience staying on a Chilean ranch.
We were lucky enough to hide away from the world in one of the self-contained cottages on the ranch. Which after weeks on the road and touring with two separate large groups was really needed. It was such a pleasure to be able to prepare our own food for just the two of us, shower when we wanted to and not worry about anyone else.
The cottage we stayed in had two bedrooms and can sleep up to 5 people. Complete with woodfire heating, which we needed in October, a kitchenette and 24/7 hot water. A luxury experience for any backpacker. Oh and to help you relax even more there's no wifi and mobile phone reception is patchy at best.
Taking advantage of the down time we spent our days feeding the chickens, relaxing by the river and hiking in the area. There are beautiful waterfalls around if you're willing to chase waterfalls.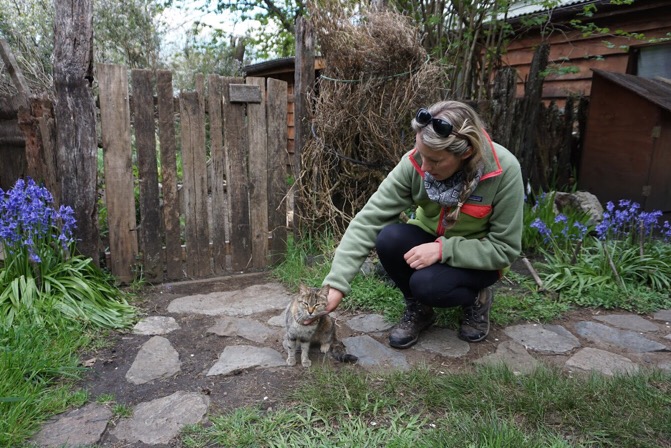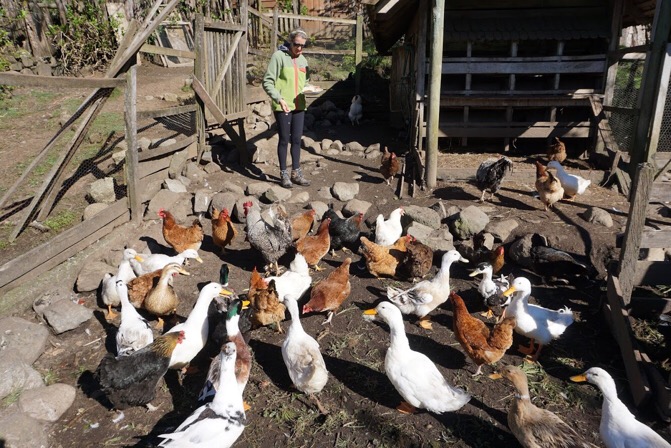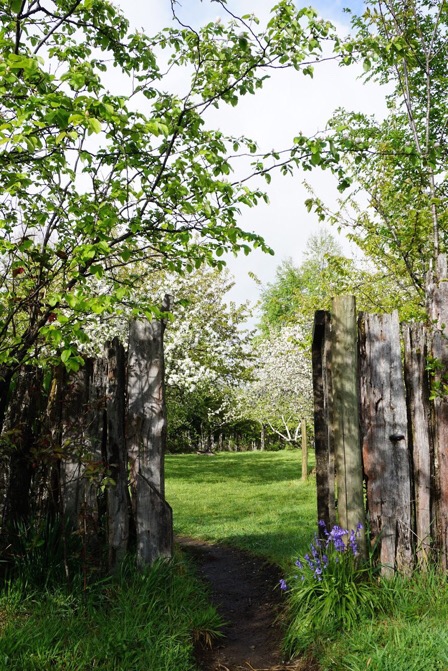 The Horse Riding
The horses housed at Antilco are a mixed bunch. Each horse has been chosen more for their personality then pedigree. There's a mix match of criollos, Fjords, thoroughbreds and generally friendly equines.
The staff at Antilco really know each and every horse inside and out. From their herd pecking order right down to their rider preference. Which for some people may seem a little bit odd. Surely a horse is just a horse and is there to do a job? Ah no. These horses are customer service experts. Each day being ridden by a different rider, with a different style. Like, people, some horses can handle these changes and others can't.
The extensive knowledge of their herd means that as a rider you are paired up with the most suitable horse possible. Even though I am ridiculously experienced and James isn't, we wanted a relaxed ride where we could have fun together. I didn't want a high strung ride and James didn't want the super slow tractor. After our first chat with the staff they quickly brainstormed the best horses to meet our needs.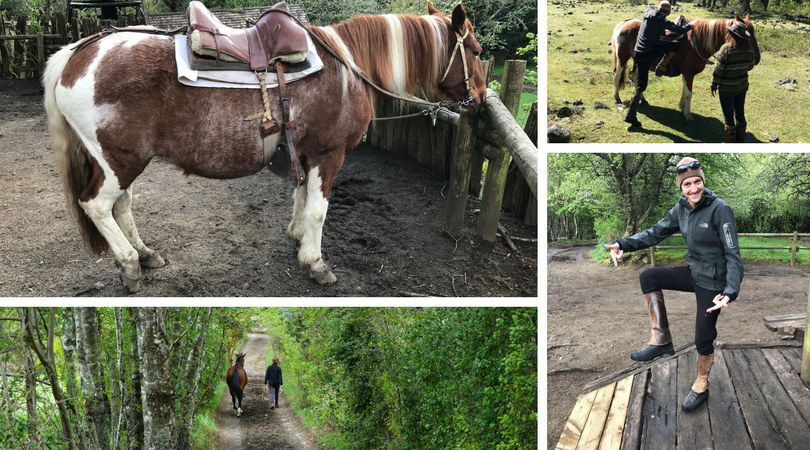 The next day, after a decent sleep in and coffee, we headed out to the stables to meet our horses and prepare for a half day ride. After an introduction to our horses, a pair of chaps each strapped on and a lesson in riding Chilean style we were up in the saddles and away. Our ride takes us down the road and through the local community. The conversation flows along naturally and it's hard to believe that we're riding in Chile and not just back home in Australia riding with an old friend. Shortly after we've started out we come across the Mapuche community. A small community that resides in the area. There are no cloth tents, flying flags or anything else that screams out that an Indigenous community lives here.
Our ride ambles along roads and tracks. Surprisingly local residents driving by slow right down to give way to our trio or to have a quick chat to Kathia. This comes as such a surprise to me, as back home in Australia it's a battle to get off the road before a car whizzes by.  There's more time spent talking, trotting and even a few canters before we head across an open field that's currently free ranging a variety of farm animals. Before I know it we are up to our first river crossing, which goes perfectly swell. Unlike that one time in Mongolia.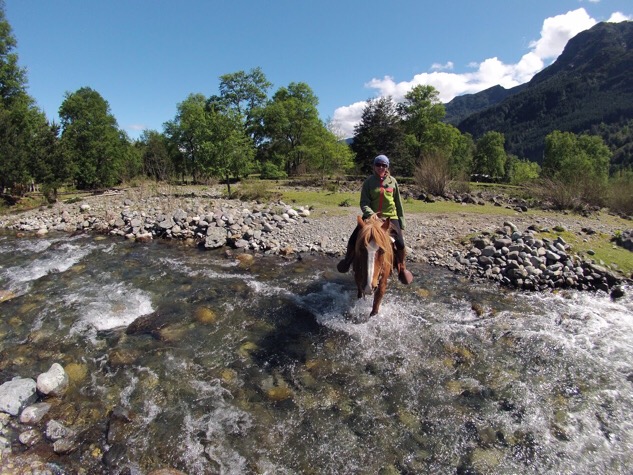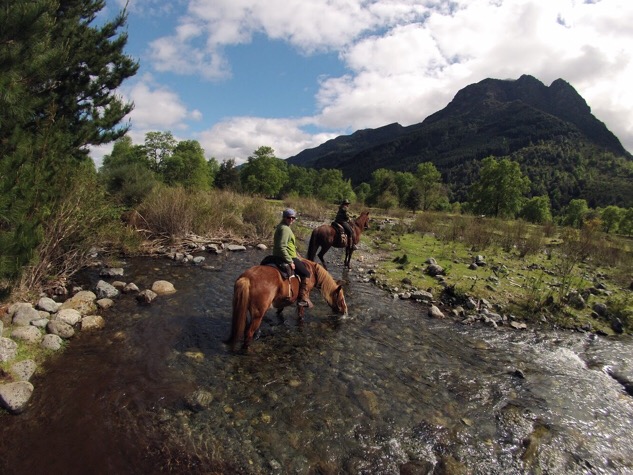 After a snack spot we're back in the saddle and on way. Ambling down roads, through forests and fields. All the time chatting and enjoying each others company and with amazingly clear skies, we have a perfect view of the three volcanoes. Before we know it we're nearing home and one last canter along a black sand beach. Then it's back to the forest and walking along the Trancura River.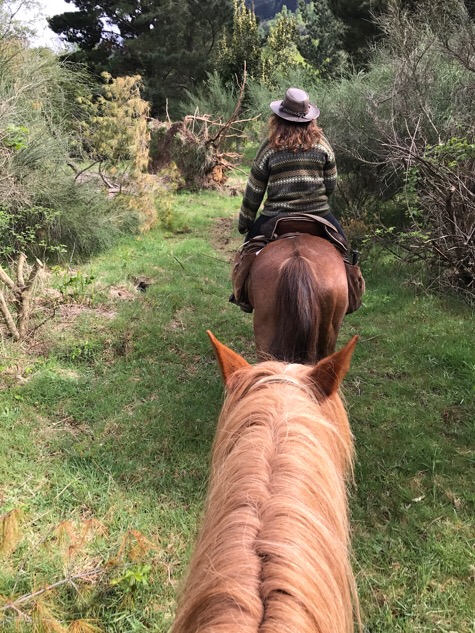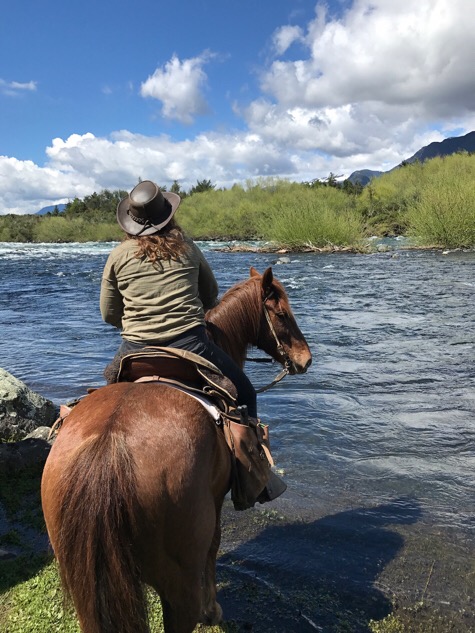 How to have an amazing horse riding experience at Antilco?
You don't need to be an amazing rider to have an amazing horse riding experience at Antilco. All you need to do is turn up and enjoy yourself. The staff will take care of the rest. All the staff at Antilco are bilingual and speak English, Spanish (moderately for some) and German.
Antilco offers several riding options to suit every rider and budget. Due to time restraints, we could only indulge in the half day ride.
-Half day to two-day rides
-Learn Spanish and/or learn to ride camps
-Multi-day camping adventure rides across the Andes
When we eventually return to Chile I'll be doing my best to arrange one of Antilco's multiday treks across the Andes.
What to wear horse riding in Pucon?
Unless you are doing a massive multi-day trek then you'll be fine with long pants and shoes. I wore leggings and my hiking boots. The team at Anitlco will give you gaiters to wear to stop your lower legs getting rubbed.
Grab yourself a pair of trekking leggings for your South America adventure!
How to book a half day horse ride in Pucon?
The half-day rides happen every day. You don't need to give too much notice but the more you can the better the staff can prepare.
There are two options to book your horse riding adventure – you can book directly with the staff at Antilco or if you are staying at a hostel in Pucon then the staff at your hotel/hostel can arrange this for you.
The ranch is approx a 25min drive from the town center. If you have your own car it's a rather pleasant drive. If you are booking from your hostel then ask the staff to arrange for Antilco to collect you if available.
Where to stay in Pucon?
We loved staying at the Chili Kiwi Hostel and as a partner hostel for Antilco they can help you book the perfect ride, including all the transportation. This hostel had amazing private rooms, a tree house and hobbit holes. We stayed in a hobbit hole for the night and loved it. 
Be smart and book a hobbit hole at the Chili Kiwi Lakefront before they sell out!
Final thoughts on our horse riding adventure in Pucon, Chile
Our time at Antilco was far too short for my liking. The ranch was so calm and quiet it's the perfect place to enjoy some downtime and enjoy a day or two of riding. Unlike our previous South American estancia experience, from the moment that we were picked up at the bus terminal to the moment we were dropped off we felt as if we were just visiting friends.
There was no pressure, no stress, and no ridiculous rules. Just a wonderful place to recuperate after our group tour, simply relax and enjoy the simple pleasures of farm life.
The team at Antilco now offer the cottages as a bed and breakfast option for riders. So if you're in Pucon do yourself a favor and go experience the relaxation and wonder at Antilco!
Here's a few special offers just for you