Blink and you will miss this hidden gem. Well hidden in plain sight that you will drive right on by on the road from Christchurch to Akaroa. There's a small, delightful town called Little River. Which hosts no river and is of questionable size. If you've driven down that way you've most likely stopped to use the bathroom here or obeyed the road rules and slowed down as you drive on by. Perhaps on your way back to Christchurch you'll notice the huge silver, shiny silos and start cursing yourself that you didn't stop by here earlier.
You are doing yourself and your adventure a really big disservice by not staying at least one night here on your New Zealand road trip.
Where is Little River?
Little River is nestled in a deep valley surrounded by streams and springs, between Christchurch and Akaroa.  The streams and springs join to form the Okana and Okuti Rivers. It's a small town on the Banks Peninsula located approximately 30 minutes drive from Akaroa or 45 minutes drive from Christchurch. Hidden away on State Highway 75, which links Christchurch and Akaroa.
Clearly well and truly on the beaten path, Little River is a spot you don't want to drive by.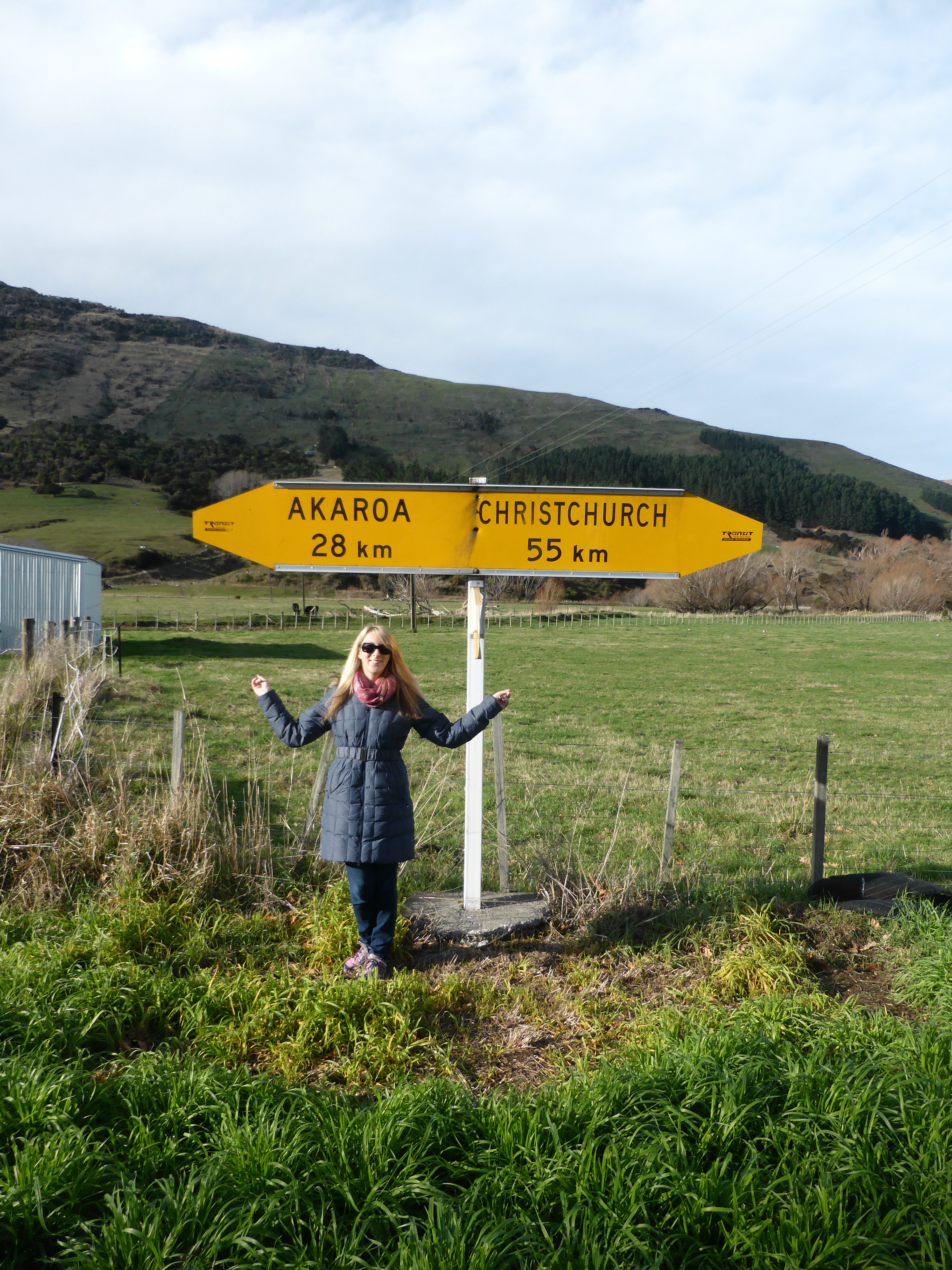 What's here to amuse you?
Well in all honesty not a whole heap unless you get off your backside and go exploring. Which is 100% why I loved staying here. There's no big pub, bars, night clubs or the like. It's a stunning, small town home to a strong farming community. Like most small towns within an hour drive of a major city there's a small, ever growing community of commuters that travel to Christchurch for work.
If you are into mountain biking or bike riding in general than the Railtrail is a perfect place for you to start. With the opening of ECan's Ahuriri section it is now possible to ride the entire length of the Rail Trail from Christchurch through to Little River. A leisurely 49km ride.
Little River currently boasts an interesting mix of cafes, craft shops and the stunning Art Gallery.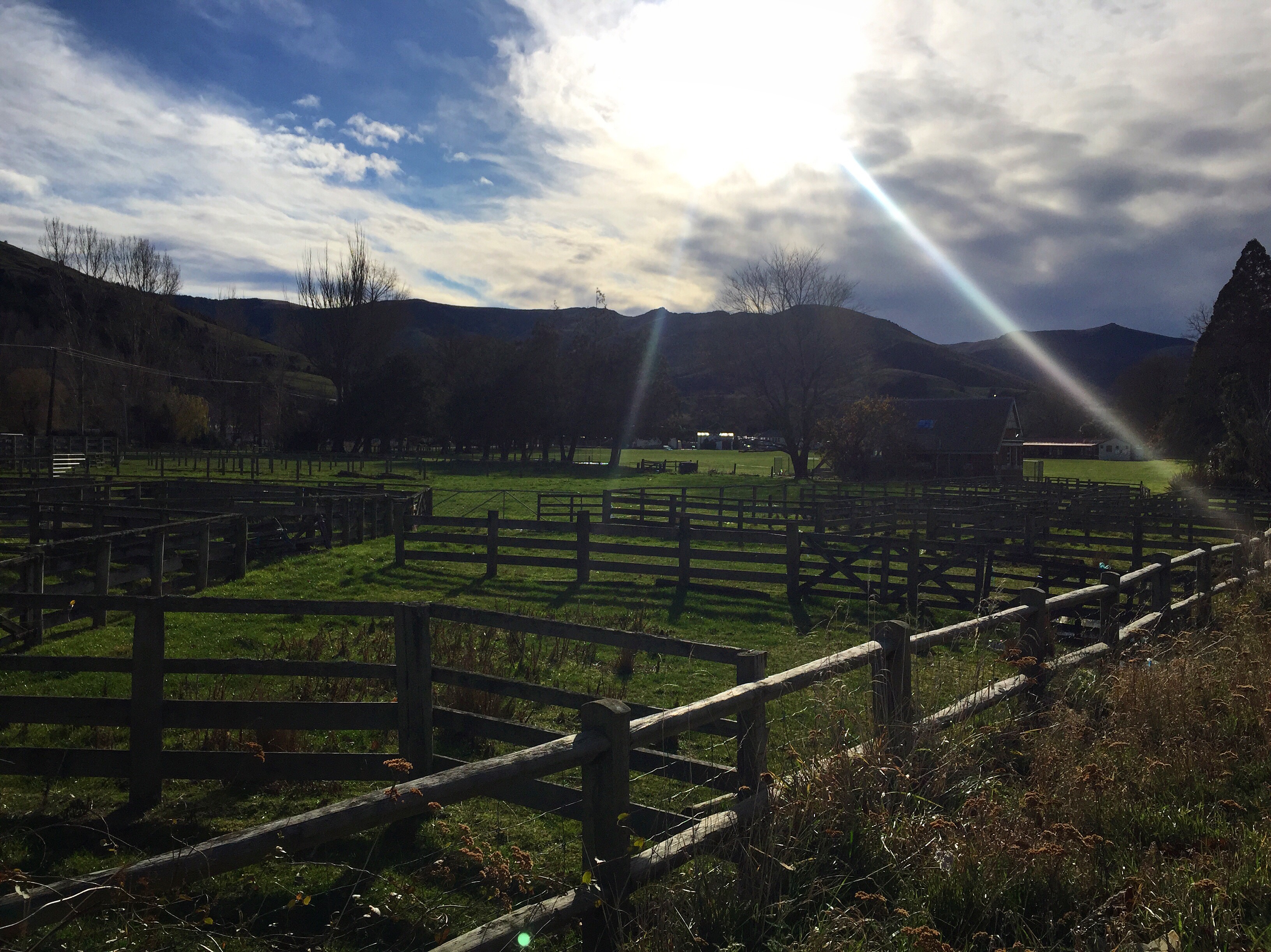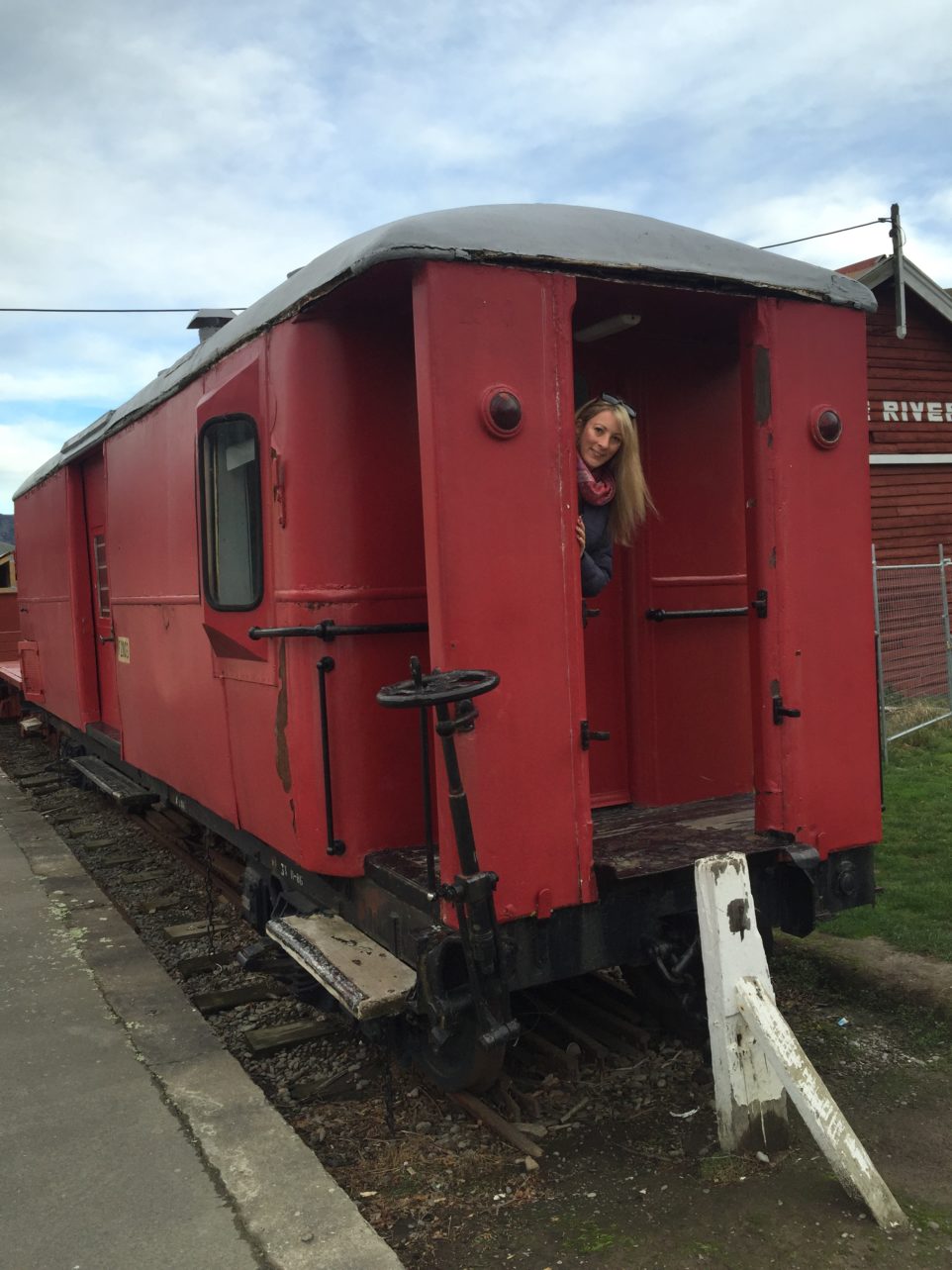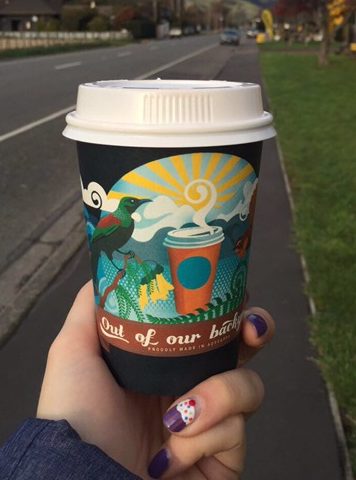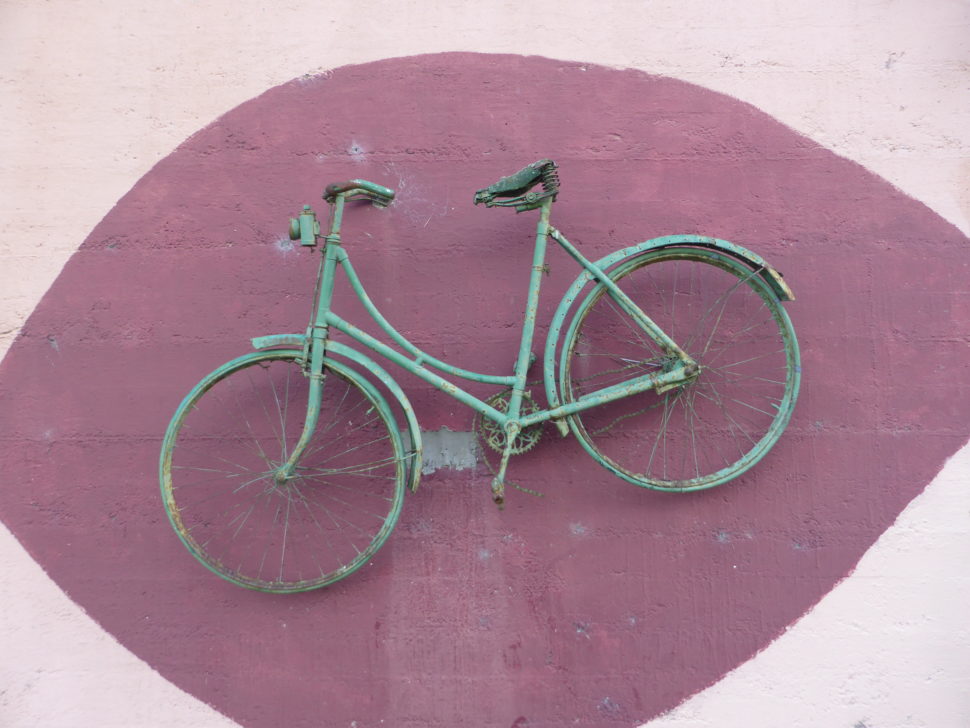 Truly unique accommodation- Sleeping in a silo
This is by far my number one reason for falling in love with Little River. After arriving at 5am, a day's drive and exploring Akaroa and the first family commitment of this trip all I wanted was some peace and quiet. The weather was horrid. Windy, rain, cold. Urgh. Even my favourite sleeping bag jacket couldn't make me happy.
From the moment we pulled up into the car park I was mesmerised by the artist sentiment and the details of the silo and their surrounds. I hadn't even stepped into our private silo yet. The first thing that catches the eye is well the 9 big shiny silver silos. You really can't miss these and  I'm not sure how anyone actually drives by and doesn't stop in.
It was such a relief to me to walk up to the kiosk lock box, enter my code and grab a key to our silo. As you walk along the wooden planks you can't help but laugh at the little oddities. This place is full of character and charm. Firstly we were welcomed by the Little Green Dog. Who I unfortunately forgot to take a  selfie with. There's a large fridge full of books, magazines and games if you feel like a little bit of light entertainment. As I approached our silo I was surprised to see a Private sign across the stairs. Unbeknown to me this is because a lot of people can't drive by and not stop in for a peekaboo.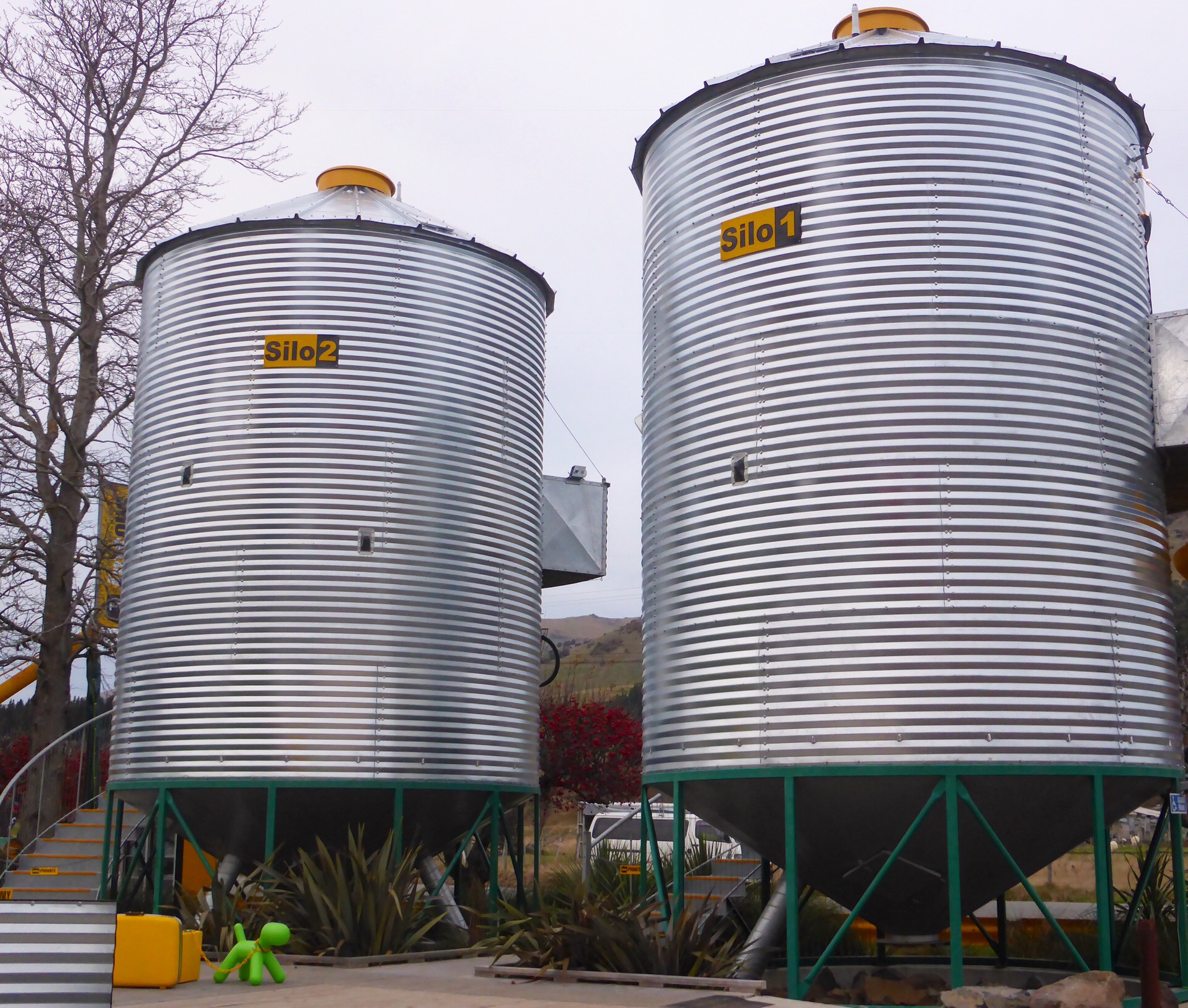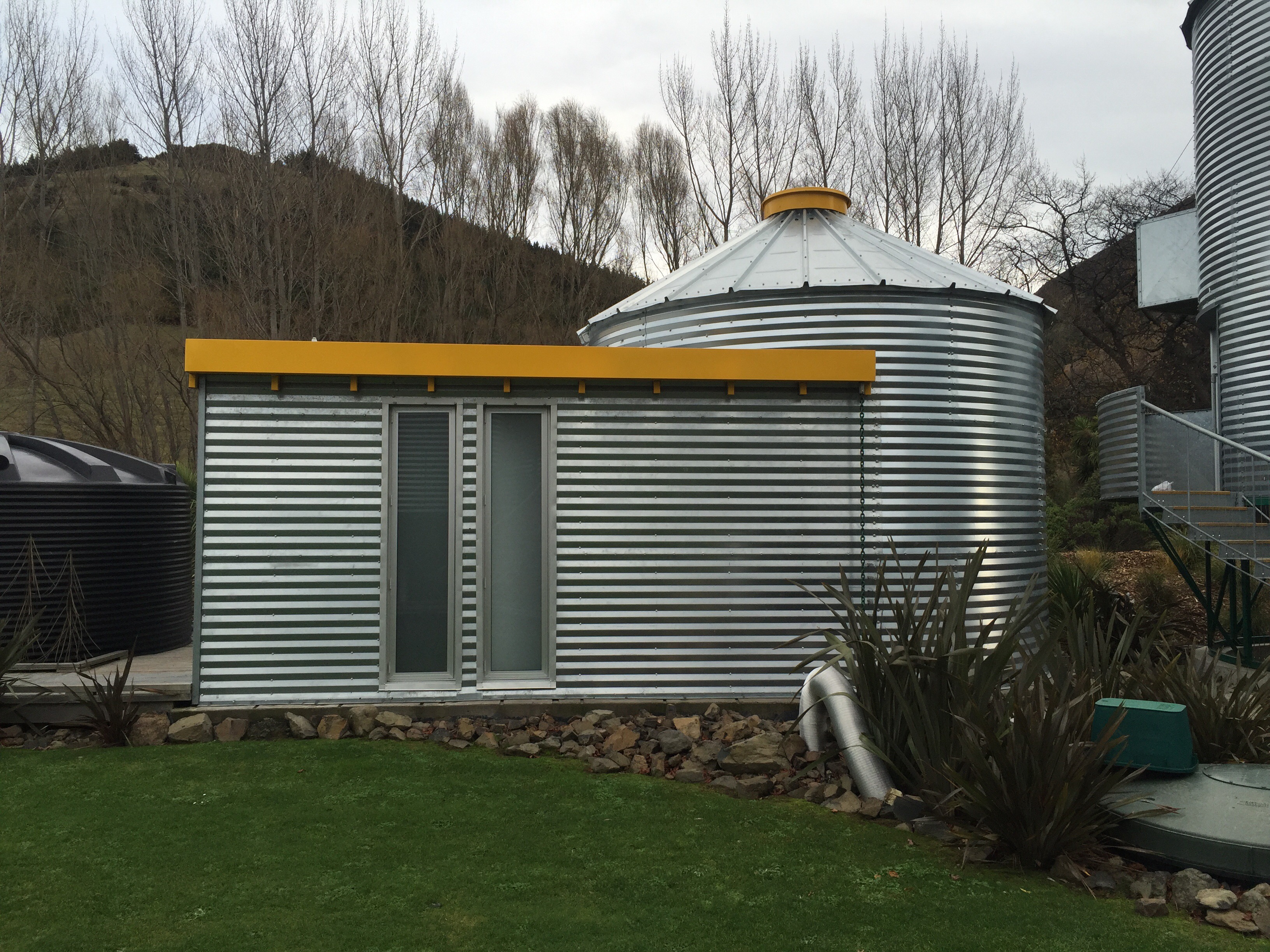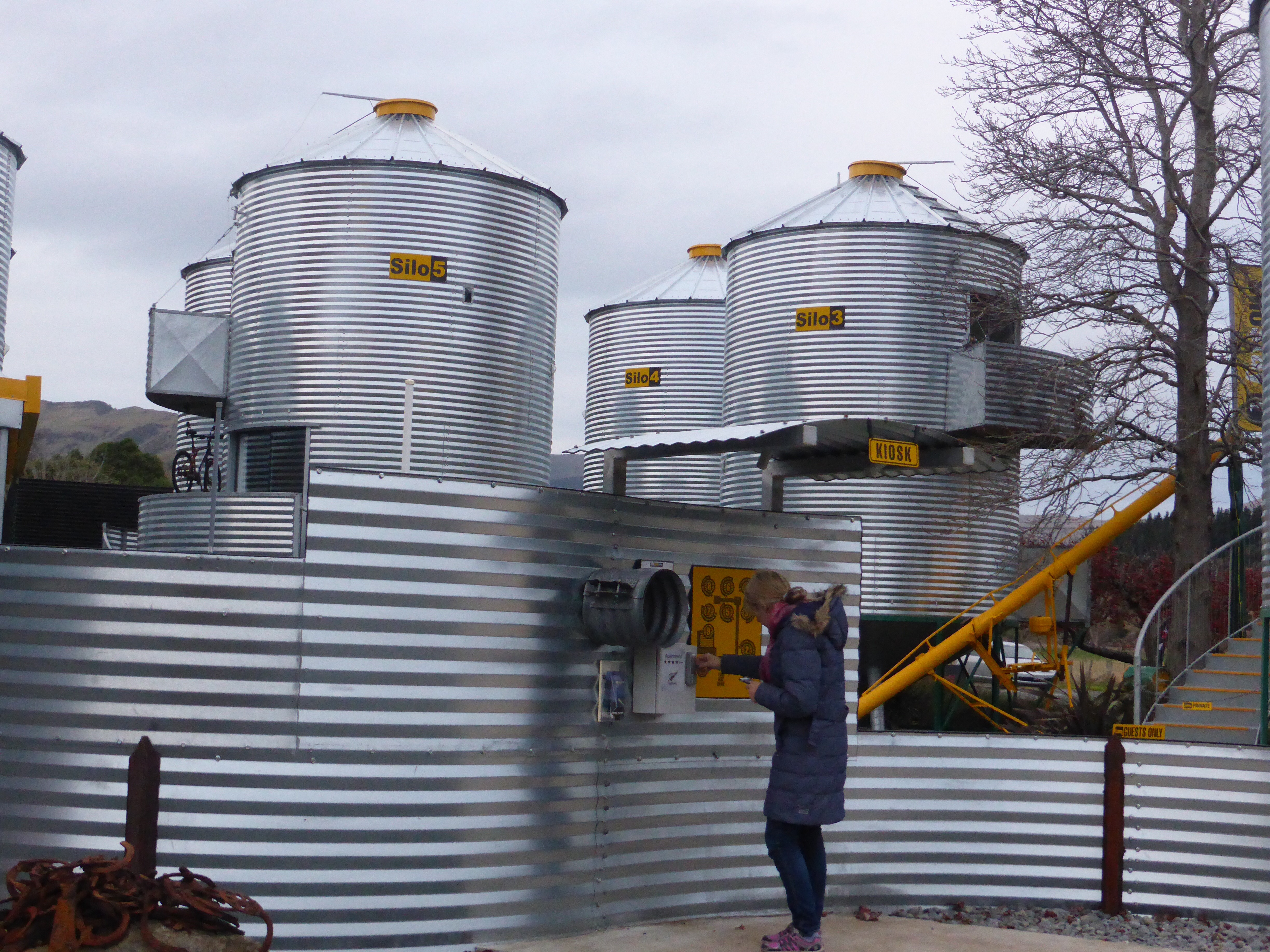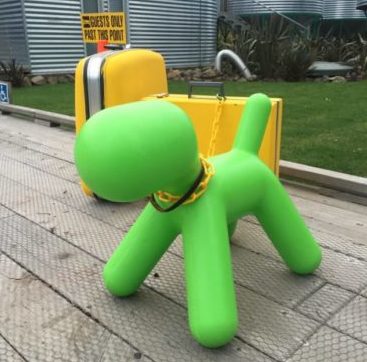 Once I stopped giggling and made my way up to our silo, the first thing that hits me in the face is warmth. Soft, delicious like a marshmallow hugging warmth. The staff have been in earlier in the day and turned on the heater. Thank you Silo Stay ninja staff for that little warm perk.
The silos are two story, fully self contained. The bottom floor offers a teeny tiny uber cute kitchenette, a toilet and chocolate. The kitchenette hosts a tiny fridge, stove top, kettle adn the usual kitchen necessities. As I mentioned above there's little to do in the township, so do as we did and BYO foodies. If you're not as keen as cooking pantless in the kitchen like I am then you can pre-order meals from the Silo Stay team or pop down to the local pub.
So let's not skip over that previous little mention of free chocolate. On the kitchen table waiting for us was a few bars of Whitlam chocolate. Again showing us that it's the little things that are really thought out and actioned here.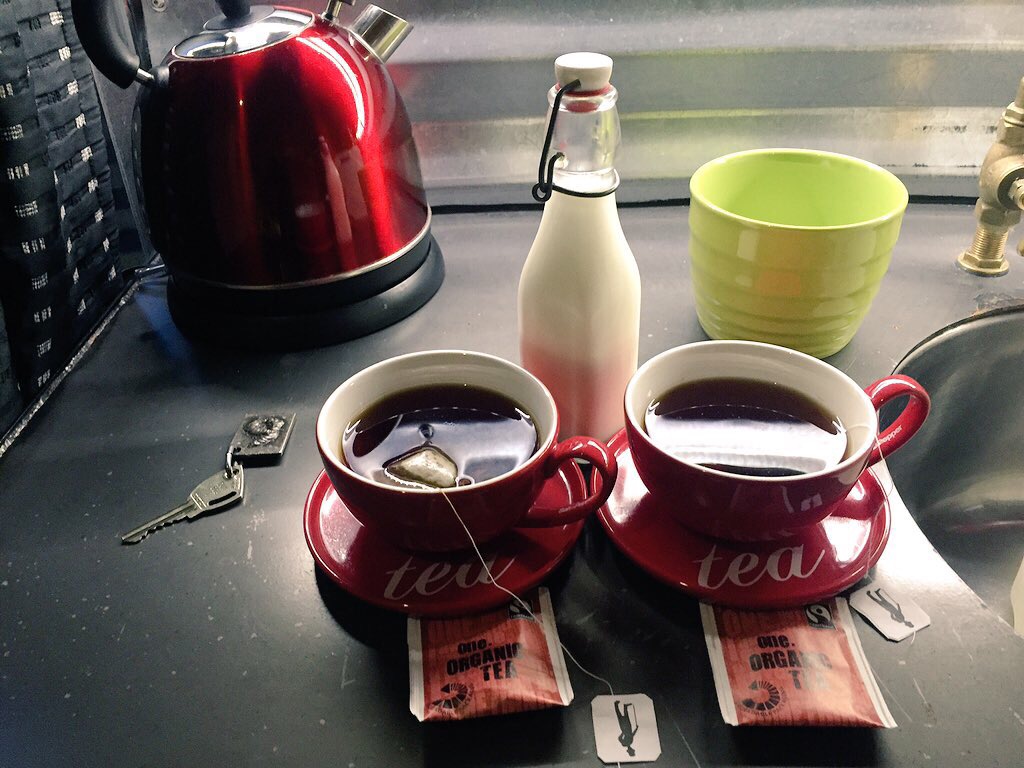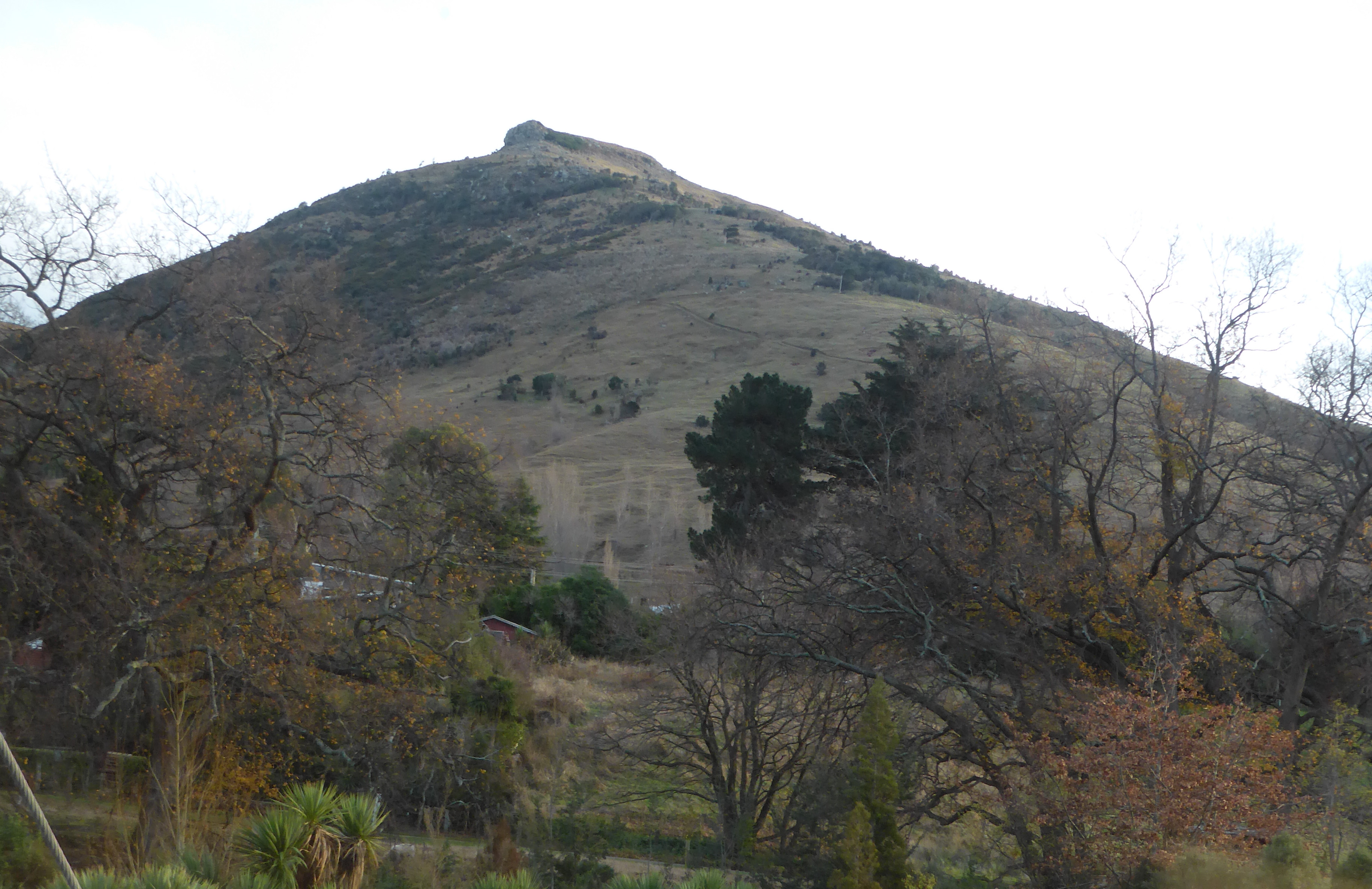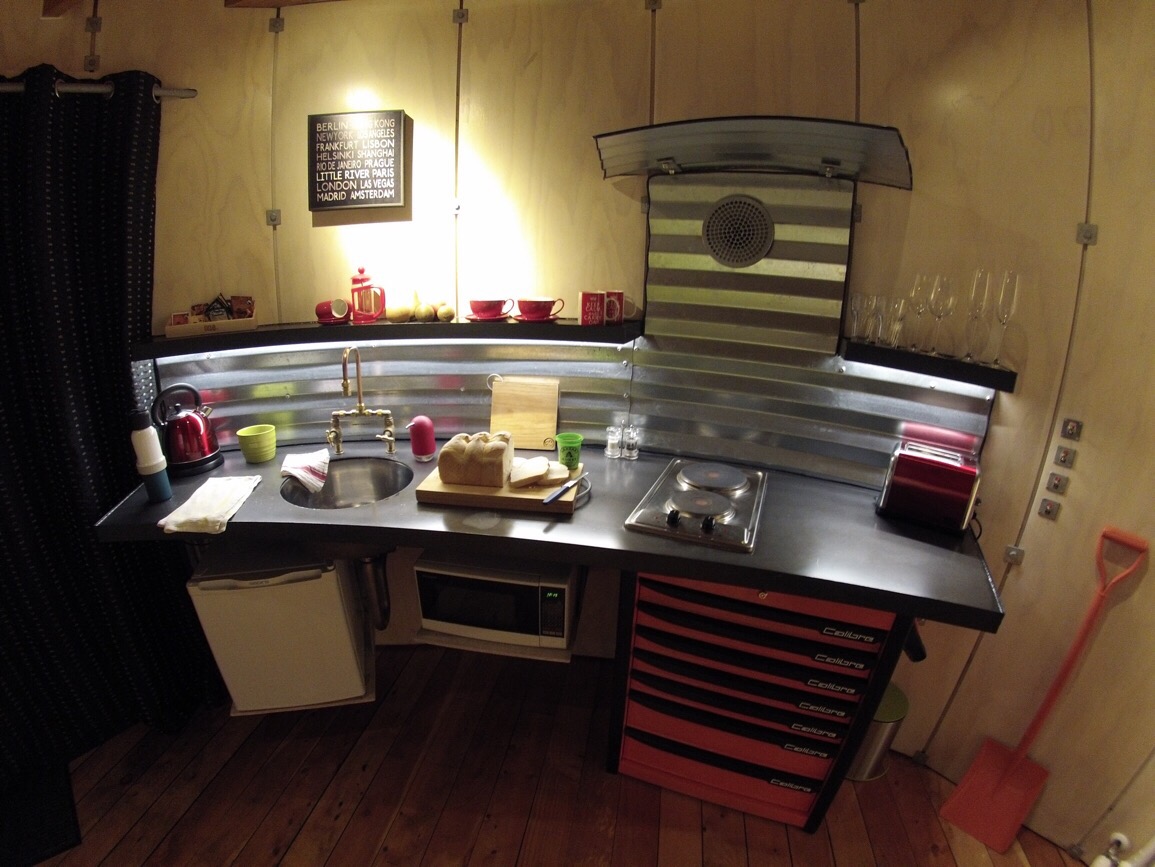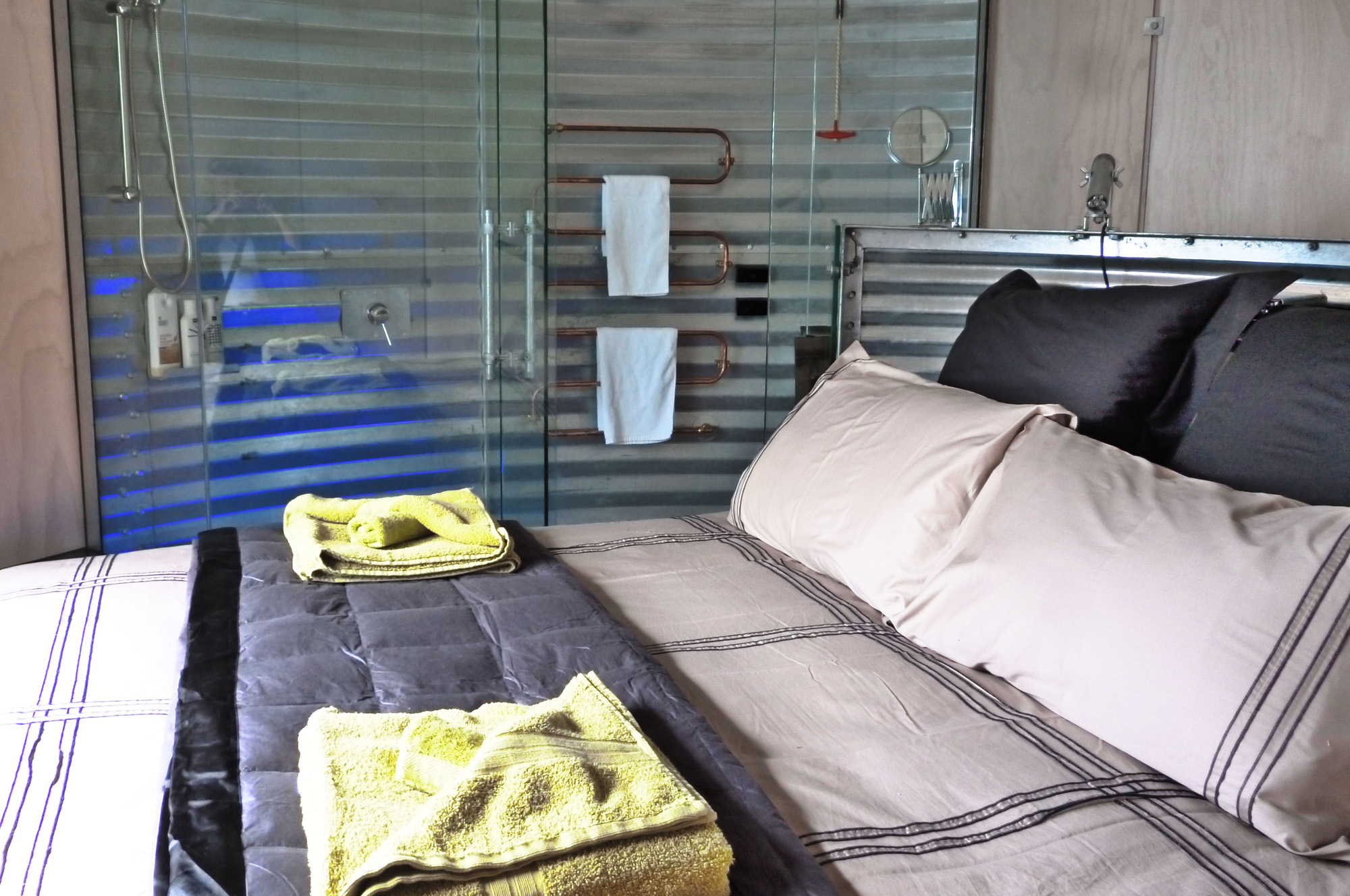 As if I wasn't in love enough with the silo space and design I almost feel into the bed. Part exhaustion, part amazement. Upstairs is a large bed with all the lovely fluffy pillows. Accompanied by a seriously smooth shower and basin for all your personal cleaning needs.
It wasn't until we had a full night, toasty warm sleep that we got to experience how wonderful this part of the silo is. The bathroom space may be small and curvaceous but it packs a punch with happy hot water and a few extras that I'm not going to tell you. I'd hate to spoil this experience of exploration for you.
In all honesty I was blown away with the spacious interior and the stylist interior design work. From the trimmings to the light switches it was all mesmerising. I won't spoil the local guide book that is there for you. Just trust me that it's worth sitting down with a cup of tea and reading.
The next morning we popped next door to the cafe, next to the gallery for a coffee fix. Before spending the day exploring the area around Little River and the Art Gallery.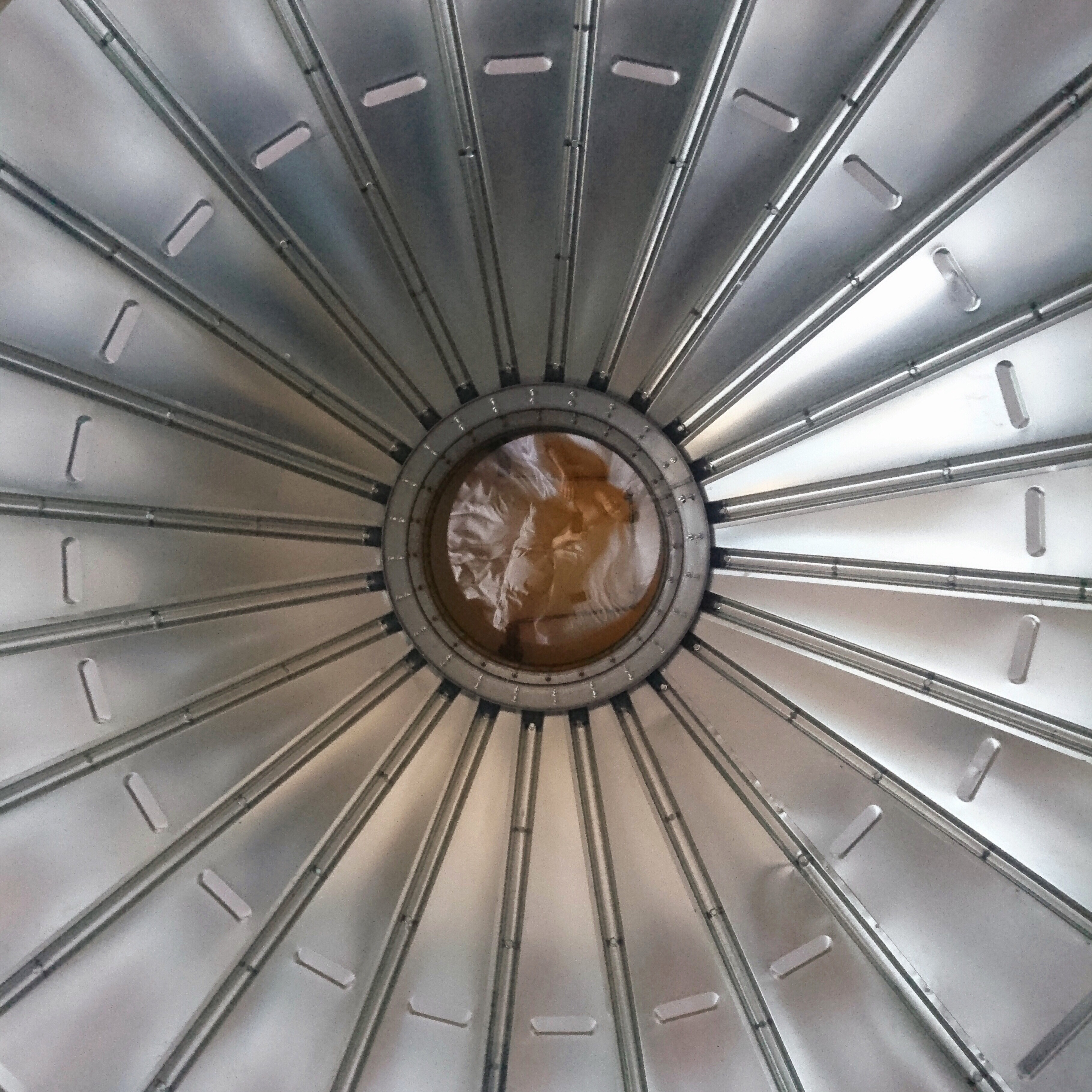 Isn't it time that you booked in a hidden SiloStay?
SiloStay offers guests an opportunity to embrace a sustainable stay somewhere that offers a truly unique luxury. All whilst not destroying our environment.
In total there are 9 silos, including a family friendly/accessible silo. There are a lot of stairs to climb into the silo and within the silo itself, so be sure to request the accessible silo if you need it. The staff here are incredibly helpful and oh so very knowledgeable about the area. Feel free to drop them a hello and help email when you go to book your next visit.
Don't delay book in your SiloStay today!
Don't forget your hiking and adventure gear. 
Seriously it was be remise of me to not advise you to go out and explore the small hills that surround SiloStay. There's so much beautiful areas to explore. Which really is a reflection on the beauty that is New Zealand. It's an adventure lover's dream destination.
Shop the Traveling Honeybird Amazon store for some great hiking gear.
Will we see you at the SiloStay sometime soon?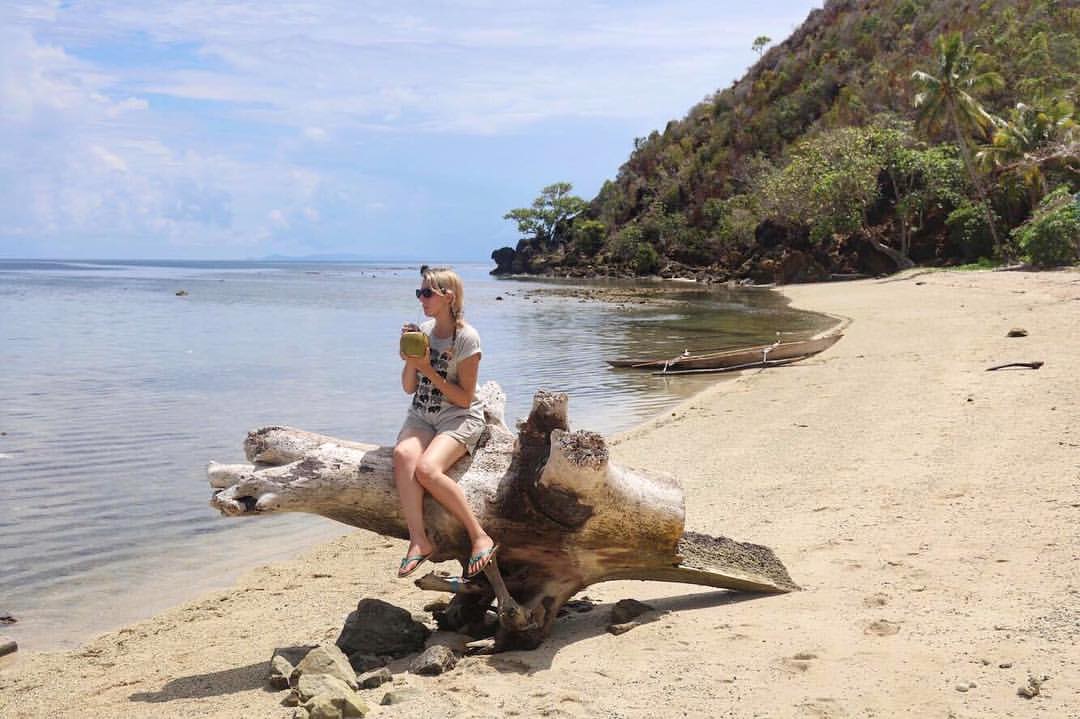 Just a little FYI- this article was written in partnership with the team at SiloStay, who generously gifted us our stay. Any and all views and opinions expressed are entirely my own based on personal experiences when travelling and are honest and factual without any bias.
Just a teeny tiny note on affiliate links – We are a participant in the Amazon Services LLC Associates Program, an affiliate program designed to provide a means for us to earn fees by linking to Amazon.com and affiliated sites. We're also a member of a few others and may make a bit of coin on the side, this is at no extra cost to you.