Tasmania has so many amazing places to explore. Yet every now and again we stumble across true luxury that is truly hidden away in Tasmania's natural beauty. It may seem like I'm waffling on about the rare tooth fairy but you need to trust me on this one. The Trig Studio is the number one place you need to experience when you visit Tasmania. From the moment we walked in the front door I felt at home. Perhaps it was the large open space, complete with a fireplace. The soft throw over the brown couch. Or the bottles of wine settled next to an eclectic array of books. There's no one thing that I could pinpoint that made my time at The Trig Studio stand out as spectacular. It was an luxurious experiential wonder and one that I think you should experience too.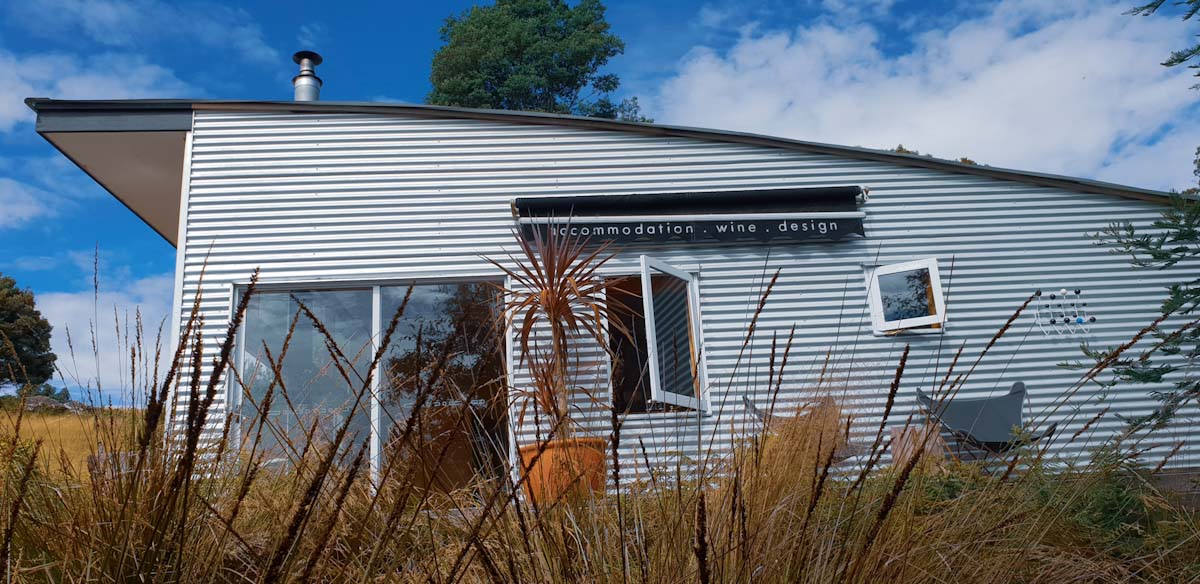 The Trig Studio – Tasmania's hidden eco-luxury get away.
The Trig Studio
is the perfect luxury get away. Either for couples or the solo traveller looking for The Trig Studio is where you want to go. It's a must add to your Tasmania itinerary. If you've been a long time reader of the blog you'd know that I have a soft spot for Tasmania. Great wine, food, cheese and mind-blowingly good nature. It's an adventure girls dream of a destination. But I'm not always keen to camp out. Every now and again I like to indulge in true luxury accommodation. And I like to not have to talk to hotel staff or anyone at all. Yes this Insta-princess does enjoy solitude. The silence. The only sounds being nature and the crisp page being turned in a book, as I bathe. 
Some alone time. The Trig Studio is a one bedroom self contained studio. It's larger then a cottage and offers ample space for just about whatever takes your fancy. A spot of yoga in the morning, a breakfast beer. Who am I to judge? The studio is effectively split into three areas. A large kitchen/lounge room offers you views across the valley. The kitchen has everything you need to make yourself comfortable. A combined toilet and bathroom (shower) situation is divine, complete with indoor plants.  And then there is the bedroom. With an outlook into the fern garden it's easy to see how you can forget all your troubles.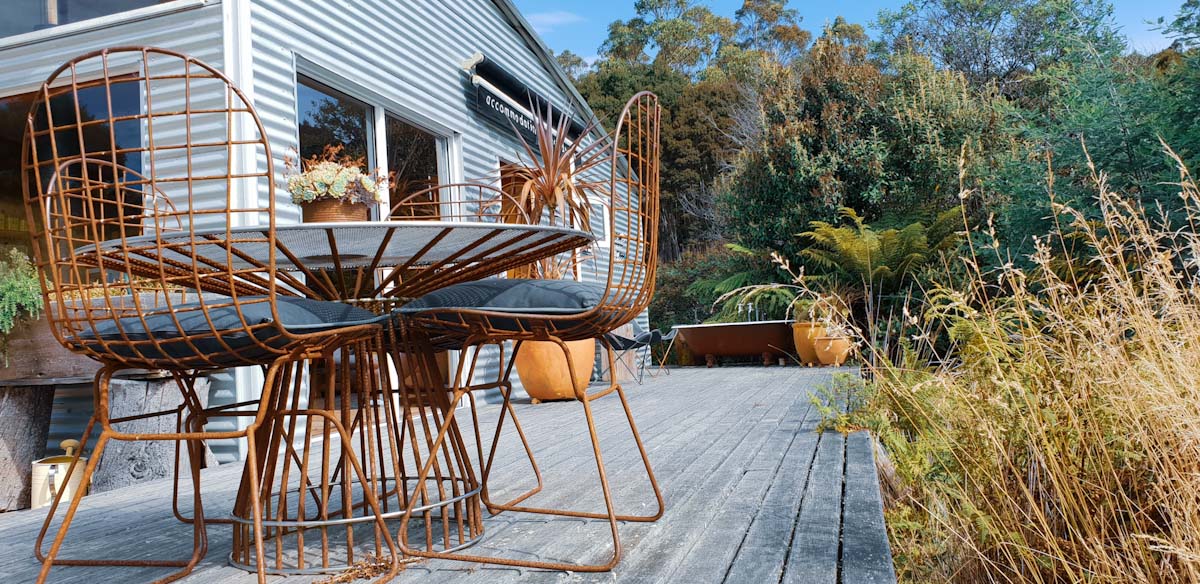 DIY Check in 
One of the pleasures of The Trig Studio is the DIY check in and check out. There's no polite small talk. A few days before arrival you will receive instructions on how to check in. You just drive up, park your car and enjoy the eco-friendly luxury on offer. Once your are ready to leave, close the door behind you and off you go on your merry way. Now if something does happen to go wrong, the owners Susie are just down the road. You'll find their contact details listed on the side of the fridge.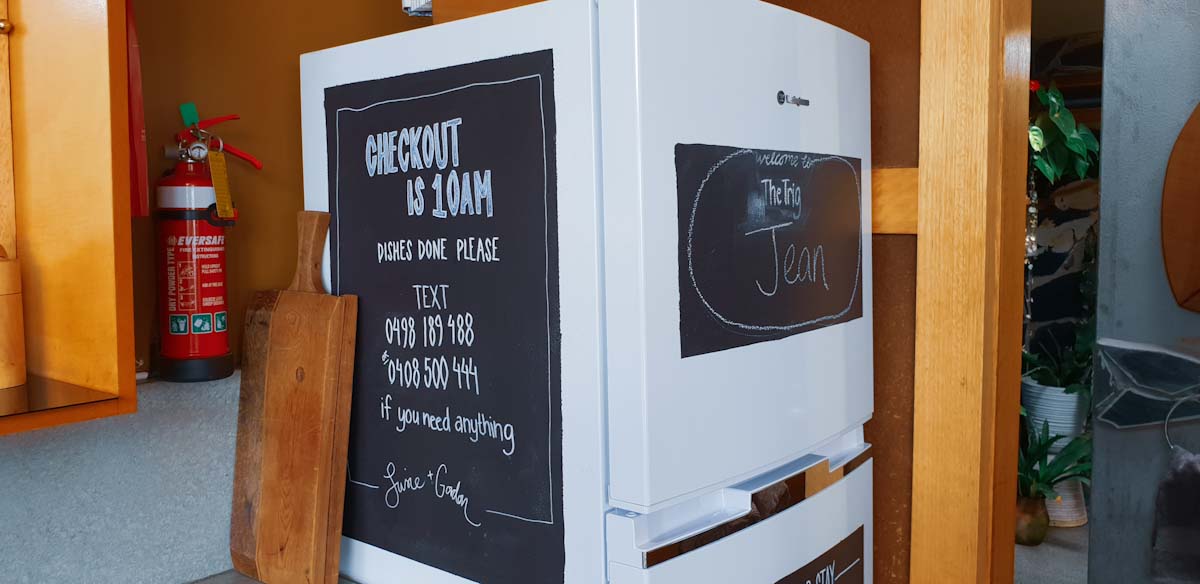 Environmentally friendly luxury at it's finest.
More and more often I find myself searching out environmentally friendly accommodation options. I'm looking for more then just green wash PR bulldust. I like to see an establishment taking proactive steps to be friendly to the environment. And the Trig Studio ticked just about every box I could have asked for – from power to reducing the use of items and recycling/compost. 
There are no teeny tiny bottles of shampoo and body wash here, instead in the bathroom you'll find Aesop products in large refillable bottles, bamboo toothbrushes and the entire studio has eco friendly organic linen. From the towels, to robes to the bed sheets. It's all so nice to touch and wrap yourself in.
Basically the entire studio is designed to showcase contemporary architecture, stylish Tasmanian designed furniture and produce.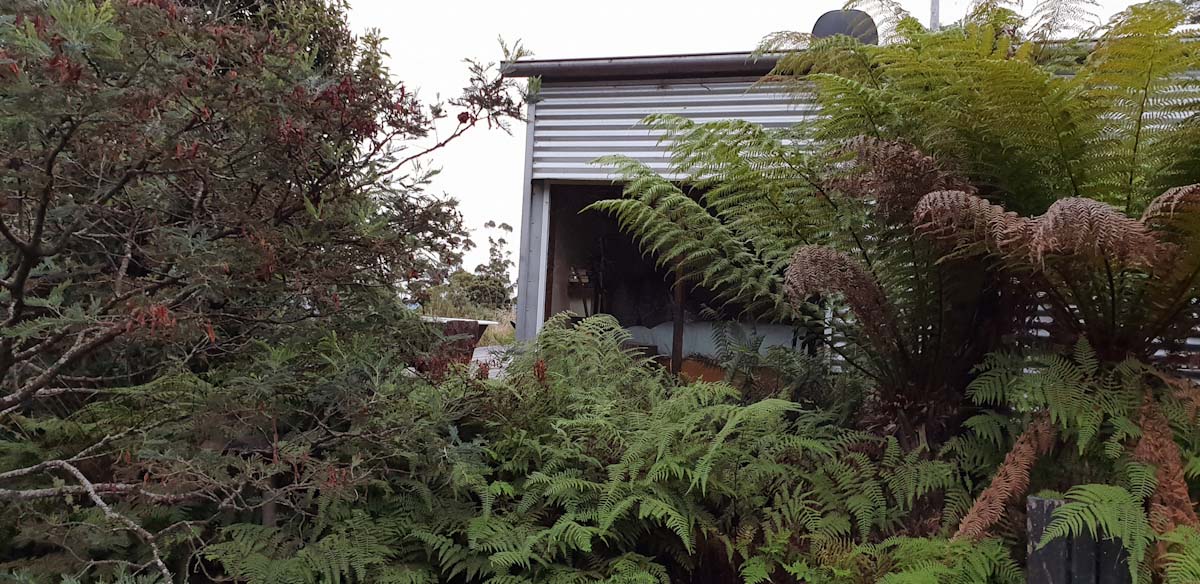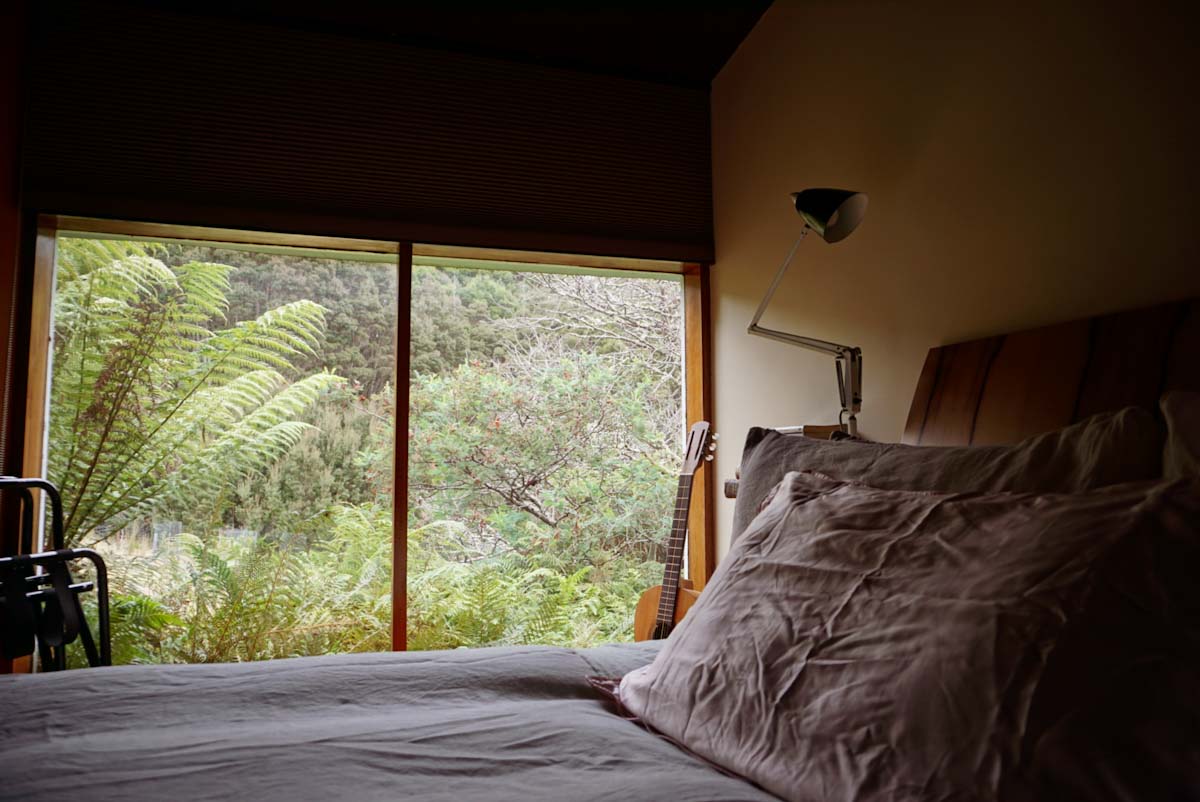 Breakfast of locally produced champions
I couldn't honestly stay here and not indulge in fine Tasmanian produce. As we had already spent a few days in Launceston and indulged in the Farmers Market and had stocked up on delicious food. Which you really don't need to do. The kitchen in the Trig Studio comes complete with an organic breakfast, including milk, yogurt, eggs, bread, cereal and more. I can't guarantee what you'll find when you stay here as the selection changes based on the season and what is availalbe locally. You won't see any cornflakes or cocopops in the fridge.
There's also locally produce tea and coffee for you to enjoy.
You might be wondering what to have for dinner, as you probably don't want to drive into town for a pub meal. The couch is so comfortable and with a roaring fire it'd be a shame to leave. The team at The Trig have thought this through oh so well. In the kitchen you'll find a range of pre-made luxury meals for purchase. These are made by the wonderful
Daniel Alps
. There are vegan and vegetarian options available as well as regular meat meals. Well there's nothing regular about the food at The Trig! The kitchen is also supplied with staples such as rice, couscous and pasta to accompany your meal. 
There's also a minibar with locally produced wines, beer and chocolate for purchase. With so much good food and booze why would you leave The Trig? 
Environmentally friendly power
The Trig Studio is only a mixture of solar and hydro power. Other then this being fascinating it does make for an interesting stay, especially for the travellers who need a hair dryer, straightener and whatever else high energy devices. The power system here isn't designed to handle such technology, and The Trig does ask that you don't use hairdryers. There's no toaster or electric kettle either for this exact reason.  Instead you get to go ol' school like it;s 1899 and boil the kettle on the stove top. And before you ask, there's no Nespresso pod machine either.
What else is there to do?
I admit not everyone is as into the sit around, relax, drink tea and read a book as me. James took himself for a walk around the property whilst I indulged in an afternoon siesta. Firstly there is great mobile reception here. So you don't need to worry about being totally off the grid – unless you want to. There are several walks around the property that you can do, hand drawn maps are provided. There's sheep and chickens to meet. Or you can do a spot of bird watching, with the provided books and tools. Maybe you'd like to try knitting or your hand at some painting. The entire studio is full of "things to do". You really shouldn't find yourself bored at The Trig Studio.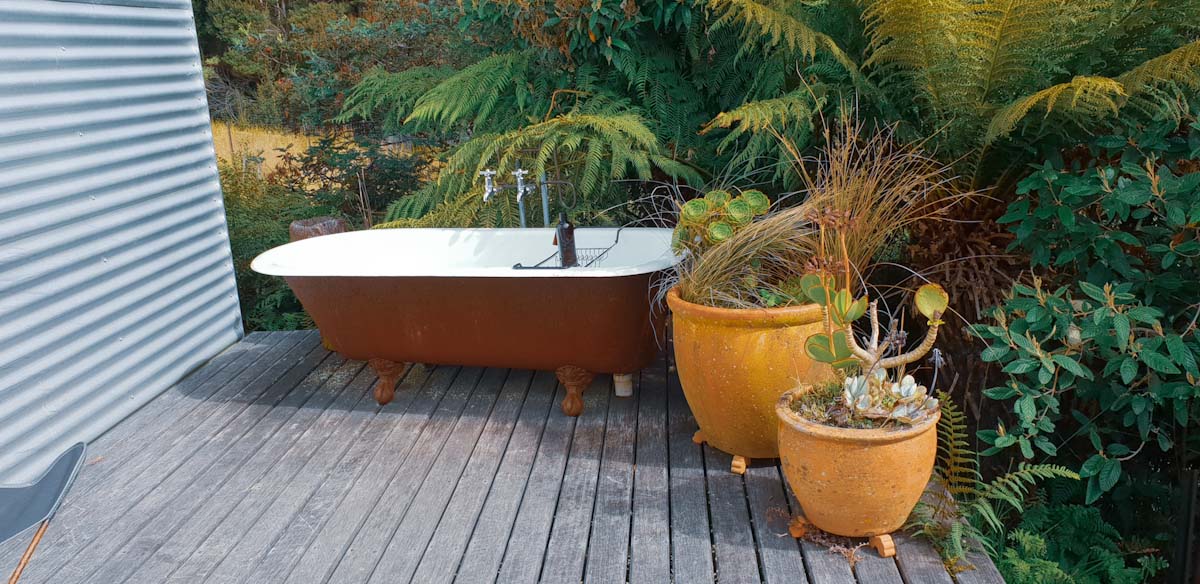 What to wear at The Trig Studio?
Nothing at all. It's so private that pants are optional. However I do understand not everyone is as liberated as me. Tasmania, even in summer can get cold. The below photo is me in February. Which is summer time in Australia. So make sure you pack yourself;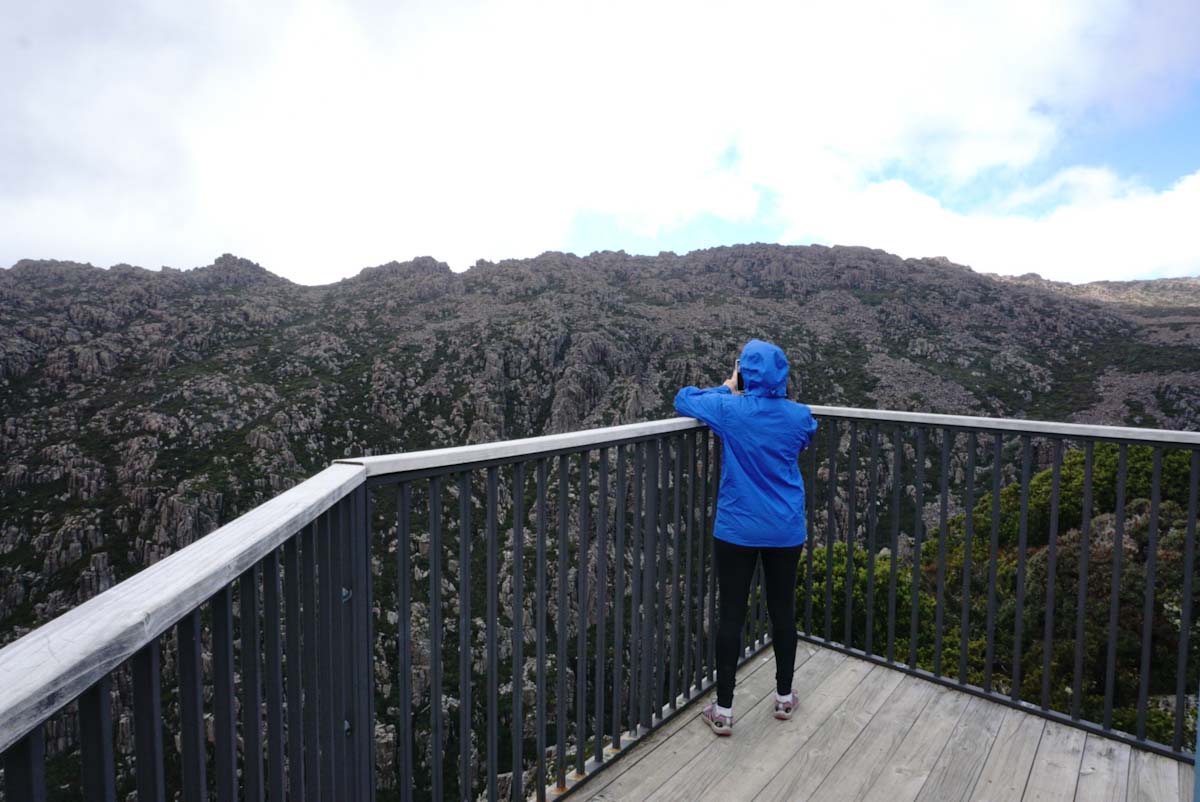 Where is this haven of solitude?
The Trig Studio is hidden on the side of a mountain, behind acres of natural beauty and a fern garden. Which you'll really appreciate when you indulge in your Jane of the Jungle moment and bath naked in the open. In all seriousness though, the Trig Studio is around a half hour drive from Launceston, that's if you include coffee stops along the way. It's a very easy drive to and from Launceston and some beautiful wineries in the surrounding towns. That's if you can bring yourself to leave the studio.
How long should you stay in the luxury of The Trig Studio?
The minimum booking is for two nights. We only had one night due to our previously booked flights and I was sorely disappointed in myself when we checked out to get our flight home. I really did wish that I had stayed for the extra night and paid the change fee with the airline.  Now if I had my time over again, I would stay in winter, as Tasmania is a totally different place to explore in the winter time, and I would spend a minimum of three nights at The Trig Studio.
Book your stay at The Trig today before it sells out
Thinking about visiting Tasmania?
Well that is the first step to planning an amazing vacation. Travelling around Tasmania is still one of my favourite things to do in Australia. I can't tell you enough how good the food is. How great the wine is. And just how beautiful this state is. Whether you decide to fly to Hobart or Launceston it doesn't really matter. Both cities are beautiful and you can easily hire a car to get in between the cities.
If you have time you might want to consider a cruise around Bruny Island for something truly special.
Got questions about Tasmania? Hit me up and I'll answer them all.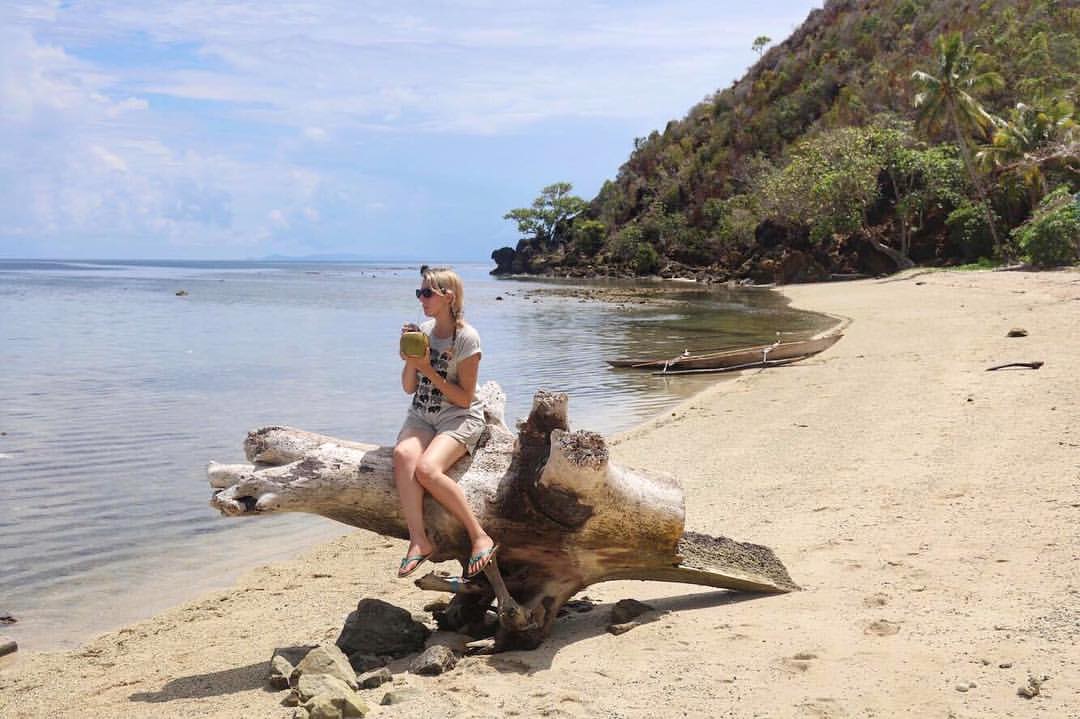 If You Liked This Post You May Also Like:
Just a teeny tiny note on affiliate links – We are a participant in the Amazon Services LLC Associates Program, an affiliate program designed to provide a means for us to earn fees by linking to Amazon.com and affiliated sites. We're also a member of a few others and may make a bit of coin on the side, this is at no extra cost to you.