For hundreds of years the Japanese have perfected the art of tea. From growing, to harvesting and serving tea. Now that the hipsters have discovered the unique side of Japan the rest of the world has been introduced to the green tea – matcha madness and the art of sitting still and drinking tea whilst it is still hot. Now I can't blame the hipsters for spreading the word of the green tea but I can blame the hipsters for spreading out cheap, underrated matcha and green tea across the world. It was only after exploring a tea town and deep diving into the culture behind matcha did I realise how wrong we are in the western world about tea.
Kyoto is a city steeped in ancient and rather romantic history. It's easy to imagine a young Geisha sitting in a tea house, pouring tea for a man who will one day become her patron, pay her way and ensure that she lives a financial and emotionally stable life. Just walking through the streets and these images spring out of the wooden houses, the lane ways and the sweet treat stores. Yet just outside of Kyoto sits a very unique town that you need to get on the train and go and see right now. This is the town of Uji.

Getting to know the town of Uji, the home of green tea, Japan
You may have seen those mesmerizing photos of old Kyoto. The wooden houses with geisha walking by. The towering temples. It really is a stunning city to explore. Yet Uji, a mere 30 minute train ride from Kyoto is a welcome relief from the hustle and bustle of Kyoto. The houses here are petite and a mixture of unique Japanese architecture, the roads are quiet and generally it's a pleasant area. What many people don't realise is how important Uji is to Japanese cultural history. Not the ninja, sword swishing samurai history, but the more important yet  less spoken about history. Originally Uji was a town formed roughly in the 7th century, as a river crossing town. Evolving into the main postal town between Nara and Otsu. Fun facts right? Well it gets better. Uji is the home place of green  tea in Japan.
Tip – The city of Uji is well worth the trip to. You can easily get a train to Uji from Kyoto, where there is an amazing tourism information center. With free origami and a lot of information in many different languages. The town area is small enough to easily walk around and explore on foot. My one bit regret is that we didn't get to overnight here and go to a tea farm.
Why not stay overnight in Uji. There's some great affordable options
The fine art of growing green tea in Uji
Uji has a unique topography and fabulous tea growing soil. A fine point that was discovered during the reign of Shogun Ashikaga Yoshimitsu. Now the fine folk of Uji are rather innovative and noticed that the fresh tea leaves made the highest quality tea, but that big ball of sunshine in the sky was causing them issues with burning the valuable tea leaves. So the fine folk of Uji crafted a system to protect the budding tea leaves. By building frames around the tea and covering these top of these frames with straw. Allowing the tea growers to control the amount of light and sunshine that touches each tea leaf. Not only was this a revolution in tea growing the fine Shogun Yoshitmitsu declared that only the tea grown in Uji could use this method of cultivation – now commonly known as the Uji Method.This unique method of growing produced the very dark green tea leaf which eventually developed into the process of making matcha.
From this moment on tea cultivation in Uji was on a roll. With further development into tea ceremonies, mail order tea and even hand delivered tea to the royal family in  Edo (Tokyo). A trip that took a small army, due to the value of the tea, two weeks on foot. With soldiers walking beside chests full of tea.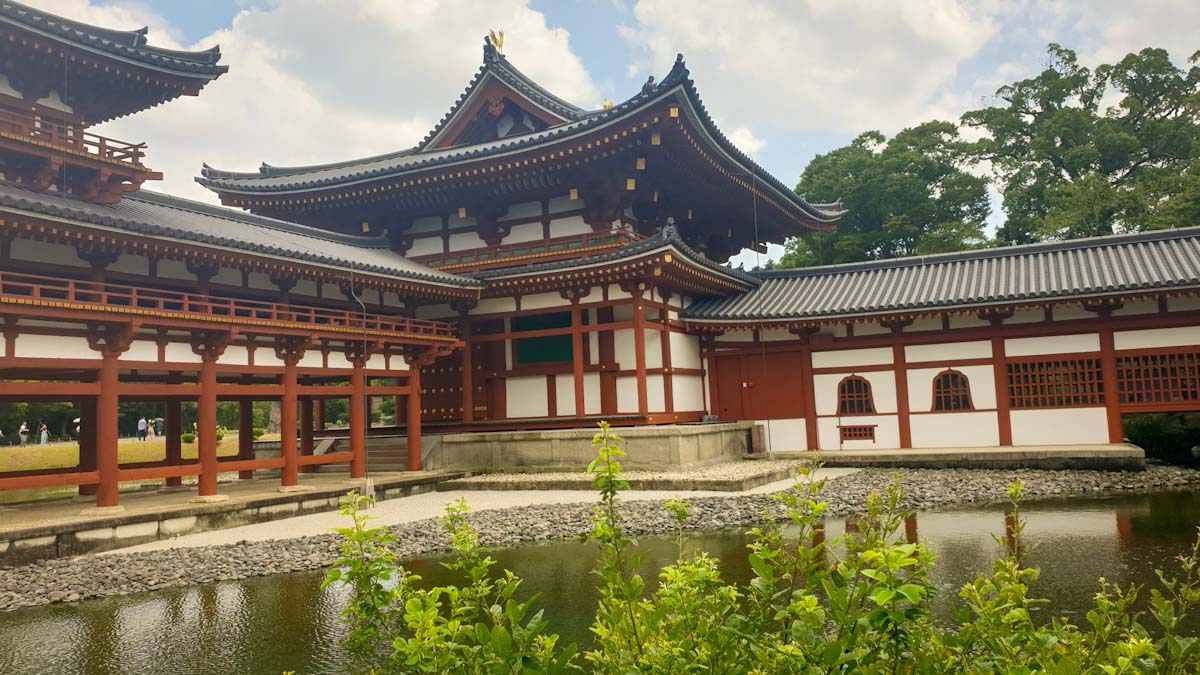 Learning about the magic of matcha in Uji
Temples, shrines, lunch and then matcha magic. Do you really need to know more? I decided it was about time I learnt more about matcha past my over indulgence of matcha kit-kats. So I popped on a magical matcha tour of Kyoto.
The Arigato Japan Matcha tour
was 3 hours of wonder, history and amazing food. Our morning starts with a walk through the narrow roads to see temples and shrines. A walk over the magnificent roaring river and into the grounds of the Byodin Temple. After touring this marvellous temple and museum it's time to stop off for lunch. Sadly I was too hungry to take photos for y'all and instead ate the delicious green tea noodle dish that arrived.
Fun fact – this is the temple pictured on the 10 Yen coin. It's a beautiful temple, with immaculate gardens and well worth a visit.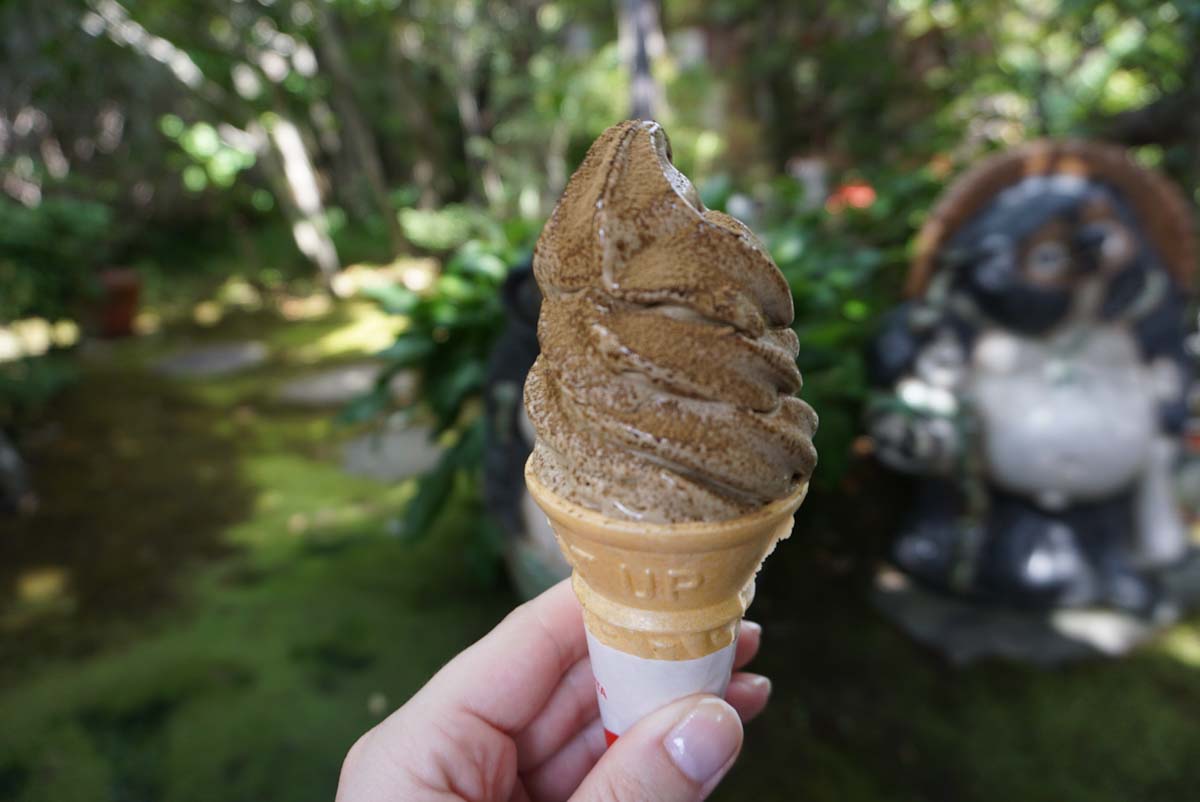 Though the highlight of this tour is the matcha. After lunch, temples and an ice cream it's time to get our matcha magic happening with a visit to Mitsuboshien Kanbayashi Sannyu Honten. At it's time to roll up our sleeves and grind the tea leaves into a unique and delicious matcha powder. Slowly, and steadily we grind, grind, grind and watch the green powder appear. As we are taken on a tea ceremony display by a multi lingual staff member, another staff member sneaks in and brushes away our hand made matcha only to return moments later with our matcha in a small tin. Before I know it, I'm flicking the wrist, flourishing a tea whisk and making myself a cup of matcha.
Fun fact – Mitsuboshien Kanbayashi Sannyu Honten is the oldest tea shop in Japan, at over 500 years old!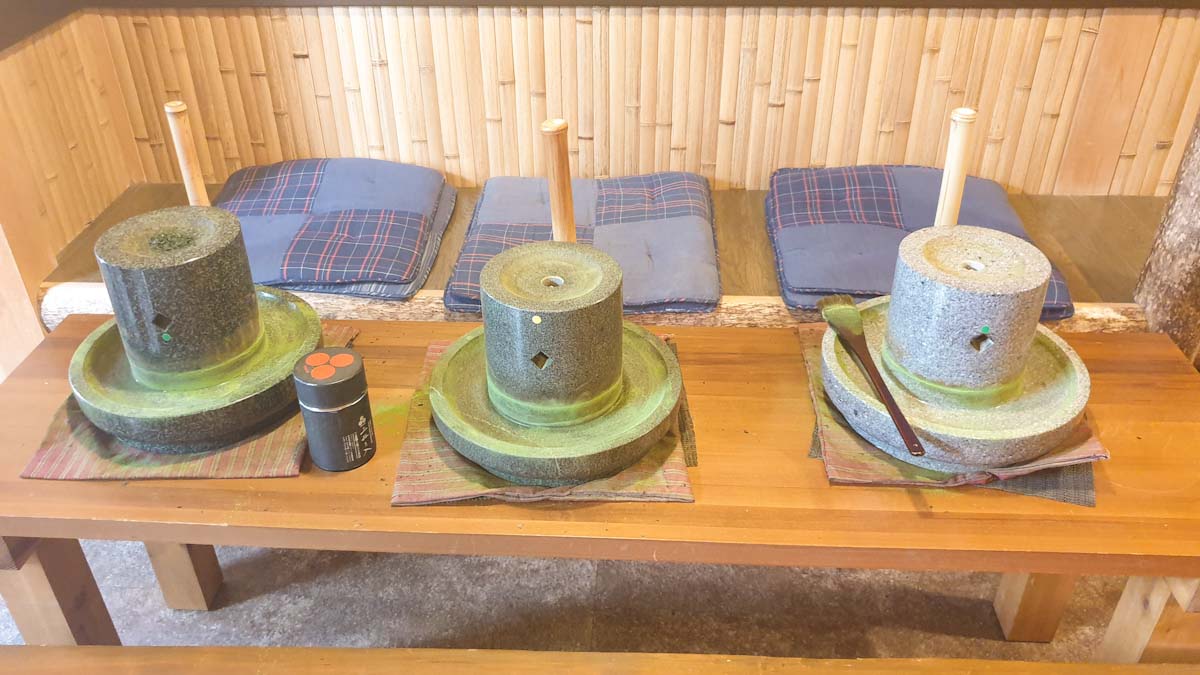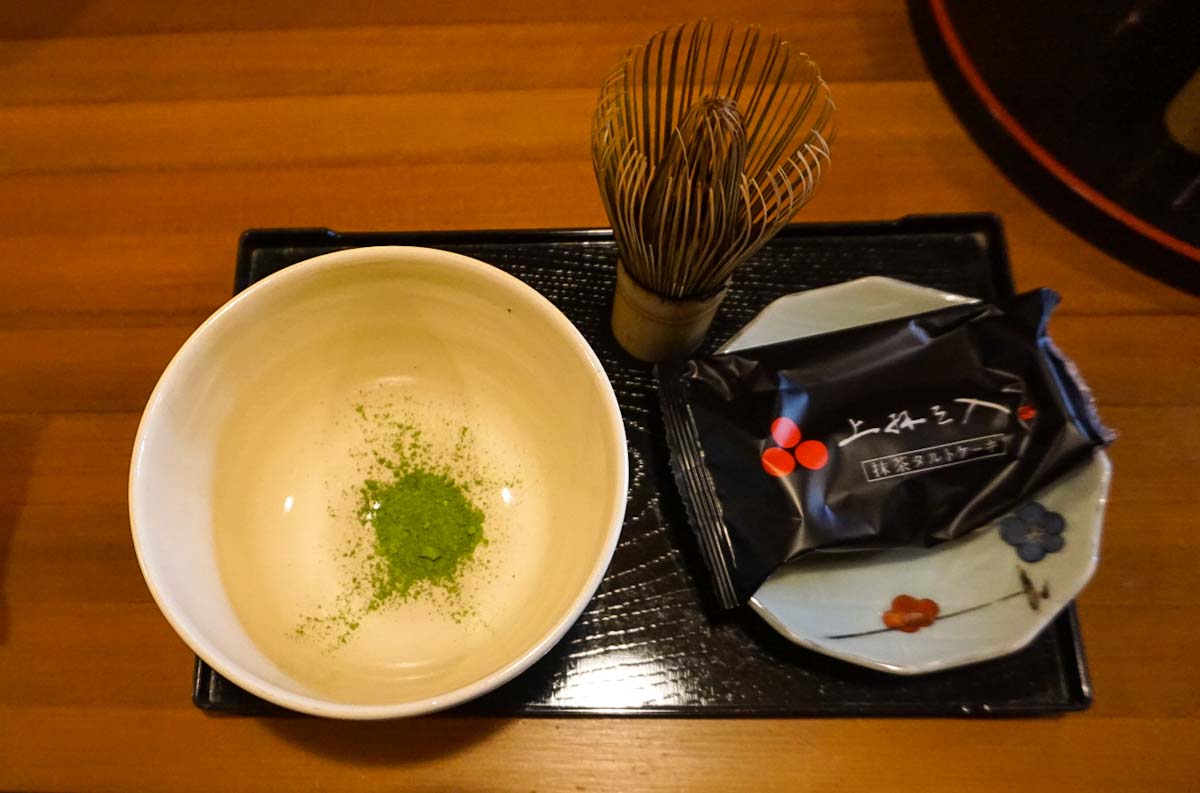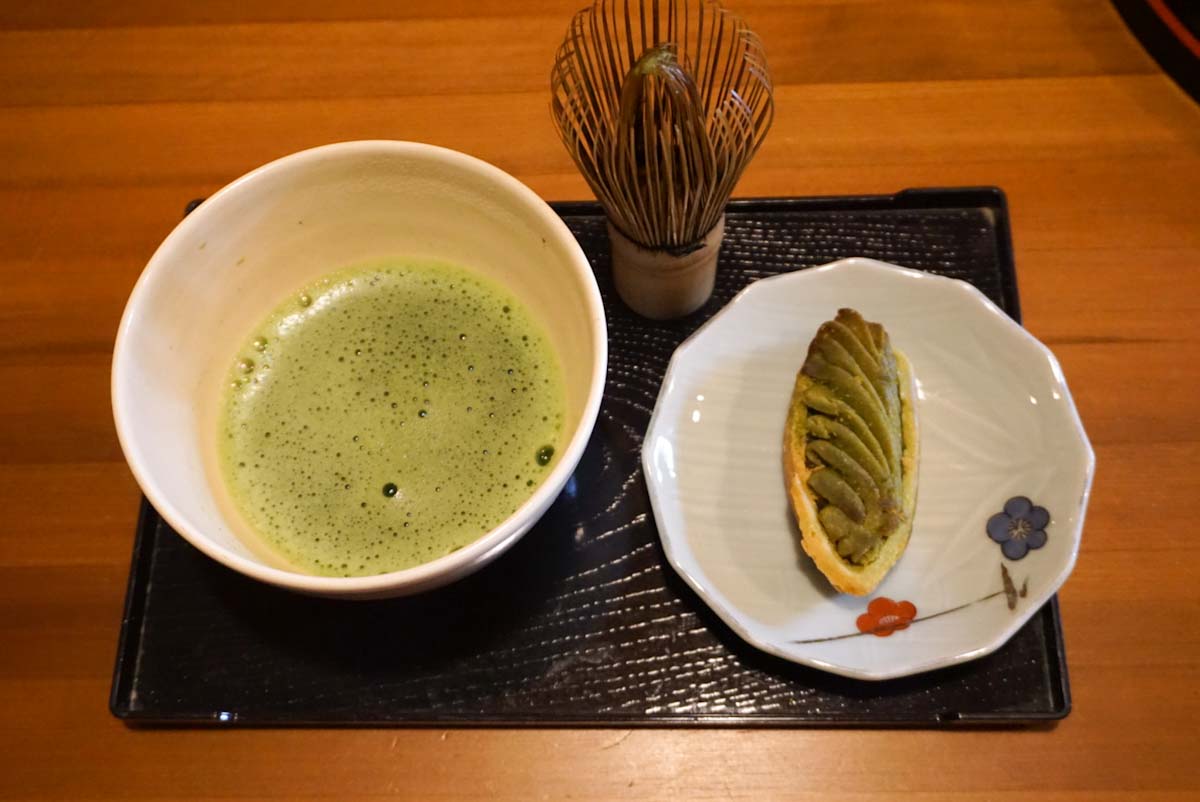 Final thoughts & Confession of a coffee drinker.
I don't really like green tea that much and I really don't like matcha. Now I've tried before to be healthy, be green, be glowy and drink expensive fancy in the pants green tea. I've gifted more green tea to my friends that I couldn't stand the taste of then what I'd like to ever admit to. For me, I'm a coffee queen. I love sitting there, watching the milk mix with my esspresso and turn into latte magic. It's not that I don't enjoy tea, I drink a whole lot of tea from white tea, to buddha tears style tea and a variety of whatever I can get my hands on. But I can not lie I'm a coffee lover who doesn't like matcha. And having been on tour in the home place of matcha and learning how to make it work at the oldest tea house in Japan I can say that I've given matcha a fair chance to grow on me.
Making the two weeks I spent in Japan rather challenging as just about everyone wanted me to try their local brew of green tea or matcha magic. Despite my preference for coffee over tea I did discover my love of houchija. A roasted green tea, that you'll commonly find served hot or cold in restaurants and given to children as it has a lot less caffeine than green tea.
So tell me would you make the time to make matcha magic in Uji?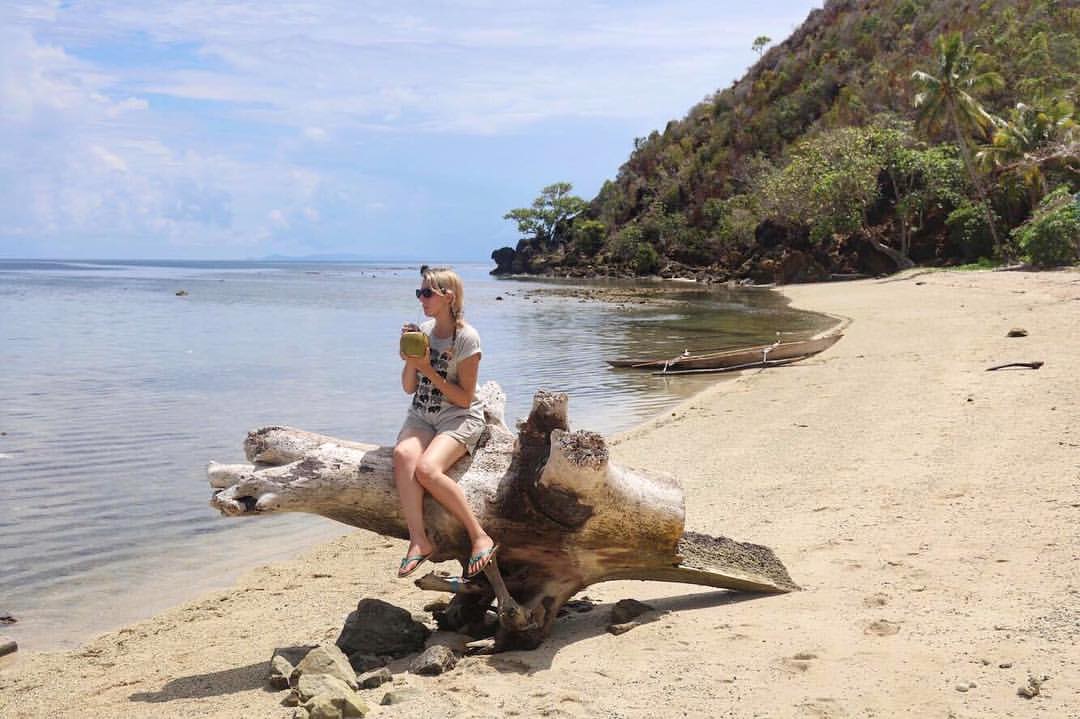 Note: Arigato Japan hosted me on this tour. All opinions are my own and I'll never recommend anything to you that's not awesome!
Just a teeny tiny note on affiliate links – We are a participant in the Amazon Services LLC Associates Program, an affiliate program designed to provide a means for us to earn fees by linking to Amazon.com and affiliated sites. We're also a member of a few others and may make a bit of coin on the side, this is at no extra cost to you. 
We also have an Amazon Shop. Why not take a look? Shop Traveling Honeybird Amazon lists today
If You Liked This Post You May Also Like: