Kyoto is one of my all time favourite places in the world. It was the first city I visited outside of Australia and for so many years I've been in a world of romanticized fantasy hidden away in so many books on geisha. From real life tales of the modern geisha to memoirs and fictional works. I was beyond thrilled at the opportunity to go back to Kyoto as an adult and explore the areas that I had seen over 15 years ago. Little did I know that I would be partaking in one of the most enjoyable experiences of this trip – a kimono experience.
Experiencing a kimono moment in Kyoto
Now I did feel a little odd going into the kimono experience. With the recent cultural issues surrounding non-Japanese people wearing and culturally appropriating the word 'kimono' for marketing and branding purposes. I didn't want to be yet another white girl, getting my #geisha on and tottering around the town looking like a fool. All for the 'gram. I did want to experience what it was like to go for dirty backpacker fashion to clean, well presented kimono wearing lady. Let me introduce you to
Yume Yakata Kimono Experience
. A chance to experience the kimono from selecting each element, being professionally dressed and getting super kimono glam with hair and makeup.
What exactly is a geisha? 
A geisha is not a sex worker. Let's just get that bit out in the open. There seems to be a misunderstanding in western tourists minds that the geisha is a pretty dressed up sex worker, who just has the extra task of entertaining a party of men in a tea house before getting down to business. This is so far from the truth that it hurts to have to say as much.
A true geisha is successful because she projects a sense of unattainable perfection. When men hire geisha to entertain at a party, sex has nothing to do with it. A geisha entertains with singing, music, dance, story-telling, attentiveness and flirtation. She can speak about politics as easily as she can explain the rules of a drinking game. In a time when Japanese wives were excluded from public life in general, geisha were the women who could play the role of attentive female at business gatherings. – How Stuff Works – Geisha
This article by
How Stuff Works
gives you a really great oversight of the history of geisha and into modern day geisha life style. 
*Did you know that the original geisha were men? During this time Japanese women were not allowed outside of the home to do tasks like entertain men or be involved in business
A geisha's primary job is that of hostess. All of her skills go into making sure a party is a tremendous success and that everyone has a good time.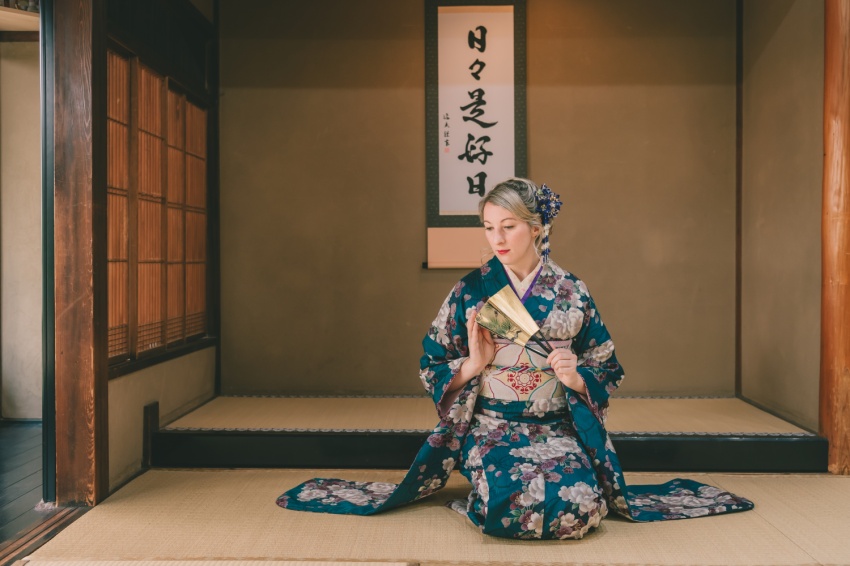 The importance of the kimono
The term kimono roughly translates to "thing to wear" or "clothing" dependent on which academic scholar you want to believe. One thing we do know is that the kimono as a fashion statement dates back to the Muromachi period (1392-1568) and is commonly worn by both men and women. One of the main reasons that the kimono style stayed in vogue for so long was it's ultimate versatility. The kimono can easily be layered for cold weather or altered to suit any season. With so many moving pieces, as I discovered during my kimono experience, there is endless possibilities for kimono. The heavy silk kimono can be easily worn in Autumn and winter, while a lighter linen and/or cotton kimono, the yukata, can be worn in summer. 
Note – you'll commonly see people wearing the yukata around Japan. It's easy to put on, doesn't require a lot of maintenance compared to the heavy silk kimono. During festival season, such as cherry blossom or during fire work displays it's common to see people in the yukata. I did get a giggle at times seeing teeny tiny Japanese women wearing yukata, immaculate hair and makeup, handbags and then Nike or Addidas sneakers. Cause let's be honest a girls gotta be comfortable y'all! 
After 1945, Japanese women abandoned their role as bearers of Japan's fashion traditions and embraced Western styles, and the market for high-end kimono is now collapsing as wealthy customers opt for cheaper, more casual fashion.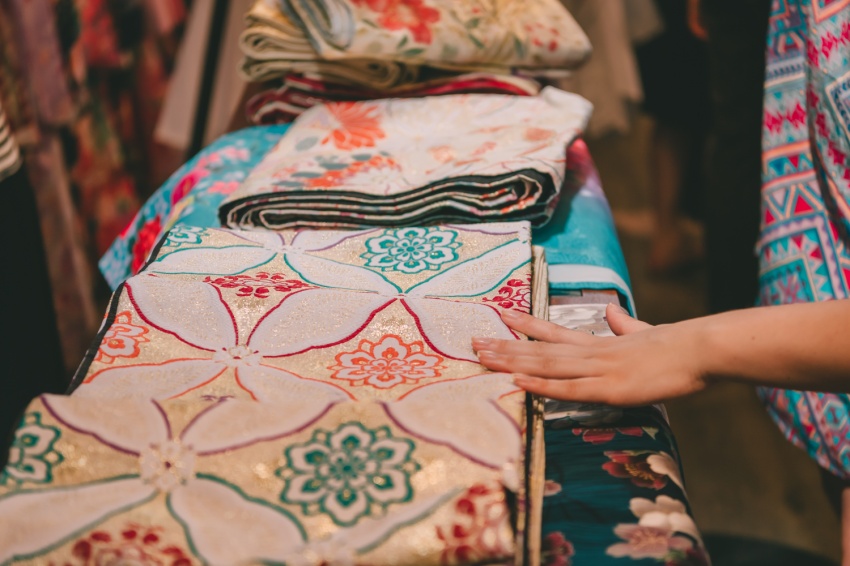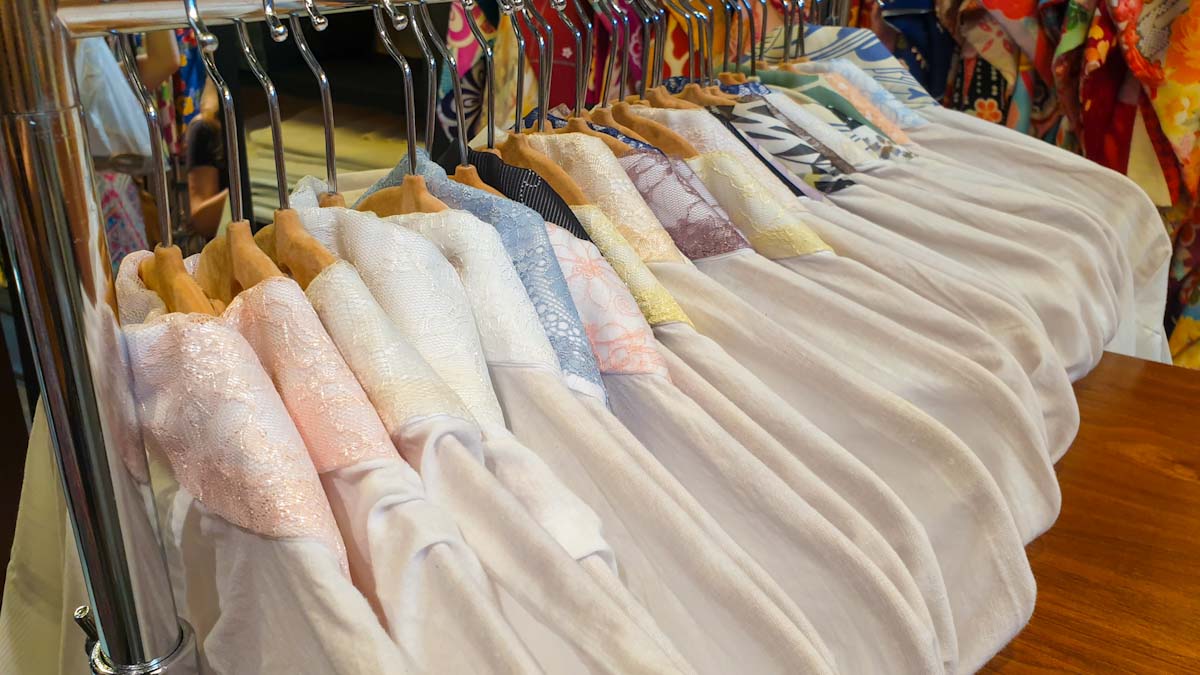 Slipping into a Kyoto kimono for a day
Hidden away in the backstreets of Kyoto, past wooden houses, cafes and a hidden coffee shop in a car park you'll find the Yumeyakata store. There are two in Kyoto but you want this store. It's in a building that is over 100 years old and has been ever slightly renovated to host the many rooms needed to help customers turn from dirty backpackers to luscious ladies. Ok so maybe that was only me that went through that transformation.
On arrival you are invited into what I'm calling the Kimono Thrown Room. It's a small space packed with everything and anything that you could ever possibly need for the perfect kimono. At this point I'm well and truly overwhelmed. There's so much beauty and colour in one space. Yet it's all organised and not chaotic at all. The first step is picking the kimono that I'm wanting to wear. We opted for the silk winter kimono as we weren't leaving the building, rather then go for the lighter yuakata option. Kyoto in August is far too hot to be outside taking photos in any kind of kimono! 
The staff are magnificent at helping me with colour selections. I was able to easily pick a deep blue peony infused kimono and that was about as far as my colour talent went. The staff pick up three to four options of each element of the kimono for me to carefully choose.  There's no need to rush as there are a lot of options going on that you need to pick;
Furioside – this is a more formal style of kimono, with long sleeves. Traditionally worn by unmarried women – like us.
Kasane-eri – undershirt/robe that shows only the collar
Obi – wide waist band area that shows ture beatufy and color
Obi-age – a slight sash that peeks out above the obi
Obi jime– the rope that is decorative and holds the obi on.
And then the magic begins…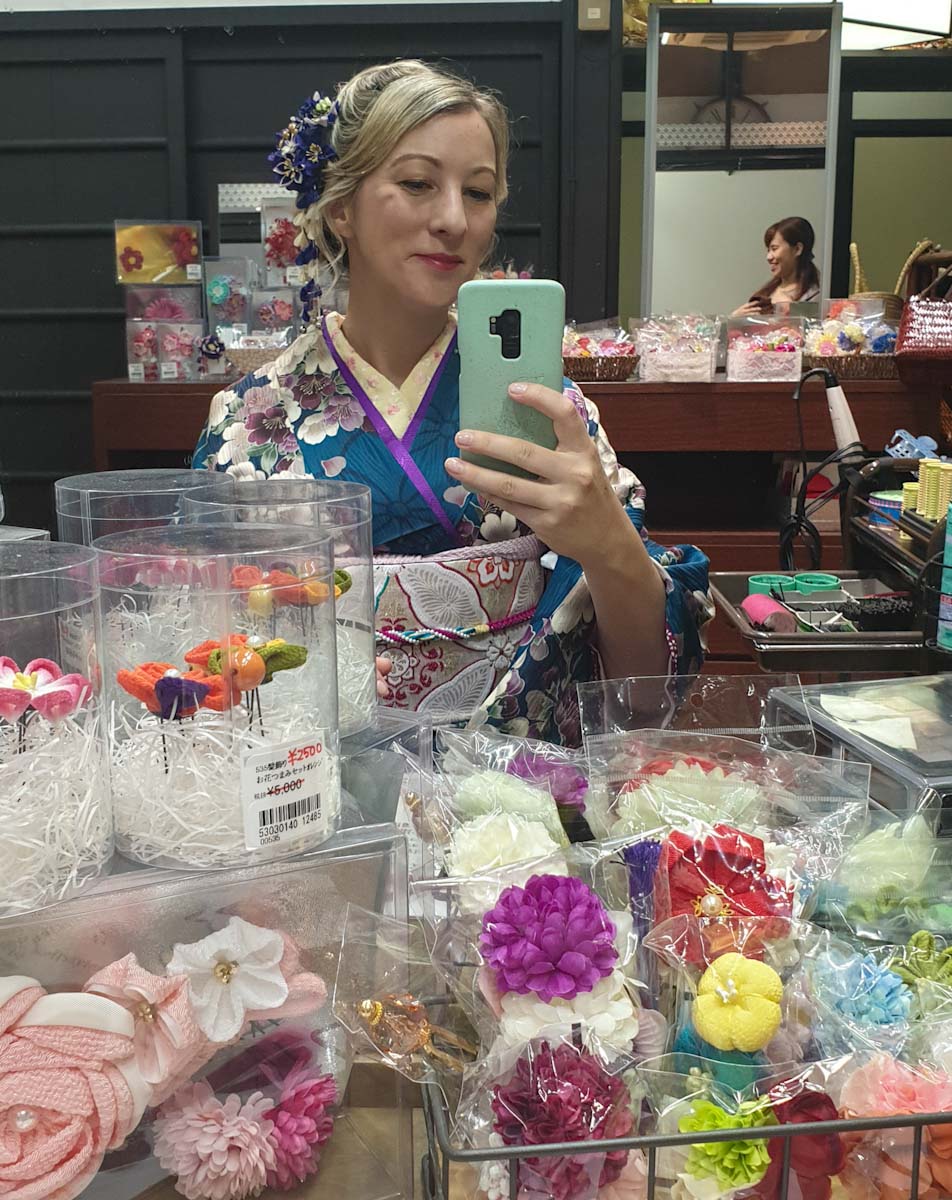 Getting ready to step into the kimono
Getting in a kimono by yourself is impossible. You really do need a professional to help you and fun fact – this is actually a job! The first thing to note is that the Japanese have a very different way of body image then us tourists do. After choosing the many elements of my kimono I'm taken to a dressing room, asked to get down to my underwear and requested to remove my bra. Don't flinch at this, as it did make my kimono experience oh so much more enjoyable.
Traditionally the Japanese ideal of beauty was a long tube style, almost a T-shape. 
After stripping down to my undies I'm handed a plain white cotton robe and the magic begins. It takes two women to dress me, and as I stand there, they add padding, wraps, towls to protect my chest and other fun bits and pieces. All the while getting my slight size 8 body into the right shape to truly show off the beauty of the kimono. Hands up, arms out, turn here, turn there. It's a whirlwind of material, laughter and very precise manipulation of my body and clothing. Before I know it I am kimono. 
It was as if before my eyes two Japanese fairy godmothers turned me from Australian backpacker to beautiful business women almost ready to politely take on the world.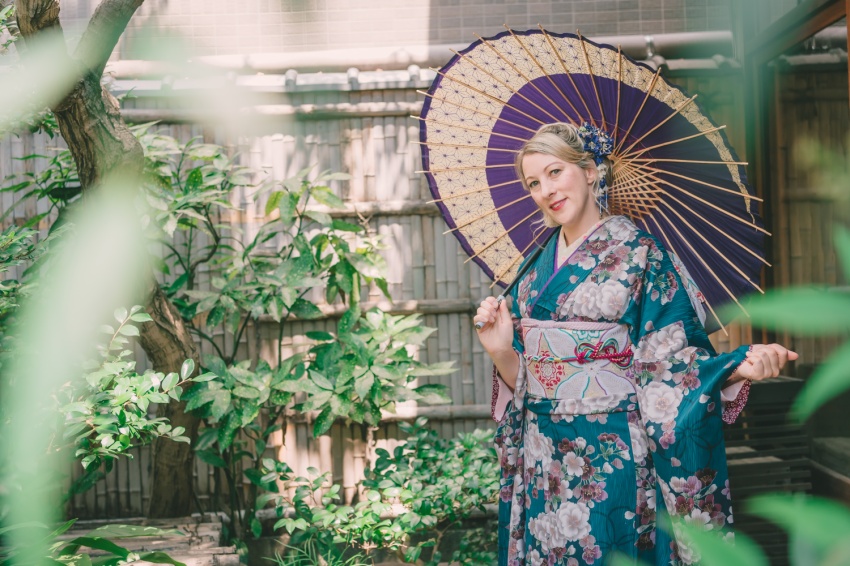 Hair & Make-up Magic
Another perk of this experience is having my hair and make up professionally sorted out. It's well worth the additional cost, as once more my kimono dresser works her magic. Hair rolls, hair sprays and braids away. Within about 20mins I'm truly transformed. The young make up artist works wonders on my blotchy, heat affected face and before I know it I look like a delicate flower. My transformation is complete and it's time to get a few happy snaps.
The Yume Yakata Kimono experience has an add on – professional photoshoot. Y'all know that I'm not a terribly serious person and in all honesty I've frustrated more photographers in my life time then what I'd like to admit. It's rather difficult to tell me how to control my face as I barely have any control over it. Yet Allan, our lovely photographer spends around an hour taking magnificent shots of both Brittany and I. We spend time in the garden, in the hallway and in a sitting room, before heading outside briefly. I'll let Allan's photos do the talking, rather then me try to fumble my way through how wonderful he was.
Before you know it our kimono experience is over and we walk away with amazing hair & makeup while we explore Kyoto.
Need a clean & affordable hostel? Book THE POCKET HOTEL in Kyoto before it sells out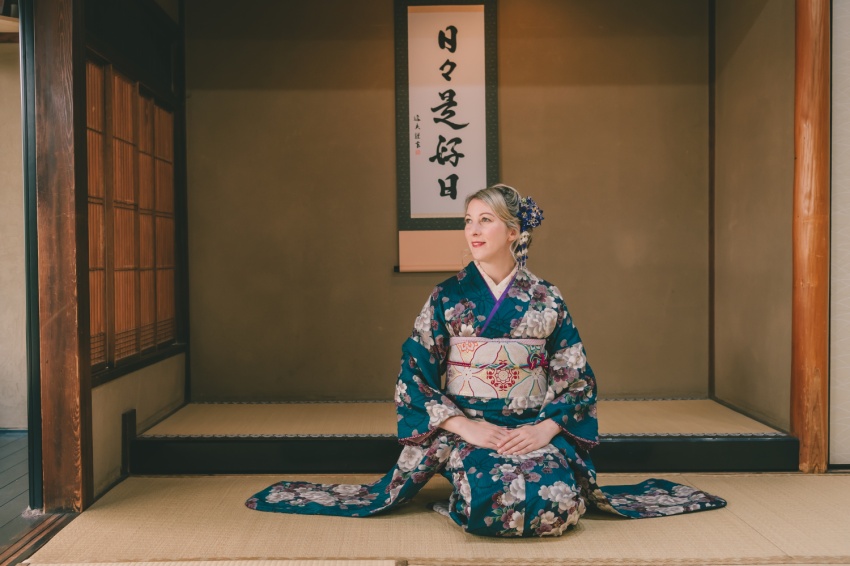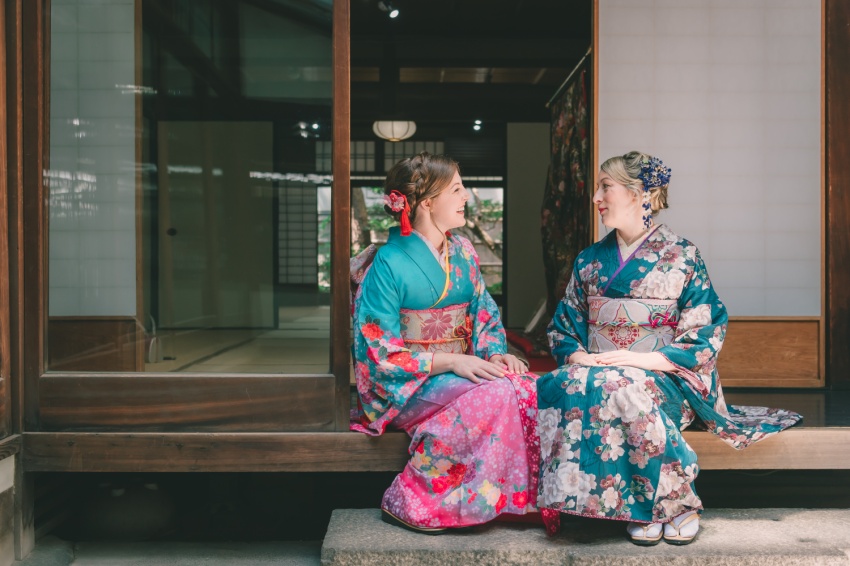 Fun facts about Yume Yakata Kimono Experience
The Yume Yakata kimono experience offers quite a few different packages, including children and family friendly options. As a bare minimum I'd suggest getting a kimono, hair & makeup package. The photographer was next level amazing but I can imagine that a lot of people would want to walk around Kyoto and take their own photos. You can always opt to have the photographer join you on a Kyoto kimono adventure.
There are also geisha, samurai and other fun experiences that you can have here. 
The package we had included;
Furioside kimono
Hair & Makeup
Photographer
The Yume Yakata experience is welcoming to all people from around the world. 
The staff are multi-lingual with common languages such as English, German and French as well as Japanese, Korean and Chinese (Mandarian from memory) spoken. There is also Muslim friendly experiences, including special kimonos for women and private spaces for prayer time.  This was one of the friendliest and most accommodating experiences that we had in Kyoto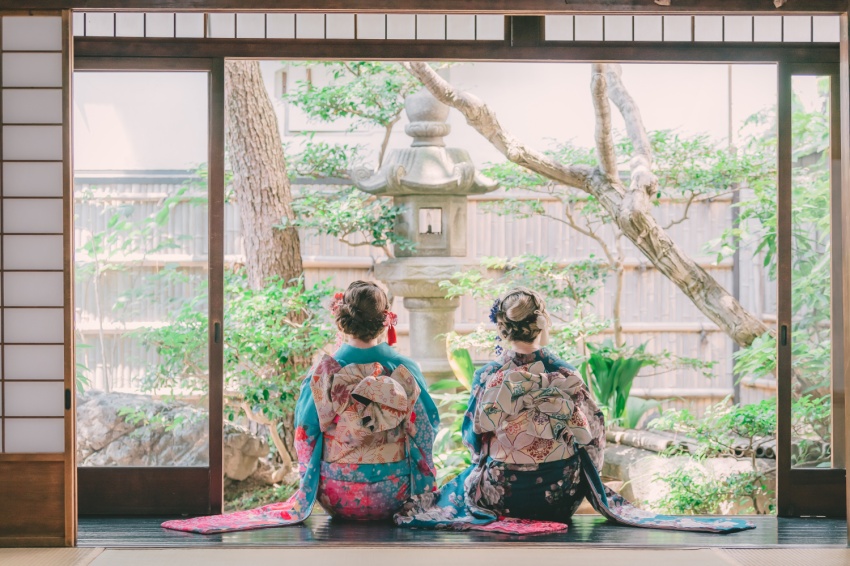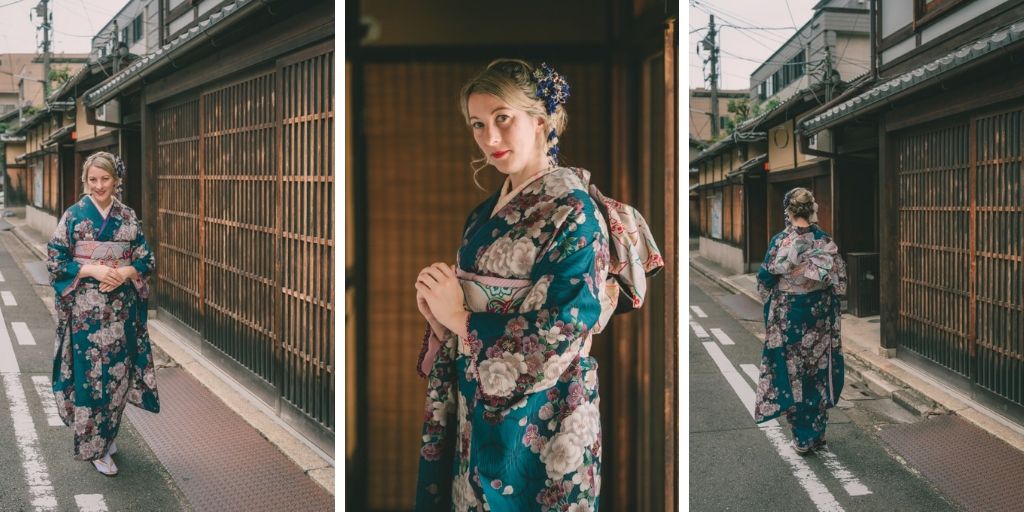 Final thoughts on dressing in kimono in Kyoto
This was a marvelous experience and one of the best that I've done in Japan to date. Which is saying a lot as this is at least my fourth trip to Japan. With the welcoming and helpful staff it's a fun way to get a taste of what women once went through to get dressed in a formal kimono. Even though this is just that, a taste of what was once a daily occurrence. Some of y'all might be thinking that this is a tacky tourist thing to do and while it may look like that, let me tell you that this experience is equally as popular with Japanese. Especially during special seasonal times or for wedding events. I'm really glad that I did decide on doing this kimono experience and not a cheaper tacky version of which there are many in Kyoto.
So let me know – would you kimono in Kyoto?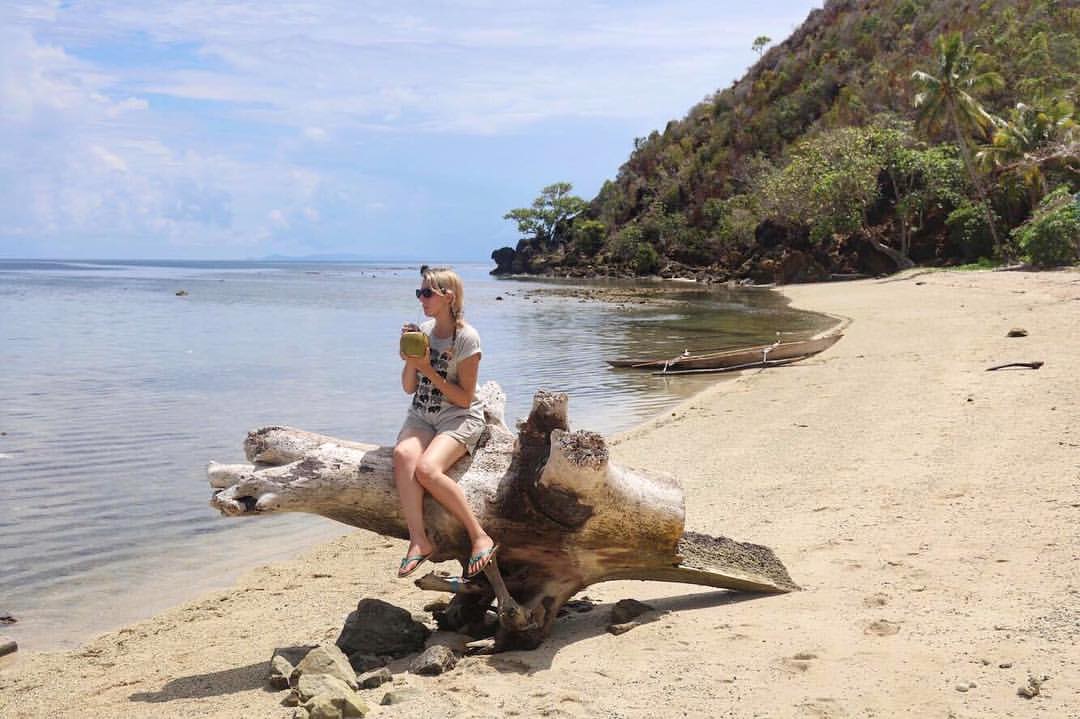 ~Disclaimer – this was a hosted activity with many thanks to Yume Yakata Kimon Rental.
Just a teeny tiny note on affiliate links – We are a participant in the Amazon Services LLC Associates Program, an affiliate program designed to provide a means for us to earn fees by linking to Amazon.com and affiliated sites. We're also a member of a few others and may make a bit of coin on the side, this is at no extra cost to you. 
We also have an Amazon Shop. Why not take a look? Shop Traveling Honeybird Amazon lists today
If You Liked This Post You May Also Like: