Myanmar has so much on offer for the relaxed traveller it's hard to know where to start. So like all good story tellers let's start at the beginning. It's been a little over 24hours since I arrived in Yangon and already so much has happened. It's such a beautiful city of contradictions.
On my way here from Australia I had a sneaky stop over in Singapore. Which was shorter than expected due to delayed flights and a nasty head wind. A huge shout out of thanks to the Green Kiwi hostel, who's staff helped me with a comfy bed, late check in and a ridiculously early check out.
Depending on your budget there's quite a lot of options to get to Myanmar. I choose Jetstar to be the lucky carriers this time around. Other then the inedible burnt food on the plane my flight was uneventful and seemingly more like a domestic flight than an international. On arrival at Yangon Airport there was Singapore Airlines, Japan Airlines, AirAsia and quite a few I didn't recognise. Flights operate frequently into the major SEA hubs (Singapore, Malaysia Bangkok etc etc).
The airport is petite with generous waiting lounges. Like most smaller asian countries it has little to offer but does a great job of getting people into the country (I'll reserve judgment for the other end when I return home).
Visa entry for  Myanmar
Now this had a lot of conflicting information. So here is an update of the situation as of 07 April 2017.
The Myanmar government seemingly accepts tourists and their US dollars. So getting in is a lot easier than previously suggests do. Depending on your nationality there are three options
Old school Visa- send off to Embassy and wait. This needs to be done more than 28 prior to your departure. Probably a good six weeks.
E Visa- $50 US dollars. I had my acceptance letter within 5mins of applying. Once you have the letter printed make your way to the customs desk and away you go. The helpful staff looked at my letter, my passport gave me a stamp and waved me on.
 Visa on arrival. This counter was empty when I arrived. There are big banners telling you that if you have e visa to keep going through. Seems on this area the government is rather efficient.
I strongly suggest that you go the e visa option!
The airport staff were helpful and friendly. My bags came out within the usual time and it was off to get money.
Changing of the guard- US dollars to Kyat
Yes you still need crisp, pristine US dollars. Now depending on your life views will effect how much you want to take. There are a lot of ATMs around Yangon, which I'm told may or may not accept your card. It's a lucky dip!
I chose to take US dollars and have some notes changed at the airport. Before you leave customs there are half a dozen places offering similar exchange rates.
When acquiring US dollars get a mixture of notes. Mainly $100 for exchanging to local currency and $50 notes for paying for bus tickets. The bigger the notes the better the rate.  At the airport a few places won't change more than $100 per passport. I had no issues in finding a place that have me the same rate for more than $100.
If you need to change money outside of the airport go to a bank. Do not go to a street vendor. As I was told its 'monkey business'.
At the time of writting the exchange rate is $1 USD to $1160 kyat. For mental ease and laziness I'm calculating 1:1000 ratio.
Hint- getting more than $100 dollars changed and you need a money bag!
Getting a SIM card.
There's a few companies who offer SIM cards at the airport. On a personal recommendation from Andrea of Wandering iPhone I went with Ooredoo. A prepaid option, with a tourist bonus. For $8,500 kyat ($8.50) I got a months connection and 1.5gb data. It seems that every second man and his dog/cat/rooster sell top of vouchers if needed. After speaking to others in the hostel don't buy the tourist offered SIM card. Less data and nearly double the price of what I bought! The perks of taking the time to get this done at the airport is having an English speaking staff member set everything up for you.
After feeling rich with all my kyat, a working SIM card and a hostel booking it's finally time to get into town. The easiest way to get a taxi is from the taxi counter. There's a standard fee of $8,000 kyat ($8) for a taxi from the airport to the city. Speaking to others in my hostel who negotiated directly with taxi they paid more. Sometimes double what I had paid!
The ride into town takes roughly an hour with traffic. You really do get a feel of the countries history in the drive in. There's the sneaky golden pagodas popping up behind trees, hidden behind 12ft razor wire fences. Despite what people have tried to do this country can't hide its beauty.
Thanks to Ryan we ended up staying at 20th street hostel near Chinatown. It's been a good base to start from, with clean beds, power outlets, breakfast,  hot showers and sometimes excellent wifi! The pricing here is really odd. My first day I paid $10 and the second night $6.94.  Same bed in a female dorm. Booking a bed in Myanmar is a whole other story which I'll cover when I get home. With the New Year on it seems the best way to secure a bed is online.
Here's the fun part. After months of waiting, ready how you don't need to book things ahead because your guesthouse can help I almost arrived with a false sense of ease and security. This trip coincides with Thingyan aka Myanmar New Year (water festival). When I had started researching for this trip at no point did anyone day that the country shuts down for a good 7-10 days. All public buses and trains are booked out until 20 April. Multiple public holidays.  Long story short- we were looking at the potential of being stuck in Yangon for the entire trip. Eventually with the help of a generous local we found VIP bus tickets to Bagan and then Inle Lake at $35 US each ticket.
With bus tickets in hand and a weight off my shoulders it was time to explore Yangon a little bit better.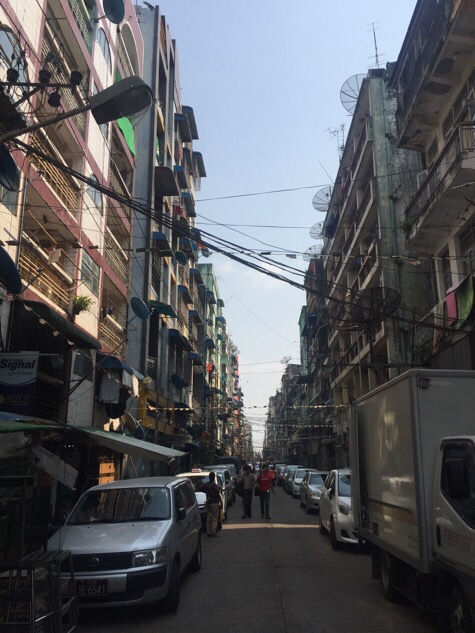 The streets here can only be described as organised chaos. Crossing the streets in Myanmar is similar to crossing the streets in VietNam. Don't think about it just do it! Street vendors selling everything from underwear to paintings to tools. As well as the delicious street food vendors.
At night the busier roads get shrunk in half as the food vendors take over. The food here is incredibly cheap and delicious.  Unlike sister countries of Thailand and India the food here is a bit more mild. Though many places we've eaten at deliver a small dish of hot sauce and pickled vegetables on the side. So far most of the meals have cost less then $5US including a drink. And the servings are huge!
First tourist stop- Shwedagon Pagoda.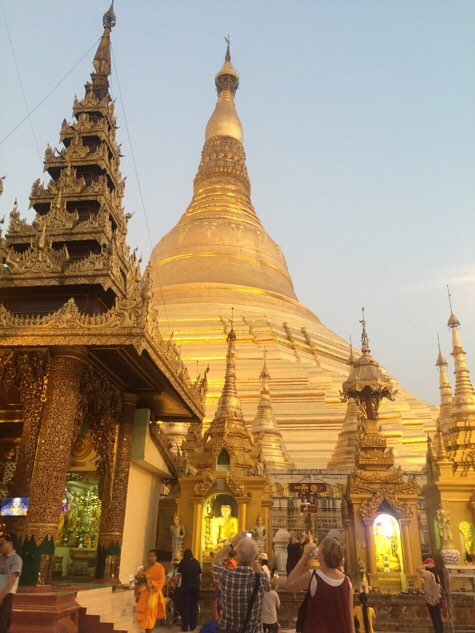 Entry fee is $8000 ($8) kyat. As a Buddhist complex the usual rules on dress code apply.
The pagoda and surrounding complex are in friendly well maintained. The golden chedi of the pagoda, which reaches a height of 99 meters, is visible throughout the city, and it shimmers in the sun with its incredibly golden surface
So far the people have been exceptionally friendly and helpful. The language barrier isn't really an issue. Quite a few people have helped along the way. Even when just ordering food. Also if you've travelled to places like VietNam, Cambodia or India it's kinda the same same but different.
There's loads more to say and show but that'll have to wait. I'm sure that I can hear a fresh mango calling my name.