Myanmar is truly a fascinating, visually stunning country with some of the most friendly people I've ever had the pleasure of meeting. After decades of international sanctions, closed borders and some fairly poor government decisions Myanmar is finally starting to blossom on the international stage.
In 2015 over 2mil tourists visited, spending in excess of US- $926 million. Much like a late blossoming teenager the country is changing at a rapid pace, which is near impossible to keep up with. Compared to blogs I had read, written within 6-12months prior to my trip, there seems to have been a price increase of 20% in accommodation and up to 40% on government controlled activities, such as entry into Bagan and Inle Lake.
The following guide is written as I'm traveling in the country and is a guide only. This isn't the holy gospel on all things Myanmar and is a snap shot of the towns, cities and adventure that has taken me across the country in three weeks
I'll be writing up more detailed posts on my experiences shortly.
At the time of writing the exchange rate was $1 USD: 1260 Kyat. This was an airport exchange rate. For ease I've translated this to be $1 USD : 1000 kyat as this seems to be the general rule of thumb when purchasing stuff and things. Guest houses did seem to use the more official exchange rate of $1 USD :1220 kyat.
Note: My trip coincided with Thingyan, the Myanmar New Year and water festival. Yes you will get wet. No you can not avoid getting wet.
Most things I read informed me that things would be a little bit busy and a little bit more expensive. LIES! ALL LIES! This is the most difficult time of year to travel in Myanmar but it is not impossible. As a taxi driver informed me a lot of people take the entire month off work to go back home to their villages. So there is literally a labor and services shortage.
If you are planning to visit in April, note that the official public holidays run from 12-20th of April. Ground transport is fairly booked out in advance on both sides of the official public holidays, as well as during the festival. You will need to be far more diligent on making your transport bookings in advance. Especially if you have pressing travel arrangements ie flights to make. It's not just as easy as having your guest house book for you. Be prepared to pay for private taxis, VIP buses or hitch hike.
If you want to know more read The Thing About Celebrating Thingyan in Myanmar
Arriving in Myanmar.
Flights are super easy in and out of Myanmar. Your main international airports are at Yangon or Mandalay. Both cities are well serviced by the main Asian travel hubs- Singapore, Bangkok, Malaysia. I flew into Yangon via Singapore with Jetstar. AirAsia was also a popular choice with the budget conscious traveller.
Read here about my first impression of Myanmar
Taking a taxi into the city
Taxi from the airport to the city should set you back about 8000 kyat ($8) and is a good 45 minute drive with traffic. It's easiest to have the taxi service desk to grab you a taxi, as the price is set. You're given a receipt with your accommodation address and off you go. Negotiating with your taxi driver may see you pay up to double what I paid! A common story that I heard when I arrived at the hostel.
Visa entry for  Myanmar
Now this had a lot of conflicting information. So here is an update of the situation as of 07 April 2017.
The Myanmar government seemingly accepts tourists and their US dollars. So getting in is a lot easier than previously suggests do. Depending on your nationality there are three options-
Old school Visa- send off to Embassy and wait. This needs to be done more than 28 prior to your departure. Probably a good six weeks.
E Visa- $50 US dollars. I had my acceptance letter within 5 mins of applying. Once you have the letter printed make your way to the customs desk and away you go. The helpful staff looked at my letter, my passport gave me a stamp and waved me on.
 Visa on arrival. This counter was empty when I arrived. There are big banners telling you that if you have e visa to keep going through. Seems on this area the government is rather efficient.
I strongly suggest that you go the e visa option if you are flying into Myanmar.
Note- Depending on where you are arriving from the airline may insist that you have a return ticket before checking you in.
Changing of the guard- US dollars to Kyat
Yes you do still need crisp, pristine US dollars. Now depending on your life views this will effect how much you want to take. There are a lot of ATMs around Myanmar in general, which may or may not accept your card. It's a lucky dip with no rhyme or reason as to which ones would accept your card.
I chose to take US dollars and have some notes changed at the airport. Before you leave the customs area you will find that there are half a dozen places offering similar exchange rates. At the airport a few places won't change more than $100 per passport. I had no issues in finding a place that have me the same rate for more than $100.
When acquiring US dollars get a mixture of notes. Mainly $100 for exchanging to local currency and $50 notes for paying for bus tickets. The bigger the notes the better the exchange rate.  I had quite a few smaller notes in $20, $10, $5 and $1 denominations. This was useful for paying for accommodation.
If you need to change money outside of the airport go to a bank. Do not go to a street vendor. As I was told it's 'monkey business' and you will come away with less money than you should..
Hint- getting more than $100 dollars changed and you will need a money bag.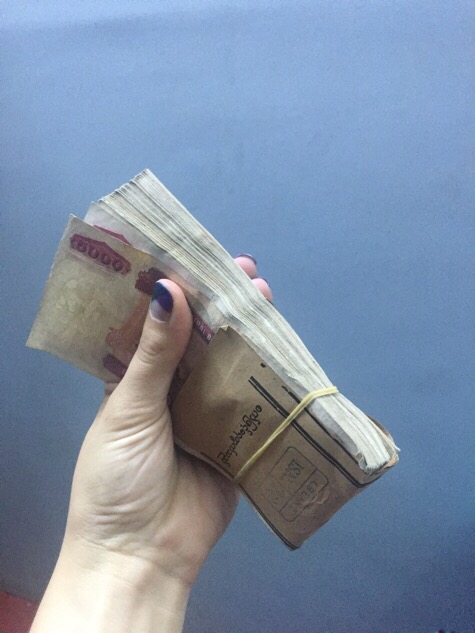 Getting a local SIM card.
There's a few companies who offer SIM cards at the airport. On a personal recommendation from Andrea of Wandering iPhone I went with Ooredoo. A prepaid option, with a tourist bonus (which is not offered outside of the airport). For 8500 kyat ($8.50) I got a months connection and 1.5gb data. It seems that every second man and his dog/cat/rooster sell top up vouchers if needed. Along the way it was really easy to buy a recharge and have the staff top up for me.
Throughout my travel I didn't have any issue with connection. It was really helpful having data when looking at booking the next accommodation or even tracking our travel on Google maps.
After speaking to others in the hostel don't buy the tourist offered SIM card. This is run by a government owned company. It offers you less data and nearly double the price of what I bought! The perks of taking the time to get this done at the airport is having an English speaking staff member set everything up for you. So that by the time I walked out of the airport I was up and running with full connection to the world.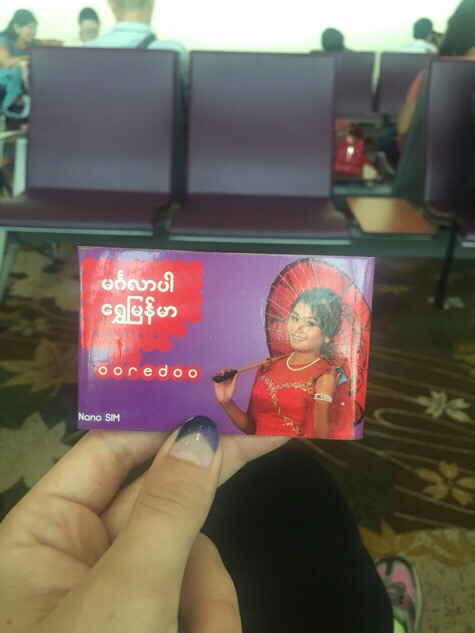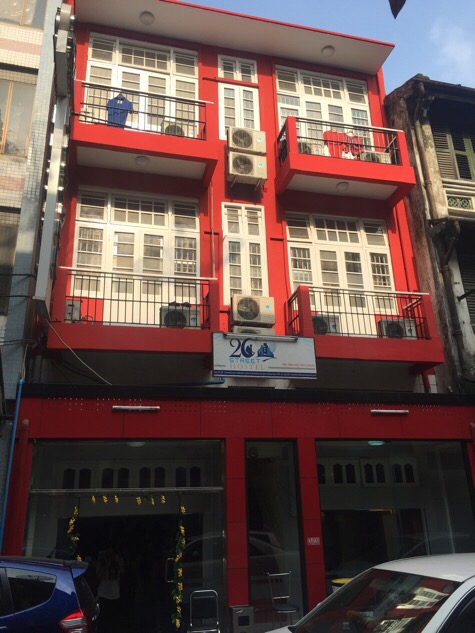 Where we stayed- Yangon

20th Street Hostel-located in downtown Yangon it's a fantastic area to explore. There's amazing street food or little restaurants all around. It's within easy walking distance to Sule Pagoda and Boyogote Market place.
The hostel itself was clean, with dorm rooms separated into single bank bed areas with air con. Fresh linen and towels provided. Free  wifi and a basic breakfast.
$6-10 USD night. The price varied per night and fluctuated quite a bit between all guests. The easiest way to book was online through Agoda. When I arrived I had booked online – perk of having a working phone but when I tried to book another night I was told that they were fully booked. Hoped back online and booked a bed that way.
Eating all the delicious foods.
19th Street was our best friend. At night the street is bustling with food stalls, restaurants and general frivolity.
At random we picked a spot to eat. Most meals start at 1500 kyat, with fish dishes pushing up to the 3-4000kyat mark. Beer and soft drinks are around 1000-1500 kyat. Water was around 500-700 kyat for a litre.
On average we spent around 3000 kyat ($3 USD) on main meals. Not once was I hungry afterwards! If I had been traveling with James I don't think we would have bothered to order two main dishes.
There are heaps of places around to grab a snack or a delicious sugar cane juice. Most stalls seemed to charge 500kyat (0.50) for snacks and drinks.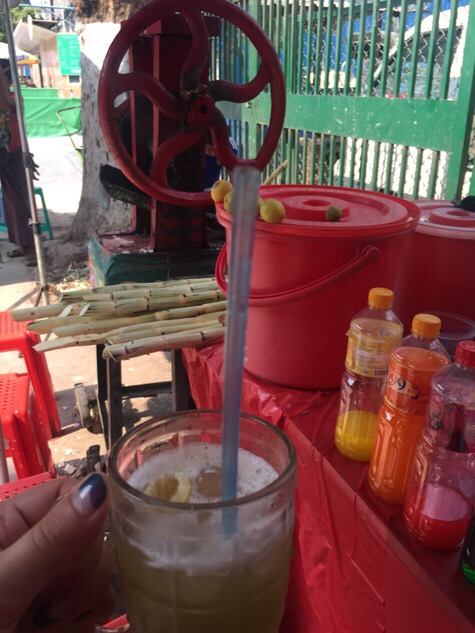 Tourist Time in Yangon-
The city has a lot to offer and is by far  the easiest city to be a pedestrian in. The foot paths maybe crowded with food stalls, cloths vendors and construction sites but at least it is there.
Boyogote Market has a lot of great little bits and pieces for sale. Perfect for last minute souvenirs or muchly needed light cotton dresses and t-shirts. Yes I did do the terribly touristy thing of buying a dress with elephant print on it!
Shwedagon Pagoda
Shwedagon Pagoda is considered to be the most sacred and impressive Buddhist site for the people of Myanmar. The complex is over 2,500 years old and is said to be home to the hairs of the Buddha. The pagoda is standing at 110 meters, covered in gold and top of the stupa is encrusted with 4531 diamonds; the largest of which is a 72 carat diamond. All the shiney gold. It's probably the most heavily photographed icon in Yangon.
What you don't see in the photos is the beggars on the street below or the people living on the hill trying to eek a living out of tourists walking up to photograph the pagoda. As you are walking up to the main temple area there are mini shopping stripes on each side of the stair case. Allowing you one last opportunity to buy a scarf, a tee-shirt a little Buddha. Really just about anything you can think of that's even relatively related to the temple complex.
In saying that people aren't terribly pushy about selling their wares. Once you arrive at the top you'll forget all that and simply enjoy the Shwedagon Pagoda.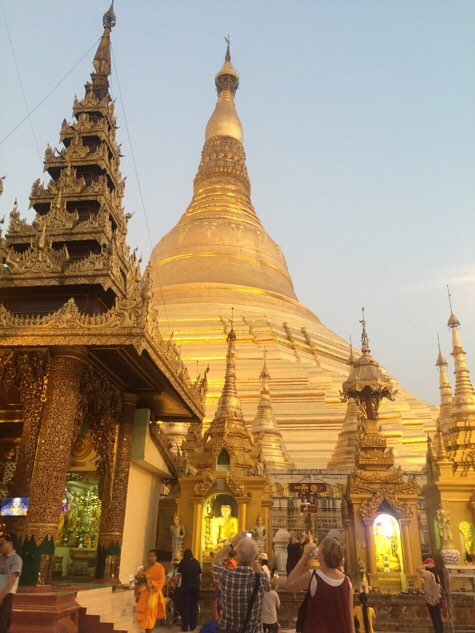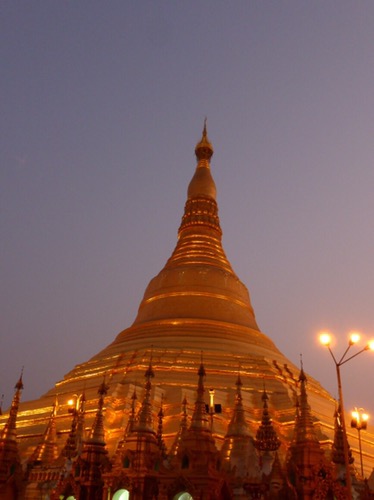 Battling Our Way to Bagan
As previously mentioned I was travelling in Myanmar was across the New Year or Thingyan festival. This caused a whole heap of issues with transport. On arrival in Yangon we discovered that all trains were booked out and most buses too! It seemed that most of our fellow hostel guests were desperately searching for a way out of Yangon. Any way to anywhere. This was our first experience with the super helpful and friendly locals. We stumbled across Mon Mon or John as he liked to be called. An exceptionally friendly elderly gentleman. After giving us direction to the train station, John popped up two minutes later, escorted us to the ticket mafia and sat with us for over an hour organising bus tickets and providing us with general advice and assistance on all things Myanmar.
VIP Bus Yangon- Bagan $35 USD
VIP Bus Bagan – Inle Lake $35 USD
In saying that there are a lot of other cheaper options available when it's not Thingyan.
Getting to the Bus Stop in Yangon
The bus station is a good solid hour drive out of Yangon allowing up to another hour to find your particular bus stop. A taxi will cost you 10,000 kyat. It's worthwhile to ask your hotel/hostel staff to grab you a taxi and have them drop you off at your exact bus departure point, not the station in general.
The station has at least 5 entries and took us over 45mins to drive in and find our bus.
Pretty much from 06-24April public transport is entirely sold out, with many of the popular and blogged about companies completely sold out. It is possible to get tickets or hire a taxi. It's just a hell of a lot harder! 
A Brief Intro to the Beauty of Bagan
The entrance fee for Bagan Archaelogical Area: $25 US – as of 2016
This had considerably increased from the $15 fee that's advised in recent blogs ad guidebooks. After your overnight bus ride you'll be tired and suspicious of everyone. As well as being accousted as soon as you get off the bus by a haggle of taxi drivers. We paid 10,000kyat for a taxi ride to our hotel. As the buses now arrive slightly later in the morning there's less horse and cart taxis and more random car taxis. As your taxi takes you from the bus stop to your hostel you are taken to a ticket booth. This isn't a scam, it's a requirement for foreigners and you won't get past this area.
Standing on the eastern banks of the Ayeyarwady River, it's known for the Bagan Archaeological Area. The area of Bagan is considerably larger then first impressions with 3 main villages- Old Bagan, New Bagan and  Nyaung-U.
The more budget friendly and restaurant happy area is Nyaung-U. Here you'll find a variety of accommodation, travel agents, places to eat, working ATMs and e-bike hire. It's also closest area to the bus stop and airport. Despite being the furthest away from the popular pagodas and temples it's not a huge issue if you have hired an e-bike. At most it adds another 5-10 mins to your exploring but does offer a lot of less visited places to explore along the way. Most people end up here for dinner at some point during their visit.
New Bagan is popular with older travellers. There's not a whole heap happening here and the prices are a significantly higher for not much more on offer than the guest houses/hotels in Nyaung-U.
Old Bagan is closer to the monuments, with some hotel grounds encasing monuments. Which is nice but the rest of the temples/pagodas that you'll want to explore are still awhile away. For the price you pay you would expect more.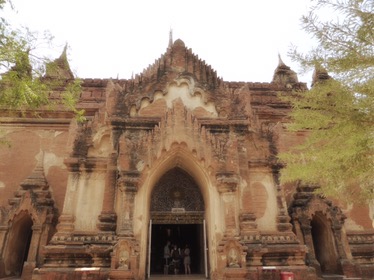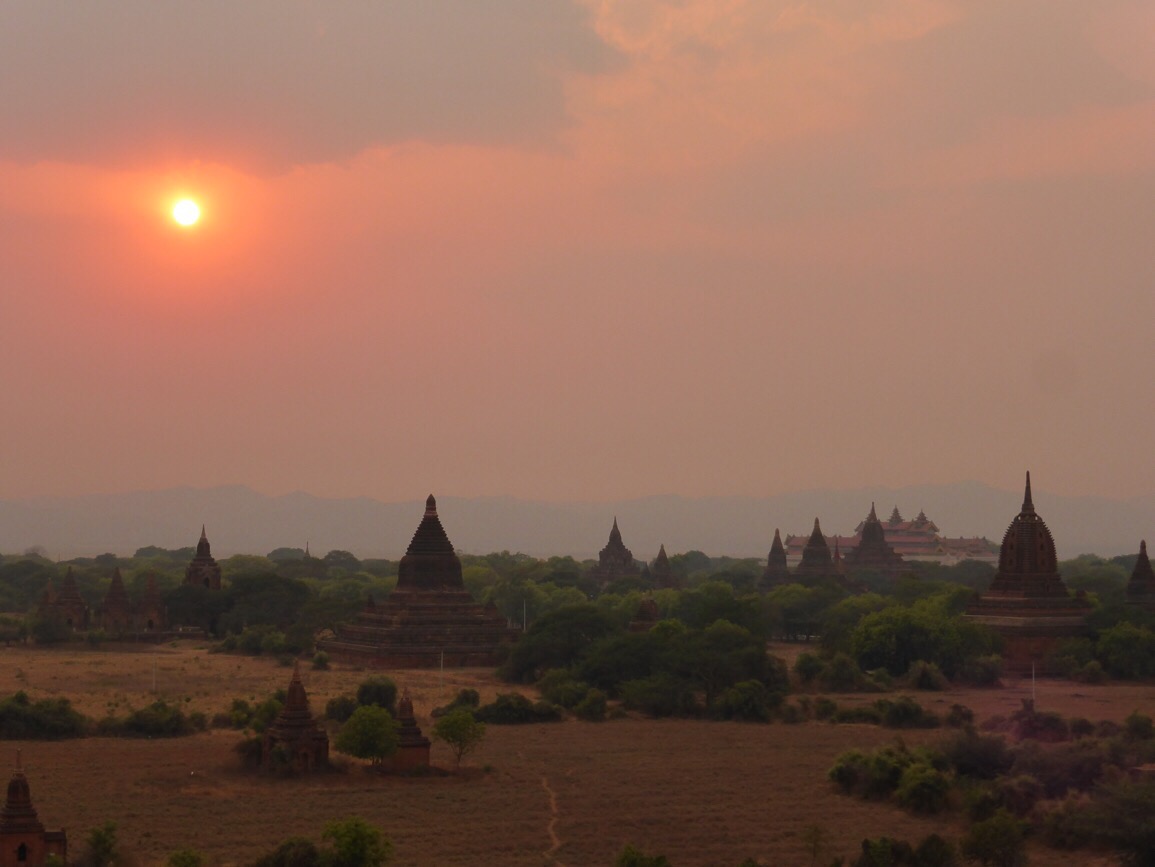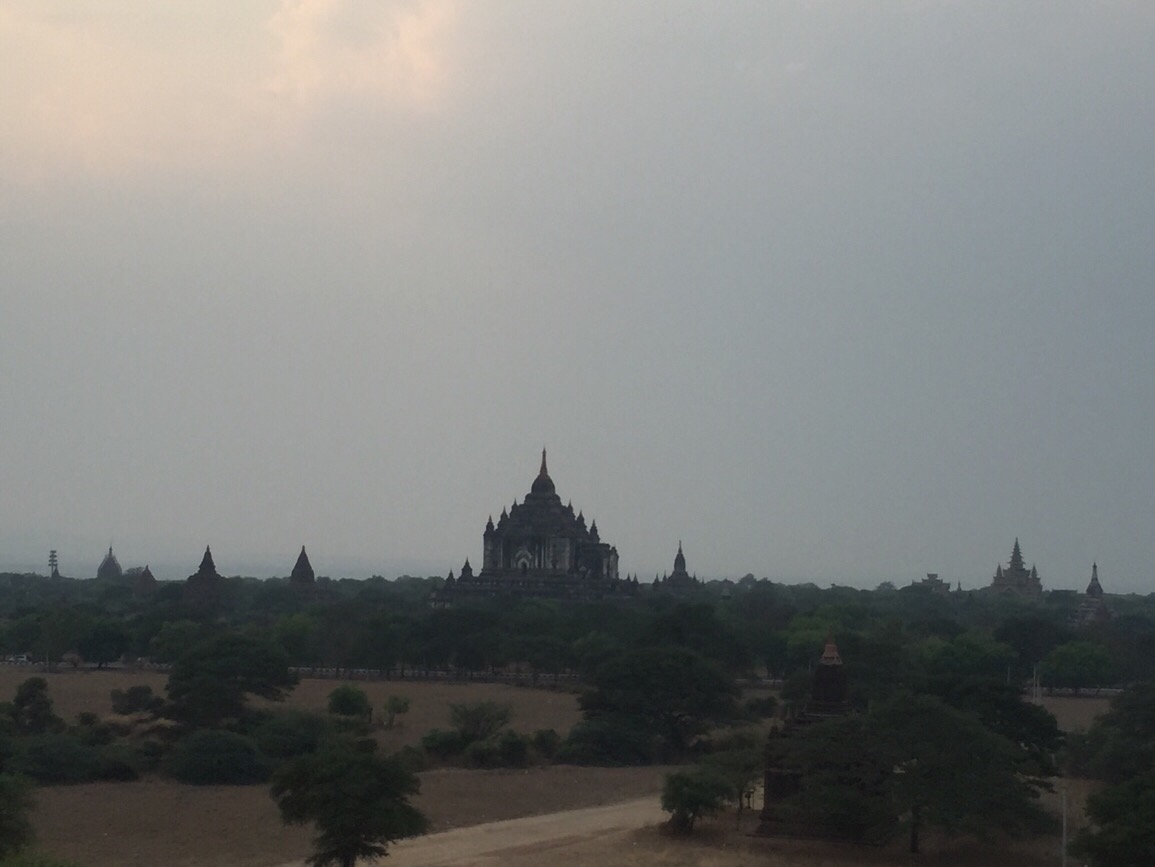 Where we stayed– Royal Bagan Hotel
$15/night in a five bed dorm, which turned out to be a six bed dorm. Includes free linen, free wifi, a basic breakfast and a pool. The rooms had air con but only one bathroom/shower per room. Which made life a little bit interesting as these are mixed dorms. A once fancy hotel that's now operating more as a hostel. Which makes it a pleasant place to stay.
Hiring an e-bike
E-bikes are a must if you are after some tomb raider style exploring or even if you just want the freedom to explore any of the 2,500 temples on offer. An e-bike is similar to a scooter and less scary than a motor bike. It was great having a small area under the seat to store water, sunscreen etc.
99 bikes hire good quality, well charged bikes for 8000 kyat a day. We chose 99 bikes as the hire time was from 7.30-20:00 which means you can explore at sunset. I'm sure if we had wanted to hire for a sunrise they would have happily helped out. Other places, including our hotel, only allowed hire until 6pm and were around 20% more expensive.
Our bikes were in good condition, well charged and ready to go in the morning.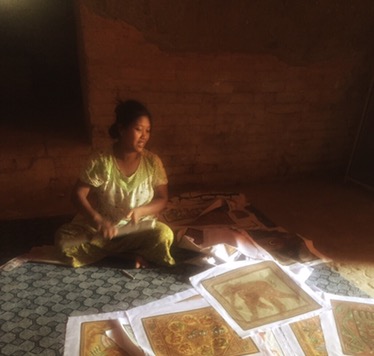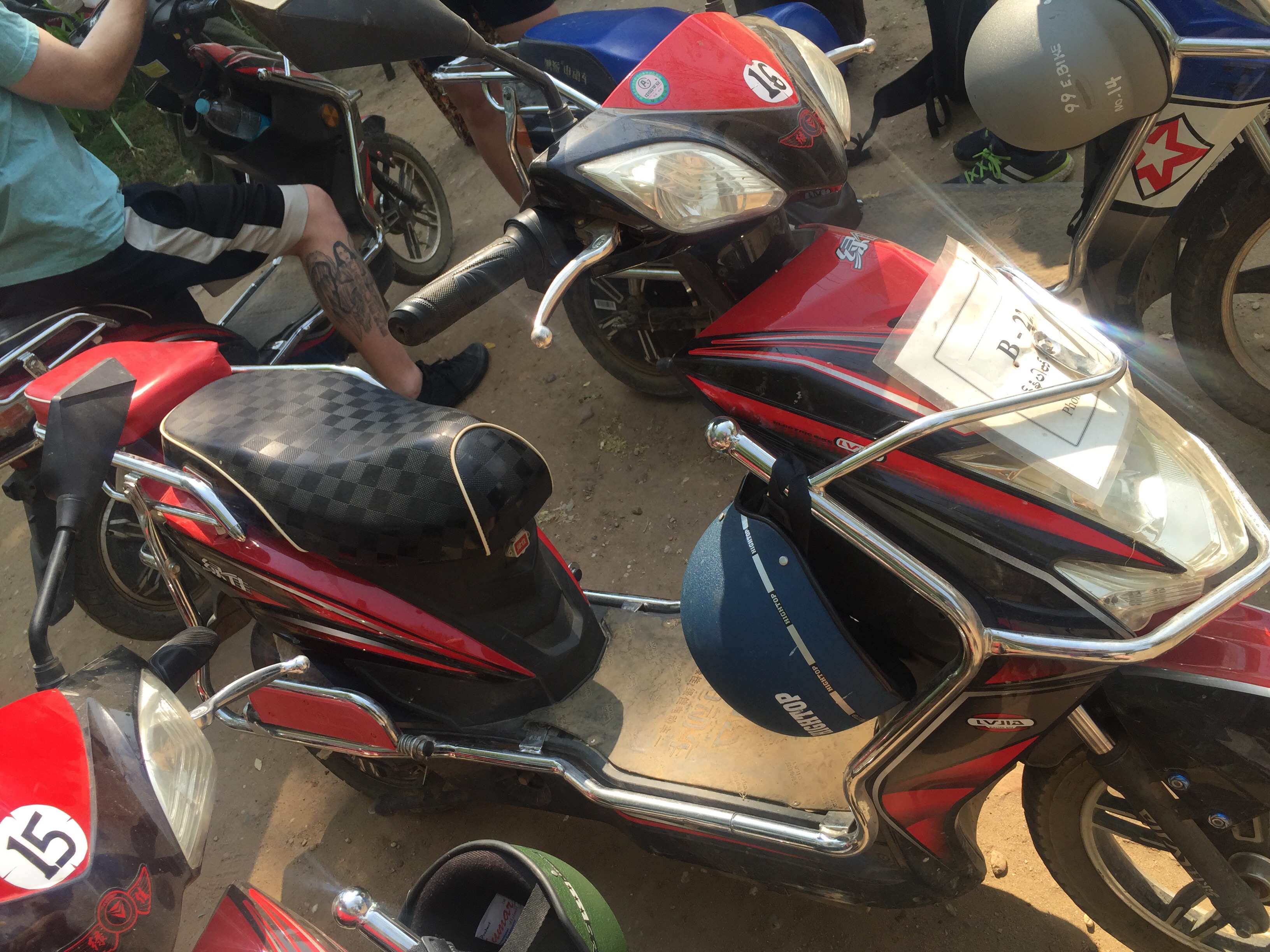 Bouncy Bus ride from Bagan-Kalaw-Inle Lake
The bus (mini van) collected us from our hotel. This was by far the most horrid butt breaking 12hour 'bus' ride I've ever taken.
So by all accounts this is a terrible bus ride, no matter which company you go with. The road is terrible and you're at the mercy of the driver. Even when he wants a 2am nap or a poop.
Cost-$35 for a VIP bus. Note that this was a significantly high charge due to Thingyan. A more reasonable charge of $25 should be expected.
Inle Lake
Entry fee 12,500 kyat.
Much like Bagan, Inle Lake is one of the hot spots for tourists. Not only is the lake itself fascinating it has recently become a popular area to hike to. It has a surrounding supporting village near by which is a lot more affordable and relaxed. Nyuang Shwe is where the bus/taxi will drop you off. There's a variety of guest houses and hotels on offer. Due to the popularity of the area don't be shocked to see prices starting at $15 USD per night for a hostel.
Nyuang Shwe was one of the more fun places to stay. There's a lot on offer. Without a doubt you should visit The French Touch. A French inspired cafe which is ridiculously expensive compared to other local eateries but every night at 7.30pm they show one of the first independently made Burmese movies. The movie screening is free. There's good beer, cocktails and coffee on offer. It's a great way to spend an evening.
The lake area offers some amazingly beautiful accommodation but you will pay a premium. Think over $150 USD per night.
Inle Lake is around 12km from Nyuang Shwe. It's a rather flat and pleasant bike ride. Many people ride out and get a boat across the lake and ride back to town. If you do this make sure you stop by the Red Mountain winery. One of two working vineyards in Myanmar. When we visited it was closed due to Thingyan. For 2000 kyat I hired a basic bike from a non descript trader in town. Once at the lake it was simple to arrange a half hour boat ride through the village.
When you're on the lake watch out for the funny fisherman playing tourist attraction. They have a wonderful ability to stretch and paddle with their legs. This is 100% for your viewing pleasure. As we took a small tour around a village the fisherman would paddle like normal until they spotted us.  Magically the leg came out and it was paddle paddle paddle. This and the women of Karen tribe are purely tourist attractions. Take that advice as you will.
While we didn't have time to do a hike here it is on my plans to go back and do one day in the near future.
Where we stayed- 
Manaw Thukha Hotel $13 USD in a triple share room.
The bed sheets hadn't been changed and I ended up sleeping on top of the bed in my own sleeping bag liner. Despite booking a private bungalow for our group the hotel did initially try to put us in a 5 bed dorm saying that they had to add extra beds. Once I refused to stay there the private bungalow magically became available.
The wifi was ok, the breakfast miserable and I'd say that there are nicer guest houses in town for the same price.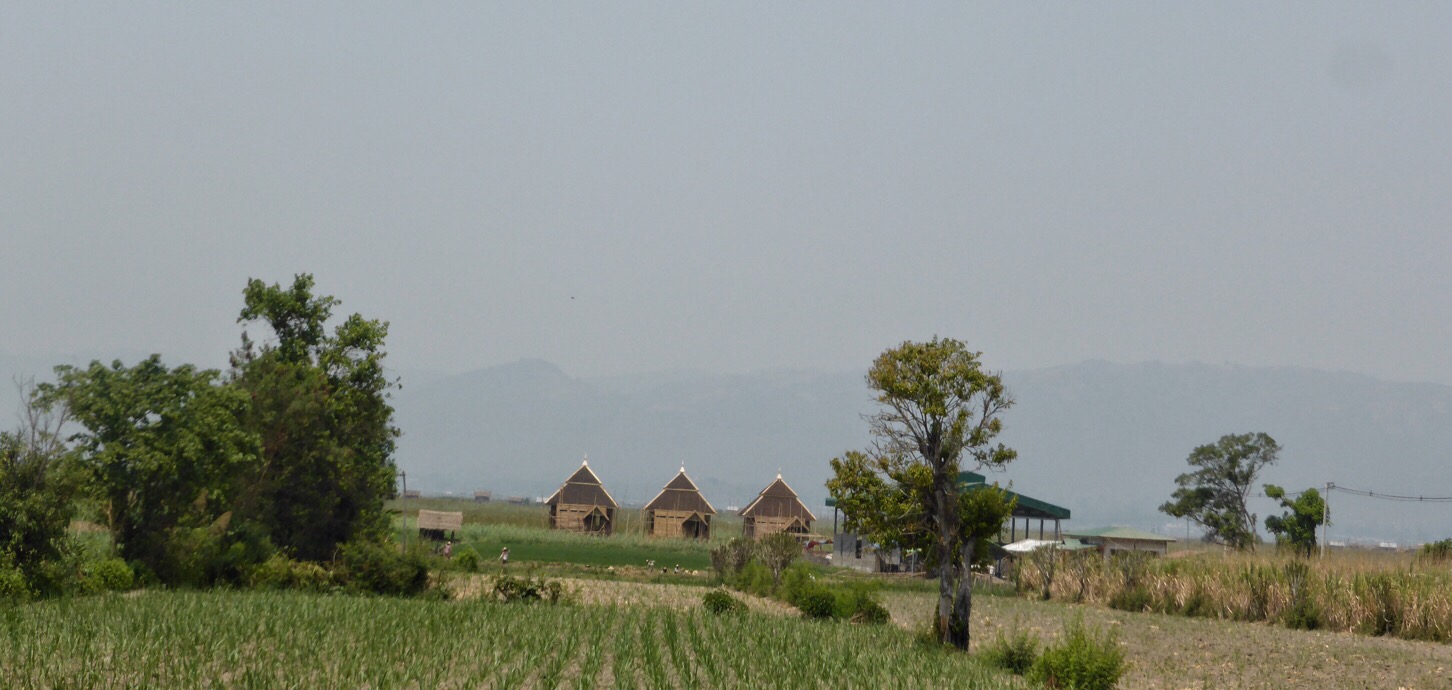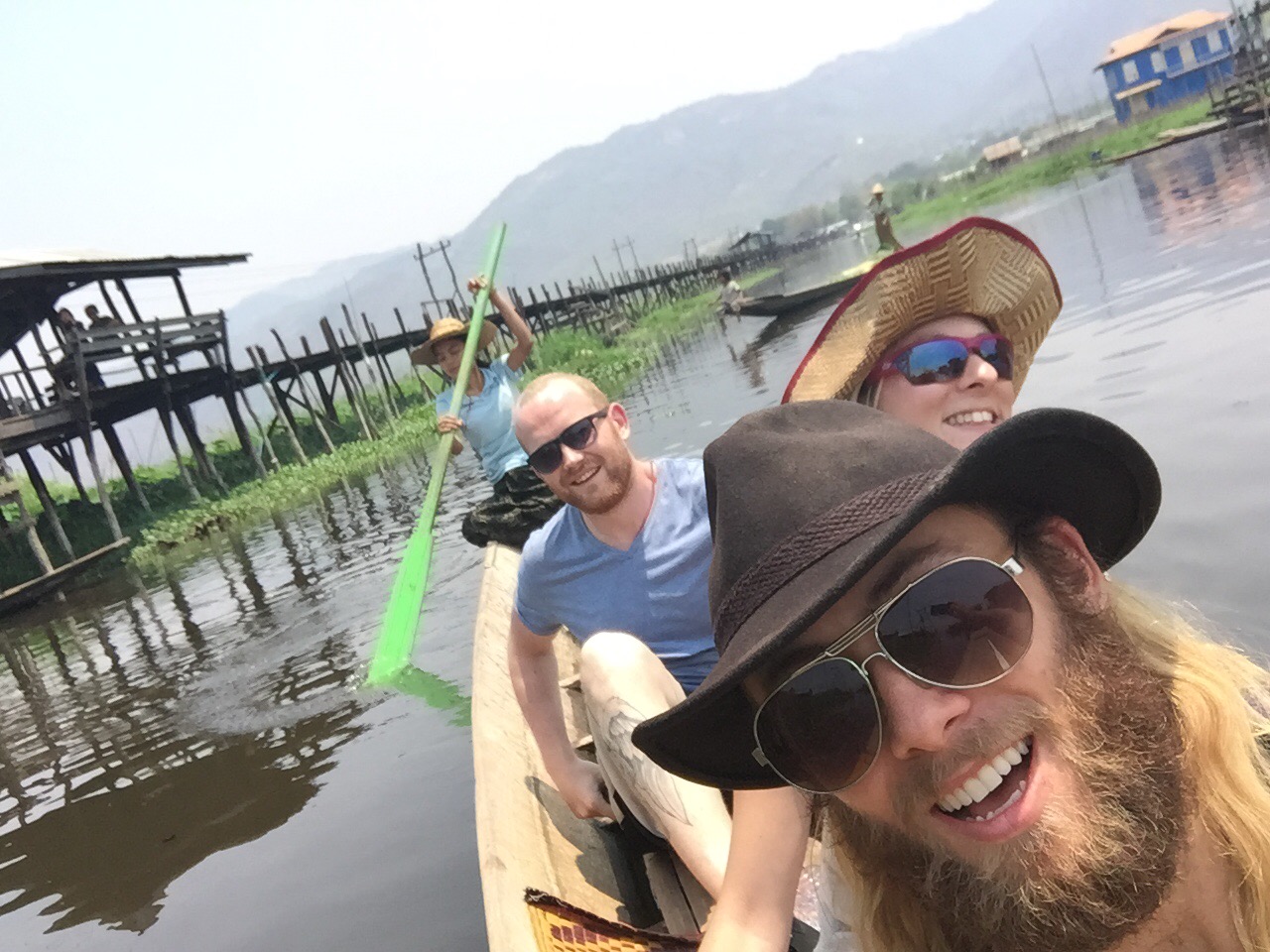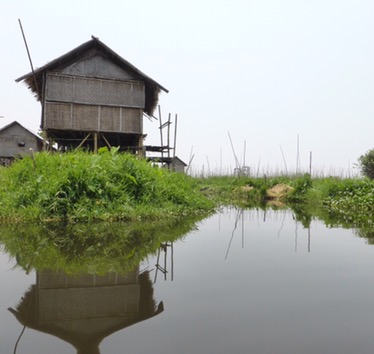 On The Road to Mandalay
Private taxi Nyuang Shwe – Mandalay – $30USD each. On arrival in Nyuang Shwe we found a random travel agent that was open and we booked a taxi. It was a good 6 hour, terrifying drive through and over the mountains. Stopping to hose down the brakes on the car.
Mandalay is the largest economic city in the north of Myanmar. It's a multi cultural city, mainly due to the influx of Chinese and Indian migrants over the past 15 years. The city is home to 1.225 mil people. All these people are huge users of motorbikes, scooters and cars. Not great on the footpaths. You'll need to hire a bicycle, motorbike or taxi to take you around. The taxi drivers either have cars or little scooters attached to motobikes. For many this is their only way to earn an income and they will happily take you around to the major tourist attractions and wait for hours for you. Which is nice as it's really hard to get a taxi from the side of the road.
Downtown Mandalay is heavy on the concrete and urban sprawl; unlike Yangon, it looks nothing like it did when it was part British Burma.
In the center is the restored Mandalay Palace from the Konbaung Dynasty, surrounded by a moat. During Thingyan the moat has a variety of stages on each side, hosting dancers, bands and the all important fire hoses to drown you in,
Mandalay Hill provides views of the city from its summit, which is reached by a hideously long climb up multiple covered stairways. This is no exageration that you'll need a decent half hour to climb to the top. That's if you bee line it straight up and don't get distracted by the beauitful pagodas, buddhas and general amazingness of the view on the way up. At the top there is a 1000 kyat fee for foreigners.
At its foot, the Kuthodaw Pagoda houses hundreds of Buddhist-scripture-inscribed marble slabs.
Due to travel arrangements we had two stays in Mandalay, with a trip to Hsipaw in the middle.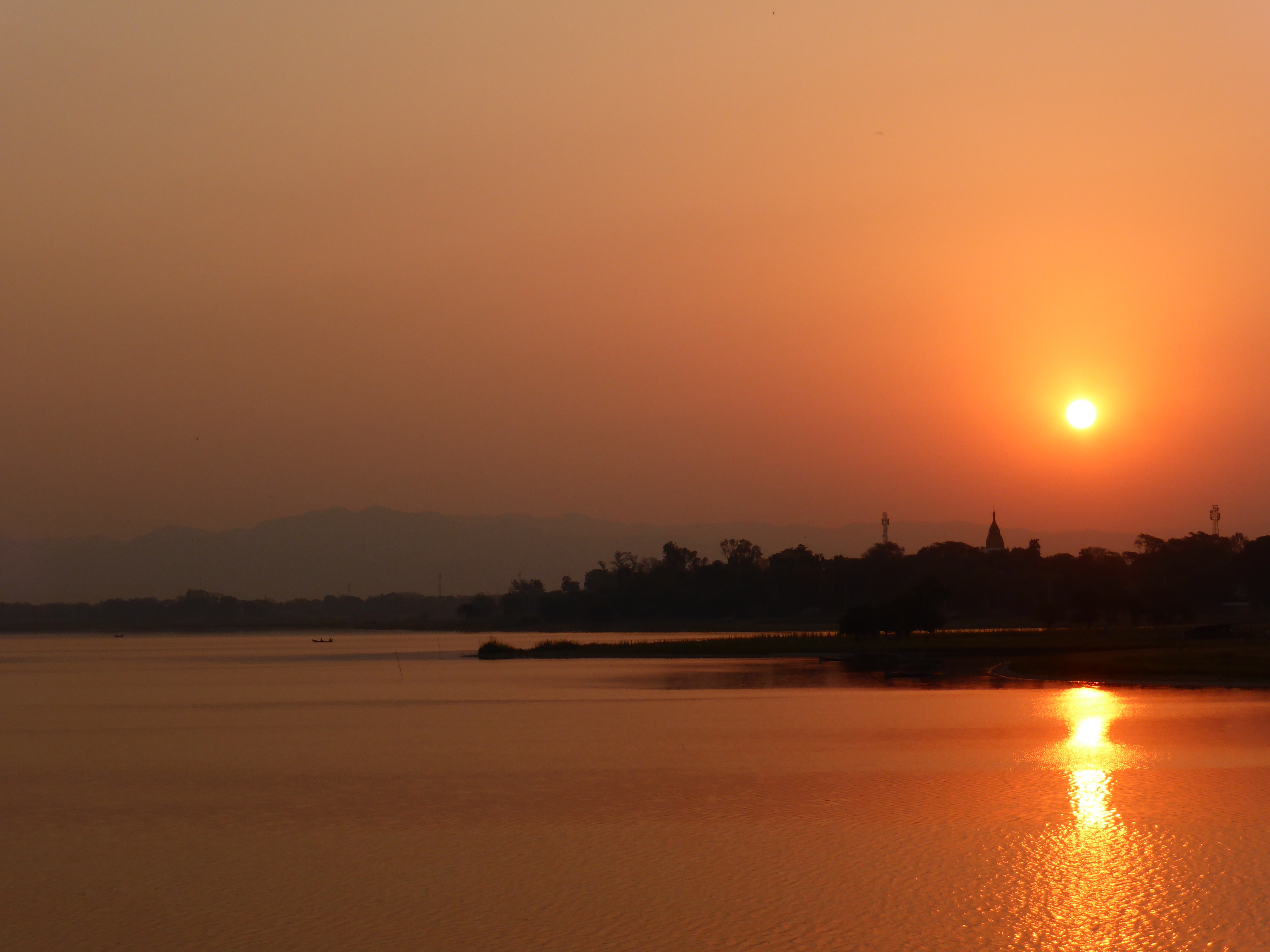 Where we stayed-
Royal Yardarbon Hotel – $20 per night for a private room. $35 per night for a double room.
Wifi, woeful breakfast and the worse coffee we had in all of Myanmar.
This was the first hotel where we had a slight stumble. A room for three had been booked but had been allocated by the time we arrived. In the end I ended up in a private room for two nights. The rooms were clean, well serviced with private bathrooms and a hair dryer! Woo hoo. Other than the nice rooms the hotel itself had a communist era feel about it. From the locked windows to bars over windows that looked directly into brick walls.
Four Rivers Hostel
$11/13 USD a night – depending on who checked you in.
This is apart of a chain of hostels. Less than 12 months old the facilities were really new, clean and workable. Our room wasn't clean on arrival but as a walk in this wasn't an issue at first. The staff changed the bed sheets but that was it. It was  the only place where I went down stairs and insisted that the cleaners changed the bin, toilet paper bin and provided a clean room for us.
The wifi was good but required a code and that was only valid for an hour which was less good. This was the only hostel that we stayed in that felt like a cheap and average hostel. The breakfast served on the roof top was toast with a fry pan to make your own eggs.
The staff were good at booking travel (bus/train/taxi) for guests. Little less good at making sure you got onto the booked transport when it collected you from the hostel. I almost missed my taxi when the driver turned up 2 mins early and I had run off to the bathroom. The staff advised my taxi share friends that I had left an hour ago. Which is wonderful when you're catching the last flight out of town to get to the next city for your flights home!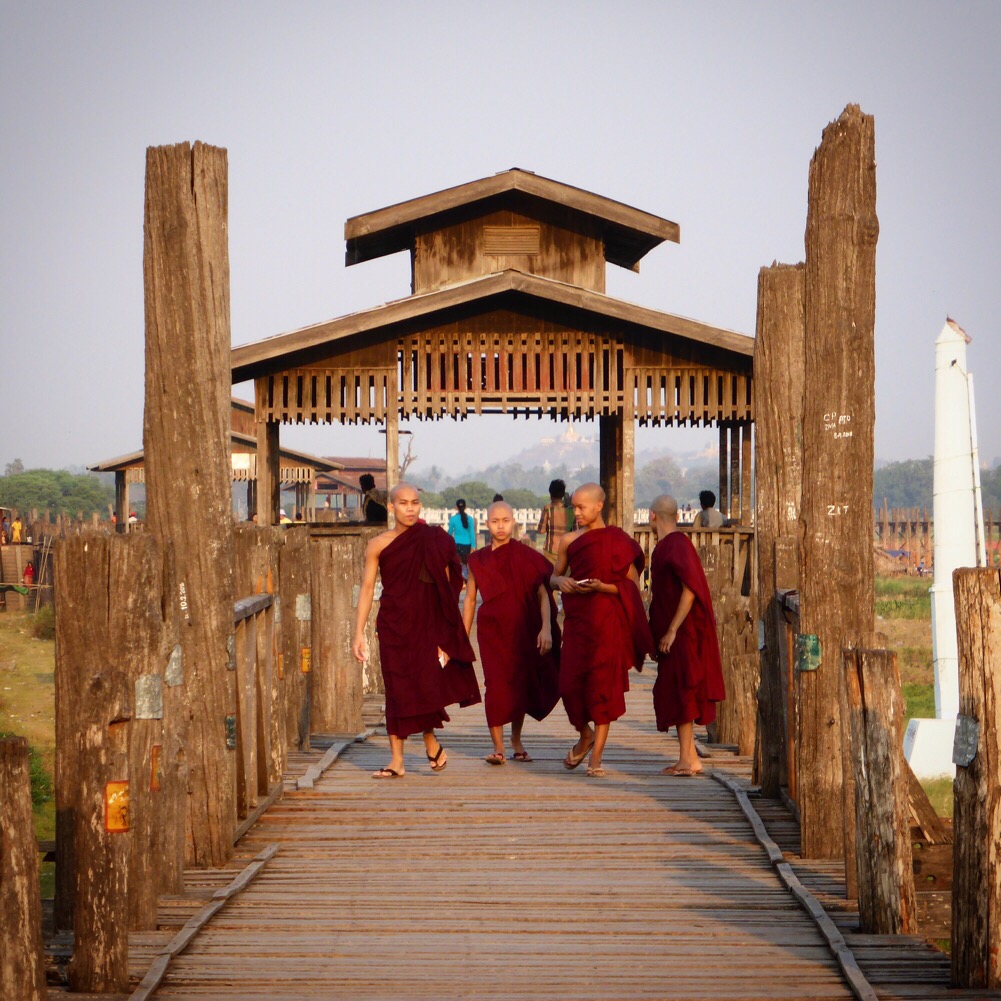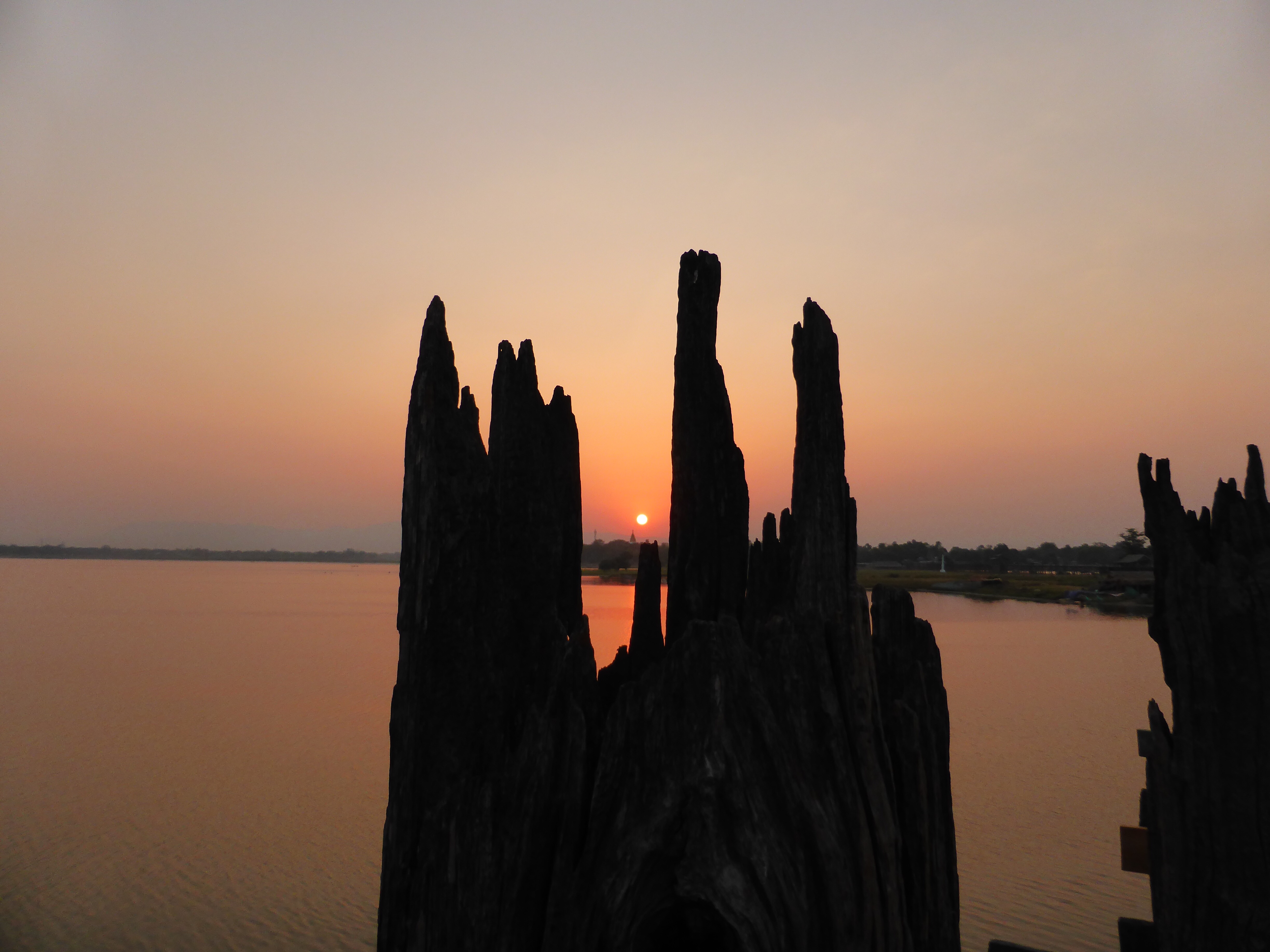 Train ride Mandalay to Hsipaw
The train ride from Mandalay to Hsipaw (see-paw) takes around 11 hours on a good day. There's a lot of bad media coverage about this train ride. How terrible it is. Worse thing you'll ever do. Other than the fact it leaves Mandalay at 4:00am it's a really nice train ride. We didn't get the upper class seats and sat in cattle class. Yes the seats are wooden. Yes the train does have moments when it's rickity and it sways a lot. In all honesty I would say the terrifying swaying part totals to around 30mins. Yup, 30mins of an 11 hour train ride. The rest of the ride is slow, relaxing and you can see out the window across the valleys, over the mountains and into the communities that you're travelling through. The train has several stops along the way where you can hop off and grab snacks and use facilities.
A common route is to take the bus/taxi from Mandalay to Pyin oo Lwin. Stay a day or two and then catch the train to Hsipaw. Why do this? Well you miss the 4:00am departure, the boring ish part o the ride and get to travel over the infamous geoduct.
In all honesty the train ride is fascinating and a must do. The sheer feat of British engineering is mind blowing. Just try to forgot that originally this train line was designed and built to help the British rule over the Shan state.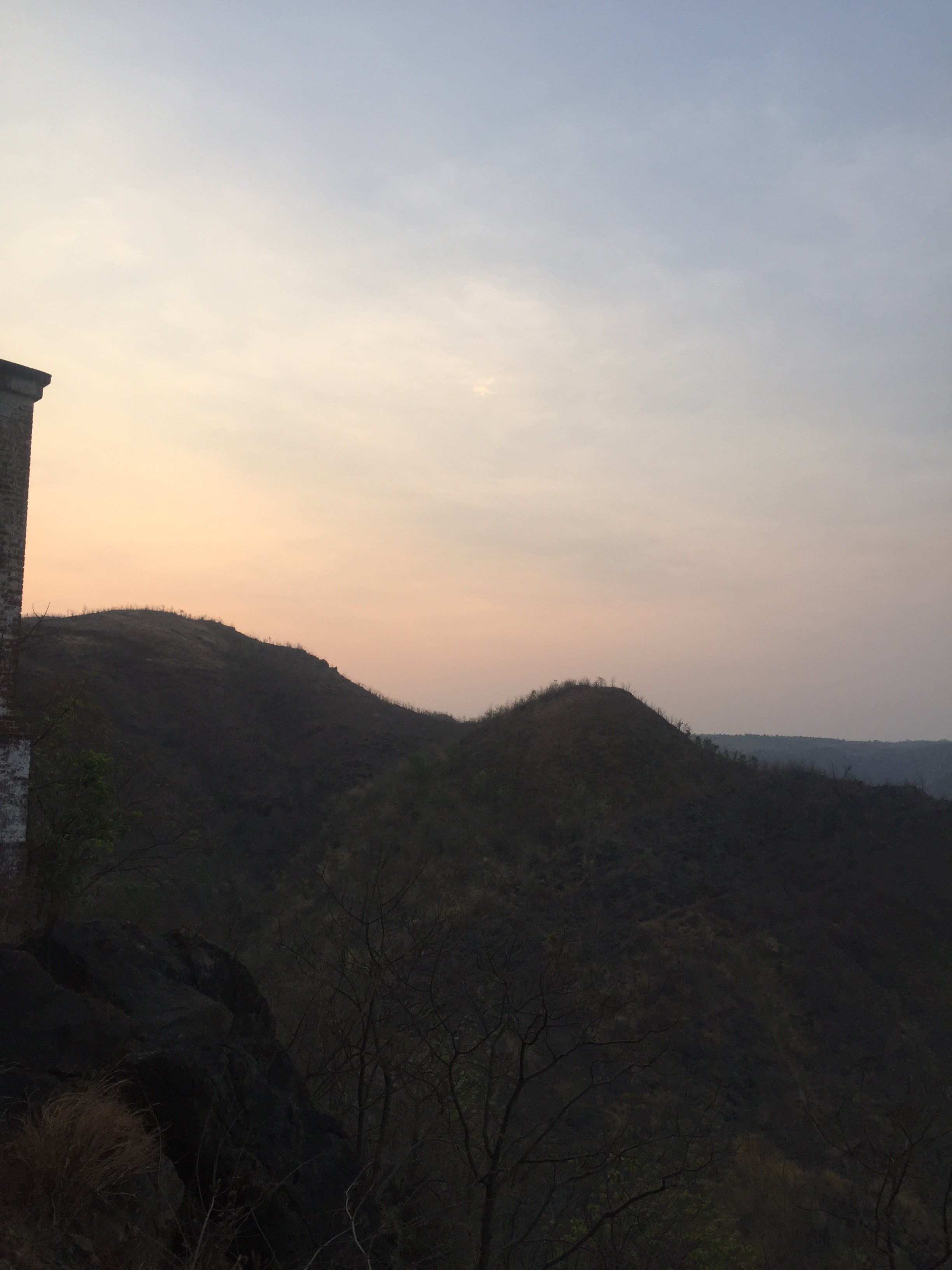 Hsipaw
Hsipaw, is the principal town of Hsipaw Township in Shan State, Myanmar on the riverbank of DuthawadiRiver. It is 200 wondrous km north-east of Mandalay. The town has a strong draw for the adventure traveller wanting to explore off the beaten track and get away from the more heavily condensed tourist areas.
It offers just enough tourist infrastructure to be a convenient base with ease of access with buses, the aforementioned train and well known guest houses. There really isn't much to do in Hsipaw itself. We hired a bike and rode around to the Popcorn Garden, Little Bagan and the big tree. People use Hsipaw as a base to go forth from and it's the perfect town for that.
Even if you haven't booked accommodation you will be greeted at the train station by the more forthcoming guest houses displaying current charges. I would say that you should most definitely at all costs avoid the Lonely Planet recommended Mr Charles. The town has a lot of accommodation options on offer that better deserve your dollar.
Where we stayed-
Yee Shin Guest House $5 night for single room $12 night for a double room – no air con. Breakfast was a cooked selection which you needed to order the day before.
The rooms here are clean, the wifi is slow but reliable and there are shared bathrooms. There are two buildings with rooms to suit most budgets. Location wise it's right in the centre of town, near the market place and an ATM. As well as a good selection of restaurants and near enough to the local English speaking doctor.
I'd highly recommend that you check out the Lily Home Hotel. $7 USD a night for a dorm room and the most helpful staff we came across in several cases of near emergency. Next time I return I'll be booking us into the Lily.
Hiking in Hsipaw
Hiking and trekking is the main draw card for most visitors to the area. Any guest house that you choose to stay at will have regular and reliable guides for you. Remembering that this is still a small, rural area. The guest house won't offer the services of any guide without having the utmost trust in the guide. Reputation is everything for these businesses. So rest assured that if you do an overnight trek you will get 5 star home stay treatment.
Most guest houses will have information sessions over breakfast and from 4.30-6pm for the train travellers. A guide or member of staff from your guest house will give you a run down on the options available including pricing. Most people opt for the short term two day, one night hike. The price for this really varied. We booked a hike through the team at Mr Charles (again Thingyan got in the way). With a bigger group of 6 the price was reduced to 30,000 kyat. This included a guide, lunch, dinner, a home stay and breakfast. It didn't include water. Other people I spoke to paid between 40-6000 kyat for a similar experience.
Unfortunately at this point in my trip I got rather unwell, to put it politely. After a day of exploring Hsipaw and having booked myself onto the trek I went downhill in the health department. Walking 50mtrs was a struggle and the 20km walk was not going to be an option for me.
Here's some images from my travel buddy Ryan of Lost Boy Memoirs who went on the most amazing hike ever.
Final thoughts
Myanmar is certainly a country full of magic, wonder and amazement. Yes it is changing at a rapid pace which is a result of the influx of tourist, goods and services and general adoption of the modern world. This doesn't mean that you won't have a great time and experience some truly unique experiences when you go to visit. With this rapid change there is no set guide for the country. Many travellers we came across had the infamous Lonely Planet guide book which was next to useless. Prices and places were so out of date despite most having a print date of 2014. It really is a country where you need to be prepared to wing it and accept whatever comes your way.
The issues we came up against where generally mild and didn't cause any huge impact on my experience of the country, culture and people. It really is like dealing with a blossoming teenager. Most of the time you need to be relaxed, calm and patient. Whatever happens will happen. There's no use getting angry or into a rage and abusing the locals when things don't happen or go right. They literally don't understand your rage.
In saying that the Burmese people were by far the friendliest and happiest people that I've met along the road. Even during a rager dance party on top of a truck during Thingyan a young group of girls showed me how to dance and continually asked me "Are you HAPPPPPYYYYY". After decades of oppression the people are welcoming travellers and are amazed that you in all your wisdom have chosen their small country to visit.
Clothing
Myanmar is a Buddhist country and conservative by nature. Albeit a more relaxed Buddhist country than some of her neighbours when it comes to tourists. If you're out and about exploring temples you will need to be covered up. This applies to both men and women (and inbetween). Chest, collar bones and clothing down to the knee. Not on top of the knee but over the knee.
A lot of the temples had stall holders selling sleeveless, long dresses for around 9000 kyat. These are perfect for exploring in. *Photo coming soon of my shameful elephant dress
What is the best way to book accommodation in Myanmar?

There are still very strict laws governing where you can and can't stay. Only registered hostels, guest houses and hotels are allowed to take foreigners as guests. At every stop your passport will be scanned, your visa number recorded and given back. The business owners are obliged to send this data to the government.
Walking in and asking for a room is really easy. It can be more expensive or cheaper. Depending on who's serving you.
Agoda was a good option for finding available rooms and giving you a rather honest price. Some places told me that they were booked out but I was able to book a bed via Agoda no worries and pay cash on arrival. Those places that can be booked online are very variable, with some are considerably cheaper online, others cheaper as a walk-in; like many things in Myanmar, it's complicated. And inexpiable.
One good thing was by using Agoda or Booking.com was that your bed was guaranteed.
Average price for a bed in a hostel/guesthouse is $8-10 USD.
In the more popular areas Bagan and Inle Lake expect to pay up to $15USD per bed.
How much money did I spend?
In total my trip was around $1500 Australian dollars. Which equates to $1300 (ish) USD. This includes return flights from Australia – $834, all accommodation and expenses. The big budget killers for us was VIP buses, shared taxis and an internal flight from Mandalay- Yangon $86 USD. I still returned home with $400 USD
Accessing ATMs?
All the major tourist towns have plenty of ATMs on offer. The harder part is figuring out if the ATM will accept your card or is broken/turned off.
If in you're not sure of the ATM's current mood find the fanciest hotel around. Without a doubt they will have a working ATM that you can use or at least exchange USD to kyat for you.
Safety?
Myanmar is a really safe country. The only time we had any personal safety issues was during a celebration of Thingyan in Mandalay. Late afternoon, too much alcohol and a local was a bit too hands on with me. Walking away twice was enough to encourage him to not take things further.
As a solo female traveler I had no issues walking around at night in any of the places we stayed.
Best time to go?
Any time that is not April!
November-March is considered tourist season and isn't a bad time to go. The weather is warm but not unbearable. The price difference in accommodation isn't that great.
The rainy season is May-October. This may cause issues such as roads/rail tracks being flooded.
There's so much more to say about Myanmar. More blog posts will be coming shortly as I go through and edit the 1500 odd photos I've taken.
Let me know if the comments below if you have any questions or advice for travellers planning a magical Myanmar experience.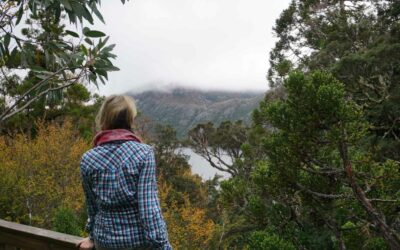 Travellers are some of the most financially savvy people you will ever meet. Have you ever wondered how people afford to travel, invest & drink take away coffee?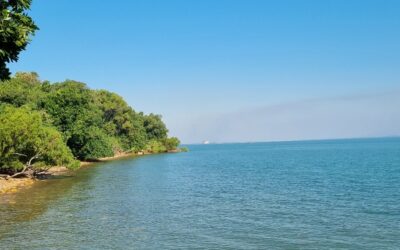 Darwin is the gateway to the top end of Australia. A place where you can go back in time or explore a growing city. The city has something for everyone, from sun-drenched beaches to bustling markets and vibrant nightlife.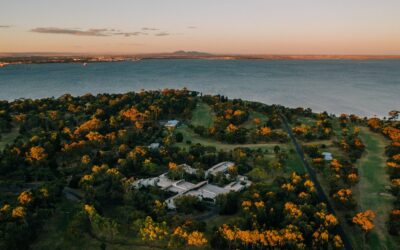 Eden Oak offers travellers the chance to experience an urban oasis hidden amongst the gum trees in Geelong's Botanic Garden