It always amazes me how a short holiday, close to home can have such a positive impact on my mental wellbeing. A literal breath of fresh air to revitalise the soul. 2020 was a hard enough year for so many of us, stuck at home and attempting to stay as sane as we could. Which is one of the many reasons why we recently took advantage of a short holiday in Harrietville, Victoria.
Where in the world is Harrietville?
Harrietville is a sub-alpine village located in the picturesque Ovens Valley, Victoria. For most people Harrietville is the last toilet and coffee stop before you make the long and slow crawl up to Mt Hotham during the ski season. It's approximately 30kms out of the ever so popular town of Bright (and the last place to get petrol before you head up to Mt Hotham) making the town of Harrietville the perfect spot to be based during summer or winter adventure times. 
Distance from Melbourne – 350kms (ish) or around a 3 1/2 hour drive.
Things to do in Harrietville
If I had to give you a top list of things to do in Harrietville outside of having a nap while reading a book, it would be the below fun times. Perfect for families travelling, or couples or anyone who is alive. The town doesn't have a big shopping complex and if you need a retail fix you'll need to go back to Bright for that. For me the beauty of Harrietville was the quietness of the town and the friendliness of the people who are there to enjoy the serenity. The town has a long (by Australian standards and considering colonisation) history and there's a lot of information boards and historical makers. If we had had more time, and not the doggos with us, we would have taken the time to partake in an Indigenous peoples tour of the town to learn more about the area pre-colonisation.
Walk along the river.
Go for a bike ride. Road bike, mountain bike, vintage bike. There's no shortage of great trails to explore.
Walk amongst some of Australia's prettiest landscapes.
Buy a vanilla slice.
Enjoy the quiet moments.
If you're like me and love a good read, why not grab the latest waterproof Kindle? Perfect traveling companion.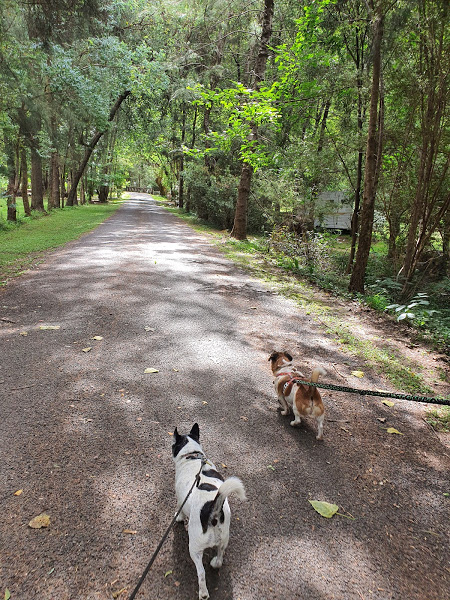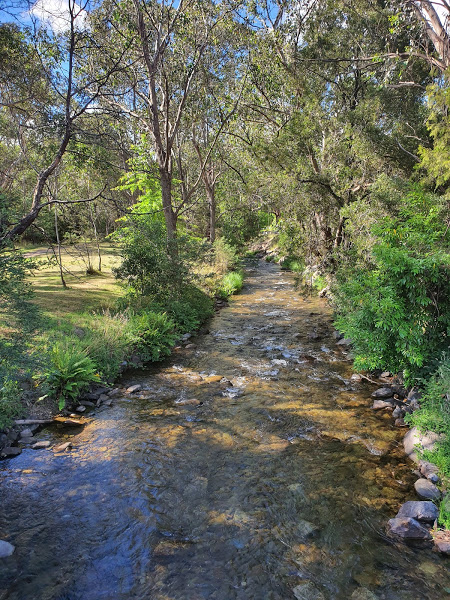 Where to Stay in Harrietville
I pretty much could tell you to throw a pin at the town map and you'll most likely find suitable accommodation no matter what your regional adventure need is. There's ski lodge style homes, large family homes, caravan park and a lot of bed and breakfast style set ups. We found the magical Mine Managers Cottage on AirBnb. It was an absolute steal being dog friendly, with a little court yard and a kitchenette. Plenty of space for us to relax in, prepare meals (though as you'll see we ate out a lot) and most importantly a dog secure yard.
Mine Managers Cottage, Avalon House – Harrietville – Dog friendly!
Shady Brook – A deluxe spa cottage. Perfect for couples retreats.
Mountain View Cabin – great for large groups.
Another great option if you're feeling like a bit more adventure is free camping. There are some local government run campsites between Bright & Harreitville. These usually don't have much more then a drop toilet so you'll want to be very self sufficent. The below photos are from a Feb 2021 sneaky camping trip we took.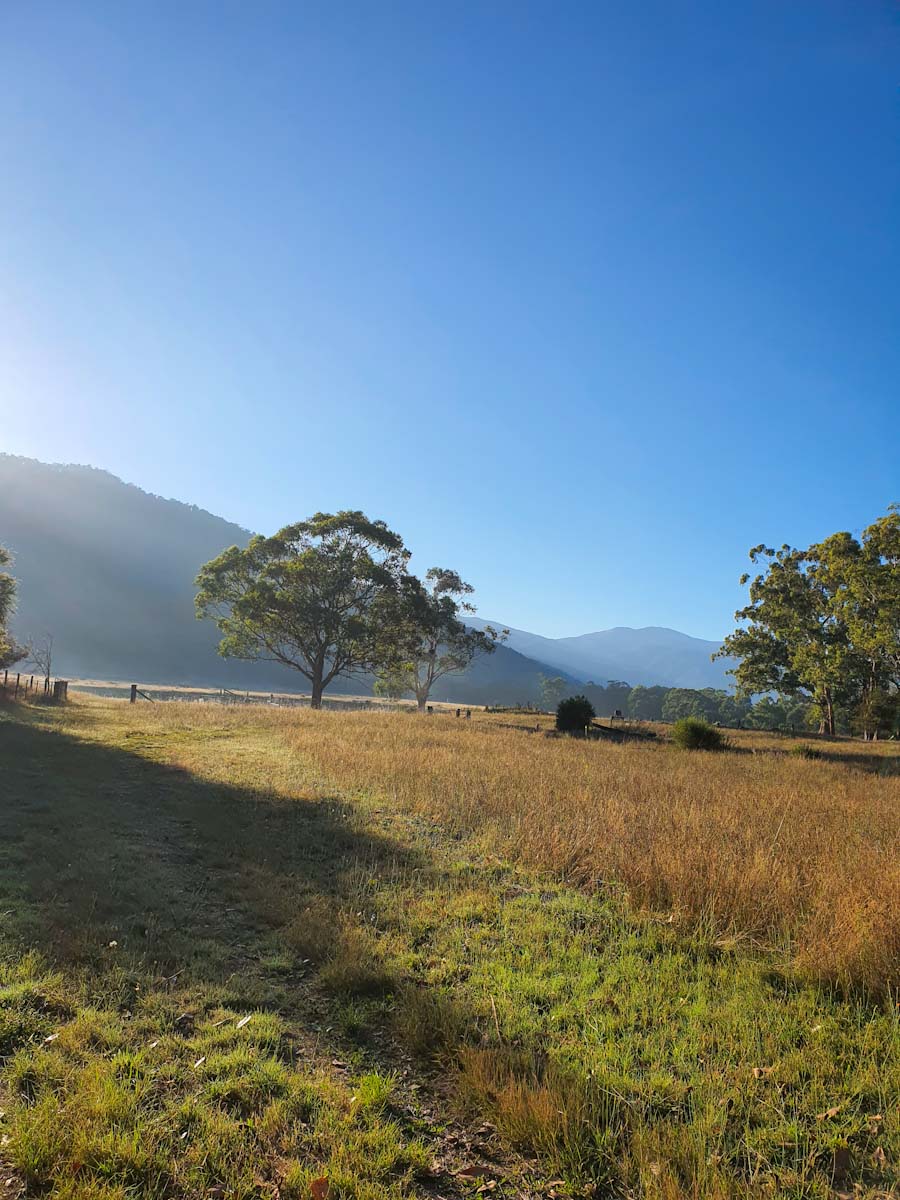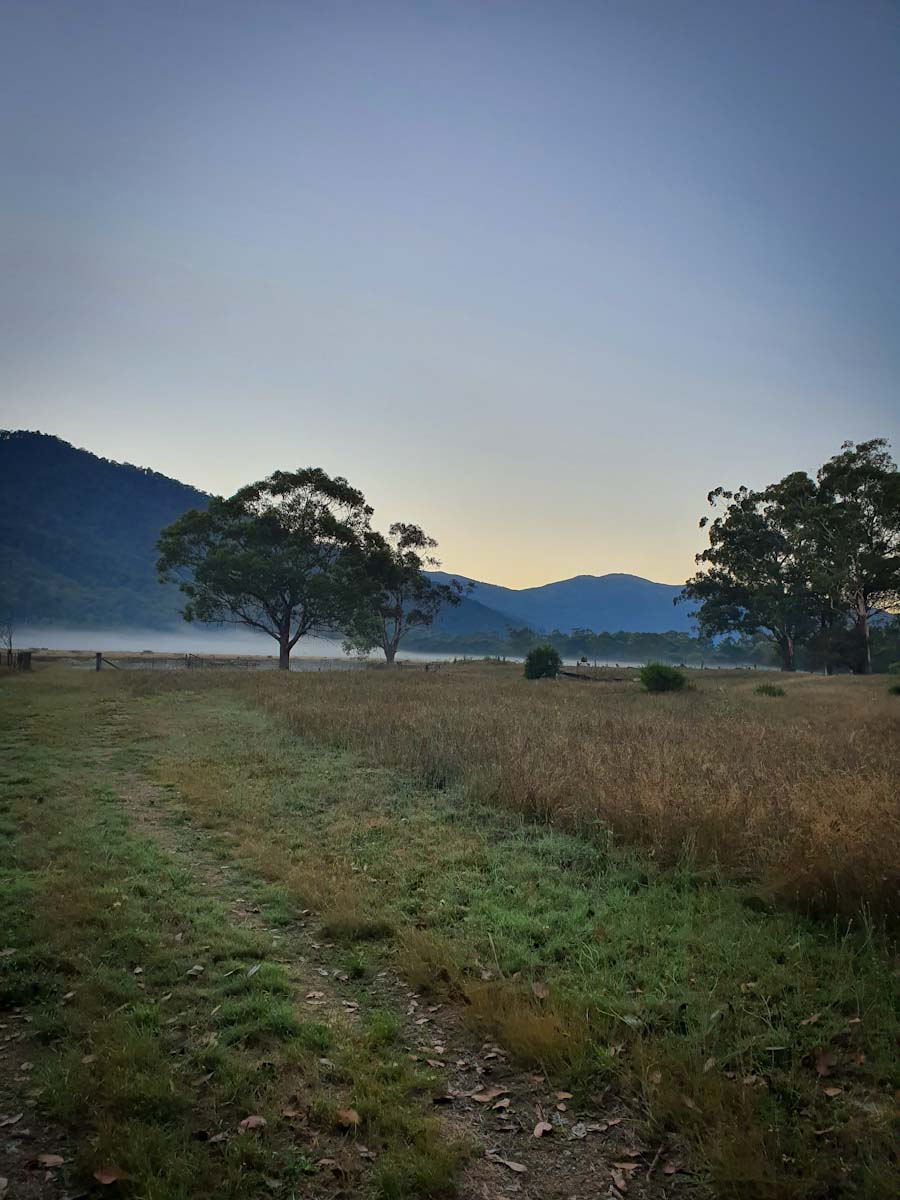 Where is the best places to eat in Harrietville?
There isn't really a lot of options for eating out in Harrietville. When we were searching for dog friendly accommodation I noticed that most places had a kitchenette on offer, which was a bit of a life saver for us when we found a pleasant place to stay. For freshly baked bread, pretzels and coffee in the morning you can't go past the Harrietville Bakery.
Lunch and/or dinner then you'll be wanting to get yourself a booking at the Snowline Hotel. Even in the afternoon we popped by for a beer and a coffee as I wasn't feeling the need for an alcoholic beverage. The staff are lovely and the venue has a certain Alpine charm about it. Sadly we couldn't actually get a dinner booking here during our stay! Well sad for us, not the hotel. It was great to see that they were booked out, with live music happening too.
Just a note on the Harrietville Pub. We did try here one night and well I can't honestly recommend it based purely on the food we had. Now the service was excellent, there was a friendly pub dog but that's about where the goodness stopped. James ordered a basic beef burger and I ordered a steak sandwich. Within about 5mins of ordering and being seated at our table the food arrived. Cold chips, a burnt steak sandwich and James is fairly sure that he was served the vegan burger
The infamous Harrietville Bakery Vanilla Slice
This is a must do on any visit to Harrietville list. It's a challenge and a half to try and secure yourself one of these most epic vanilla slices. It took me three visits before I was able to get the staff at the bakery to even spill the secrets on how to secure one. I still feel that the team there took pity on me and helped me out.
These vanilla slices are an absolute culinary delight and really was worth my many attempts. The thing is that these are made fresh every day. Pastry, custard filling and the icing. As it's a super small team working here that start at 3am each day it's amazing to see the consistently high quality of goods being produced and snapped up. Each day we visited there was something different in the bread section and the cake display.
How to get your hands on one of Australia's best vanilla slices? Well on a regular day the staff make the vanilla slices in the morning (remember that 3am start…) and by the time they are constructed, set and ready to serve it's around the 10.30-11am mark. I'm not joking at all when I say that these sell out really fast. The supply demand quandary is a real issue and the team have no apologies for this at all. It's first in best vanilla slice dressed. Which makes this one of the most fun challenges to do in Harrietville.
Would I do it again? Without a doubt!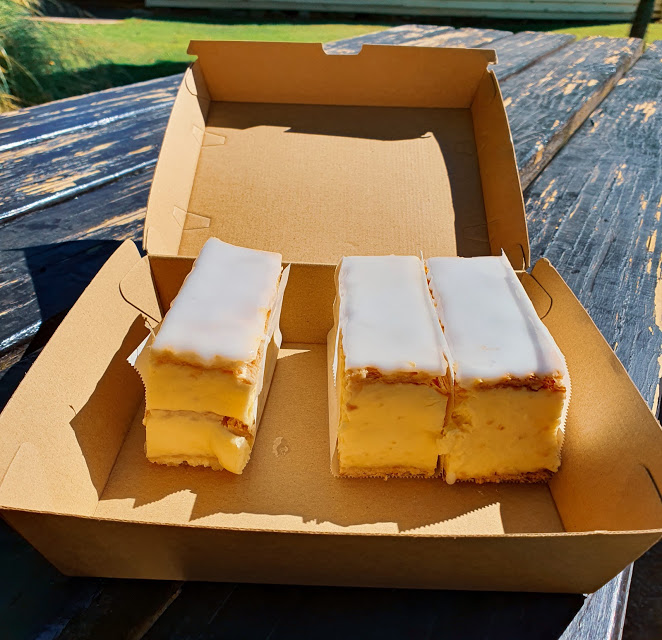 Harrietville vs Bright
Whilst I do really enjoy the town of Bright, it has become a bit of a family hot spot, especially in the summer months and around Easter. Now I don't want to discourage families from enjoying a mountain family holiday but the crowds so get rather crazy these days. Making it a rather noisy, crowded and crazy spot to vacation in. Think long lines everywhere, big crowds and a lot of screaming kids. Not my idea for a quiet and relaxing regional adventure. Realistically you will rive through Bright on your way to Harrietville or it's sucha  short and pleasant drive that you can easily pop into the bigger town for any of your needs.
My personal preference is to stay in Harrietville. Yes there is a smaller selection of eateries (really there's only the bakery and Snowline Hotel worth eating at) but there is a lot more happiness and joy in the serenity of the town.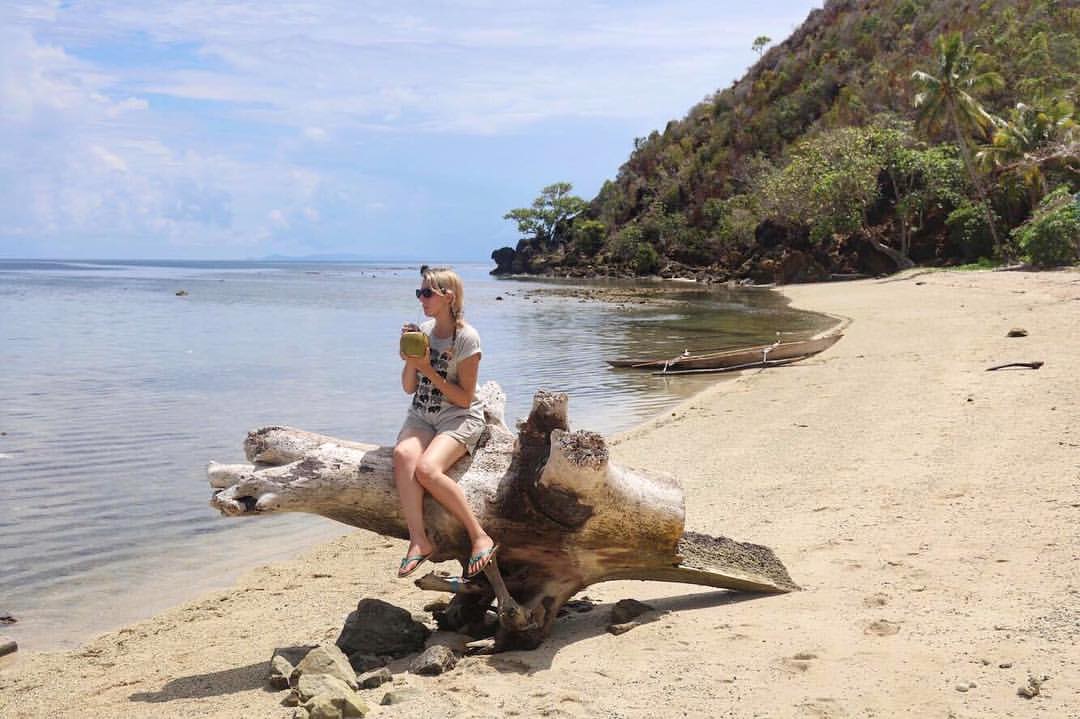 If You Liked This Post You May Also Like: