Hidden away on the banks of the eastern river Rapti, bordering the Chitwan National Park, sits one of Nepal's most eco-friendly luxury lodges, Barahi Jungle Lodge.  A place that will enchant you with the warm hospitality from the staff, the unique and plentiful food and endless cups of chai. No matter if you have a week, a month or a year to explore Nepal I insist that you come to enjoy the luxury that only an eco-lodge can offer you at Barahi Jungle Lodge. 
It's time to take a look beyond the jungle into the world of luxury at Barahi Jungle lodge.
Where is this luxury Barahi Jungle Lodge?
Barahi Jungle Lodge
is hidden away in one of Nepal's most unique natural areas. Dependant on how you like to travel it can be a 7 hour bus ride or a 30min flight from Kathmandu. As someone who has taken this bus ride, and I did enjoy it, I would suggest flying. You'll want to spend as much of your time relaxing and
indulging yourself at the Barahi Jungle Lodge
. Rather then getting a bumpy bruise ass on the bus. The amazing staff at the lodge can help arrange transport form the airport to the lodge. It really is a fascinating drive, through the villages and farming lands. 
The natural Nepalese beauty exists from the moment you arrive.
As you step out of the Jeep, or your preferred transportation, you'll enter the welcome office. A room with warm tones, stone floor and fresh tea. As well as a bathroom (if you're like me you'll be needing a toilet break), and a fresh hot face washer to refresh yourself. You'll need to get used to this – a smiling staff member handing you refreshing towels and drinks every time you come back to the lodge. After you've refreshed yourself, a team member will run you through some very vital pieces of information about the lodge, the Chitwan National Park and food. Food is important. This is also where you'll be introduced to your Naturalist. Remember this person, be nice to this person and you'll have the most magnificent time ever at the lodge. This individual's role is to make sure all you have a great time.
After your arrival briefing you'll be taken on a very quick tour of the main lodge facilities – the dinning room, the Turtle Lounge, Tiger's Den Bar and the pool. Rather then blab on about how amazing these parts of the lodge look I'm just going to let these photos do the talking for me.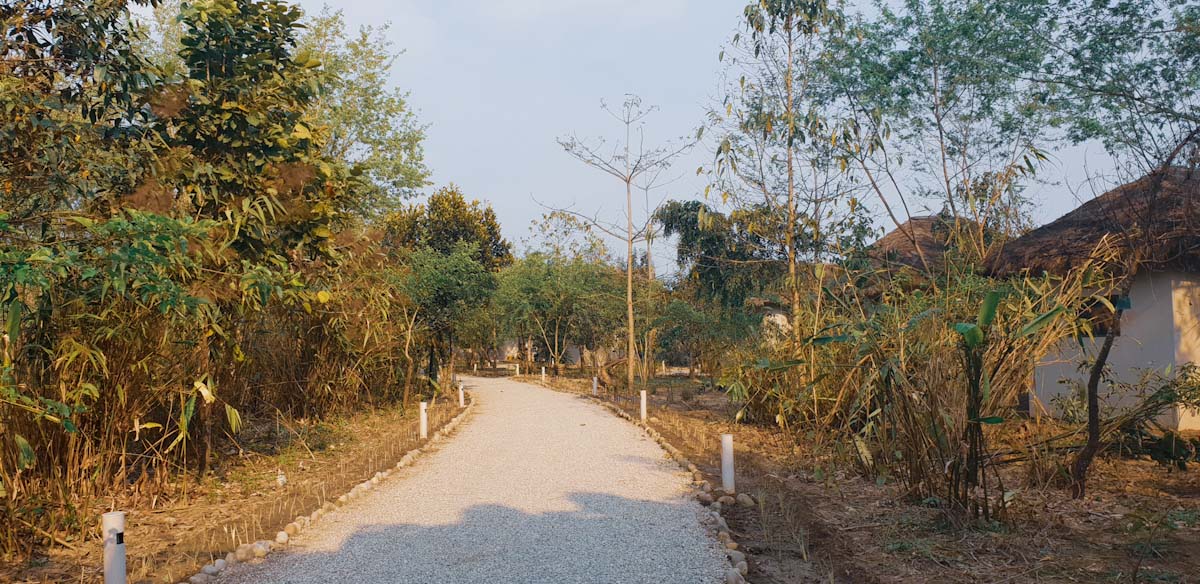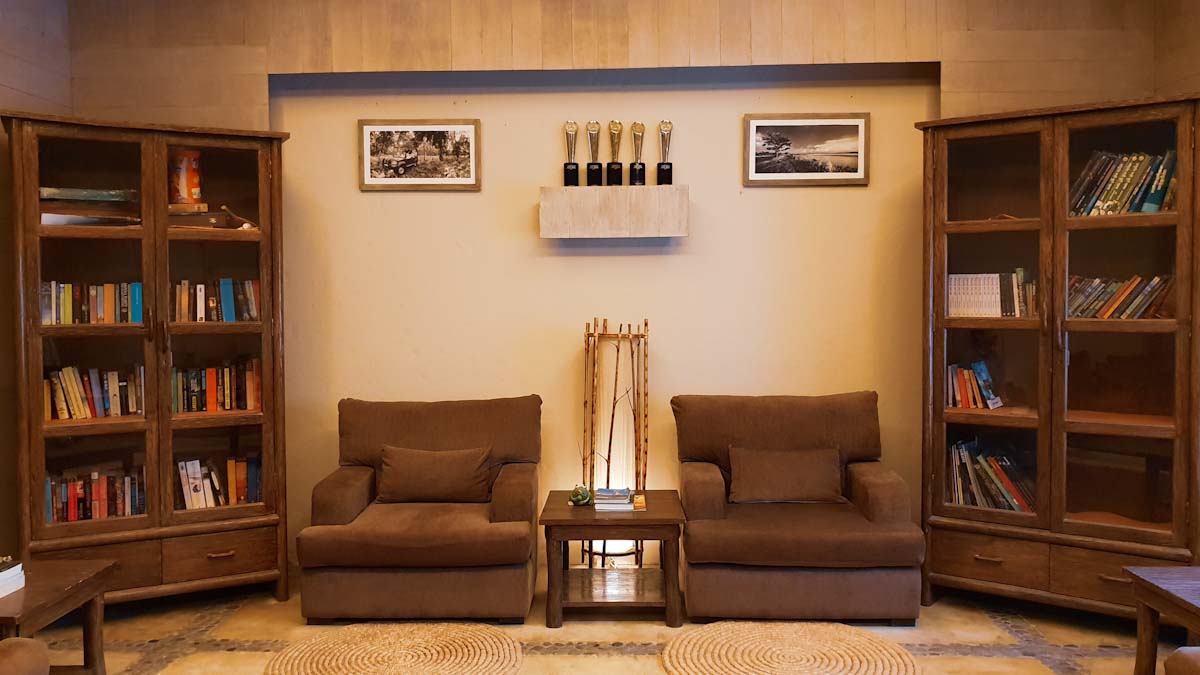 Home, sweet, home on the river Rapti.
Spread over 12 hectares, the lodge offers 34 deluxe boutique guest rooms and one family suite. The rooms are built as 28 individual and 6 interconnecting deluxe cottages. Each room opens to a private balcony and private views of the jungle and the river. Which is the perfect setting for an evening cup of tea or coffee. Oh did I forget to mention that each room is accompanied with the most magnificent local tea and coffee. AND COOKIES. delicious, golden little nuggets of joy. The never ending cookie jar was one of the many highlights of my time here.
The other highlights of my little space I got to call my own for three nights, was the massive bath and the giant bed. Which was overkill for just little ol' me, but I did take advantage of it. To show you how much fun I had in the bed on my own, I tried to take the most marvelous Instagram photo for y'all and failed miserably. For modesty reasons I didn't take any photos of me in the bath. You don't really need to see me all naked and chilling in a bath.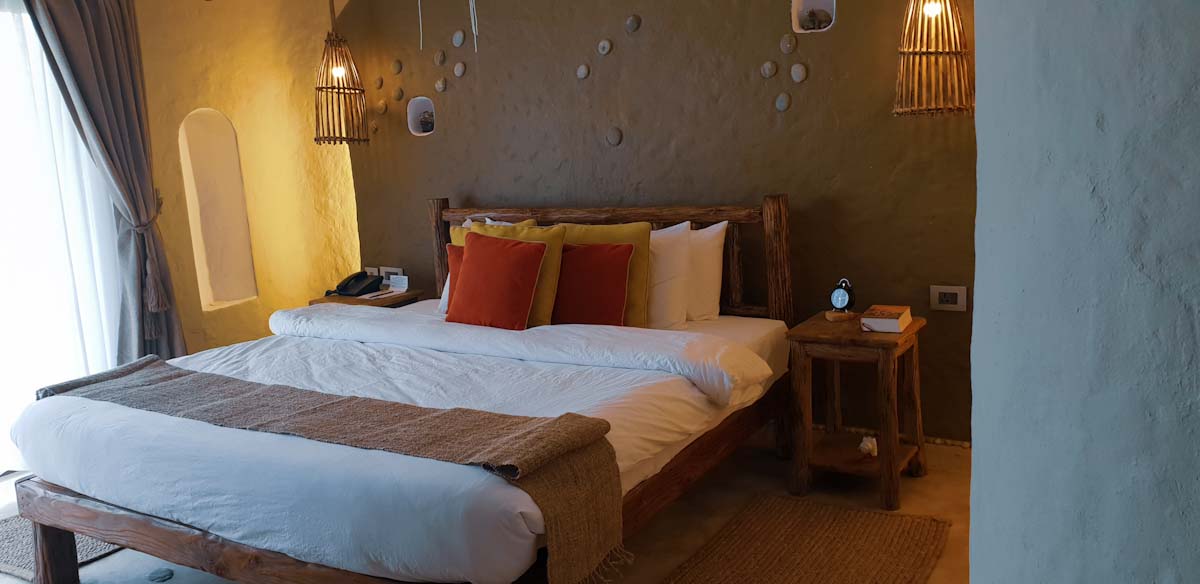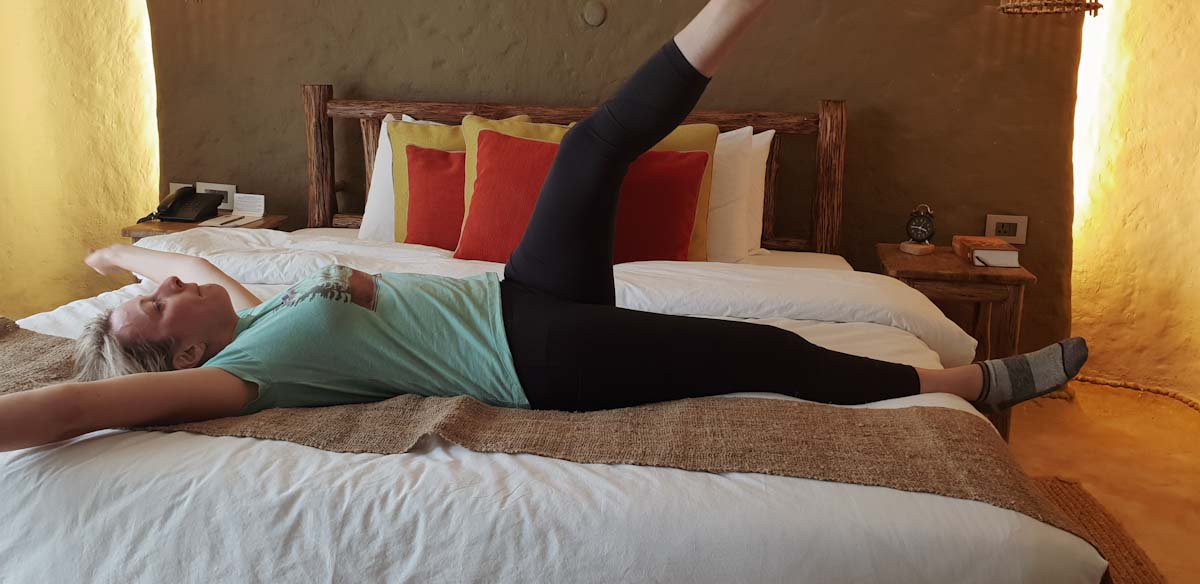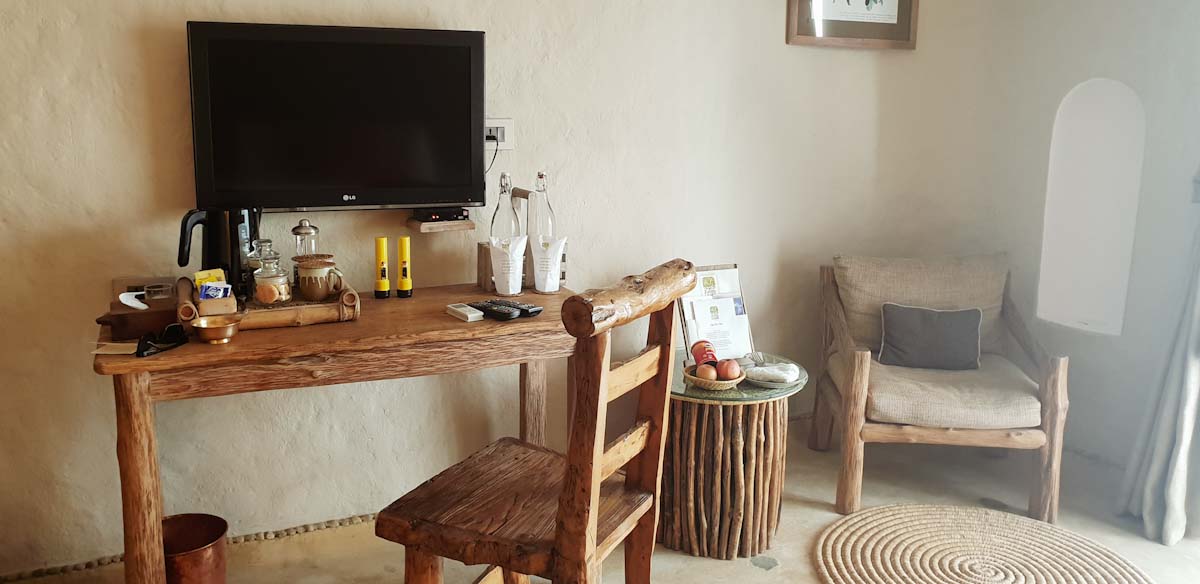 No plastics allowed at Barahi Jungle Lodge
Yes you did read the correctly. The Barahi Jungle Lodge is a plastic free zone. From the bathroom to the dining room and into your bedroom. No plastics. The bottled water in the room is in glass bottles, and comes from the lodges private filtration system. In the bathroom you'll find locally made bars of shampoo, conditioner and body wash. These smell utterly divine. I showered more often then perhaps I should have given the smell of these delicious soaps. I really loved them.
House keeping comes through several times a day to ensure your cookie jar is full and your water bottles are refreshed. Not to mention the fresh towels, bed is all made up and generally that your room looks picture perfect the entire time you are staying. If you're not ready to have house keeping come on through, you can put out the sneaky Do Not Disturb sign and enjoy your privacy. Which I did when bathing
.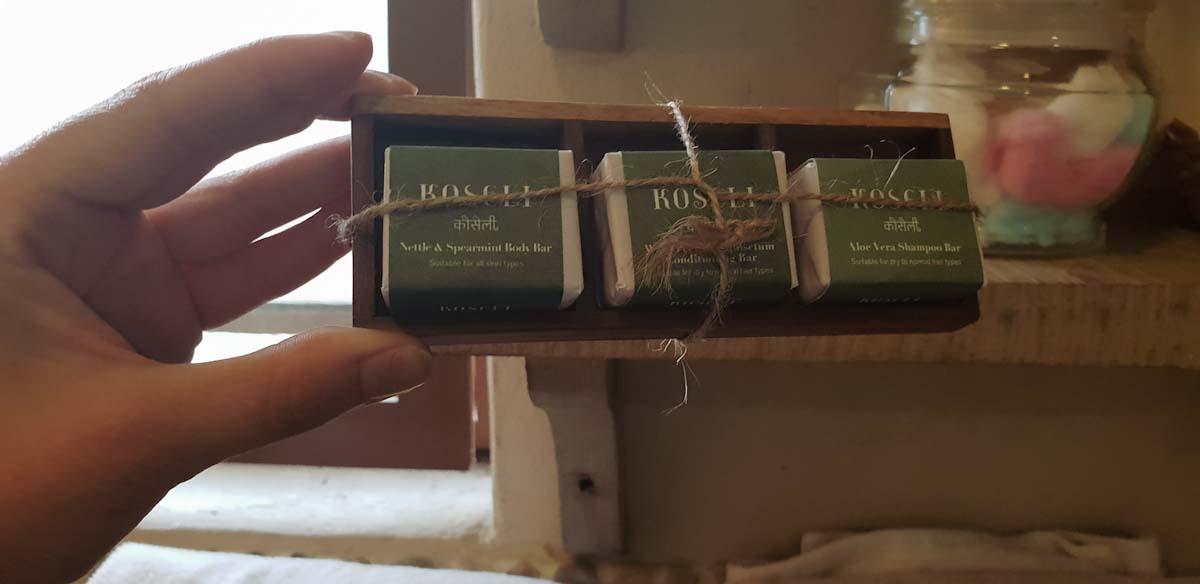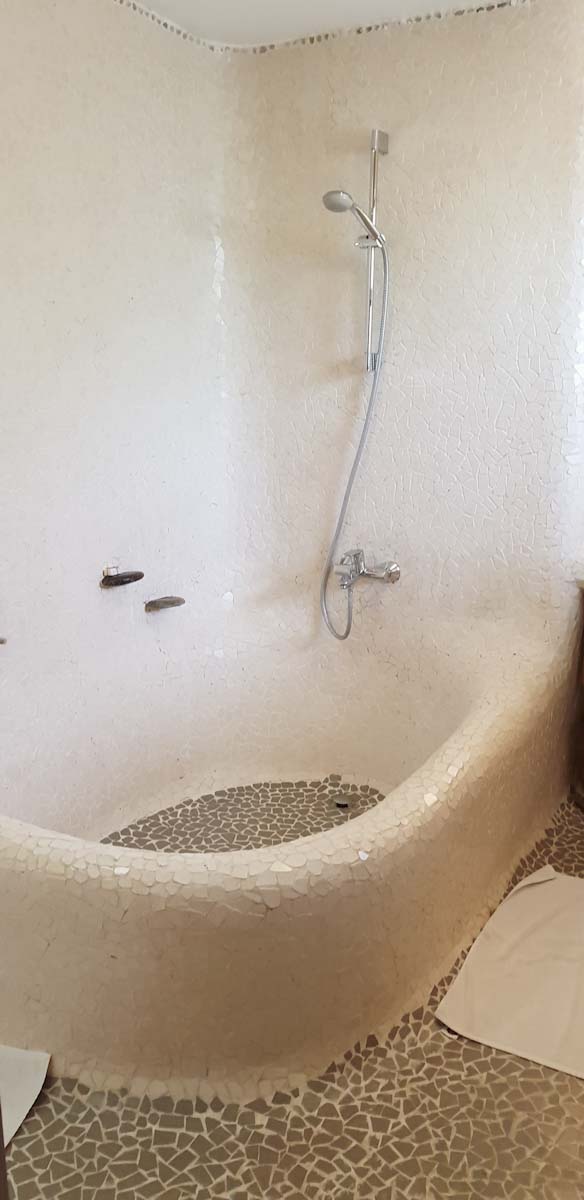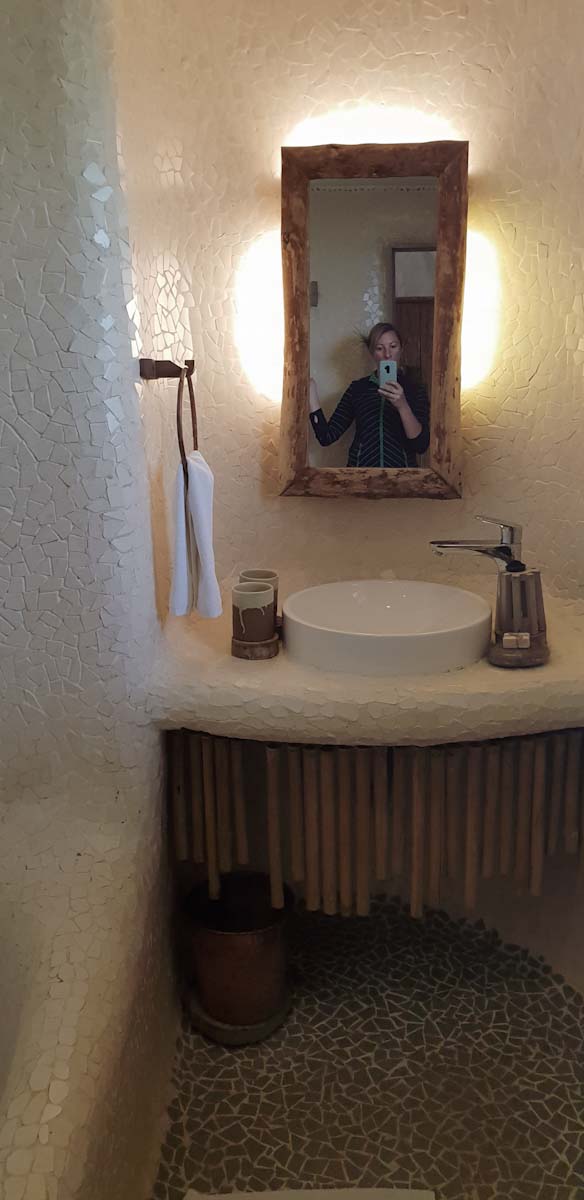 The beauty of Barahi Jungle Lodge
There's so much beauty here, that it's hard to define what I loved the most. It's so rare for a hotel to tick all the happiness boxes for me. Great food, great coffee (French press) endless chai and a wonderful world of natural activities to enjoy. I really can not thank the staff, especially the Genreal Manager Mr Varun and my now very good friend and Naturalist Anuja for their fine hospitality. 
Even though my stay here was only 3 nights I could have happily stayed for three weeks and have not gotten bored for a single moment. If I was ever to go and work for a hotel, it would be here at the Barahi Jungle. Not only does the hotel invest considerable time and energy into the lodge itself, but they also take care of the community that surrounds the lodge. With health programs, education programs and cleaning the jungle just to name a few. As well as employing over 95% of the hotel staff from the local region and investing considerable time in educating these staff. Ensuring that should they ever decide to leave the lodge they are exceptionally well prepared for the world beyond their village  with employable skills and a firm understanding of English.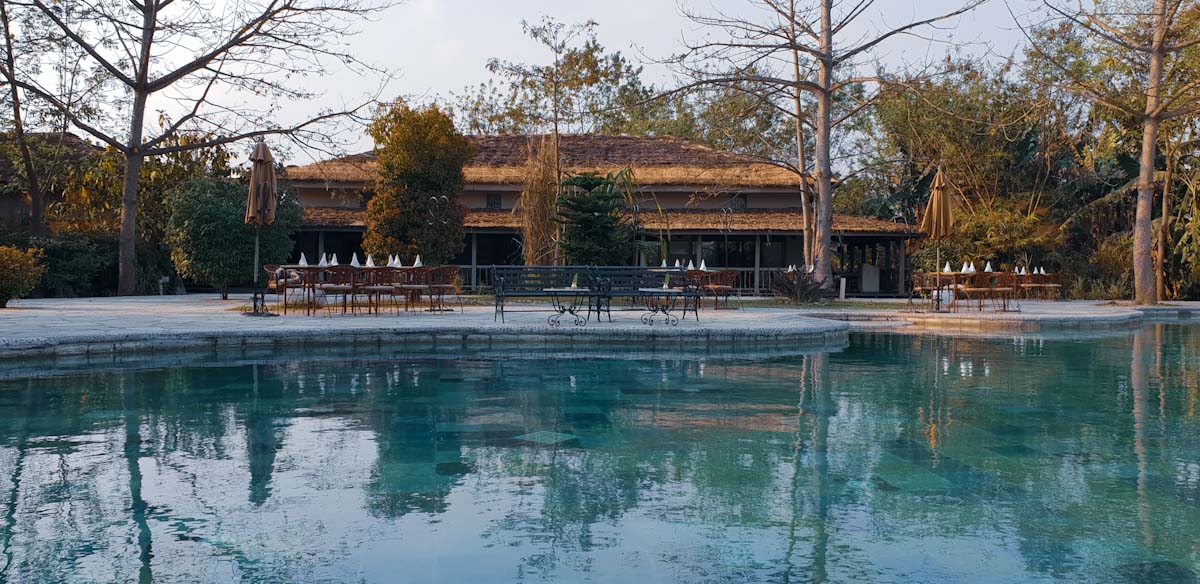 The fine food and beverages at Barahi Jungle Lodge.
When you consider how far away you are, you'll be truly surprised at the delicious culinary delights that come out of this kitchen. Now you will have to preorder your meals as the kitchen is teeny tiny and they do only cook to order. This reduces food wastage and ensures that the kitchen staff aren't flustered, when there are many diners around. Now if you're like me and forget to order food you will get a phone call from the Food & Beverage Manager double checking that you are felling ok and checking what you would like for your next meal.
I tried all the dishes on offer, the Nepalese, the Indian and the Western styled food. Including a vegetarian option. Each meal you have in the dining room is three courses – a soup, a main dish and a dessert. For someone who eats like a bird it's a lot of food to get through. At no point was I ever left wanting more food, after I had eaten. As the food is cooked on demand for you there's no issues if you are vegetarian, LOW FODMAP or coeliac. The team here can create you a wonderful meal no matter what your food issues might be.
Sadly I didn't get to try the breakfast buffet as each morning my beautiful naturalist Anuja and I were out exploring and ate on the way. But seriously the food that they sent with us was some of the best I had in Nepal.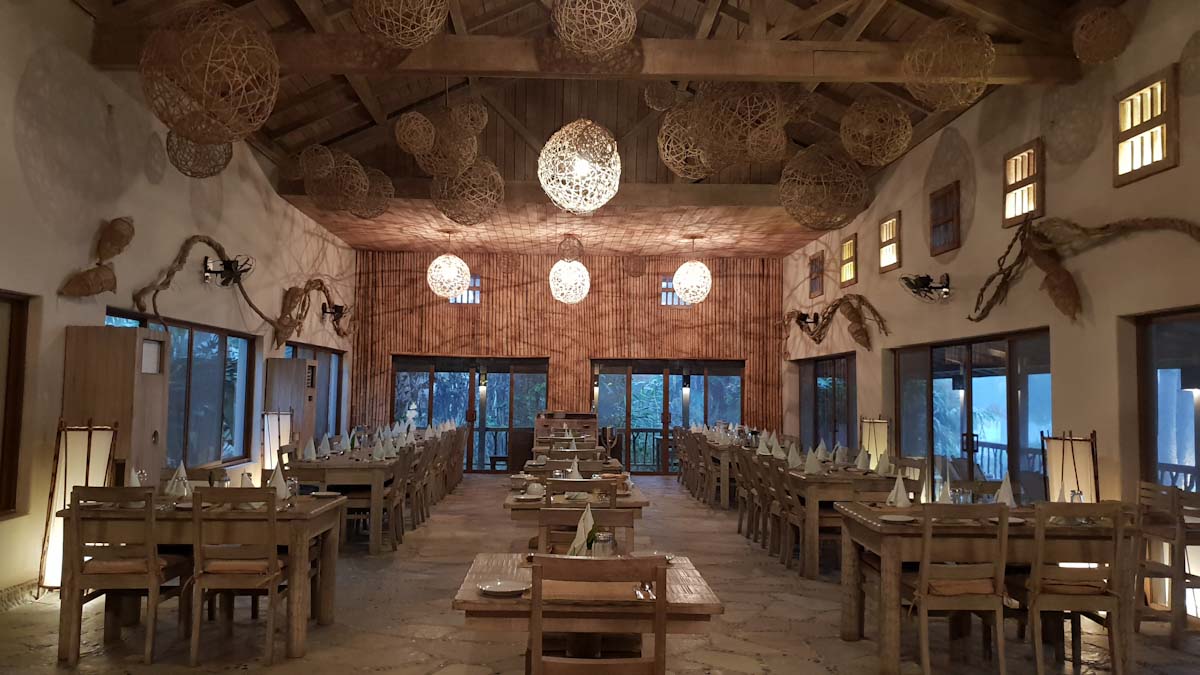 What to wear when you're experiencing sensual luxury at the Barahi Jungle Lodge.
Nepal is a rather conservative country. With many of the staff being Tharu and Nepalese you'll want to show a little bit of respect in your outfit choices. Just as importantly you will want to be comfortable. No matter what time of year you decide to visit the lodge you'll be wanting:
A good pair of hiking boots for your Jungle walk.
A relaxing dress for time spent by the pool.
A soft shirt to cover up, just incase the mosquitoes decide to come and nibble on you late at night.
A large sunhat, cause no body has time for sunburn when relacing by the pool.
Sunglasses so you can see the tigers when you're on a Jeep safari.
Should you stay at Barahi Jungle Lodge?
Yes. Don't forget to let me know how much fun you had at the Barahi Jungle Lodge.
You don't have to believe me. Check out what my beautiful friend Roxanne got up to at Barahi Jungle Lodge.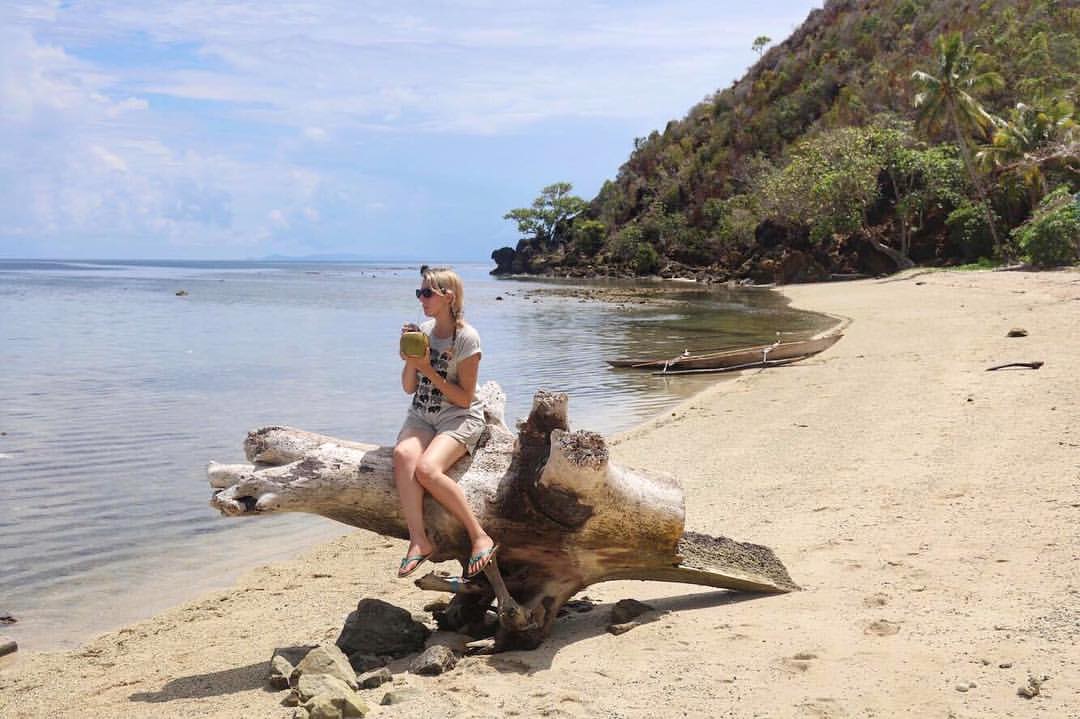 Just a teeny tiny note on affiliate links – We are a participant in the Amazon Services LLC Associates Program, an affiliate program designed to provide a means for us to earn fees by linking to Amazon.com and affiliated sites. We're also a member of a few others and may make a bit of coin on the side, this is at no extra cost to you. 
If You Liked This Post You May Also Like: