When you're in a luxury resort, on the edge of a national park, it can be easy to be overwhelmed with choices on what to do. Should you go for a swim in the pool, have a relaxing moment in the spa or lace up your boots and go for a walk through the jungle? So many choices, so little time. I can tell you if it hadn't of been for my amazing Naturalist Anuja I would have spent hours pondering and regretting my decisions on what to do during my three day heavenly stay at Barahi Jungle Lodge. So to help you narrow down I've listed my three favourite experiences and ones that I think you really shouldn't miss when you are enjoying the life of luxury at Barahi Jungle Lodge and the wilderness surrounding the Chitwan National Park. 
Top 3 activities you need to experience at Barahi Jungle Lodge
Take a safari ride deep into the jungle
It's a wild jungle in the Chitwan National Park and it's just waiting for you to come along. Now for ethical reasons I chose to go on a Jeep safari, not an elephant back safari. And I'm glad that I did. As I was in Nepal there was no chance that I wasn't going to go on safari in the Chitwan National Park.
Now you will want to get up early in the morning for your jungle safari. Actually for the best animal experiences you'll need to be up at 6am, leaving by 7am. Don't stress about missing breakfast. The team will either bring breakfast for you, or you can eat it when you return to the lodge. Trust me when I say that the food and beverage team will not let you go hungry. Not for a single moment. 
My morning started with a cup of chai, a quick boat ride across the river and to our waiting Jeeps. What follows is a blur of bouncing around, river crossings and seeing some of the most magnificent animals I've ever seen in the wild. And breakfast by the river. The Jeep safari is an immensely fun activity, as you go deep into the jungle and see what lives within. We came across a lot of animals on of Jeep safari including a tiger! I don't know how I was so lucky but during my time at Barahi Jungle Lodge I saw rhinos, a tiger, civat cats, deer, monkeys, wild elephants and so much more. 
During your safari you have so much freedom, and being accompanied by a naturalist and a local guide you have the opportunity to deep dive into the jungle and ask all sorts of questions.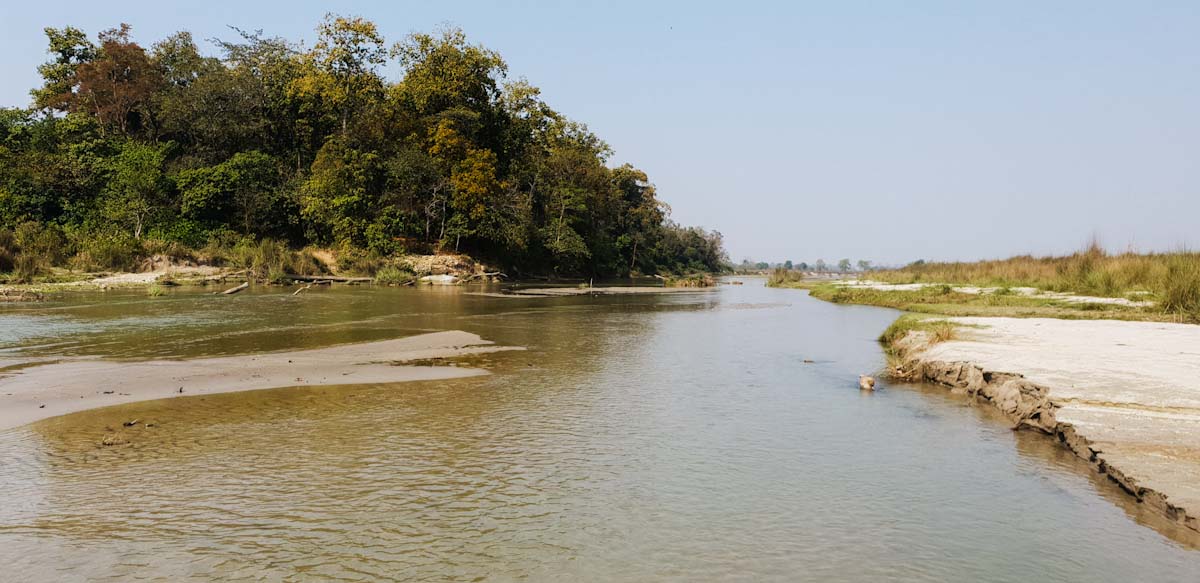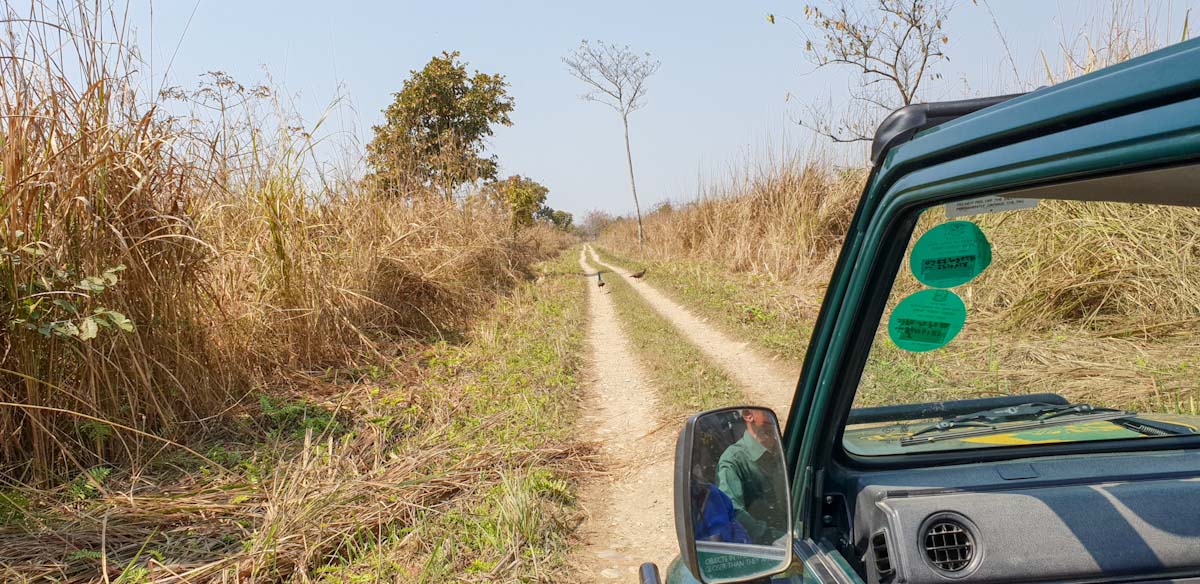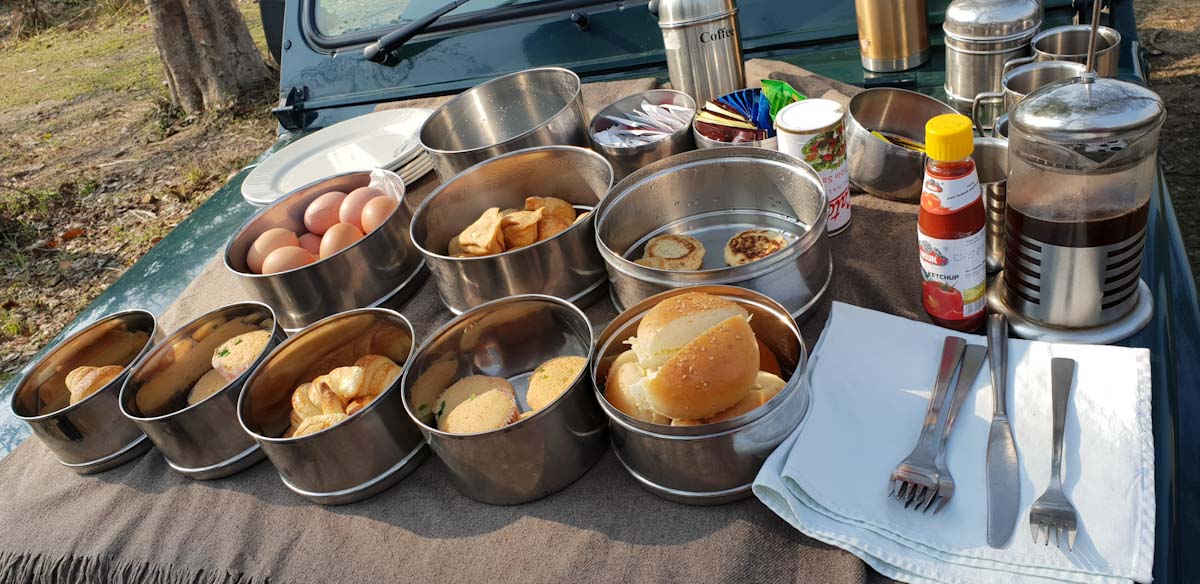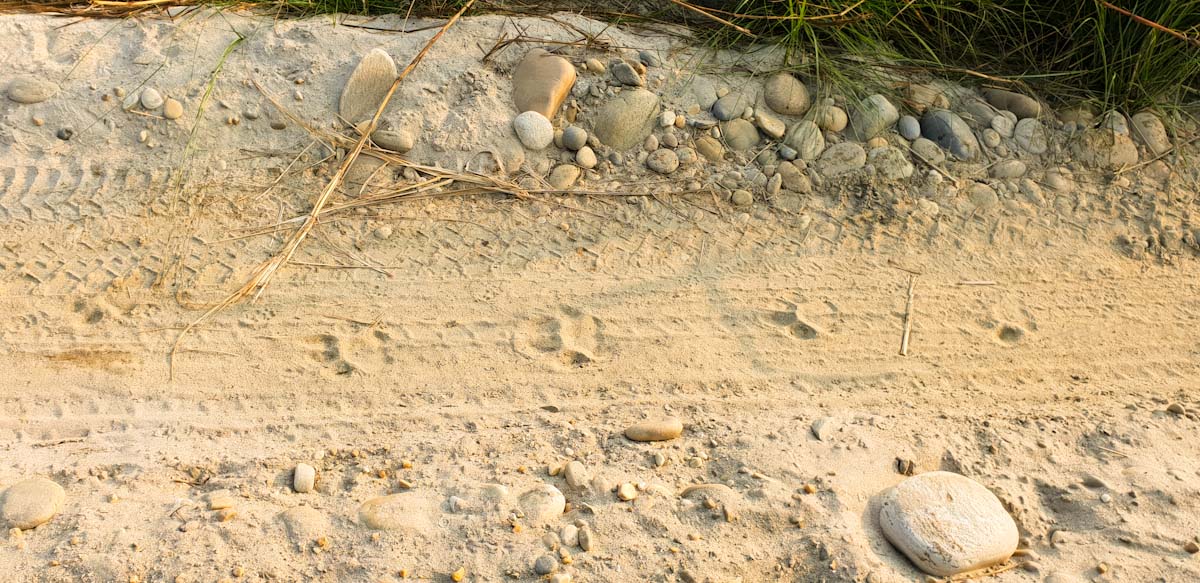 *Note that whilst the Jeep safari is amazingly fun, don't be afraid to do a jungle walk in the afternoon. You'll see very different things. For instance we walked over a log that had recently been used as a scratching pole for a tiger. proof that tigers are just over grown kitties who like to have fun (and scare the bejebus out of tourists when they see how deep those cuts go). When I return to Barahi Jungle Lodge, I'll be booking myself in for an all day jungle walk.
Don't forget to grab yourself a pair of study hiking boots. I love and use Ahnu boots
Cruise down the river Rapti
During your time at Barahi Jungle Lodge you can't avoid spending time on the river Rapti. It's a shallow river, with crystal clear water and full of life. You can't swim in the river as there are quite a few things, like crocodiles, that will happily nibble on you. There is two river cruises offered, morning and dusk. Do both. Don't question it, just book yourself in for both cruises. Now I saw cruise but there aren't any petrol powered boats allowed on the river. Instead you are taken on a traditional canoe and paddled down the river for around an hour. The below photos show you the difference of the river in the afternoon and in the morning. Both times I was mesmerised by the beauty of the river and the life that surrounds it. Again I was extremely lucky and saw rhinos, including a mumma rhino with her baby, a giant heard of deer and  lazy crocodiles. 
There's nothing quite like sitting at the junction of the Rapti and Narayani River and listening to the silence of the jungle.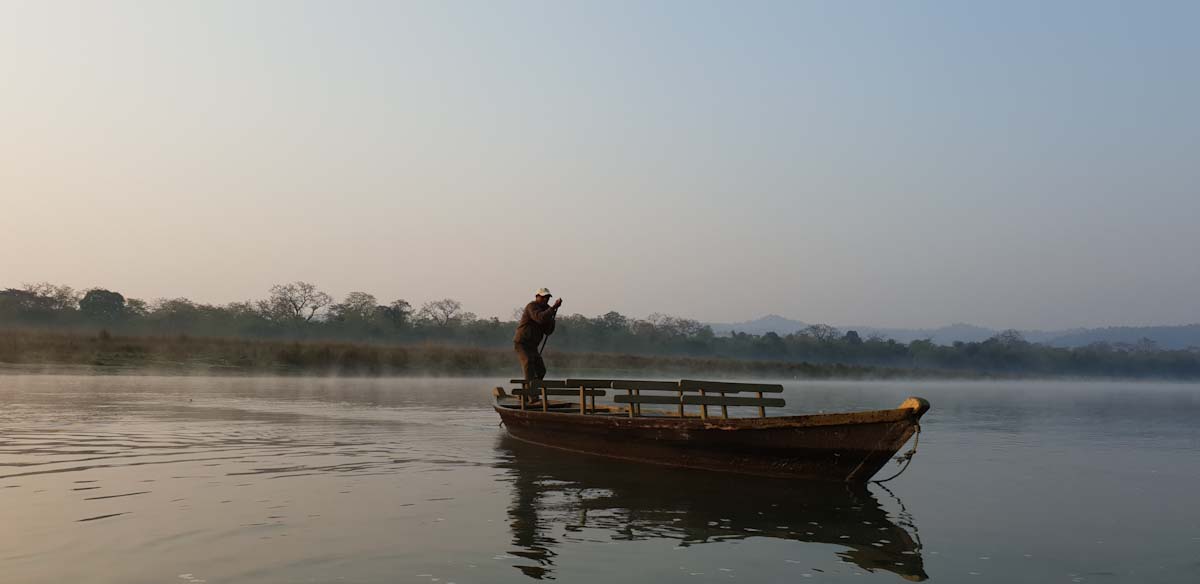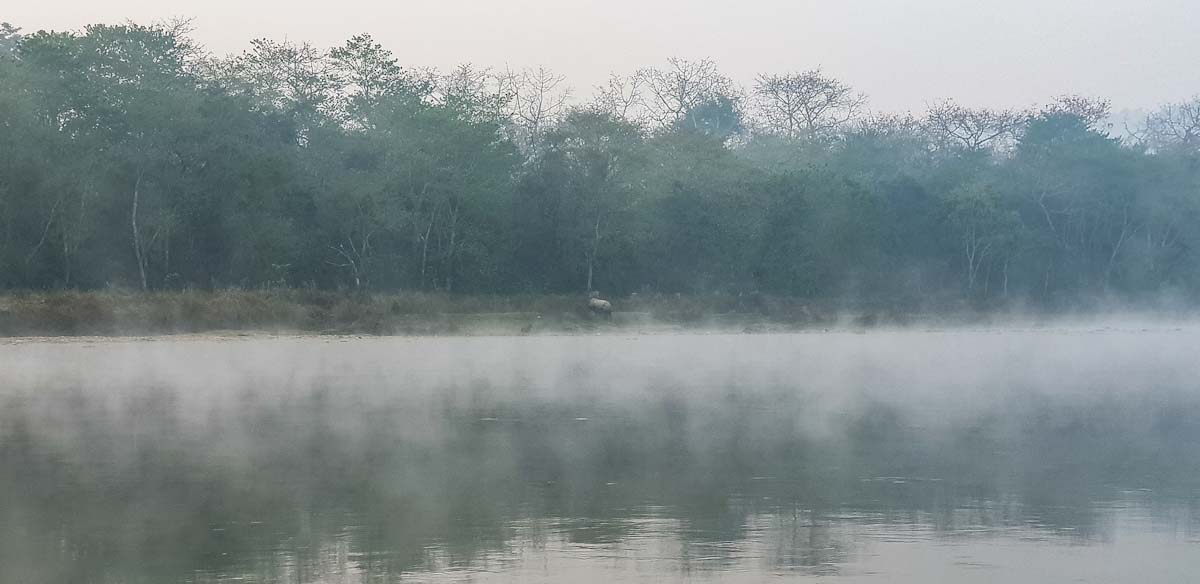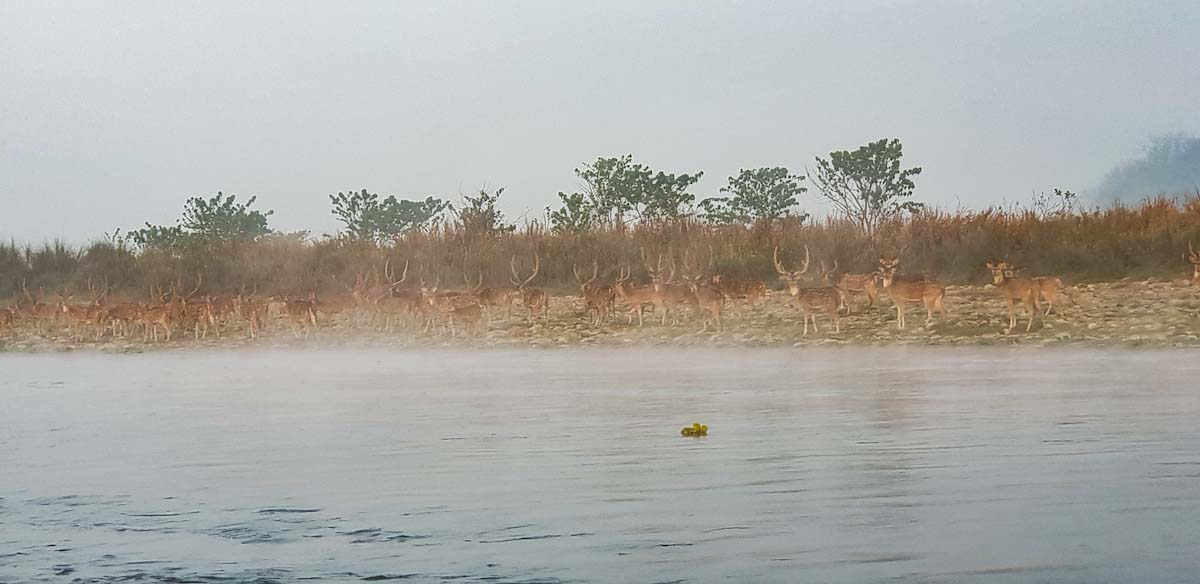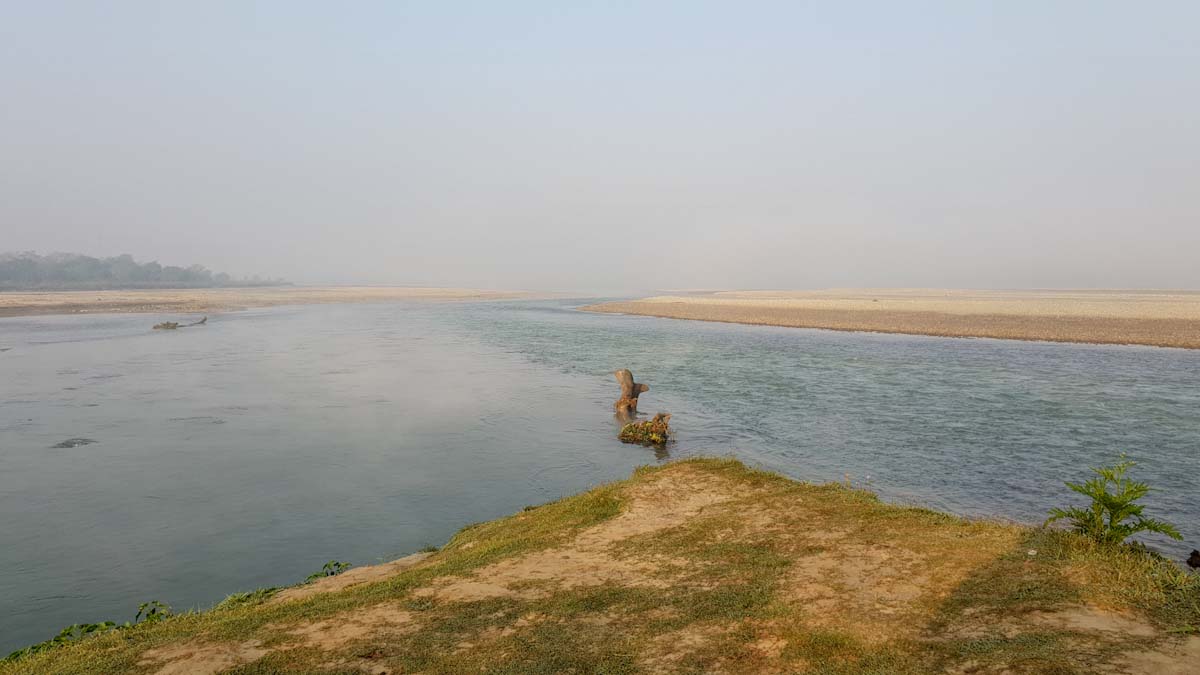 Enjoy a cup of chai in the Turtle Lounge
No matter what the weather is doing, there was something so simple and so pleasurable at spending time with my book and a fresh, hot cup of chai, relaxing on a large chair in the Turtle Lounge, which overlooks the pool and river.  Just watching the world wonder on by. The world around Barahi Jungle Lodge might be other guests, it may be the superbly trained staff or just as likely it'll be elephants strolling in the afternoon or a rhino taking a relaxing bath in the Rapti river. 
No matter what time, either early in the morning, or just on dusk, there was a smiling staff member ready and waiting for me at the drinks bar to make me a fresh cup of chai. It was one of the hardest things to readjust to when I left Barahi Jungle Lodge, was that I didn't have staff on hand to chai me up when I needed a cheer me up. 
Is this all that Barahi Jungle Lodge has to offer?
Ah no. There is so much more on offer for you to experience and fall in love with. These three activities were my must do top three if you are short on time. I was also fortunate enough to get to go on a jungle walk and to go into the local Tharau village on a bullock cart. Which to me was a highlight, an uncomfortable and slow highlight, but still it's an experience not to be missed. You get to see the community at the grass roots level and see the positive effect that the Barahi Jungle Lodge is having on this small part of Nepal.
Shortly you can read my full review of my stay at Barahi Jungle Lodge, which will cover the night time adventures and a look into how a luxury resort can support the community that it's placed within. Until then here's a photo of the lovely little elephant that I got to hang with, feed elephant candy and generally had a great time with. No riding or bathing took place.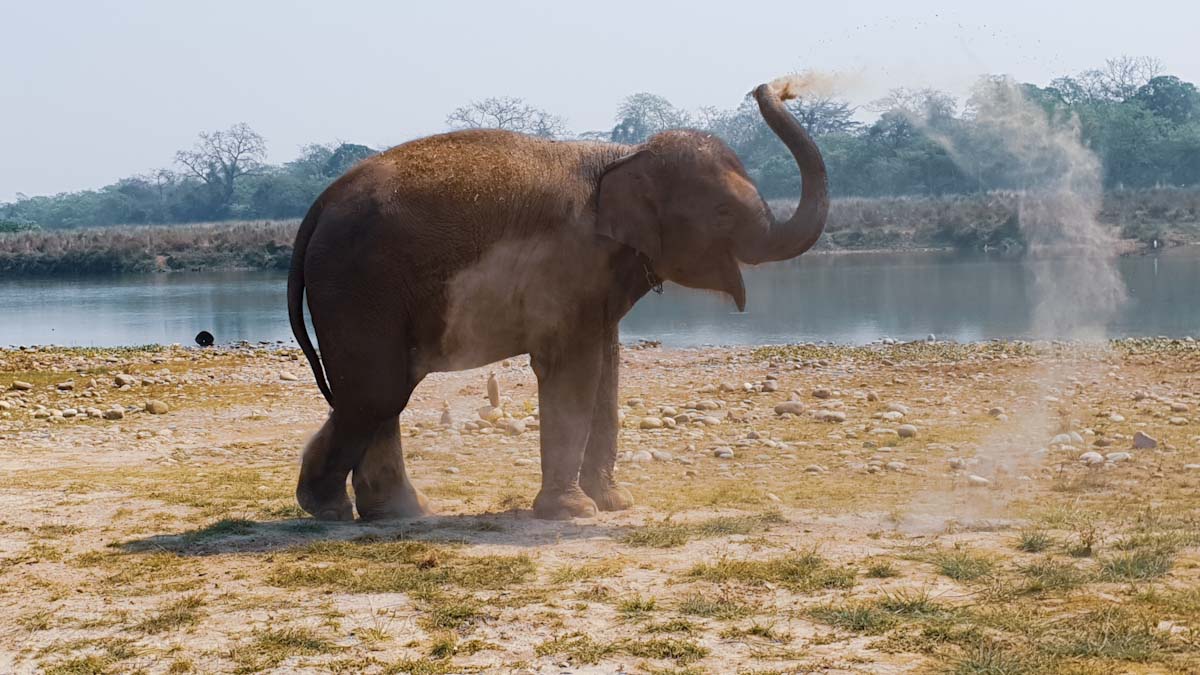 How much time should you spend at Barahi Jungle Lodge?
At least two nights. One night is no where near enough time, and ideally three nights would be best. There's quite a lot to see and do. The rooms are delightful, the staff are fantastic and the food is next level extraordinary.  You'll want that extra time to participate in the activities on offer, as well as have some chill out time. 
Where is this hidden paradise?
Barahi Jungle Lodge sits on the Rapit river, who curves around the Chitwan National Park. This is the quiet and relaxed part of tourist accommodation that allows you access to Chitwan National Park. There is only one other resort within sight, and you'll barely see another tourist around. If you do, most likely it's a backpacker or two enjoying a homestay experience in the Tharau village. To get to Barahi Jungle Lodge you're best bet is to fly to the airport and arrange a pick up with the lodge – it's around a 35-min drive from the airport to the lodge. Or to hire a driver to take you to the lodge from Kathmandu. It's an approximately 5 hour drive.  If you wanted to brave the buses you'll need to take the tourist bus to the airport and hopefully connect with a local bus – I'd only suggest this for the truly adventurous traveller. My suggestion would be to take the 30mins flight from Kathmandu.
Barahi Jungle Lodge is the perfect place to escape the hustle and bustle of Nepal and reconnect with nature, without having to hike in the Himalayas. Whilst I did my jungle experience and then hiked, in hindsight I would do it the other way around – hike the Himalayas and then take myself to true relaxation and natural bliss at Barahi Jungle Lodge. It's the perfect place to find your happiness before leaving Nepal and heading home. 
Have any questions on what do in in and around Chitwan National Park? Leave a comment below and I'll try answer it as soon as I can.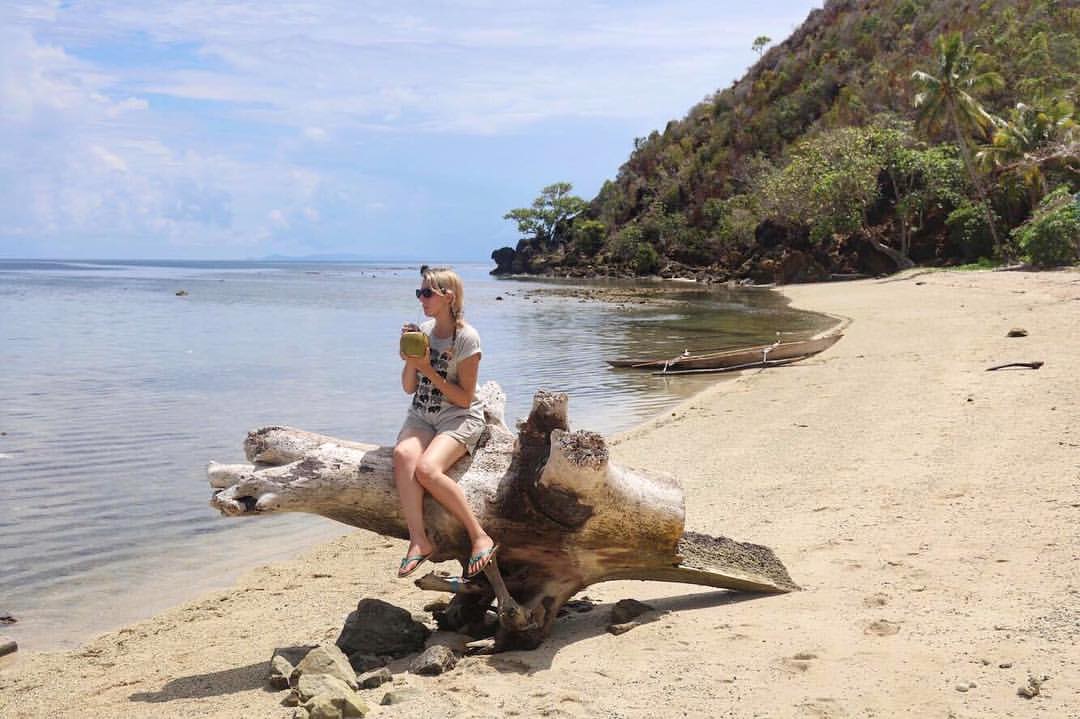 If You Liked This Post You May Also Like: