I always say that the best way to explore a city and connect with the locals is to eat your way to happiness. I personally love eating. I really do. I love trying new food, exploring old favourites and seeing how a local dish is different to what I can get back home. The joy that eating, food and sharing the eating of the food with friends and family brings me is rather well joyous. It's such a simple thing, that we all need to do – eating. So with three days in Kathmandu, and travelling with a LOW FODMAP coeliac friend and another on her way, I jumped on the opportunity to explore the hidden wonders of Kathmandu with a
secret tour with Backstreet Academy.
Kathmandu is a city full of hidden wonders, alley ways, lane ways, court yards and
great Nepalese coffee
. These all hold the city's culinary secrets. And in all honesty there's no way that we would have had the courage or desire to walk down some of those dark alleyways to discover the local food vendors. Yes you can find great food and coffee in Thamel and on the main streets, with little to no trouble. You will pay a tourist price and it's not that much money to spend, compared to the money we spend on food in Western countries. If you do want to deep dive in the city then you need to go on an adventure with a local resident.
Discovering the delicious hidden secrets of Kathmandu with Backstreet Academy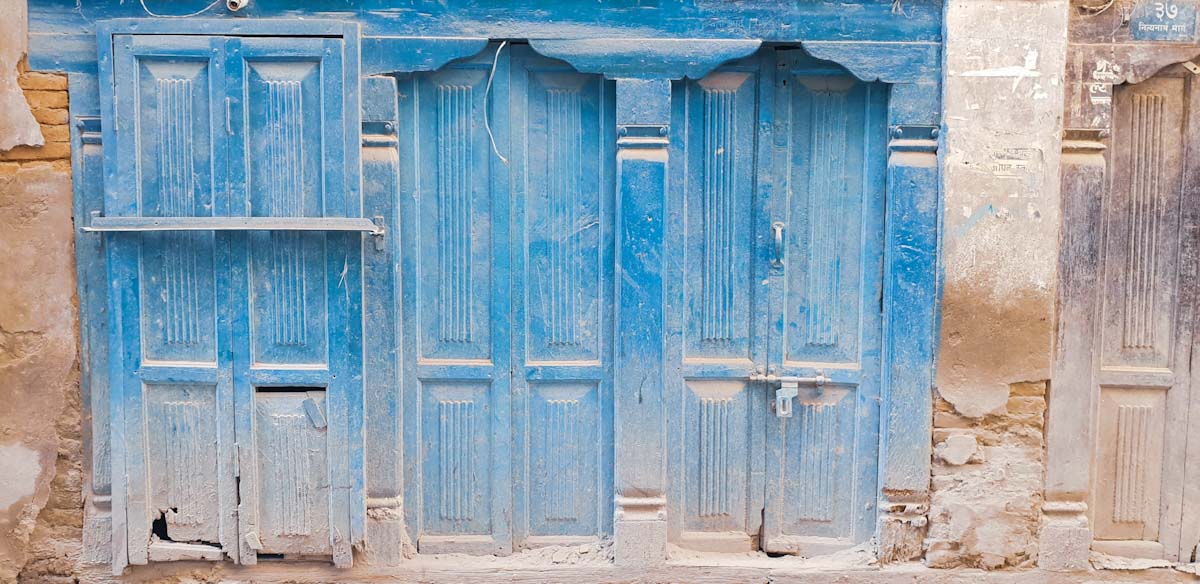 Who or what is the Backstreet Academy? 
Backstreet Academy
 fundamentally is a tour company, offering unique experiences. But that's a high level and odd view point to have of the company. Really Backstreet Academy is a
peer to peer travel platform.
Allowing you, the traveller, to connect with locals and get a friggen amazing experience. It's more then just a quick tour, your meeting and hanging with people of similar interests.
Or in their own words; "We bring back the lost lustre of travel in the age of mass tourism. We bring back the lost human connection that we lost in our rush to see each and every attraction. We bring back the curiosity in traditions, skills and culture and not just in the form of looking, but by having an intimate, hands-on experience with a master of his craft. Travel different, travel the backstreets of the world and experience its wonders like never before."
Not only are the tours truly unique and in-depth local tours, but you are working with people that aren't your typical tour guides or class teachers. The team at Backstreet Academy work with people within the community. The Backstreet Academy yours are currently offered in 8 countries and 40 cities such as
Kathmandu
,
Hanoi
,
Cebu
and more.
"We literally parachute into communities and sign them up personally. Our product team works and lives among our hosts to ensure only the best people are on the Backstreet network, and then we hone them to perfection with our training program. Working directly with them intimately, you can be sure we get not only the best people, but impact them positively. We also work with local NGOs to ensure community buy-in and building on foundations."
We had originally booked in for this
sewing class
and the breakfast tour. Sadly the sewing class was cancelled due to a family tragedy on the teachers side. Rather then cancel our time together, we opted for another food tour. Cause food is life when travelling. 
Our afternoon walk starts at our stunningly cold hotel and before we know it we are in the hustle and bustle of Kathmandu. The smells, the sounds and most importantly the food. Our guide is an absolute delight. Taking the time to explain the dishes and explain to the stall holders that I'm a travel blogger. Many people just sat back and laugh at me trying to take photos of the food. Fair call. Another perk of going with a guide was the whole food intolerance thing. Having someone be able to easily explain my companions dietary needs.
Baras, Samosas, Momos, pani purri and a teeny tiny lassi are the 5 epic eating stops that we get to devour. And boy did we eat a lot. It hurt and my pants were just not quite stretchy enough.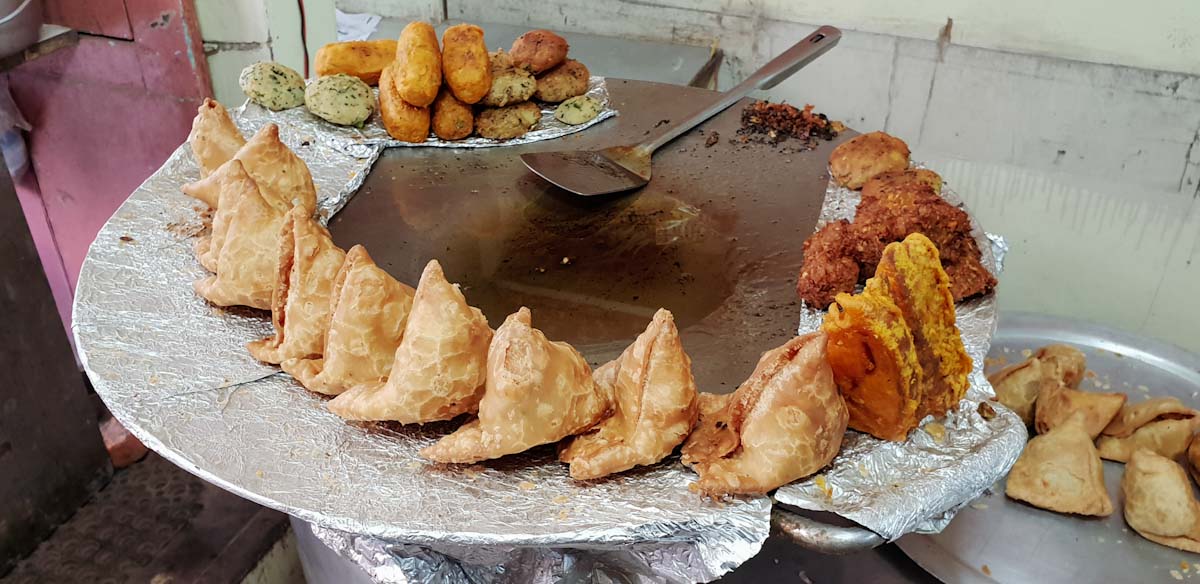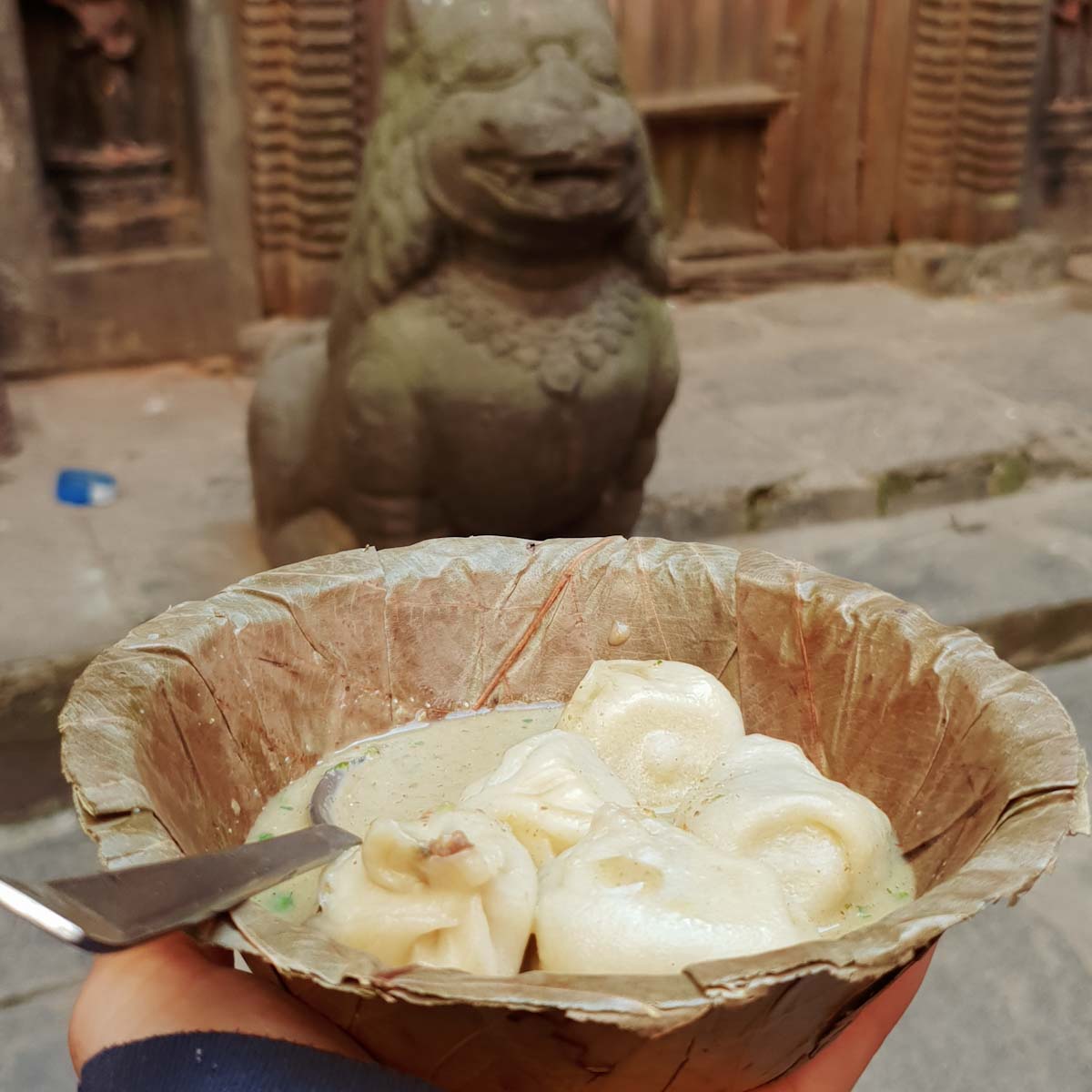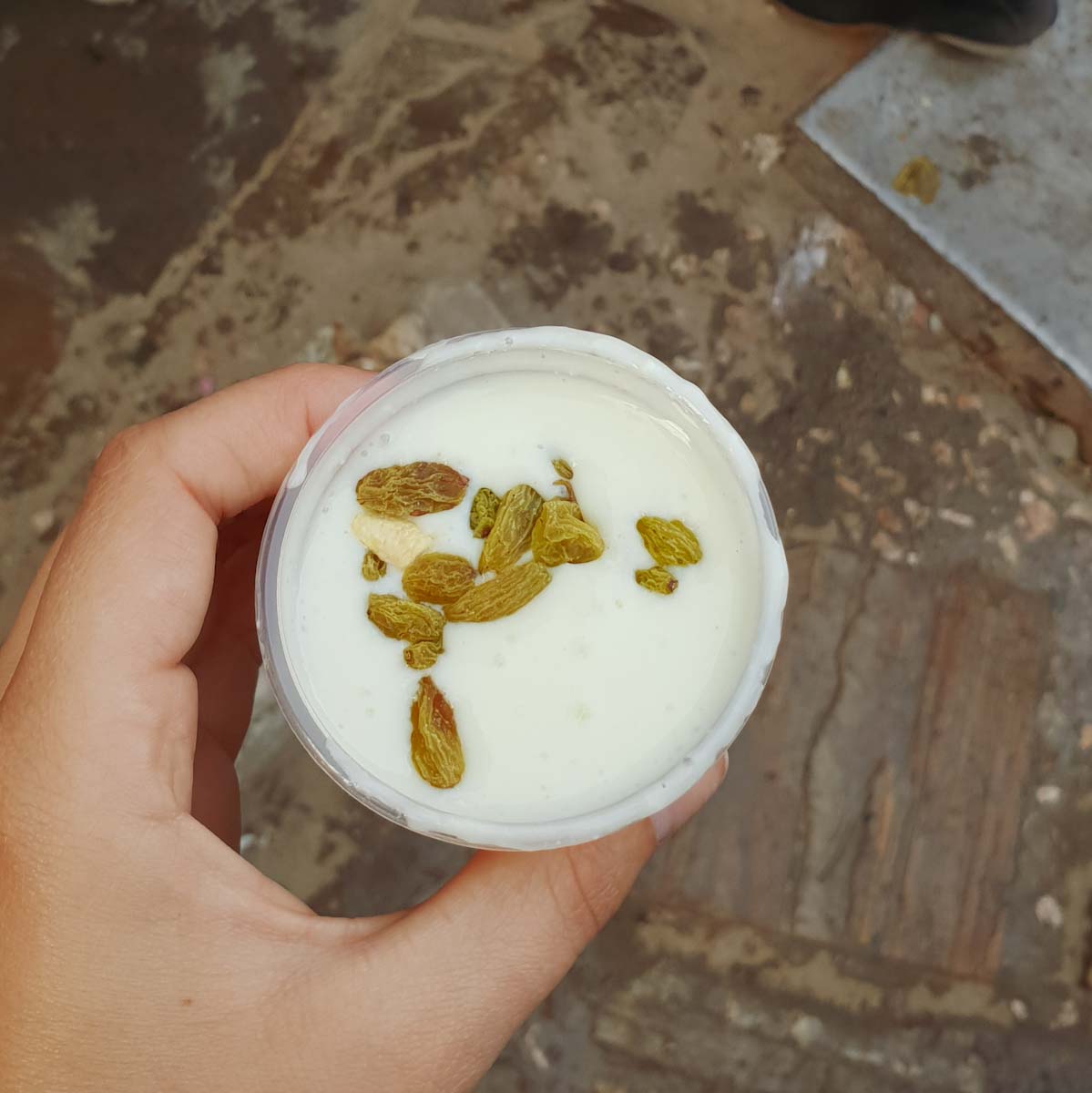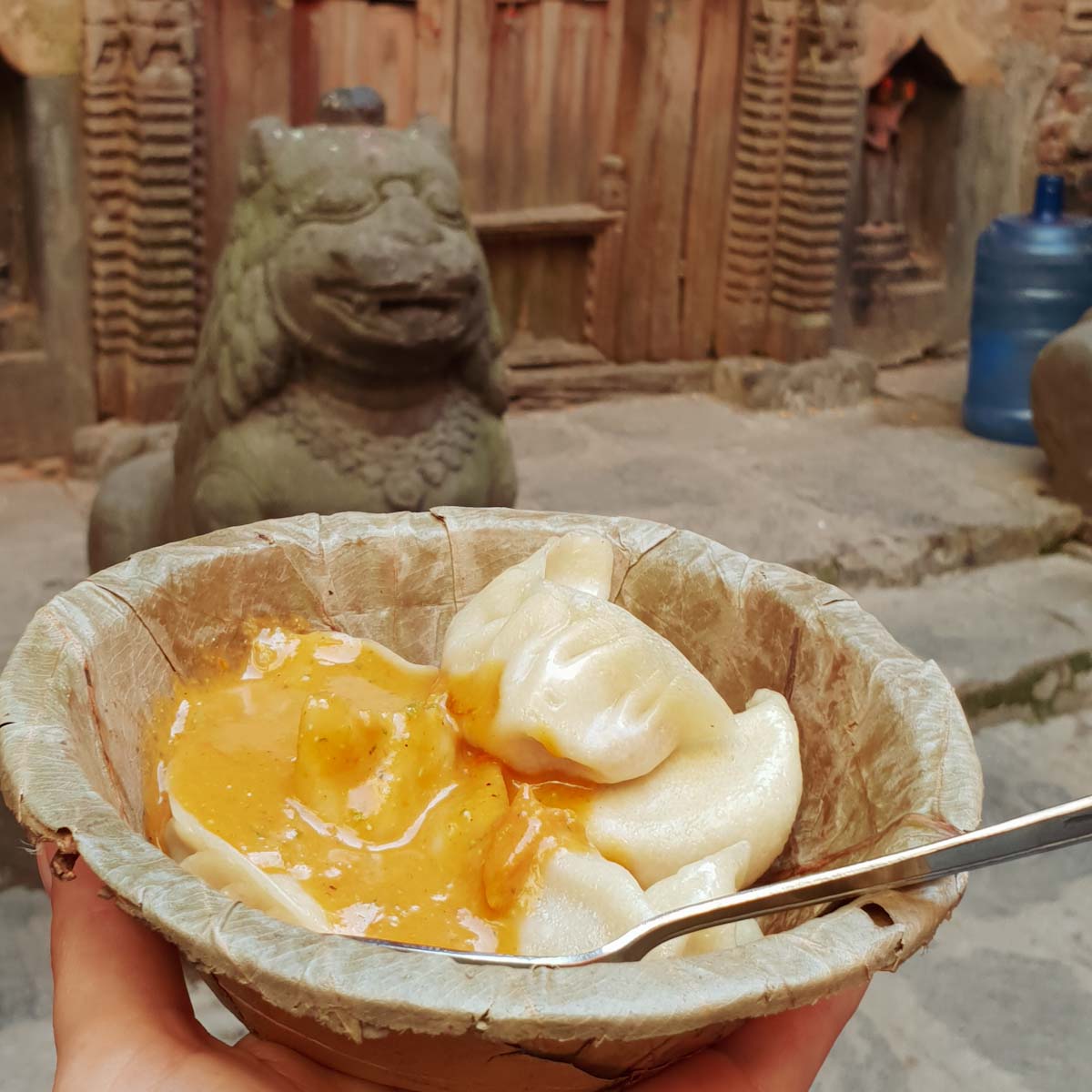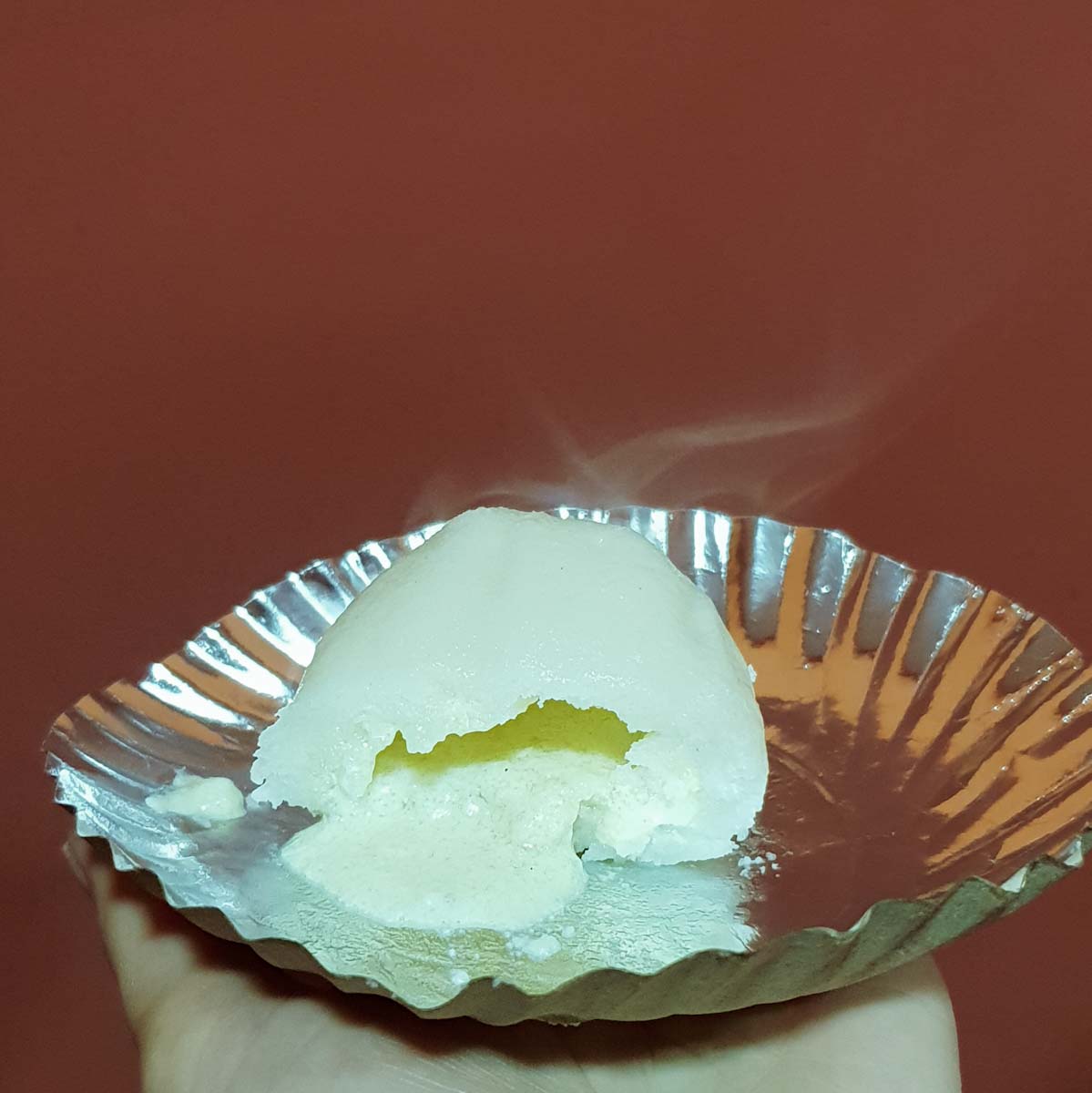 Now I usually don't like to get up at the crack of dawn for a tour. I'm more of a night owl, snoozer kinda girl when I have a few days in a city. This tour was well worth the 6am start. It was the perfect start to our day and a very unique way to experience Kathmandu. We had previously walked through some of the areas the afternoon before on the secret food tour. It was simply fascinating to see the difference. The morning areas bustling with fresh food sellers, business people hustling to work and students. Oh so many students going on their way to classes. All before 7am! 
Here's a rough outline of the things we ate. I say a rough guideline because we ate a lot. Like a LOT LOT. And we talked a lot too. Our guide Frankey was a wealth of knowledge on all things Nepal – history, politics, the history of politics and of course the food. This was another tour were we didn't need to eat lunch as we were so full.
Sel Roti (Nepali doughnut), Malpuwa, Aloo Puri set, Gwara Mari ,Haluwa and most importantly as many cups of chia as I could drink. Now considering how much I loved drinking chia it was a lot. Never heard of this? Well me either, and there's good reason for that. Most of these dishes are rarely sold outside morning hours and even if you do find them it's probably not as fresh.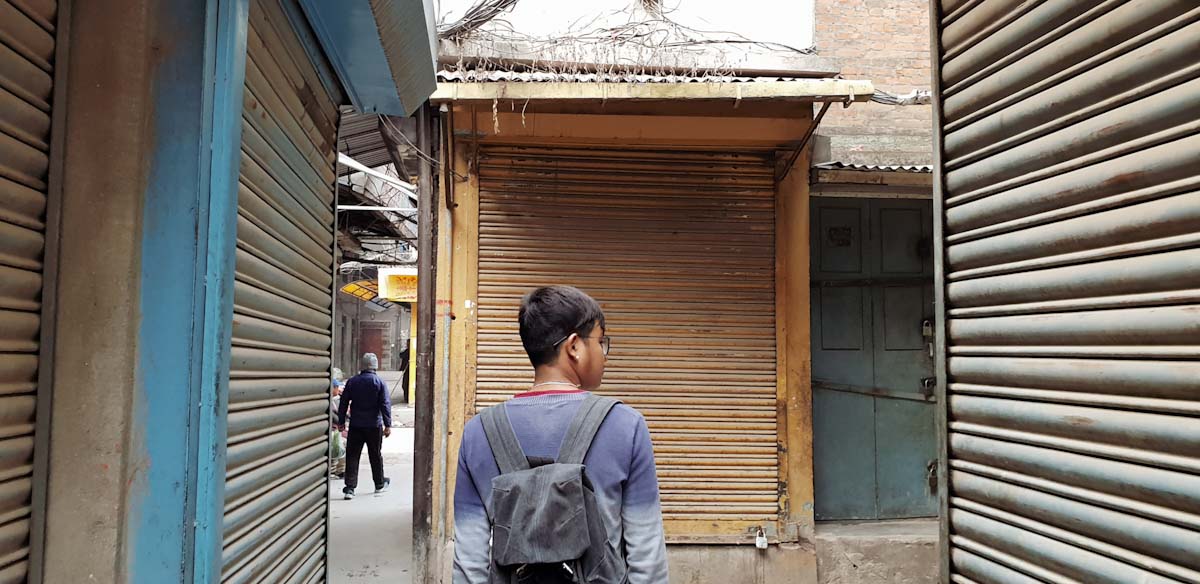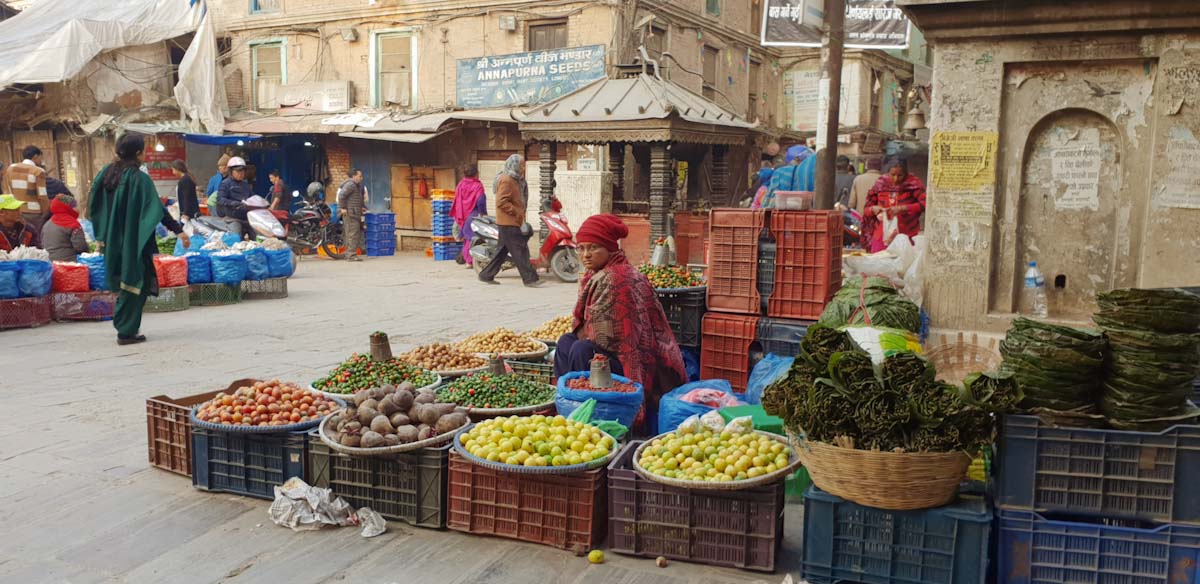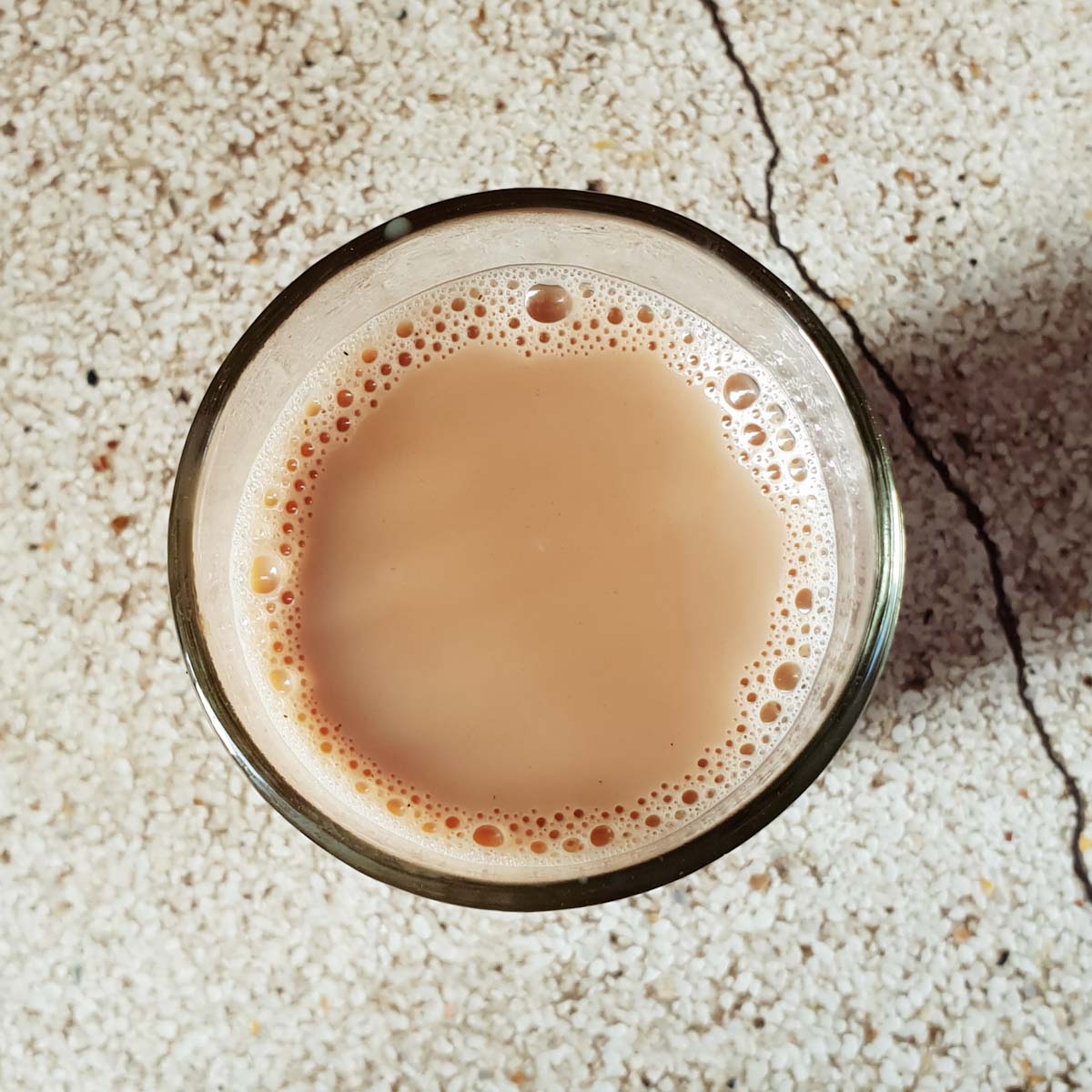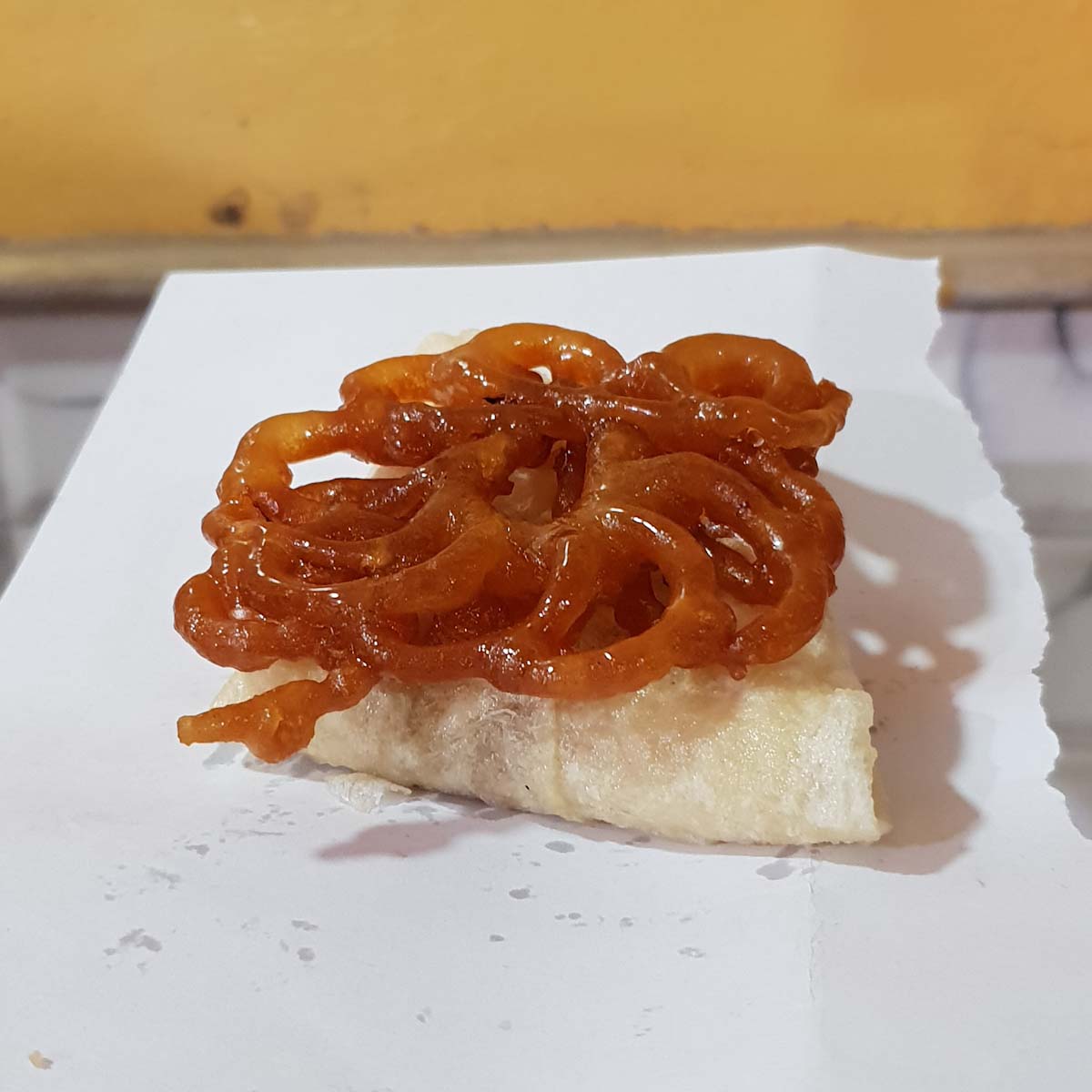 How much does a Backstreet Academy tour cost?
The price of the tours change based on the experience. The cost of these two tours? $16USD each! An absolute bargain, considering you get a guided tour through some very unique areas of Kathmandu, as much food as you can eat, as much chia as you can drink. Trust me when I say that you will not be able to find these delicious food spots in Kathmandu on your own. You need the guidance of a local to really discover the true secrets of this ancient city.
You're also paying for the assurance that the food stalls you are going to are safe to eat from. There's nothing worse than indulging in street food and coming back to the hotel with a dose of Delhi Belly. I like to think that a combination of
taking Travelan
and starting off our trip with these two food tours ensured that neither of us had any tummy troubles in Nepal. We allowed our stomachs to adjust to the new bacteria and got to eat delicious food along the way. 
That's the really great thing about these tours, they are super affordable. You can do some more expensive tours in Kathmandu like the photography tour.
Can you DIY these food stops in Kathmandu? 
The hidden food tours are exactly that. I can't tell you where we went or the names of any of the places we stopped at. The majority of the food vendors were hidden away and we were the only tourists in sight. Occasionally the only tourists in a sea of locals all devouring delicious food. I'm not being rude when I say that I have no idea where we went, I really don't know. Instead letting the guides do what they do – guide us. Instead I can brag with some amazing photos of the delicious things we ate. Seriously though you're missing out on a lot of value if you try to DIY.
What to wear on a Backstreet Academy tour in Nepal?
Comfortable shoes are a must. You will most likely walk a lot. Actually that's true for all of Nepal. It's such an easy country to walk around. For basic Kathmandu exploring you'll want to have these vital bits and pieces. A lot of hotels and hostel will have filtered, fresh water available for you to refill your water bottle. So don't be a dick and buy the really cheap bottles of water. The cost of that plastic is so much more then what you first pay.
Is Nepal LOW FODMAP and Gluten Free Friendly?
Kinda and yes are the best answers. In relation to gluten free Nepal was pretty good on that frontage. In the touristy areas of Pokhara and Kathmandu there's not too much hassle in getting gluten free food. If in doubt go to OR2K, who have an entire page of gluten free friendly good. Now LOW FODMAP friendly is a little bit more complicated. If you don't know what LOW FODMAP is, basically it's a food intolerance with rather severe consequences.
The most common foods that affect LOW FODMAP folks are onion and garlic, though it really is a very personal condition with many different variations. When eating out in Nepal it was really easy to explain to the tea houses, wait staff and café workers that garlic and onion was an allergy issue for my travelling companions. Many cafes, tea houses etc will cook food fresh for you to order, so you do have to wait a wee while. However for those travellers with food intolerances and allergies this is a blessing in disguise. With dishes being made from scratch it's easy to remove certain items like onion and garlic.
If you'd like to learn more about travelling as a LOW FODMAP person, 
Emma from She Can't That
explains it in very simple terms what LOW FODMAP is all about.
Is Kathmandu safe for the solo female traveller?
Just a quick, non-food, side note on safety. All in all I found the more touristy area of Kathmandu, Thamel, and it's surround to be rather safe as a solo female traveller. I never felt unsafe and felt that there were so many tourists around, even during Holi, that the locals were used to tourists. There was also this unspoken agreement about tourist safety – tourists bring the money – the community needs the money – so don't beat up the tourists. In saying that, Nepal is a developing country, and does have some safety concerns. Just be aware of your surroundings and if you're unsure go out with friends or catch a cab home.
Tourist friendly hotels in Thamel are easy to find and super cheap to book. So don't delay book yours today
Would I take another class/tour with Backstreet Academy?
Yes I would. Without a doubt. From the ease of booking in the experiences to saying goodbye to our delightful guides, it was an absolute pleasure to experience a city with Backstreet Academy. I enjoyed my time so much, that I've become a Backstreet Academy Ambassador. I'm hoping that one day in the near future they'll have experiences in Japan that I can enjoy. 
*Updated June 2019 – I did take another breakfast tour with Backstreet Academy in Kathmandu. As a part of attending the Himalayan Travel Mart I took a group of 8 amazing content creators on this tour. With everyone loving this tour as much as I did.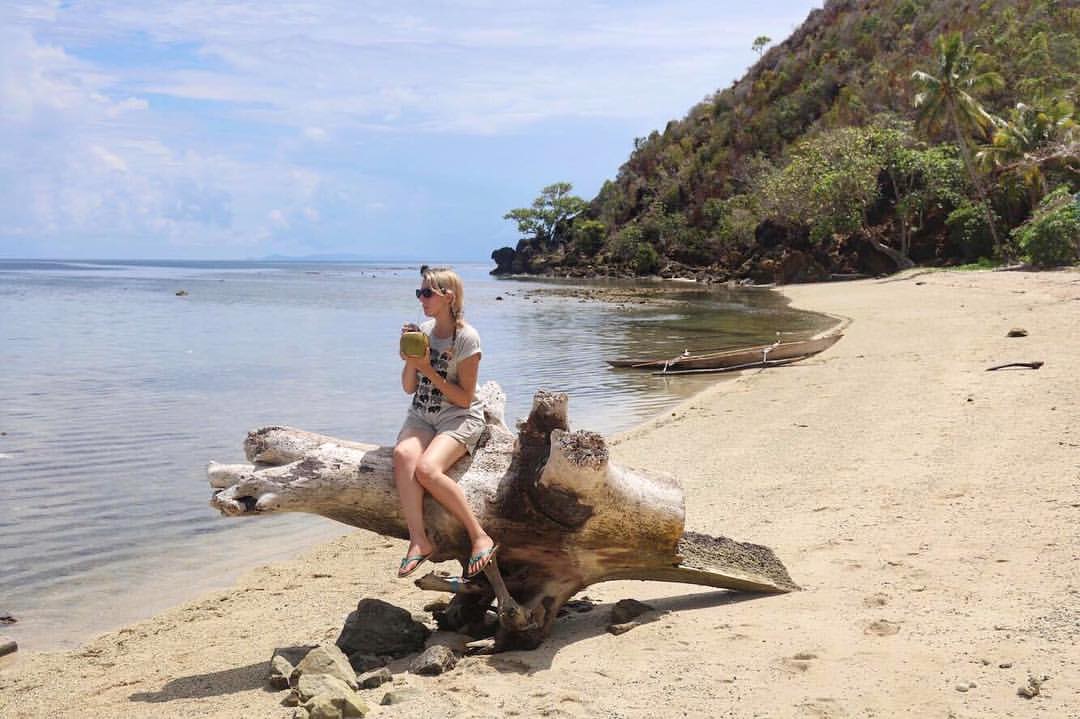 Just a teeny tiny note on affiliate links – We are a participant in the Amazon Services LLC Associates Program, an affiliate program designed to provide a means for us to earn fees by linking to Amazon.com and affiliated sites. We're also a member of a few others and may make a bit of coin on the side, this is at no extra cost to you. 
We are also proud to be ambassadors for Backstreet Academy. If you are a content creator and would like to join this unique program please complete this – application form. 
If You Liked This Post You May Also Like: