Camping does not equal dull, boring or poor food choices. You can easily create the perfect campfire cheeseboard and wow all your friends. Or just do as I do and make yourself incredibly happy as you devour delicious cheese in a stunning natural setting whilst off camping. Who can disabrie with this? Not me.
There is something special about sitting down, as the sun is starting to set, enjoying a glass of wine and some delicious Australian cheese.
This isn't glamping. This isn't a special one off thing that we've created to boost to you about how gouda we are at camping. This is an honest and open representation of what we do when we go on our road trips and camp away our woes. I will put out a small note- we travel with a car fridge. It's an absolute god send on our adventures and ensure that we don't eat soggy meat when we are away from home. It's not unusual for us to nip off for short overnight adventures or week long epic chill out sessions.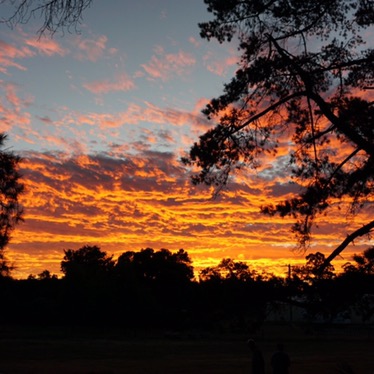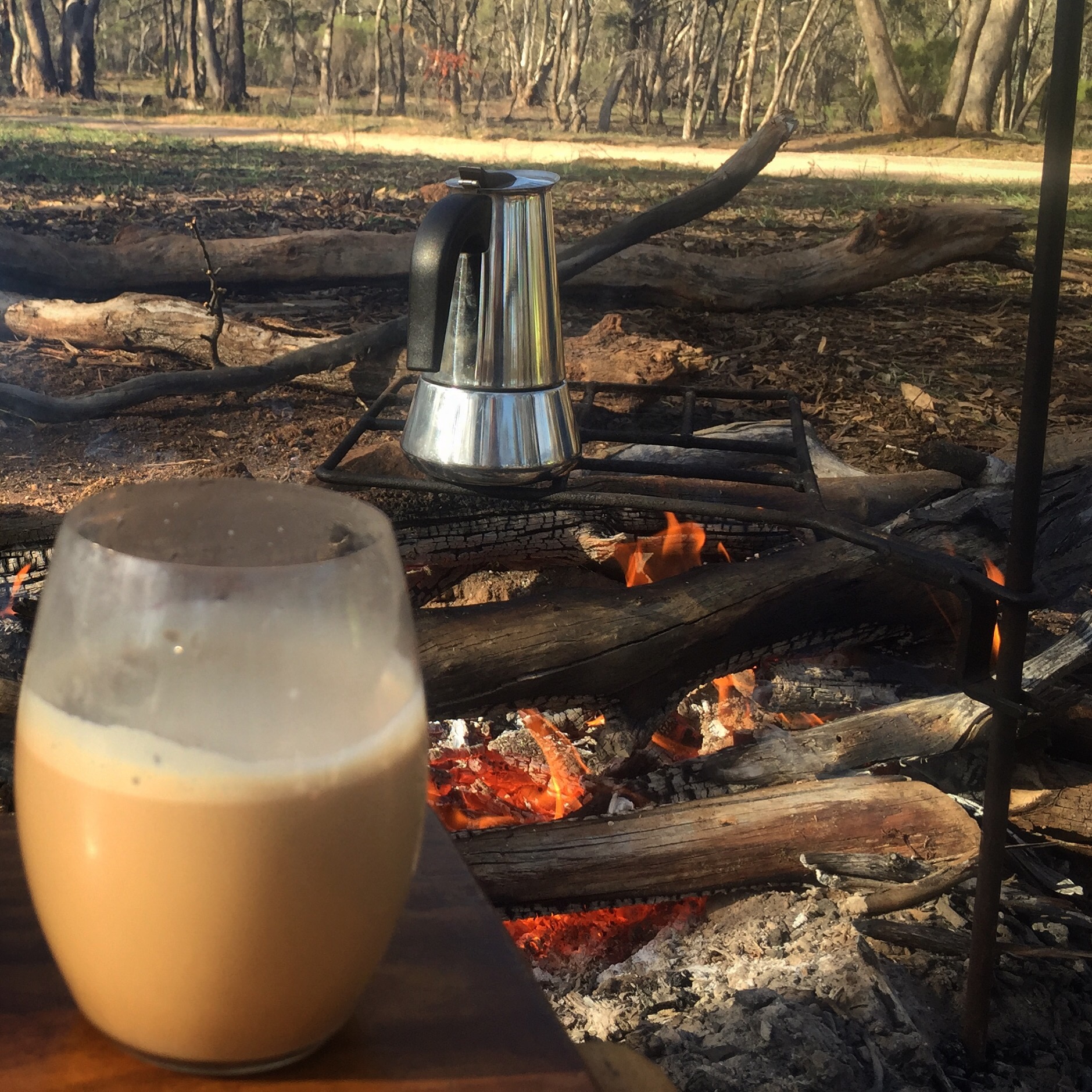 What do you need to create the perfect campfire cheeseboard?
Amazing camp setting – cheese board – cheese – desire to eat cheese.
Simple right? Ok well maybe not that simple so let's delve a little bit more into what you need beyond the basics mentioned above to create a brielliant cheese board. The main thing to be aware of is the importance of balance. Balancing the taste and texture of your champion cheese board. Sweet balanced with savoury. Soft items balanced with hard items.
Cheese selection – Aim for 2-3 cheeses as a minimum. It's best to go for quality not quantity here. I always choose a soft cheese – Camembert or Brie. This style of cheese goes wonderful with wine, cider and just about anything else. They are also a fairly neutral cheese if you are catering for others. I call these the inoffensive hostess of the cheese board. Now to counter balance these I choose a blue cheese. I personally hate blue cheese and olives. These items come directly from the devil himself in my mind. Howeer James loves both olives and blue cheese so on they go. You'll notice how they are at the opposite end of my cheese board.
Friends for your cheese– Cheese is an incredibly social food and needs the love and support of friends. So pair up cheese with fresh fruity friends. These act as a delicious palate cleanser. I usually go for jumbo dried peaches, fresh pear or fresh figs. I'm also a big fan of jamon ham on my cheese board. It looks visually stunning and tastes even better.
Supporting members of the board – Your cheese needs support. Cheese doesn't like to be eaten on it's lonesome. A fresh crusty loaf of bread, crackers or even freshly cooked campfire scones act as a great base for cheese.
Coconut cream camp fire scones is another one of our camping secret recipes. It's super simple and I'll share it another time. In total it takes me around 30mins from creation to eating.
The perfect campfire cheeseboard is created best by you for you. So when you're thinking of what to buy remember to buy what you like to eat and go with that.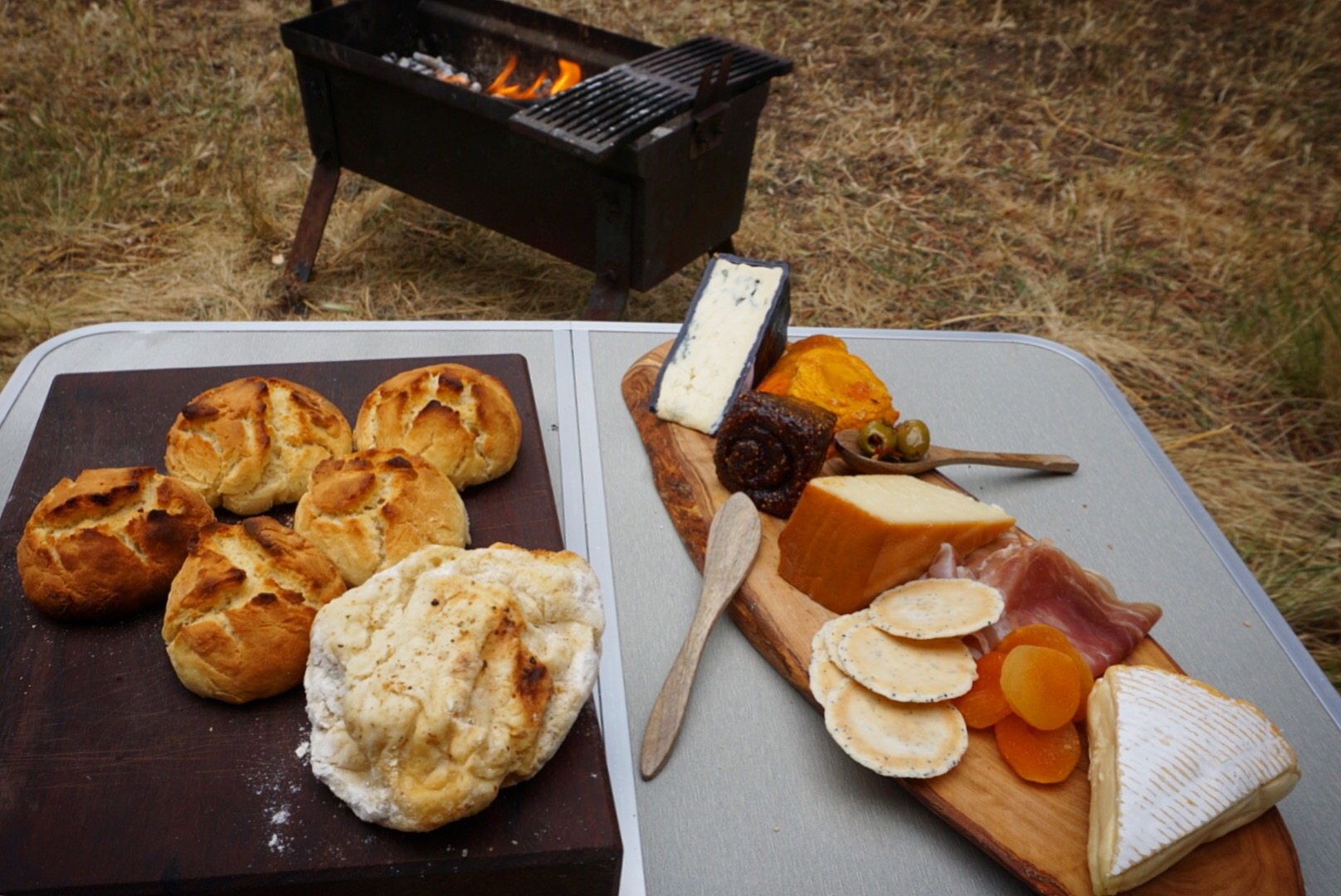 For my Christmas cheers cheese board I selected cheeses from the Australian Grand Dairy Award finalist list.
White Mould – King Island Dairy Black Label Double Brie
Blue cheese–  King Island Dairy Roaring Forties Blue
Flavoured cheese – King Island Dairy Stokes Point Smoked Cheddar
Soft goats cheese – *Meredith Dairy Chevre Plain
As you all know I'm time poor and rushed into my local supermarket on Christmas Eve to grab extra cheeses. The above cheeses are good regular cheeses that are readily available in large supermarkets.
* this cheese didn't make it to our cheese board. Instead it was greedily devoured on toast, scones with smashed avocado. It's a wonderful breakfast cheese and goes so well on fresh bread.
The below cheese board was our excessive cheeses board. Our group pitched together and collaborated cheese board number 2 the next night. As you can see it's a beautiful mix of cheeses, meats and carbs.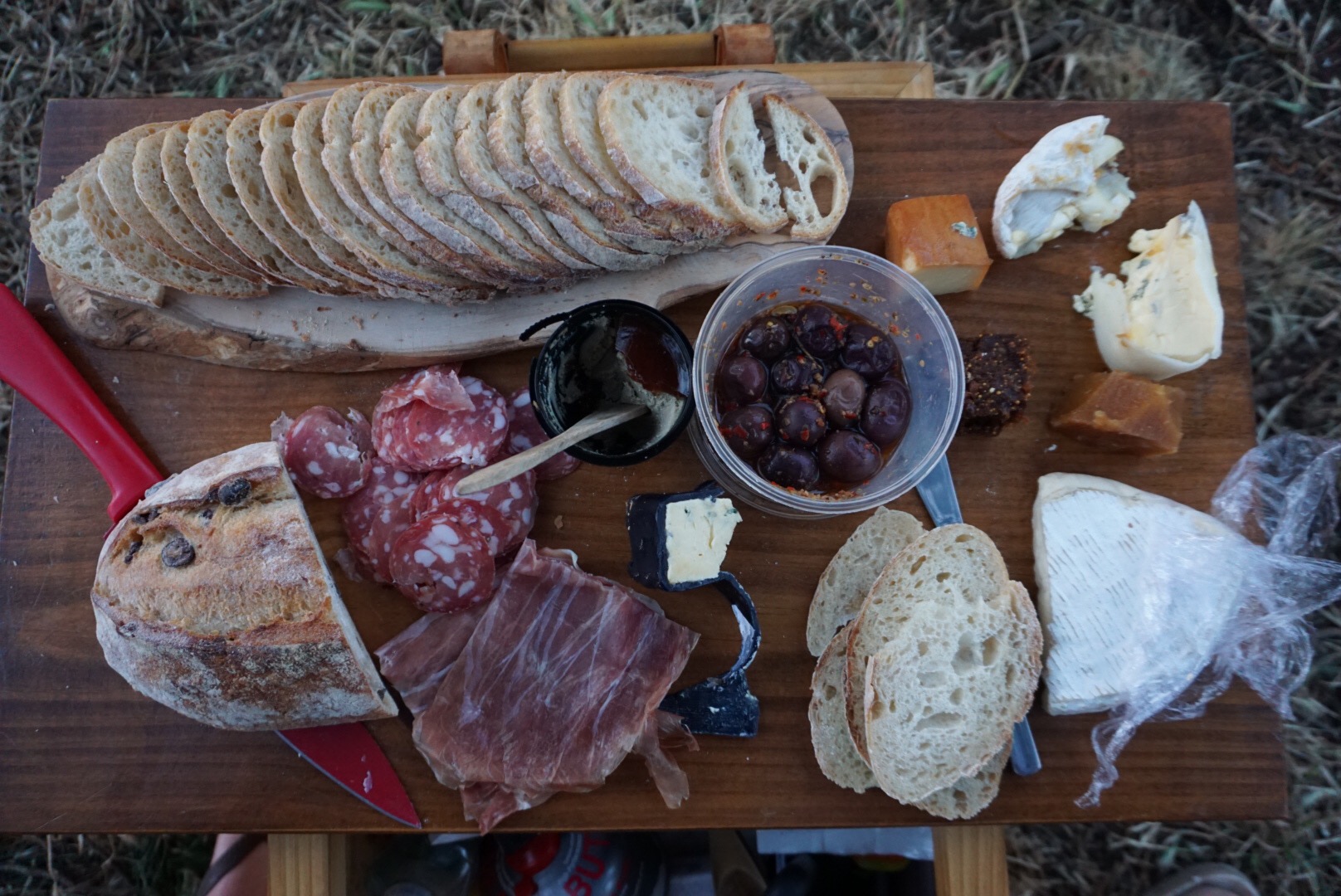 Simple steps to creating perfect campfire cheese board-
Choose 2-3 cheeses that makes you happy.
Give your cheese friends and support – bread, crackers, pate`, jamon, fruit (fresh, dried or paste) or similar items
Create cheese board – Spread cheese out evenly across length of board. Add friends and support in between the spaces.
Add wine/cider/beer/beverage, a dash of friends and enjoy.
Win a year of cheese- delivered directly to your door.
For the first time, the public have the chance to play judge to determine the champion cheese of the new People's Choice Award. Cheese lovers across Australia can cast their vote for their favourite product at People's Choice Award. Two lucky voters will win a year's supply of Award winning cheese delivered direct to their door.
Sorry to our beautiful cheese loving readers outside of Australia. This competition is only open to Australian residents. Voting closes 13 January 2017.
A little more about the Australian Grand Dairy Awards
Now in its 18th year, the Australian Grand Dairy Awards is the grand final of dairy competitions in Australia, recognising and rewarding excellence and quality in Australian dairy produce. 470 of Australia's top dairy products – from milk, cream and butter to yoghurt, ice cream and loads of cheese – were put through a rigorous judging process, assessed by 24 expert judges on flavour, aroma, texture, body and appearance.
From small family-owned producers through to favourite supermarket brands, dairy products from across the spectrum are represented.
Just a little FYI- this article was written in partnership with the Dairy Australia. Any and all views and opinions expressed are entirely my own based on personal experiences when travelling, eating cheese and are honest and factual without any bias.