A bad backpack can be  a backpacker. An ill fitting backpack is one of the worst feelings in the world. Pulling down on your shoulders, digging into your back or cramping your walking style. The exact thing that you don't want on your backpacking adventure around Europe. With seemingly a million different styles that all kind of look the same what's the best backpack for backpacking around Europe?
Let me introduce you to the 45ltr Elephant Stripes bag.
The best backpack for backpacking around Europe
I own a lot of backpacks. From 8ltrs to 65ltrs and just about everything in between. For years I've been trying to find a bag that will meet my high expectations. I'm a little lady at just over 5'5. And I have a short torso. So a well fitting backpack is of the utmost importance to me. As well as quality of the bag, ease of use and a decent harness for carrying around.  Also having boobs can cause issues when trying on backpacks, as even the ladies ranges seem to forget that boobs sit nice and high on the chest. Like really right there. That's where boobs generally be hanging around. I digress. A lot of backpacks I've tried have left me shuffling around like a lost turtle. Which is a pain in the arse in Europe where the trams and trains are generally more narrow than those in Australia and moveability is a big factor.
So when my new Elephant Stripes 45ltr backpack arrived on the Friday before I was due to leave on the Saturday I was dubious. It looked super cute. The big palm leaves are oh on trend right now. At least I was confident that I wouldn't lose it at the luggage carousel. My backpack, whom I affectionally named Leslie the Leafy, came complete with a three pack of packing cubes. I barely had time to finish my washing, fold it and squish it into the cubes before going to bed. The next morning I finialised the pre-trip chores, showered, threw in my toiletries, locked her up and checked in.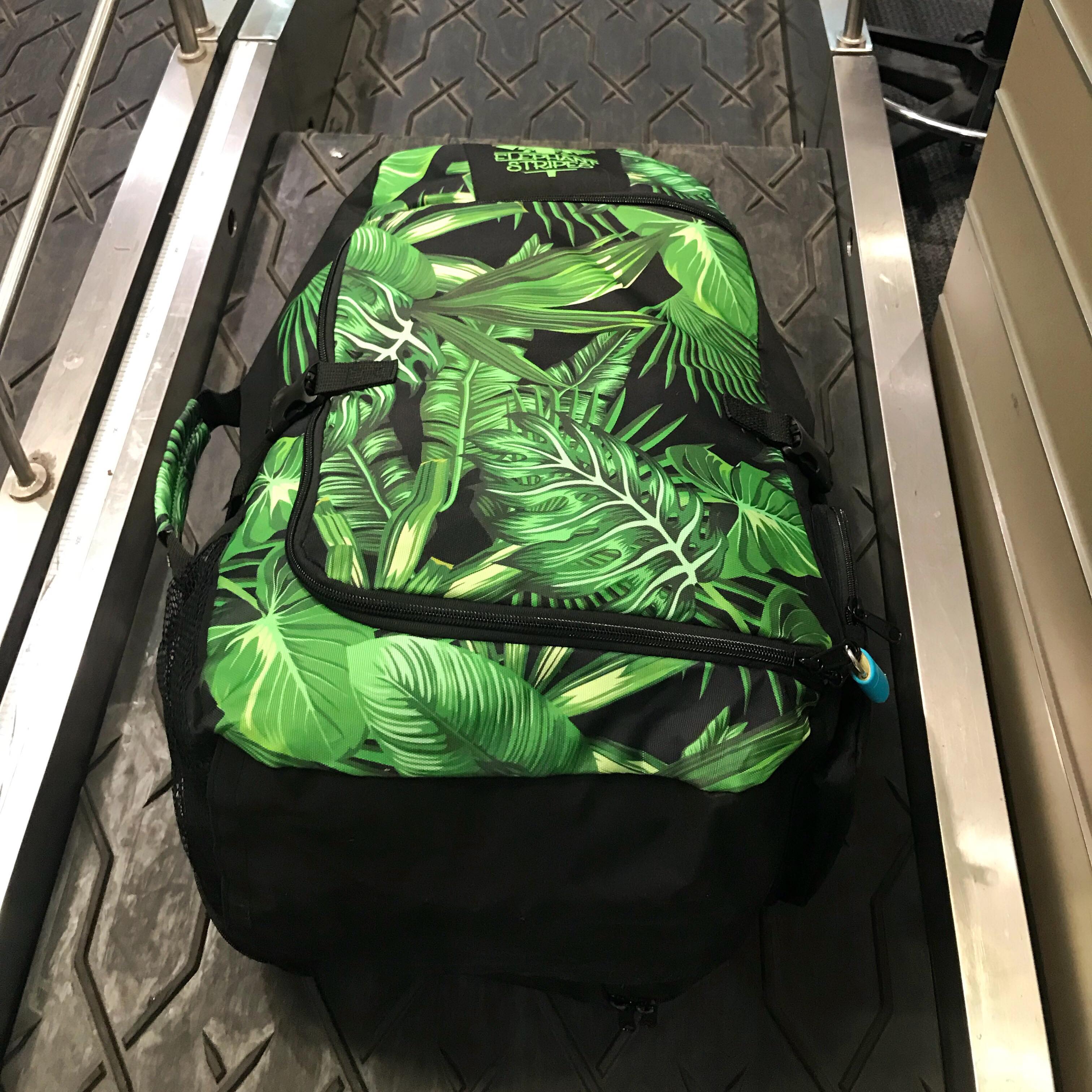 This bag has a big mouth
One of the first things I noticed was how easy it was to pack the bag. With the wide front opening. Even along my two weeks of manic travel around Austria and Czech accessing my things was easy. One of my biggest gripes with other bags has been how difficult it is to actually access all my stuff. Everything has to come out and then go back in. Or the openings are teeny tiny. Urgh. Pain in the packing ass.
A harness to rival all others
As previously mentioned, the bag arrived really late for my journey. Usually I'd have James do a complete fitting for me, ensuring that the harness suited my odd body and boobs. I forgot. Literally after packing the bag it went in the car, in the airport and into the plane. No time for fitting. I was dubious when I arrived in Vienna as to how the harness would go. Would it be easy to fit? Would it feel good? Ah yes. After a two minute unzip, release and a few adjustment the harness fit me like a hug from a teddy bear.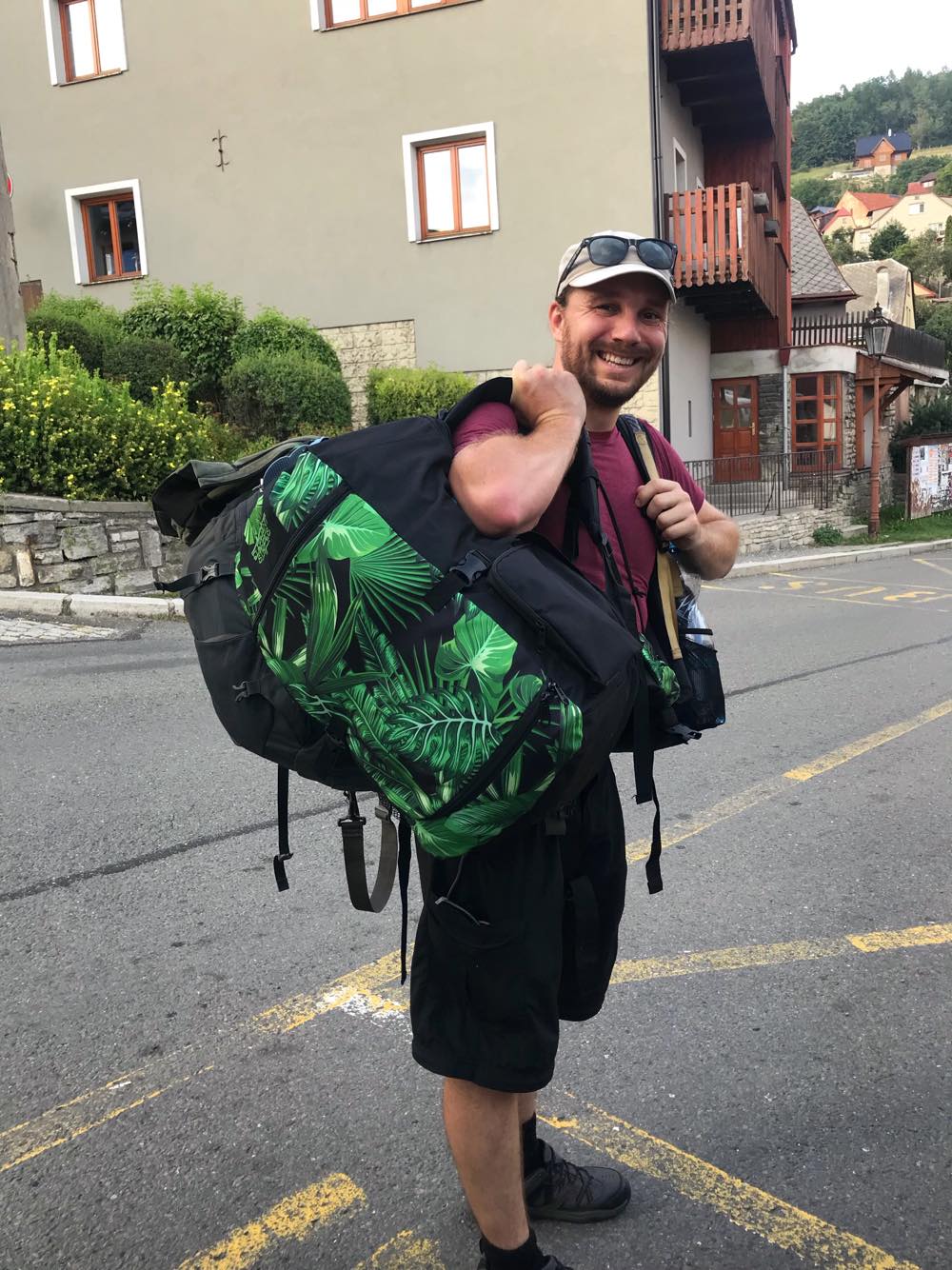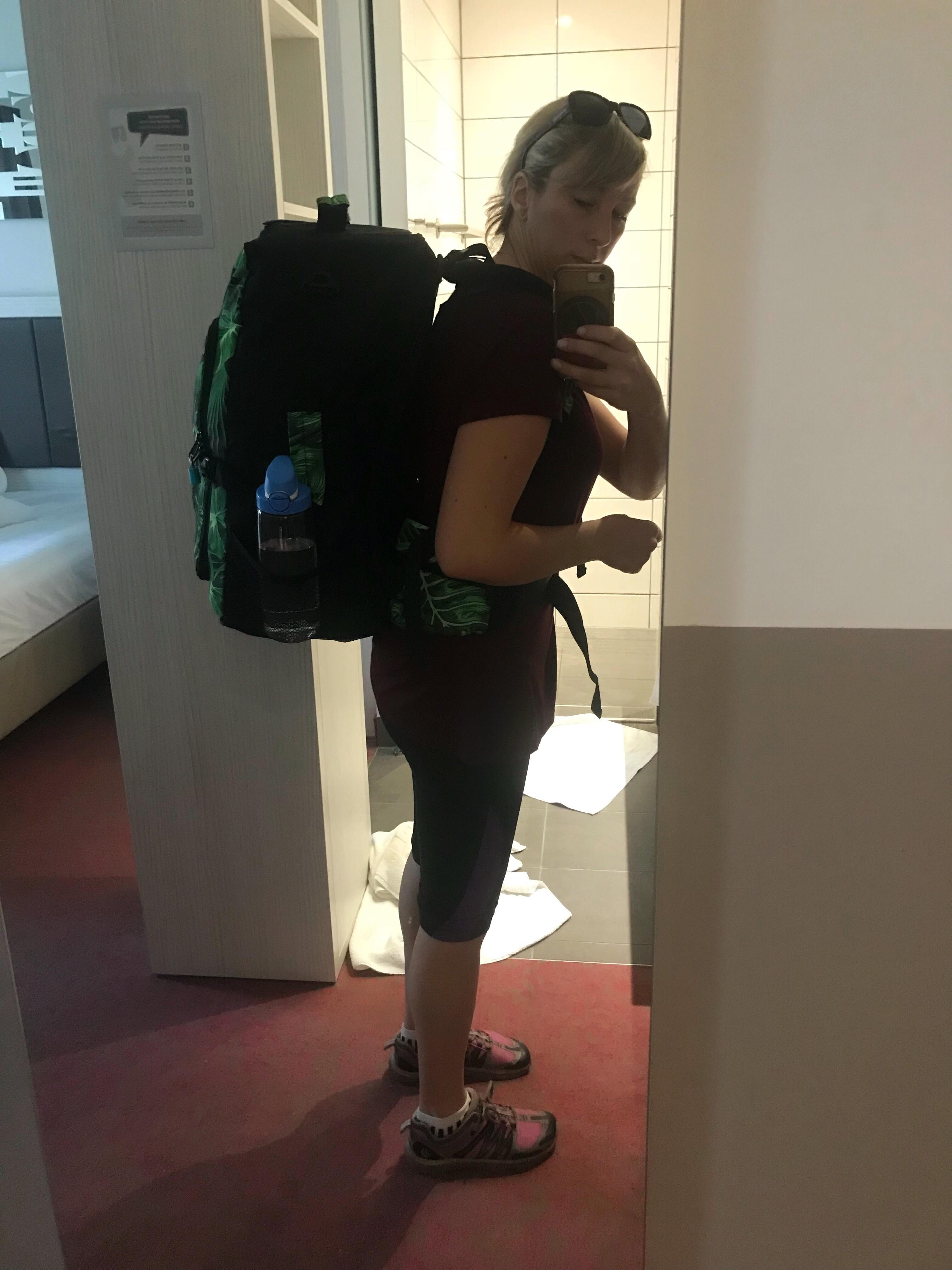 It BYO's it's own rain jacket
Which was a life saver when I arrived in Vienna. The rain gods were dancing their joy all over the city and the walk from the train station to Zeitgeist Hotel was wet. Not just a moist mist but torrential underwear soaking rain. Yay? Not an issue. A quick stop, untuck and wrap and the bag is protected. Easier than putting on a condom in the rain.
What really makes this bag special?
It just works. The zips are all there. The harness is a breeze to fit and so comfortable to wear. It's a really inoffensive bag. Easy to remove when you're on public transport and easy to throw back on when you're about to miss you train station because there's no announcements on the train. Ya know how it goes.
It'd be amiss of me not to mention all the other cool features. Firstly SNACK POCKETS. Y'all know how I love me a good snack. This bag has snack pockets on the hip belts. As well as a nifty side pocket that's perfect for holding train tickets, snacks and other vital documents. Then there is the laptop sleeve. Hidden between the harness and the main compartment.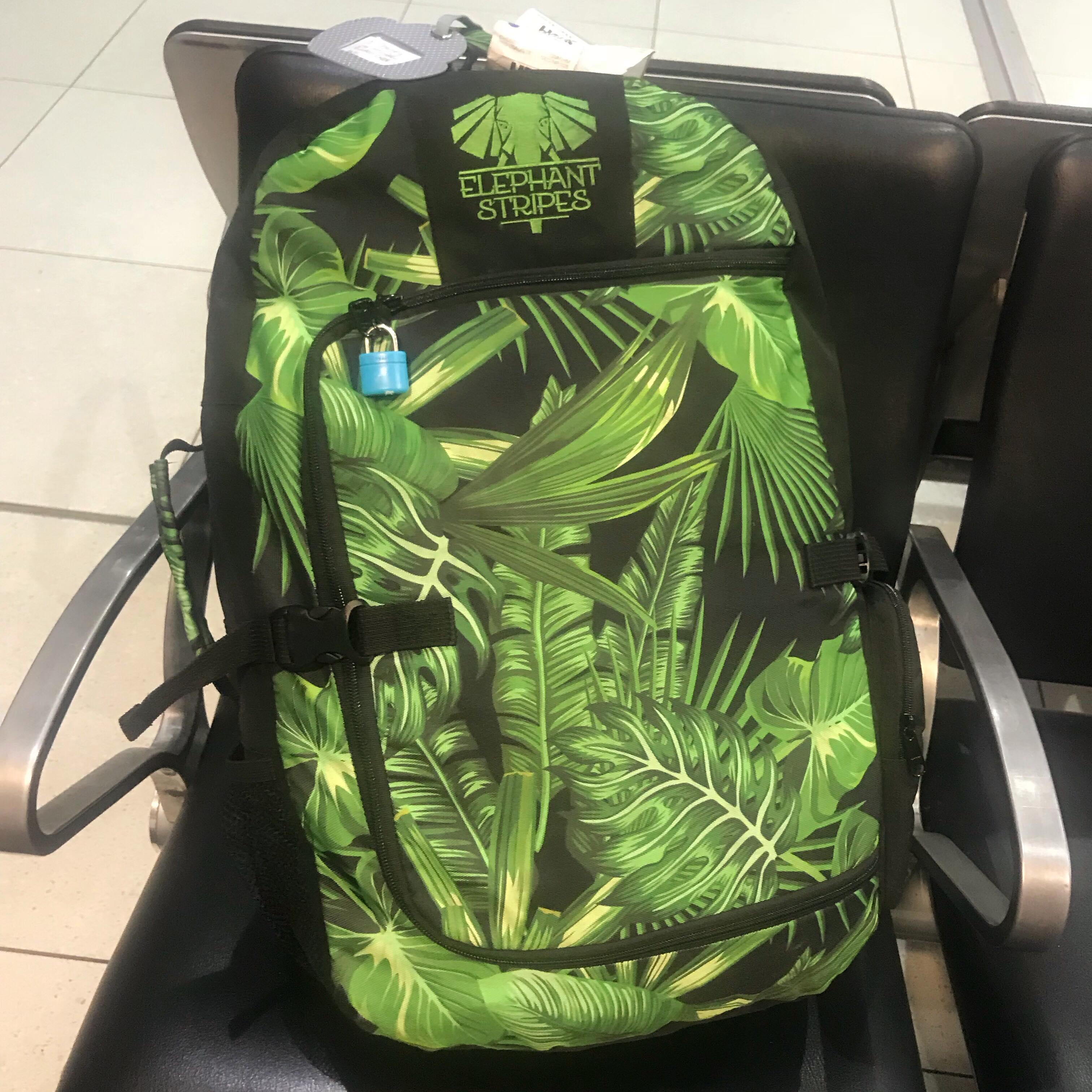 How much does it hold?
A lot. For my two and a half weeks away I had to pack dresses for fancy pants (less?) events, a press trip in the mountains, hiking, wet weather gear and general lady stuff. In total I was just under 10kgs, including  a gift for a friends daughter. Oh and my industrial size hair dryer. Yes I did over pack for my quick trip but conference clothing is different to my normal travel gear. Even though I had a lot of shit in my bag there was room for more. But weight wise I don't really think I'd have liked to have had more gear in the bag.
My only gripe with this bag is the weight. Coming in at nearly 2kgs it's just a wee bit too heavy for a carry on only bag. Though I'm sure if I was super strict with my packing I could get my stuff under 5kgs.
Specifications
Material: 1000D Water Resistant Polyester
Capacity: 45L
Zips and Buckles: YKK
Weight: 1.75kg
Dimensions: 55cm(h) x 36cm(w) x 23cm(d)
Harness: The Comfort Deluxe Multi-Way Adjustable Harness: this harness system is a fully adjustable solution for mid-weight loads, with cooling airflow, excellent stability and freedom of movement
And then there's the price 
RRP: $249 – It isn't the cheapest pack on the market. But you are paying for quality, innovation and a little bit of nice community feeling. Each bag sold buys a bag for a school child in Bali. Neat huh? In all honesty it is an affordable bag. Just take a look at other retailers in Australia and New Zealand and you're barely getting change out of $500.
Being light weight, cool to look at, easy to carry it's really a no brainer as to why this is the best backpack for an European adventure. Oh and did I mention that this bag fits perfectly in the overhead luggage storage on trains?
There's a lot of travel backpacks out there and over the years I've paid a lot of money for them and either given them away or they are currently housing other bags in storage.
Have any questions? Let me know and I'll personally answer.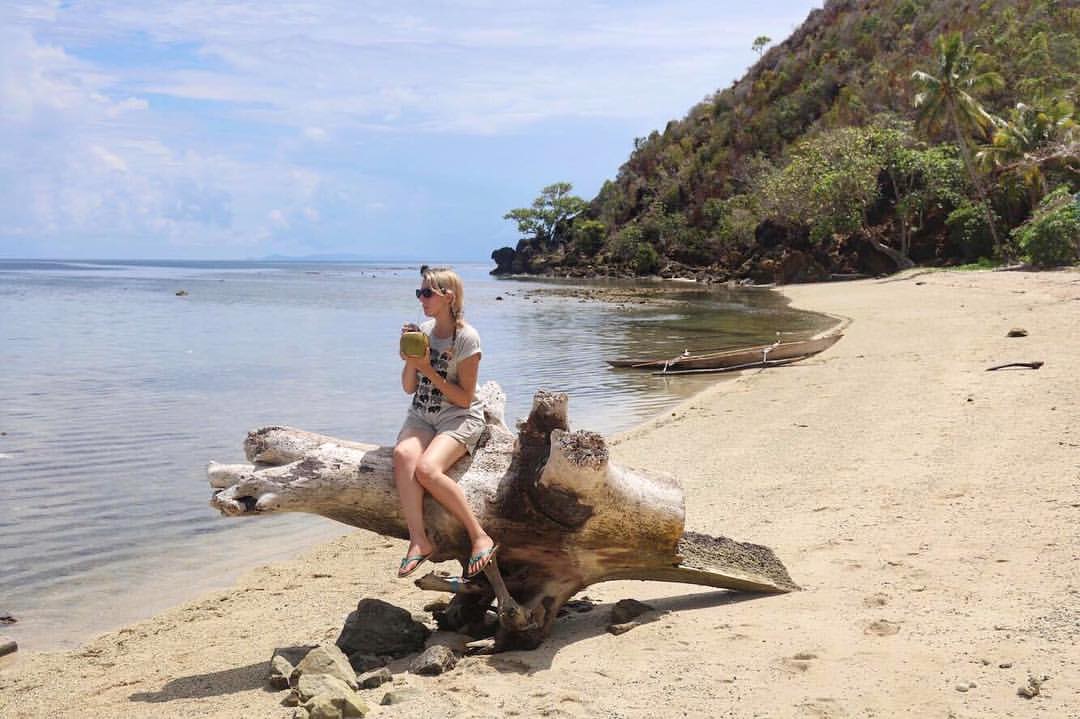 Disclaimer: this bag was gifted to me by Elephant Stripes. Y'all know I love you and wouldn't lie, so I haven't included any pretty photos of the bag. Just me doing my thing with the bag. A lot of the time it was actually on my back, making it kinda hard to take photos of it. All opinions are honest, unbiased and 100% my own.
If You Liked This Post You May Also Like: