Indochina is a mesmerising and wondrous part of the world. With centuries of history, culture and some seriously delicious snacks. What better way to travel through Indochina then on a mountain bike with a total group of strangers?
Travelling Through Indochina On A Mountain Bike?
So it sounded like a great idea at the time. It was late at night, a few coffees down and I was well and truly over arguing with excel when I stumbled across the idea of going on an adventure. On a bike. Outside of Australia. Away from excel. As Google and I became great friends again I forgot all about excel and wondered down the rabbit hole of fantasy lane. James agreed and the rest has become apart of our colorful travel booking history. This great idea turned into reality and evolved into some pretty unforgettable memories.
Now that we're back home, bellies full of delicious food and a desire to go back to Indochina here is a brief run down on our Indochina Cycle tour with G Adventures
I'd like to take a quick moment to give our heart felt thanks to Sarou, our Chief Experience Officer. Words can not express how thankful we are to have had you as our CEO. You just made stuff happen in our times of need. Your friendly smile, infectious laugh and supporting words will never be forgotten.
When people ask me to name one highlight from the trip I always blurt out Sarou! No one ever seems to truly believe me. Sarou was able to just make stuff happen. A lost tooth brush was returned with barely the blink of an eye, a misplaced bag was reunited with her owner and oh the amazing snacks. Sarou has a naturally ability to read the feelings of individual travelers and the group as a whole. Ensuring that our needs were meet. Whether on a bus, bike or the hotel poolside bar.
Countries visited-
Vietnam
Cambodia
Thailand
Day 1 Ho Chi Minh City
Meet and greet our fellow adventurers and Chief Experience Officer Sarou. This was a cycle free day. After a simple group dinner we went out for a few drinks together. Despite the 07:00am departure the next day it seemed best to bond over beers in the back alleys.
Day 2 Ho Chi Minh City
The first of our early morning starts and joined by our Vietnam local driver and local guide-Khoa. After a long bumpy bus ride we cycled around the backroads of the Cu Chi tunnels. Hoping back on the bus we head down to the Mekong Delta and catch a ferry to Tra On island for the night.
A late night arrival at our traditional home stay with a local Vietnamese family. The food here was phenomenal and in a great abundance. Sadly we arrived very late at night and didn't get a lot of time to chat to the family who hosted us. Once again we thank the family for accommodating us with fresh food, clean towels and comfy beds.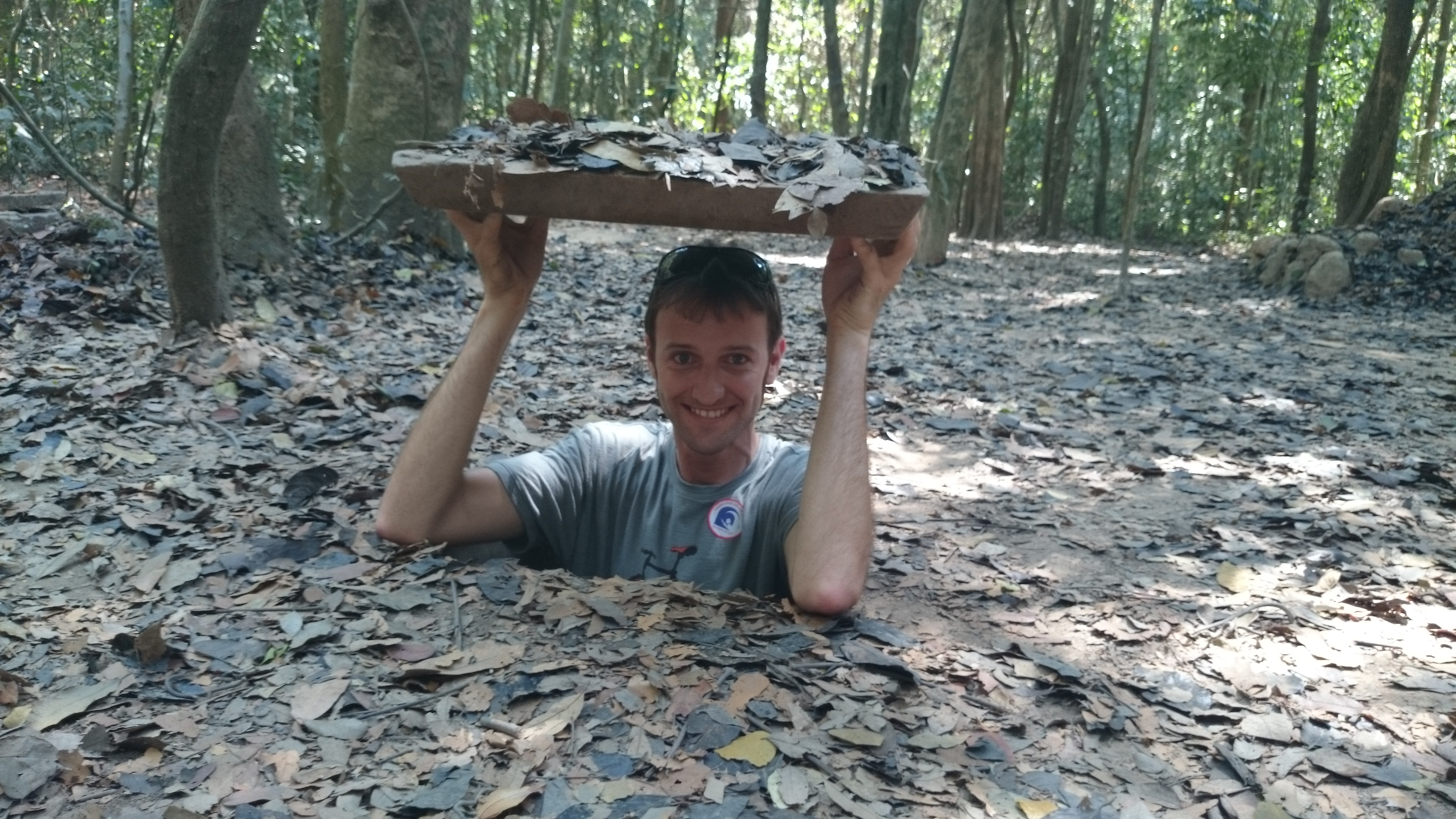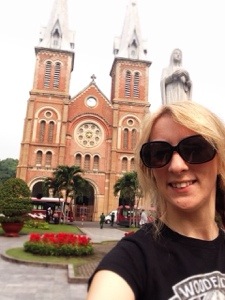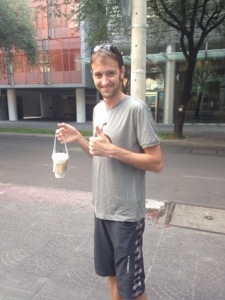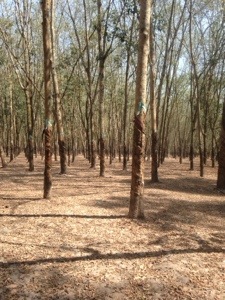 Day 3 Mekong River
Another early rise and shine morning visit to the local floating markets, before cycling alongside the Mekong River for a good 40km. It's hard to describe the wonder of riding amongst the small paths through unknown villages. The local children certainly found it hilarious to see us rolling along.
Another bus ride down to the sleepy town of Qua Doc for a group dinner and early night to prepare for our first border crossing. There's nothing special or wonderful about Qua Doc. It's a communist era border town. You'll most likely find an abundance of other folk on tour taking a night off before making the border crossing the next day.
Day 4 Sihanoukville
An early morning bus ride took us to the border to cross from Vietnam into Cambodia. A fond farewell to Khoa and our friendly bus driver. Three different government offices, a health check and $25USD later we were in Cambodia complete with Cambodian visa. A brief turtle trek across the bridge took us to another bus, our Cambodian guide Chamnam and a bouncy ride down to Sihanoukville.
A free afternoon saw us take advantage of the beach near our hotel, utilize the local laundry services on offer and enjoy a beach side BBQ for dinner. And a few towers of beer because why not? These are around $7 USD per three litre tower of beer.
Day 5 Ream National Park ( Sihanoukville.)
This was by far one of the hardest and most thrilling days of cycling. Our early morning started with a ride down past Otres Beach, past the small street side slums, undeveloped residential blocks and up into the hills. Really up into the hills. The natural scenery was soul soothing in its rawness, which was needed after cycling past the slums. We cycled up and across to the Ream National Park. For anyone who has been to Sihanoukville and remembers that really steep hill you climb up, we flew down that on our little bikes. With all the trucks, buses and fuel tankers.
After a hard morning of legitimate mountain biking we spend a short time relaxing on a private beach before heading back into town.
Our afternoon ended up with a pirate inspired adventure which you can read about here.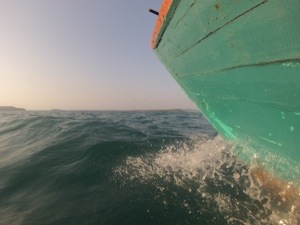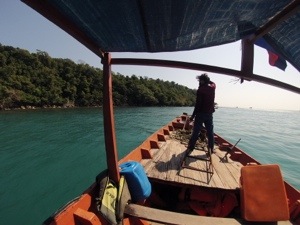 Day 6 Phnom Penh
Back in the bus for a eventful ride into Phnom Penh.
A visit to the Imperial Palace, ending with a visit to the now infamous Foreign Correspondence Club. Now if there is any point where you are feeling homesick, a little cultured out and just want to relax and enjoy a few drinks then head to the FCC for Happy Hour! 2 for 1 cocktails. The drinks prices here are rather steep by regular Cambodian tourist prices at around $4.95 + tax. But reasonably priced at Happy Hour. The FCC looks over the Mekong and makes for a nice place to people watch.
Day 7 Phnom Penh
By now early mornings had become second nature and meeting for breakfast at 07:00 seemed totally natural. We cycled through Phnom Penh peak hour traffic, on board a ferry and headed out to Mekong Island. All before morning tea. Our ride took us through farm fields and past a small group stick slapping mangoes off trees to a visit at a silk farm.
The children on Mekong Island dancing down the road praying for good rains.
Our afternoon finished with a visit  to Tuol Sleng Prison and Choeung Ek (Killing Fields). This is one of the rare sites that I won't be writing about in detail. What I have written is over here- Please don't walk on the mass graves.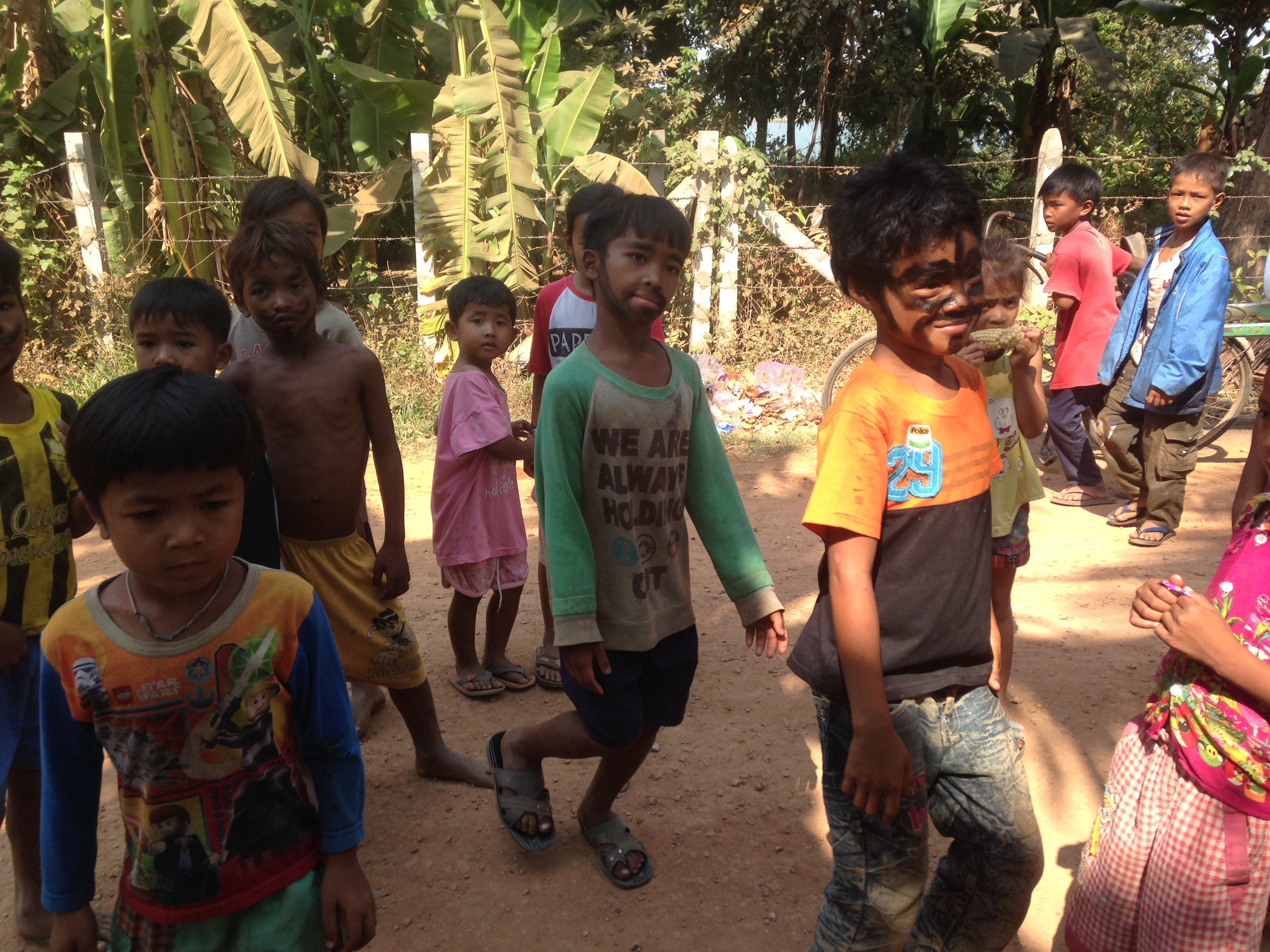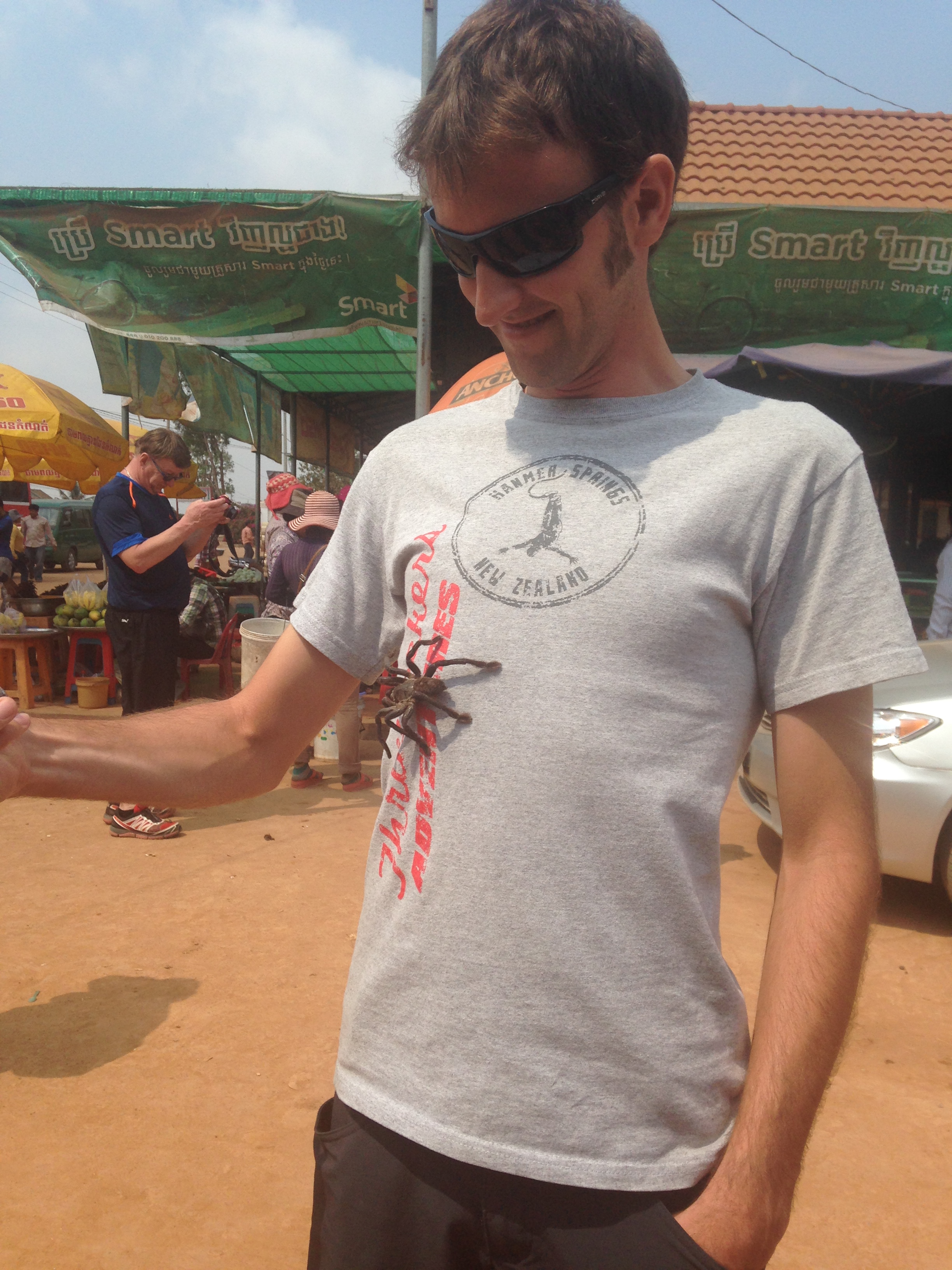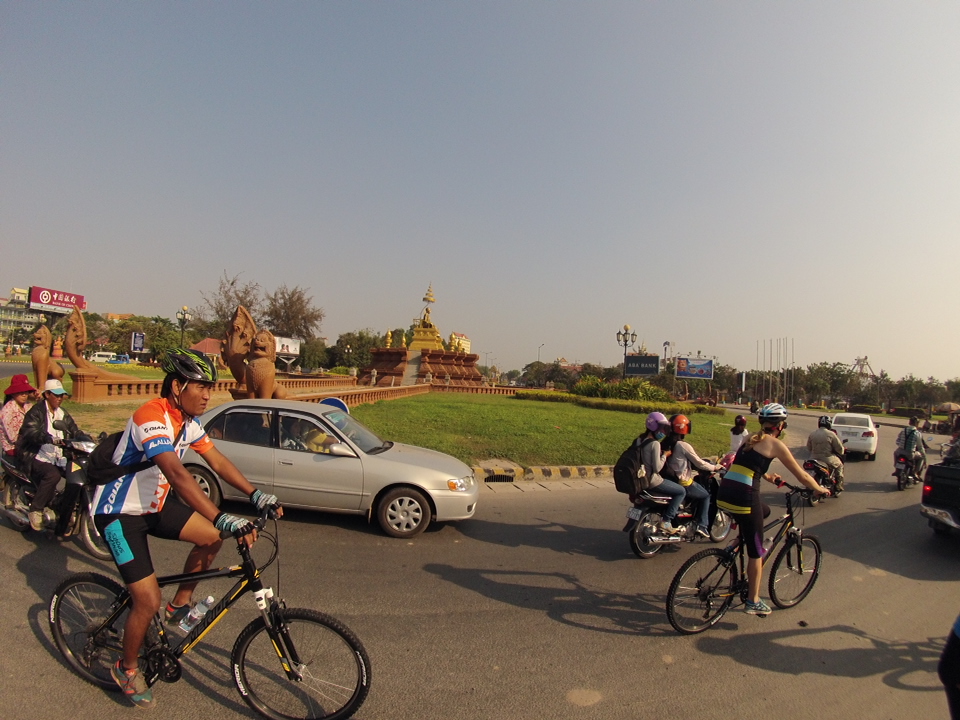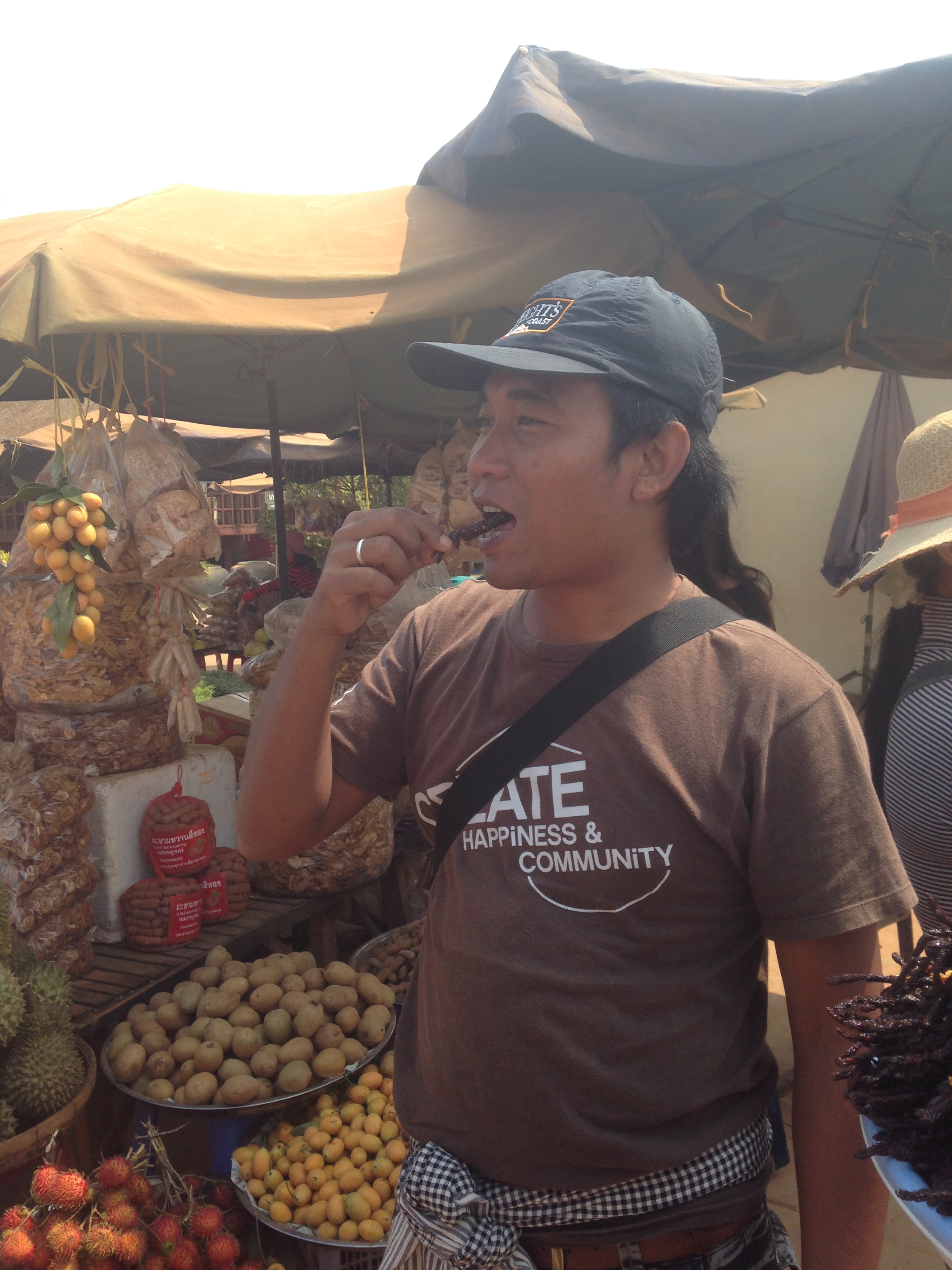 Day 8 Siem Reap
The bus trip takes you along the uniquely named Spider Town. Watch out for the children here. They will hand you creepy crawling critters just to see your reaction. Really it's rather amusing. The children at this bus stop have exceptionally good English skills and can converse rather wittingly. If you want to eat anything creepy crawly and deep friend this is a good place to test your own boundaries.
Arrived into  Siem Reap, capital of the Khmer Empire, late in the afternoon. Some free time to relax before heading out across town for dinner. I'm sure you've gathered by now that there's a lot of eating happening on this trip.
Day 9 Siem Reap
Bike + magical ancient city of Angkor Wat. Read more here and here.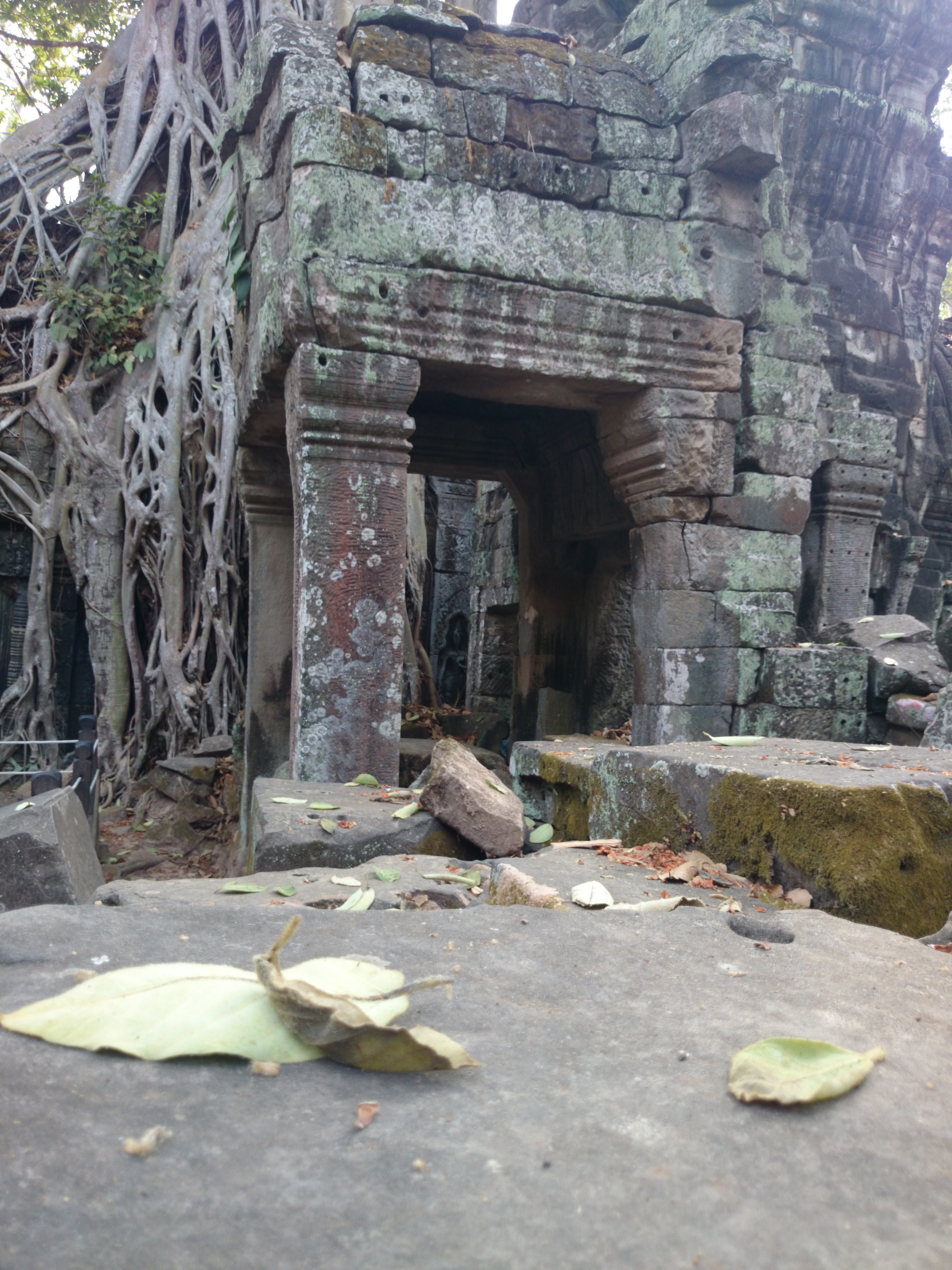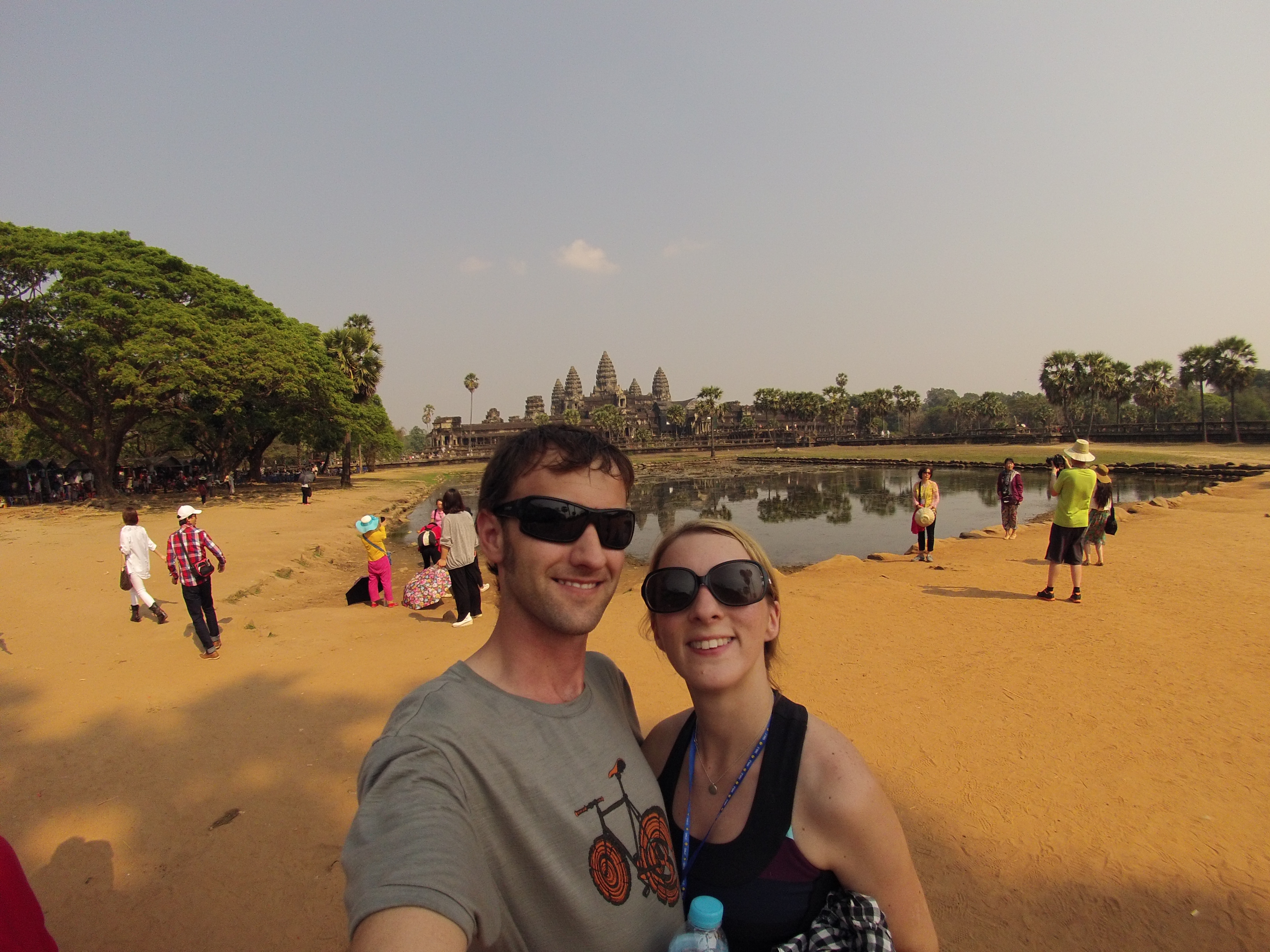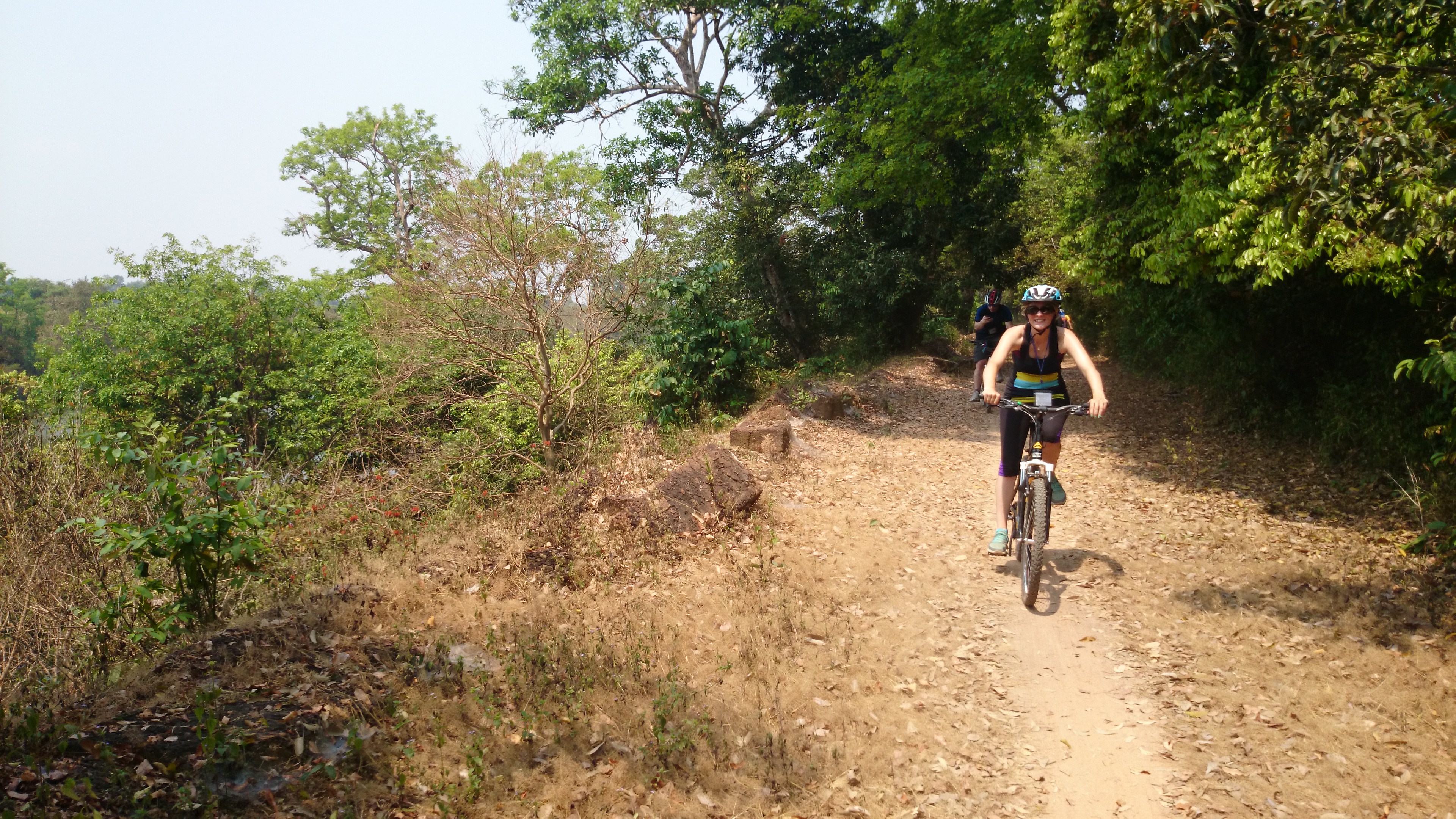 Day 10 Siem Reap
Free day sees our small group split in two. The majority deciding to cycle a good 60kms out to the floating village. Us ladies took a luxurious bouncy hour long tuk tuk ride down to the floating village. Please note no gangsters or drugs are allowed in the floating village.
A leisurely afternoon was spent in a cooking class and a visit to the New Hope school, funded by GAdventures Planterra Foundation.
If I had another day in Siam Reap I would have been back on the bike and cycling around Angkor Wat and surrounds.
Day 11 Bangkok
One of our earliest mornings to make the trek from Siam Reap to Thailand's thriving capital city Bangkok. I'll be honest this is a shit boring day. It's a harsh ride to the border. A long wait to check out of Cambodia and into Thailand.  It's governmental red tape slowness. So mildly painful. Remember to pack your smile and don't have anything to drink before you start the process. The lines are long and toilet options are short.
Thankfully a brilliant roof top bar and pool at our hotel made up for the long boring travel day. A visit to Bangkok isn't complete without the necessary vagina flashing of drunken white girl dancing on a table. No I'm not talking about a woman paid for this service. This is just a sad observation about the activities that some people partake in when travelling in Asia. So we headed down to Khao San Road. Sarou saved the day again by taking us to a fantastic back street restaurant away from the free flash shows.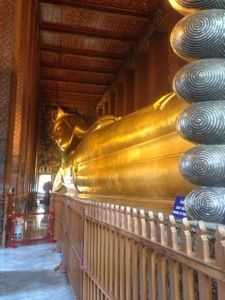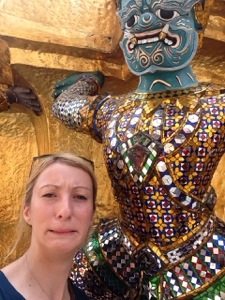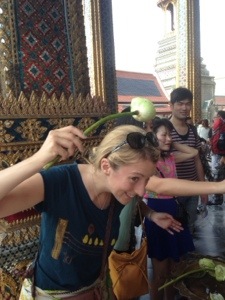 Day 12 Bangkok
Our last day of our G Adventures
tour was in Bangkok and included a potentially brilliant morning tour of The Imperial Palace and a visit to the Reclining Buddha.
I felt the tickle of templeitis first thing in the morning. The tour so far has been fast paced and full of delicious food. Then things start tot turn a little sour. Our local tour guide gave me a stern lecture on appropriate dress wear. A tee shirt was OK but my 3/4 leggings were not. He explained to me that business slack a were preferred. Seriously what backpacker has business slacks in their bag? No leggings, no jeans. My limited patience almost peaked at breaking point. Sarou quickly intervened informing us girls that we could easily hire sarongs at temples to cover ourselves appropriately.
Our tour ended in the afternoon and our little group tuk tuked back to the hotel for a refreshing drink and a tour of this crazy town Bangkok.
Are You Ready for a G Adventure?
Save up to 25% on Last Minute Adventure Travel Packages
Get On Your Bike
All the bikes were mountain bikes, complete with helmets and water bottle holders. Generally Giant or Trek branded. Nice easy bikes to ride around town or off the beaten path. Nothing fancy but not the usual clunkers that you see hired out across South East Asia.
Unless you are a super keen cyclist don't bother taking your own bike gear like a saddle, clips etc. You won't have the same bike for the entire trip. Or long periods or the trip. Most of our crew rode in leggings, shorts and weave material runners. You'll be walking around during the cycling and being a funny looking tourist. The longest day we cycled was 60km. Whilst padded shorts saved James' backside I wasn't lucky enough to have my own pair and didn't struggle too poorly.
I would suggest taking your own water bottle. We where only given very small bottles but had taken our own Camelback bottles. We regularly stopped for snacks, prepared by the bus driver. Ice cold refreshing wipes, cookies and fresh fruit. This small stops quickly became a highlight of our day.
Accommodation 
This was one of the most surprising things. Most of the hotels we stayed at were at a guess were rated at a minimum of 3-3.5 stars. Clean, English speaking staff and each hosted a unique buffet style breakfast and free WiFi in each room. This isn't the usual shoe string style budget backpacking tour. As a couple we had a private room and our other tour members shared rooms. There was no real complaints in any of the cities we stayed in.
Staff
As mentioned the staff that G Adventures engage are local and wonderful. They really do care about you having a great time. Going above and beyond to explain were we are, unique things in the area and make sure you get up on time. At no time did we feel that we were a burden. More like that little cousin who's come to visit.
At all times we had a driver, a mechanic and a local guide as well as the wonderful Sarou. The van driver would arrive onroute to ensure that we were well fed, water and refreshed. Kinda like the feed stations along the Tour De France but way more fun and less drugs.
Just a few notes
GAdventures have not sponsored or contributed to this post. We chose and PAID them for the above services. And would gladly do so again.
Sarou really was an amazing guide and general great guy. No he did not pay for us to make positive comments about him. Sarou is passionate about his role as CEO and his country Cambodia. Sometimes employees spill out company values in an attempt to look like they care and understand. Sarou lives the G Adventures core values and passes on his passion  to the travellers in his care.  One day we will write Sarou's story. He is an inspiration to us all
Also a huge thank you to our fellow snack lovers- Andrew, Jon, Christina and Iris. It was a pleasure to ride off the beaten path with you all.
Have You Ever Wanted To Go On A Bike Tour?
Let us know in the comments below if you have any questions or queries.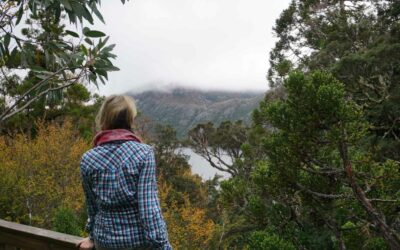 Travellers are some of the most financially savvy people you will ever meet. Have you ever wondered how people afford to travel, invest & drink take away coffee?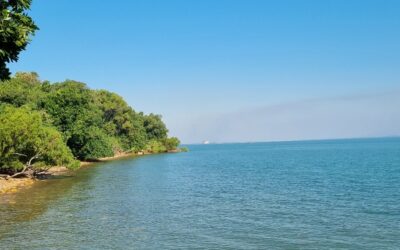 Darwin is the gateway to the top end of Australia. A place where you can go back in time or explore a growing city. The city has something for everyone, from sun-drenched beaches to bustling markets and vibrant nightlife.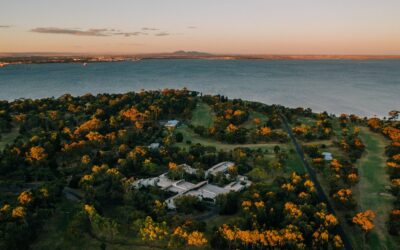 Eden Oak offers travellers the chance to experience an urban oasis hidden amongst the gum trees in Geelong's Botanic Garden