Nepal doesn't have the best air safety record in the world. Nor do the Nepalese people have an abundance of spare cash to pay for the privilege of an airfare. Which means that there is a well entrenched bus culture in Nepal. As a traveller this is in your favor as it's super easy to travel by bus across Nepal. Bus travel in Nepal is safe, affordable and if you play your cards right it can be a whole lot of fun. 
On my first trip to Nepal as a small group of female travellers, we did the golden triangle of tourist destination. Kathmandu – Chitwan National Park – Pokhara – Kathmandu. All in all a total of nearly 24 hours of bus travel, which was relatively uneventful and rather pleasant. 
This guide on bus travel in Nepal relates to what is affectionately known as the tourist buses. Note that these are no longer tourist exclusive buses. I'll touch on that later in the piece when I talk about bus seat scams. Here's my super simple guide;
How to travel by bus across Nepal
The first thing to come to gripes with is that
there is no set time frame for how long a bus trip will take
. No one company can guarantee any timings. You really need to be aware of this if you are trying to line up your bus trip with any other transport, especially a flight home. There are so many variables as to what may delay your trip. Like traffic, landslides, rockslides, rain, someone taking a long lunch break. Who knows. Just to be safe make sure you get the earlier bus. It may mean that you have an extra day
drinking coffee in Kathmandu
but that's better than missing a flight home. 
The buses in Nepal make many stops along the way to collect people. It can be rather frustrating if you're not used to it or are on a very tight time schedule.
How to easily buy a bus ticket in Nepal
Ask your hotel/hostel to book your bus ticket for you. It seems daft to do so but it's about a thousand times easier then trying to find the bus office and buying yourself. In all honesty, the bus companies don't actually want to deal with you. It's a hassle dealing with tourists directly. The staff don't want to try negotiate prices and deal with cultural differences. Then there's also the fact that the bus company offices in Kathmandu are hard to find. Even if you do find the actual bus company there's no price guarantee and you most likely will end up paying more. 
Yes, you will most likely be charged a small commission by the hotel staff but it'll be next to nothing over all. The hotels and travel agents do get a discount for their bookings and this is passed on to you. The market for the tourist dollar is incredibly competitive, which in many ways results in the prices being kept rather low. 
2019 ticket prices –
Kathmandu to Chitwan 800RS 
Chitwan to Pokhara 600-800RS 
Pokhara to Kathmandu 900RS (this was the day before Holi festival and tickets were hard to come buy.)
These are the prices we paid in March 2019. Your tickets may cost more or less, dependent on who booked for you and the current fuel prices. Most prices we were quoted were around the 800RS mark or $7.20 USD
Is there a cheaper way to buy a ticket?
Not really. The prices are really reasonable and they are set for foreigners. You *might* be able to get a cheaper ticket at the bus station in Chitwan or Pokhara by buying directly from the offices on site, or the bus conductor. There is a risk that the tickets will be sold out though. We found that in Pokhara, it was hard to find tickets last minute and we saw a lot of backpackers working from bus to bus asking for tickets to Kathmandu.
There are "local" buses that you can take, but these will only save you around 100RPS. Once you see the local buses you might just realise that it's worth the extra dollar.
What time do the buses leave?
On time. Nepalese buses wait for no one. So you need to be at your bus 10-15mins earlier. The bus stops can be really confusing places. If you can take a taxi or if offered a hotel staff member to help you find your exact bus.
Buses from Kathmandu leave at 7am –  from Pokhara leave at 8am –  from Chitwan leave at 8am
Always check the night before with the hotel/hostel staff.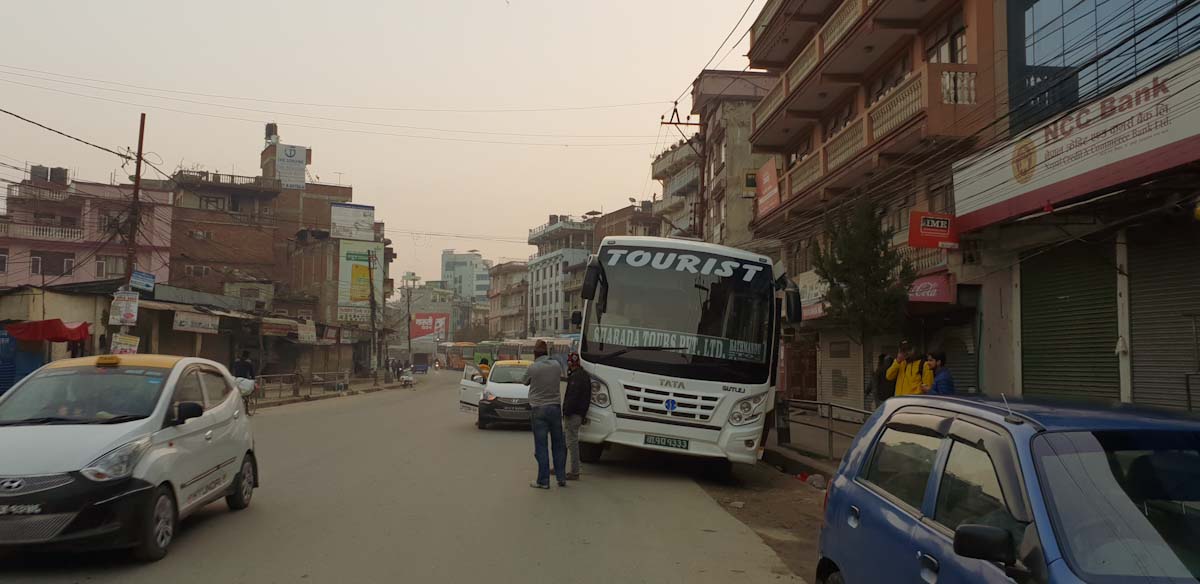 Finding the bus stop in Kathmandu – read this area it's really important !
Now for a wee while there was 2 bus stops in Kathmandu. And a whole lot of very confused tourists missing their buses. If you are travelling to Pokhara or Chitwan then you will want the tourist bus park along Sorhakhutte just outside Thamel. This is literally a street full of buses. ALL the buses my friends. There is not stop so to speak. No rhyme or reason as to how the buses park. There are no toilets. No ticket booth, nada. 
To make things even more fun there are over 30 bus companies that service this bus stop. And the names of these companies do change quite reguarly, so again it can be a challenge to find the right bus. BUT in saying that the bus conductors are really helpful. If you have a ticket they'll point you in the semi-right direction. Again, you'll be walking along the street full of buses.
Please do not believe shitty sites like TripAdvisor or Lonely Planet who are still publishing guides advising that the main tourist stop is Kantipath.
This bus stop closed in 2018
.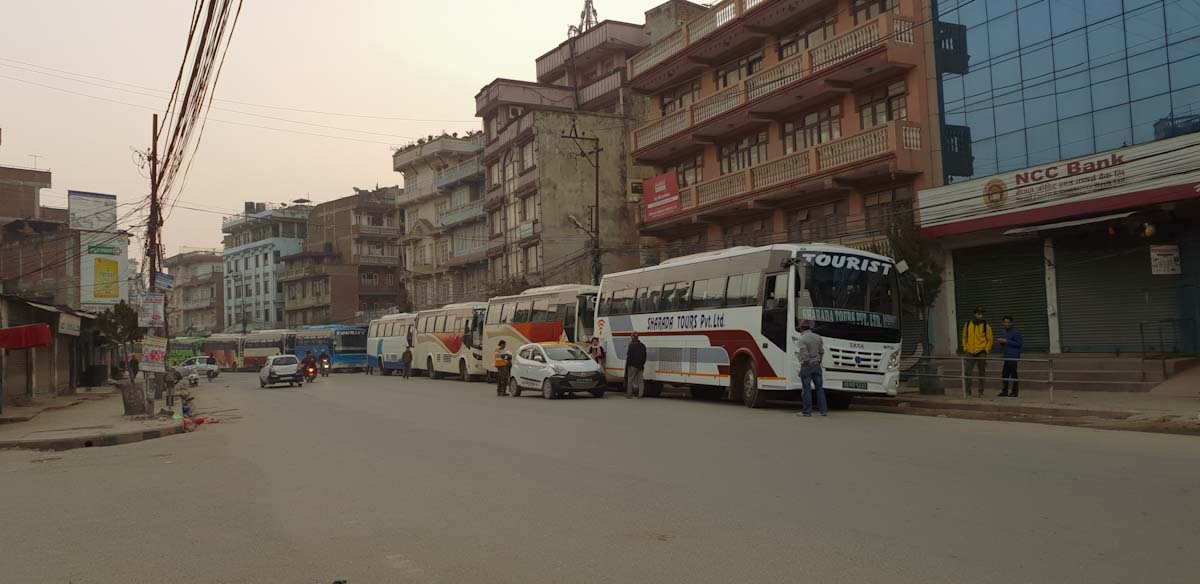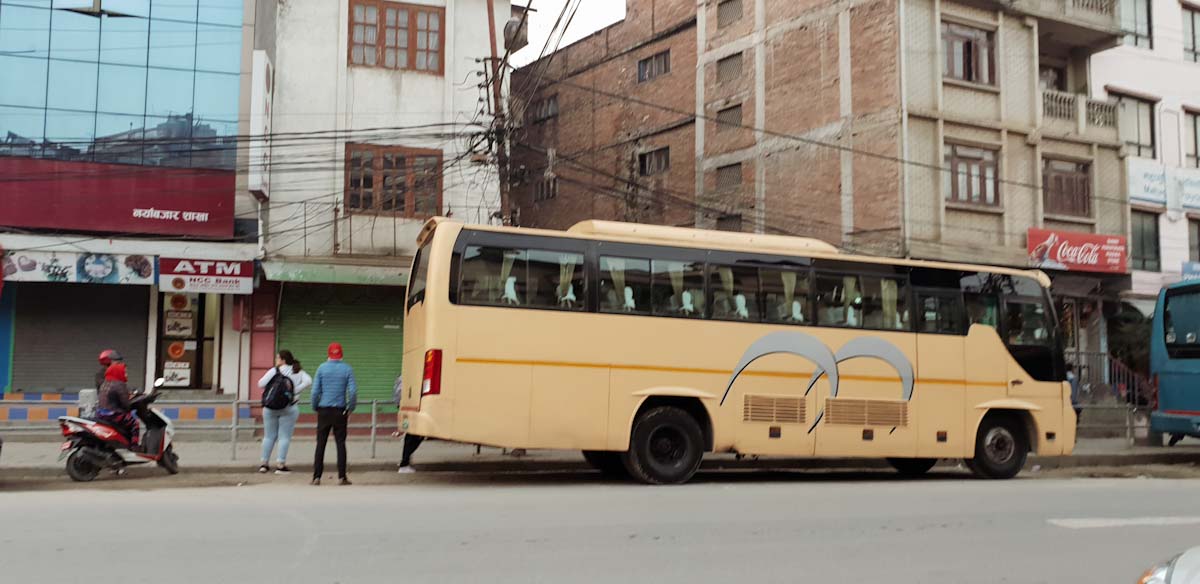 The old Nepalese bus seat scam.
So, there used to be a bus seat scam. Where tourists were sold the premium, less bumpy seats. And paid a price for it. When the tourists would get on the bus there was no seating numbers and the bus conductor would make up the seating numbers. Putting the tourists in the bumpier seats and assigning the Nepalese to the better, less bumpy seats. Now this wasn't purely a scam to rip off tourists, but more so to ensure that the Nepalese would be less likely to throw up their breakfast everywhere. When we booked tickets there wasn't any way to prebook certain seats. All the hotel staff tried to get us seats in the middle of the bus, in the less bumpy zone.
Depending on where you buy your ticket from there maybe a seat chart on the back that relates to your purchased seat. Again this is only a guide. Remember its Nepal it's always an adventure. On our trip from Pokhara to Kathmandu we were moved around to help out a traveller with a broken arm.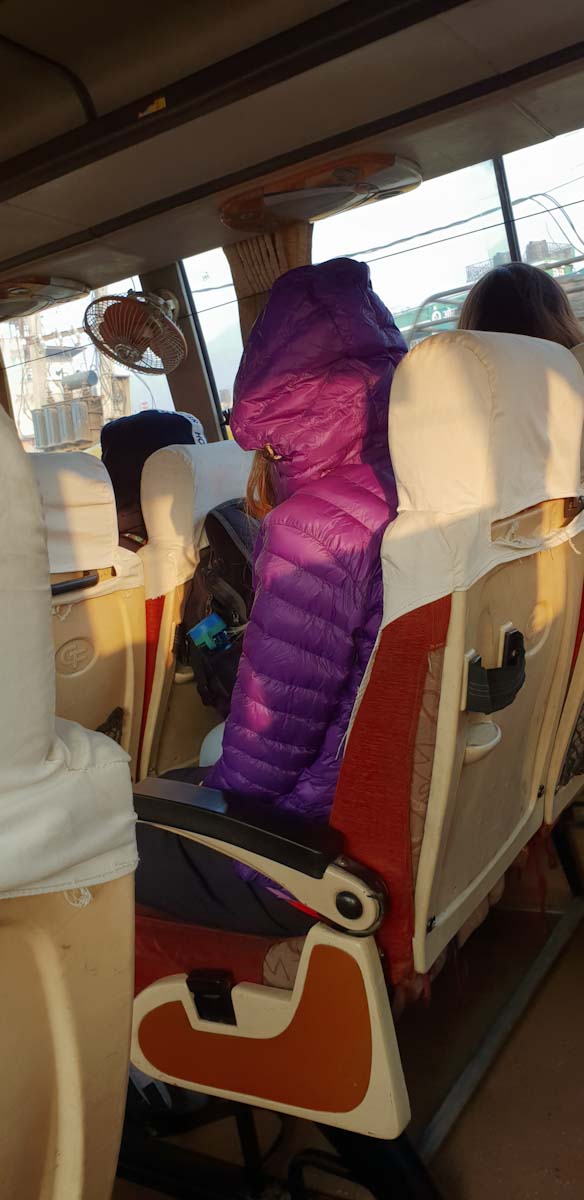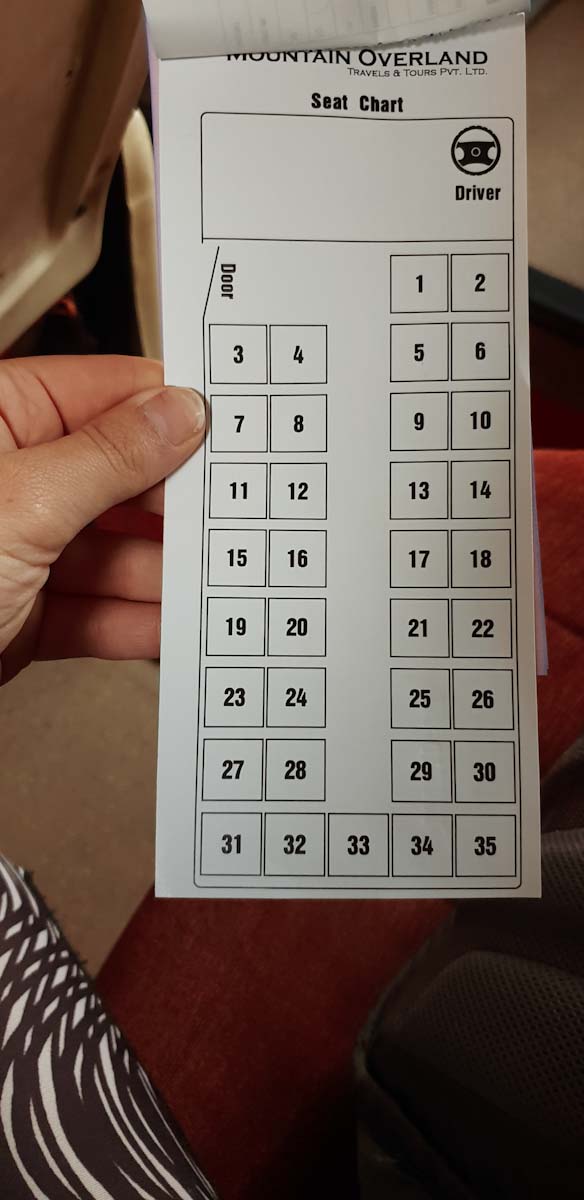 Is there WI-FI on the buses? 
Ah no. So many buses have Wi-Fi stickers but none had wi-fi on board. If you want wi-fi you might be better off trying to book the super deluxe buses, which are $25USD a seat. It's much easier to
buy a local sim card in Nepal,
rather then hope for free wi-fi on the bus.
What are the buses like in Nepal?
The tourist buses are basic. They are old, a little bit worn out it's pot luck if your seat is going to be comfortable or not. Your chosen bus may have air-con or it may not. Again you need to remember that this is Nepal and each and every day is an adventure. All the buses I travelled on had a separate cabin for the driver and the conductor. On the fuller buses, locals who were travelling shorter distances, would also sit up here. 
As the buses are well worn, you might find that the aircon stays on and you're freezing. Or the windows are broken and in the city you're getting a mouthful of smog. I've included a packing list below to help keep you comfortable on the bus ride.
Will the bus ride be bumpy?
Yes. Don't worry about this as you have zero control over the road conditions. However the roads can be windy, so if you're like me and suffer from travel sickness then I'd suggest grabbing yourself a box of
travel motion tablets.
Also the Nepalese people are notoriously bad bus travellers. Motion sickness is a common occurrence.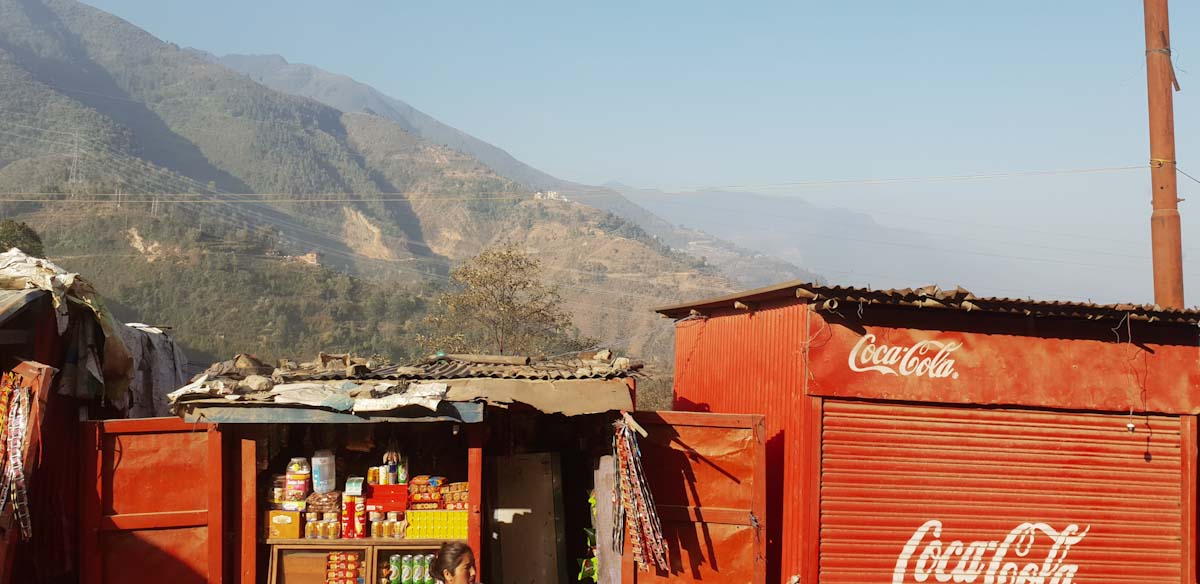 Does the bus have a toilet or stop for food?
None of the buses we saw, or travelled on had bathroom facilities. They buses do stop regularly and give you around 15mins for a pee break. All buses we travelled on also provided us with a litre of bottled water and did stop for breakfast and lunch. Some of the toilet stops can be an adventure in themselves. Don't forget to BYO toilet paper and hand sanitizer. 
I would suggest taking a snack pack with you. The night before our buses to Chitwan, we stopped by the Pumpernickel Bakery in Kathmandu for some snacks to take with us. You will generally leave your hotel before the breakfast starts and not many places will do you a snack pack to take on your way.
Where do your bags go when travelling by bus in Nepal?
The larger bags went in the luggage storage area, under the bus. Some buses will give you a ticket for your bag, but in all honesty at the end of the bus ride your bags are just dumped out of the bus on the ground. There's generally just enough room around the seats for your hand luggage. 
List of things to take on your long ass Nepal bus ride: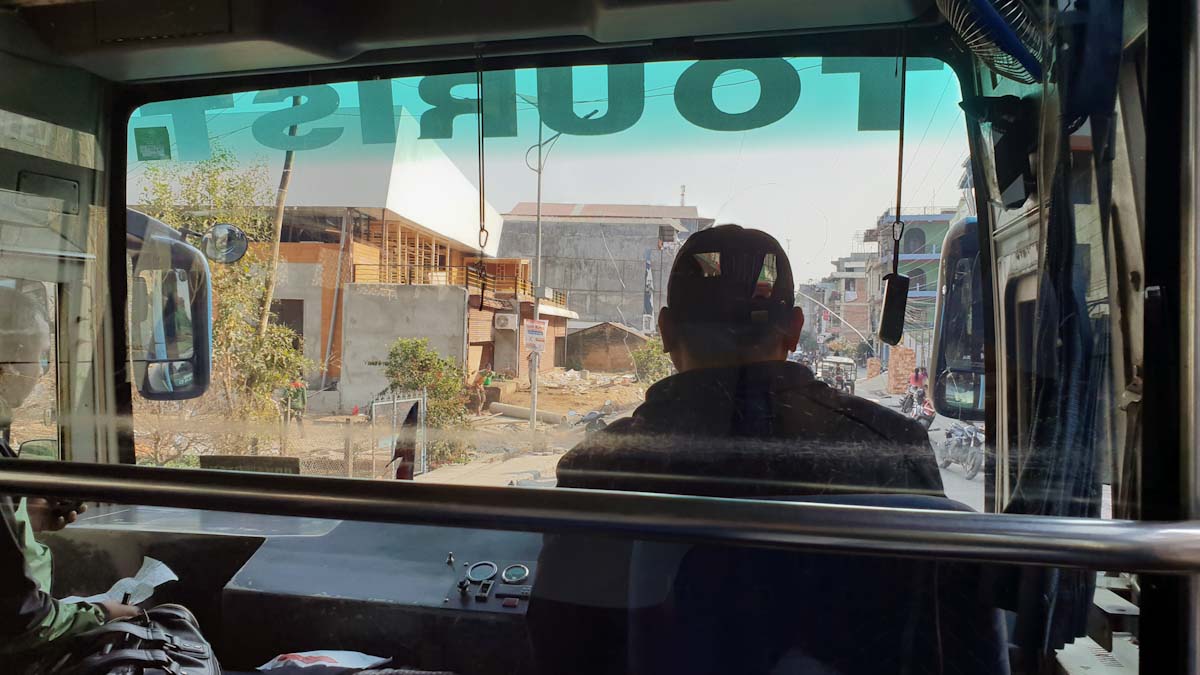 How safe is bus travel in Nepal?
It's relatively safe, when you catch a day bus. As previously mentioned most buses leave early in the morning, so they arrive mid to late afternoon. It's not a bad way to travel time wise.  You do see some fairly ah eye opening driving happening. From other buses, cars, trucks and all sorts of vehicles. I'd rather take a day bus and be safe, then try a night bus. From what I heard talking to other travellers the night buses are awful. Even with decent travel sickness drugs to try knock you out. 
Why travel around Nepal by bus?
Well the humble bus gives you an epic adventure. If you can stay awake longer than what I do you'll get epic views of the mountains, get to see the authentic side of Nepal and generally get to where you need to be at am affordable price. It is the most popular way to travel around Nepal and for good reason. Affordable, easy and practical.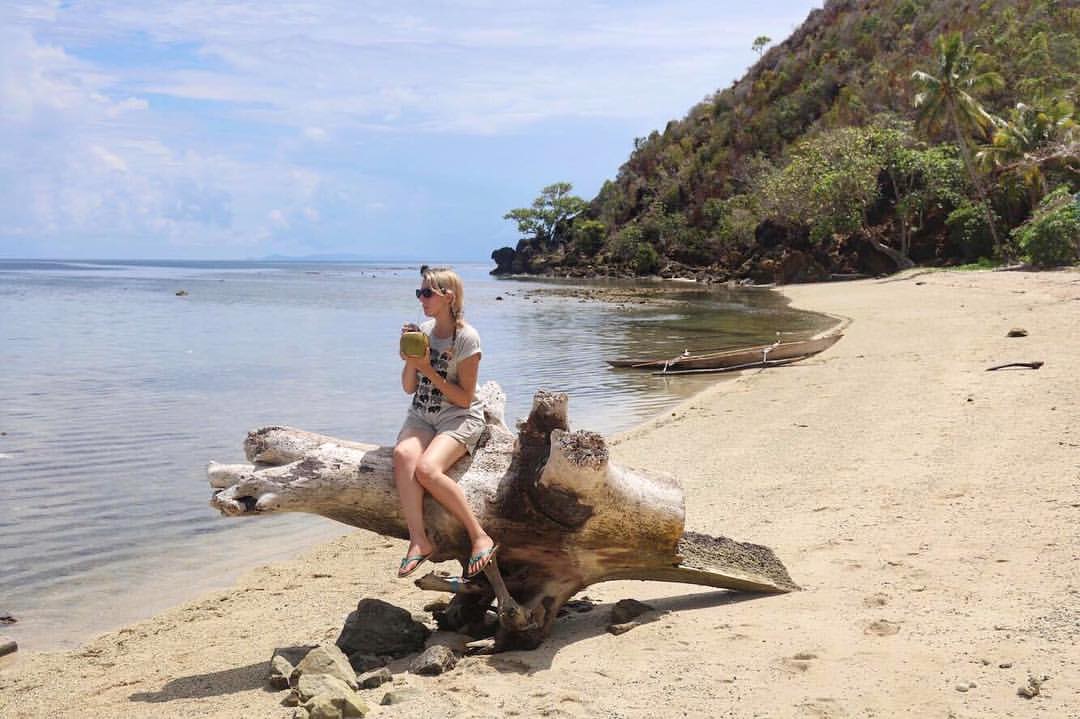 If You Liked This Post You May Also Like:
Just a teeny tiny note on affiliate links – We are a participant in the Amazon Services LLC Associates Program, an affiliate program designed to provide a means for us to earn fees by linking to Amazon.com and affiliated sites. We're also a member of a few others and may make a bit of coin on the side, this is at no extra cost to you.